Axios Vitals
December 17, 2020
Good morning.
Join Axios' Stef Kight tomorrow at 12:30pm ET for a virtual event on immigration policy in the new administration, featuring League of United Latin American Citizens CEO Sindy Benavides and former Homeland Security Secretary Michael Chertoff. 
Situational awareness: French President Emmanuel Macron has tested positive for the coronavirus, the Élysée Palace announced this morning.
Today's word count is 1,110, or a 4-minute read.
1 big thing: Coronavirus cases hold steady but are dangerously high
The pace of new coronavirus infections leveled off over the past week, but the nationwide caseload is still dangerously high, Axios' Sam Baker and Andrew Witherspoon report.
The big picture: Throughout the fall, new cases skyrocketed to record levels. It's good news that they're no longer skyrocketing, but holding steady at record or near-record highs is nothing to cheer about.
By the numbers: The U.S. averaged roughly 209,000 new cases per day over the past week, a modest 1.8% increase from the week before.
The nationwide totals held steady even as the number of new infections fell in 19 states — including Iowa, South Dakota and several other states that were hit especially hard by the fall surge.
A handful of more populous states recorded some significant increases, which is why the national total is still so high. California, for example, averaged roughly 32,500 new cases per day over the past week, an increase of almost 40% over the previous week.
What's next: Reduced caseloads in small, largely rural states should help alleviate some of the crushing burden on local hospitals.
For now, though, hospitalizations remain at a record high; roughly 113,000 people are in the hospital today for severe coronavirus infections.
And if many Americans travel for the holidays, cases could pick right back up.
Vaccines will eventually help contain the virus, but it'll be several months before the general public can start getting vaccinated, and lax safety measures in the meantime will only heighten a crisis that has already claimed 300,000 American lives.
2. U.S. spent $3.8 trillion on health care last year
The U.S. spent $3.8 trillion on health care last year, accounting for about 18% of the entire American economy, according to new federal data.
Why it matters: The U.S. has by far the most expensive health care system in the world, and every year it eats up a little more — from the federal government, states, employers and individuals, Sam reports.
By the numbers: Total national health expenditures rose by 4.6% in 2019, according to the Centers for Medicare & Medicaid Services.
That's a modest increase by the standards of health care spending, although it outpaced inflation.
Hospitals remain the most expensive part of the system.
These figures include Medicare, Medicaid, private health insurance and out-of-pocket costs.
The intrigue: 2019 defied some historical norms about health care spending.
Typically, rising prices are the bigger driver of overall spending increases. Last year, however, prices took a backseat — increases in the use of medical services accounted for a bigger share of the rise in spending.
Similarly, private insurance usually sees much greater increases in per-person spending than government programs. But that, too, flipped on its head in 2019; Medicare's per-person spending increased by 4%, compared to 3.2% for private insurance.
What's next: These 2019 figures predate the coronavirus pandemic.
Early estimates suggest that the pandemic may have actually caused health care spending to fall this year — which makes sense, given that most elective procedures were completely shut down in the spring, but won't last beyond the pandemic.
3. Thousands of excess deaths among young adults
There were nearly 12,000 more deaths than expected among young adults between March and July, according to new research published Wednesday in JAMA.
Why it matters: Only 38% of deaths in this age group were attributed directly to COVID-19, which suggests that COVID-19–related mortality may have been under-detected, Axios' Marisa Fernandez writes.
The big picture: The U.S. has recorded at 356,000 "excess deaths" since this spring. And while yesterday's JAMA data indicate that the first few months of the pandemic were highly lethal for 25-44 year olds, overall the vast majority of excess deaths — about 80% — have been seniors.
What they're saying: "In the past, it took us too long to respond to the epidemics of opioids and HIV/AIDS when the young started dying in large numbers," the researchers said in a New York Times opinion piece on Wednesday. "Now that we have similar information about COVID-19, we must immediately address it."
4. Trump states shut out COVID headlines
States that voted for President Trump tend to have high coronavirus caseloads compared to how much COVID content they read online, while the opposite is true of states that voted for President-elect Joe Biden, according to exclusive data from social media management platform SocialFlow.
Why it matters: The trend highlights a widespread rejection of coronavirus news and information in states that supported Trump, even in areas where the virus has gotten particularly deadly, Axios' Neal Rothschild writes.
"It's clear that stories about COVID simply don't animate red state residents the same way they do those in blue states," SocialFlow CEO Jim Anderson tells Axios. "This chart would look quite different if we were able to run it on the topic of election fraud."
By the numbers: Blue states account for the 15 biggest differences among states that read more coronavirus content relative to their caseloads.
Red states account for 11 of the 12 biggest differences among states that have bigger caseloads compared to the amount of coronavirus content they read.
All five Biden-voting states among the 25 with bigger caseloads were battlegrounds, not strongly Democratic.
The Dakotas are the rare instances where states rank highly on both cases and online COVID consumption. North Dakota ranks first and fourth, respectively, while South Dakota ranks second and ninth.
5. Catch up quick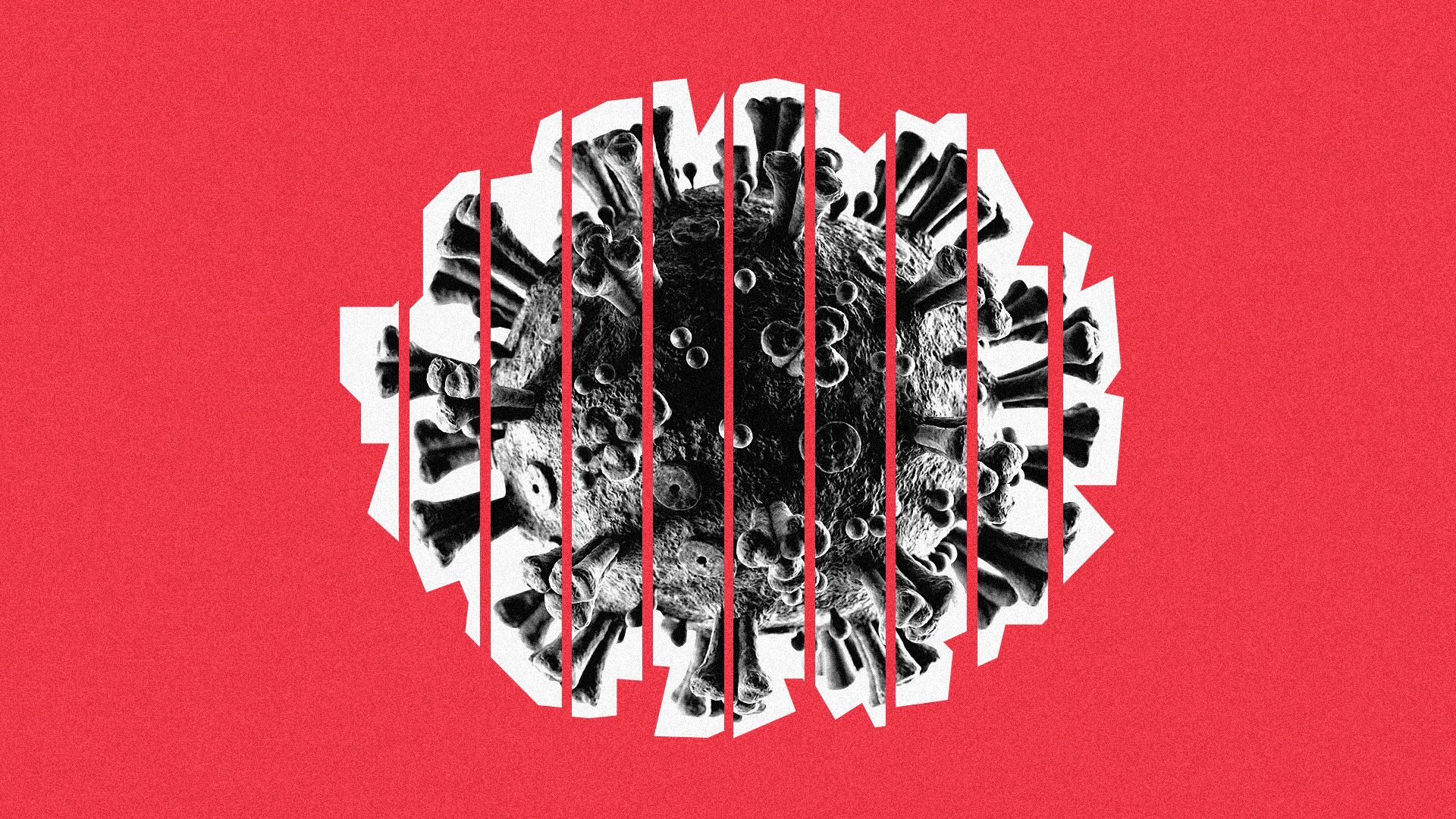 Vice President Mike Pence plans to receive his coronavirus vaccine shot on camera Friday morning at the White House to build "vaccine confidence" among the American people, according to an administration official with direct knowledge of the plans, Axios' Jonathan Swan reports.
Biden plans to take the COVID-19 vaccine in public and he could receive a dose as early as next week, his transition team confirmed to Axios Wednesday.
A former senior Health and Human Services adviser advocated this summer to let young and middle-aged Americans become infected with COVID-19 in order to develop "herd immunity," according to emails released Wednesday by the House committee overseeing the federal government's coronavirus response.
Pfizer vaccine vials contain extra doses that could boost America's supply by up to 40%, the Food and Drug Administration announced on Wednesday.
Biden's inauguration will have limited in-person attendance due to rising coronavirus cases, with a live audience that "resembles a State of the Union" address, the Joint Congressional Committee on Inaugural Ceremonies said Wednesday.
Interior Secretary David Bernhardt tested positive for COVID-19 Wednesday, but is reportedly asymptomatic and will continue working while in quarantine.
The U.K. has vaccinated more than 100,000 people with Pfizer-BioNTech's coronavirus vaccine in the first week of its program, according to Nadhim Zahawi, a government minister in charge of vaccine deployment.
Don't forget to submit your dogs to be the final Dog of the Week of 2020!