Axios Vitals
November 21, 2018
Good morning … This is it for Vitals for the week. I'm going to go eat some turkey, and will see you back here bright and early on Monday. Hope you have a happy Thanksgiving.
1 big thing: Kentucky's Medicaid work rules approved (again)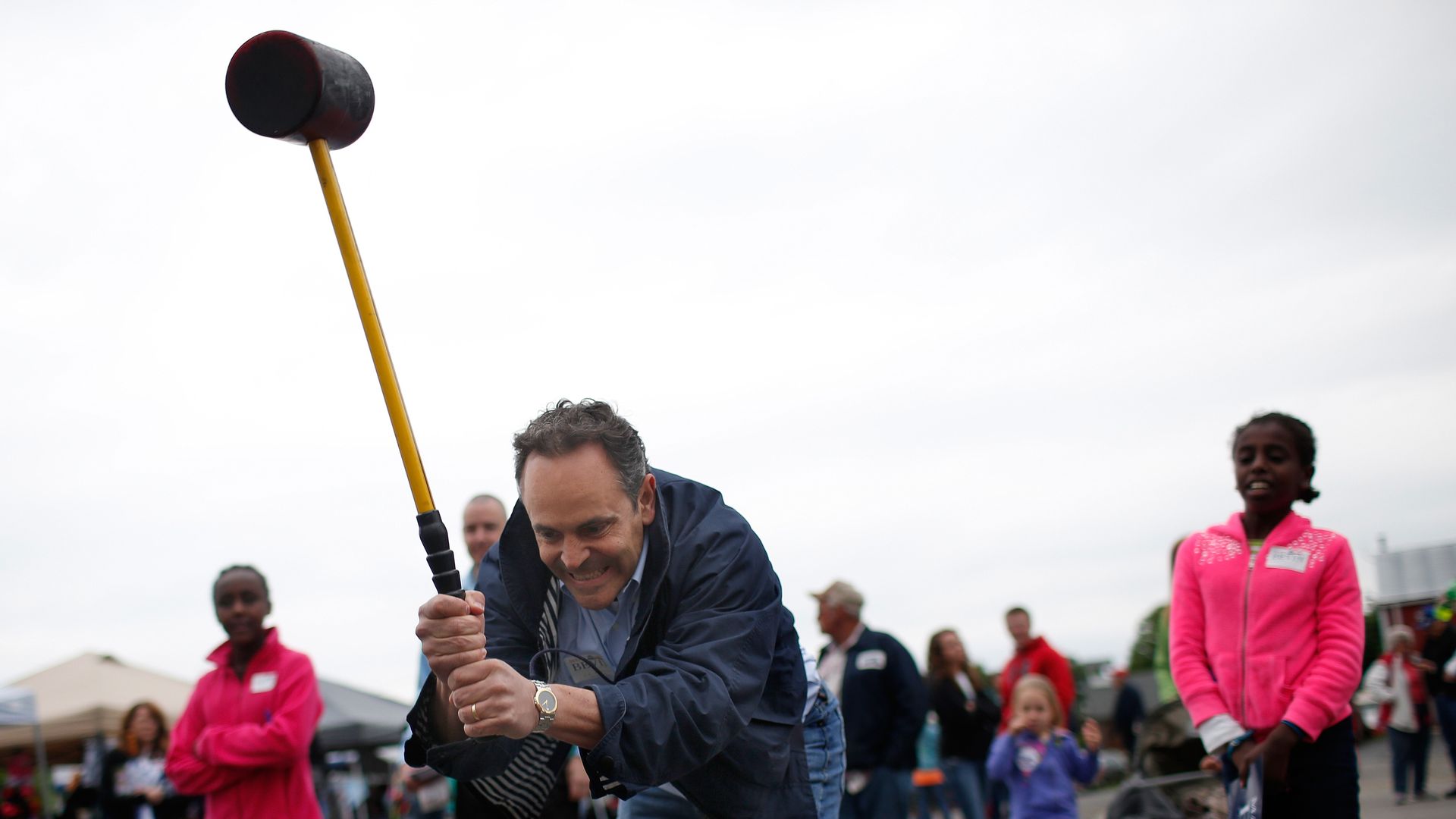 The Trump administration last night reapproved Kentucky's proposal to add work requirements to its Medicaid program, with few changes from the original plan — even though that plan was struck down in court.
Kentucky's initial proposal won federal approval in January. It required Medicaid recipients in the commonwealth to perform at least 80 hours of "community engagement" — work, job training or community service — per month.
In June, a federal judge blocked the new rules from taking effect, in response to a lawsuit that said work requirements are fundamentally at odds with Medicaid's purpose as a source of health coverage.
But the judge gave the Trump administration a chance to strengthen its justification for approving Kentucky's waiver proposal and try again.
In response, the federal Medicaid agency reopened the public comment period for Kentucky's plan.
The new comments were overwhelmingly opposed to Kentucky's work requirements, yet the federal government reapproved the same policy last night with essentially no changes.
By the numbers: Some 12,000 people have lost their Medicaid coverage already in Arkansas, the first state to successfully implement Medicaid work requirements — a sign that these policies are an effective way to curb overall Medicaid enrollment.
2. Low expectations on drug prices
Americans don't trust Republicans or President Trump to bring down drug prices, according to our latest Axios/SurveyMonkey poll. Asked who they trust the most on the issue, the top three vote-getters were:
Democrats (35%)
Neither party (30%)
Trump and the Republicans (27%)
There's always a partisan split in any political poll, but man, this is more of a partisan Grand Canyon.
Just 2% of Republicans said they trust Democrats to lower drug prices.
Just 1% of Democrats said they trust Republicans.
Independents don't like anyone — 72% said they don't trust either party on this issue.
Although coming in last is, obviously, the worst outcome, 35% shouldn't exactly have Democrats dancing in the streets, either.
3. Sanders' bill echoes Trump plan
Sen. Bernie Sanders and Rep. Ro Khanna announced yesterday that they're planning to introduce a bill aiming to align what the U.S. pays for prescription drugs with what other major countries pay — a very similar approach to the one the Trump administration recently laid out.
The bill would affect what people who are privately insured or uninsured pay for their drugs, while the administration's version is limited to Medicare Part B, Axios' Caitlin Owens notes.
Sanders has long supported a drug pricing system — in fact, a whole health care system — much more akin to Europe's.
Why it matters: "In truth the international price index would be difficult if not impossible to sustain. But pharmaceutical companies are going to start to get the message that these disparities are not sustainable long term," Avalere's Dan Mendelson says.
The bottom line: Trump and Sanders have two very different but very loyal bases — and yet they're aligned on a plan that couldn't make it across the finish line just a few years ago, when the Obama administration proposed something similar.
4. Apple explores VA partnership
Apple is in talks with the Department of Veteran Affairs to help create digital health records that roughly 9 million military veterans could view on their iPhones, the Wall Street Journal reports.
Why it matters, from Axios' Ina Fried: Apple is looking to provide patients with better access to their health records, and a deal with the VA would give that effort a significant boost.
Apple first approached the VA back in 2017, a source told the Journal. An Apple representative was not immediately available for comment.
5. OIG: Don't offer your drug for free
Lawyers at HHS' Office of Inspector General published a new advisory opinion last week that indirectly warned pharmaceutical company Mallinckrodt against giving its H.P. Acthar Gel drug to hospitals for free to certain patients, because doing so "would present more than a minimal risk of fraud and abuse."
Between the lines: OIG did not name Mallinckrodt or Acthar. But my colleague Bob Herman reports that context clues (like the OIG's reference to the "second-highest-cost drug" in per-prescription Medicaid spending) indicate that's who and what OIG is talking about.
The watchdog agency outlined a slew of reasons why this deal would run afoul of anti-kickback laws, including the fact that offering the drug for free could induce hospitals and doctors to write prescriptions for it once patients are discharged, which shifts the drug's high price on patients and insurers.
Go deeper: Other experts say Acthar is not worth its price and that Mallinckrodt has engaged in questionable behavior to sell the drug, yet sales are "strong."
6. Panel recommends broader HIV prevention
Everyone at high risk for HIV should be offered drugs to prevent it, the U.S. Preventive Services Task Force said yesterday.
Where it stands: Roughly 1.2 million people are eligible for the preventive regimen known as PrEP, but only about 78,000 are actually on it, the Washington Post reports.
"It's just one of those things that haven't diffused all the way through primary care yet," John Epling, a Virginia Tech medical professor and a member of the task force, told the Post.
Most insurance plans would have to start offering PrEP without charging any cost-sharing, if the panel's recommendations are finalized.
Gilead, which makes the drug, currently charges a list price of over $1,600 for a 30-day supply, per the Post.