Axios Vitals
June 05, 2019
Good morning. Don't forget to join us at 8am today for Beyond 2020: Making Care Affordable.
My colleague Bob Herman will be sitting down with Sens. Chuck Grassley (R-Iowa) and Debbie Stabenow (D-Mich.), along with former FDA commissioner Scott Gottlieb, and the Association for Accessible Medicines president and CEO Chester "Chip" Davis Jr. to discuss the future of health care and drug pricing in America. 
Today's word count: 860 words, <4 minutes.
1 big thing: Telehealth isn't a silver bullet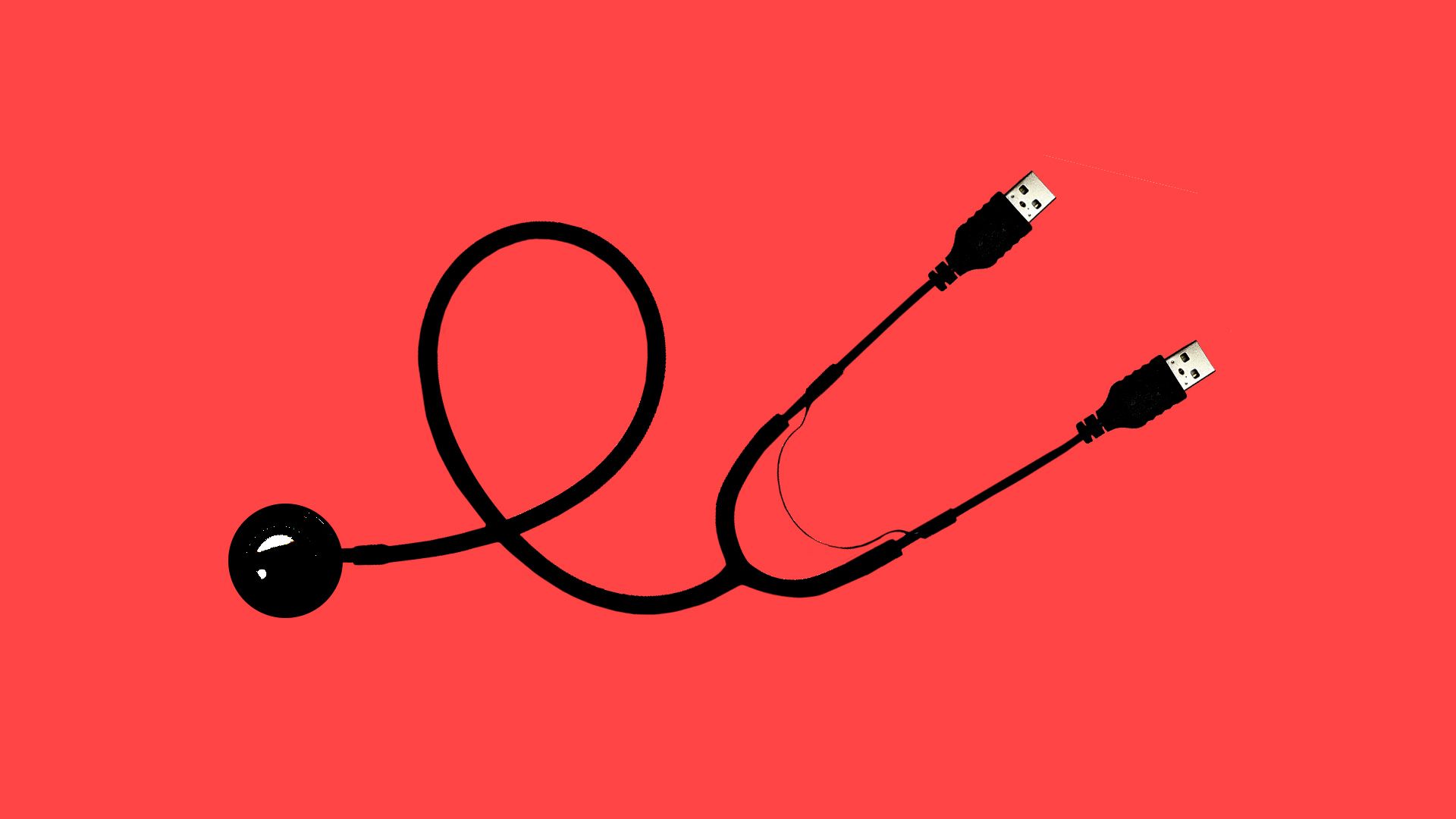 Virtual health care is all the rage right now, especially among investors and tech companies.
Private equity and venture capital firms invested $10 billion into the sector in 2018, suggesting that the financial world certainly expects that the expanding sector will turn a profit.
The big picture: Digital health tools have the potential to improve care.
But telemedicine also could become "a way for the U.S. profit-driven health care system to make big bucks by outsourcing core duties — while providing a paler version of actual medical treatment," Kaiser Health News' Elisabeth Rosenthal writes.
What they're saying: "It's an area where implications for health care spending are wide open," the American Enterprise Institute's Ben Ippolito.
If telehealth makes health care more accessible, people may end up using more of it. But if it serves as a substitute for resource-intensive office or hospital visits, it could drive costs down.
"What mixture of the two we get will likely depend in part on how the broader payment system evolves," Brookings' Matt Fiedler said.
The bottom line: "One should never underestimate the health care system's ability to make money," the Kaiser Family Foundation's Larry Levitt said.
"While making care more accessible, like through telehealth, might be good for patients, it may not save money, especially if the reimbursement rates aren't set appropriately," he added.
2. Blockbuster appeared to reduce Alzheimer's risk
Enbrel, Pfizer's blockbuster anti-inflammatory drug, appeared to reduce the risk of Alzheimer's disease, but the company didn't investigate further or make the connection public, WashPost reports.
The pattern was found through analyzing insurance claims. Company researchers urged a clinical trial, which they estimated would have cost $80 million, to see if the link was real.
But Pfizer decided that Enbrel doesn't have the potential to prevent Alzheimer's because it doesn't affect brain tissue.
Pfizer says the decision not to conduct a clinical trial was based solely on science, and it didn't publish its data because it was skeptical about the results.
But critics say there may be financial element: Enbrel has reached the end of its patent, reducing the incentive to look for additional uses for the drug as generics enter the market.
One former Pfizer executive told the Post that spending money on a clinical trial when the company had doubts about the results of its initial analysis didn't make much business sense.
Some scientists say that just publishing the data could have been useful to researchers.
3. CVS's big ambitions
CVS' ambitions keep growing, but skepticism about those ambitions isn't going away, Axios' Sam Baker writes.
Driving the news: Federal Judge Richard Leon signaled Tuesday that he's still concerned about the company's $69 billion merger with Aetna.
As he opened a three-day hearing on the merger, Leon "reiterated … that he wants to look at any potential harm that the deal might cause for the public," per Modern Healthcare.
The Justice Department's antitrust evaluation focused on Medicare Part D, and Aetna ultimately had to sell its Part D plans.
Leon asked Tuesday whether his analysis should stop there, or go further to "look at how these entities … will impact the greater market," Modern Healthcare reports.
Between the lines: The Aetna deal is just one element of CVS' effort to push beyond the traditional role of a pharmacy.
What's next: CVS said Tuesday that it's expanding its HealthHub concept — stores with more space devoted to clinic services like screenings and dietary consultations.
CVS expects to operate 1,500 HealthHubs by the end of 2021, according to NBC News. (For context, CVS has about 9,800 retail locations today.)
The bottom line: There's big money in managing chronic diseases, especially as the population ages. And CVS is by no means the only company that's also hoping it can find big savings by moving more of that work under one corporate umbrella.
Go deeper: The consolidation of health insurance and drug benefits is back
4. Pharma goes all in on cancer treatments
A new EvaluatePharma report reiterates just how heavily the pharmaceutical industry is banking on oncology.
Why it matters: The report also adds more evidence that drugs are getting more costly, and these costs will increasingly be driven by medicines with little to no competition.
Global drug sales are expected to reach $1.18 trillion in 2024, compared to $843 billion in 2019, and $239 billion of the 2024 total is expected to be spent on orphan drugs that treat small populations.
Go deeper: The drug pricing debate is stuck in the past
5. Congress blocks 3-parent IVF
Congress will leave in place a ban on genetically modified human embryos, despite a push to overturn it, Stat News reports.
Where it stands: Since 2015, Congress has effectively banned a procedure that combines genetic material from a mother, father and female donor.
Advocates for the procedure say it helps women who carry genetic diseases have healthy, disease-free children that are biologically related to them, and there's been a push to overturn the ban.
The other side: Advocates for the ban say it prevents genetically altered "CRISPR babies."
They won this round, as a House committee voted yesterday to keep the status quo intact.
Have a great Wednesday. Keep sending me tips and feedback.