Axios Vitals
October 08, 2019
1 big thing: Mental health stigma may be getting worse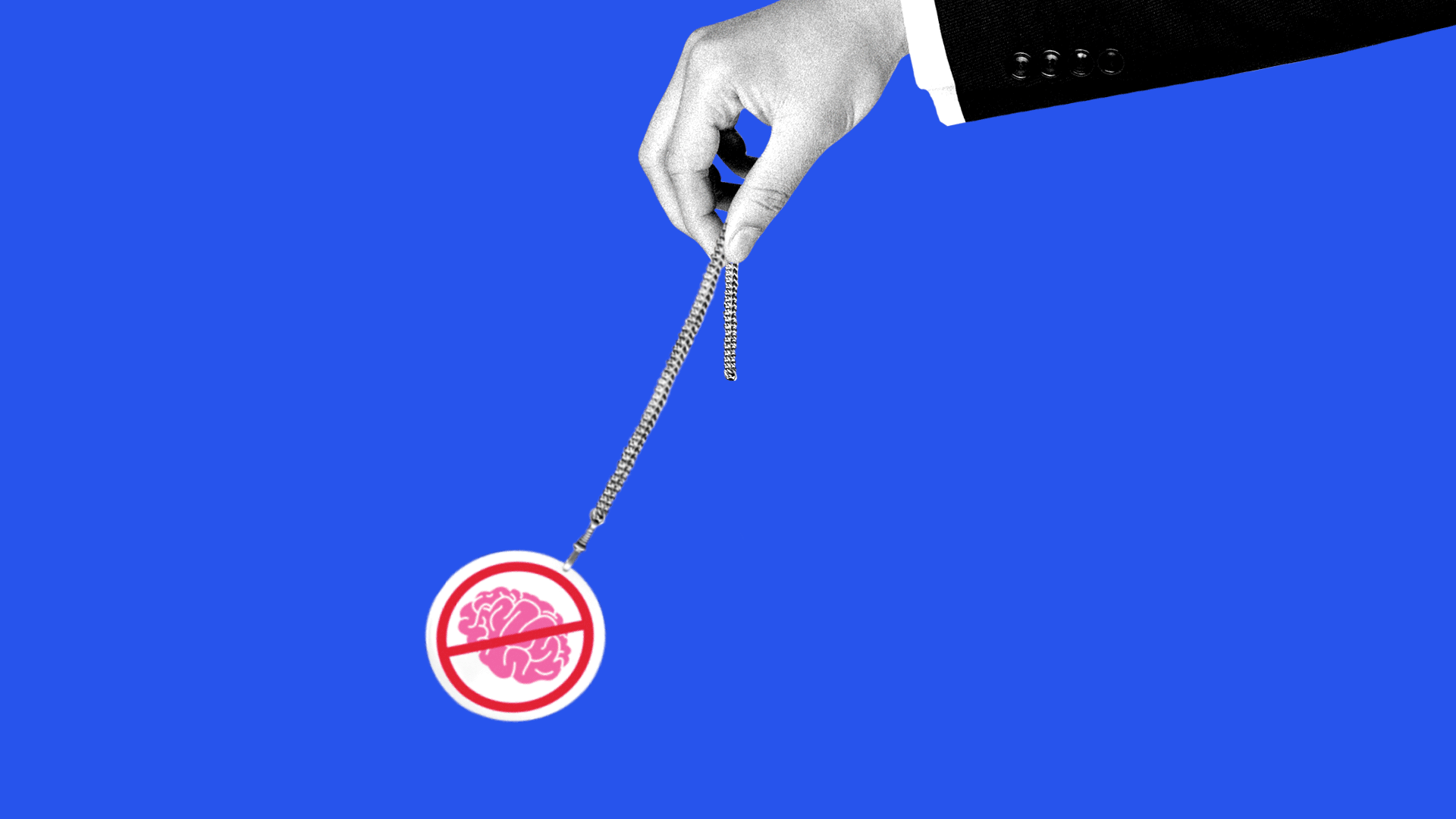 Mental health stigma is back on the rise, thanks to the political response to mass shootings, a new study featured in Health Affairs says.
Why it matters: President Trump and other politicians have been conflating mental illness with violence — and experts fear that kind of marginalization only makes it harder to live with a mental illness, Axios' Marisa Fernandez reports.
What they're saying: "There's a difference between saying somebody is troubled and is angry and saying they have a brain disorder," said the study's lead author, Bernice Pescosolido of Indiana University.
Associations between mental illness and violence are growing, the study found, as is support for forced treatment of those conditions.
In 2018, more than 60% believed people with schizophrenia are dangerous to others.
30% characterized those with depression as likely to be violent toward others.
Reality check: People with mental illness are more likely to be victims of gun violence than perpetrators of anonymous mass shootings, according to the American Psychiatric Association.
Mental health reporting laws, which both Republicans and Democrats have endorsed, are not as effective as background checks and safe storage laws, Wired reports.
The bottom line: Progress has been made in reducing the stigma of mental illness, but that progress is fragile at best.
2. 25% of health spending is waste
A quarter of total U.S. health care spending — between $760 and $935 billion every year — is waste, according to a new JAMA study lead by William Shrank, who is Humana's chief medical officer.
Why it matters: We all pay for this waste through our premiums, out-of-pocket spending and taxes, and every dollar of it ends up in someone else's pocket. Meanwhile, the health care industry is thriving.
By the numbers: The study breaks down the wasteful spending into 6 categories.
Failure of care delivery: $102.4–$165.7 billion
Failure of care coordination: $27.2–$78.2 billion
Overtreatment or low-value care: $75.7–$101.2 billion
Pricing failure: $230.7–$240.5 billion
Fraud and abuse: $58.5–$83.9 billion
Administrative complexity: $265.6 billion
The bottom line: This system-wide bloat contributes to everyday Americans' struggle to afford their health care and the large profits being made by the companies that provide it.
3. Buttigieg joins leftward march on drug prices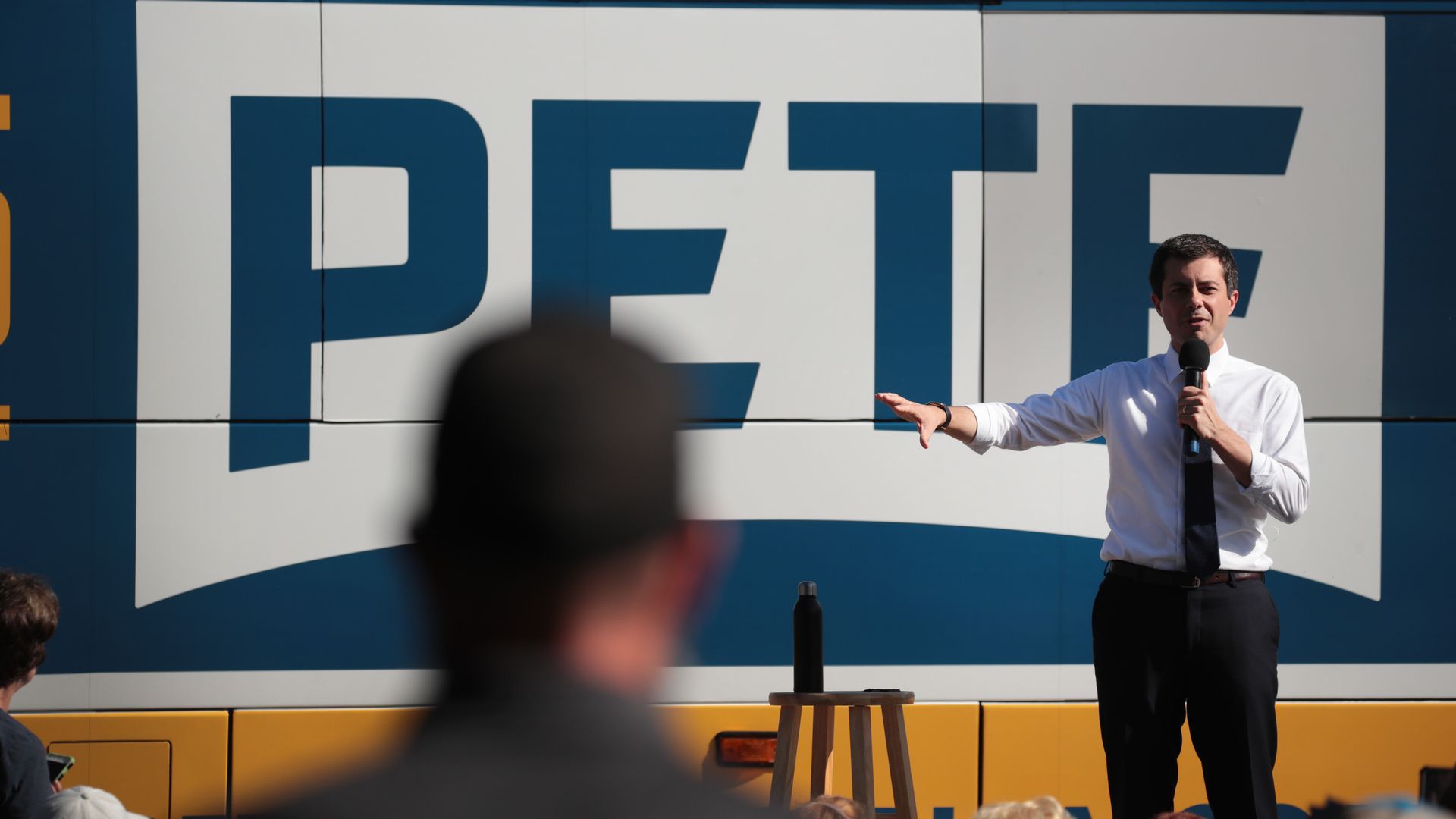 South Bend, Ind., Mayor Pete Buttigieg yesterday released his plan to reduce prescription drug prices, which includes many of the liberal proposals that have become the new Democratic normal.
Between the lines: This plan puts Buttigieg somewhere in the leftward middle of the top-tier candidates on drug prices. The field — and the party as a whole — is much more aggressive on the subject than Democrats have been in the past.
How it works: Many of Buttigieg's proposals mirror those included in House Speaker Nancy Pelosi's drug pricing plan.
Like Pelosi, Buttigieg would allow the federal government to negotiate drug prices for Medicare and then make those negotiated prices available to private insurers.
Drug companies would be severely penalized if they don't negotiate.
He would base the negotiations on international prices, the therapeutic gain offered by the drug, the cost of bringing it to market, and the cost of treating the condition it addresses.
Yes, but: Buttigieg goes further than House Democrats, although other 2020 candidates have endorsed similar policies.
Most notably, he would allow the federal government to revoke the intellectual property rights of drug companies who have refused to negotiate or are still abusively pricing.
Sen. Elizabeth Warren is still most liberal on the subject, as she'd allow the government to manufacture some generics.
While Buttigieg recently told AARP that he "potentially" supports the approach, it's not included in yesterday's white paper.
Go deeper: How Democrats want to limit drug prices
4. Michigan may fire its PBMs
Michigan's Medicaid program is proposing to fire the pharmacy benefit managers that handle its prescription drug claims and negotiate prices, Axios' Bob Herman reports. The state would manage drug coverage itself, starting Dec. 1.
The big picture: More state Medicaid agencies have determined that outsourcing all negotiations and operations of prescription drugs to PBMs has not produced the dramatic savings they were promised.
Details: Michigan officials said in a bulletin the state could extract bigger rebates from pharmaceutical companies and cut administrative costs if the state handled all Medicaid medication benefits, instead of the current private contractors.
Michigan would use Magellan as its sole drug claims processor.
A spokesperson for the Michigan Department of Health and Human Services said the proposal would save $40 million, and officials "will be reviewing the feedback carefully to determine next steps."
CVS Health, OptumRx, MedImpact and a handful of other PBMs stand to lose business.
Between the lines: State governments, along with pharmacists, continue to lead the crusades against PBMs.
A recently signed California regulation will shift all Medicaid drug benefits away from PBMs by 2021, and West Virginia's Medicaid department fired its PBMs in 2017.
5. The rise of telemedicine fraud
The expansion of telemedicine has enabled new forms of Medicare fraud, NPR reports with Kaiser Health News.
Yes, but: It's also given seniors more access to care, and some experts worry that the fraud could lead to slower adoption of telehealth by federal programs.
While fraudulent prescribing and billing for orthotic braces isn't new, telemedicine consultations can serve as a guise for fraudsters to contact people they've never met.
And the use of telemedicine companies provides cover for a small number of doctors to write a large amount of prescriptions remotely.
What they're saying: "This has put telemedicine scams on Medicare's radar with growing urgency," James Quiggle, director of communications for the Coalition Against Insurance Fraud, told KHN.