Axios Vitals
February 09, 2021
Good morning.
Situational awareness: House Democrats' coronavirus relief plan includes a large increase in Affordable Care Act subsidies.
Today's word count is 1,225 , or a 5-minute read.
1 big thing: Where the pandemic has been deadliest
In the seven states hit hardest by the pandemic, more than 1 in every 500 residents have died from the coronavirus.
Why it matters: The staggering death toll speaks to America's failure to control the virus.
Details: In New Jersey, which has the highest death rate in the nation, 1 out of every 406 residents has died from the virus. In neighboring New York, 1 out of every 437 people has died.
In Mississippi, 1 out of every 477 people has died. And in South Dakota, which was slammed in the fall, 1 of every 489 people has died.
States in the middle of the pack have seen a death rate of around 1 in 800 dead.
California, which has generally suffered severe regional outbreaks that don't span the entire state, has a death rate of 1 in 899.
Vermont had the lowest death rate, at 1 of every 3,436 residents.
The bottom line: Americans will keep dying as vaccinations ramp up, and more transmissible variants of the coronavirus could cause the outbreak to get worse before it gets better.
Experts also say it's time to start preparing for the next pandemic — which could be deadlier.
2. Most seniors aren't vaccinated yet
Most seniors have not gotten a COVID-19 vaccine yet, according to an analysis from the Kaiser Family Foundation.
Why it matters: There's simply not enough vaccine available right now to take on every priority, Axios' Marisa Fernandez writes.
Even as states eye the next phase of the process and additional high-risk groups clamor for access, there's still a long way to go just in protecting most vulnerable.
By the numbers: In the first month of vaccinations, about 29% of recipients were 65 or older, per KFF.
The first round of vaccines was directed primarily at health care workers and the residents of long-term care facilities.
Where it stands: West Virginia has vaccinated the most seniors at 34%, thanks to a focused effort in nursing homes.
Nine states — West Virginia, North Carolina, Florida, Mississippi, Delaware, Texas, Michigan, New Jersey, and Wisconsin and Washington, D.C. — report vaccinating at least 20% of seniors.
Yes, but: Demographic data aren't available in some states and cities, which will make it hard to track how well the U.S. is addressing high-risk groups as more people become eligible.
3. More evidence that cost-sharing doesn't work
A growing body of research keeps undermining a key tenet of health economics, Axios' Sam Baker writes — the belief that requiring patients to pay more out of their own pockets will make them smarter consumers, forcing the health care system to deliver value.
Driving the news: Even a seemingly modest increase in out-of-pocket costs will cause many patients to stop taking drugs they need, according to a new working paper from Harvard economist Amitabh Chandra.
Raising Medicare recipients' out-of-pocket costs by just $10 per prescription led to a 23% drop in overall drug consumption, and to a 33% increase in mortality. 
And seniors weren't simply ditching "low-value" drugs. People at high risk for heart attacks or strokes cut back on statins and blood-pressure medications even more than lower-risk patients.
Between the lines: This research focuses on Medicare's drug benefit, but higher cost-sharing is all the rage throughout the system, and there's little evidence that it has generated "smarter shoppers."
Patients with high-deductible plans — increasingly common in the employer market — don't shop around for the best deal, which is all but impossible to do in many cases even if you wanted to try.
Go deeper: The "skin in the game" theory of health care hasn't panned out
4. Vaccine misinformation crackdown is too late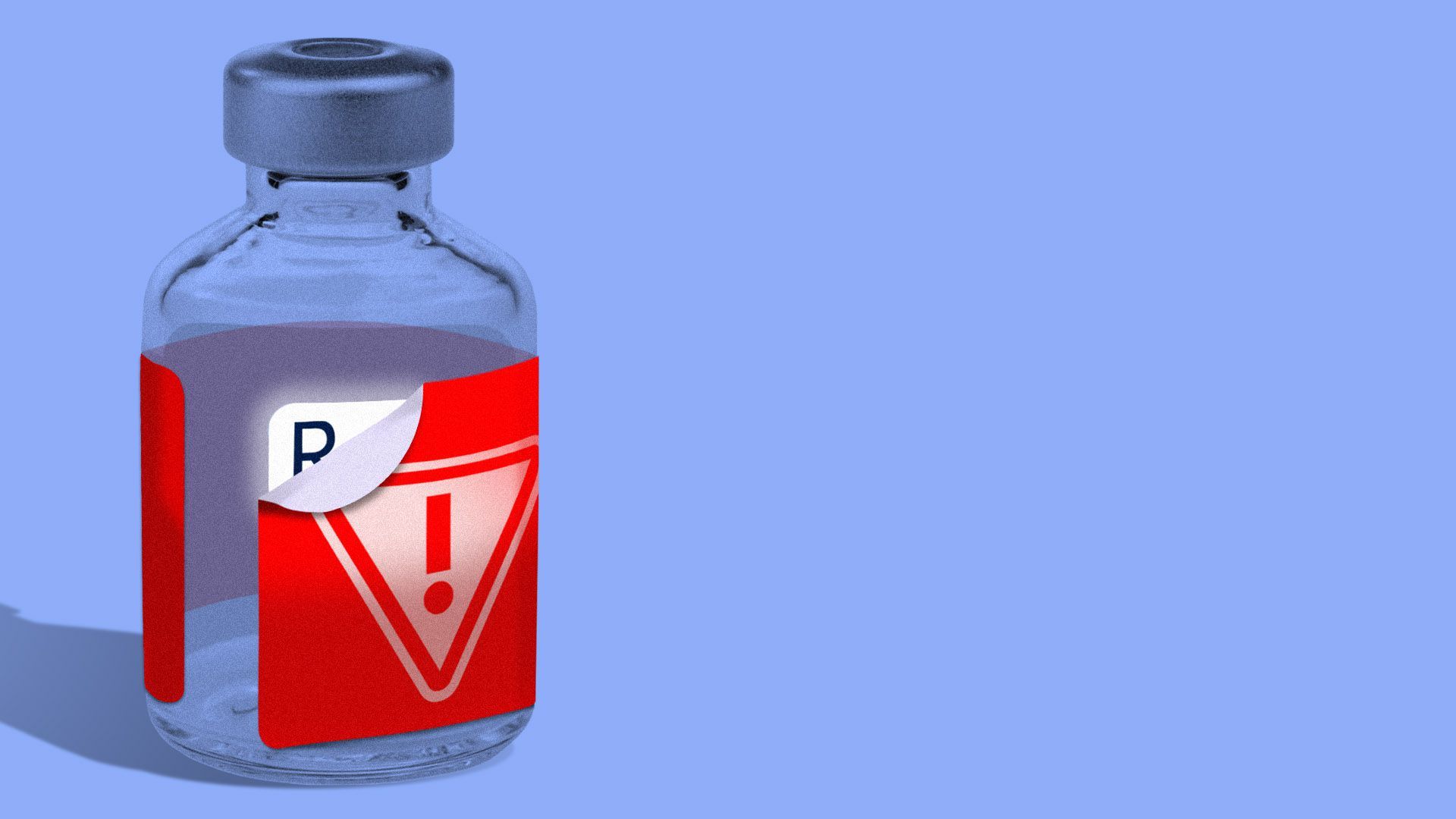 Facebook on Monday became the latest in a run of tech firms and media outlets taking action to stem the tide of COVID-19 vaccine misinformation, but experts worry the scramble to limit vaccination skepticism may be too little, too late, Axios' Margaret Harding McGill and Sara Fischer report.
Why it matters: "With all of these press releases, what we don't understand is, how is it actually going to be operationalized?" says Claire Wardle, the U.S. director of anti-misinformation nonprofit First Draft.
"Anti-vaxxers have historically always figured out where the policy guidelines are and figure out a way around them."
Driving the news: In a partial reversal from its previous position on vaccine misinformation, Facebook said Monday it will take tougher action during the pandemic against claims that vaccines, including the COVID-19 vaccines, are not effective or safe.
Among other changes, the company will bar users from posting debunked claims about vaccination, like the idea that vaccines are not effective or cause autism.
Yes, but: These efforts are only coming after anti-vax sentiment has swirled largely unchecked for years on major platforms — and months after public health officials began explaining that vaccines are likely the only way out of the pandemic.
While recent polls suggest Americans are growing more receptive to getting vaccinated, exposure to online COVID-19 misinformation makes people demonstrably less willing to do so, according to a peer-reviewed study published Friday in Nature.
5. No shared path back to normal
Most Americans aren't convinced that getting the COVID-19 vaccine is the silver bullet to returning to normal life, according to the latest installment of the Axios/Ipsos Coronavirus Index.
The big picture: Our weekly national survey finds broad disagreement and confusion over which cues people intend to follow to decide what behaviors are safe again, Axios' Margaret Talev writes.
Between the lines: People now see less intense risk when it comes to in-person gatherings, dining out, using taxis or rideshares or airplanes, and vacationing. In a new question this week, only 11% said they see a large risk in outdoor sports, such as skiing, sledding or skating.
But that's coupled with measures of sinking trust in the media. Trust in cable news has dropped to 38%, down from 50% last April. Trust in network news, and news from friends and family also declined, though less.
Age, education and party ID also are shaping people's thinking.
6. Tanzania rejecting coronavirus vaccines
A number of countries around the world have fudged official coronavirus statistics, shared artificially sunny outlooks about the pandemic, or cracked down on reports that counter the official narrative, Axios' Dave Lawler writes.
Zoom in: But no country has taken coronavirus denial to the extent of Tanzania — which is not only denying that it has a single case, but it's also rejecting vaccines.
Even North Korea, which has reported zero cases, is set to receive vaccines from the COVAX initiative. So too Turkmenistan, which is officially COVID-free but will soon launch its vaccination campaign with Russia's Sputnik V.
President John Magufuli says Tanzania doesn't need vaccines, and that they don't work anyway: "If the white man was able to come up with vaccinations, he should have found a vaccination for AIDS, cancer and TB by now."
His government has instead recommended herbal remedies, steam treatments, and a ginger and onion smoothie to ward off infection.
Reality check: Magufuli's COVID populism is dangerous for multiple reasons.
Tanzanians are dying. In crowded hospitals, patients on oxygen succumb to what will be officially recorded as "acute pneumonia," The Continent reports.
The virus crosses borders. The government's decision to refuse vaccines and make any test and trace system all but impossible could be dangerous for Tanzania's neighbors, and potentially the world.
The other side: Doctors and journalists have tried to spread the word about the risks, mostly anonymously due to the risk of retribution, and the Catholic Church recently raised the alarm.
7. Catch up quick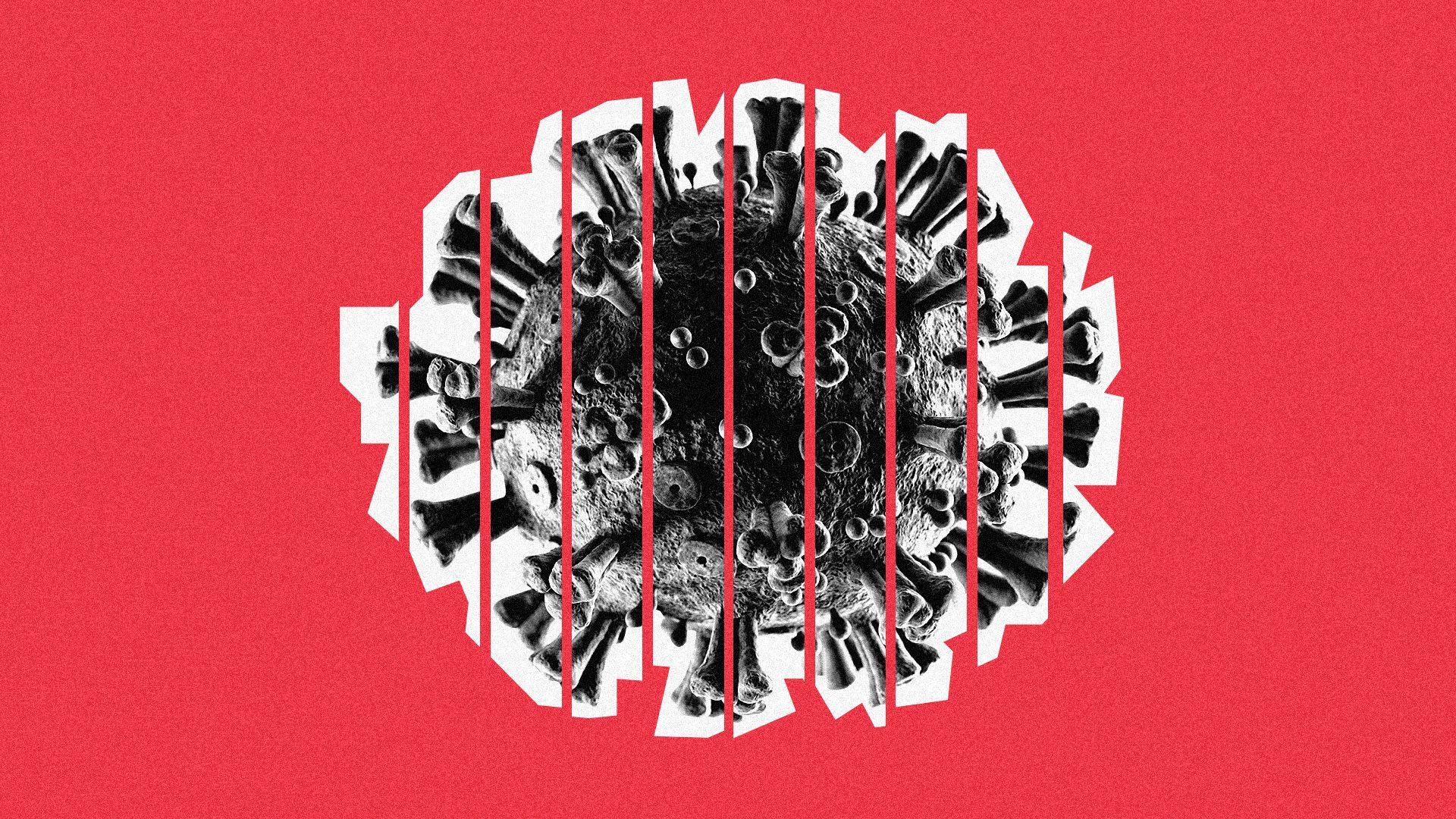 A new model built by researchers at Columbia University estimates that the majority of new coronavirus infections are still going undetected, NPR reports.
Many states aren't rigorously tracking or investigating suspected cases of coronavirus reinfection, and many may be going undetected, KHN reports.
New coronavirus cases dropped by 25% last week, the biggest decline of the pandemic, Reuters reports.
Hundreds of doctors and health providers are urging top state officials to add "a heavy dose of racial and health equity" to Minnesota's vaccine rollout to better prioritize communities of color, Axios Twin Cities' authors Torey Van Oot and Nick Halter write.
Public parks have grown so important during the pandemic that planners are suggesting bold renovations, Axios' Jennifer Kingson reports.