Axios Vitals
March 29, 2022
Good morning, Vitals readers. Today's newsletter is 912 words or a 3-minute read.
🚬 Interesting tidbit: Walmart has quietly removed cigarette products from some of its stores, but it's not officially halting all tobacco sales, Axios' Pete Gannon reports.
1 big thing: New normal for U.S. health care spending
U.S. health care spending is likely to grow at about the rate of inflation over the rest of the decade after the pandemic fueled a nearly 10% jump between 2019 and 2020, federal experts said Monday.
The big picture: The CMS actuaries' projections in Health Affairs came with plenty of caveats. But if trends hold, out-of-pocket spending is going up, as is spending on private coverage, Medicare and Medicaid.
What they're saying: "This outlook is contingent on a virus that has evolved and surprised at every turn — and could do so again," the authors wrote.
By the numbers: National health spending surged 9.7% in 2020, rising from $3.8 trillion in spending in 2019 to $4.1 trillion in spending in 2020.
Spending growth is projected to drop to less than half of that, 4.2% in 2021, or about $4.3 trillion.
The actuaries project 4.6% spending growth in 2022, or about $4.5 trillion.
Zoom out: Spending is expected to grow an average of 5.1% between 2021 and 2030 when it would reach almost $6.8 trillion. Growth in the Gross Domestic Product is also projected to be 5.1% annually over the same period.
That will keep the health share of the economy at just shy of 20%.
2. Biden health budget short on specifics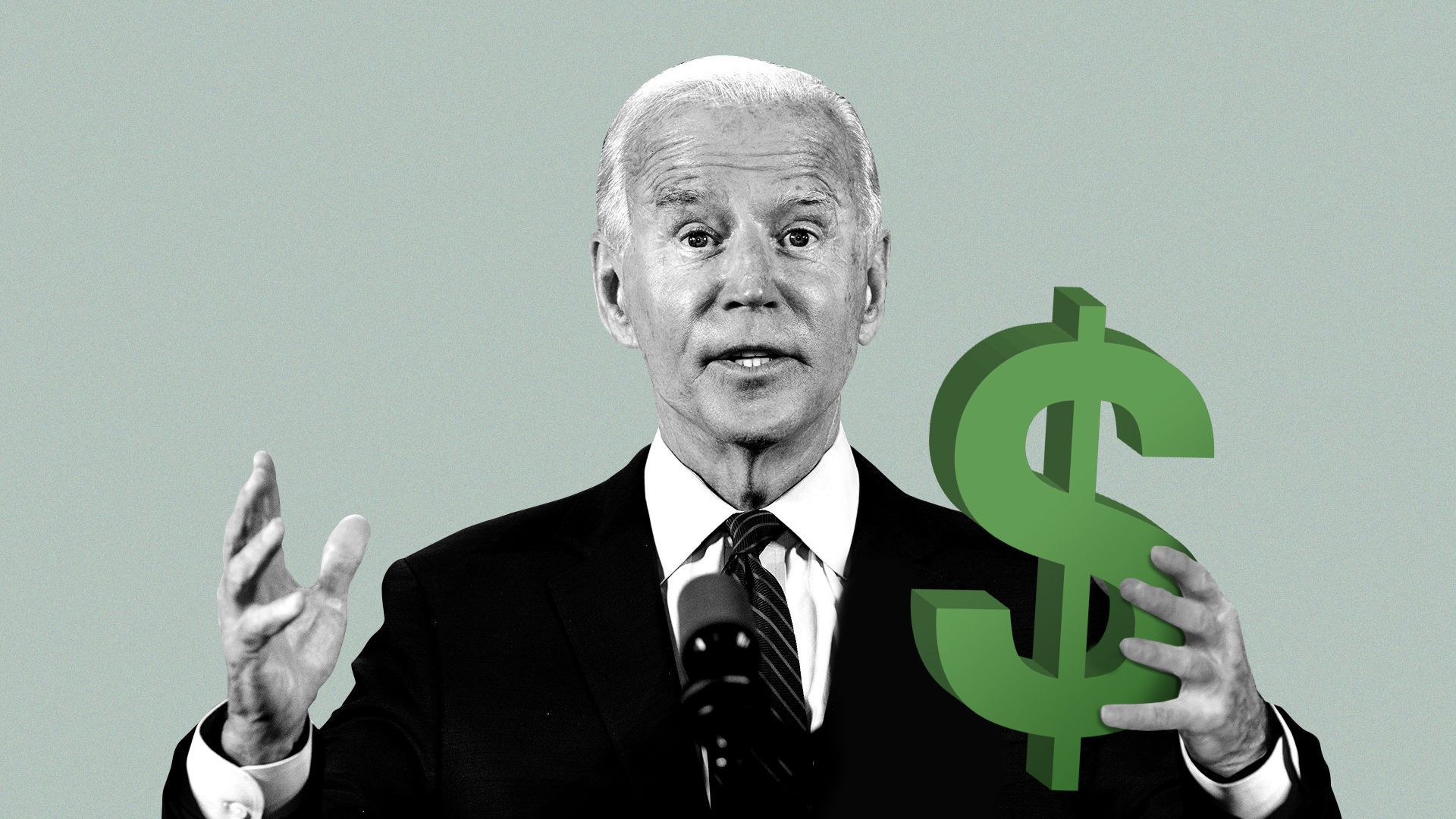 President Biden's fiscal 2023 budget blueprint is light on specifics for key items on his healthcare agenda, but makes major spending commitments on mental health and preparing for future crises, Axios' Adriel Bettelheim writes.
Why it matters: The budget released Monday amounts to little more than a wish list to Congress but offers clues about what Biden is prioritizing.
The big picture: HHS would get $127.3 billion in discretionary spending under the plan — an almost 27% boost.
Go deeper: The plan calls for $81.7 billion in mandatory spending over five years for COVID and future pandemics — including vaccines, therapeutics, expanded lab capacity and improved data systems.
The budget also envisions spending $51.7 billion over a decade on mental health, taking steps like eliminating Medicare's 190-day limit on psychiatric stays.
It would shift all Medicare coverage of vaccines into Part B.
It includes $5 billion for Biden's Advanced Research Projects Agency for Health, ARPA-H, the new biomedical research agency within NIH.
What's missing: The plan endorses key Biden agenda items like bringing down drug prices without providing details about how, and lacks details on how to expand coverage to the uninsured or lower premiums.
"Specifics for Biden's top healthcare priorities are notably absent (similar to last year)," Michael Newshel of Evercore ISI wrote in a note.
3. KFF: COVID care will get harder to access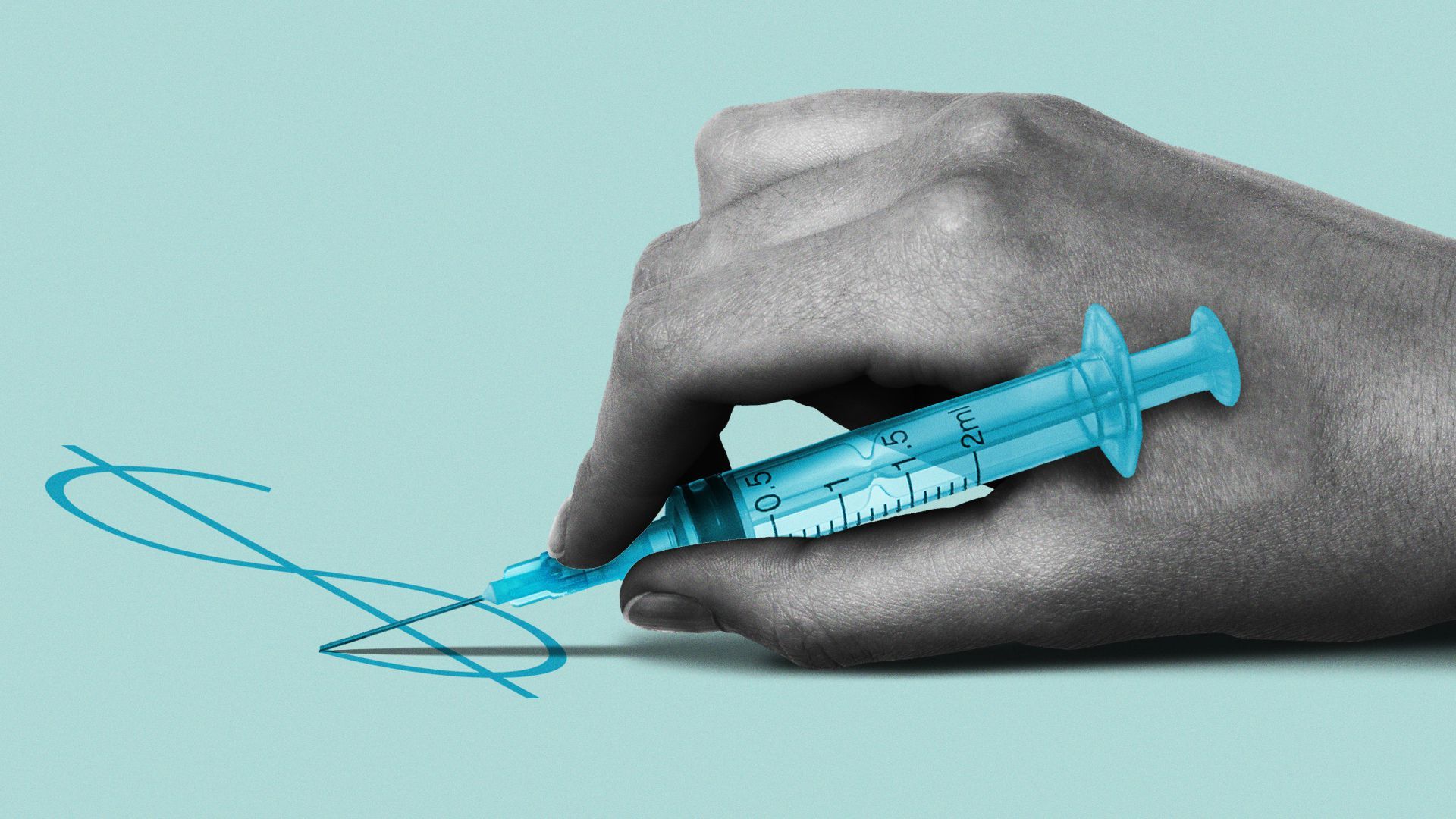 The discontinuation of the federal program that makes free COVID care available to uninsured Americans means that they're likely to have a lot more difficulty accessing pandemic care, Axios' Caitlin Owens writes from a new KFF brief. 
Higher costs for many covered Americans are likely right around the corner, too.
Why it matters: If patients are on the hook for more of their COVID-related costs, a bad case of the virus could suddenly become a much larger financial burden.
Or patients may simply be less willing to get tested or vaccinated.
The big picture: The federal government has spent billions on coronavirus tests, treatments and vaccines, and in some cases — such as through the uninsured fund — has also paid providers for administering such care. 
Public and private insurers have been restricted from passing along some COVID-related costs to enrollees. But many of these restrictions are tied to the public health emergency, which is set to end next month unless it's extended again. 
The congressional standoff over new COVID funding has made this transition away from federal subsidization of care much more abrupt, especially for the uninsured. 
4. Vaccine goals should change, paper argues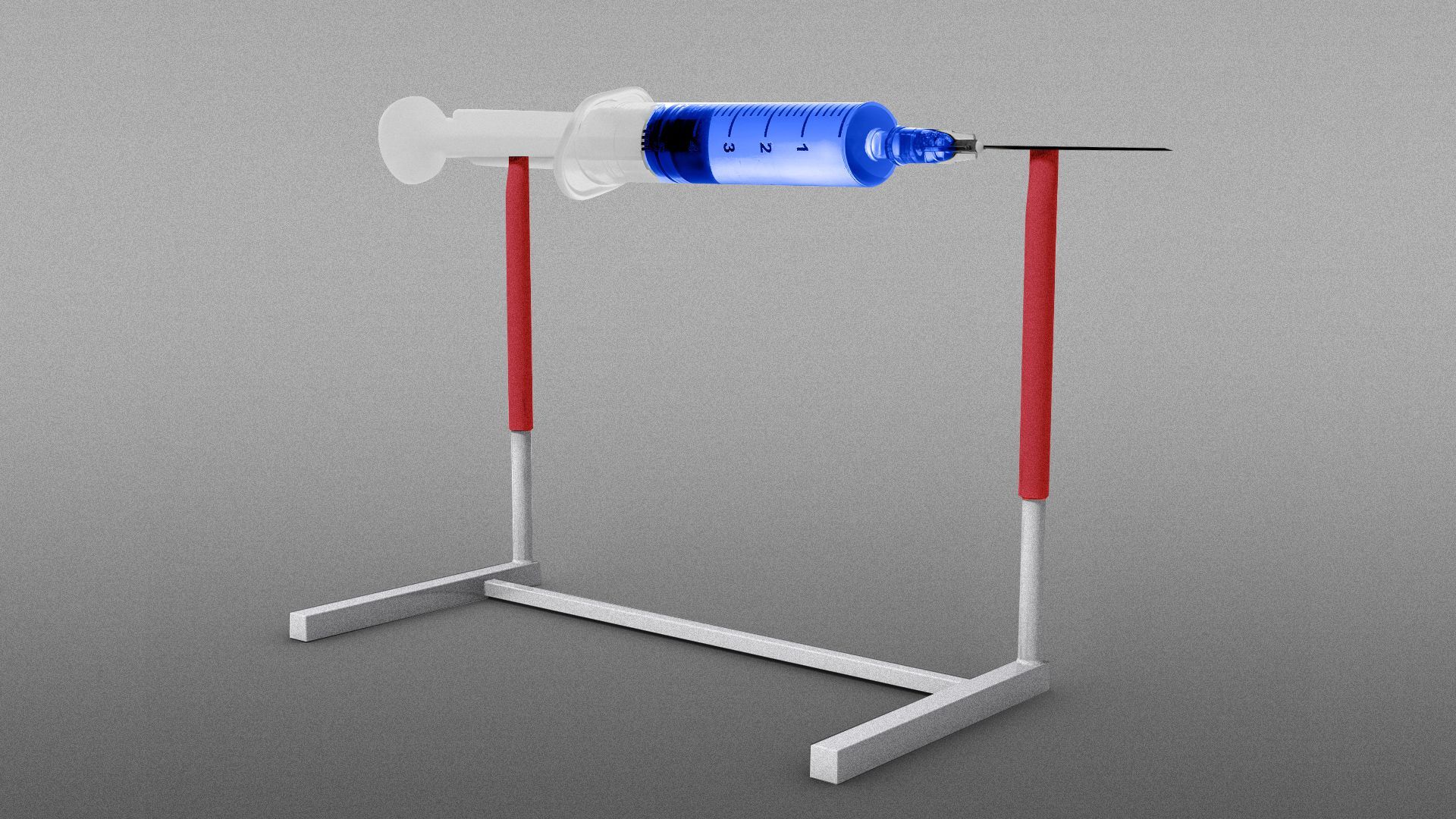 The Omicron wave of the pandemic points to the need to reboot global vaccine strategies and pivot away from the WHO's goal of covering 70% of the population with a primary vaccination by the middle of this year, Adriel reports about a new policy paper.
Why it matters: Highly infectious Omicron was a game-changer, proving the primary purpose of vaccination is to prevent severe illness and death, not to prevent transmission or infection, experts from Duke University and the COVID Collaborative argue.
Go deeper: Countries with limited resources should prioritize full vaccination and boosters for those at highest risk of getting severe cases of COVID, which could allow strapped health systems to meet other critical needs, like routine immunizations and preventive services, the authors write.
Wealthier countries and multinational organizations haven't done enough to ensure an equitable global COVID response and their desire to emerge from the pandemic coupled with the crisis in Ukraine will further strain resources, the paper states.
The big picture: COVID will keep circulating for years, requiring a shift from emergency crisis management to a more sustainable strategy made possible by progress in testing, surveillance and new antiviral treatments.
5. Prediabetes increases among American teens
There was a significant jump in the prevalence of prediabetes among teens in the U.S. between 1999 and 2018, according to an analysis published in JAMA Pediatrics on Monday.
Why it matters: The U.S. Preventive Services Task Force released a recommendation on screening for prediabetes and Type 2 diabetes among adults, but hasn't yet made recommendations for kids, the researchers wrote.
By the numbers: The researchers used data from nearly 7,000 kids ages 12–19 in the CDC's National Health and Nutrition Examination Survey, which included the collection of blood samples.
The number of kids who were prediabetic increased from more than 11% to 28% over that time.