Axios Vitals
June 14, 2017
Good morning ... Don't forget to check out our Axios event this morning on the human brain, hosted by Axios Science editor Alison Snyder. It's in L.A., but you can watch the livestream here at 11:30 a.m. Eastern, 8:30 a.m. Pacific.
And if you're in D.C., David is moderating a Manhattan Institute-U.S. Chamber of Commerce panel discussion this morning on "Solving the Drug-Pricing Challenge." Details here. There's no livestream, but David will report back to you Thursday morning on how they solved it.
Trump wants a bill — but not another "mean" one
Key Senate Republicans met with President Trump on Tuesday to discuss the health care bill, getting little policy direction but rather a reminder that Trump really, really wants them to get the bill done. While he gave no concrete timeline, he made it clear that "sooner is better than later," Sen. John Thune told reporters.
Trump also made it clear that he's fine with the Senate bill looking different than the House bill, which AP reports he called "mean." Specifically, Trump said he wants the bill to be more generous towards low-income, elderly people and to protect people with pre-existing conditions, Thune said.
Current status: So where is the Senate on that bill? Sen. Orrin Hatch, chairman of the Finance Committee, laughed when asked whether they'll have a bill to send to the Congressional Budget Office this week. "I don't think so," Hatch said.
Majority Whip John Cornyn said the party "could" still meet its goal of passing a bill before the July 4 recess. When asked whether it was likely, he said, "It depends."Sen. Mike Rounds: "The timing is based upon when you get to 50...We got a long way to go yet."Cornyn also said the Senate will not vote without a CBO score.
More coverage = more health care jobs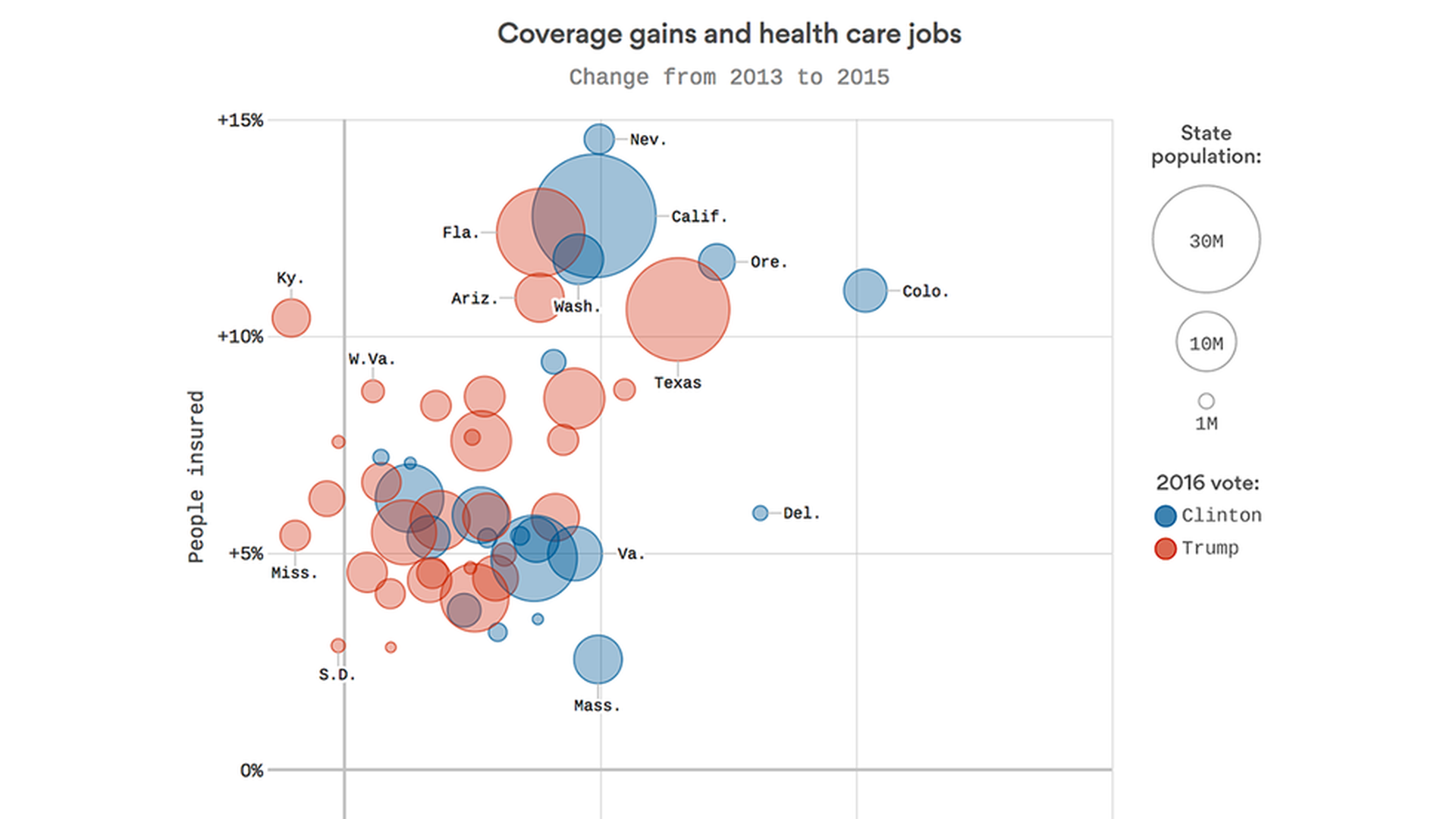 Turns out there's a pretty direct correlation between coverage and health care jobs: In the states that made the biggest health insurance gains under the Affordable Care Act, they also gained a lot of health care jobs. That's what Caitlin Owens and Chris Canipe found when they put the two data sets together. For more details, read the story and use the interactive graphic here.
Why Centene isn't dumping the ACA
It's the "man bites dog" health care story of the week: Centene is expanding its ACA offerings into more states (Kansas, Missouri, and Nevada). Why? Because, as Bob Herman reported yesterday, the insurer knows how to make the ACA profitable for them. It has narrow provider networks and high deductibles, but also low premiums, so it attracts healthy customers.
The victory lap: "Centene has demonstrated disciplined execution, agility and capacity to successfully navigate industry changes to the benefit of our members, customers and shareholders," Centene CEO Michael F. Neidorff said in a statement.
And Aetna's staying in Nevada
It made a big deal of announcing it was pulling out of the other states, but Aetna has filed to offer plans in Nevada's ACA exchange, CNN Money reports. It did that to help win a contract to offer Medicaid coverage in the state, though a spokesman said the insurer hasn't made a final decision on whether to participate.
Flashback: Bob noticed last month that Aetna wasn't saying what it was going to do about Nevada.
Drug prices hearing turns into a Democratic scolding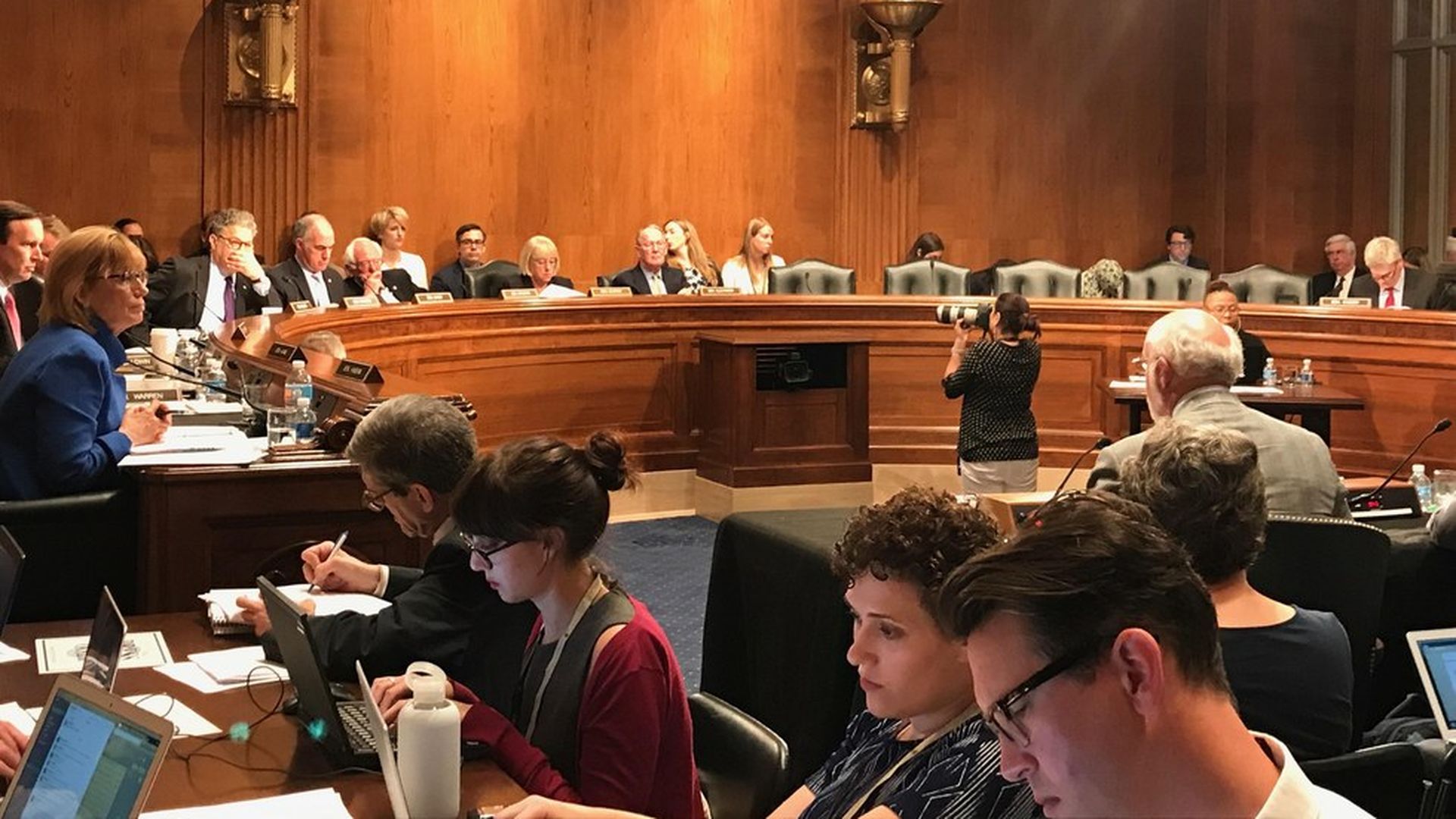 As you can see, there weren't a ton of Republicans at yesterday's Senate HELP Committee hearing on drug prices. It was mostly Democrats — and they spent their time piling on about the secrecy of the process for writing the Senate ACA repeal bill. It gave us a good preview of what the next few weeks will be like, but it was sometimes hard to remember what the hearing was about.
Sen. Patty Murray, the ranking Democrat, asked Chairman Lamar Alexander if there would be any hearings on the Senate bill: "People deserve a public debate on the future of the health care system."
Alexander: "I have none planned," but the bill would be referred to the Finance Committee anyway, and he already had a hearing on the problems of the individual insurance market earlier this year.
Murray: "When we passed the ACA we had 57 bipartisan HELP committee hearings and meetings and roundtables."
Alexander: "You passed the ACA in the middle of a snowstorm with 60 votes and crammed it down the throats of Republicans."
Sen. Elizabeth Warren: "It is insane to pretend to agree to have a bipartisan agreement on lowering drug prices when at this moment 13 Republicans are writing a secret bill to kick 23 million people off of their health insurance."
Sen. Chris Murphy: "We can talk all we want about benefit design, but if 23 million Americans lose their health insurance, they can't afford prescription drugs."
Franken to the rescue: It was only the dry wit of Sen. Al Franken that broke the tension. The secrecy and lack of hearings, he said to Alexander, proved that the HELP Committee chairman is "a rabid, right-wing partisan."
(Pause)
"Is that helpful to you?"
But back to drug prices...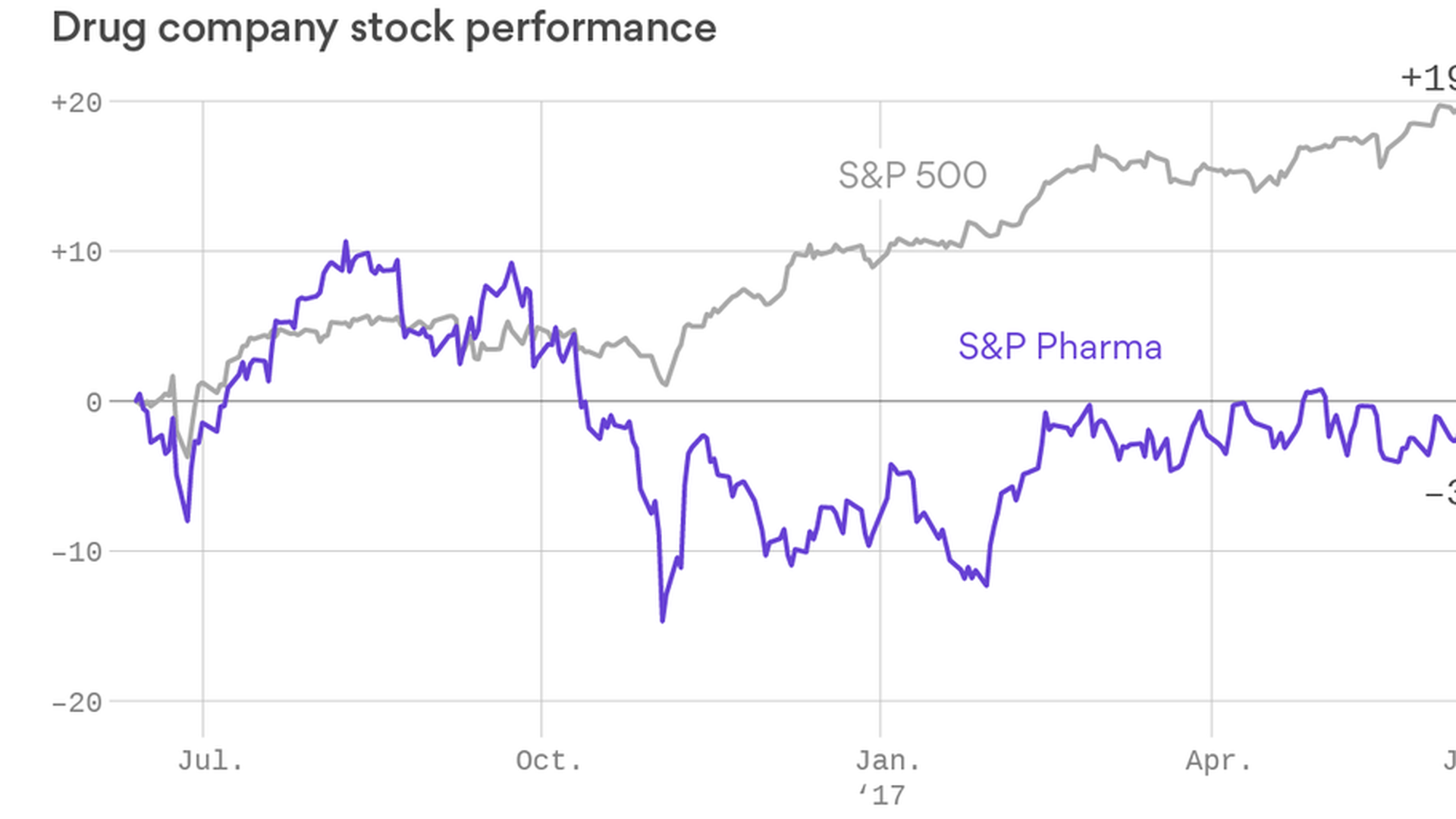 The pharmaceutical industry needs some certainty about what the Trump administration and Congress might do about drug prices, as you can see from its lagging stock performance. But yesterday's hearing didn't shed a lot of light on that. Here's what we did learn:
It's still mostly a Democratic exercise. Most of the Republicans who showed up were moderates — Susan Collins, Bill Cassidy, and Lisa Murkowski.
Those Republicans gave some hints of what they're interested in. Collins asked what can be done to pressure drug companies that won't share samples of their products with generic drug makers. Murkowski asked how to "get out of the cycle" of escalating prices that includes rebates to pharmacy benefit managers.
But there's no clear direction that top Republicans might take. Alexander spent most of the hearing asking basic questions, like whether the fact that patients are paying more for drugs means that employers are paying less.
Democrats, including Franken and Bernie Sanders, made it clear that they're going to push for the standard Democratic proposals, including letting Medicare negotiate drug prices and importing cheaper drugs from Canada. Both are non-starters with most Republicans.
Alexander said he'll hold two more hearings on drug prices, one next month and one in the fall.
Another one for the radar: Sen. Ron Wyden, the top Democrat on the Finance Committee, introduced a new bill yesterday that would require the Department of Health and Human Services to tell drug makers when they've raised their prices beyond certain benchmarks. The drug makers would have to either justify the increases or lower their prices.
How jobs and Medicare affected the exchanges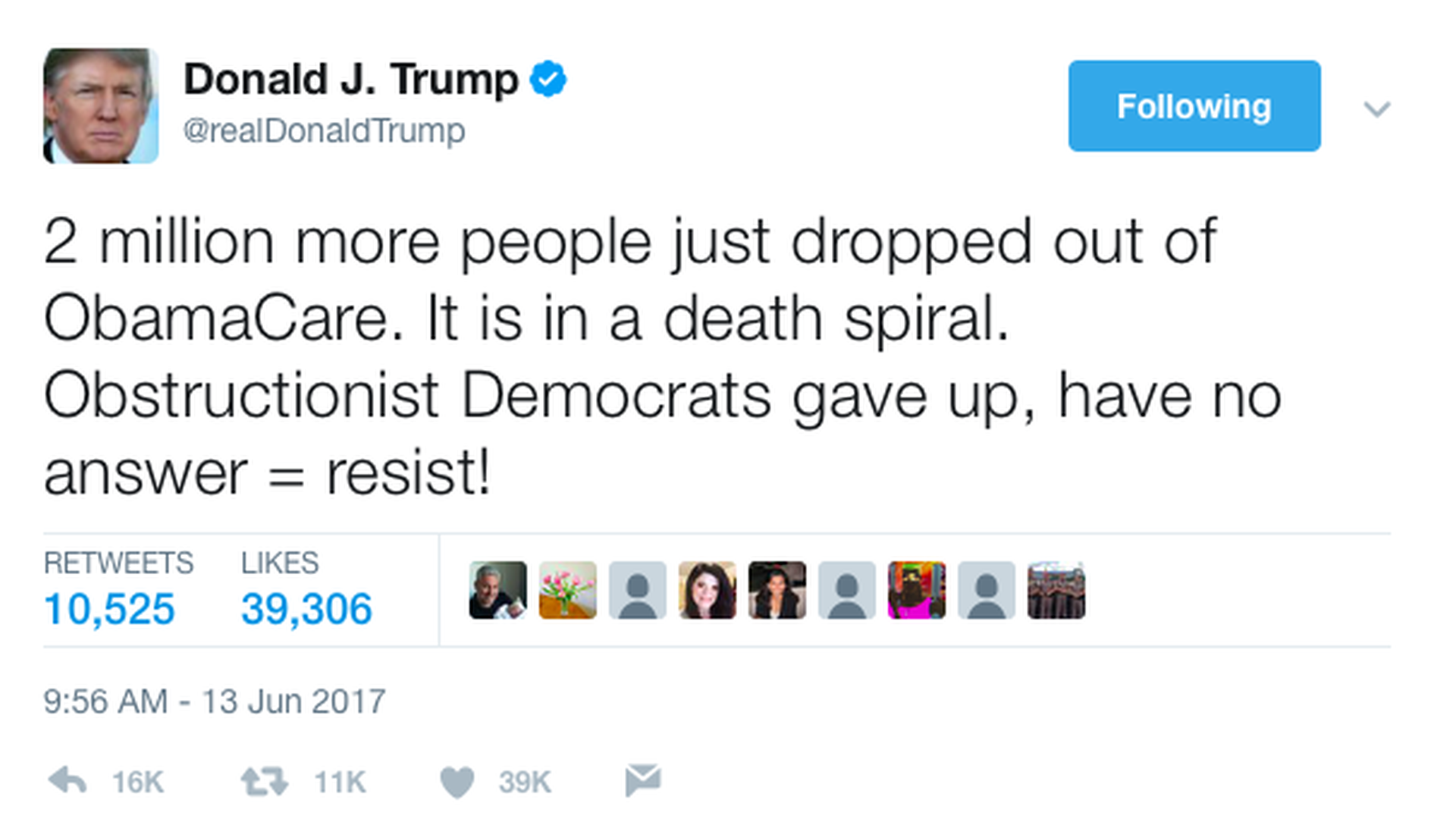 The federal data from this week that showed the number of active ACA enrollees for 2017 was down by 1.9 million people grabbed a lot of attention. Trump made sure to tweet about it. But Bob notes that the Trump administration's own survey revealed that other forms of insurance played a bigger role in why people dumped their ACA coverage.
46% of people who canceled ACA coverage cited higher costs.But another 49% said they left their plan because they gained health insurance elsewhere, mostly through a job or by qualifying for Medicare.And don't forget: Trump's tweet makes it sound like the drop-off between signups and people who paid their premiums was new, but it actually happens every year.
What we're watching today: House Energy and Commerce health subcommittee hearing on reauthorizing CHIP, 10:15 a.m. Eastern. Livestream here. Also, American Medical Association House of Delegates wraps up its meeting in Chicago.
What we're watching this week: Goldman Sachs Global Healthcare Conference, today through Thursday.
What we're watching next week: Biotechnology Innovation Organization annual convention in San Diego, June 19-22.
What did we miss? Fire away: [email protected], [email protected].