Axios Vitals
August 30, 2023
Good morning, Vitals readers. Today's newsletter is 1,089 words or a 4-minute read.
1 big thing: Negotiations could have limited impact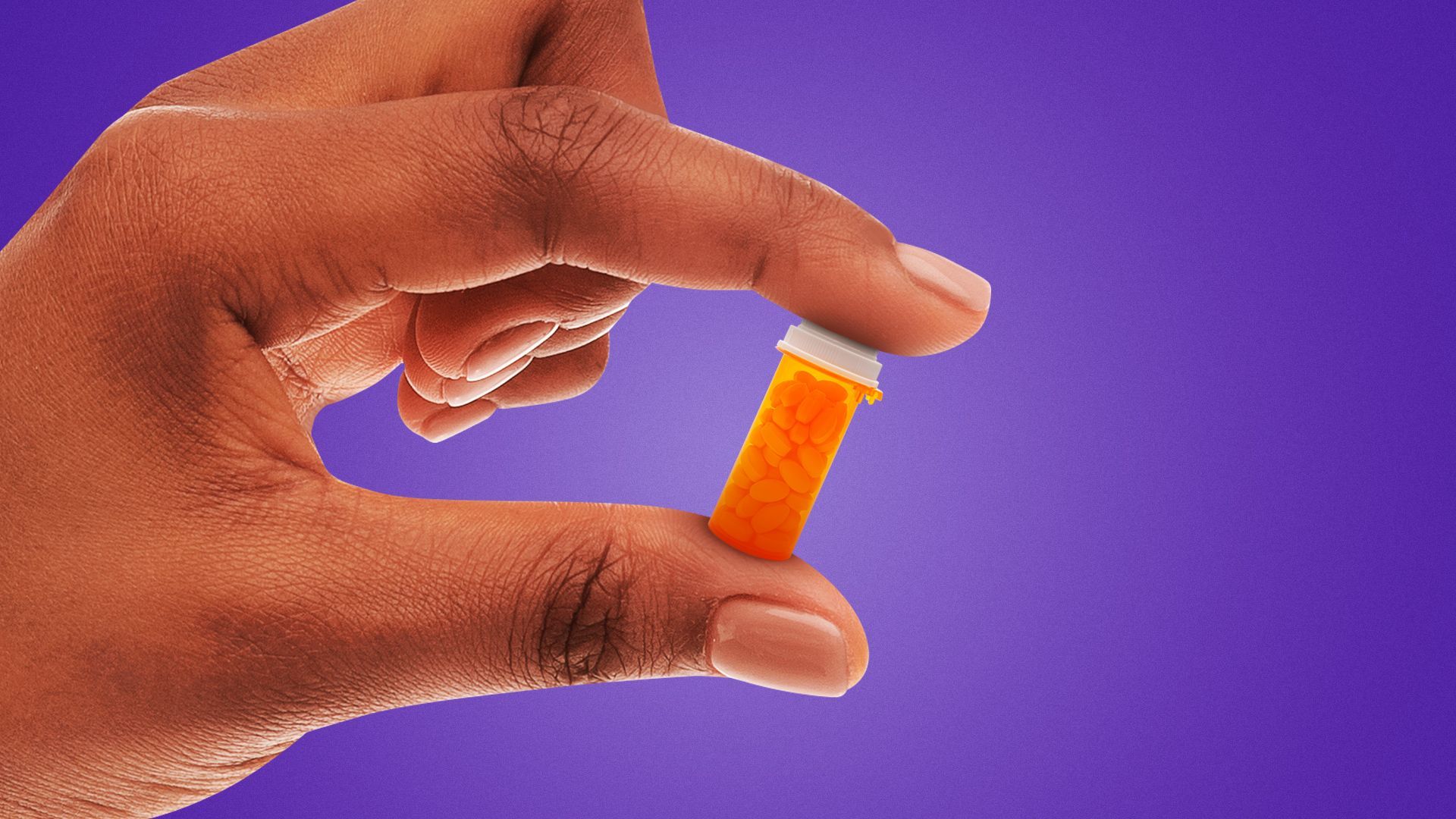 Depending on who you ask, the first-ever Medicare drug negotiations announced yesterday will either mean huge pocketbook relief for seniors or the demise of America's pharmaceutical industry — but the immediate impact will likely be relatively small, experts told Axios' Caitlin Owens.
Why it matters: There are still questions about how the Biden administration will arrive at what it thinks is a fair price for the drugs and how much of the savings from lower prices will ultimately be passed on to seniors. Constraints within the new law, existing discounts on many of these Medicare drugs, and fear of backlash if cuts are seen as unreasonably deep could mean a tempered rollout of the new negotiation scheme.
The big picture: The administration's cost projections don't account for rebates already negotiated by Part D plans or pharmacy benefit managers, and many of these drugs come with manufacturer discounts well below their list price.
That means the negotiated price on several drugs may not end up being much, if at all, lower than what the government currently pays on net for them.
"In a lot of cases, we don't expect the negotiated price to go lower than even the net price today. I think this list is chock-full of highly rebated drugs," said Stacie Dusetzina, a drug pricing expert at Vanderbilt University Medical Center.
That could change in the future, as Medicare gains the ability to negotiate prices for more drugs — especially those with fewer rebates.
"Once we're negotiating 20 drugs a year, I think savings are going to accrue," said Inma Hernandez, a pharmaceutical researcher at UC-San Diego.
Of note: Even if the negotiated prices don't ultimately translate to big savings for the federal government, they should still help out seniors, since their share of a drug's cost is based off the list price.
"Even if that's all that happens, that is a big win for patients who are filling drugs that are negotiated," Dusetzina said.
2. Charted: Medicare drug spending
The administration says the 10 medicines selected for the first round of negotiations cost Medicare $50 billion in the last year, Maya writes.
By the numbers: The blood thinner Eliquis, made by Bristol Myers Squibb and taken by 3.7 million Medicare enrollees, cost Medicare more than $16 billion between June 2022 and May 2023.
That's more than double the next highest-cost drug, the diabetes medication Jardiance from Boehringer Ingelheim and Eli Lilly, and over six times higher than the three drugs rounding out the list.
In 2022, Medicare patients paid an average of $5,247 out of pocket for blood cancer drug Imbruvica made by AbbVie and Janssen, more than any other drug on the negotiation list, according to a health department report released Tuesday.
3. OTC Narcan hitting shelves soon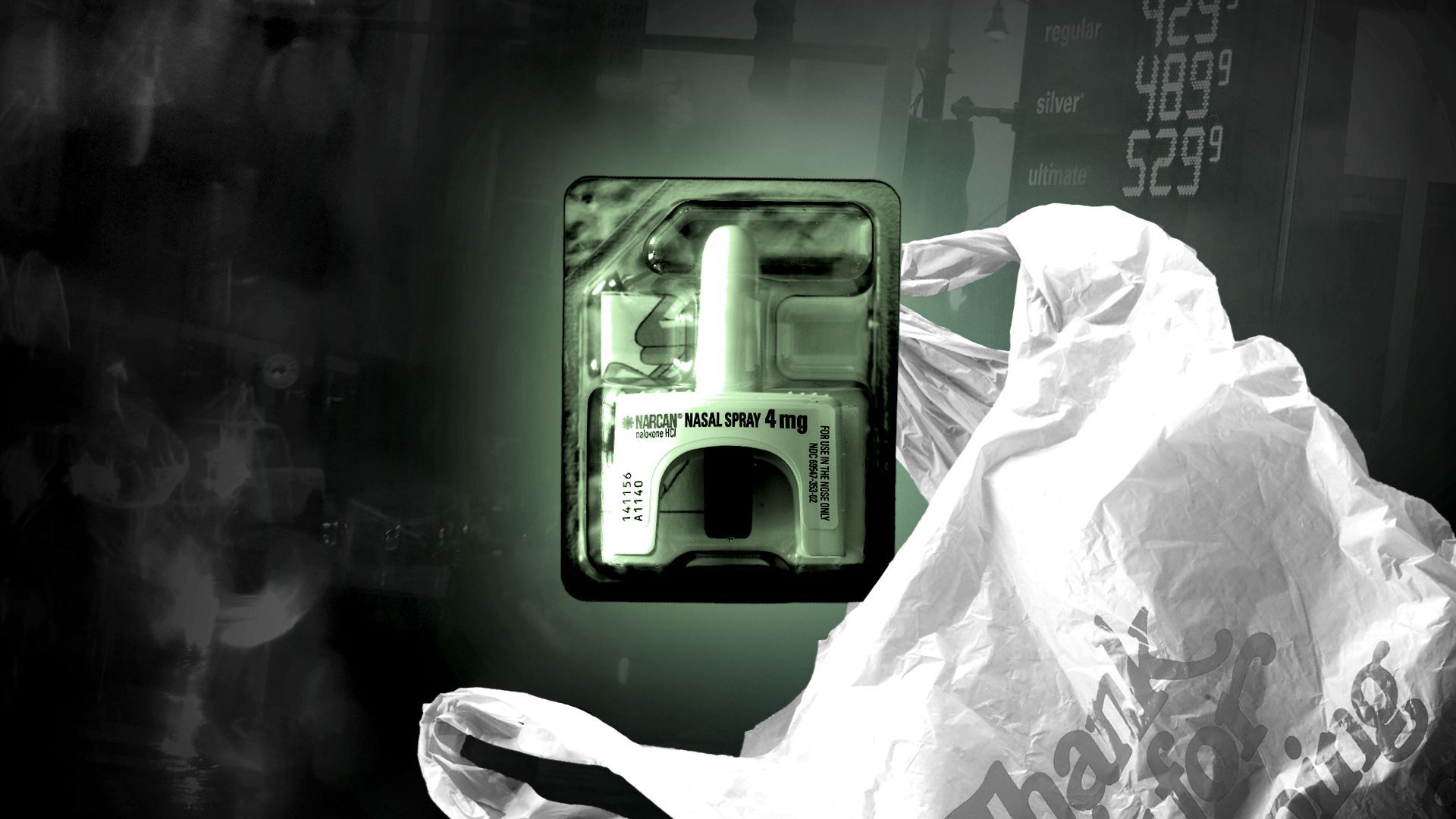 The first opioid overdose treatment to be sold without a prescription will hit store shelves next month — but at a price some experts worry is too high for widespread use, Axios' Sabrina Moreno writes.
The individuals with the greatest need might not be able to afford a co-pay, if health plans even opt to cover over-the-counter Narcan, which will retail for $44.99.
Driving the news: Manufacturer Emergent BioSolutions said on Wednesday that it's begun shipping out the two-dose, 4-milligram spray version of naloxone under the Narcan label to retailers like Walgreens, Walmart and Rite Aid.
The initial distribution will be several hundred thousand cartons of Narcan, a company spokesperson said.
State and local government programs and harm reduction groups who distribute the treatment at no cost will be able to buy the packages for $41 starting Aug. 31.
State of play: The FDA approved selling Narcan without a prescription in March after FDA advisers unanimously endorsed.
RiVive, another over-the-counter naloxone nasal spray, won approval in late July and could be available early next year at a lower price than Narcan.
4. Post du jour: Hopeful COVID signal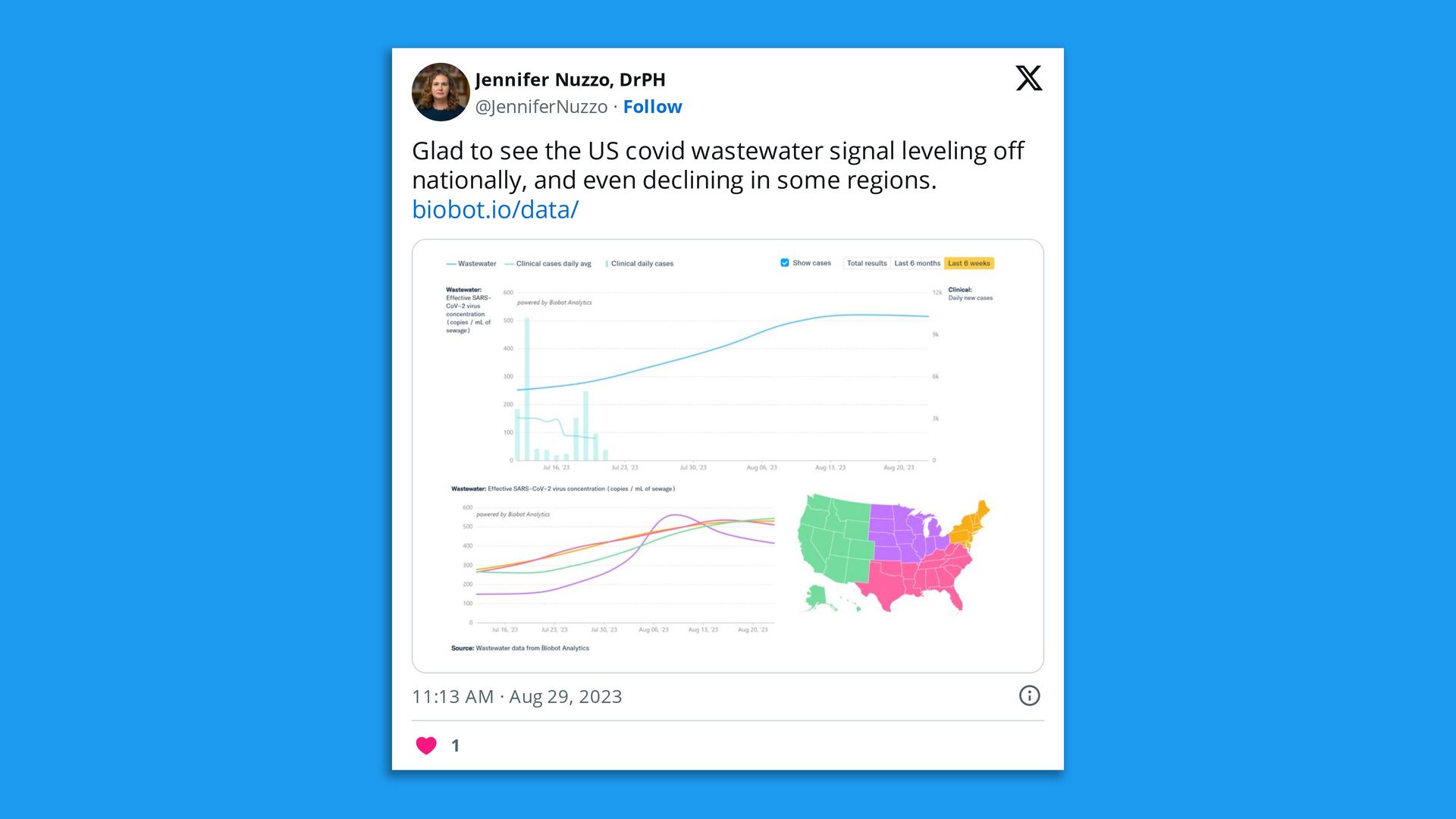 Wastewater data has been one of the more important tools in charting COVID-19's trajectory as testing numbers have become less reliable.
As epidemiologist Jennifer Nuzzo pointed out on X, the platform formerly known at Twitter, data shows signals of COVID circulating in the U.S, have been leveling off nationally, "and even declining in some regions."
Yes, but: As case numbers have risen with this summer wave, COVID hospitalizations increased 18.8% in the most recent week for which CDC has data.
5. The big price of low-quality care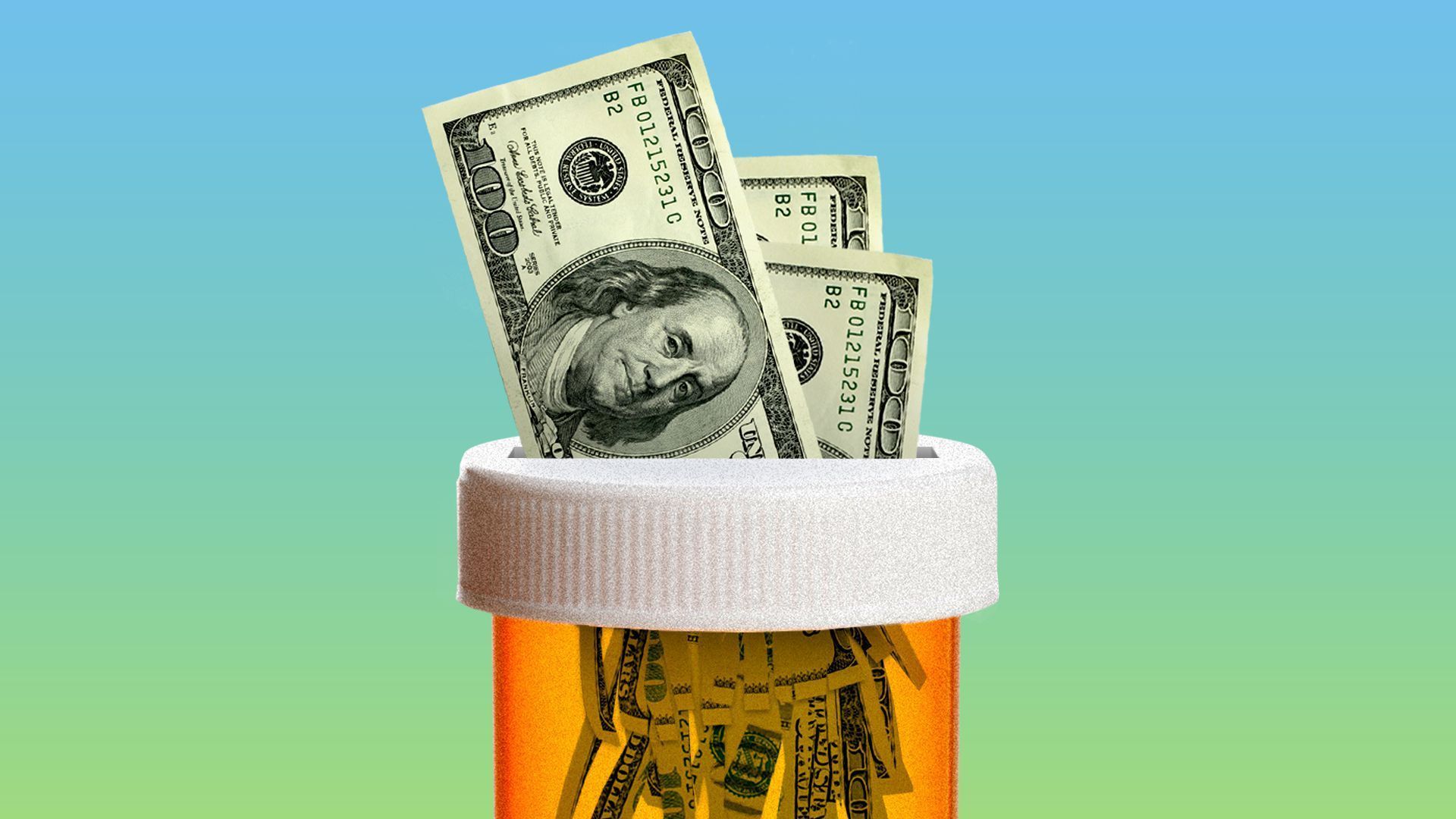 Companies are spending big on employees' health, often with little insight into whether they're paying for quality care, Tina writes.
Why it matters: Whether patients are given and stick with the best documented course of care — such as statins for heart disease — can have everything to do with what doctor they go to.
But the wide variation in care patients receive isn't just leading to poorer outcomes. It's also also pricey to employers, who have seen health costs soar without necessarily getting a good return on that investment, according to a new report from JPMorgan Chase's health care arm Morgan Health.
What they're saying: "Employers are spending over a trillion dollars annually on health care for their employees and, understandably so, many of them believe that they're buying a high-quality health care experience," Katherine Bobroske, vice president of health care innovation and data science at Morgan Health, told Axios.
But it's a "very different" picture once you dive into the data, she said.
Zoom in: Working with Embold Health, one of Morgan's portfolio companies, they noted multiple examples of this phenomenon in a database of roughly 110 million commercial medical and pharmacy claims.
In the example of statins, which have been a guideline-recommended therapy for years, 37% of patients with coronary artery disease seeing the bottom 10% of performing cardiologists adhered to the therapy.
Meanwhile, 73% of patients who saw the top 10% of performing doctors adhered to the cholesterol-lowering drug therapy.
The bottom line: The researchers recommend employers put provider quality data in the hands of plan members and support an ecosystem where clinicians can make improvements based on that data — and insurers could build better networks around it.
6. Catch up quick
🏪 Walmart is asking some of its 16,000 pharmacists to voluntarily take pay cuts and work fewer hours in a bid to reduce costs. (Reuters)
🔬 President Biden's pick for NIH director agreed to major ethics demands that could help jumpstart her stalled nomination. (Politico)
📑 A new CMS study may signal the administration is stepping back from its promise to establish robust nursing home staffing levels. (KFF Health News)
🇺🇾 Uruguay is tackling its staggering suicide rates by offering free antidepressants and establishing youth social and mental health centers. (Axios)
Thanks for reading Axios Vitals, and to health care editor Jason Millman and senior copy editor Bryan McBournie. Please ask your friends and colleagues to sign up.