Good morning … And apologies to everyone who did not realize I was kidding yesterday, Thursday, when I said "at least it's Friday." That is a lame joke people sometimes make, in the middle of a long week when too much has happened.
Anyway, I probably could have laid the joke on a little thicker and avoided the confusion, but what can I say, I was tired. Can't believe I've already hit the wall and it's still only Monday!
https://www.axios.com/newsletters/axios-vitals-07a0adce-71bc-403c-bd1e-1c0703f0b706.html?chunk=0#story0
1 big thing: What Trump will — and won't — say on drug prices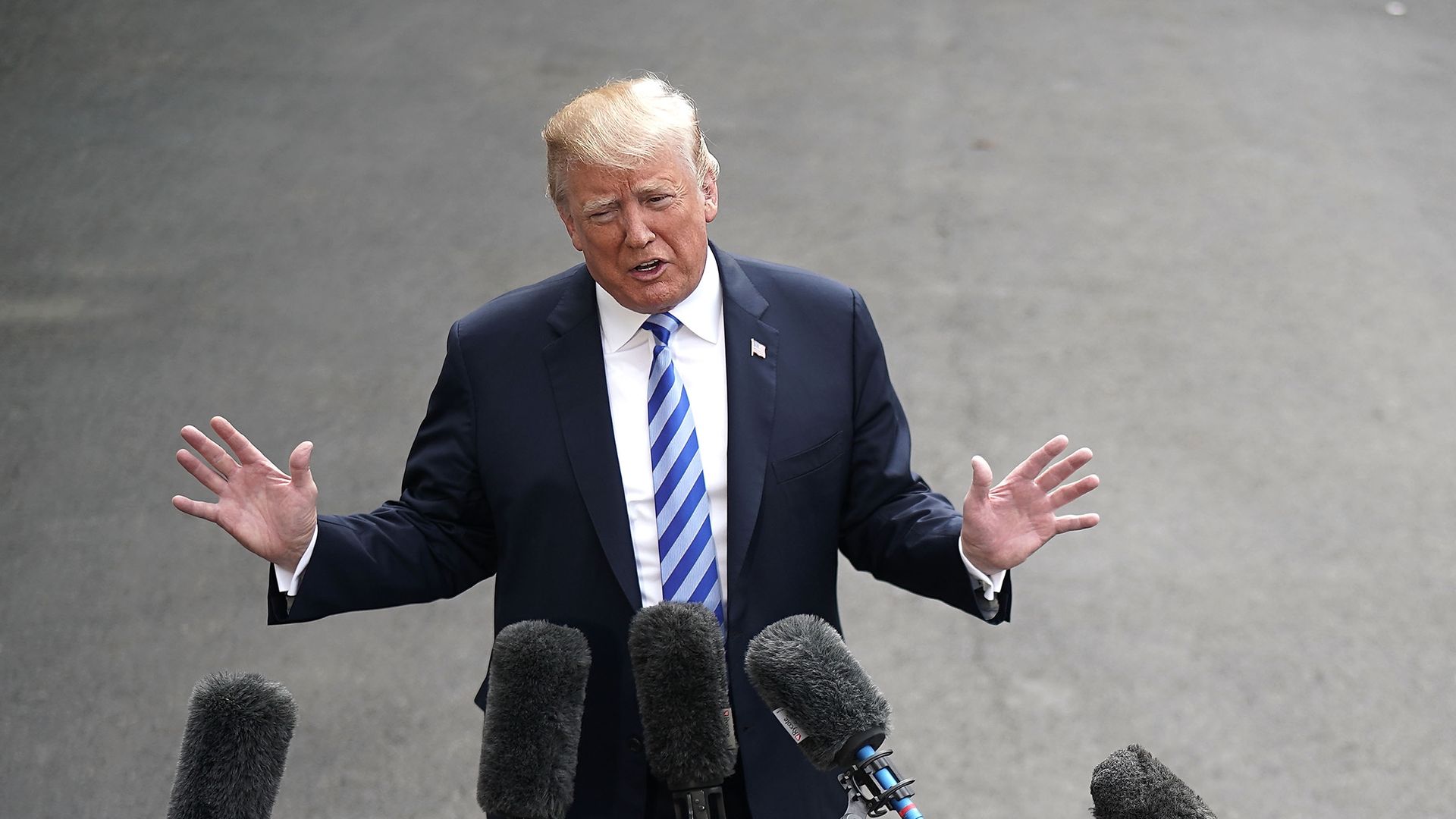 There are two really big things to watch in President Trump's speech today about drug prices: how much of this plan can be enacted without Congress' help, and the extent to which it takes aim at the actual prices of prescription drugs, rather than trying to rearrange the way the system divvies up those costs.
What we're hearing: There's always room for a surprise with this administration, but so far, all signs point toward a relatively modest proposal.
The latest I've heard about the contents of the proposal is about the same as what we were hearing before this speech was delayed last week: Some sort of regulatory nod to value-based pricing is seen as a strong possibility, as is some language on trade.
HHS Secretary Alex Azar and FDA Commissioner Scott Gottlieb — both of whom are more steeped in conservative health policy than Trump — have already laid out an agenda that focuses heavily on promoting more competition from generic drugs and targets various middlemen, including hospitals and pharmacy benefit managers.
What they're saying: The White House's proposal will likely fall largely along those same lines.
Senior administration officials provided very few details in a call with reporters last night, though they did promise "the most comprehensive plan" from "any president."
They said the plan would address drugs' list prices (though that appears to be largely through increased competition); crack down on other countries' low payment rates (which is hard to do); and reduce out-of-pocket spending.
Threat level: Many of the most muscular and controversial policies in Trump's speech will probably be reiterations of what was in his budget proposal — which would require congressional action, meaning drug companies and hospitals have a better chance of fighting to a draw.
The speech is scheduled for 2pm ET.
https://www.axios.com/newsletters/axios-vitals-07a0adce-71bc-403c-bd1e-1c0703f0b706.html?chunk=1#story1
2. The health spending gap is shrinking
We always hear that health care spending is sky-high, and it is. But one common measure that health care wonks use — the gap between health care spending and GDP — isn't actually as big as it used to be, the Kaiser Family Foundation's Drew Altman points out in today's column.
Since 2010, health care spending hasn't grown that much faster than GDP — a big departure from the previous 10 years.
And it's

projected to grow

only 1% faster than GDP from 2017 to 2026.
What we don't know: We don't know why the trend changed, or if it's permanent, or if the gap will widen again. So really, we don't know quite a bit. But if we could figure out how to cut the health care spending growth rate by just another 1%, it wouldn't be growing any faster than GDP, which could be quite an achievement.
Go deeper: Read the column here.
https://www.axios.com/newsletters/axios-vitals-07a0adce-71bc-403c-bd1e-1c0703f0b706.html?chunk=2#story2
3. The algorithm will see you now
Artificial intelligence systems can predict patients' diagnoses and outcomes with startling accuracy, and we don't even know how they're doing it. But we're going to end up relying on them anyway, according to an article in the Harvard Business Review.
The details: A team of academic researchers recently fed Google's machine-learning system anonymous data on hundreds of thousands of patients, and the AI was able to make accurate diagnoses and predictions.
The machines predicted a patient's odds of dying with 90% accuracy, within 24 hours of their hospital admission.
"These predictions, however, were based on patterns in the data that the researchers could not fully explain," the article says.
Think about the implications here. How would you feel if you walked into the hospital and your doctor told you, "The computer says you're going to die. We don't know how it knows that, but it's almost always right."
Key quote: "In some cases, doctors may have a legal obligation to use models that are more accurate than [human] expertise … This won't take doctors out of the loop entirely, but it will create new opportunities and new dangers as the technology evolves and becomes more powerful."
https://www.axios.com/newsletters/axios-vitals-07a0adce-71bc-403c-bd1e-1c0703f0b706.html?chunk=3#story3
4. Amazon wants Alexa to be a health assistant
Alexa is a big part of Amazon's designs on the health care industry. There's already been a fair amount of talk about how doctors could use voice-controlled digital assistants to double-check their decision-making, and now CNBC reports that Amazon also has a "health and wellness" team within its Alexa division.
The team's biggest obstacle, at least in the early going, will be to make Alexa compliant with the health-privacy law known as HIPAA. That's no easy task for anyone, much less for a relatively new technology.
Once that bar is cleared, the Alexa health care project will be "targeting areas like diabetes management, care for mothers and infants and aging," per CNBC.
The catch: Gizmodo notes that Amazon attempted to add a diabetes-management function to Alexa last year, as part of a partnership with Merck, but that effort seems to have sputtered.
According to Gizmodo, it's not just diabetes — a lot of Alexa "skills" outside the basics don't seem to have caught on, which could pose another hurdle to making it a commonplace health care tool.