Axios Vitals
April 23, 2018
Good morning … The health care world suffered a big loss this weekend with the death of Politico's Brett Norman. Brett was a smart reporter, full of depth and a strong command of the most complicated issues of health and medical science. And he was a warm, generous and decent person, always remarkably easy to get along with.
Our thoughts are with his Politico colleagues, his wife Kate and his whole family.
1 big thing: How to lower drug prices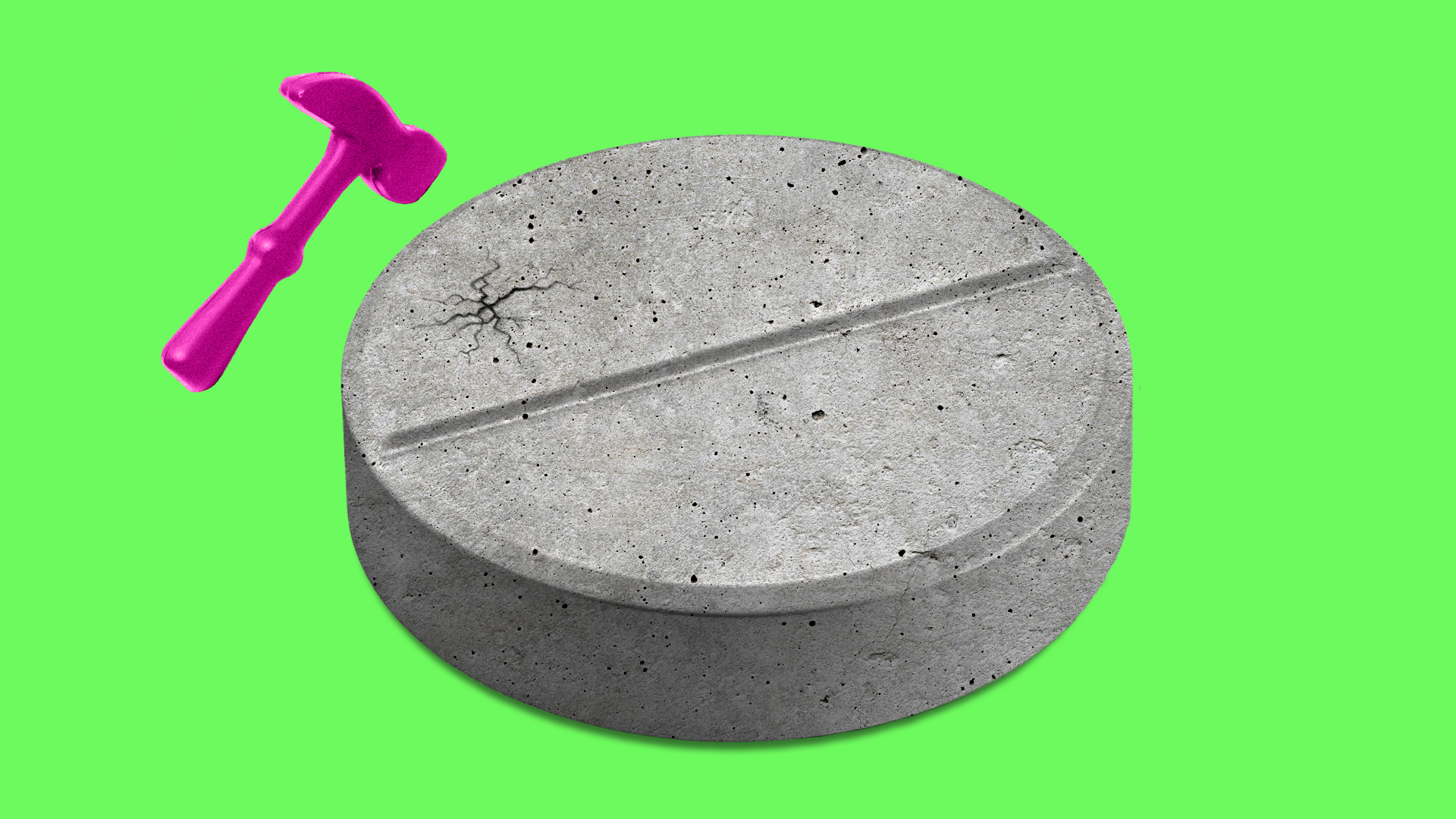 Some of the "plans" out there to lower prescription drug prices are too minor to matter. But some critics of those plans would have you believe that nothing short of government price-setting would make any difference — which is not the case.
With so many competing ideas floating around, I thought it might be helpful to break all this down, to make sense of the "buckets" of overall approaches that are on the table and how each one would work.
Bucket 1: Move the costs around
These proposals could reduce what patients pay for drugs, but not necessarily what the health care system as a whole pays — things like moving around the rebates from pharmacy benefit managers, or restructuring hospitals' discount program.
Bucket 2: Increase competition
The FDA has largely cleared out its backlog of generic drugs waiting for approval, which was a key first step.
Critics also say drug companies are abusing the patent system by taking out patents on even the most minor component of a drug, then reformulating those components and taking out a whole new "thicket" of patents — keeping generics at bay even longer.
Bucket 3: Reduce the prices
The marquee policy here is for Medicare to negotiate — or simply to dictate — what it will pay for drugs.
Go deeper: Read more on Axios.com.
Situational awareness: President Trump's big speech on drug prices, initially slated for later this week, has been delayed as Health and Human Services Secretary Alex Azar recovers from his recent hospitalization.
2. Dems want a more punitive opioid response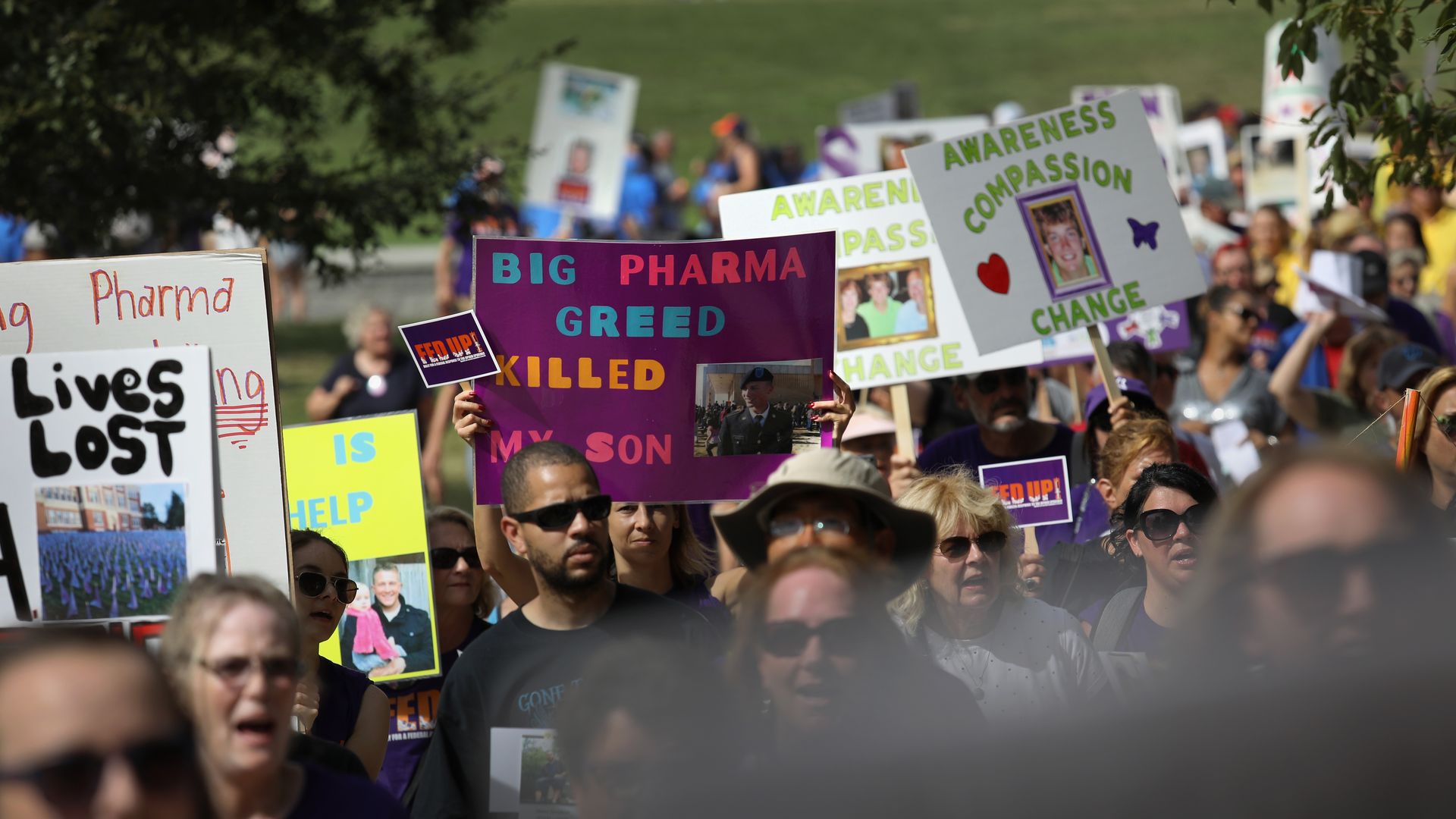 So far, Congress' response to the opioid epidemic has been focused largely on ways to get the addiction epidemic under control and get treatment for its victims. But some Democrats also want start punishing the companies that profit from opioid prescriptions, my colleague Caitlin Owens reports this morning.
Why you'll hear about this again: Sen. Bernie Sanders has proposed fines on drug companies that falsely market opioids as nonaddictive; criminal liability for top executives; and a $7.8 billion fine for any company that is found liable for contributing to the opioid epidemic.
His co-sponsors include Sens. Kamala Harris and Kirsten Gillibrand.
But it's not just the 2020 crew getting on board: Sen. Ron Wyden last week compared opioid makers to tobacco companies, and said that "the executives need to be brought before [Congress] and held accountable."
And Sen. Joe Manchin has a bill to tax each milligram of prescription opioids, using the revenues to fund treatment programs. His co-sponsors in the Senate run the Democratic gamut, from Heidi Heitkamp to Elizabeth Warren.
3. HHS to roll back transgender protections
Two big regulatory moves from the Trump administration, both reported out over the weekend:
The administration is planning to roll back Obama-era rules that bar doctors and hospitals from discriminating against transgender people, per The New York Times.
And, via Politico, the federal Medicaid agency is considering enforcing work requirements even for Native Americans, in states that add work requirements to their programs.
Why it matters: Axios' Erica Pandey summed it up well: These health moves would target two of the nation's most underrepresented and vulnerable communities.
4. Massive Medicaid contracts up for grabs
Wall Street will be closely watching Florida tomorrow, when the state is expected to award new Medicaid contracts to health insurers, Axios' Bob Herman reports.
Why it matters: Florida's Medicaid program is gigantic, covering 4.3 million low-income people. Florida's Medicaid population is bigger than the entire populations of 24 states. And that translates into big money — more than $15 billion from federal and state taxpayers — for private insurers.
Companies to watch: Almost every for-profit insurer has a current contract and is looking to stick around: Aetna, Anthem, Centene, Humana, Magellan Health, Molina Healthcare, UnitedHealth Group and WellCare Health Plans, along with a few local insurers.
5. Insurers push back on short-term plans
The health insurance industry's leading trade group, America's Health Insurance Plans, wants HHS to scale back its proposed expansion of short-term insurance plans that don't have to comply with many of the Affordable Care Act's benefit mandates.
The details: Comments on the administration's proposed changes to short-term plans are due today. Among AHIP's concerns are:
The Obama administration said people could only be covered by these plans for up to 3 months. The Trump administration wants to extend that to a year. AHIP says it should be 6 months.
It also wants the rules delayed until 2020. Insurers have to design their 2019 plans pretty soon, and AHIP says they need more time to build in the effects of more competition from bare-bones short-term plans.
The bottom line: "We recommend that short-term plans should not be offered as a full replacement for comprehensive coverage," AHIP says — because that could pull healthy customers out of the market for ACA coverage.
5. Doubts about Trump's VA nominee
Even some Republicans — in the White House and on Capitol Hill — are starting to worry that Ronny Jackson won't be confirmed as the next Veterans Affairs secretary, sources with direct knowledge of the situation told Axios' Jonathan Swan.
What they're saying:
Sen. Jerry Moran (R-Kan.), who sits on the VA Committee, told The Hill last week that Jackson "doesn't have the experience you'd think would traditionally be required at the VA."
Sen. Mike Rounds (S.D.), another Republican on the committee, told The Hill that Jackson knows about health care, but "has very limited background in terms of managing groups."
Swan also reports that the White House is "aware of specific concerns about Jackson's professional conduct in the Navy," though the legitimacy of those complaints is still under review.
The other side: White House legislative affairs director Marc Short pushed back against "members of Congress who have never managed a thing outside of their own congressional office (who) have the audacity to say he's not qualified before he even has a hearing."
Behind the scenes: While these concerns about Jackson grow on the Hill, administration officials are trying to intensely prepare Jackson for his hearing.
Get with the program: Subscribe to Sneak Peek, Swan's weekly lookahead for the White House and Congress.
7. While you were weekending ...
Concierge care has been around for a long time, but now — with a price tag of $10,000 per year — the rich can also access their own emergency rooms where they don't have to wait, according to The New York Times.
A health center in Michigan has been accused of going along with patients' requests to only be treated by white caregivers, the Chicago Tribune reports.
Via the Denver Post: Employers' health care costs continue to rise and they continue to push the burden onto employees.
What we're watching this week: The Senate health committee marks up its opioids bill on Tuesday, and the Veterans Affairs Committee hears from Jackson on Wednesday.
Senate appropriations hearing Tuesday on the FDA's budget; Senate homeland security panel hearing Thursday on HHS' efforts to combat human trafficking; House Ways and Means Committee hearing Thursday on innovation in health care.
What are you watching? Let me know: [email protected].