Good morning ... There are some pretty important lessons we can learn from the worldwide cyberattack that hit British hospitals. And pricing is the top pressure on U.S. and European pharma executives — by far.
https://www.axios.com/newsletters/axios-vitals-04c0ae5b-2453-4820-b015-371ae779cbb4.html?chunk=0#story0
Lesson from the cyberattack: Pay attention to security patches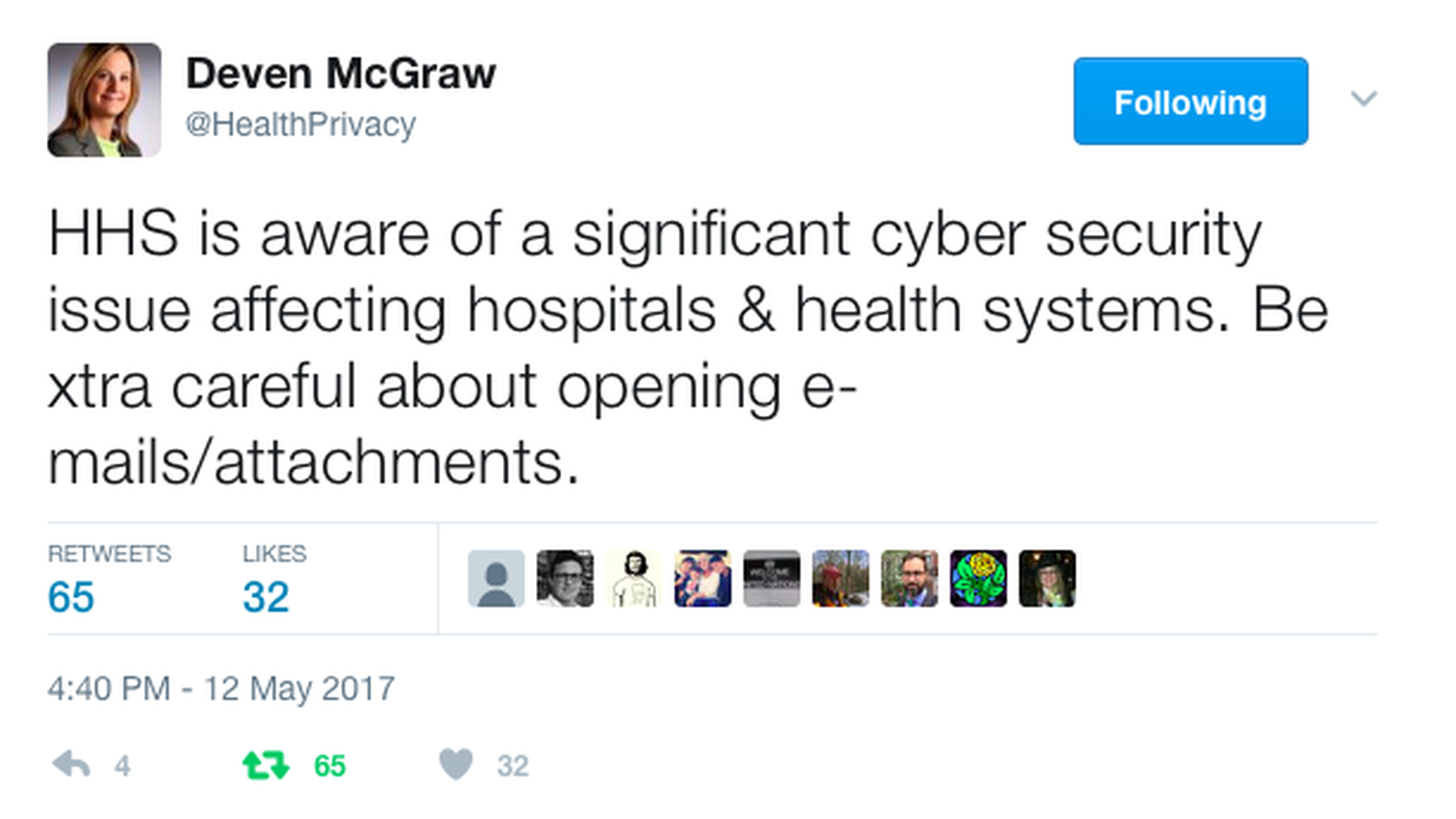 Want to avoid a cyberattack on U.S. hospitals and other health care facilities? Didn't like what you saw with the attack on the British National Health Services (and other organizations around the world)? Then keep up with those security patches and apply them if you haven't already.
That's the advice I got from Chris Hallenbeck, director of endpoint detection and response at Tanium and a former cybersecurity official at the Department of Homeland Security. Hallenbeck pointed out that Microsoft issued a security patch back in March for the kind of ransomware that hit the British hospitals. (It specifically targets Windows). So Windows users had two months to apply the patch, but some may not have done it.
Another lesson: Don't use old operating systems. Per the BBC, many National Health Service facilities were using Windows XP (circa 2001).
What to do:
Apply all security patches.
Find out if you have older systems that can't be patched, and learn how to isolate them from the network. (Microsoft is working on a "highly unusual" Windows XP patch in response to the cyberattack.)
Don't let the urgency fade. The typical problem with health care facilities, said Hallenbeck: "As soon as the immediacy of the incident wears off, they lose the momentum to make the kinds of changes they need to make."
Related: Read the Washington Post's account of how a 22-year-old British cybersecurity researcher may have helped disrupt the cyberattack by buying a domain name for $10.69. (But it may not be over, per the Wall Street Journal.)
https://www.axios.com/newsletters/axios-vitals-04c0ae5b-2453-4820-b015-371ae779cbb4.html?chunk=1#story1
Health care execs are sweating over pricing pressure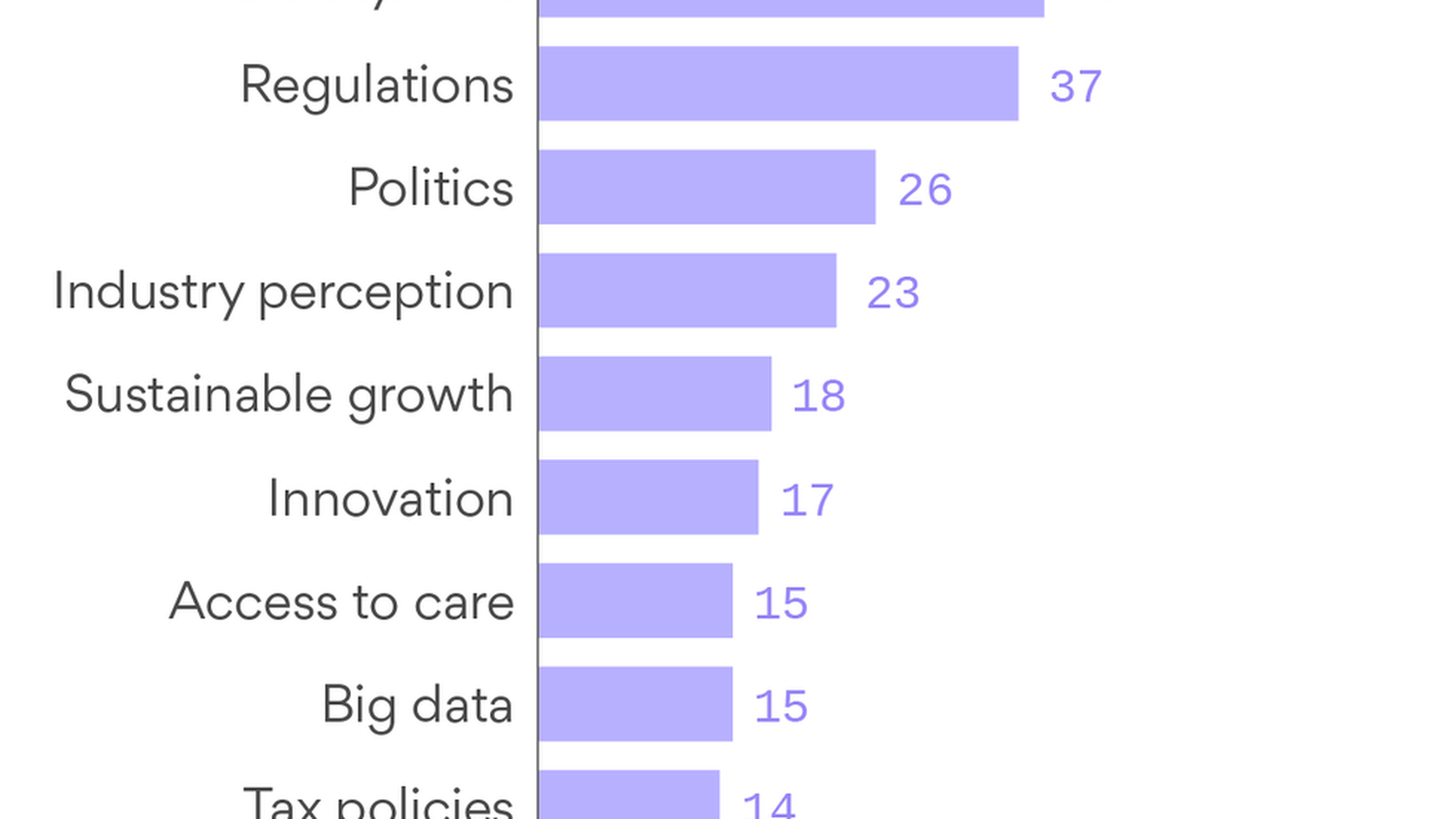 Public outcry over high prices for drugs and health care services has caught the attention of the people who decide those prices. But that doesn't mean there will be any immediate action. A new survey from investment bank Lazard found that more than half (57%) of 300 U.S. and European health care executives and investors said pricing and reimbursement was the top challenge for them right now, Bob Herman reports.
The problem is even more acute for the drug industry, especially in light of President Donald Trump's occasionally harsh words. About 88% of U.S. pharma executives view pricing as the top pressure. David Gluckman, the co-head of health care at Lazard, told Bob that survey respondents believe pricing actions will be "driven by the government, but also significantly influenced by health insurers."
Some other snippets from the survey:
The next biggest concern was the cost and quality of health care, cited by 39% of respondents.In the United States, 80% of investors and 55% of executives believe most health care payments will be based on clinical outcomes or "value" instead of volume.More than half of respondents expect an uptick in mergers and acquisitions in the next 18 months.They expect more partnerships with companies that aren't based in the health care sector, like Apple, Google and IBM.
https://www.axios.com/newsletters/axios-vitals-04c0ae5b-2453-4820-b015-371ae779cbb4.html?chunk=2#story2
One way to survive Senate rules: Keep ACA tax credits
Senate Republicans want to rewrite some of the Affordable Care Act's regulations, like the essential health benefits and pre-existing conditions protections. But there's a very real question of whether they can do so under Senate rules, Caitlin Owens reports. The legislative method they're using allows them to change only budget-related parts of the law, not parts that are just about policy.
So the question then becomes whether the ACA regulations are budget-related. That's one of the big questions Republicans are wrestling with right now. Here's how it could work:
They could be be budget-related if they affected the costs of the tax credits.
But the House's tax credits don't vary with premium costs, and the Senate tax credits are highly unlikely to do so either.
But the ACA tax credits do. They adjust for the cost of someone's plan.
So if the GOP kept this kind of tax credit in place, it may have a stronger argument for tinkering with the regulations.
Would they actually do it? They have talked about it, according to a Senate Republican aide — but it's unlikely. "It is an option but not one we are likely to pursue," the aide said. "A premium related credit means insurers can just keep charging more and know that the Feds will pay a lot of it."
Yes, but: There's an argument to be made that if changing the regulations makes premiums cheaper, more people will buy insurance and thus use their tax credit. This certainly would impact the budget, although more indirectly.
https://www.axios.com/newsletters/axios-vitals-04c0ae5b-2453-4820-b015-371ae779cbb4.html?chunk=3#story3
Who's been at the HHS drug price listening sessions
We've been focused on the House and Senate health care efforts, but while that has been going on, Health and Human Services secretary Tom Price has been quietly holding "listening sessions" on drug prices. If you go through the HHS readouts — which typically don't say a lot — you get a pretty good sense of who they're listening to and who will influence the process.
Between the lines: There have been plenty of industry groups and businesses, as well as conservative organizations like the Association of American Physicians and Surgeons. But there have been advocacy groups as well, including powerful groups like AARP that have been outspoken opponents of the health care bill.
A few examples:
America's Health Insurance Plans
National Association of Medicaid Directors
Walmart
AARP
Association of American Physicians and Surgeons
Federation of American Hospitals
Alzheimer's Association
American Action Forum
Memorial Sloan Kettering
What happens in the meetings: "I've been in listening sessions that were basically photo ops. This was a level of seriousness above that," said the American Action Forum's Douglas Holtz-Eakin, who gave a presentation on market-oriented solutions. He said Price asked for "do's and don'ts" on how to restrain drug prices and took a lot of notes. Price said he might invite the group back down the road to discuss possible proposals.
https://www.axios.com/newsletters/axios-vitals-04c0ae5b-2453-4820-b015-371ae779cbb4.html?chunk=4#story4
Digital ad targets rising ACA premiums
Here's a new one: Freedom Partners is releasing a new digital ad about rising ACA premiums this morning that's "geo targeted" to reach...Capitol Hill. But that could be a way for the conservative group to nudge Congress directly to keep going on repeal, now that the bill has hit the slow-moving Senate. It highlights the recent double-digit premium hikes that have been proposed by CareFirst in Maryland and the two Connecticut insurers.
https://www.axios.com/newsletters/axios-vitals-04c0ae5b-2453-4820-b015-371ae779cbb4.html?chunk=5#story5
Medicaid is broken? Not really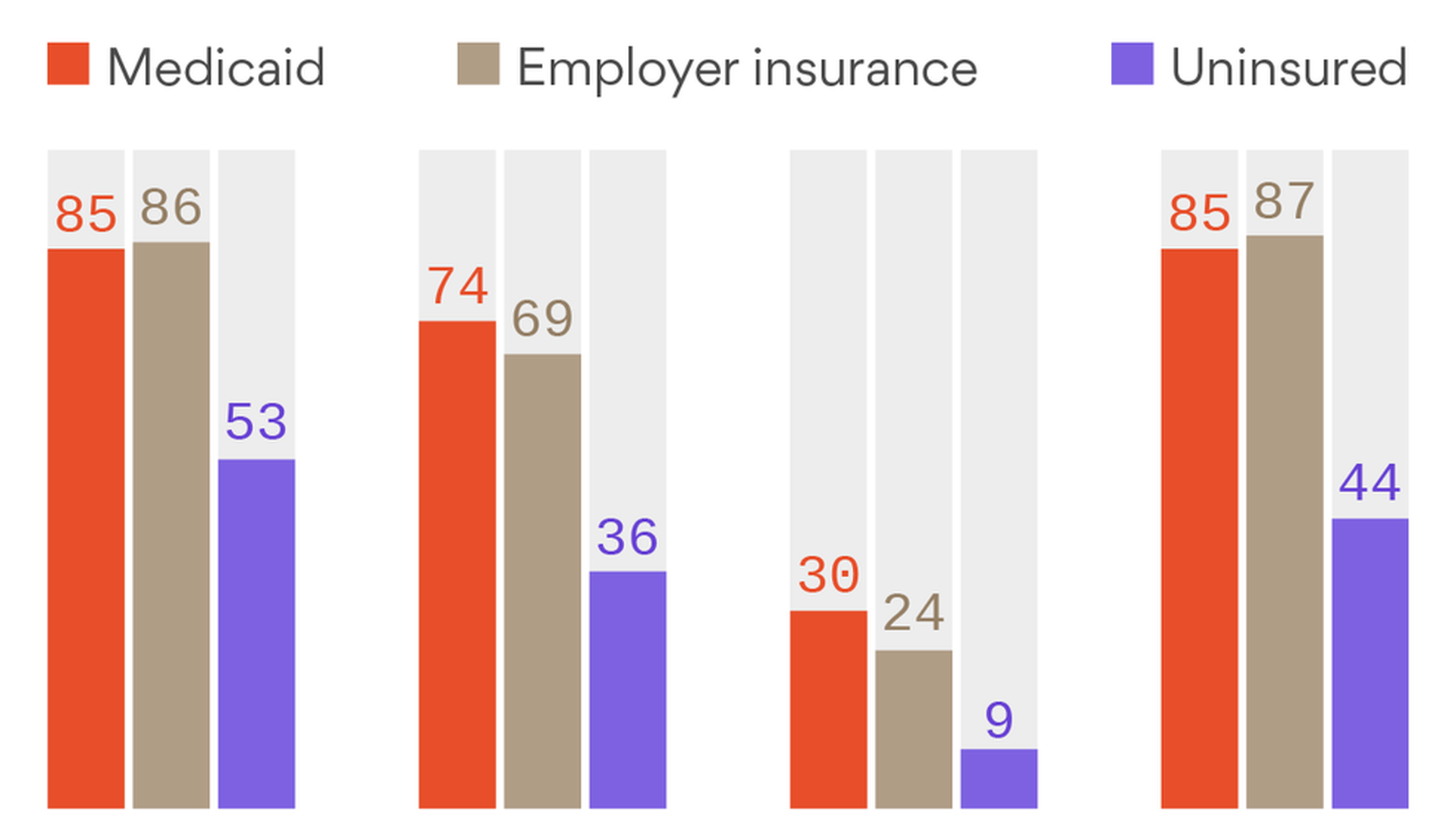 The Kaiser Family Foundation's Drew Altman takes on this argument in his latest column. The Trump administration and congressional Republicans say it's fundamentally broken — especially because people in the program have so much trouble finding doctors who will accept Medicaid. But Altman dives into the data and finds that people on Medicaid are seeing doctors about as often as people with health insurance through the workplace, and they're as satisfied as the privately insured.
And the other big argument is about unsustainable costs, but Altman finds that even though Medicaid spending did jump in 2015, it has come back down — and, per capita, Medicaid costs are expected to grow more slowly than private insurance.
https://www.axios.com/newsletters/axios-vitals-04c0ae5b-2453-4820-b015-371ae779cbb4.html?chunk=6#story6
While you were weekending ...