Axios Vitals
August 09, 2022
Good morning, Vitals readers. Today's newsletter is 917 words or a 3-minute read.
1 big thing: How reconciliation changes Medicare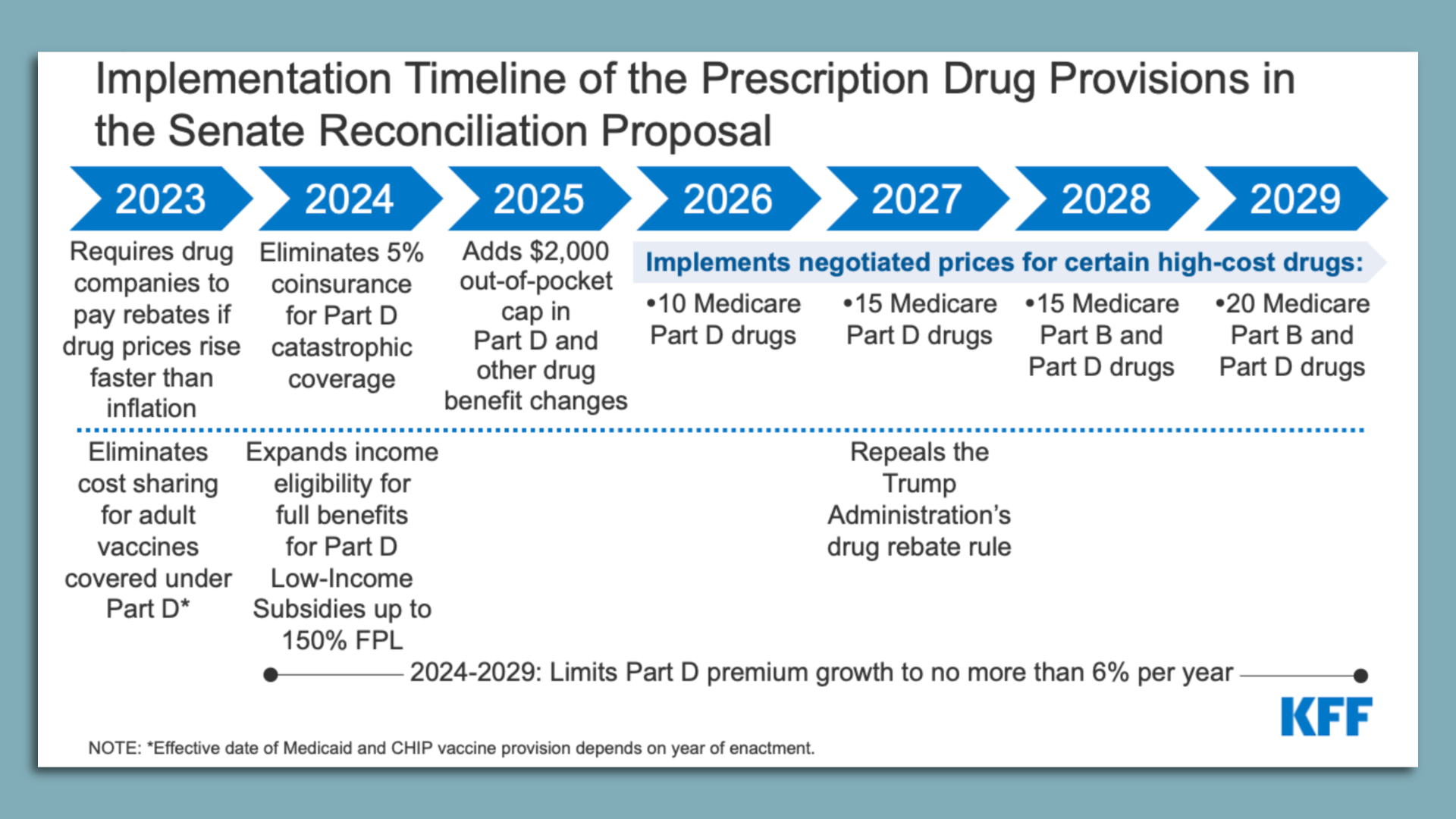 Democrats are on the cusp of making the most significant changes to Medicare in more than a decade, which would bring lower drug prices and out-of-pocket costs for some of the program's 64 million enrollees, Axios' Caitlin Owens and Adriel Bettelheim write.
Why it matters: New limits on how much patients have to pay for medicines annually could offer a lifeline to seniors facing thousands of dollars in drug bills, and lower overall prices would provide relief to even more enrollees.
The details: If the Senate-passed plan is cleared by the House, as expected, it would beginning this fall penalize drug companies who raise prices faster than inflation. Starting next year, it would eliminate out-of-pocket costs for adult vaccines covered under Medicare's Part D drug benefit.
In 2024, the legislation would strike a requirement that enrollees pay 5% of total drug costs if they exceed a catastrophic threshold while expanding eligibility for low-income subsidies.
By 2025, it would cap out-of-pocket spending in Part D to $2,000.
In 2026, it would trigger direct government negotiations with manufacturers, making 10 yet-to-be-determined high-cost drugs subject to spending controls. That number would rise to 15 in 2027 and 20 in 2029.
From 2024 to 2029, the Democrats' plan would limit Part D plan premium growth to 6%.
Yes, but: While the bill is projected to save taxpayers hundreds of billions of dollars over the next decade, opponents of the bill argue these savings won't be felt by patients.
The pharmaceutical industry argues such negotiations would quash innovation and cut off venture capital funding for promising cures.
The Congressional Budget Office estimates 15 out of 1,300 drugs, or 1%, wouldn't come to market over the next 30 years as a result of the bill.
The bottom line: The Democrats' plan caps years of futile efforts to change the drug pricing equation and, despite its limitations, lets Medicare for the first time use its purchasing power.
2. Americans return to pre-pandemic life: survey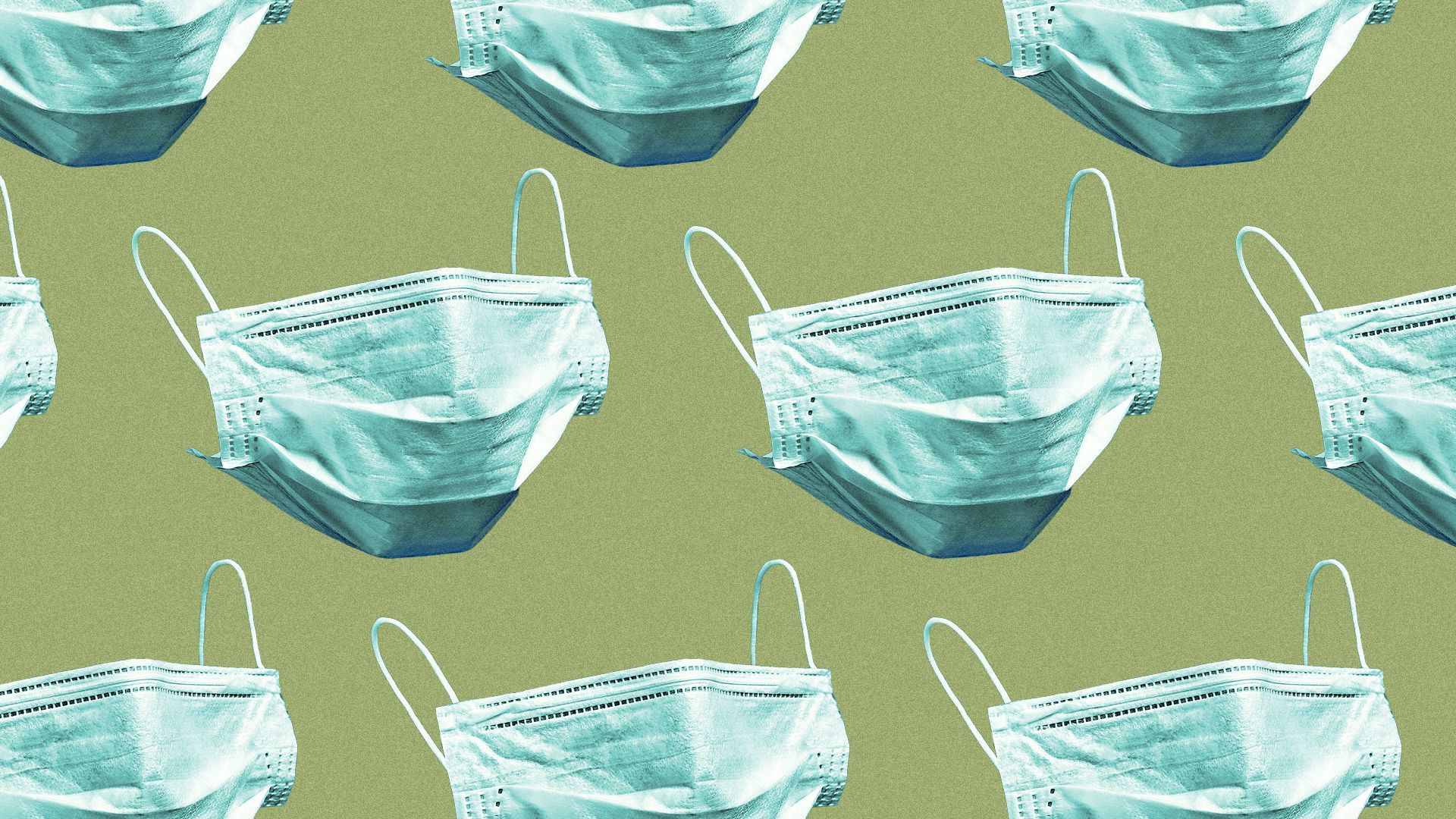 More Americans personally know someone who's died from COVID-19 or has "long COVID" but are rapidly shunning masks and returning to their pre-pandemic lives, according to new data from the Annenberg Public Policy Center, Adriel writes.
What they found: The survey of 1,580 adults, conducted as the BA.5 omicron subvariant surged and monkeypox cases multiplied, found 54% of respondents personally knew at least one person who died of the virus.
Nearly 1 in 3 (31%) know someone who experienced long COVID.
Most of the public knows someone who has tested positive for COVID-19 despite being fully vaccinated or being fully vaccinated and boosted.
Over half of those surveyed (53%) think it's likely an individual who is vaccinated but not boosted will contract COVID-19 in the next three months.
Yes, but: 54% said they rarely or never wear a mask indoors around people from outside their household, more than double the proportion in January.
41% have already returned to their "normal, pre-COVID-19 life," compared to 16% who said they had done so in January.
Our thought bubble: The results are further evidence of how much Americans have moved past the pandemic and are likelier focused on inflation and making ends meet.
3. Newsom uses health care to boost visibility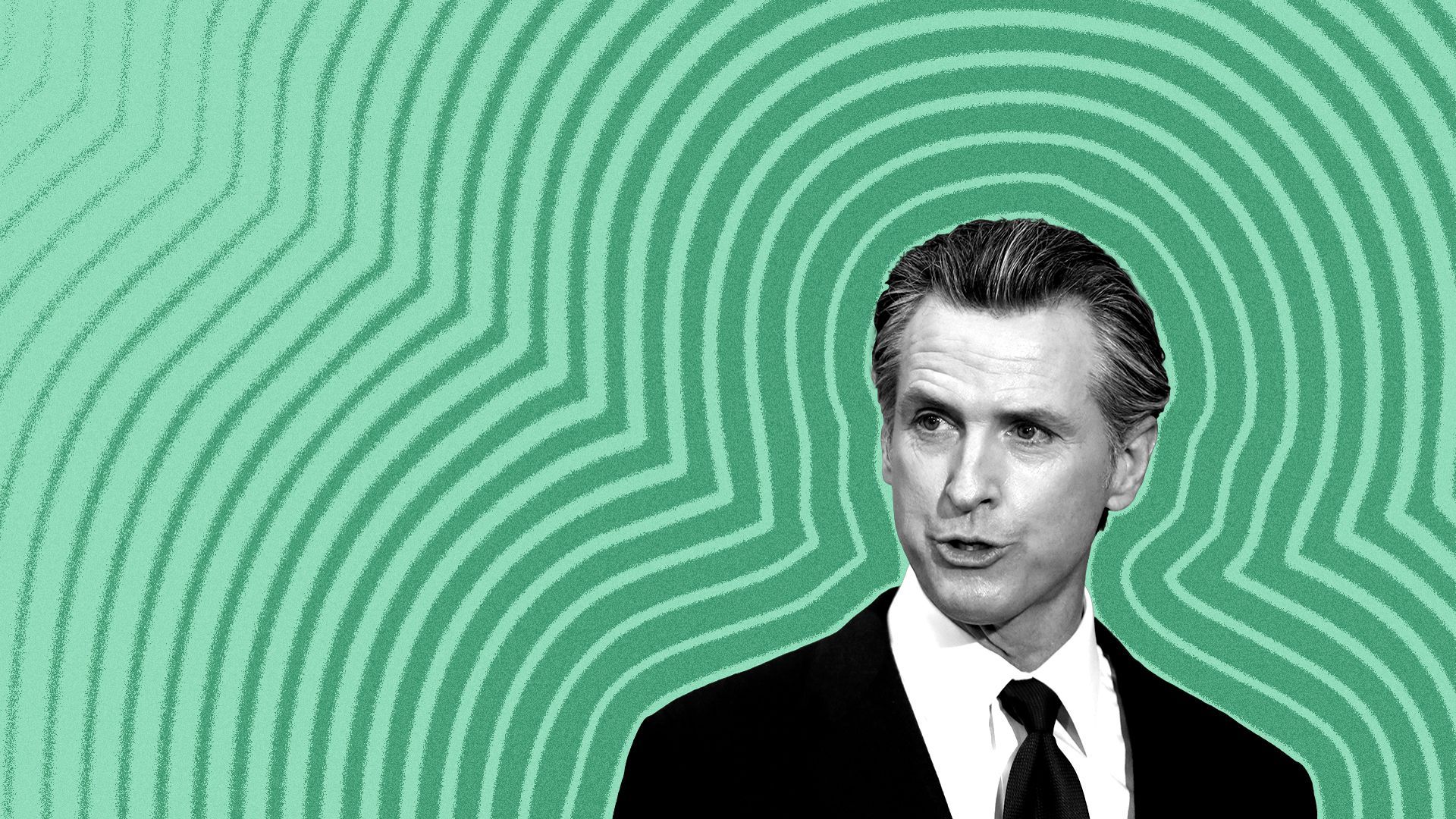 As California Gov. Gavin Newsom positioned himself as the "national Democratic Party pit bull" over the last couple of years, no set of issues has been more important than health care, according to California Healthline's Angela Hart.
Why it matters: Newsom hasn't spelled out his national aspirations, but this all appears to be pointing toward a presidential campaign.
The big picture: In recent months, Newsom encouraged Floridians to move to California in an attack ad and took out full-page ads in Texas newspapers criticizing Gov. Greg Abbott on gun laws and reproductive rights.
He's put pressure on Hollywood to avoid doing business in states that have banned abortion after the U.S. Supreme Court's reversal of Roe v. Wade.
He signed a gun control bill modeled after Texas' abortion ban.
And he's been spending time pointing out his accomplishments in health care, such as the state's entry into the prescription generic drug market, its coverage expansions and its COVID pandemic response.
What they're saying: "Political strategists and national health care experts say health care is a winning issue for the Democratic Party as it readies for a midterm election battle in November — and as Democrats seek a strategy to retain the White House in 2024. And they say Newsom could be a strong contender," per California Healthline.
⚡️ 4. Health care industry lightning round
💉 Novavax cut in half its revenue outlook for the year Monday as it released its Q2 earnings report. It blamed "evolving market dynamics." (Read: Poor demand for its COVID vaccine.)
💻 Executives at virtual care company Hims & Hers Health expect to achieve profitability for the first time within the next four quarters after revenue jumped 87% year over year to hit $113.6 million in Q2, officials said as they released the company's earnings.
🏥 Kaiser Permanente reported a rocky second quarter, posting a net loss of $1.3 billion. That was compared to $3 billion net income in the second quarter of 2021.
5. Mental health of American children
Anxiety and depression in American children rose across most of the nation in the five-year period between 2016 and 2020, according to a new report from the Annie E. Casey Foundation.
By the numbers: In 2020, 11.8% of children experienced anxiety or depression, up from 9.4% from 2016.
The increase of reported anxiety among youth was highest in South Dakota (102%), and California (70%).
It dropped the most in Maine (18%) in that time.