Axios Twin Cities
September 27, 2023
Good morning! We've made it to Wednesday.
Mostly cloudy, with a high of 67, per the NWS. We could see some showers.
Today's newsletter is 909 words, a 3-minute read.
1 big thing: U.S. Bank weighs office lease renewals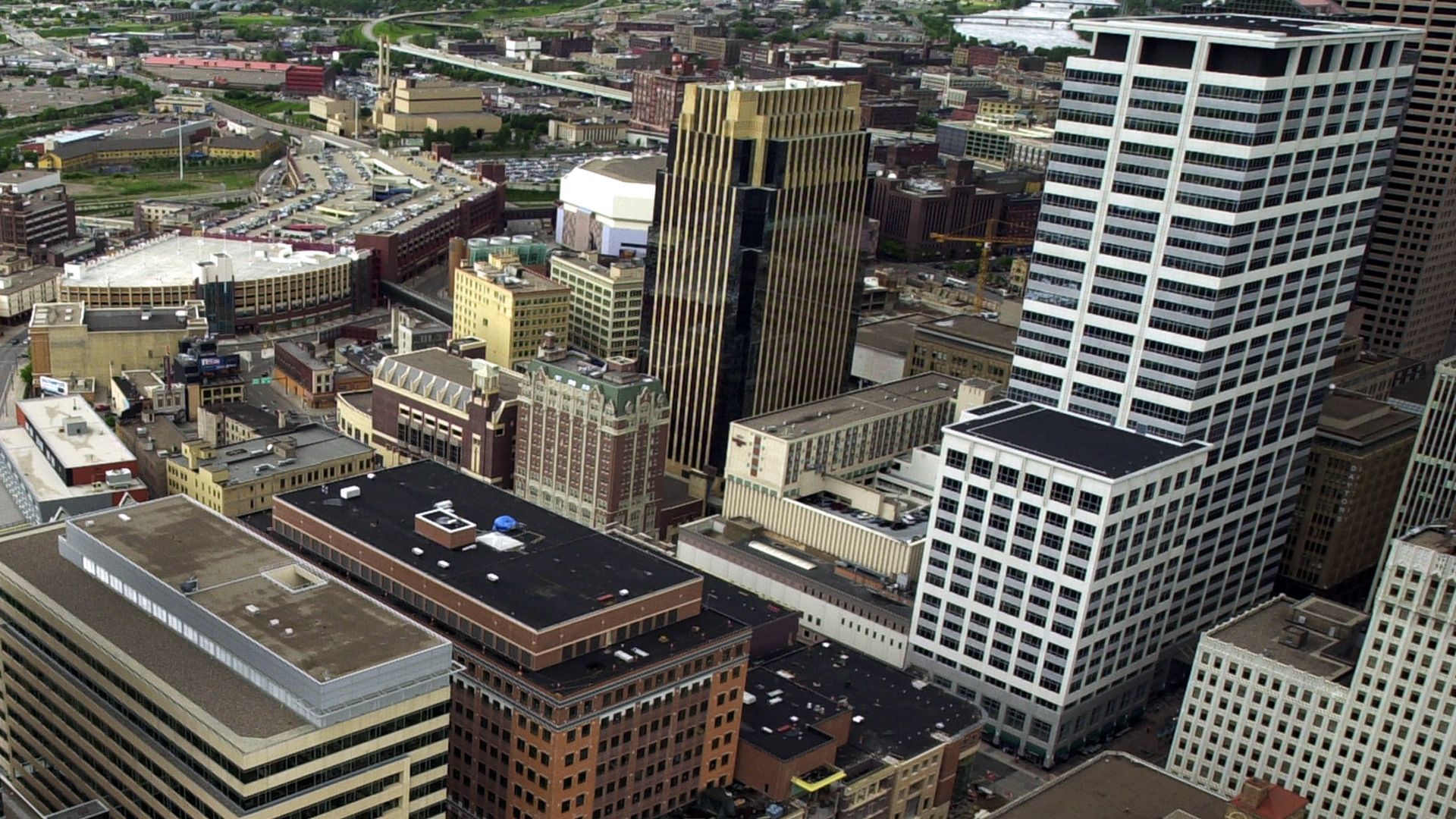 U.S. Bank will be the next big corporation to reshape its office presence in the Twin Cities as several of the company's leases expire in the next 13 months.
Why it matters: What U.S. Bank decides will impact where many of its 12,000 Twin Cities employees work. It will also have ripple effects on the retailers and restaurants that serve those workers.
State of play: Several Twin Cities corporations in the last two years have dramatically downsized their office footprints as they adjust to a world in which hybrid work requires less space.
What we're watching: The company has more than 900,000 square feet of expiring leases. The first big decision could come soon, as the bank's 444,000-square-foot lease for downtown Minneapolis' U.S. Bancorp Center ends next May.
Building owner Piedmont Office Realty Trust said on a July earnings call that negotiations have accelerated and it's optimistic the bank will renew for all of its space.
Meanwhile, the company's lease for 340,000 square feet in Richfield's Meridian Crossing Complex expires at the end of the year, but on the July call Piedmont offered a more conservative estimate, saying that the bank could renew 50% of its space.
What they're saying: "We're always looking at our real estate footprint to ensure that we have the appropriate amount and type of office space that our employee teams want and need," company spokesperson Jeff Shelman said in an email.
The other side (of the river): In downtown St. Paul, the company leases 118,000 square feet in U.S. Bank Center. That lease expires in October 2024, and the bank has not yet announced if it will renew or relocate those workers. However, it did recently renew its lease for a retail branch in the building.
"They haven't decided anything concerning our building," landlord Jim Crockarell of Madison Equities told Axios.
Between the lines: If U.S. Bank does leave downtown St. Paul, it owns an office building just across the river called West Side Flats that could at least keep the workers in the city.
2. Restaurant roundup: Litt open date set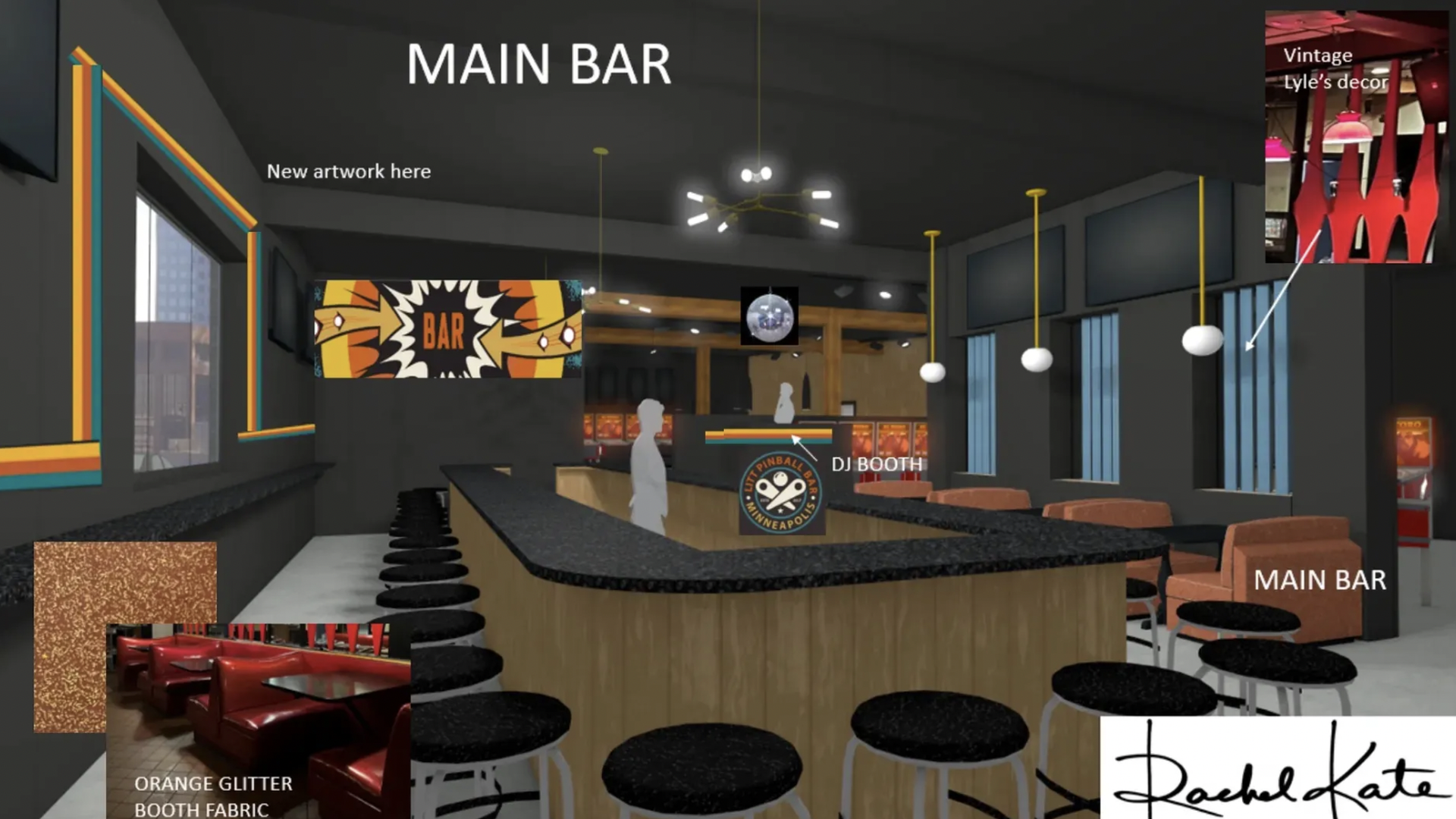 Litt Pinball Bar's transformation of the beloved former Liquor Lyle's space is nearly complete. The second location of the popular pinball haven will officially debut Oct. 11, owners confirmed to Axios.
The group behind Centro is opening Bina's, a "dive bar-ish," next to its Northeast Minneapolis location early next year, per a news release.
Expect classic bar fare, pull-tabs, and a bar stocked with Hamm's and PBR.
Vann, the critically acclaimed restaurant on Lake Minnetonka in Spring Park, will close Oct. 29 after four years, it said in a statement.
La Boulangerie Marguerite just added a second location in Northeast Minneapolis.
Maple Plain shop Blackwater Coffee & Cafe is opening new locations in Minnetonka and inside a former Caribou Coffee space in downtown Minneapolis, Minneapolis/St. Paul Business Journal reports.
3. The Spoon: You won't Wallen to miss this news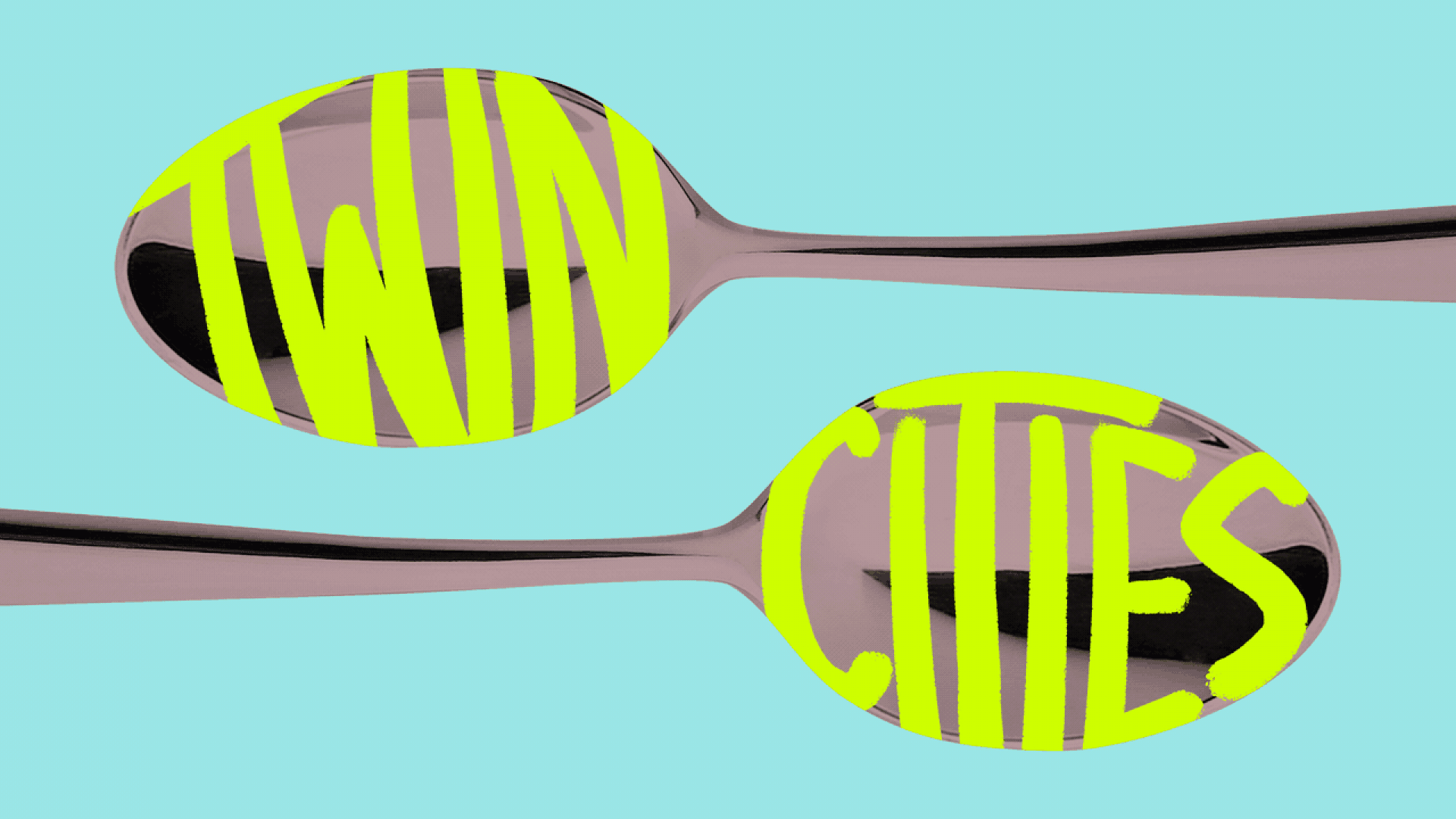 🎯 Target says it's closing nine stores next month due to theft and organized retail crime. None of them are in Minnesota. (Axios)
🎤 Country star Morgan Wallen will play U.S. Bank Stadium on June 20, 2024. (WCCO-TV)
🛒 Workers at the Seward Community Co-op voted to authorize a strike amid a contract dispute with the local grocer's management, per a news release. The union hasn't said if or when a work stoppage will occur.
🗳️ A Holocaust denier is running for a Roseville school board seat. (MPR News)
🌿 Quote du jour:
"One of the big things I'm asking for is that we're going to hire a regulator in this. And I think that was probably the way the focus should have been in the beginning. I've learned that lesson now. And that's what we'll do."
— Gov. Tim Walz on hiring a new Office of Cannabis Management director to replace his
first, short-lived pick
for the role.
Go deeper on what's next — including what one of the sponsors of the legalization bill and the state's medical cannabis director told Torey about the search during a Tuesday panel — via MPR News
4. 🥵 Yes, it was a hot summer
This past summer was the Twin Cities' fifth warmest on record, with average temperatures of 74.7° F.
Two daily record highs were broken or tied.
Backstory: While measurements began in 1873, you don't have to go that far back to find our hottest summer on record.
It was just two years ago in 2021 when the average temperature hit 75.6°.
The big picture: The odds and severity of extreme heat events are rapidly increasing as the climate warms in response to human emissions of greenhouse gases.
Zoom out: This past summer featured the warmest June, July, and August on record globally.
Stay booked and busy
📅 Upcoming events around the city.
Medtronic Twin Cities Marathon September 29 to October 1:
Entering its fifth decade, the weekend features runs for participants of all ages and paces.
The community-inclusive event also includes live art, course entertainment, the Summit Beer Garden, and welcomes non-participants to join the 300,000+ cheering spectators who line the race courses each year.
Hosting an event? Email [email protected].
5. 🔬 1 rendering to go: The U's new chemistry hub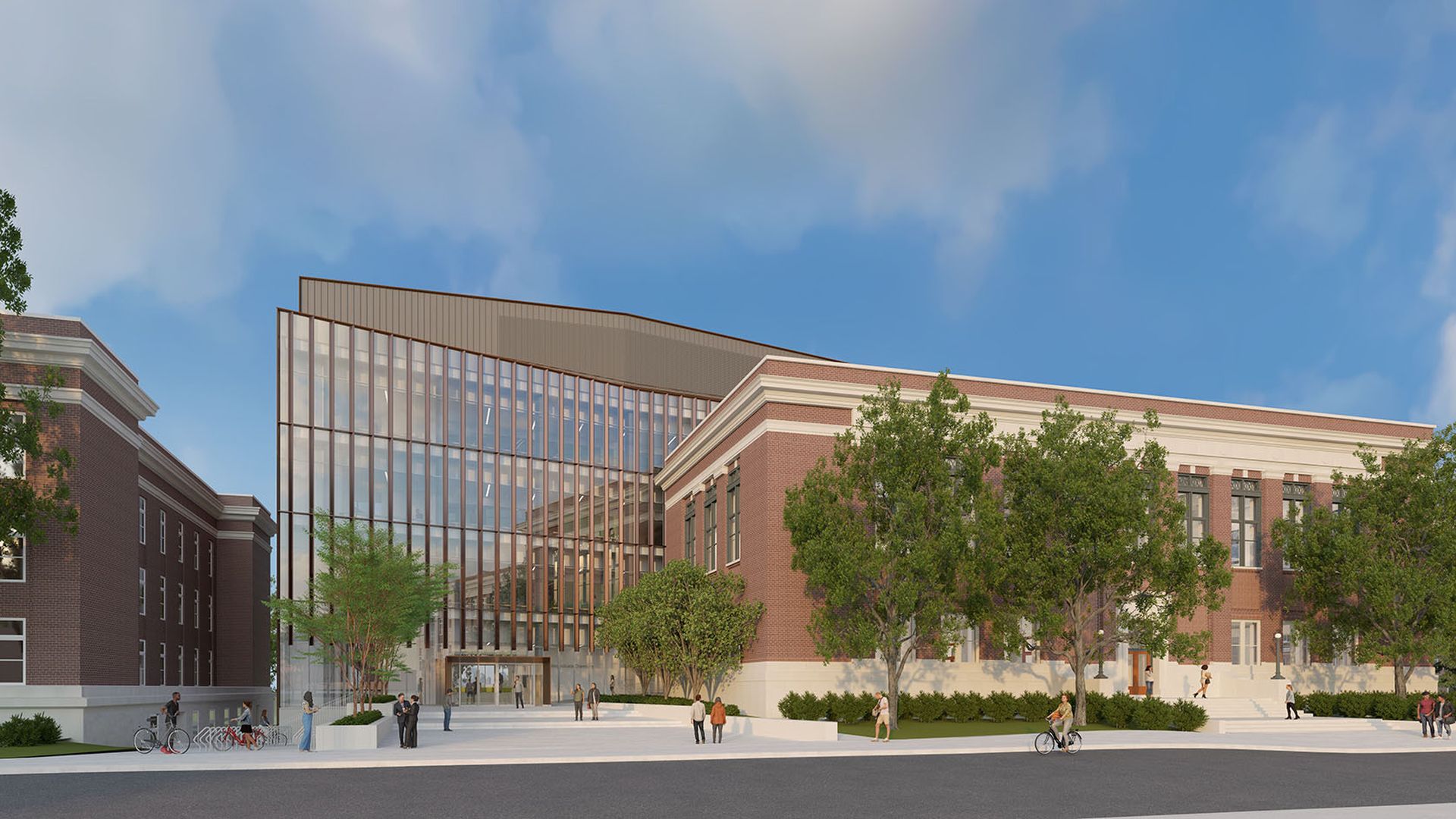 State lawmakers University of Minnesota officials gathered yesterday for a ceremonial groundbreaking ahead of a $145 million makeover of the U's chemistry building.
Catch up fast: The U is demolishing 95-year-old Fraser Hall and building what it's calling the Chemistry Undergraduate Teaching Laboratories in its place — a "state-of-the-art" 117,000-square-foot facility that will house classrooms, labs, and more.
U officials estimate that one-third of all undergrads will take a course in the new building.
Flashback: The project got a $92 million boost in the capital projects borrowing bill approved by the state Legislature this year. The rest of the funding will come from the U and donors, per KARE 11.
What's next: Construction is scheduled to finish in time for the fall 2025 semester.
Editor's note: Yesterday's story on Michelin stars was corrected to note that Minnesota had James Beard wins in 2018 and 2019.
😳 Torey meant to mention in yesterday's newsletter that she crashed into a snowplow when she was a teenager. Luckily, everyone was OK!
📺 Nick is finally getting around to watching the final five episodes of "Better Call Saul." So good.
🥃 Audrey is wrapping up "Mad Men." Best show ever.
Today's newsletter was edited by Hadley Malcolm and copy edited by Patricia Guadalupe.