April 20, 2022
☂️ Good morning! The rain returns today, with a high near 48. Tomorrow will be nicer!
Playoffs update: The Timberwolves were routed 124-96 by the Memphis Grizzlies to tie their playoff series at one game a piece.
Today's newsletter is 868 words, a 3.5-minute read.
1 big thing: Grocery wars, redux
Target is once again the go-to grocer for Twin Cities shoppers, a new ranking shows.
What's new: The Minneapolis-based chain leads competitors when it comes to local market share, per new data from Chain Store Guide, a sales-tracking firm that examined 2021 grocery and liquor store revenue in the 15-county metro.
Target's standing increased by close to a percentage point compared with 2020, while Cub Foods' share dipped by a similar margin.
Plus: Predictions that Hy-Vee would eat up more of the market share have yet to materialize.
The Des Moines-based brand didn't add any new stores in 2021 and remained relatively stable at just under 3%.
Why it matters: The grocery market is extremely competitive — and given typically slim margins for stores, every customer counts.
Between the lines: Cub Foods has long been a big player in the local grocery wars. As Nick reported last year, past Chain Store Guide data showed that Cub dominated with 40% of the market in the 1990s and was in the top spot as recently as 2018.
And Cub has kept an advantage when it comes to stores, with 74 in the area.
But the data shows big-box chains Target (51) and Walmart (25) are doing better on volume of products sold.
The big picture: Grocery sales spiked during the height of the pandemic, as families ate more meals at home.
Interest in contactless shopping options such as online ordering and curbside pick-up, both of which are offered by the larger chains, also soared.
What to watch: Plans to open several Amazon Fresh stores locally will further shake up the local scene.
2. Photo flashback: The Chauvin verdict
One year ago today, a jury of Hennepin County residents found former Minneapolis Police Department officer Derek Chauvin guilty of murder in the death of George Floyd.
Here's what we wrote the morning after the verdict was read:
"Celebration and catharsis filled the streets of Minneapolis yesterday. ... [But] the jubilation was tempered by reminders of the work many still want to see to address issues with policing and systemic racism more broadly."
Where things stand: Proposals to dramatically overhaul policing have met resistance from lawmakers and voters, but a U.S. Justice Department probe into MPD's practices continues.
The three other officers at the scene were convicted of federal civil rights charges this year and are awaiting a separate state trial.
Chavuin, sentenced to 22.5 years in prison for the criminal counts, later pleaded guilty to federal civil rights charges.
He's appealing the state conviction.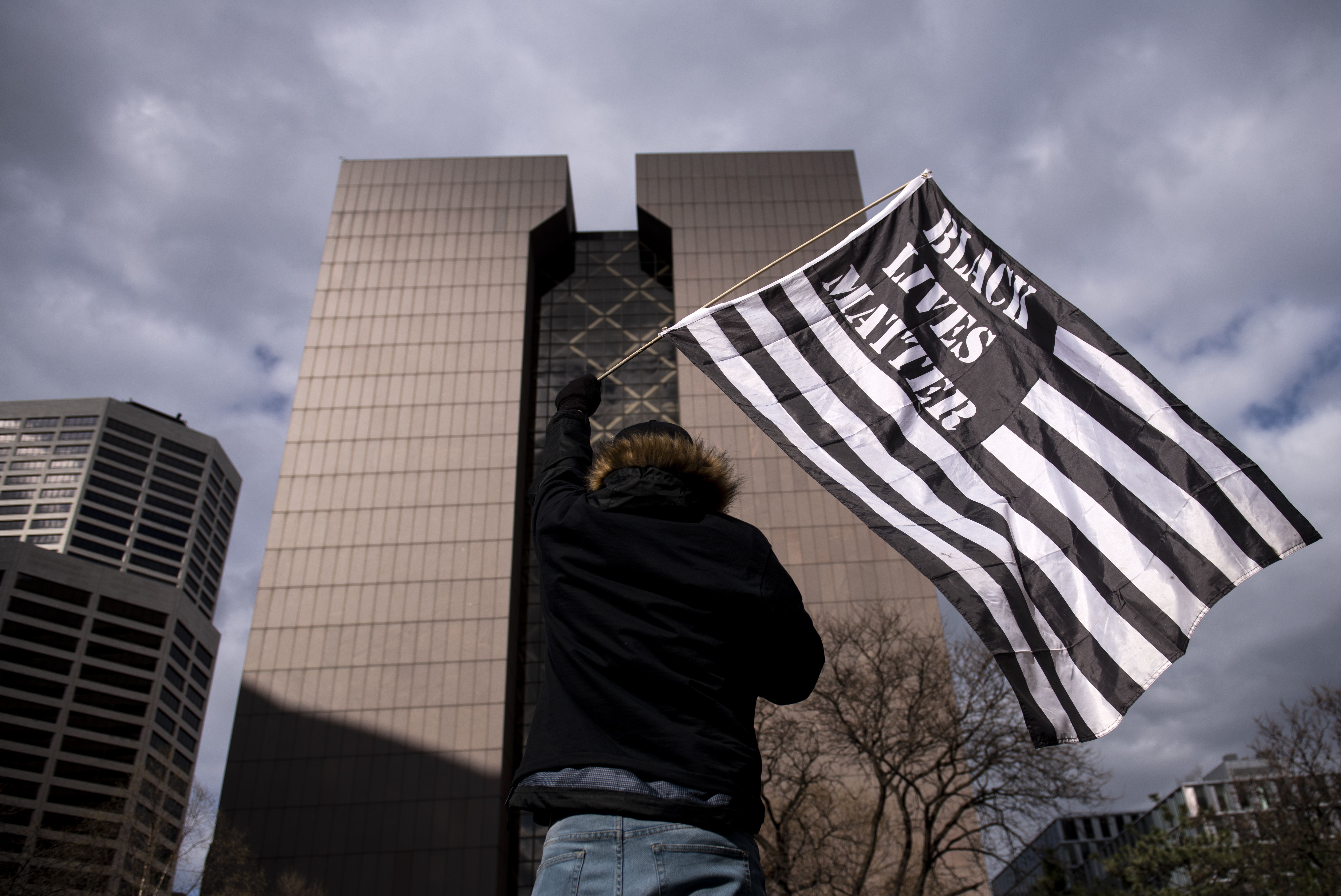 3. Hard kombucha hype comes to the Twin Cities
A new hard kombucha made by a Minnesotan landed in Twin Cities liquor stores this month.
Driving the news: Hooch Booch, created by St. Paul native Anna Zesbaugh and brewed in Denver, is now selling three flavors in limited liquor stores.
Inside the cans: Hard kombucha, which is enjoying surging popularity on the coasts, is a tart, carbonated probiotic drink with 8% alcohol by volume.
It's also gluten-free and in Hooch Booch's case, vegan.
Zoom in: Though kombucha is popular, the alcoholic version is hard to find in the Twin Cities. Many liquor stores don't have a section for it, Indeed Brewing sales manager Ryan Bandy told Axios.
Yes, but: Indeed's blueberry basil Boon hard kombucha is consistently one of the brewer's top sellers.
"The market is small, but it's a long-term play for us. It gets more people who aren't the typical craft beer connoisseur into our taproom," he said.
What's next: Both Hooch Booch and Indeed Brewing plan to add new flavors by the end of this year.
4. The Spoon: Minnesota's first girls' baseball tourney
🦠 COVID cases are rising again, but hospitalizations are flat for now. (David Montgomery via Twitter)
🎙The Current DJ Mary Lucia announced yesterday that she's resigning from the station. (Star Tribune)
🐟 A World of Fish, a destination tropical fish store in Richfield, is soon closing its doors. (Twitter)
⚾ The Twins will host what's believed to be Minnesota's first girls' baseball tournament this June. (KSTP-TV)
5. Fact check: Who counts the ballots
A leading GOP candidate for Minnesota secretary of state is fundraising off of false claims about the role the office plays in elections.
What she's saying: In an email carrying the subject line "Don't let Socialist money count the votes," Republican Kim Crockett urged supporters to pitch in to her bid against DFL incumbent Steve Simon to help "[restore] the security of our elections."
"Why do we need help? Because the SoS office COUNTS the votes," the email reads.
Reality check: The Minnesota Office of the Secretary of State does not "count" ballots or tabulate the results.
That process happens at the county level. Local election officials then report the results to the secretary of state for publication and, eventually, certification.
The response: Crockett's campaign didn't respond to an email and phone call seeking comment on the email.
6. 🤔 Where in the Twin Cities...
👋 Torey here! I recently ran into this bookish Peanuts' character while out and about.
Who is she and where can you find her?
Reply to this email to submit your guess. First reader to get it right will win some cool Axios swag!
As for what we're loving this week...
🔎 Torey didn't have time to read or watch anything while traveling solo with an 11-month-old for Easter. But she recommends Delta's in-flight "Hidden Objects" game as a way to pass the time while holding a sleeping baby in the air.
💍 Audrey is fascinated and horrified by "The Ultimatum: Marry or Move On."