Axios Twin Cities
April 07, 2021
Good morning, everyone!
⚡Yikes: Weather damage to the Vikings' practice facility in Eagan forced officials to postpone today's COVID-19 vaccine appointments at the pop-up site, Fox9 reports.
Situational awareness: An eighth day of testimony is on tap in the Derek Chauvin trial. Yesterday's witnesses included a use-of-force instructor.
Today's newsletter is 997 words, a 4-minute read.
1 big thing: The bridge (and booze laws) helping Wisconsin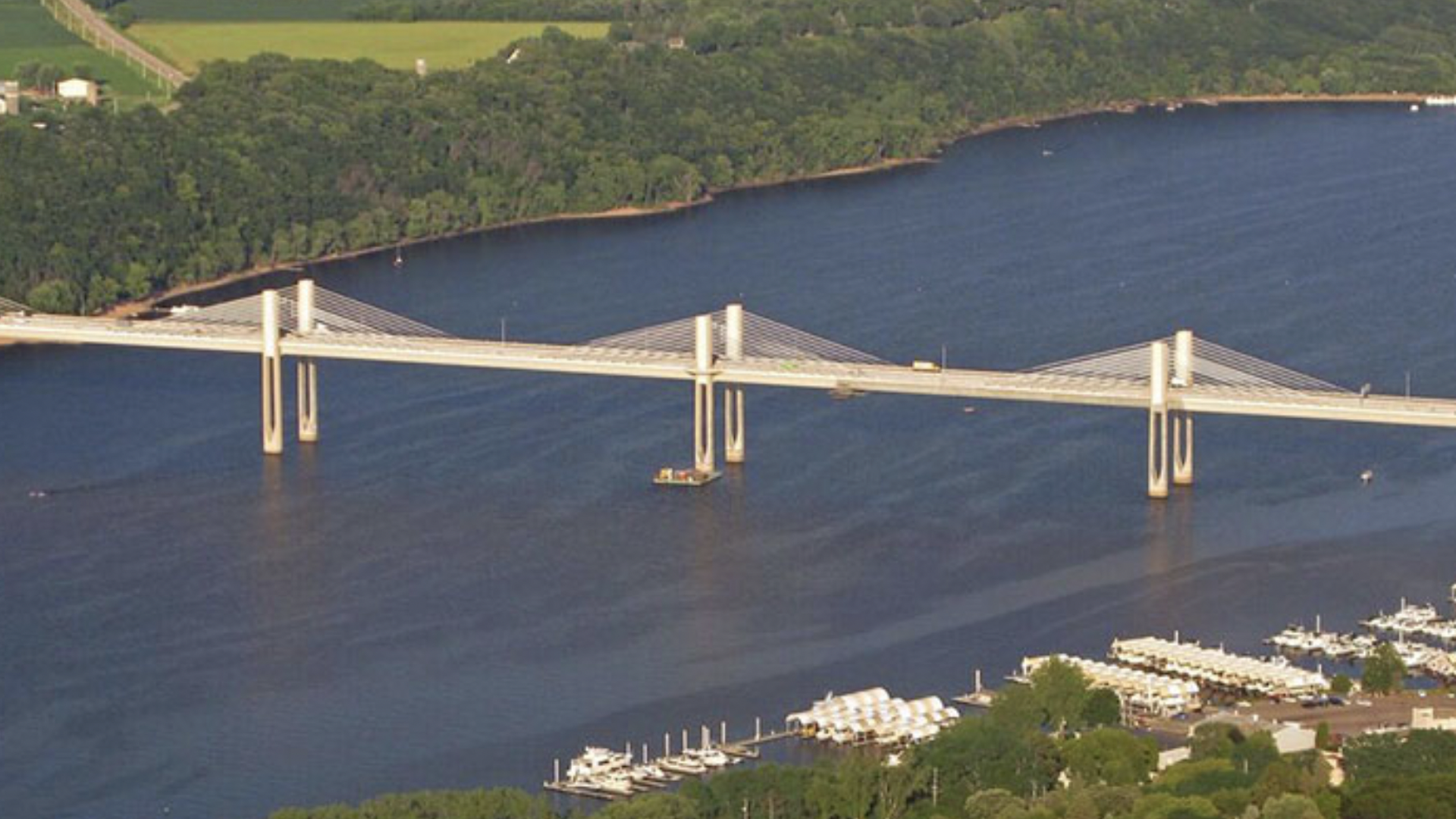 Lift Bridge Brewery's announcement last week that it is opening a second taproom in New Richmond isn't the only sign of economic development in western Wisconsin.
The state of play: Yes, Lift Bridge chose Wisconsin in part because of its more lenient liquor laws that will allow it to sell more products from the brewery, but co-founder Brad Glynn told Nick the $690 million St. Croix Crossing was also a factor.
"There's a lot of things going on in New Richmond, and Somerset, in terms of industry and people moving there and building homes," Glynn said.
There's been an influx of development of all types in the communities on the Wisconsin side of the bridge, which opened in 2017 and cut out the long delays that motorists encountered at the Stillwater lift bridge.
New Richmond was adding 60 units of new housing annually between 2014 and 2016, according to city data. Since the bridge opened, housing starts have averaged 175 units annually.
The total value of the buildings and infrastructure in the city has jumped from $549 million to $978 million between 2012 and 2020.
Yes, but: It's not easy to quantify how much of the growth in New Richmond and Somerset can be attributed to the bridge versus a strong economy. Housing development has boomed all over the Twin Cities metro in the past five years.
"I don't think anyone's moving here just because of the bridge," interim New Richmond city administrator Noah Wiedenfeld told Nick. "But you know, that shorter commute time does make a difference for folks. "
It's a long commute: Somerset is roughly 30 miles from St. Paul and New Richmond is 38 miles.
What's ahead: Wiedenfeld said he expects the momentum to continue as people are attracted to New Richmond's small schools and more affordable housing — plus more companies are incorporating flexible schedules to allow employees to work from home.
Already 40% of the city's residents work in Minnesota.
"Many folks in the last year have been working from home," he said. "Are we going to see people say, 'Hey, I work for 3M, I will drive into St. Paul two days a week and I'm going to live here in New Richmond?"
2. How Minnesota's oldest Black paper is covering the Chauvin trial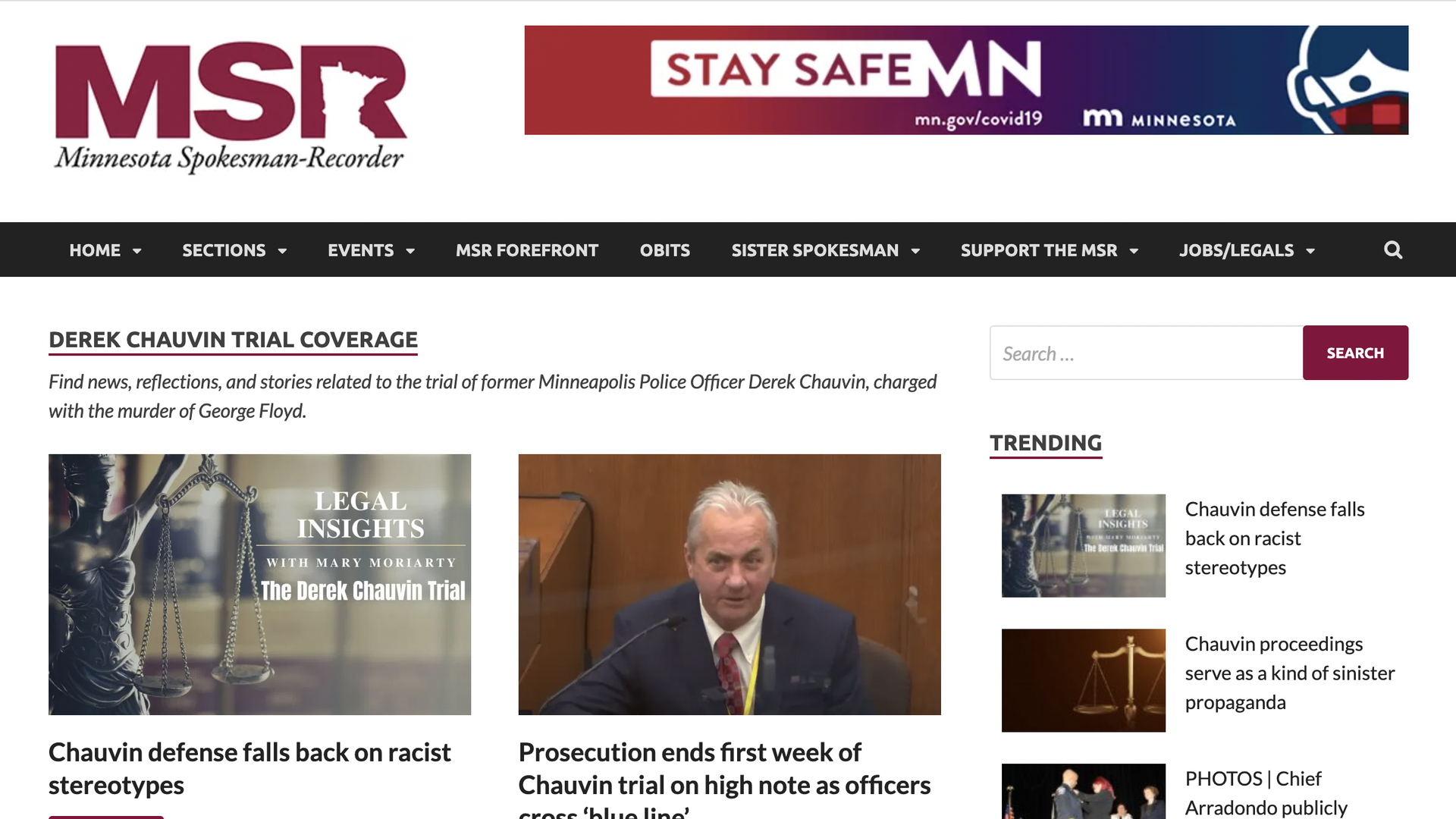 Interest in the Derek Chauvin trial is giving new reach to the state's oldest Black-owned newspaper.
What they're doing: Reeves relies on a team of contributors to produce a mix of daily recaps, analysis and explanatory journalism.
What they're saying: Reeves, who is both an activist and a journalist, told Torey his coverage goal is to "tell the unvarnished truth as best we can," often through a Black and progressive lens.
Fun fact: The Spokesman-Recorder, launched in 1934, is also the state's longest-running Black-owned business, as KARE11 reported.
Publisher Tracey Williams-Dillard is the granddaughter of founder Cecil Newman.
3. Photo of the day: Fans are back
Wild fans returned to Xcel Energy Center this week, as the state lifted its restrictions on attendance at professional sports games.
What's next: Up t0 10,000 Twins fans will flow into Target Field for tomorrow's home opener.
4. Bloomington tech campus could bring 700 high-paying jobs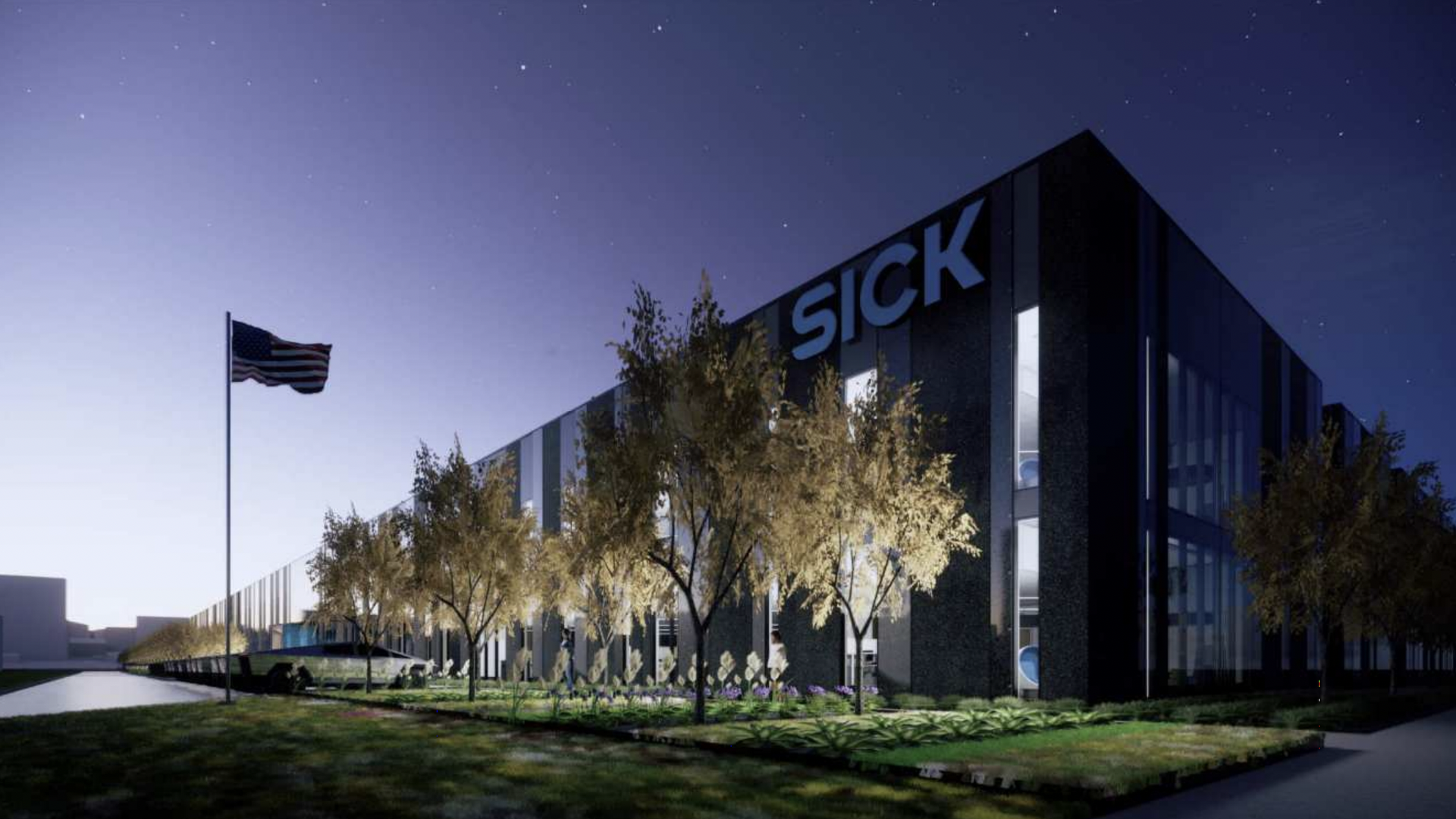 A German sensor-maker is moving forward with a $100 million technology campus in Bloomington that is forecast to bring 700 new jobs to the city — with an annual average salary of $81,000.
Driving the news: The company, Sick USA, already has an operation in Bloomington, but has been working on plans for a new manufacturing and office campus just east of the Mall of America.
The project would be built in four phases over 14 years.
The city will tap tax-increment financing and liquor taxes to provide up to $30 million in financial assistance, primarily for a potential parking ramp, according to Finance & Commerce.
What's next: Pending city approvals, Sick plans to break ground in May on the first phase, a one-story, 120,000-square-foot building.
5. The gas tax fight is back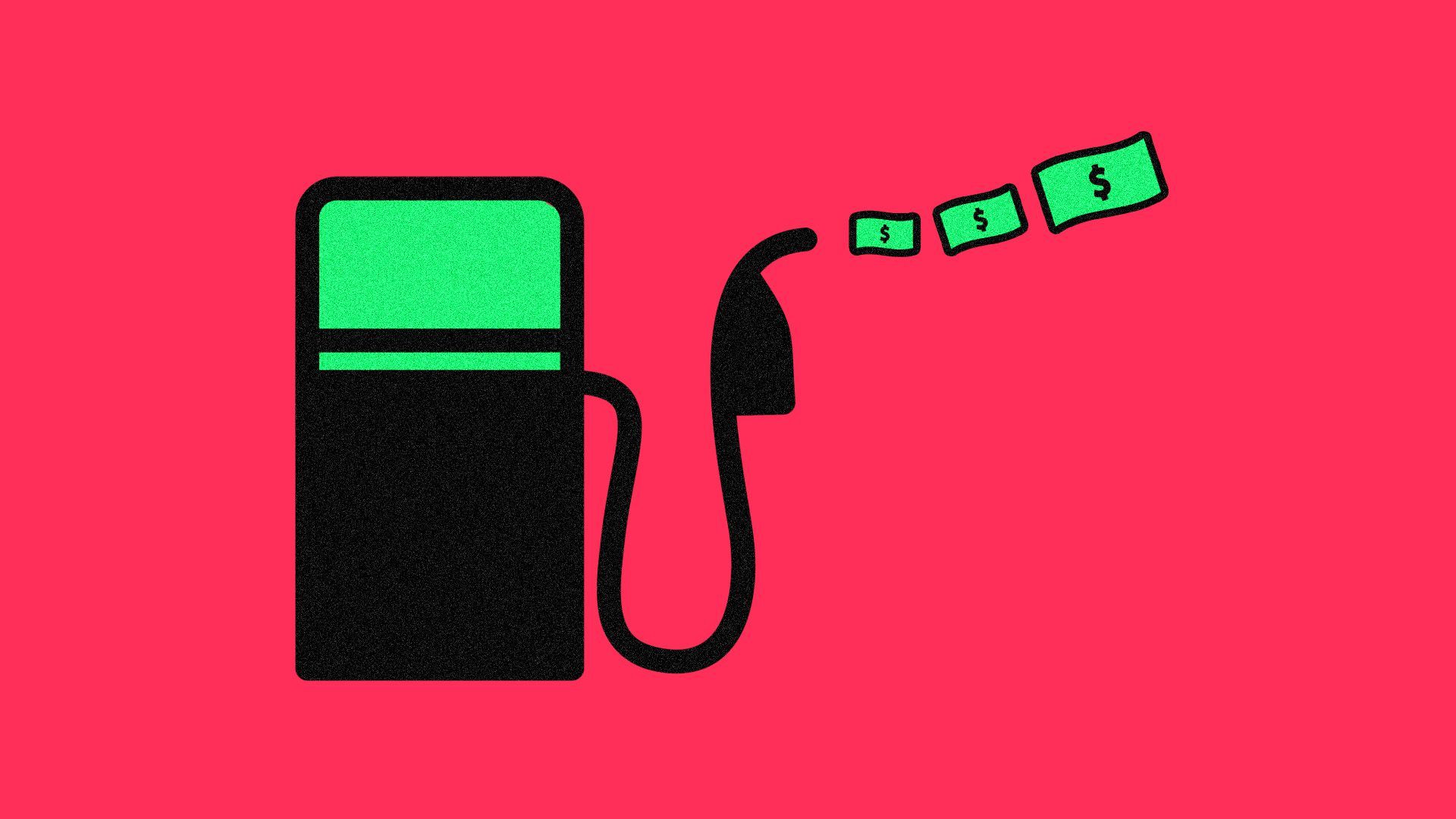 Minnesota House Democrats quietly revived a push to raise the state's gas taxes.
What's happening: A transportation budget bill released this week proposes increasing the state tax by a projected 5 cents a gallon over the next four years. That'd be on top of the current state tax of 28.6 cents per gallon. Additional revenue for roads and transit would come from higher motor vehicle taxes and a 0.5% transit sales tax in the metro.
Reality check: The hike is almost certainly DOA in the GOP-controlled Senate, where leaders have taken a no new taxes stance. Gov. Tim Walz pushed — then dropped — a proposed 20-cent increase of his own back in 2019.
What they're saying: DFL leaders didn't mention the idea when they rolled out their budget and tax plan Monday.
But House Speaker Melissa Hortman told Torey that the proposal, offered by her Transportation chair, reflects an "ongoing need" to invest more heavily in infrastructure without diverting general fund dollars from schools and other programs.
The bottom line: Expect to see the issue drive legislative debates and, eventually, campaign attacks.
6. See which Minnesota agencies tried facial recognition
Dozens of Minnesota law enforcement departments have run facial recognition searches using technology developed by the private company Clearview AI, according to a BuzzFeed News investigation.
Why it matters: BuzzFeed's reporting shows the breadth of use of the controversial technology, which critics say encroaches on privacy rights and is fraught with racial biases.
Minneapolis leaders cited those concerns in banning its use by MPD earlier this year.
More than 40 Minnesota entities, including the Minnesota Fusion Center and police departments in Minneapolis and St. Paul, tried the tool between 2018 and 2020, internal records reviewed by BuzzFeed show.
Some departments ran hundreds or thousands of searches, records suggest.
What they're saying: Many of the departments listed, including MPD and SPPD, did not respond to BuzzFeed's request for comment. Most of those that did reply said the use was limited to a free trial by the department or individual officers.
"Clearview has neither verified nor disputed the underlying data," BuzzFeed notes.
7. 1 delicious thing to go: Bar La Grassa is back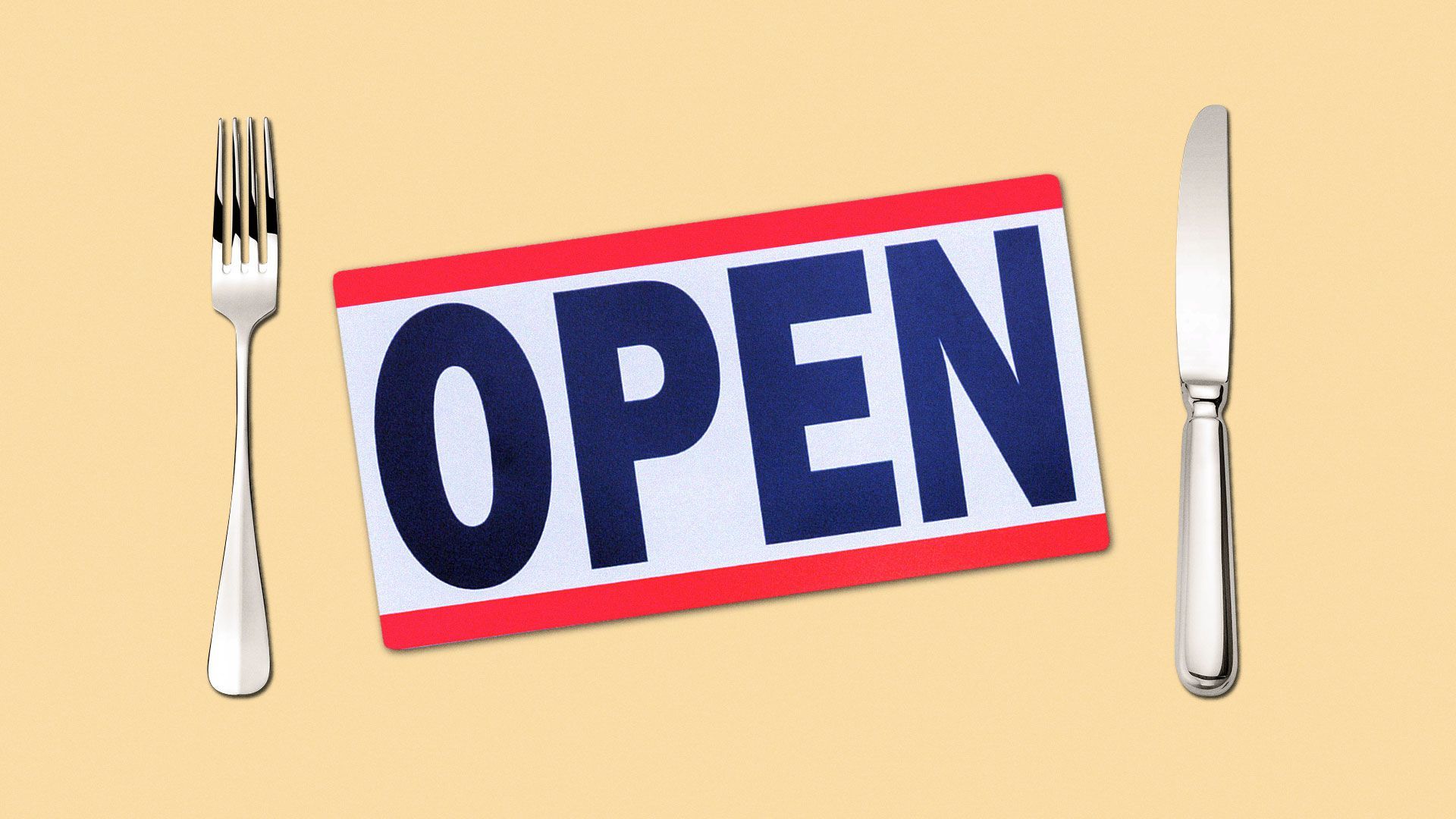 Bar La Grassa will soon awake from its pandemic-induced hibernation, as will 112 Eatery and Snack Bar.
All three Isaac Becker restaurants will open for takeout only later this month. Eater Twin Cities has the details.
Between the lines: The announcement is welcome news for fans of Becker's North Loop eateries following news that his Burch steakhouse and pizzeria would close for good.
🐪 Enjoy hump day!
Want to help us get through the week? Forward this newsletter to a friend and encourage them to sign up here.