May 18, 2022
🐪 Happy hump day!
A chance of thunderstorms today with a high of 75, according to the NWS forecast.
Today's newsletter is 892 words, a 3.5-minute read.
1 big thing: No Mow May
If your neighbors' yards are starting to look a little shaggy, it might be by design.
What's happening: No Mow May is gaining traction in Minnesota, with a growing number of local cities formally encouraging residents to participate.
Why it matters: Letting your grass grow (and weeds bloom) during this spring period is good for bees and other pollinators.
Those pollinators in turn help the rest of the ecosystem — everything from the flowers in our gardens to our food supply — thrive.
The backstory: The movement, which began in the United Kingdom in 2019, made its U.S. debut in Appleton, Wisconsin, in 2020, according to Popular Science.
Now, more than 35 towns and cities across the Northeast and Midwest are participating.
Zoom in: At least four cities in the Twin Cities suburbs have launched "no mow" campaigns for the first time this spring, according to the Star Tribune. As part of the push, the cities won't cite residents who are in violation of lawn maintenance rules for the month.
What you're saying: Torey gauged your interest on Twitter and was flooded with messages from folks happy to leave the mower in the garage.
Of note: While many residents of Minneapolis and St. Paul are taking part in the campaign, neither city is formally participating.
Torey's thought bubble: Longtime readers know I love to mow. But this year, we've held off and ... I don't hate it!
Keep reading for tips for when you do give your grass a trim...
2. The lives vaccines could have saved
More than 4,000 Minnesotans' lives could have been saved had they gotten a COVID-19 vaccine, according to a new analysis.
The big picture: Vaccines could have prevented about 319,000 deaths nationwide between January 2021 and last month, researchers at Brown School of Public Health, Brigham and Women's Hospital, Harvard T.H. Chan School of Public Health and Microsoft AI for Health found.
Zoom in: More than 7,300 people here in Minnesota have died since vaccines were released, per the analysis.
The researchers estimate that 4,258 of those adults would have survived if 100% of the population 18 and over got their shots.
Where we stand now: About 75% of Minnesotans 16 and older have completed their vaccine series, per MDH.
What to watch: Available data shows both cases and, more recently, ICU hospitalizations rising amid the latest Omicron-fueled wave, as local data expert David Montgomery notes.
3. The Spoon: Kellen Mond, the Wedge shopper
💰 Minneapolis will pay $1.5 million to the man police shot with marking rounds and then beat days after George Floyd was killed. (Minnesota Reformer)
🚗 A proposal to build Minnesota's first "car vending machine" was rejected by the Brooklyn Center City Council. (Hometown Source)
🏠 A new state program will provide financial help to homeowners behind on their mortgages and other home-related expenses. Applications are open through June 17. (Info)
💉 The FDA has authorized COVID booster shots for kids ages 5-11. (Axios)
🗳️ Attorney general candidate Doug Wardlow says he'll continue his campaign and compete in the GOP primary this August, despite losing the endorsement to rival Jim Schultz.
The state GOP released a statement urging him to "honor the commitment" he made to abide by the endorsement and suspend his campaign.
Meanwhile, Dennis Smith, a GOP candidate who skipped the endorsement vote, announced yesterday that he will not go to primary after all.
🏈 Backup Vikings QB Kellen Mond bought a Minneapolis man in need a bicycle outside of a Minneapolis grocery co-op. (Instagram)
The revelation that Mond shops at the Wedge is the most surprising Vikings QB grocery shopping news since we found out in 2011 that Donovan McNabb shopped at Uptown Rainbow (now Cub Foods).
4. Rendering vs. Reality: Downtown East tower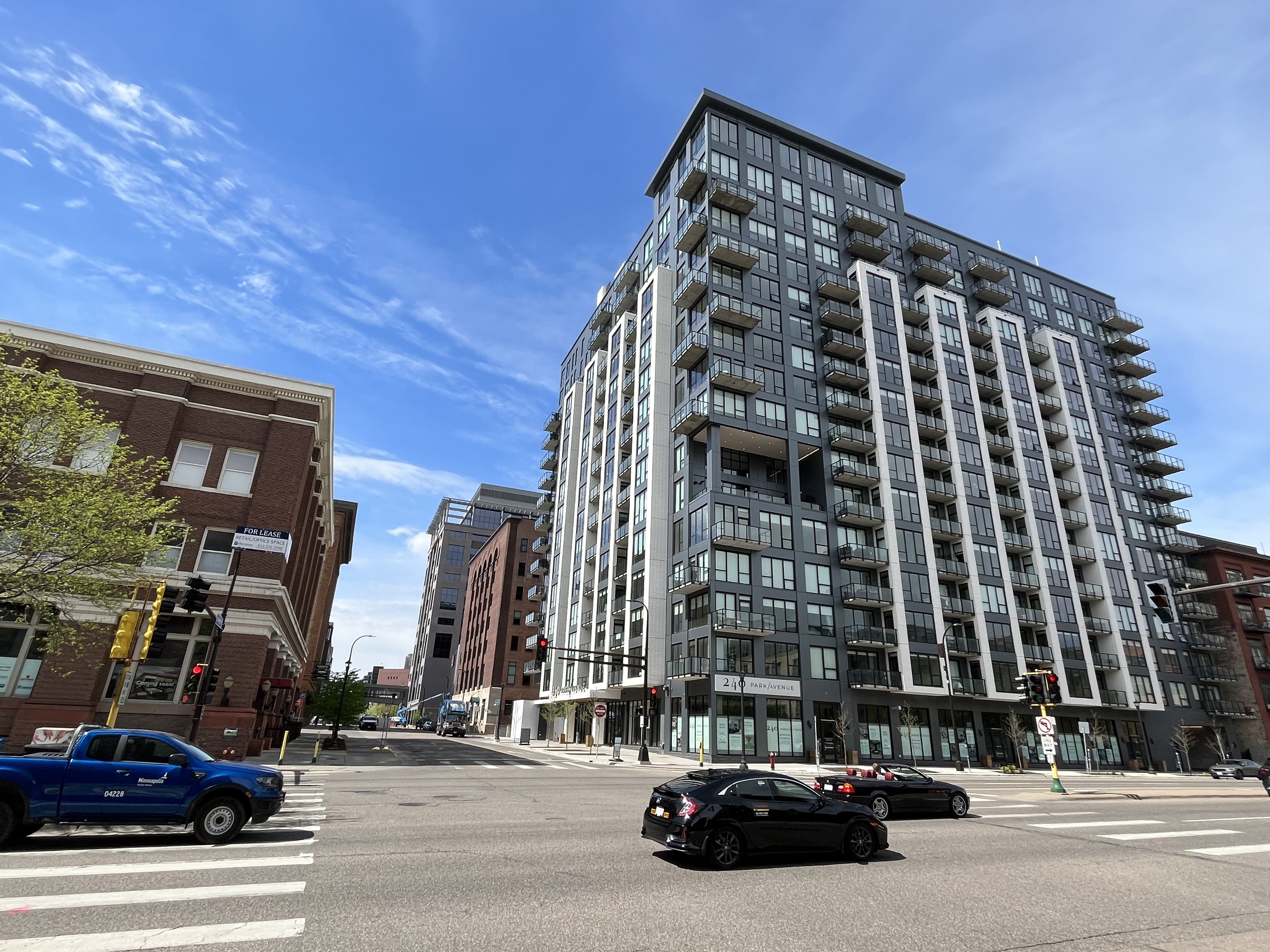 In February, the Wilf family, who owns the Vikings, completed a 17-story apartment tower at 240 Park Ave., which is just a few blocks from U.S. Bank Stadium in Minneapolis.
Designed by BKV Group, the 204-unit building has an exterior heavy on metal and glass.
Score: Nick gives it a nine out of 10 (scores are based on how close it looked to the renderings).
The major difference between the rendering and reality is that the rendering didn't show a recessed corner tenant patio on the sixth and seven floors, which is called the "Lanai."
5. 🏔 1 Dew thing to go...
Attention all Minnesotans who love their Mountain Dew: You can now buy boozy versions of the fluorescent beverage here in the state.
What's new: Hard Mtn Dew hit local shelves Monday, a spokesperson confirmed.
We're the sixth state to get distribution of the drink since its February debut.
What to expect: A press release says the drink, which comes in original, Baja Blast, Black Cherry and Watermelon flavors, "offers the same great taste of [Mountain Dew] but with an added edge of 5% alcohol by volume."
Yes, but: Our Axios Des Moines colleague Linh Ta sampled the Black Cherry flavor and wasn't a fan.
Interested? Find retailers here and definitely do let us know what you think if you give it a try.
Our picks:
🚨 Nick is watching "We Own This City," which feels like the missing chapter of "The Wire" (Nick's favorite show of all time). The series takes place in Baltimore, but there are lots of similarities to Minneapolis post-George Floyd.
🔮 Torey just started "The Immortalists."
🌸 Audrey is on vacation!