Axios AM Thought Bubble
November 12, 2021
Happy Friday and welcome to an Axios AM Thought Bubble, with climate reporter Andrew Freedman reporting on-site from the UN climate summit.
Smart Brevity™ count: 336 words ... 1½ minutes.
1 big thing: China's Glasgow gambit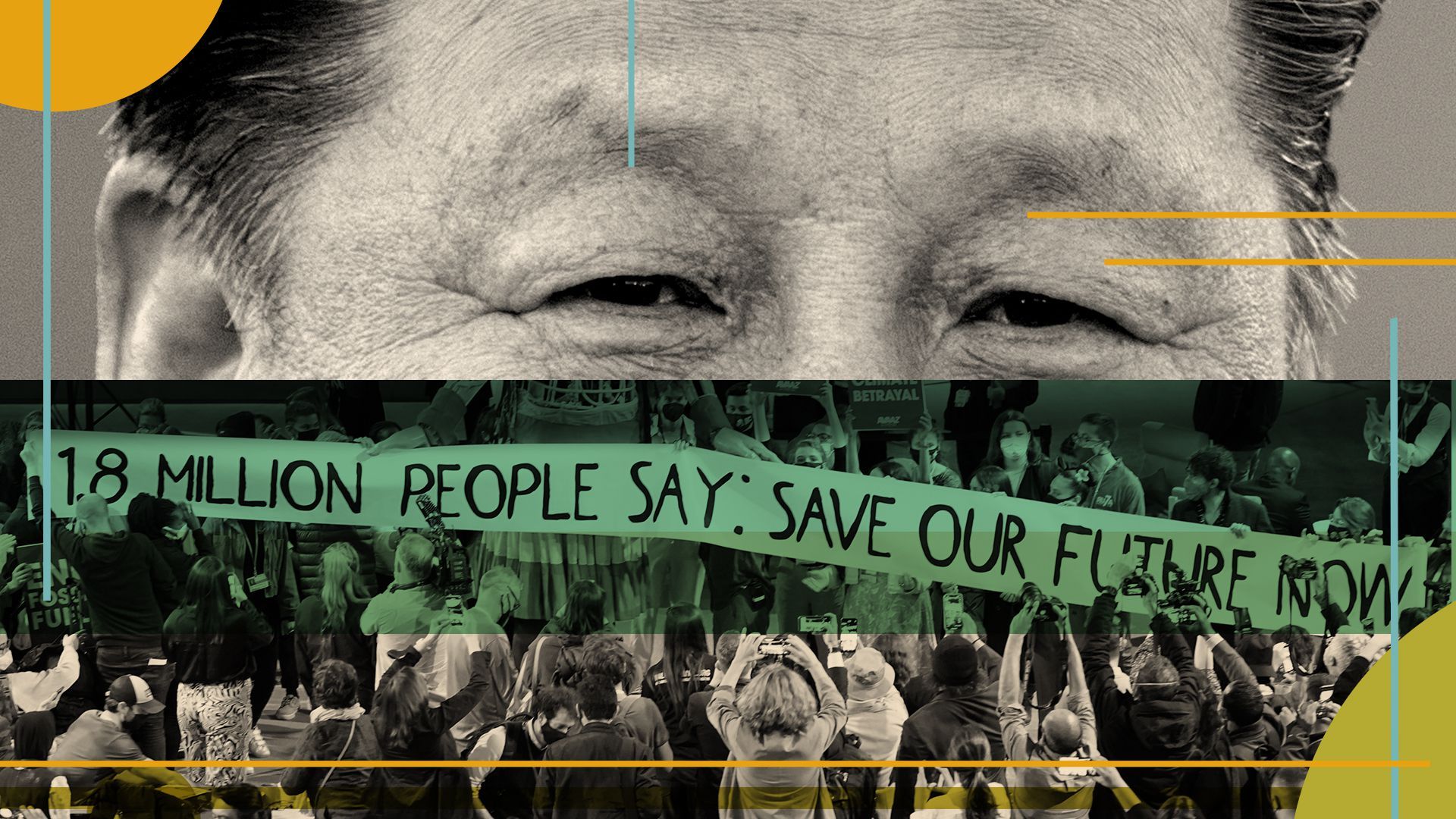 GLASGOW, Scotland — China used backroom negotiating to make itself a player, though far from a leader, at the global climate summit.
Why it matters: It's in the world's best interest for the U.S. and China to manage tensions and cooperate in the future, since the two together account for 40% of global greenhouse gas emissions.
The world's biggest emitter of greenhouse gases decided not to update its emissions targets or timetables, and President Xi Jinping did not travel to Glasgow for the event either. Instead, he sent a written statement.
But China joined Wednesday's surprise climate declaration with the U.S. — and focused on how to implement the landmark Paris Agreement of 2015, without making its targets more aggressive.
💡Andrew's take: Wednesday's agreement is a first step more than a final deal, and rests on a shaky foundation — the friendship between U.S. climate envoy John Kerry and his Chinese counterpart, Xie Zhenhua.
Both men came out of retirement in the runup to Glasgow, and it's unclear how long they'll stay in their posts.
Between the lines: The declaration aims to reduce emissions faster prior to 2030, which climate scientists say is necessary to limit global warming to 1.5°C above pre-industrial levels — the level needed to avoid more disastrous climate change consequences.
Most significantly, the countries agreed to work together to reduce methane, a powerful greenhouse gas that acts on far shorter timescales than more abundant carbon dioxide.
But the agreement is long on ambition and short on specifics, with mentions of a working group and cooperation in areas like renewable energy and clean tech.
Behind the scenes: The handling of the announcement reflected the awkward relationship.
The Chinese delegation briefed the press first and posted the document online before the U.S. did — an unusual sequence for a "joint announcement." (Xie said both sides had agreed to it.)
The Chinese delegation went over their allotted time for answering questions, leaving Kerry and his team standing out in the cold for several minutes.
🔋Sign up here to get our energy team's scoops and insight every morning in Axios Generate.