Axios from Tel Aviv
March 16, 2022
Welcome back to Axios from Tel Aviv.
This week's edition (2,232 words, 8½ minutes) covers the Iran deal, Saudi-U.S. tensions and much more.
Situational awareness: Ukrainian President Volodymyr Zelensky will address members of the Israeli Knesset via a public Zoom call on Sunday.
Meanwhile, Prime Minister Naftali Bennett spoke with both Zelensky and Vladimir Putin on Monday, and Foreign Minister Yair Lapid said publicly for the first time this week that Israel will comply with the international sanctions against Russia.
1 big thing: Scoop... U.S. weighs deal to remove Iran's IRGC from blacklist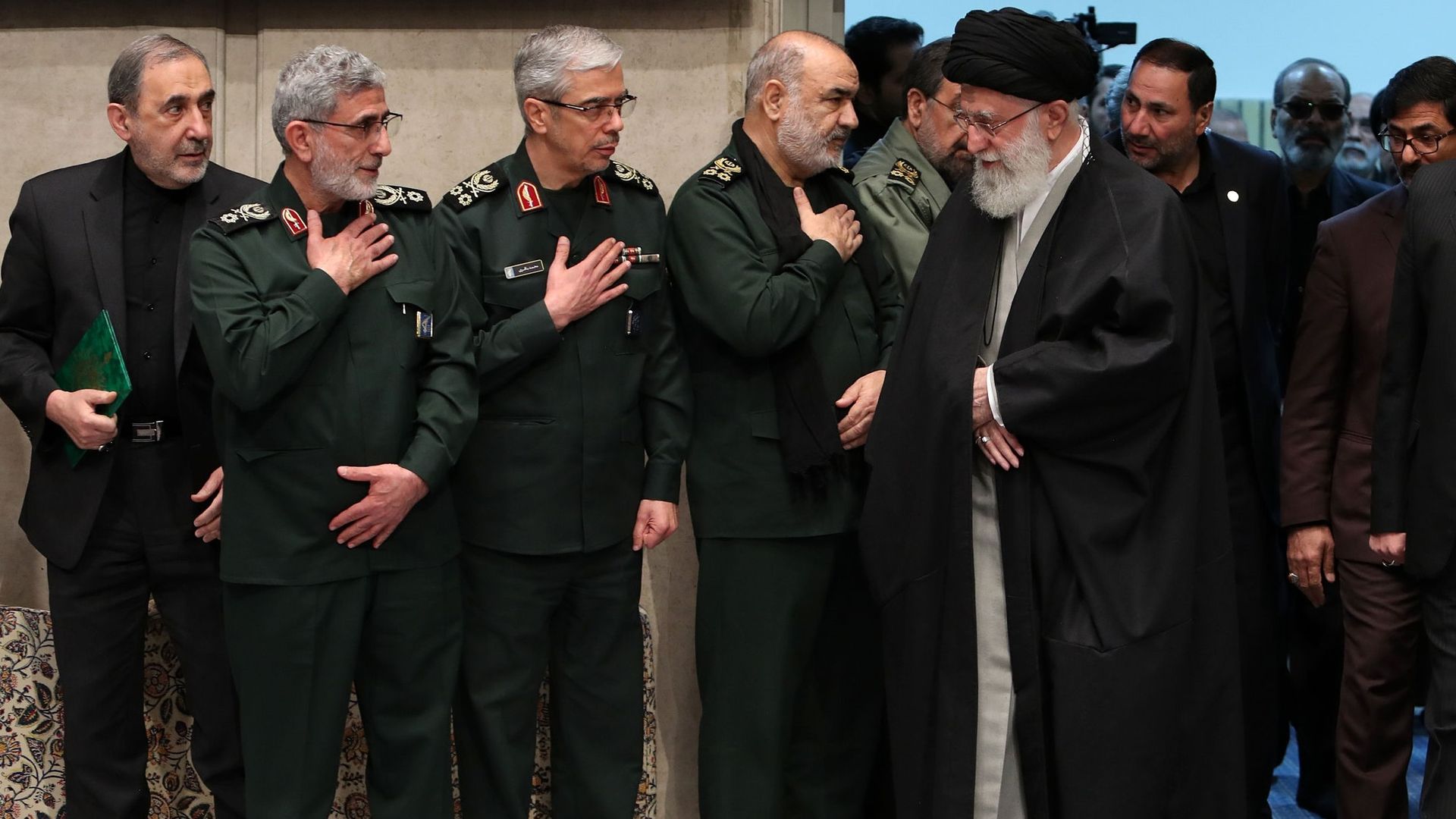 The Biden administration is considering removing Iran's Islamic Revolutionary Guard Corps from its terror blacklist in return for a public commitment from Iran to de-escalation in the region, three Israeli officials and two U.S. sources tell me.
Why it matters: The deal to restore the 2015 nuclear deal is nearly complete, but Iran's demand that President Biden reverse Donald Trump's decision to designate the IRGC as a Foreign Terrorist Organization is a key remaining sticking point.
The IRGC is not only Iran's most feared military branch, it's also a powerful political and economic player. The terror designation means that even if Biden lifts nuclear sanctions to return to compliance with the deal, criminal penalties could still be imposed on anyone doing business with individuals or businesses connected to the IRGC.
But removing the designation is a political hot potato for Biden. It would create an uproar from Republicans and likely several Democrats in the Senate.
Between the lines: The IRGC designation is not directly related to the nuclear deal, and any decision would take the form of a separate bilateral understanding between the U.S. and Iran, according to the U.S. and Israeli sources.
One idea being discussed by the Biden administration would be a public announcement that the U.S. reserves the right to redesignate the IRGC if it determines that Iran did not follow through on its pledge to de-escalate in the region.
The Israeli officials say the Biden administration briefed the Israeli government that such possibilities are being considered but stressed that no decisions have been made.
The Israeli government is concerned about the idea, and in particular, the fact that the U.S. didn't demand specific commitments from Iran not to target the U.S. and its allies in the region, two senior Israeli officials tell me.
Behind the scenes: When former Vice President Mike Pence visited Israel last week, he claimed in meetings with Prime Minister Naftali Bennett and Foreign Minister Yair Lapid that Biden planned to delist the IRGC in return for a more narrow commitment not to target Americans, two Israeli officials said.
When the Israelis checked this in Washington, they were told the Biden administration had discussed this possibility but ruled it out.
Asked about Pence's description, a senior State Department official told Axios: "It should not be a surprise to anyone that descriptions of our talks from critics not involved in the process are inaccurate." Pence's team declined to comment.
State of play: The State Department official said no decision has been made on the IRGC designation and "any speculation to the contrary is simply uninformed."
Nevertheless, the official stressed that regardless, the IRGC will remain on a separate terror list and subject to numerous sanctions, and the U.S. will still have a "panoply of tools to counter Iran's destabilizing activities."
Another senior U.S. official claimed that it would be "pure speculation" to talk about details of a deal that isn't complete yet, but added, "It's clear that President Trump and Vice President Pence's withdrawal and maximum pressure campaign have been a clear failure" because Iran has only increased its nuclear activity and regional aggression.
Worth noting: Trump's 2019 designation of the IRGC as an FTO was the first time a state entity was added to the list.
2. Scoop: Blinken planning trip to Saudi Arabia and UAE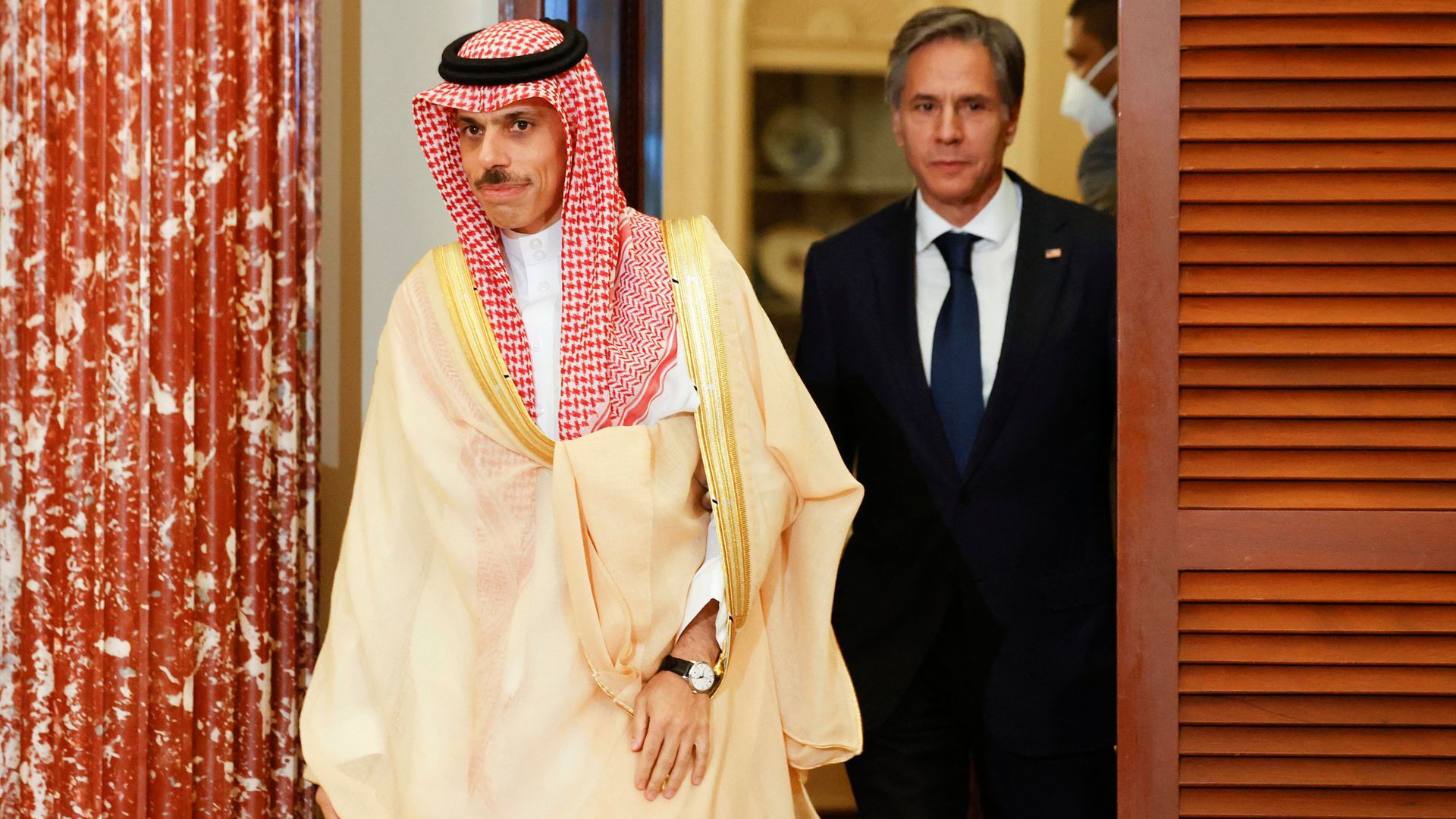 Secretary of State Tony Blinken is planning a possible trip to Saudi Arabia, the United Arab Emirates, Israel and the West Bank later this month, according to five U.S., Israeli and Palestinian sources.
Why it matters: This would be Blinken's first trip as secretary of state to Saudi Arabia and the UAE. It comes at a time of tensions between the Biden administration and two Gulf allies as it pushes them to increase oil production.
Behind the scenes: The State Department has been working on coordinating the visit with the Israelis, Palestinians, Emiratis and Saudis for more than a week, three of the sources said.
Blinken updated Lapid about the planned visit when they met in Riga, Latvia, 10 days ago, a senior Israeli official told me, but the schedule has changed several times since then.
The trip could happen either immediately before or after Blinken joins Biden at the NATO leaders summit in Brussels on March 24.
Yes, but: The U.S. and Israeli sources cautioned that events in Ukraine could influence the timing of the trip or lead to its cancellation.
State of play: After calling Saudi Crown Prince Mohammed bin Salman (MBS) a "pariah" during the campaign and keeping his distance early in his presidency, Biden now wants to convince MBS to increase oil production to stem the price spikes resulting from Russia's invasion of Ukraine.
The Saudis have thus far refused and instead stuck to an agreement on production levels struck last year with Russia. According to the WSJ, MBS declined to take a phone call from Biden about oil production.
A former U.S. official briefed on the situation tells Axios that MBS passed a message to the White House referencing the fact that Biden had previously said his counterpart was not the crown prince but the king, and suggested he, therefore, call him.
When King Salman took the call from Biden, MBS made sure his talking points didn't include an agreement to increase oil production, according to the former official.
The other side: Relations with the UAE are also strained over what the Emiratis saw as an insufficient U.S. response to the Houthi missile attack on Abu Dhabi in January.
What they are saying: "While we have no travel to preview, the secretary firmly believes in the importance of our decades-long partnerships in the Middle East and our shared commitment to a peaceful, secure and prosperous region," a State Department spokesperson said.
3. Qatar tries to smooth out Iran deal dispute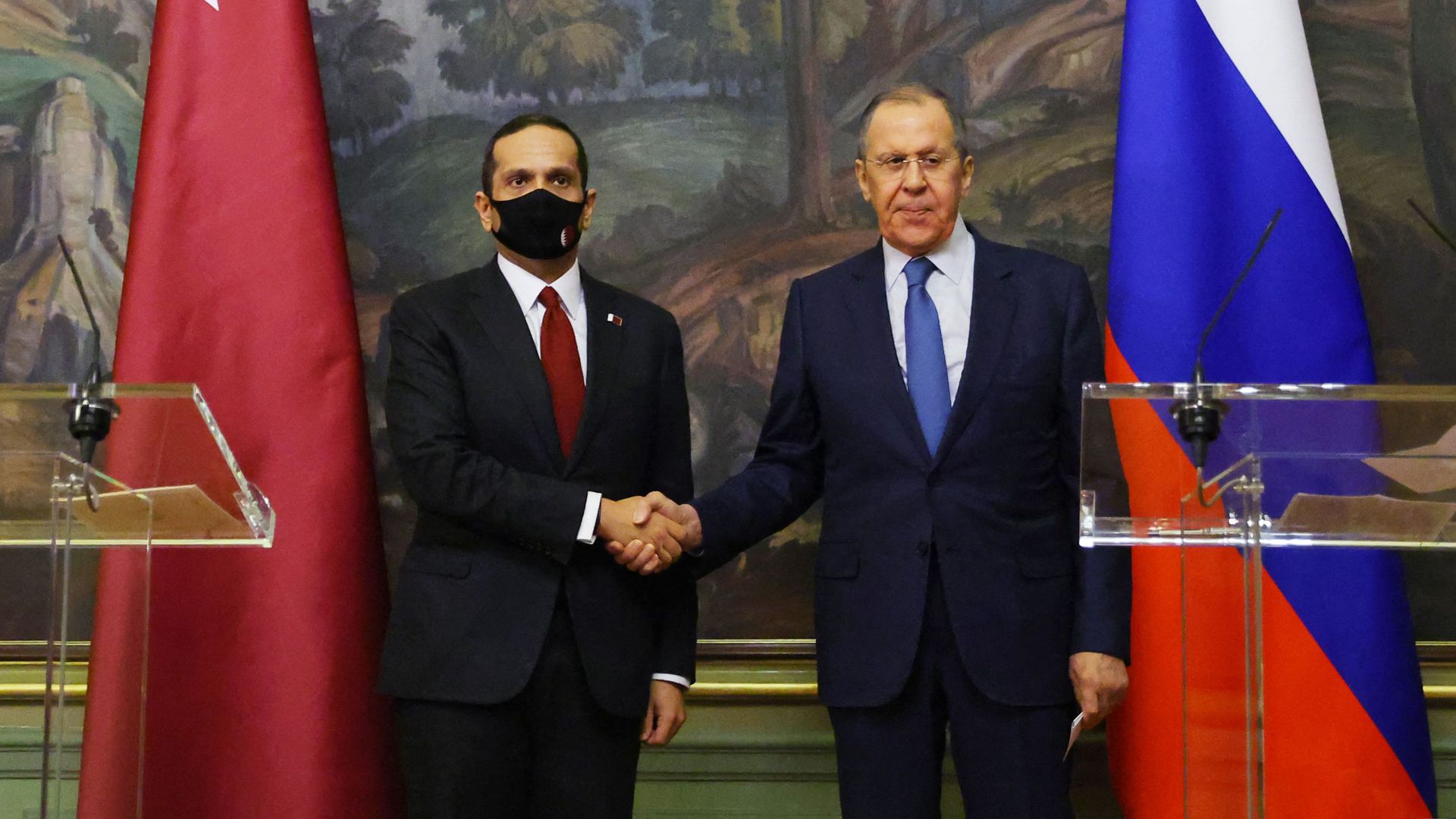 Qatar's foreign minister traveled to Moscow on Sunday in a bid to help salvage the Iran nuclear deal, after Russia demanded last-minute guarantees that sanctions related to the invasion of Ukraine would not damage its ability to trade and cooperate with Iran, Axios' Zach Basu reports.
Why it matters: The Russian demand led to a pause in negotiations just as a deal had appeared imminent. Two days after the Qatar meeting, Russian Foreign Minister Sergei Lavrov appeared to backtrack and said Russia had received "written guarantees" from the U.S. that its nuclear cooperation with Iran wouldn't be affected.
Behind the scenes: Qatari Foreign Mohammed bin Abdulrahman Al Thani made the trip to Moscow after meetings with the foreign ministers of Germany and France and two calls with Secretary of State Antony Blinken.
Sources briefed on Al Thani's discussions with Lavrov on Iran tell Axios they went "very well," with the Russians essentially agreeing not to stand in the way as long as their role in the agreement remains the same.
While the main purpose of the trip was to resolve the obstacles in the Iran talks, Al Thani also spoke with Ukrainian Foreign Minister Dmytro Kuleba on the morning of his visit to Moscow. As he had been in touch with all of the main diplomatic players, he may have relayed messages to and from Lavrov on the Ukraine issue as well.
What's next: A well-informed diplomat tells Axios it's likely that negotiations will resume in the coming days now that the Russia issue has been resolved, with both the U.S. and Iran eager to finalize a deal.
4. Reports: Arab nations push for Hamdok return to Sudan politics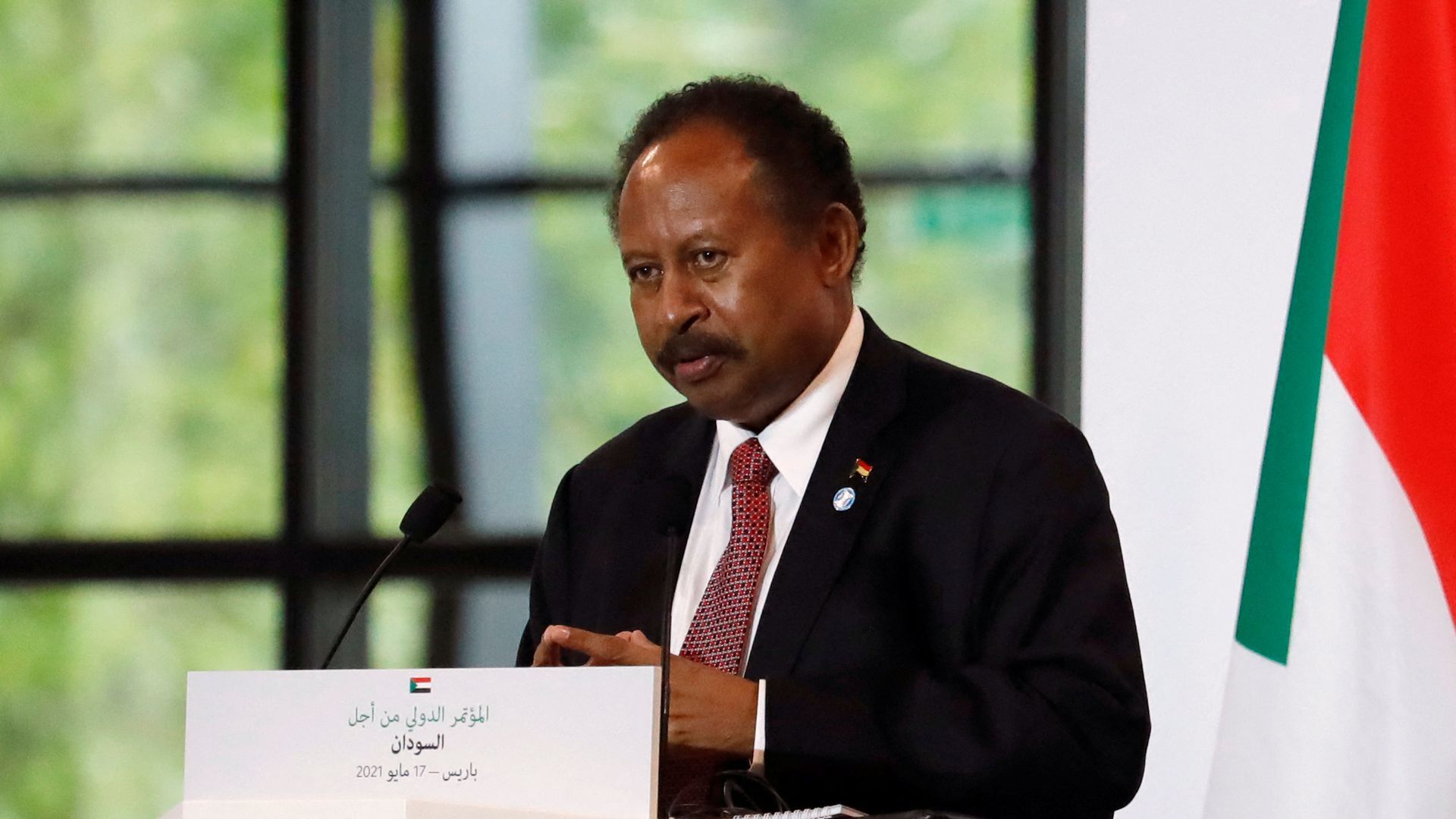 Sudanese media are reporting that several Arab countries are trying to promote a behind-the-scenes initiative to bring former Sudanese Prime Minister Abdalla Hamdok back to the political scene, Wasil Ali, former deputy editor in chief of the Sudan Tribune, writes for Axios.
Driving the news: The army chief and chairman of the sovereign council Gen. Abdel Fattah al-Burhan appears unable to bring about any form of political reconciliation amid persistent waves of street protests and rising casualties among demonstrators.
Catch up fast: Sudanese military leaders deposed Hamdok and placed him under house arrest last October, prompting mass protests and derailing the country's fragile transition to democracy.
Military leaders described the coup as a "course correction."
A power-sharing agreement was reached last November to reinstate Hamdok as prime minister, but the pro-democracy movement rejected the deal and protests continued.
Hamdok resigned in January.
The big picture: Several Arab countries are trying to build a new power-sharing government between civilians and the military, according to press reports in Sudan.
Burhan visited the UAE in recent days and met with Abu Dhabi Crown Prince Mohammed bin Zayed. The Emiratis are a key player in trying to break the political deadlock in Sudan.
The Sudanese sovereign council said in a statement that bin Zayed promised "large deposits" in Sudanese banks and the establishment of developmental projects to boost the Sudanese economy.
Hamdok, who declined to comment, reportedly met with Burhan in Abu Dhabi during his visit.
But a source who is in constant contact with the former prime minister told Axios that Hamdok vehemently denies intentions of assuming any political position in Sudan. The military did not comment.
State of play: African Union special envoy to Sudan Mohamed El Hacen Lebatt warned at a press conference in Khartoum last week that the country is in "grave danger" if political players fail to quickly reach a consensus that would bring back the constitutional order that existed prior to the Oct. 25 military coup.
Earlier this year, the UN Integrated Transition Assistance Mission in Sudan, headed by Volker Perthes of Germany, launched a series of meetings with hundreds of Sudanese stakeholders with the goal of breaking the political impasse and facilitating a dialogue that would eventually lead to an agreement.
The gloomy political picture is coupled with a deteriorating economy driven by the suspension of international aid in the wake of the coup.
The Sudanese government has decided to devalue the Sudanese pound in order to bring about parity or exchange rate with the black-market rate — a move that is all but certain to push up prices of goods and services. This comes in addition to an expected rise in taxes this year.
What to watch: Sudan is currently torn between some street protesters who insist the military totally relinquish rule to civilians and a military that says it will only hand power to an elected government.
Burhan, however, has recently hinted that he is open to accepting a civilian government formed through "national consensus" without giving details.
5. U.S. wants to maintain calm in Jerusalem as holidays near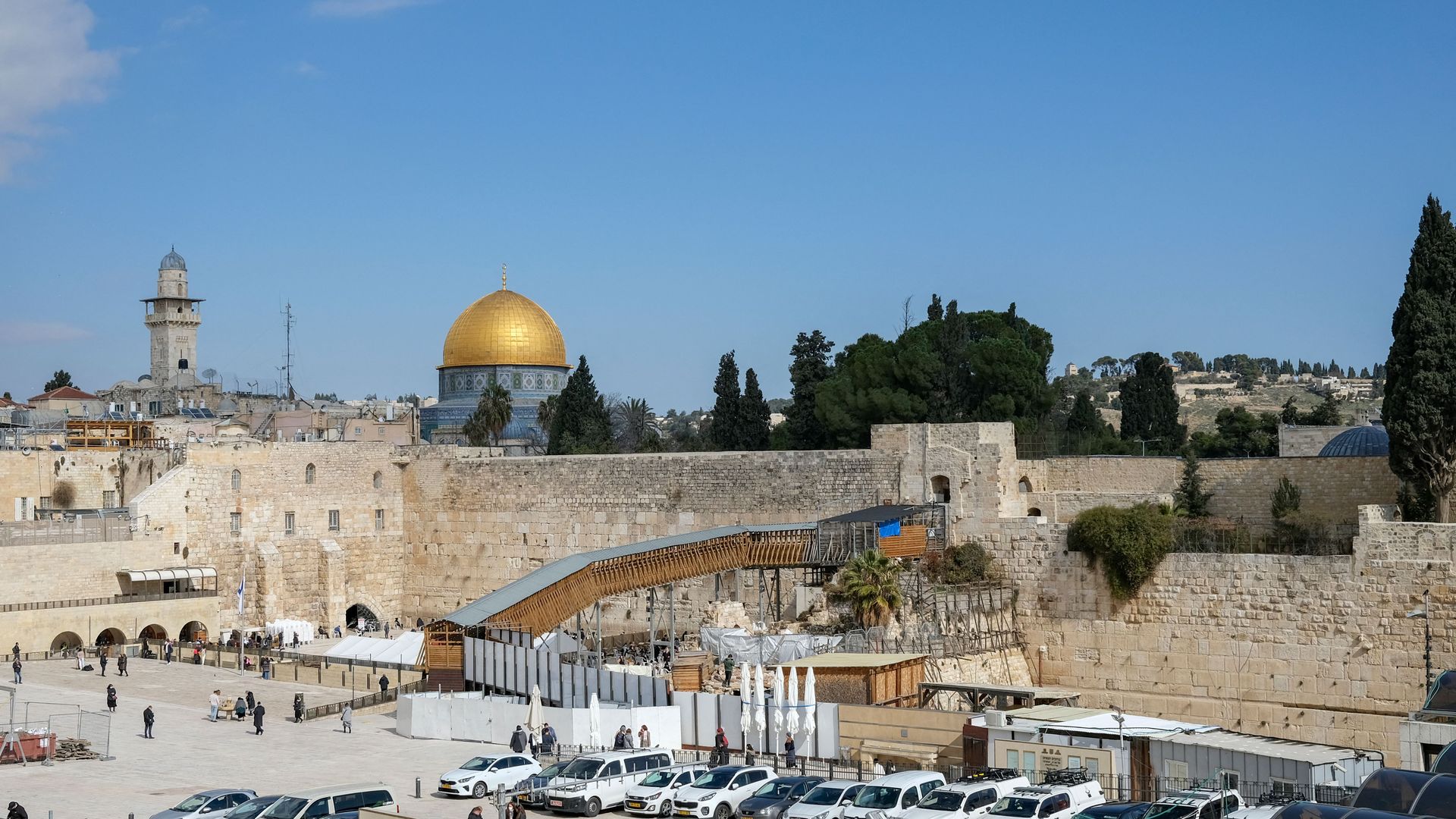 The Biden administration is working to maintain calm in Jerusalem ahead of an unusual situation that happens once every 10 years (when important Jewish, Muslim and Christian holidays coincide), U.S. ambassador to Israel Tom Nides said yesterday.
Why it matters: The fact that Passover, Ramadan and Easter take place during the same time in mid-April heightens the potential for violence in Jerusalem. Israeli officials say there is no specific intelligence that an escalation will take place.
Flashback: During the month of Ramadan and ahead of Jerusalem Day last May, Israeli police banned Palestinians from gathering near the Damascus Gate, leading to violent confrontations between Israeli police and Palestinians in the Old City.
Tensions had already been high over the planned expulsions of several Palestinian families from East Jerusalem's Sheikh Jarrah neighborhood.
As the situation intensified, Hamas fired missiles toward Jerusalem, and eventually at Tel Aviv and southern Israel. Israel began an 11-day military campaign against Gaza. Hundreds of Palestinians and more than a dozen people in Israel were killed.
It was the Biden administration's first international crisis.
Tensions have remained high since, with the threat of further escalation at any point.
Behind the scenes: During a webinar organized by Americans for Peace Now — a left-wing NGO that works to promote Israeli-Palestinian peace — Nides said he sent a cable to the State Department five weeks ago alerting them of this sensitive week in mid-April.
"I wrote, 'Wake up everybody, this is really a problem.' Everyone [in Washington] is fixated now on what could be a really serious issue," Nides said.
"The more you talk about it, the more the chances are that the Israelis, Egyptians and Jordanians will calm things down — to make sure this holy week does not blow up," he added.
State of play: Nides and other Biden administration officials have discussed the matter with Israeli, Palestinian, Jordanian and Egyptian officials and stressed the need to maintain calm, a source briefed on the issue said.
The State Department's point person on the Israeli-Palestinian conflict Hady Amr traveled to Jerusalem, Ramallah and Amman this week.
The sensitive situation in Jerusalem is one of the issues he is discussing. A State Department official said Amr is working to reduce tensions and to implement specific economic steps that will improve lives.
Lapid met last Wednesday with Palestinian Minister for Civilian Affairs Hussein al-Sheikh and discussed the need to maintain calm in Jerusalem during Ramadan and Passover.
A day later, Lapid addressed the issue with Jordan's King Abdullah in Amman, Israeli officials said.
What's next: On Sunday, Bennett met senior ministers and the heads of the military, the police and the Shin Bet security agency to discuss the preparations for Ramadan, which starts at the beginning of April, and the sensitive week in the middle of the month.
According to Israeli officials, all the security services chiefs said there is no concrete intelligence pointing to an escalation in Jerusalem, the West Bank or Gaza, but there is a dangerous risk and every small incident can turn into a violent eruption.