Axios from Tel Aviv
February 16, 2022
Welcome back to Axios from Tel Aviv.
I took a quick trip to Bahrain this week with Prime Minister Naftali Bennett.
This week's edition (1,923 words, 7 minutes) gets you up to speed on that visit, the Iran talks, tensions in East Jerusalem and the Turkish president's trip to the UAE.
1 big thing: Bennett's Bahrain visit focused on anti-Iran alliance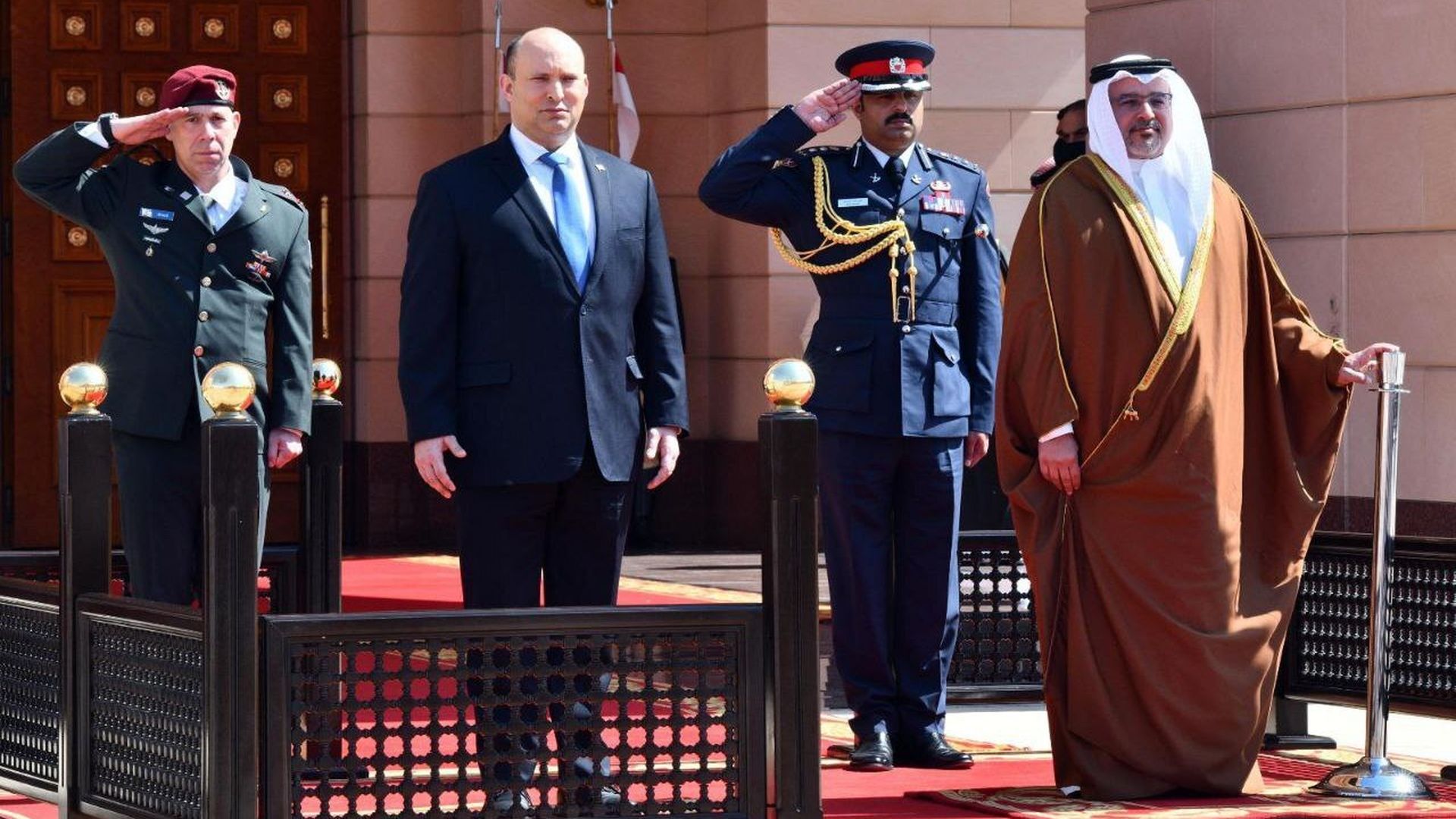 MANAMA, Bahrain — During his visit to Bahrain on Tuesday, Israeli Prime Minister Naftali Bennett and Bahraini officials discussed ways to build a regional alliance to counter Iran, a senior Israeli official tells me.
Why it matters: This was the first-ever official visit by an Israeli prime minister to the Gulf kingdom — which established relations with Israel 18 months ago and is located less than 100 miles from Iran — and it came as the nuclear talks in Vienna entered crunch time.
Driving the news: The Bahraini government took every opportunity to make Bennett's visit as warm and public as possible.
Two senior Cabinet ministers greeted Bennett at the airport, and a military orchestra played the Israeli national anthem as he arrived to meet the crown prince — a ceremony that was broadcast live on local TV.
Bennett's meeting with King Hamad bin Isa Al Khalifa was also widely reported in Bahraini state and private media, and a joint statement published after the meeting stressed that relations would be based on a "joint warm peace strategy."
Behind the scenes: Bennett's talks with the king and Crown Prince Salman bin Hamad Al Khalifa focused almost entirely on Iran and regional tensions, Israeli officials say.
What they're saying: In a briefing with reporters, Bahraini Foreign Minister Abdullatif al-Zayani said the two sides discussed "expanding strategic and security relations to address regional challenges, including nuclear threats, terrorist activity and religious extremism."
In his own briefing to reporters on Tuesday, Bennett said his goal was to take practical steps to make it clear to citizens in Bahrain and Israel that they benefit from the Abraham Accords that normalized relations between the countries.
"The goal is to create a network of alliances in the region that will face regional challenges together and increase stability," Bennett said.
Bennett also met during his visit with the new U.S. ambassador to Bahrain, Steven Bondy, and the commander of the U.S. Navy's 5th fleet, Vice Adm. Brad Cooper.
An Israeli navy officer will soon be stationed at the 5th Fleet's headquarters in Bahrain as part of an international maritime task force.
What to watch: A senior Israeli official said a key concern for many leaders in the region is countering the Iranian-made armed drones used by several militias in Iraq, Syria and Yemen, including in the recent attacks against the UAE.
Israel is sharing its experience in countering drones with its new allies in the region, the official said.
What's next: Before Bennett departed Manama, Foreign Minister al-Zayani announced that the crown prince had accepted Bennett's invitation to visit Israel in the near future. He would be the first Arab leader to visit Israel in more than 25 years.
2. The view from Ankara: Erdoğan's unlikely visit to the Emirates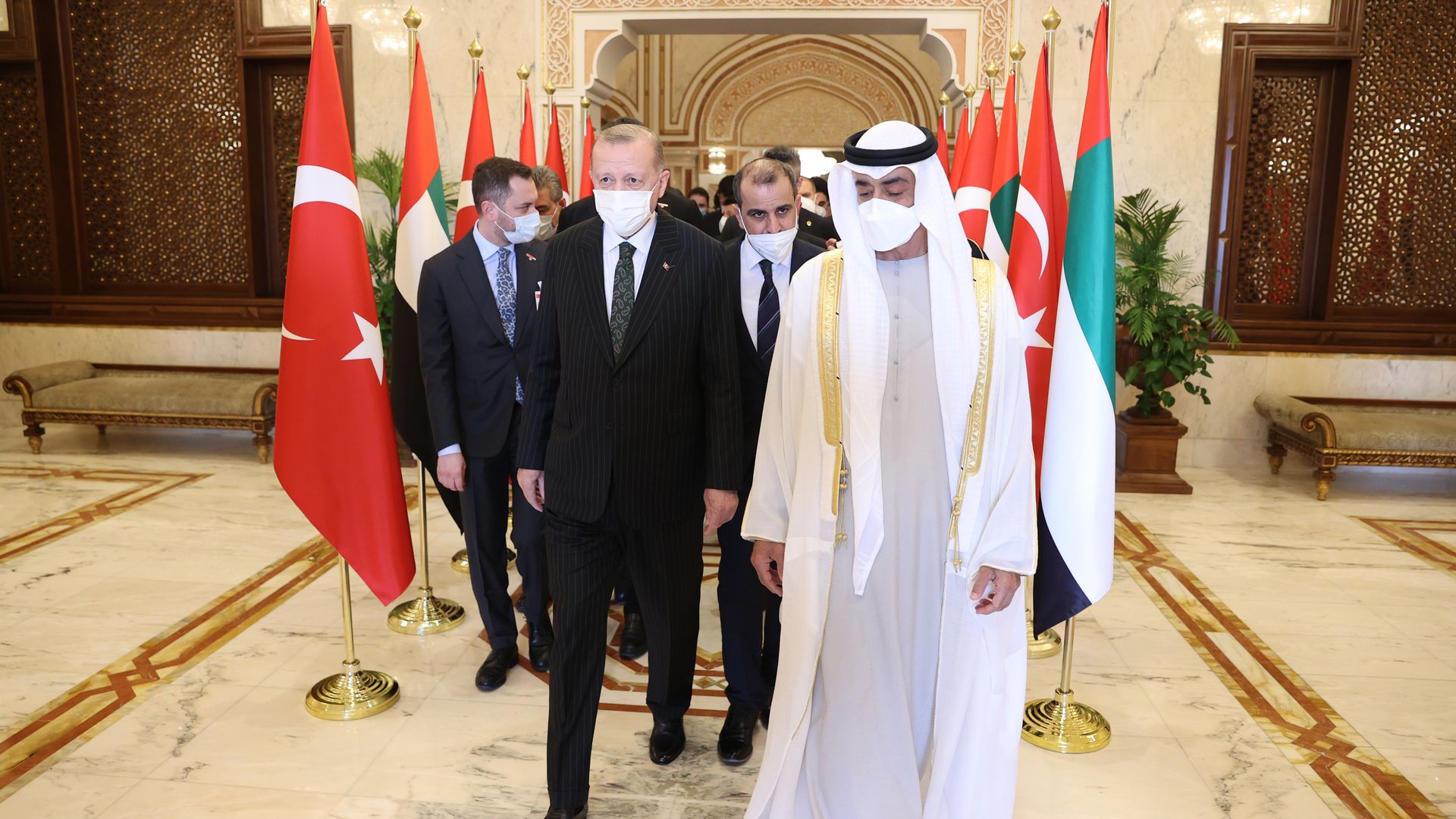 ANKARA, Turkey — Turkish President Recep Tayyip Erdoğan's official visit to the United Arab Emirates this week is aimed at laying the foundation for a strategic partnership between the two former rivals after several years of sharp divergence, Ankara-based journalist Menekse Tokyay writes for Axios.
Why it matters: Erdoğan's first visit to the UAE in nine years, which followed a visit from UAE Crown Prince Mohammed bin Zayed (MBZ) to Ankara last November, is part of a broader effort to reset relations with countries in the region as Turkey tries to build its cash flow and end its diplomatic isolation in the region.
State of play: In the past several years, Turkey and the UAE have intervened on opposite sides in Libya, the Emiratis have criticized Turkey's role in Syria, and Ankara has criticized the UAE's intervention in Yemen.
Ankara also suspected the Emiratis of backing a 2016 coup attempt against Erdoğan, and Erdoğan's harsh criticism of the UAE's normalization with Israel pushed relations to an all-time low.
Despite all that, Erdogan's multiday visit, which began on Monday, had the sort of pomp and circumstance that might be expected from the closest of allies.
Driving the news: The two countries signed 13 bilateral deals on issues including defense, climate change and technology, and launched negotiations on a broader economic partnership. Turkey also agreed to sell drones to the UAE.
The countries are also looking to boost trade, which is already around $8 billion annually, in areas like construction, energy, transport, health care and food.
During MBZ's visit to Ankara, Abu Dhabi earmarked $10 billion for investment in Turkey's health care and financial technology sectors.
The central banks of both countries also signed a $5 billion currency swap deal last month.
The other side: Turkish opposition parties are criticizing the rapprochement.
Ali Babacan, who was previously one of Erdoğan's top ministers but now runs a breakaway party, criticized Erdoğan for the apparent U-turn on his allegations about the UAE's links to the 2016 coup attempt.
What's next: Two senior Turkish officials arrive in Israel on Wednesday to pave the way for Israeli President Isaac Herzog's upcoming visit to Ankara, which is planned for March 9. It will be the first such visit in 15 years.
Worth noting: Turkish intelligence claimed last week to have thwarted an Iranian attempt to kill an Israeli Turkish businessman.
The alleged Iranian plot is seen by some in the Turkish government as a reaction to Turkey's efforts to improve relations with the UAE and Israel.
3. Iran: It's up to Western powers to seal the nuclear deal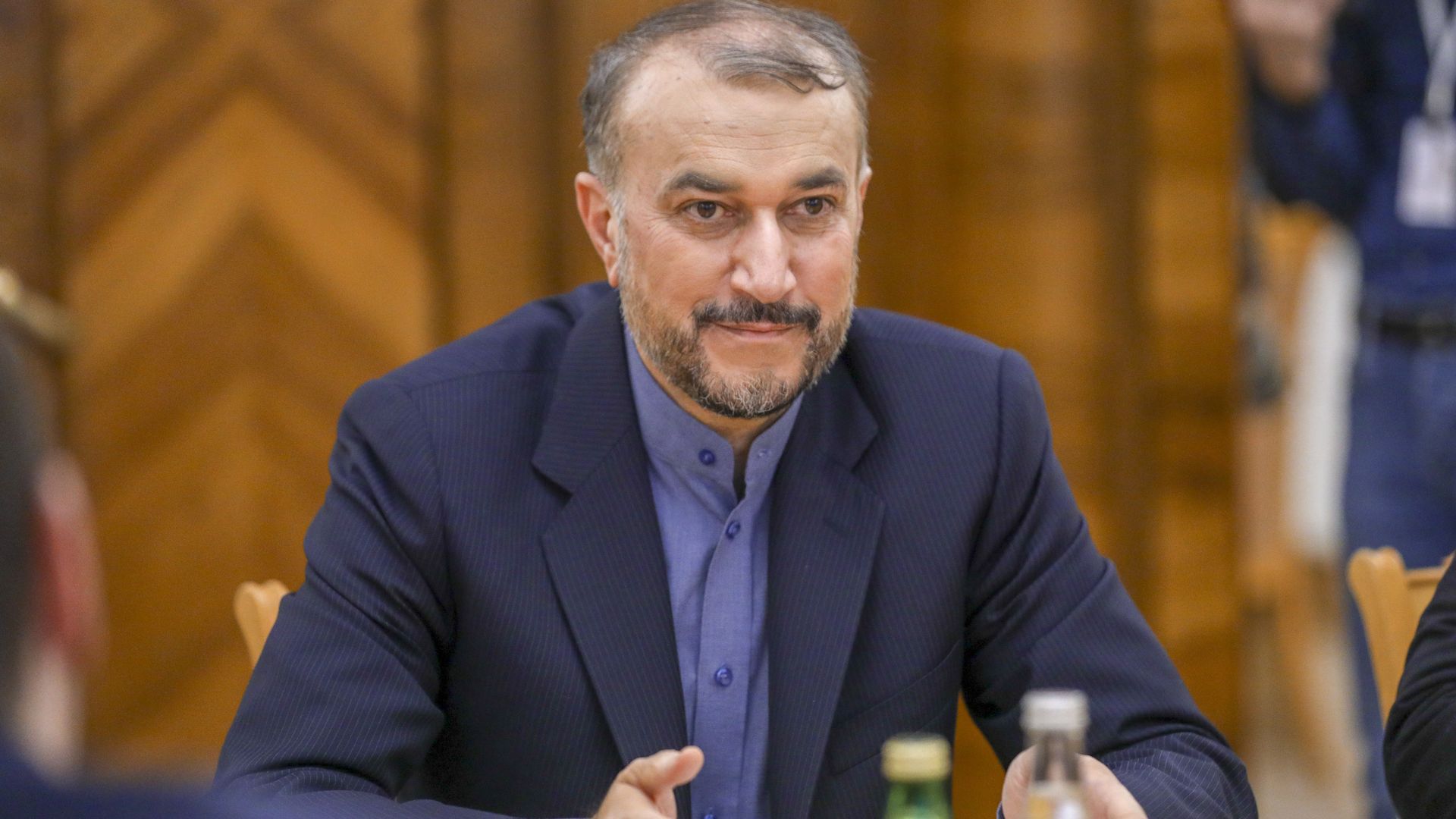 The nuclear talks in Vienna appear to be in the final stretch, but the Iranian and Western negotiators both claim the ball is in the other's court.
While Iranian officials have made public statements about the talks almost every day, and sometimes several times a day, there has been almost complete silence from the U.S., France, Germany and U.K. for the past two weeks.
What they're saying: Iranian Foreign Minister Hossein Amir-Abdollahian told EU foreign policy chief Josep Borrell in a phone call on Tuesday that Iran's initiatives in the talks had "brought the deal within reach," but stressed that the Western powers needed to act responsibly to get a final agreement, according to the Iranian Foreign Ministry.
Meanwhile, French Foreign Minister Jean-Yves Le Drian told Parliament on Wednesday that a return to the 2015 nuclear deal could be only days away, but that Iran still needed to make the key political decisions.
State of play: In statements to the media in recent days, several Iranian officials have acknowledged that gaps remain in terms of the sanctions Iran wants to see lifted and on Iran's demand that the U.S. will not withdraw from the deal again in the future.
Amir-Abdollahian told the FT that Iran wants the U.S. Congress to issue a political statement committing to the nuclear deal. That's highly unlikely.
The Iranian foreign minister also said his country demands that all sanctions imposed by the Trump administration be lifted, even those that aren't linked to the nuclear program. The Biden administration has rejected that demand so far.
The other side: Israel recently sent a special envoy to the Vienna talks for the first time.
The Israeli envoy met with U.S. Iran envoy Rob Malley and the negotiators from other world powers in a last-ditch effort to influence the deal.
A senior Israeli official who spoke to reporters traveling with Bennett on Tuesday's visit to Bahrain said it was unclear whether the Ukraine crisis would influence the talks in Vienna.
4. U.S. presses Israel for de-escalation in Sheikh Jarrah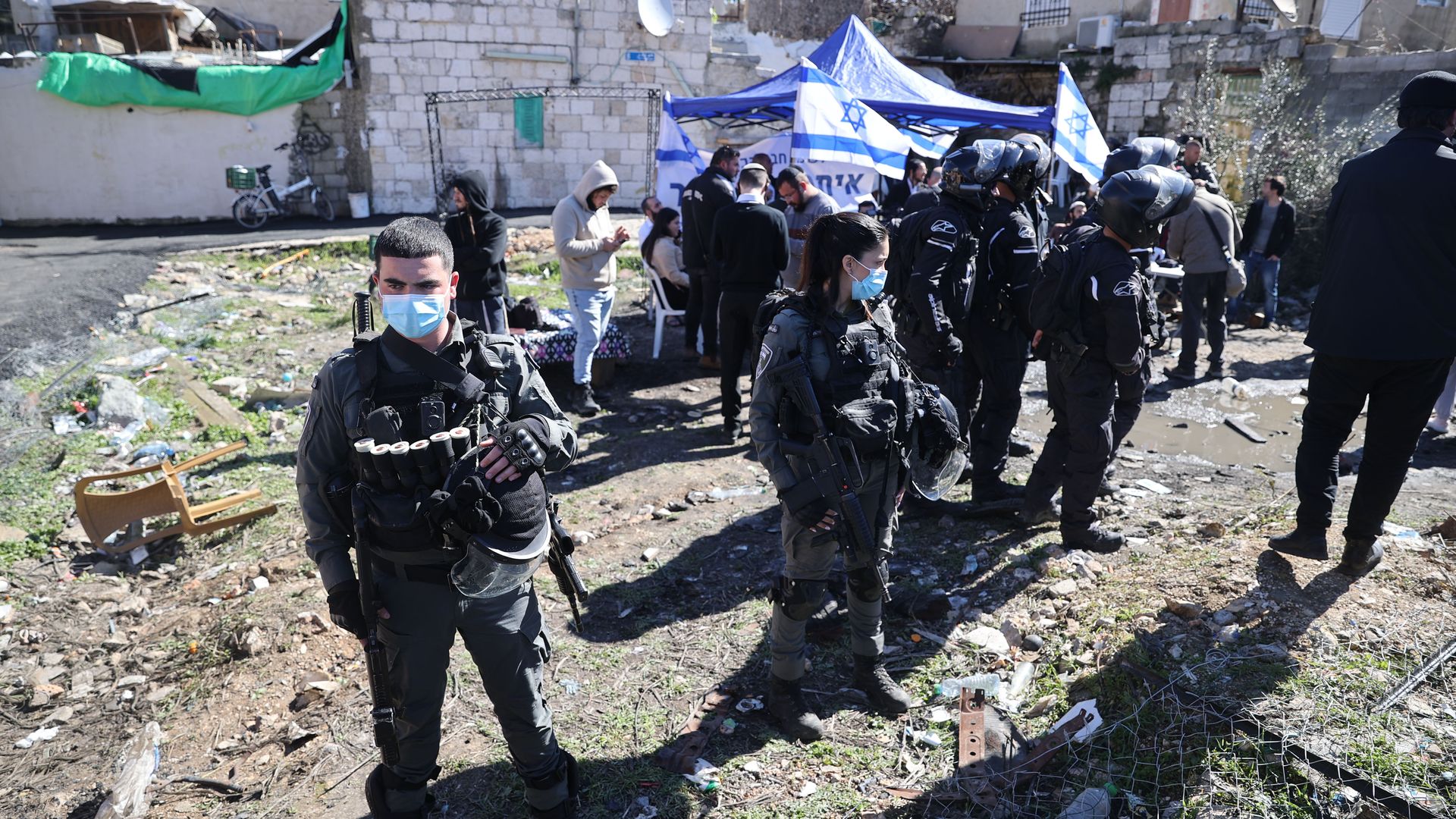 The Biden administration has asked the Israeli government to take steps to avoid further escalation and restore calm in the Sheikh Jarrah neighborhood in East Jerusalem, Israeli and U.S. officials tell me.
Why it matters: Tensions over the potential expulsion of six Palestinian families from the neighborhood in favor of Jewish settlers helped spark the fighting in Gaza last May.
The Biden administration is concerned there could be further violence in Sheikh Jarrah ahead of the holy month of Ramadan
Driving the news: Last Friday, a fire broke out at the home of Jewish settlers in Sheikh Jarrah. They are the only Jewish family in that part of the neighborhood and their cars had been set on fire several times in the past.
Israeli police concluded that the fire was set intentionally and arrested two Palestinian suspects, while Palestinian residents of the neighborhood claimed the fire was the result of an electrical malfunction.
Itamar Ben Gvir, a Jewish supremacist member of the Israeli Knesset, moved his "office" to a tent in Sheikh Jarrah, claiming he would not budge until there was "security" for Jews. The tent is outside the home of a Palestinian family that has lived in Sheikh Jarrah since 1951 but faces expulsion, possibly in March.
Ben Gvir's arrival provoked clashes began near the tent between Palestinians and Jewish settlers. The Israeli police intervened and separated the two groups.
Tensions remain high, and Hamas has threatened to intervene if the "assaults against our compatriots" continue.
The events in Sheikh Jarrah follow several violent incidents in the occupied West Bank over the last two weeks.
The most serious took place in Nablus, where the Israeli military killed three Palestinians.
The Shin Bet security agency said the Palestinians, members of the Al-Aqsa Martyrs Brigade militant group, were armed, and it accused them of carrying out recent shooting attacks against Israeli settlers.
The Palestinian Authority called the killings a "heinous crime."
Behind the scenes: U.S. ambassador to Israel Tom Nides has spoken in recent days to Israeli Public Security Minister Omer Bar Lev and to officials in the Prime Minister's Office to ask them to de-escalate the situation, the Israeli and U.S. officials say.
Bar Lev told Nides that the escalation in Sheikh Jarrah cold spill over to the Gaza Strip, but that he is making every effort to prevent further escalation.
Prime Minister Bennett is also very concerned that provocations from Israeli politicians on the far-right and far-left could spark another round of violence, his aides told me.
What they're saying: "We're following developments very closely in Sheikh Jarrah, both on the ground and here from Washington, and we're deeply concerned by the events," State Department spokesperson Ned Price said on Monday.
"We are strongly urging all parties against inciting violence, and we are urging calm on the part of all parties."
5. U.S. official says progress made in Israel-Lebanon border dispute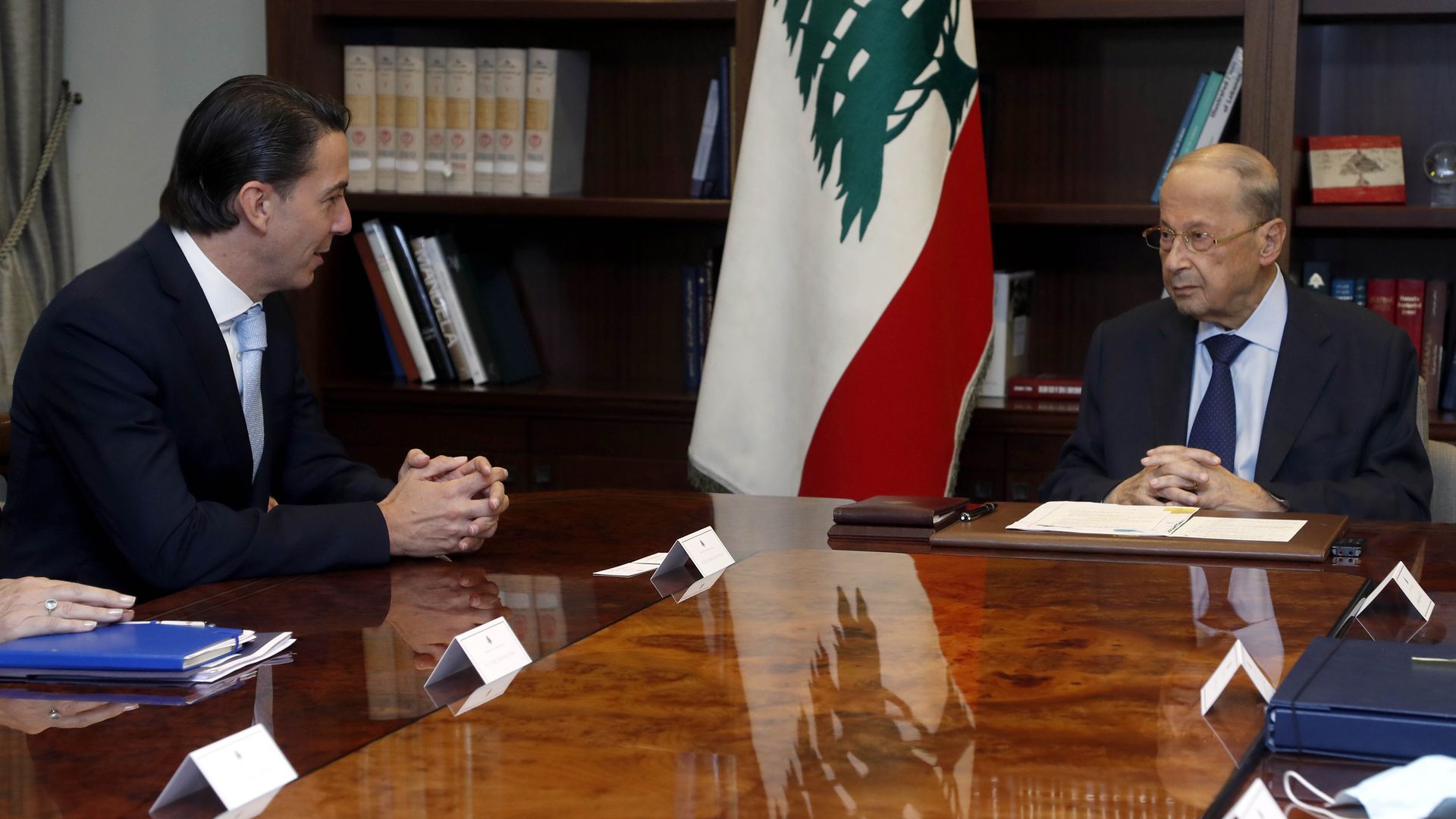 A visit by State Department energy envoy Amos Hochstein to Beirut last week helped to narrow the gaps between Lebanon and Israel on their maritime border dispute, a U.S. official tells me.
Why it matters: A deal would allow for natural gas exploration in a disputed area of the eastern Mediterranean Sea, which could boost Lebanon's imperiled economy.
Driving the news: Hochstein met with President Michel Aoun, Prime Minister Najib Mikati, Speaker of Parliament Nabih Berri and Lebanese Army commander Gen. Joseph Aoun.
President Aoun and Gen. Bassam Yassin, the head of the Lebanese negotiating team, both told Lebanese media after the visit that Lebanon had returned to its previous position on the border line and abandoned the more maximalist stance presented last year.
What they're saying: Aoun told Al-Akhbar newspaper that due to the economic crisis in Lebanon, there was a sense of urgency to reach a solution.
In unusual public criticism of Aoun, Gen. Yassin said of the decision to revert to the previous border position, "we paid everything and got nothing and Israel got what it wanted."
While in Beirut, Hochstein told the LBCI TV network that Lebanon could not afford to wait and potentially lose billions of dollars. "We don't have another 10 years for talks. We need to get a compromise in which neither side will get 100% of what it wants. I am optimistic," he said.
What's next: Hochstein is expected to visit Jerusalem and Beirut again in the coming weeks.