Axios from Tel Aviv
August 17, 2022
Welcome back to Axios from Tel Aviv.
This week's edition (1,722 words, 6½ minutes) starts with breaking news from Turkey and Israel on ending a four-year diplomatic crisis.
It also brings you another scoop from the call between Secretary of State Tony Blinken and Israeli Defense Minister Benny Gantz about the killing of Shireen Abu Akleh. And it examines the controversy over Palestinian President Mahmoud Abbas' "50 Holocausts" comments in Berlin.
1 big thing: Turkey and Israel restore full diplomatic relations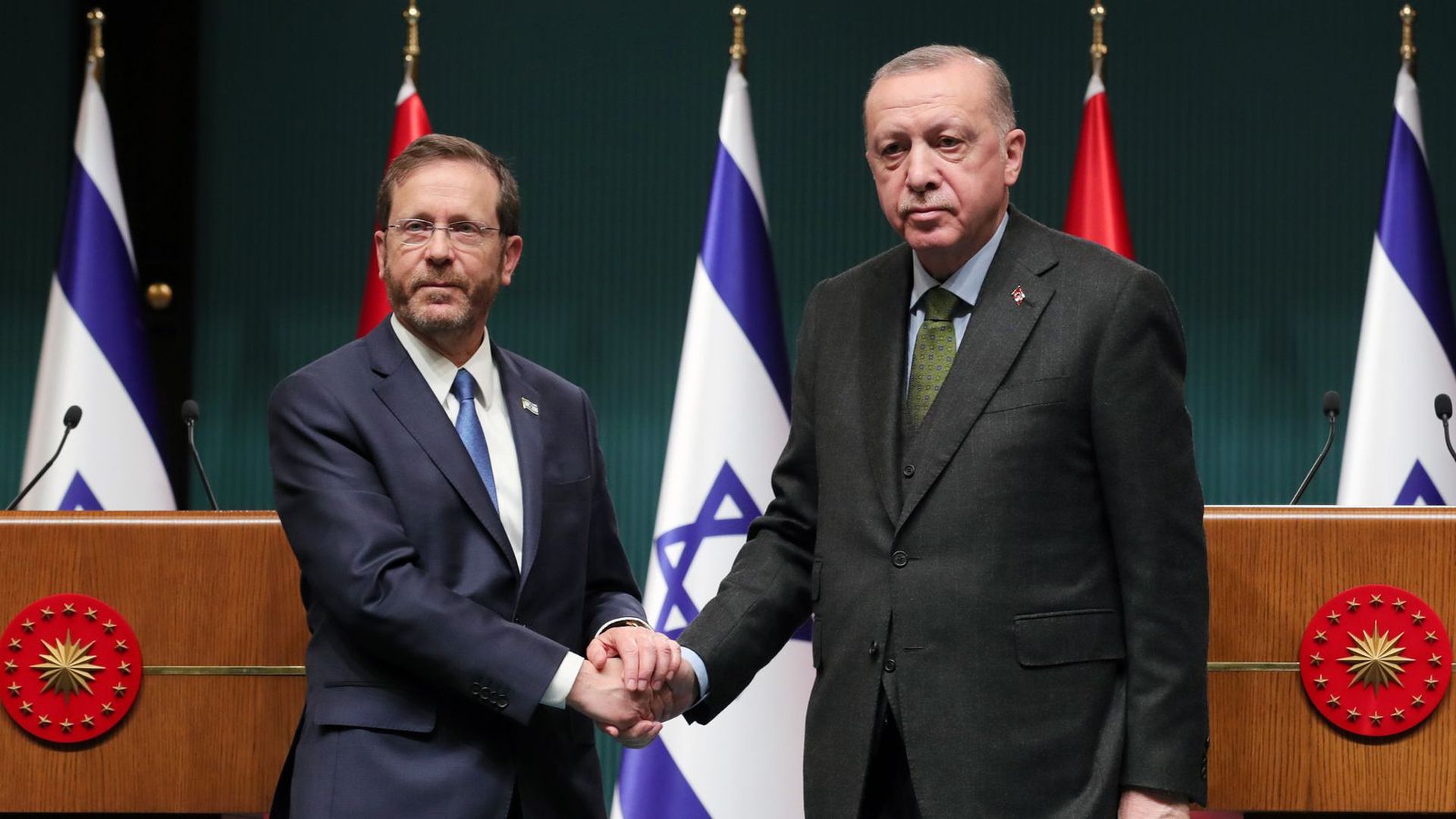 Israel and Turkey announced today the full normalization of relations and the return of their ambassadors to Ankara and Tel Aviv.
Why it matters: The announcement ends a four-year diplomatic crisis that led to downgraded relations between the two non-Arab regional powers.
What they're saying: "The normalization of ties with Turkey is an asset for regional stability and an economic benefit for the citizens of Israel," Israeli Prime Minister Yair Lapid said.
Turkish Foreign Minister Mevlüt Çavuşoğlu said at a press conference in Ankara that Turkey will appoint an ambassador to Israel soon and both countries will hold a joint economic meeting in the coming weeks.
He added that Ankara will continue to support the Palestinians.
Flashback: Israeli-Turkish relations have gone through a series of crises over the past decade, most recently in 2018 when the U.S. moved its embassy to Jerusalem and Turkey expelled the Israeli ambassador from Ankara.
After President Biden assumed office, Turkish President Recep Tayyip Erdoğan — who also reached out to rivals like Egypt and the UAE — started sending signals that he wanted to turn a new page in the relationship.
Erdoğan used a congratulatory phone call after President Isaac Herzog was inaugurated in July 2021 to start engaging directly with Israel. They have spoken on the phone several times, and last March, Herzog met Erdoğan in Ankara.
Çavuşoğlu visited Jerusalem in May for the first visit to Israel by a Turkish foreign minister in 15 years.
Behind the scenes: Israeli officials said Lapid wanted to move slowly in the normalization of ties with Turkey and wanted to see tangible results first.
A civil aviation agreement between the two countries last month, together with the Turkish counterterrorism efforts and what was seen as Turkey's restrained response to the latest Gaza operation, led to the decision to move ahead.
2. Scoop: Blinken asked Israel to review IDF's "rules of engagement"
The Biden administration wants Israel to review its "rules of engagement" during military operations in the occupied West Bank after the killing of Palestinian American journalist Shireen Abu Akleh, three Israeli and U.S. sources briefed on the call told me.
Between the lines: U.S. pressure for Israel to review the guidelines is unusual, but comes as the Biden administration faces pressure to do more to ensure accountability in Abu Akleh's death.
The rules of engagement define the circumstances under which Israeli soldiers can use live fire in the West Bank.
Catch up quick: Abu Akleh was killed in May while covering an Israeli military raid in Jenin. The Al Jazeera correspondent was wearing a bulletproof vest that was marked "press."
The Biden administration said earlier this month that Abu Akleh was likely killed by unintentional Israeli fire, but a ballistics test of the bullet fragment removed from her body was "inconclusive."
Driving the news: After meeting with Abu Akleh's family in Washington, Secretary of State Tony Blinken called Israeli Defense Minister Benny Gantz and asked him to publish the final conclusions of the Israeli military operational investigation into the journalist's death as soon as possible.
He also asked for a review of the IDF rules of engagement in the West Bank, saying it would be a step toward accountability in the Abu Akleh case, according to the Israeli and U.S. sources.
Blinken told Gantz he thinks that either the rules of engagement weren't followed or they need to be reviewed if an Israeli soldier shot Abu Akleh while she wore a bulletproof vest that was marked "press," the sources said.
Gantz told Blinken that situations on the ground are not always black and white during military operations, the sources added.
What they're saying: "As the secretary said, we are calling for accountability for the tragic killing of Palestinian American journalist Shireen Abu Akleh," said a State Department spokesperson.
A senior Israeli official said there was no official U.S. request to change the rules of engagement and if there was, Israel would have denied it. "Israel is a sovereign country and the rules of engagement save lives," the official said.
3. Abbas' "50 Holocausts" scandal in Berlin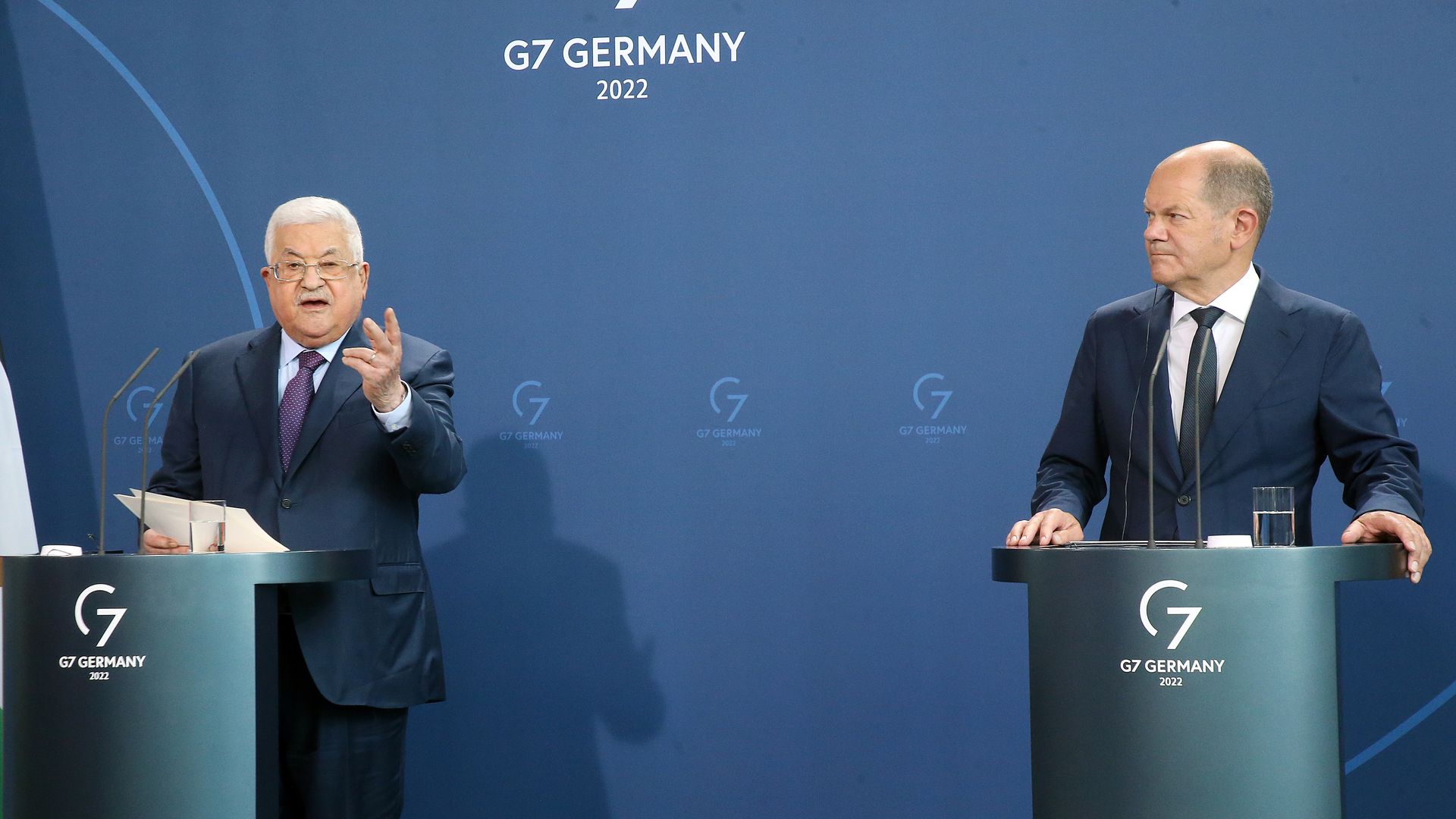 Palestinian President Mahmoud Abbas sparked a diplomatic scandal in Berlin yesterday when he said Israel had committed "50 Holocausts" against the Palestinians during a joint press conference with German Chancellor Olaf Scholz.
Driving the news: Scholz said today that he had been "disgusted" by Abbas' remarks. Berlin summoned the Palestinian ambassador to demand clarification, and U.S. and Israeli officials also objected.
As the condemnations accumulated, Abbas' office released a statement this morning calling the Holocaust "the most heinous crime in modern human history" and stressing that he had "not intended to deny the singularity of the Holocaust."
Hussein al-Sheikh, the Palestinian minister for civilian affairs, told me he'd made clear to the Germans, the Biden administration and the Israelis that Abbas had been misunderstood.
During the press conference, Abbas was asked if he would apologize for the terror attack against Israeli athletes at the Munich Olympic Games in 1972 ahead of the 50th anniversary next month. The attack was carried out by Black September, a militant group then associated with Abbas' Fatah party.
Abbas did not apologize but spoke instead about Israeli actions against the Palestinians since 1948. "Israel has committed 50 massacres. 50 Holocausts," Abbas said.
As the German media started reporting the statement and criticizing Scholz's silence, the chancellor issued a statement distancing himself from the remark.
On Wednesday, Scholz issued a stronger statement: "For us Germans in particular, any relativization of the singularity of the Holocaust is intolerable and unacceptable. I condemn any attempt to deny the crimes of the Holocaust."
Meanwhile, Lapid condemned Abbas' statements as "a moral disgrace and a monstrous lie." In a call with al-Sheikh, he demanded that Abbas backtrack from his comments, two Lapid aides told me.
Gantz, who has taken heat in Israel for meeting Abbas three times in the last year, also sent angry messages to Abbas and his aides demanding a clarification, according to an Israeli Defense Ministry official.
The Biden administration's envoy for fighting antisemitism said such rhetoric "can have dangerous consequences and fuels antisemitism."
Behind the scenes: Ahead of the Scholz-Abbas meeting, German officials met with Abbas' aides and urged them to tone down the rhetoric and ensure Abbas avoided language that would be unacceptable in Germany, a German official said.
4. Scoop: China warns Israel not to let U.S. pressure hurt relations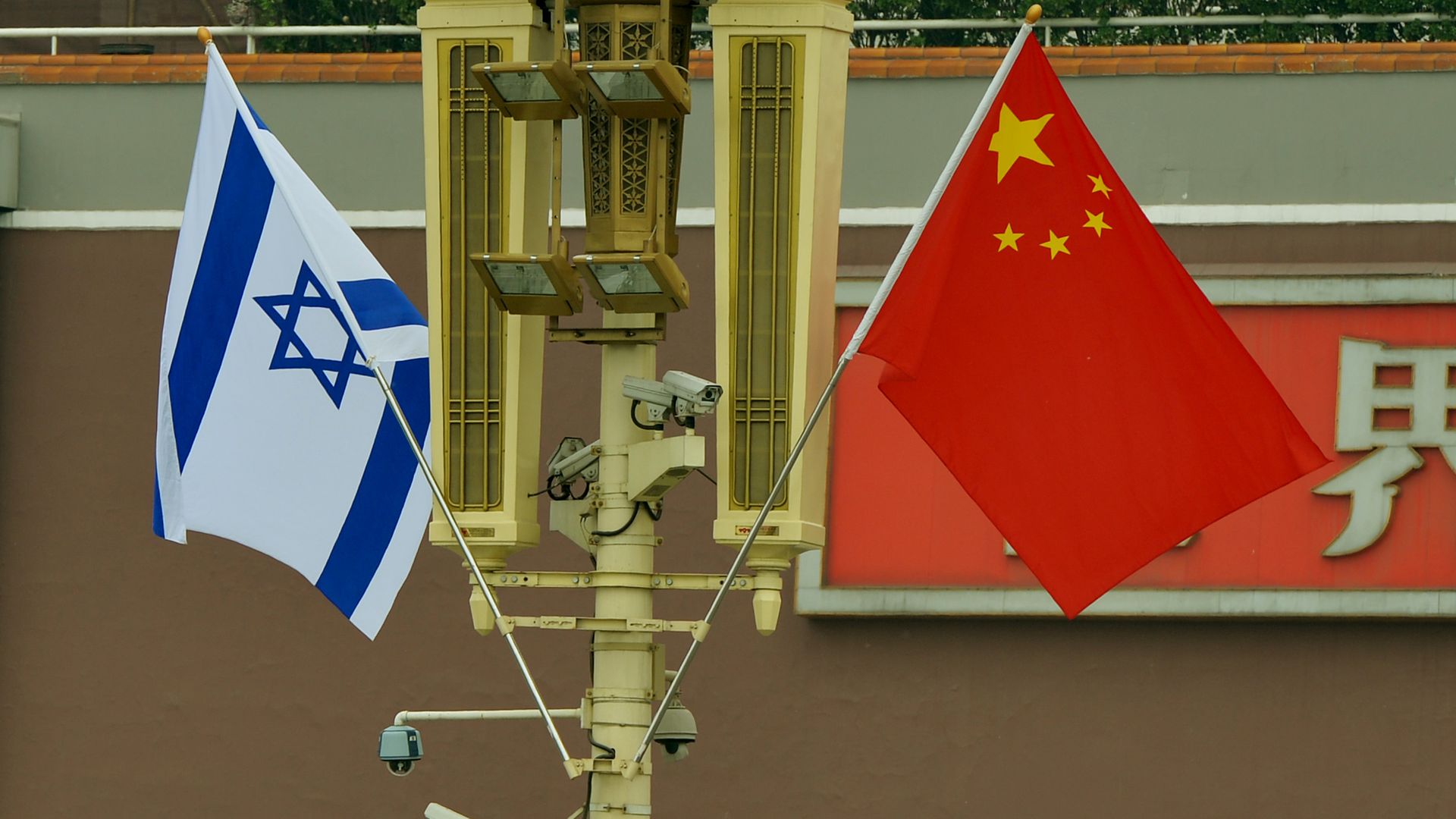 One of China's top diplomats warned Israel last week not to allow U.S. pressure to damage its relations with Beijing, according to senior Israeli Foreign Ministry officials with direct knowledge of the issue.
Why it matters: The message from Liu Jianchao, who heads the Chinese Communist Party's international affairs department, to Israeli Ambassador to Beijing Irit Ben-Abba was the most unequivocal and direct message Israel has received from Beijing about the U.S.-Israel-China triangle.
According to Israeli officials, Liu emphasized the importance of bilateral relations, particularly for cooperation on technology.
Israel and China have clashed in the past over the Palestinian issue, as China recognizes a Palestinian state and consistently backs the Palestinians at the UN.
But Liu said that despite those differences, there is no conflict between China and Israel, but rather long-term shared interests.
Behind the scenes: At that point, Liu brought the conversation around to the strains in the U.S.-China relationship. He said that while China understands the special relationship between Israel and the U.S., it is nevertheless closely following Israel's policies toward China.
"This is a critical test point for the relations between China and Israel," Liu said, according to the Israeli officials, adding that he hopes Israel won't compromise the positive future of Israel-China relations by aligning itself with U.S. policy toward Beijing.
Liu specifically urged Israel not to get "dragged" into the U.S. position that China is committing genocide in Xinjiang. Under U.S. pressure, Israel signed a declaration at the UN Human Rights Council in June denouncing China's actions there.
Any claims of human rights abuses against China are baseless and insulting to the Chinese people, Liu argued, claiming that China has not "fired a shot" in 40 years while the U.S. has waged war in Iraq and Afghanistan.
"The Jewish people have a lot in common with the Chinese people. There is no reason for us to hurt each other. If Israel hurts China because of external pressure, it will be making the wrong policy decision," Liu said, according to the Israeli officials.
The other side: The Israeli ambassador told the senior Chinese officials that Israel has an independent foreign policy — including toward China — but stressed that China's actions in the UN on the Palestinian issue did not help relations.
Ben-Abba also said Israel expects that no third party will influence Chinese policy toward Israel.
Between the lines: Israeli officials say they don't know what triggered the unusually strong Chinese message, except perhaps the recent U.S.-China tensions over Taiwan.
But Israel has also significantly cooled its relations with China since former Prime Minister Benjamin Netanyahu left office last year.
A senior Israeli official said China had been giving similar messages to all Western countries. "Relations with China are good and stable and the Chinese know the U.S. is our closest ally," the official said.
A Chinese government spokesperson did not respond to a request for comment.
5. Syria denies holding American journalist Austin Tice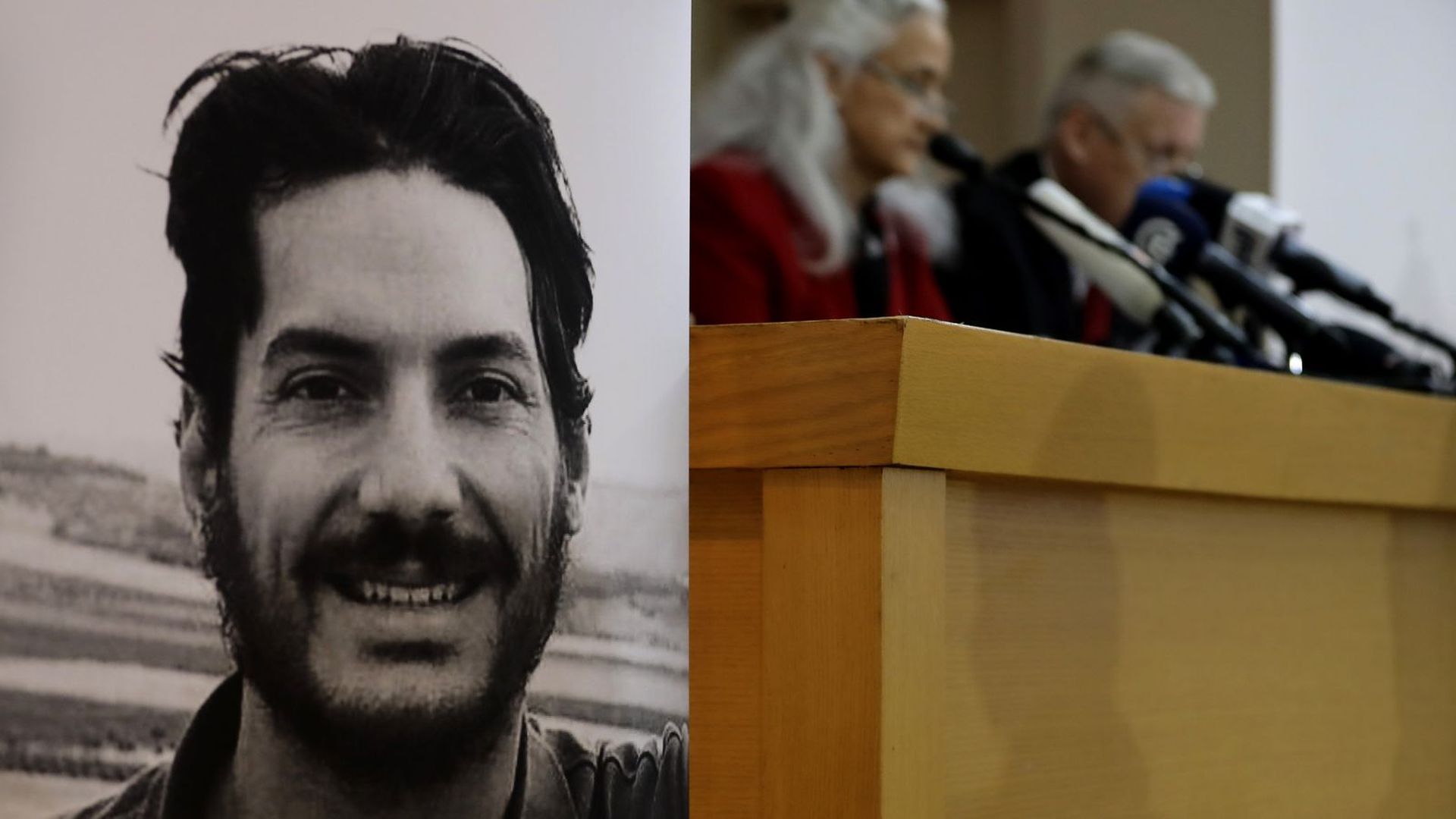 Syria on Wednesday officially denied it was holding American journalist and Marine Corps veteran Austin Tice, who was abducted in Syria 10 years ago.
Why it matters: President Biden said last week that the U.S. knows with certainty that Tice, one of the longest-held and most high-profile American hostages, has been held by the Syrian government.
The Biden administration has said it has engaged in recent months with the Syrian government both through third parties and directly to try to reach a breakthrough.
What they're saying: "The Syrian Arab Republic categorically denies the accusations of kidnapping, or hiding any American citizen who entered its territories or stayed in the areas under the sovereignty and authority of the Syrian Government," the Syrian Foreign Ministry said in a statement.
The Syrian Foreign Ministry added that any dialogue or official communication with the U.S. will only be based on respecting the sovereignty, independence and territorial integrity of Syria.
"The U.S. should immediately and unconditionally withdraw its military forces from Syrian territories, and stop plundering and smuggling the Syrian oil and wheat," the statement added.