Axios from Tel Aviv
September 21, 2022
Welcome back to Axios from Tel Aviv.
I'm in New York for the UN General Assembly. That's where this week's edition (2,070 words, 8 minutes) will begin.
Sign up to receive this newsletter.
1 big thing: Lapid to back two-state solution in UN speech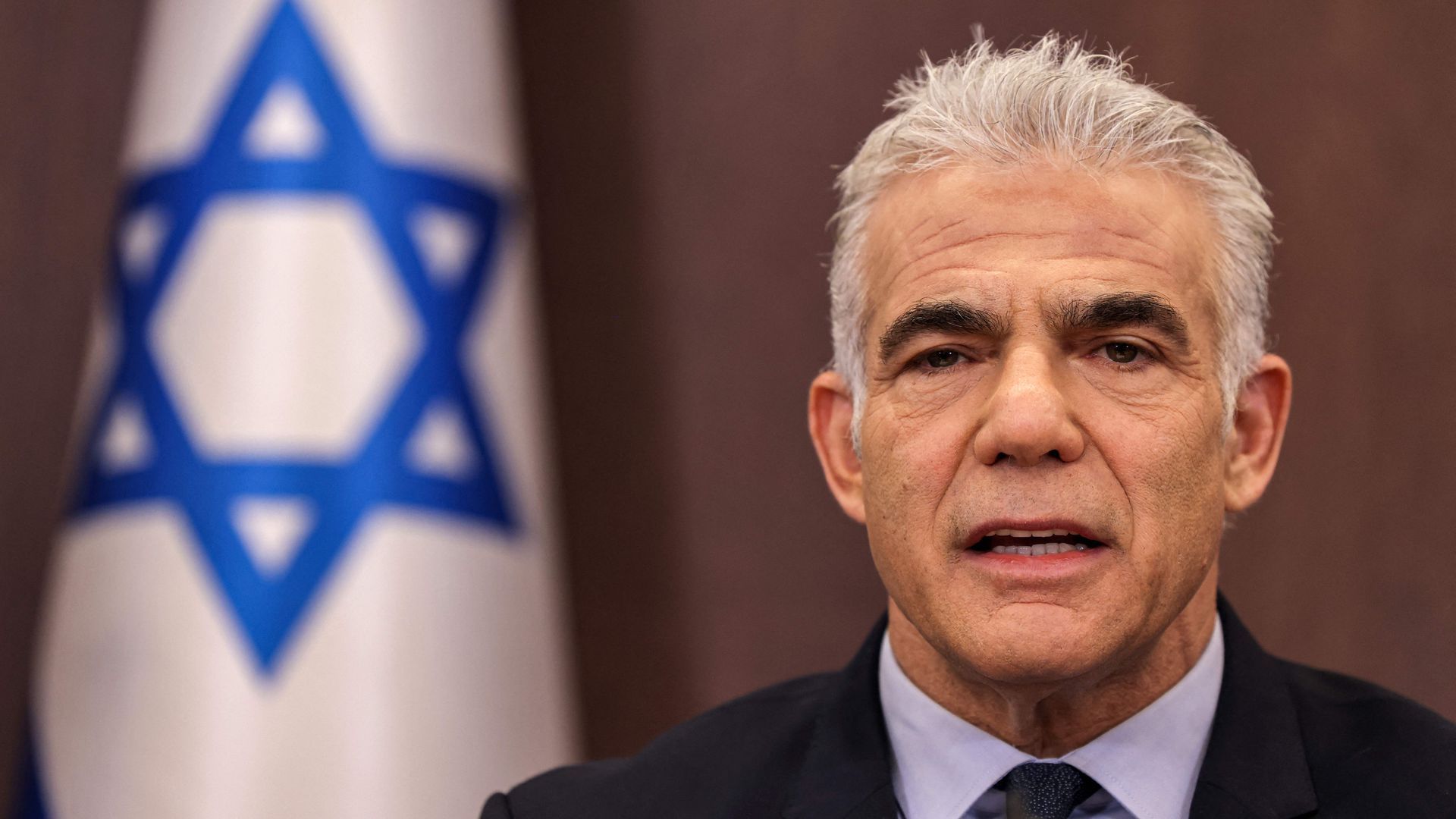 Israeli Prime Minister Yair Lapid in his speech at the UN General Assembly tomorrow will express his support for a two-state solution to the Israeli-Palestinian conflict, senior Israeli officials said.
Why it matters: It will be the first time Lapid as prime minister has publicly backed a two-state solution. The Israeli officials stressed Lapid will make clear that the establishment of a Palestinian state must have security arrangements for Israel.
Flashback: Former Israeli Prime Minister Benjamin Netanyahu expressed support for the two-state solution in a speech in May 2009. He repeated his support several times, including at the UN, but backtracked and didn't express clear support for a Palestinian state after former President Trump assumed office in 2017.
What they're saying: The Israeli official said Lapid decided to make his position on the two-state solution clear before the Nov. 1 elections because he believes it is "part of the honesty that is needed from politicians … to say what they stand for and where the country needs to go."
"Separation from the Palestinians needs to be part of Israel's political vision," a senior Israeli official said.
Yes, but: The Israeli official said Lapid doesn't have plans at the moment to meet with Palestinian President Mahmoud Abbas and he doesn't see peace talks resuming in the near future.
"If Lapid thought that meeting Abbas would be effective right now, he would have done it," the Israeli official said.
What to watch: Abbas is expected to give a fiery speech at the UN General Assembly on Friday, expressing his frustration with the stagnant Israel-Palestine peace process.
With Abbas' domestic position weakening, his UN speech is a rare opportunity to protest the current situation. It will likely include harsh criticism against Israel.
Abbas had threatened to use his speech to call for a vote at the Security Council on giving Palestine full UN membership, but U.S. officials say he's unlikely to follow through after pressure from the Biden administration and countries including Jordan and Egypt.
Saudi Arabia's foreign minister and the EU foreign policy chief will convene a closed-door meeting Wednesday with representatives from 25 countries on ways to reinvigorate the Arab Peace Initiative.
U.S. and Palestinian officials will attend. Israel was not invited.
The 2002 initiative promised the full normalization of ties between Arab countries and Israel in return for the establishment of a Palestinian state. But the relevance of the initiative is now in question after four Arab countries normalized relations with Israel through the Abraham Accords prior to Palestinian statehood.
2. Raisi: "America trampled upon the nuclear accord"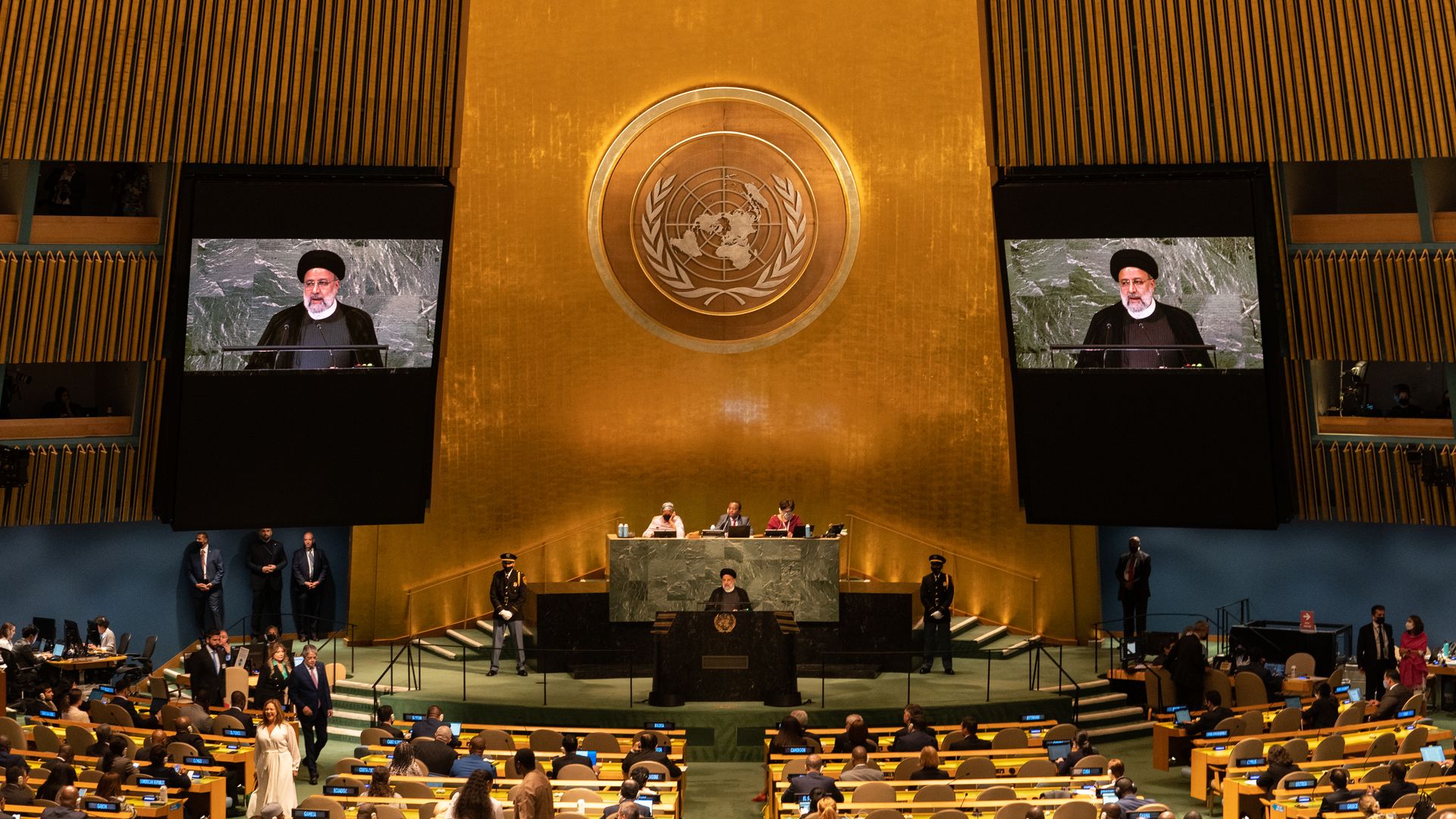 Iranian President Ebrahim Raisi used his speech at the UN today to attack the U.S. over the 2015 nuclear deal.
Why it matters: Raisi's tough speech was another sign that Iran is not willing to make compromises and that the nuclear talks are at a stalemate.
What he's saying: Raisi criticized the U.S., saying, "America trampled upon the nuclear accord."
Pointing to the Iranian supreme leader's religious Fatwa banning nuclear weapons, Raisi claimed Iran's nuclear program is only for peaceful purposes — a claim disputed by the U.S. and other Western powers.
He added that while Iran's nuclear program is under international scrutiny, Western powers are not saying anything about other nuclear programs, referring to Israel.
Raisi also called U.S. sanctions "weapons of mass destruction" against Iran and stressed that Iran paid the price for the nuclear deal without getting any benefits.
"We showed a lot of flexibility in the talks with the U.S. … We need guarantees because of our bad experience with the U.S. that withdrew from the deal," Raisi said.
Tehran wants the U.S. to guarantee it won't pull out of the nuclear deal again, but U.S. officials have made it clear they can't tie the hands of a future administration.
Raisi added that after 18 months of talks with the Biden administration, Iran doubts the U.S. really wants to return to the nuclear deal.
During his speech, Raisi pulled out a photo of Qasem Soleimani, the leader of the Quds Force of the Islamic Revolutionary Guard Corps who was assassinated by the U.S. in January 2020.
He vowed that Iran would continue its efforts to bring former U.S. President Trump, who ordered the strike, to justice.
State of play: The indirect talks between Iran and the U.S. continued on the sidelines of the UN General Assembly, with EU mediators holding separate meetings with U.S. envoy Rob Malley and Iranian negotiator Ali Bagheri.
Raisi met with French President Emmanuel Macron to discuss the nuclear deal and also expressed a tough position and demanded guarantees. Macron said after the meeting that the ball is in Iran's court.
The big picture: Raisi gave his speech amid growing protests in Iran over the death of Mahsa Amini, a 22-year-old woman who was arrested by the morality police for allegedly violating religious law requiring women to wear a headscarf.
Amini died in the police station several hours after her arrest. Multiple media reports suggested she had a stroke after being beaten by Iranian police officers.
Iranian Foreign Minister Hossein Amir-Abdollahian said yesterday that Iran will investigate Amini's death.
Raisi didn't mention the demonstrations over Amini's death in his UN speech.
3. Ukraine asks Israel to share intel on Iranian support to Russia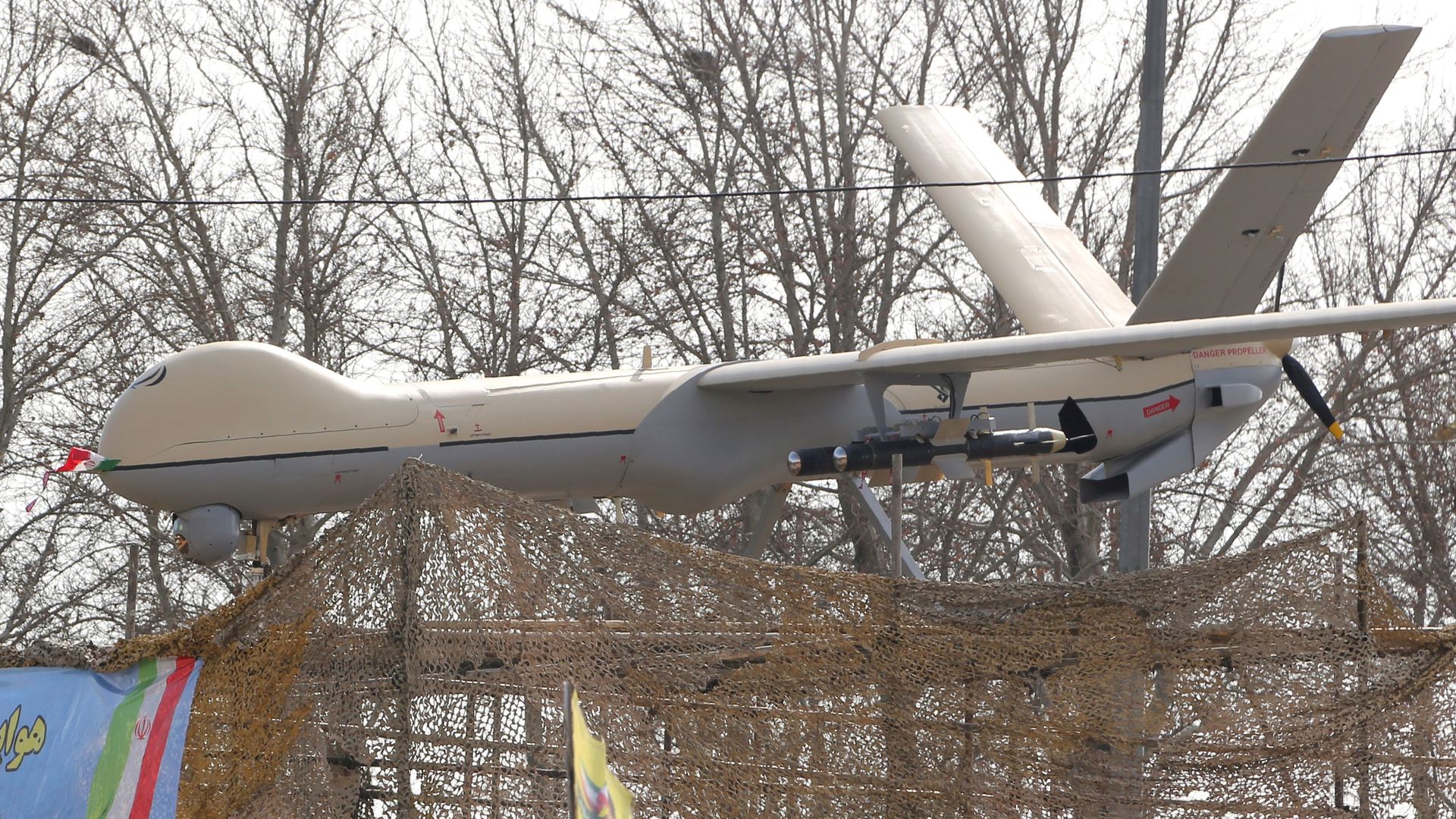 Ukraine asked Israel to share intelligence on any support Iran is giving to the Russian military in the war, senior Israeli officials told me.
Driving the news: Russia in recent days attacked several Ukrainian military positions with "Kamikaze drones" that Ukraine's military said were repainted Iranian Shahed-136 drones.
The U.S. and Ukraine have accused Iran of sending hundreds of sophisticated attack drones to Russia — an allegation Tehran denied.
Ukrainian military commanders told the Wall Street Journal the Iranian drones gave the Russians a significant advantage in several areas.
Between the lines: Russia and Iran have grown increasingly close as the world seeks to isolate Moscow because of its invasion.
The deepening ties also come as efforts to revive the 2015 Iran nuclear deal, which would remove most of the sanctions that have been imposed on Tehran, continue but without any breakthrough.
Behind the scenes: Israel's deputy director general for Euro-Asia Simona Halperin, who is in charge of the Russia and Ukraine files, visited Kyiv with the Israeli ambassador on Sept. 7. They met with Maksym Subkh, Ukraine's special representative for the Middle East, according to Israeli officials.
Subkh said Ukraine wants to establish a "dialogue channel" with Israel about Middle East issues in order to share information and intelligence and coordinate positions, the Israeli officials said.
He added this is especially important due to the growing military cooperation between Iran and Russia, the Israeli officials said. Subkh stressed that Ukraine is opposed to the lifting of sanctions on Iran if a nuclear deal is signed, saying it will enable greater military cooperation between Tehran and Moscow.
According to Israeli officials, Subkh told the Israeli diplomats that Ukraine expects Israel to take a much clearer position regarding the Russian aggression and unequivocally support Ukraine, which Israel has avoided because of their own relations with Russia.
Subkh said his country wants Israel to give military aid either directly or indirectly through third parties and join the international sanctions against Moscow, including the sanctions against individuals, the Israeli officials said.
A senior Ukrainian official confirmed that Halperin met with Subkh, who asked for intelligence on Iranian involvement in the war — mainly about Iranian drones.
"The Israelis gave us some intelligence, but we need much more," the official said.
State of play: Before Russia's invasion of Ukraine, the Israeli Defense Ministry gave an export license to Israeli companies that wanted to sell anti-drone systems to Ukraine. But when the war started, these licenses were suspended.
Last week, the Times of Israel reported that an Israeli company sold an anti-drone system to Poland in order to transfer it to the Ukrainian military.
According to the report, the Israeli Defense Ministry understood the system's end user will be Ukraine but decided not to intervene.
4. Some Israeli officials worry war hurt Israel's image in Ukraine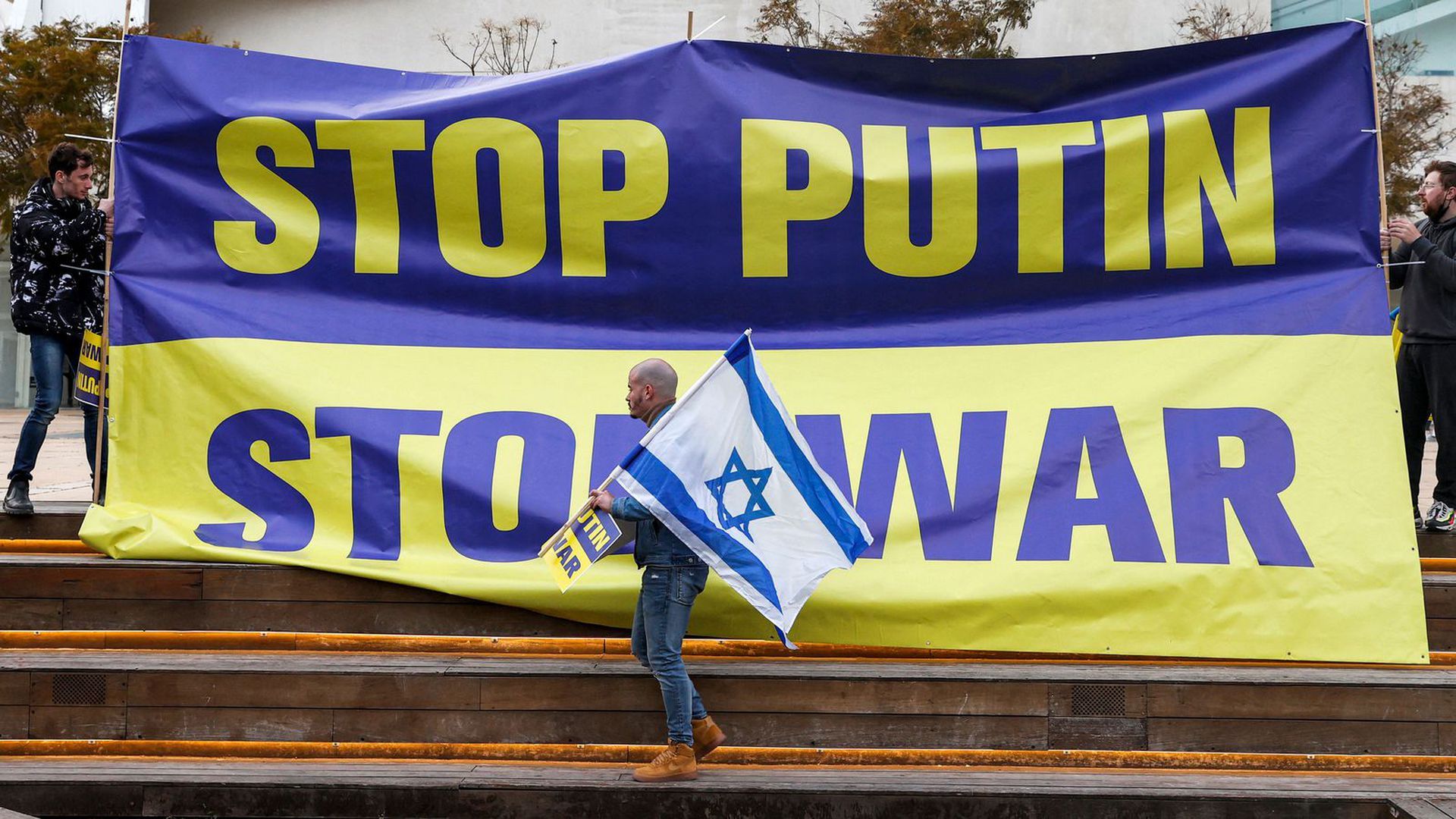 The Israeli Foreign Ministry wants to conduct a public opinion poll in Ukraine in order to assess whether Israel's image in the country has been damaged in the months since Russia launched its invasion, Israeli officials say.
Why it matters: Some Israeli Foreign Ministry officials are very concerned about the attitude of the Ukrainian public toward Israel while others think the disagreements are mainly at the political level and haven't percolated to average Ukrainians.
The big picture: In the first months of the war, Israel took a very careful position, condemning Russia for the invasion while remaining hesitant to fully back Ukraine and supply it with weapons.
Israel didn't criticize Putin directly, and for several weeks, former Israeli Prime Minister Naftali Bennett even tried to mediate between Russia and Ukraine.
Ukrainian President Volodymyr Zelensky criticized the Israeli position many times, including from his bunker in the first weeks of the war, where he said Israeli leadership wasn't wearing the Ukrainian flag like many Israeli citizens were.
Since then, Israel has agreed to provide nonlethal defense aid to Ukraine but has so far refused Kyiv's requests for advanced weaponry.
Behind the scenes: According to an Israeli Foreign Ministry cable I obtained, an Israeli Foreign Ministry delegation that visited Kyiv in the first week of September met with a Ukrainian PR company called "Arena."
"There was a discussion about Israel's situation in the media and public opinion in Ukraine and the building of an action plan to improve Israel's image in different audiences," the cable said.
That action plan includes conducting a poll to measure Ukrainian views about Israel.
What they're saying: "There is a narrative in Ukraine that Israel didn't live up to the expectations. It damaged our image. We think we did a lot for Ukraine since the invasion, but it is not known enough in the general public and to decision-makers," a senior Israeli Foreign Ministry official said.
A second Israeli Foreign Ministry official said he is not sure if there is a need for a PR firm to help in improving Israel's image in Ukraine. "We are conducting the poll to see where we stand and what we need," he said.
What's next: The Israeli Foreign Ministry is sending a new deputy ambassador to Kyiv who will focus specifically on public diplomacy, Israeli Foreign Ministry officials say.
5. Erdoğan and Lapid meet for the first time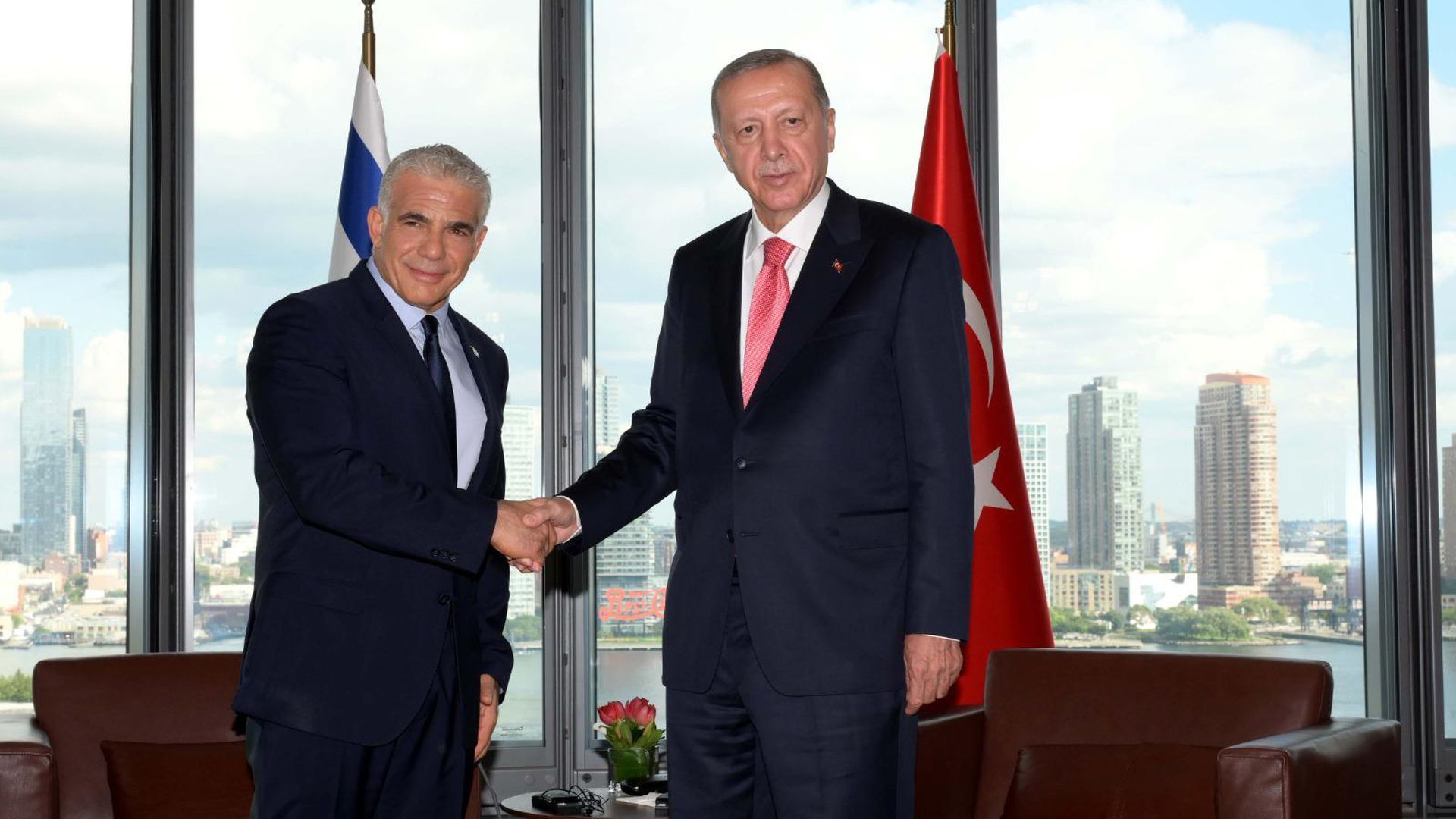 Turkish President Recep Tayyip Erdoğan and Israeli Prime Minister Yair Lapid met on Tuesday in New York to discuss boosting bilateral relations after a long diplomatic crisis between the countries.
Why it matters: It was the first in-person meeting between Erdoğan and an Israeli prime minister since December 2008 when the Turkish leader met then-Prime Minister Ehud Olmert in Ankara.
The meeting, which took place at the Turkish Consulate and was closed to the press, was the most recent step in the normalization process between Israel and Turkey that began in June 2021.
What they're saying: In his speech in front of the UN General Assembly earlier Tuesday, Erdoğan said the only solution to the Israeli-Palestinian conflict that will benefit all sides is one that includes a Palestinian state with a capital in East Jerusalem.
During their meeting, Lapid thanked Erdoğan for intelligence cooperation during an Israeli-Turkish effort to prevent an alleged Iranian plot to attack Israeli tourists in Istanbul, according to a readout of the meeting by the Israeli Prime Minister's Office.
The two leaders also discussed economic and energy cooperation, the Israeli Prime Minister's Office said.
Flashback: Israeli-Turkish relations have gone through a series of crises over the past decade.
After President Biden assumed office, Erdoğan — who also reached out to rivals like Egypt and the UAE — started sending signals that he wants to turn a new page in the relationship.
State of play: Lapid and Erdoğan have spoken twice on the phone since Lapid took office earlier this year.
Last month, Israel and Turkey announced the full normalization of relations and the return of their ambassadors to Ankara and Tel Aviv after four years of downgraded representation.
Both countries also signed a civil aviation agreement that will allow Israeli airlines to resume their flights to Turkey.
The Israeli Foreign Ministry announced on Monday the appointment of veteran diplomat Irit Lillian as Israel's ambassador to Ankara. Lillian had previously served as charge d'affaires.
What's next: Erdoğan told U.S. Jewish leaders on Monday that he wants to visit Israel but stressed no date has been set yet for such a trip, the Jewish Telegraphic Agency reported.
Thanks to Laurin-Whitney Gottbrath and Alison Snyder for editing and Sheryl Miller for copy editing the newsletter.