Axios from Tel Aviv
June 23, 2021
Welcome back to Axios from Tel Aviv.
Each week we bring you my best scoops, reporting from a contributor in the region and the latest in Israeli politics. Today's edition is 1,961 words, a 7.5-minute read.
Please help spread the word, and subscribe if you haven't yet.
1 big thing: Gaza ceasefire under growing strain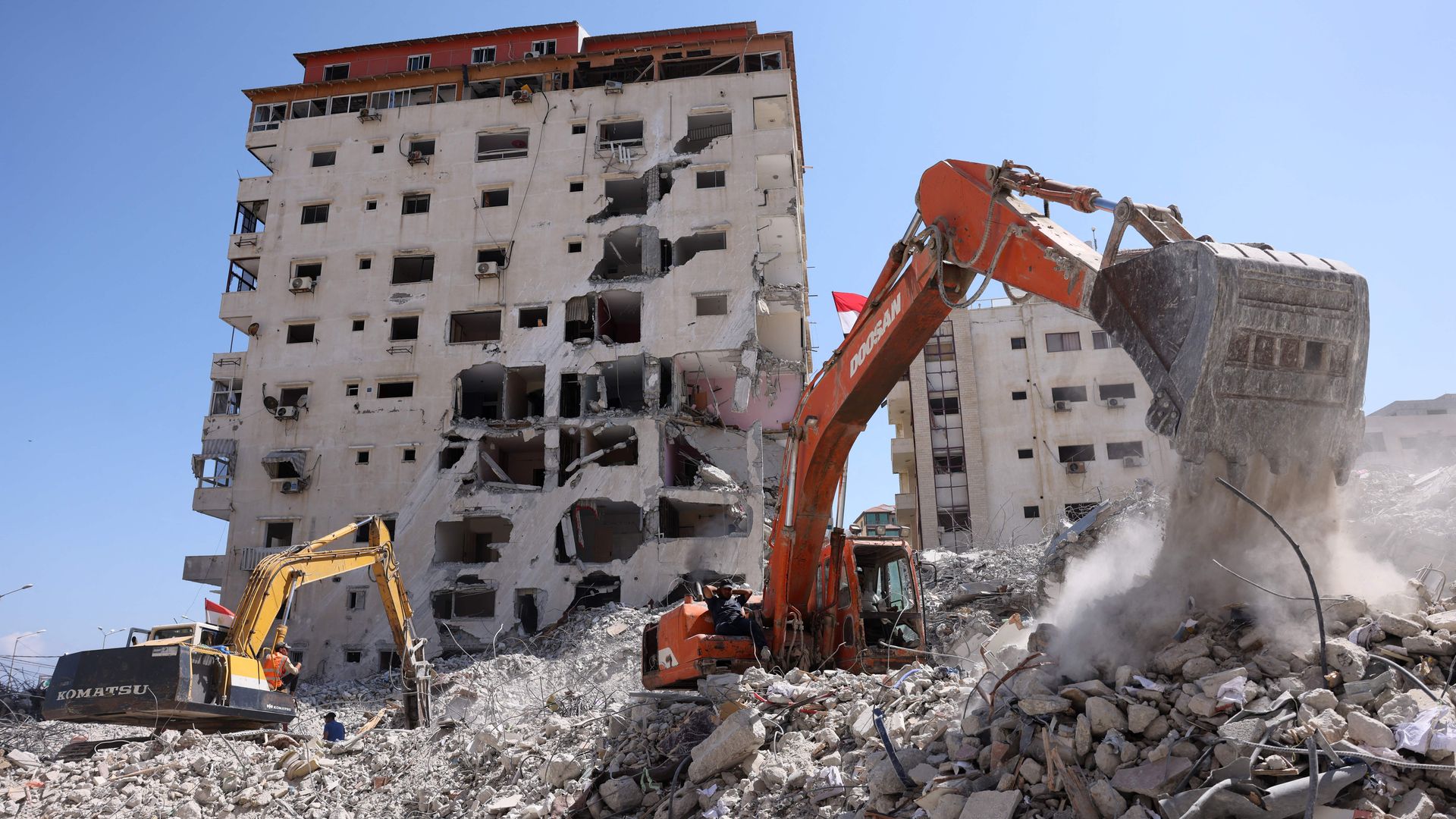 The indirect talks between Israel and Hamas to stabilize the ceasefire in Gaza and begin the reconstruction process have made little progress, raising concerns of renewed violence.
State of play: Five weeks on from the ceasefire, Israel is threatening to hold up the reconstruction process, and Hamas this week rejected a UN plan to fund it, Israeli officials and Western diplomats tell me.
The backstory: After the ceasefire, both Israel and Hamas committed to engage in longer-term stabilization and reconstruction talks mediated by Egypt and the UN.
But the violence threatened to escalate again last week when incendiary balloons were launched toward Israel, which responded with air strikes on Hamas targets in Gaza. There were no casualties.
There's also Israel's vow to block the reconstruction process in Gaza unless progress is made on the return of two Israeli prisoners and the remains of two Israeli soldiers held by Hamas.
An Israeli delegation reiterated that position to Egyptian intelligence officials in Cairo last Thursday, Israeli officials tell me.
But the main stumbling block at the moment is the transfer of Qatari funds to Gaza.
Since 2018, Qatar has been providing $30-60 million in cash each month to Hamas to fund the governing of Gaza. Qatar has also pledged $500 million for the reconstruction.
After last month's fighting, Israel asked the UN to develop a mechanism to ensure the funds go toward humanitarian purposes and not to re-arm Hamas.
Behind the scenes: On Monday, UN envoy Tor Wennesland met with Hamas leader Yahya Sinwar in Gaza and presented him with the new mechanism.
Sinwar rejected the proposal and the meeting grew contentious, Western diplomats briefed on the meeting say.
What they're saying:
Afterward, Sinwar called the proposal unacceptable and said Israel was using the humanitarian situation in Gaza to blackmail Hamas.
The Western diplomats say Sinwar rejected the proposal because he wants to continue controlling the Qatari money and to receive it in cash.
"Sinwar thinks he won the war and is making demands. He will not get control of the money and, if he continues rejecting the proposals he gets, he is at risk of getting Israeli F-35s again."
— Western diplomat to Axios
What to watch: Israeli officials are concerned that the current deadlock is making a renewed conflict more likely every day. Hamas officials, including Sinwar, have issued similar warnings.
The Egyptians are trying to convene indirect talks between Israel and Hamas in Cairo next week to buy more time for diplomacy, Israeli officials say.
Worth noting: The Israelis have agreed to an Egyptian confidence-building proposal to allow the export of goods from Gaza to Israel and the West Bank for the first time since the conflict.
2. Scoop: U.S. and Israel huddle on Iran drone threat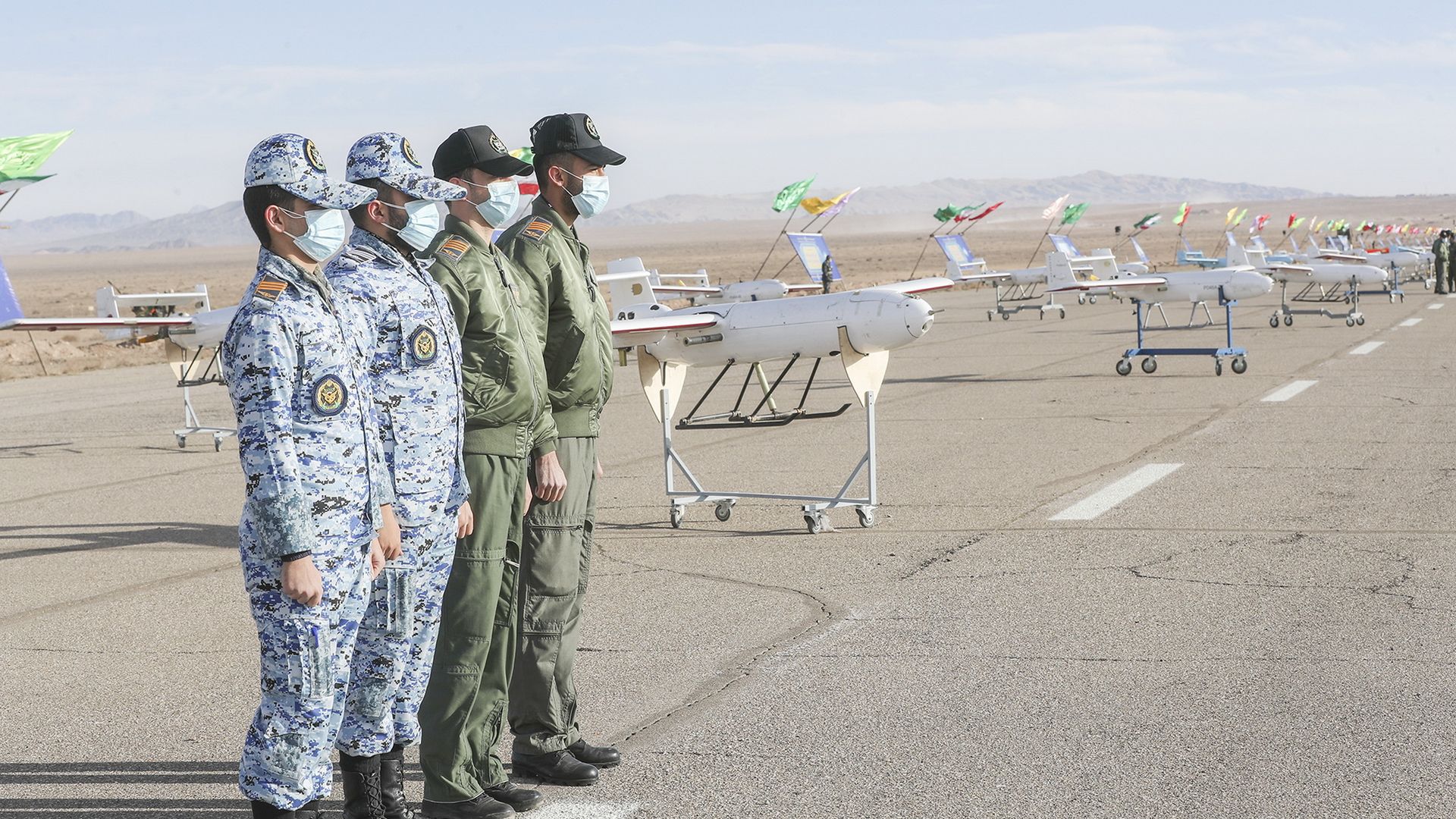 The Biden administration and the Israeli government held talks recently on countering the proliferation of Iranian drones and cruise missiles among its proxies in Iraq, Yemen, Syria and Lebanon, Israeli and U.S. officials tell me.
Why it matters: After several drone attacks from pro-Iranian militias in recent weeks, some of which were thwarted, the U.S. and Israel are highly concerned that the technology will spread to additional groups who could target their forces in the region.
Driving the news: Al Asad Airbase, where most U.S. troops in Iraq are stationed, has been attacked repeatedly by pro-Iranian Shia militias. A hangar was damaged in a drone attack on May 8, and two armed drones were shot down there on June 6.
The Israeli air force, meanwhile, shot down an armed Iranian drone that was trying to enter Israeli airspace during the Gaza crisis on May 18.
Behind the scenes: During a meeting in Washington on April 27, national security advisor Jake Sullivan and his Israeli counterpart, Meir Ben Shabbat, agreed to establish an inter-agency working group to focus on unmanned aerial vehicles and precision-guided missiles produced by Iran and provided to its regional proxies.
The group's first meeting took place three weeks ago, with the U.S. side headed by White House Middle East coordinator Brett McGurk and the Israeli side led by deputy national security adviser Reuven Azar.
The Israeli delegation proposed a regional cooperation framework involving Arab countries who face a similar threat from Iranian drones and missiles.
The Israeli side also proposed a no-fly zone for Iranian-made drones in the region, per Israeli officials briefed on the meeting. It's not clear how that would work.
What's next: Israeli officials say their impression is that the working group will continue meeting because the Biden administration sees the drone threat to U.S. forces in the region as a high priority and worries that as the technology spreads the danger will only grow more severe.
3. The view on Iran: Conservative consolidation won't bring stability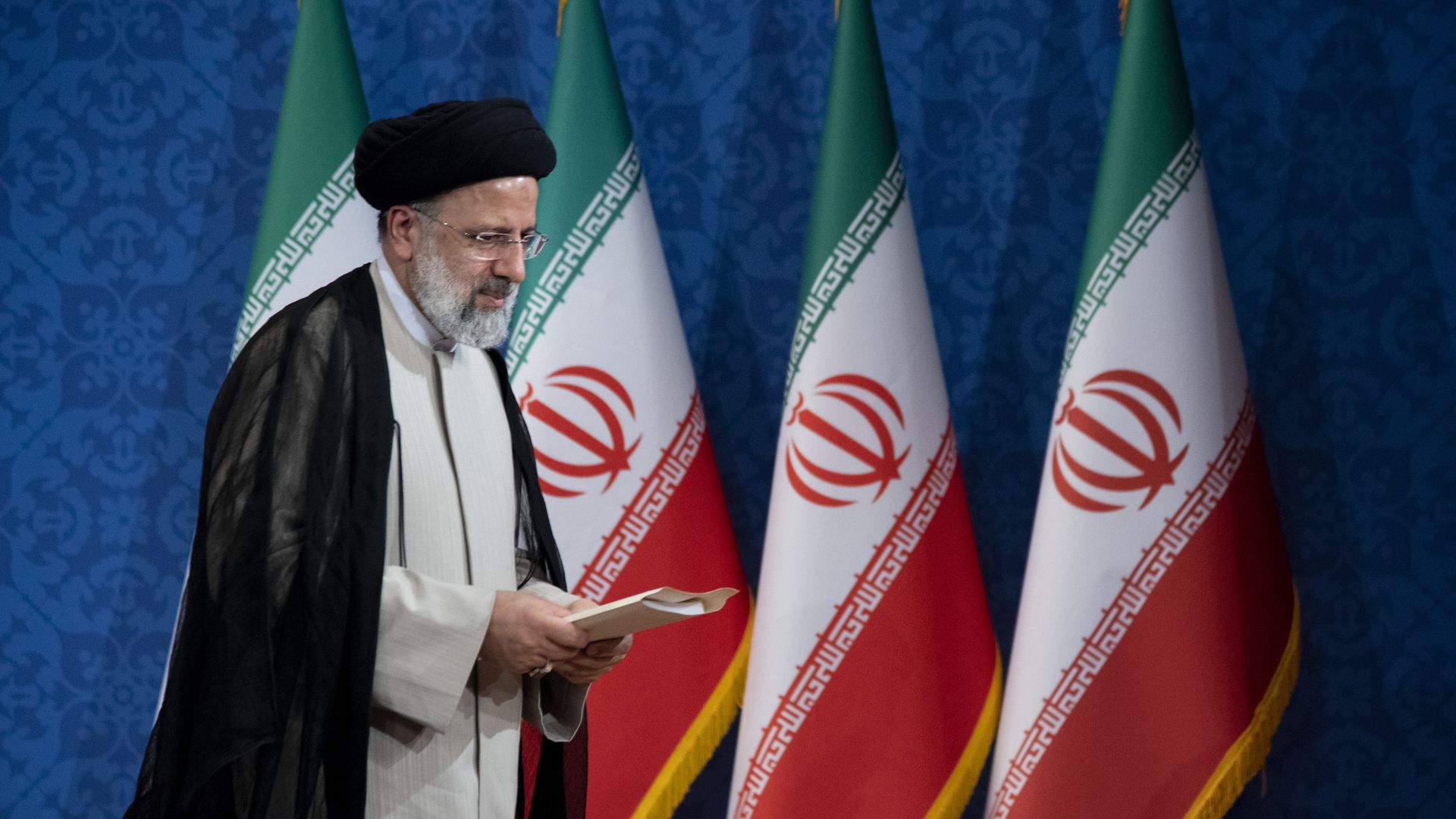 After eight years of near-constant attacks on President Hassan Rouhani, a moderate, Iran's hardliners will control all levers of power after the election of Ebrahim Raisi as Rouhani's successor, writes Mohammad Ali Shabani, editor of Amwaj.media.
Why it matters: Some observers posit that the alignment between Supreme Leader Ali Khamenei, the Islamic Revolutionary Guard Corps and the new hardline president will pave the way for more stability in Iran and eventually a greater willingness to engage in diplomacy.
Yes, but: The "unitary state theory" has failed previously, and the conservative camp is not entirely united.
Previously, Khamenei and the IRGC could stick their necks out by proxy, such as during nuclear negotiations, and still avoid the blame for any high-risk failures. Raisi's presidency reduces this option.
And during the presidency of conservative Mahmoud Ahmadinejad (2005-2013), the last time hardliners had complete control, Iran slid into conservative infighting.
Already, the presidential candidacy of IRGC general Saeed Mohammad triggered an unprecedented public split among senior commanders. Ultimately, Mohammad was disqualified and rallied behind Raisi.
The big picture: The conservative advance was aided by the failures of the reformist movement and the policies of former U.S. President Donald Trump, including his 2018 withdrawal from the Iran nuclear deal. But it was marred by strikingly low voter turnout.
Just 48.8% of eligible voters cast ballots — down from more than 70% in the last two elections — and that drops to some 42.5% when taking into account invalid ballots.
The runner-up to Raisi's 62% was actually the 12% of voters who cast blank or spoiled ballots, a big spike from previous elections.
Between the lines: The authorities in Iran have long valued high turnout in presidential elections as proof of the Islamic Republic's legitimacy.
There was significant pre-election maneuvering to ensure Raisi's election, as part of the effort to position Iran for the day the 82-year-old Khamenei passes away.
Damaging leaks took Foreign Minister Mohammad Javad Zarif out of the running, and the Guardian Council later eliminated other reformist candidates en masse, including former parliamentary speaker Ali Larijani.
What to watch: While Iran's reform movement is on life support and in serious need of soul-searching, the conservative takeover would have a silver lining for reformists if the conservatives abstain from suppressing a movement that now seems to pose little threat.
However, a likely economic upturn after the revival of the nuclear deal could give the government enough capital to crack down even harder on political dissent.
4. Scoop: Sudan asks U.S. for help talking to Israel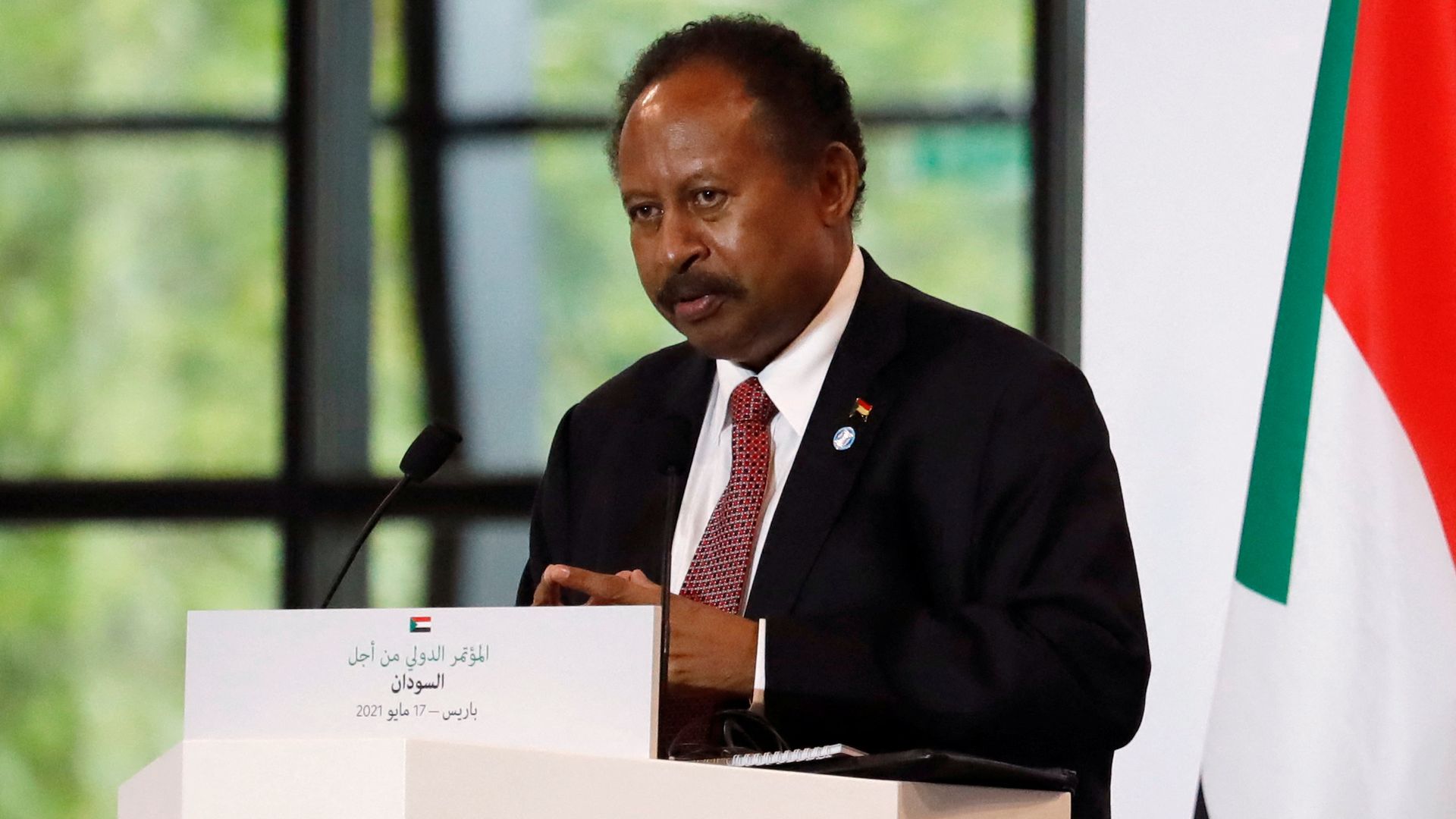 The Biden administration is urging the Israeli government to start engaging with Sudan's civilian leaders, rather than just the military, as part of the normalization process between the countries, Israeli officials tell me.
The backstory: Sudan is governed by a transitional civilian-military council, but the Israeli government has communicated almost exclusively with the military, starting with a summit 18 months ago between then-Prime Minister Benjamin Netanyahu and Gen. Abdel Fatah al-Burhan, the chairman of Sudan's governing council.
While Burhan pushed the normalization process forward, there were strong reservations on the civilian side, many of which remain to this day.
Foreign Minister Mariam al-Mahdi, for example, opposed the abolishing of an Israel boycott law. Other top officials, such as Justice Minister Nasreldin Abdelbari, are more supportive of the normalization process.
Why it matters: The U.S. believes that increasing contacts between the Israeli government and the civilian faction of the Sudanese government could advance the normalization process.
Behind the scenes: In a recent meeting with the U.S. chargé d'affaires in Khartoum, Brian Shukan, senior Sudanese civilian officials said that Israel was engaging only with the military and intelligence services and asked the Biden administration to intervene, Israeli officials tell me.
State Department officials then conveyed that message to the Israeli Foreign Ministry and prime minister's office, and made clear that the State Department also believes Israel should work with Sudan through civilian channels.
"They didn't ask us to stop working with the military but asked that we start working with the civilian government, too," an Israeli official said.
A State Department official declined to comment.
But there was a new source of tension last week after an Israel private jet affiliated with the Mossad spy agency landed in Khartoum.
Sources familiar with the flight tell me Mossad officials met with Gen. Mohamed Hamdan Dagalo, aka Hemetti.
Hemetti is Burhan's deputy on the Sovereignty Council but has been trying to create an independent relationship with the Israelis in order to promote his own domestic political agenda in Sudan. He's also a highly controversial figure who has been accused of war crimes in Darfur.
Sudanese officials were upset about the optics of the Mossad visit, which could be seen as an Israeli attempt to undermine Burhan and the civilian government, a source familiar with the issue says.
What's next: Sudan and Israel still haven't signed a formal agreement on diplomatic relations. The agreement has been drafted, but the Sudanese want to have it endorsed by the Biden administration and signed in a ceremony in Washington.
5. Bibi Barometer: So hard to say goodbye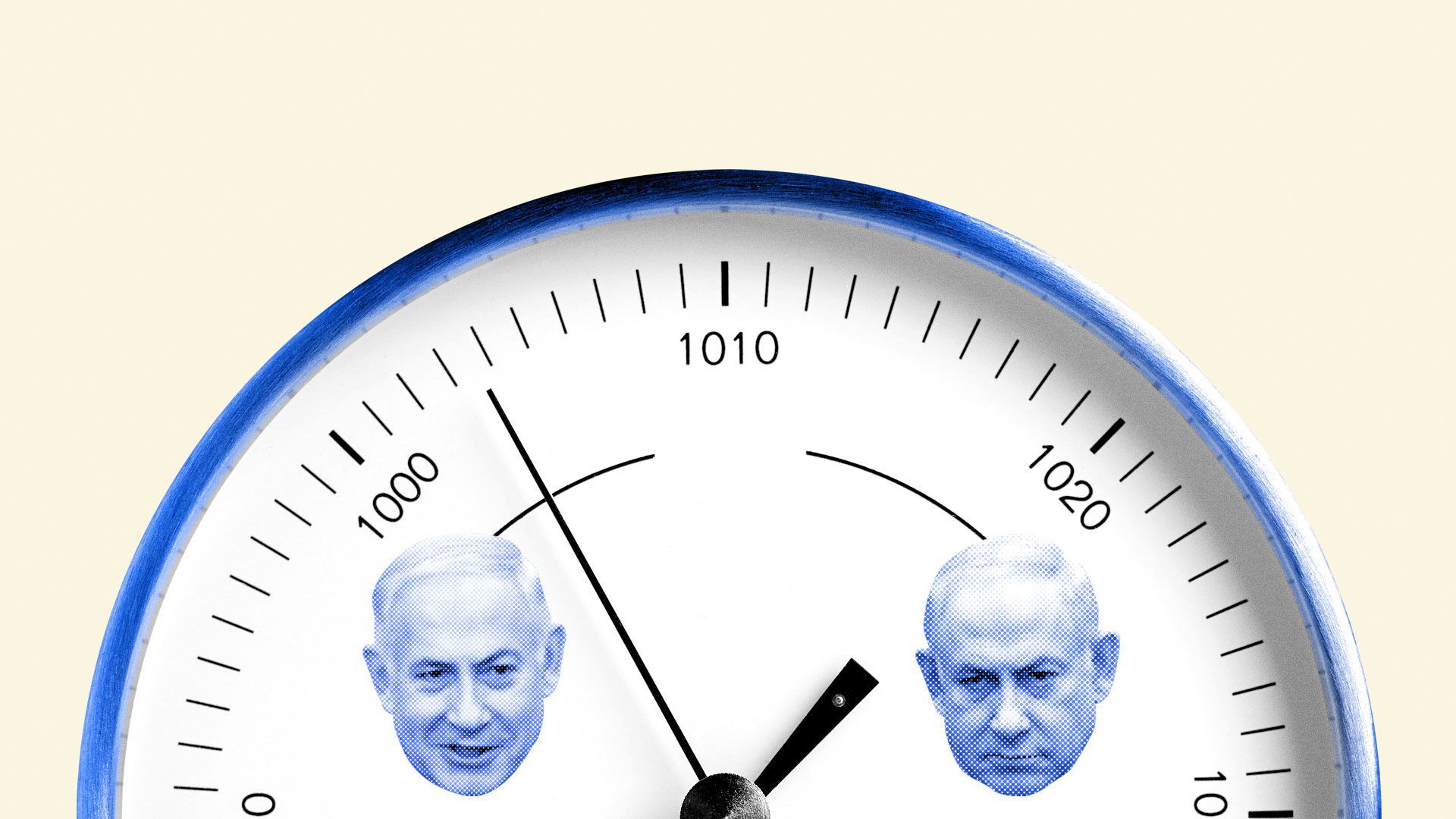 It has been 10 days since Benjamin Netanyahu was removed from office, but he's still clinging to the prime minister's residence and title, and stressing that he'll be back soon.
Why it matters: Netanyahu's main message since becoming opposition leader has been that the power-sharing government between conservative Naftali Bennett and centrist Yair Lapid is the result of "fraud."
During a speech last week, Netanyahu refrained from referring to Bennett as prime minister, instead calling him by his last name.
Since then, Netanyahu — who has attempted to paint Bennett as weak and the government as dangerously "left-wing" — has repeatedly said that the real prime minister is Lapid.
Meanwhile, some Netanyahu allies in the Knesset continue to refer to him as prime minister in meetings and even in media interviews.
In one such meeting of Netanyahu's right-wing bloc, Shas party leader Aryeh Deri accidentally referred to Netanyahu as "Mr. Prime Minister."
When Deri began to correct himself, Netanyahu replied wryly: "Don't fight it. You can call me your highness."
Behind the scenes: After Bennett was sworn in, he said he would give Netanyahu time to move out of the official residence on Balfour street in Jerusalem, out of respect to Netanyahu and his family.
A day later, Netanyahu received former U.S. ambassador to the UN Nikki Haley at the residence. In a tweet, Haley referred to him as "Prime Minister."
Under criticism from the press for not vacating the residence, Netanyahu said last Friday that he and his family had started packing their belongings but would need several more weeks to finish.
On Saturday, Bennett's office announced that Netanyahu had agreed to leave the residence on July 10, a month after the end of his term, and had agreed not to host any more meetings at the residence.
Flashback: When his first term ended in 1999, it took Netanyahu six weeks to leave the official residence. When he was elected again in 2009, his predecessor Ehud Olmert cleared out after only 4 days.
What's next: Netanyahu continues to push the message that his departure from the prime minister's office is only temporary, but it's far from clear that he'd be able to put together a new coalition even if Bennett's government were to collapse.