Axios from Tel Aviv
April 28, 2021
Welcome back to Axios from Tel Aviv.
Each week we bring you my best scoops, reporting from a contributor in the region, and the latest in Israeli politics.
This week's edition (1,912 words, 7 minutes) takes you inside the recent U.S.-Israel talks, the likely delay of the Palestinian elections and Netanyahu's fight to keep his job.
Subscribe here if you're just joining us.
1 big thing: Inside the U.S.-Israel talks in D.C.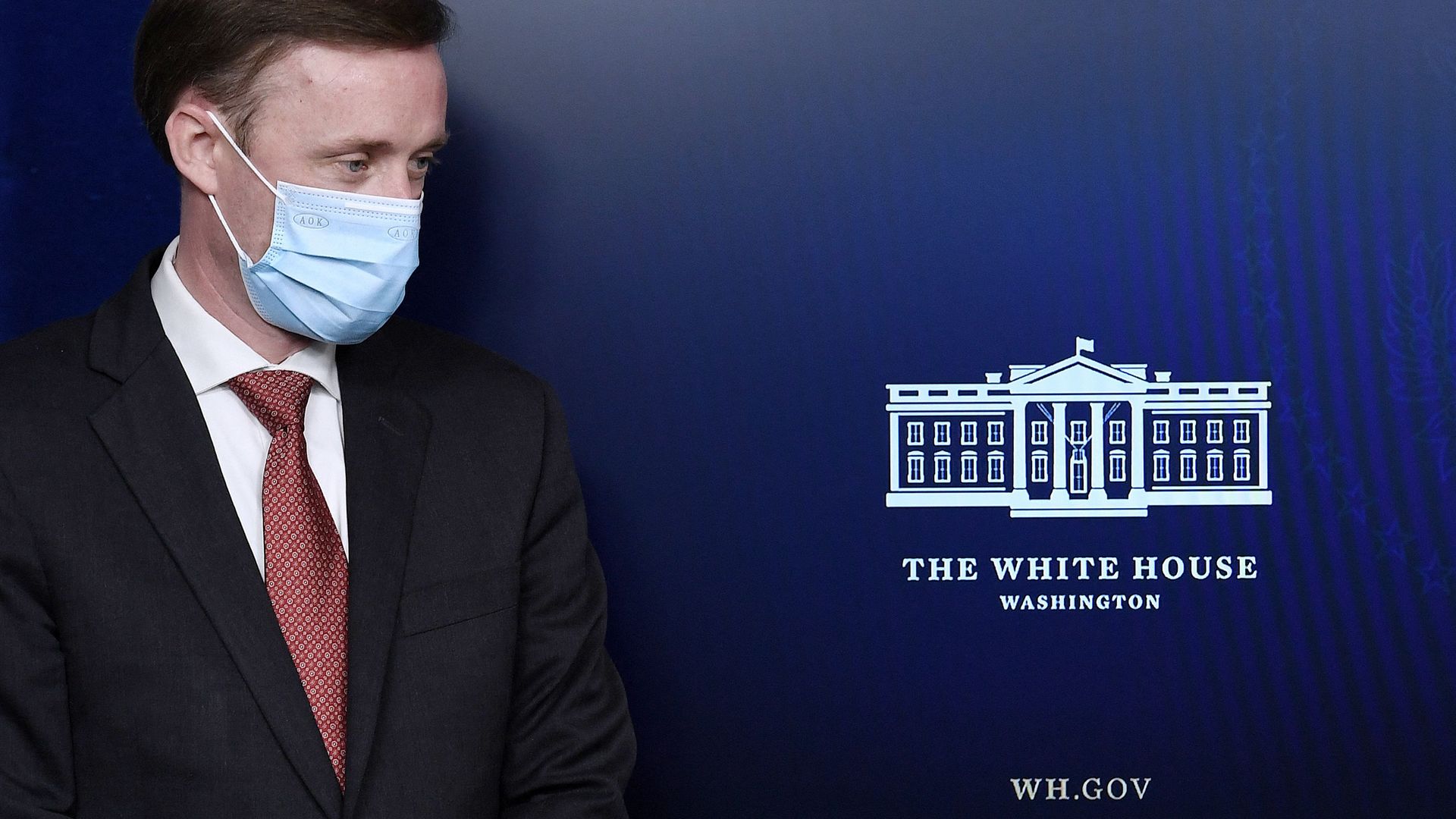 Israel and the U.S. want to fence their disagreements over the 2015 nuclear deal off from cooperation on other Iran-related issues, a senior Israeli official told me following talks on Friday in Washington between White House national security adviser Jake Sullivan and his Israeli counterpart, Meir Ben Shabbat.
Why it matters: The Israelis see a U.S. return to the deal as a matter of when and not if, Israeli officials say. So while Ben Shabbat arrived in Washington with a prepared message on Iran — stating Israel's objections to the deal and stressing Israel's freedom of operation against Iran — he was keen to move the discussion onto other issues.
Setting the scene: Sullivan and Ben Shabbat met for two hours at the Israeli embassy in Washington for their first in-person talks. National Security Council Middle East officials Brett McGurk and Barbara Leaf joined from the U.S. side, while Israeli ambassador Gilad Erdan and foreign policy adviser Reuven Azar joined from the Israeli side.
U.S. Iran envoy Rob Malley joined for part of the meeting to brief the Israelis on the nuclear talks shortly before departing for Vienna.
Ben Shabbat and his team contended that a return to the deal would lower the chances of a "longer and stronger" agreement, but said Israel would be happy to provide input if negotiations on a follow-up deal do take place.
Flashback: In 2015, the disagreements around the nuclear deal turned into a political fight between then-President Obama and Israeli Prime Minister Benjamin Netanyahu, harming the whole bilateral relationship.
Behind the scenes: Israeli officials were concerned about how Friday's meeting would go, but were very satisfied with how it went. They said that Sullivan and the other U.S. officials took a positive approach and bore no ideological or personal grudges towards Israel.
"Six years ago everything was politicized. This is not the case today. The U.S. respects our position regardless of the disagreement. Neither side wants to get into a public fight over Iran every other week that will prevent us from making progress on other issues," the senior Israeli official told me.
The Israelis were pleased that the White House chose to stress the threat from Iran and Israel's right to defend itself in its statement after the meeting.
The talks later focused on non-nuclear threats from Iran, the situations in Lebanon and Syria, and ways to press ahead with the Abraham Accords process between Israel and the Arab world, an Israeli official told me.
One action item the White House announced was an agreement to establish an inter-agency working group on the threats from drones and precision guided missiles produced by Iran and provided to its proxies in the region.
Worth noting: In previous administrations, such a conversation would likely have been held at the president and prime minister's level, but the Middle East is a fairly low priority in the early days of the Biden administration.
What's next: Mossad director Yossi Cohen is also in Washington for talks on Iran. Israeli officials say he is expected to meet today with Secretary of State Tony Blinken.
2. The Bibi Barometer: Crunch time for Netanyahu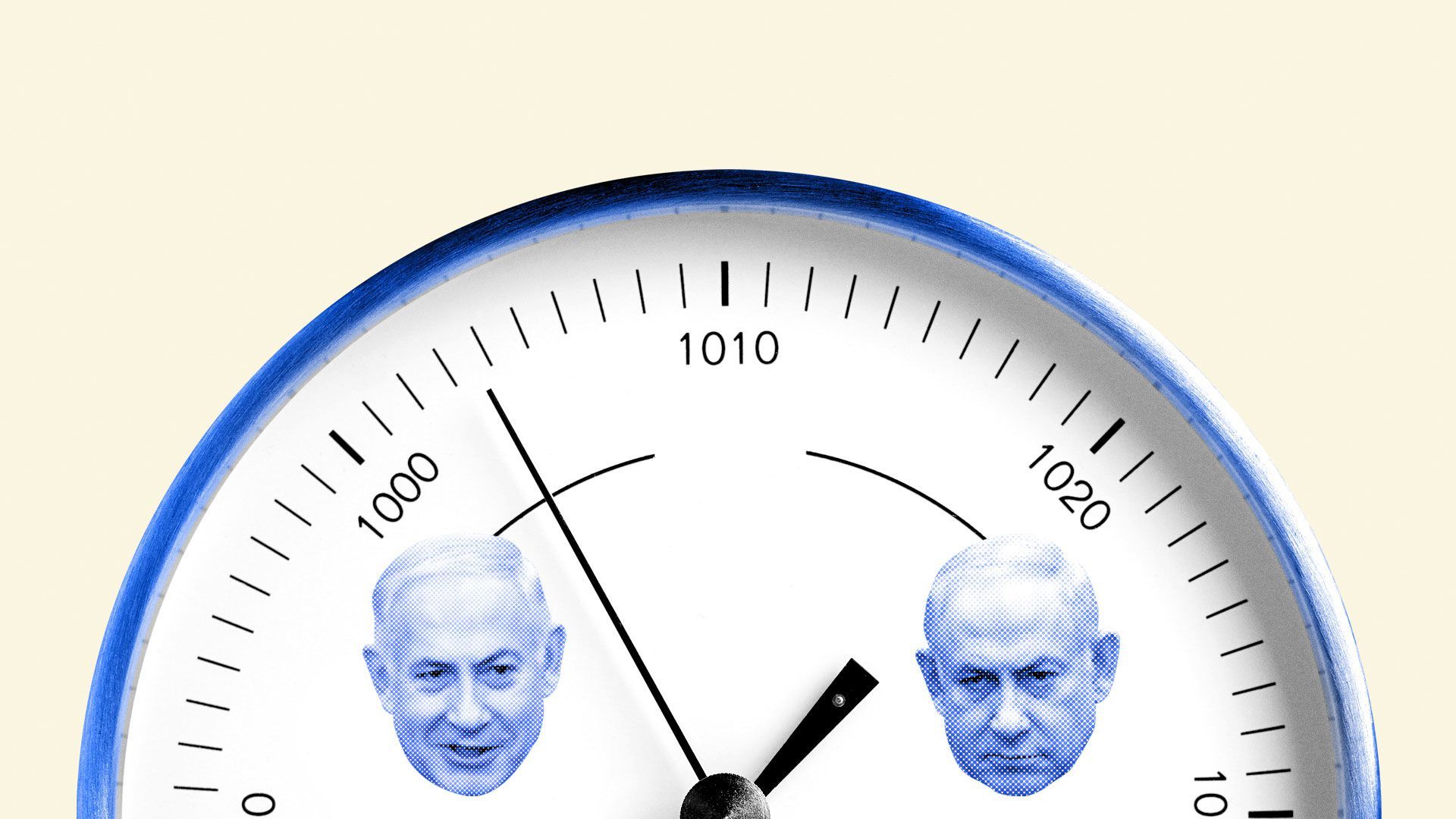 Netanyahu has just four days left to form a government, and his decision to provoke a constitutional crisis has injected new urgency into his rivals' negotiations to replace him.
Driving the news: Netanyahu appointed a loyalist as justice minister on Tuesday in clear violation of a legally binding coalition agreement — a dramatic step that led to a shouting match in the cabinet but was quickly blocked by the Supreme Court.
That move may appears to have given the party leaders with the power to oust him added motivation overcome their ideological differences and join together.
The latest: The key players had a busy day of meetings on Wednesday.
Naftali Bennett, the right-wing kingmaker who has been negotiating with both Netanyahu and opposition leader Yair Lapid, had an unprecedented meeting with the leader of the Islamist Ra'am party, Mansour Abbas.
Like Bennett, Abbas has been speaking with both sides and his support or abstention will be needed for any government to be sworn in.
Bennett also met on Wednesday with the leader of "New Hope" party Gideon Sa'ar, a leader along with Lapid of what has in recent days come to be called "the change camp."
Lapid met with a Sa'ar ally, Zeev Elkin, who like Sa'ar has been trying to push Lapid and Bennett closer together.
The state of play: Lapid and Bennett agree on the broad outlines of a deal: Bennett would serve as prime minister for two years, at which point Lapid would rotate into the job.
But several gaps remain over how the government would function, whether they would both have veto power over decisions, and how many government ministries each party within the government would control.
The other side: Netanyahu is trying to peel away members of Bennett's party, including former minister of justice Ayelet Shaked, with the promise that if they refuse to join a government with the center-left they will have prime spots on the Likud list in the next elections.
What's next: Bennett and Sa'ar are pressing Lapid to reach an initial deal by May 2 so that when Netanyahu's mandate expires they can immediately announce that they are prepared to form a government.
For Bennett and Sa'ar, both conservatives who split from Netanyahu, every day that passes gives Netanyahu more time to sabotage their efforts to form an alternative government.
Lapid, a centrist, has a clear incentive to get a deal done, but also to ensure that the mandate passes to him next week if Netanyahu fails, putting him in the driver's seat.
Worth noting: After the Supreme Court intervened to block his appointment of an ally as justice minister, Netanyahu backtracked on Wednesday and announced that he'd agreed to re-appoint Benny Gantz to the role.
3. Abbas expected to delay Palestinian elections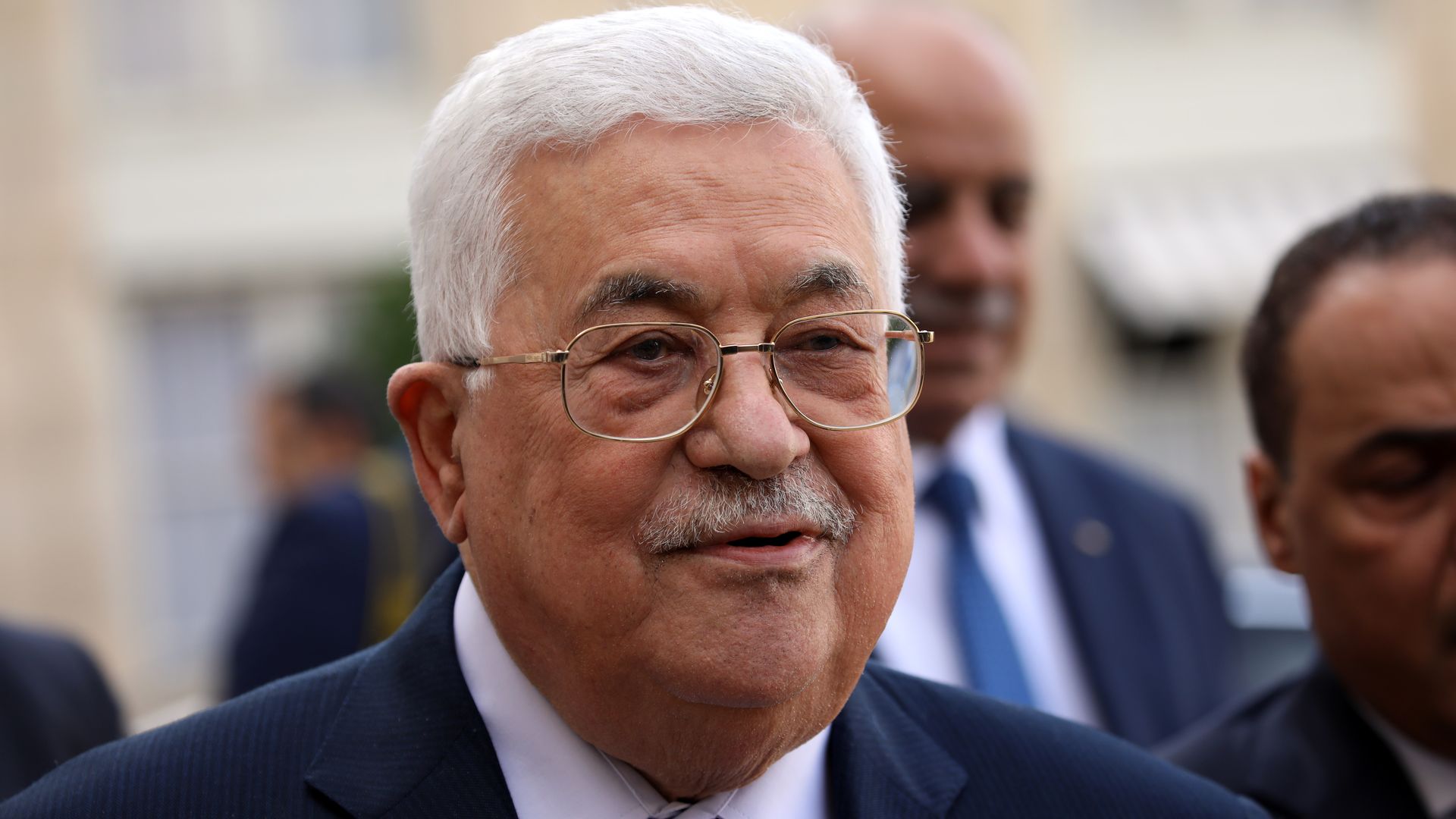 Palestinian President Mahmoud Abbas is expected to announce on Thursday that he is postponing the May 22 parliamentary elections, citing alleged Israeli obstruction, Palestinian and Israeli officials say.
Why it matters: Abbas' primary motivation for the last-minute delay is that a split in his Fatah party has opened the door for a potential Hamas victory.
Driving the news: Abbas has summoned all the Palestinian factions for a meeting on Thursday at his headquarters in Ramallah. Hamas representatives were also invited to join.
Palestinian sources say Abbas is expected to announce that he is postponing the elections and sign a presidential decree to do so, without setting a new date for elections.
In an attempt to mitigate the fallout, Abbas will propose a national unity government with the participation of all factions, including Hamas.
The backstory: Abbas and his aides have been planting the seeds for this announcement in recent days, stressing that the elections can only be held if Israel allows voting in East Jerusalem. Fatah formally adopted that policy on Sunday.
On Tuesday, Palestinian minister Hussein al-Sheikh, who is responsible for contacts with Israel, announced he'd been informed that Israel would not allow voting in East Jerusalem.
Senior Israeli officials flatly denied the Palestinian accusations. "Israel is not intervening in the Palestinian elections and hasn't given the Palestinians any response regarding voting in East Jerusalem," an Israeli official told me.
Between the lines: The Israelis share Abbas' concerns about a Hamas victory. Israeli officials say they didn't issue a decision on voting in East Jerusalem because they didn't want to be blamed for blocking the election if they didn't allow it, or box Abbas into holding the vote if they did.
The political director of the Israeli foreign ministry, Alon Bar, met on Tuesday with a group of 13 European ambassadors and told them Abbas would be postponing the elections and blaming Israel. He stressed that Israel didn't sabotage the elections and asked them not to back Abbas' accusations.
What's next: Abbas' political opponents in Hamas and in other factions are expected to condemn the postponement.
The delay could lead to mass protests against Abbas and even to a renewed escalation with Israel in Gaza.
Tensions between the Israelis and Palestinians have already been rising amid clashes over new restrictions from Israeli police in East Jerusalem.
Abbas has drawn a link between those events and his claims of Israeli interference in the election. Hamas, meanwhile, didn't prevent rocket fire from Gaza toward Israel to show solidarity with the Palestinians in Jerusalem.
4. Iran talks aren't as smooth as they look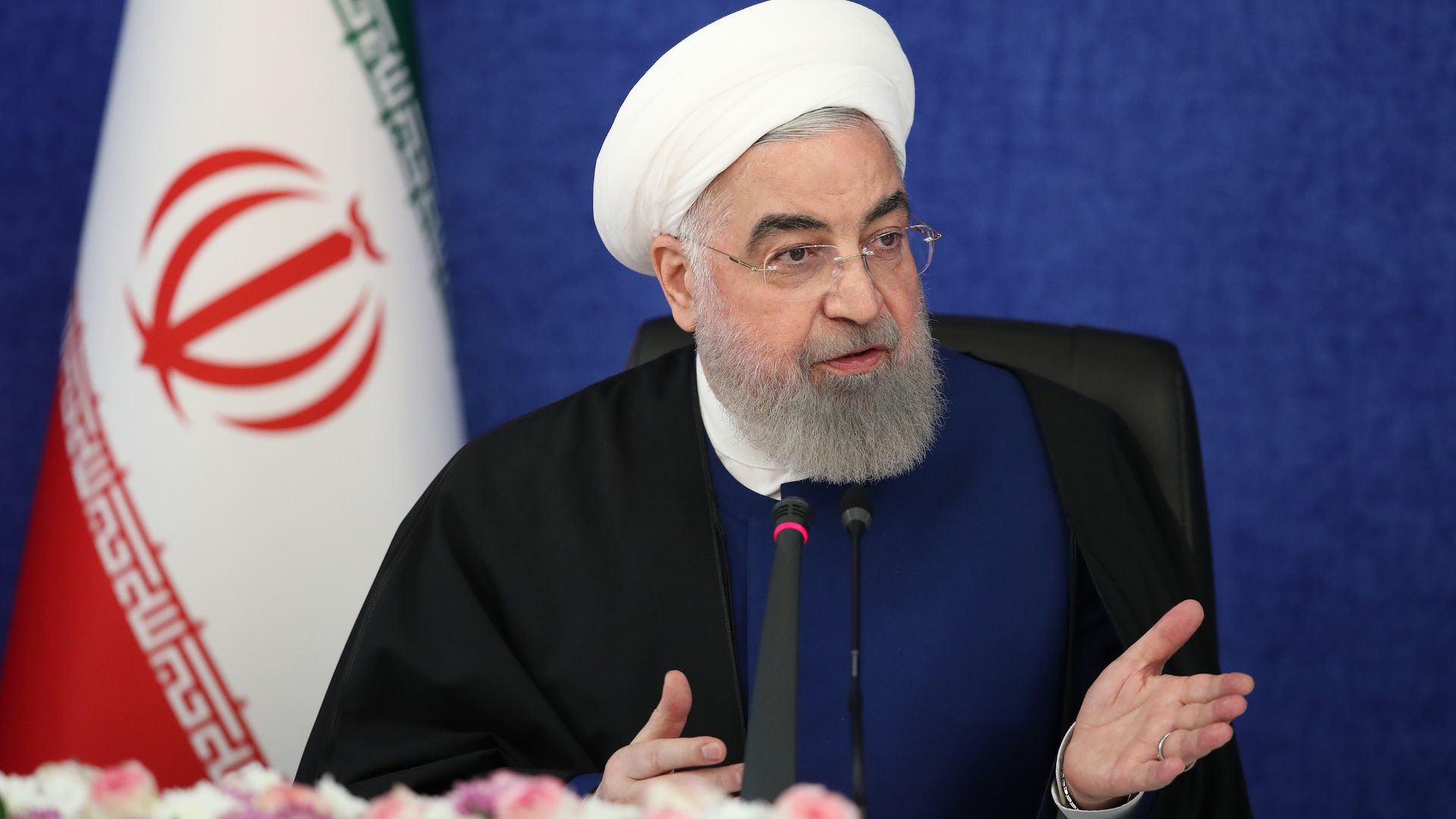 While Iranian President Hassan Rouhani and negotiators from the EU and Russia have all heralded significant progress in the Vienna nuclear talks, there are still big gaps between the U.S. and Iranian positions, three Israeli and U.S. sources briefed on the talks tell me.
The state of play: The public statements coming from Vienna as talks resumed on Tuesday gave the impression that the sides were on track for a deal and the challenge now was to expedite the process. But inside the negotiating rooms, the sources say, the atmosphere has been less positive and far more challenging.
What they're saying: Rouhani has made several optimistic statements this week, including that 70% of the work is now completed.
An American source briefed on the talks called that assessment "way optimistic," adding: "Nothing is imminent. There is still a long way to go."
Some of the difficulty stems from the indirect format of the talks, and some is due to Iran's refusal to drop its demands that the U.S. lift all sanctions imposed since 2015 — and do so before Iran takes any steps of its own.
What's next: Malley, the U.S. envoy, arrived today in Vienna to continue the indirect talks with the Iranians, through EU mediators.
The Iranian deputy foreign minister Abbas Araghchi said the two working groups — one discussing U.S. steps on sanctions relief and the other Iranian steps on nuclear compliance — will start drafting agreements.
A third group dealing with the sequencing of the U.S. and Iranian steps will also start its work this week.
The State Department declined to comment for this story.
5. The view from Ankara: What Biden's Armenia designation says about Erdoğan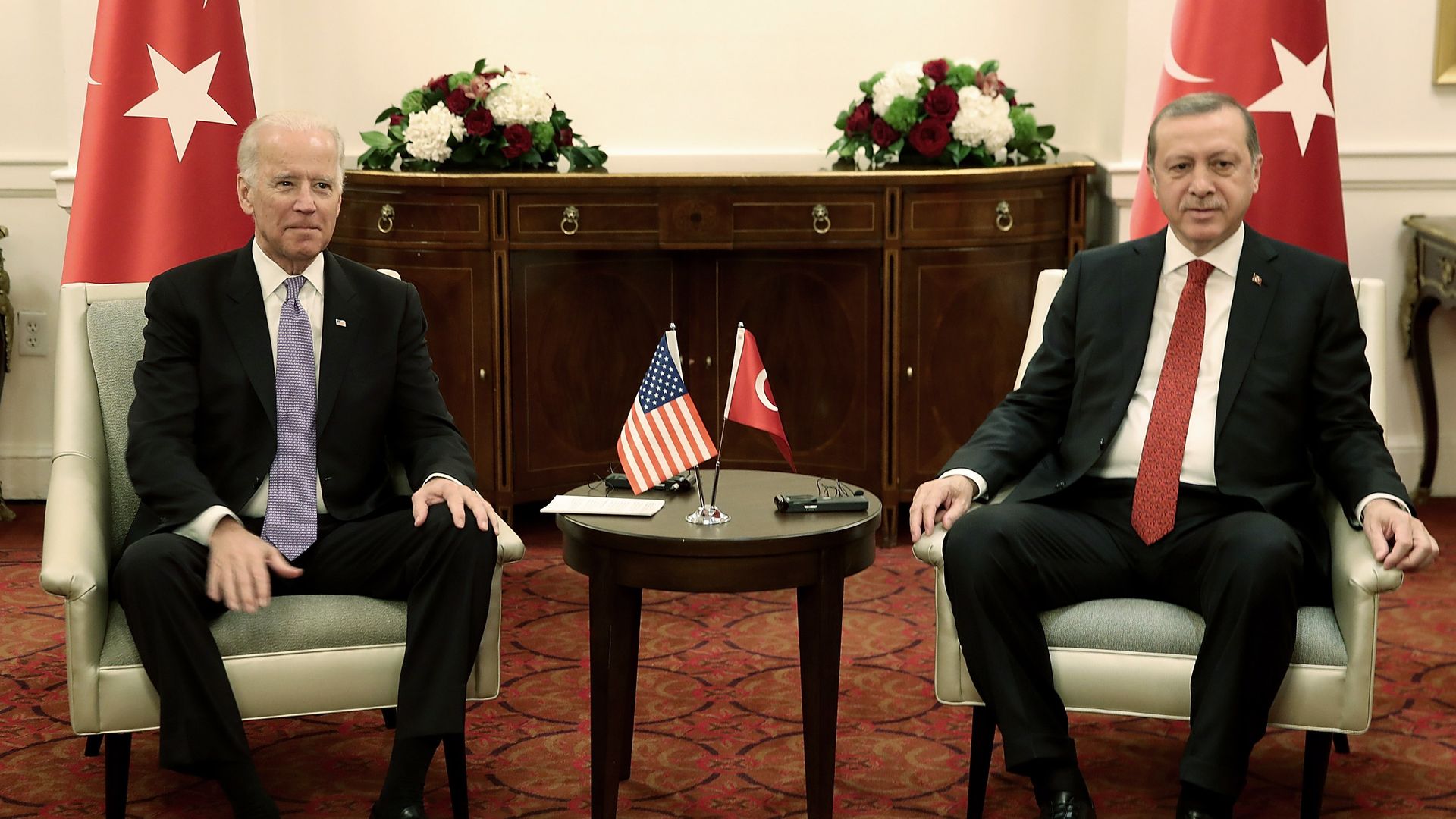 President Biden's willingness to risk tensions with Turkey by recognizing the Armenian Genocide is a sign of Turkey's dwindling support in the White House, Congress, and the U.S security establishment, Menekse Tokyay writes from Ankara.
Why it matters: The declaration seems to indicate that the new U.S. administration has downgraded its strategic relationship with Turkey, and comes at a time when relations were already in a downward trend.
The U.S. sanctioned Turkey last year for purchasing the S-400 Russian air defense system, and last week formally notified Ankara that it was excluded from the new F-35 stealth fighter program over the S-400 deal.
It took Biden more than three months to call Turkish President Recep Tayyip Erdoğan, and that call only came as Biden was preparing to officially recognized the genocide.
The declaration came at a time when Turkey, both diplomatically and economically, can't afford the luxury of engaging in new fights.
What they're saying: Turkey categorically denied the designation of genocide and claimed that radical Armenian circles and anti-Turkey groups were behind it.
"We reject and denounce in the strongest terms the statement of the President of the U.S. regarding the events of 1915 made under the pressure of radical Armenian circles and anti-Turkey groups on April 24," Turkey's foreign ministry said in a statement Saturday, calling on Biden to "correct this grave mistake."
The response was actually relatively mild compared to past cases, and Turkey didn't recall its diplomats from Washington.
Worth noting: Referring to a "genocide" against Armenians — carried out under the Ottoman Empire in 1915 — is considered an "insult to the Turkish nation" and can trigger criminal charges in Turkey.
Between the lines: Biden likely wanted to signal to Erdoğan that there will be costs to Turkey's deteriorating human rights record and his insistence on keeping the S-400 system.
Soner Cagaptay a senior fellow at the Washington Institute for Near East Policy, wrote that Biden is aware that "for the first time in many years, Erdoğan needs the U.S. more than Washington needs him."
What to watch: Considering Turkey's economic troubles, Erdoğan is not expected to meaningfully retaliate against the U.S. at the current time. 
His top priority right now is to consolidate his base of support and not let the Turkish lira free-fall against the dollar due to sudden crises.
What's next: Biden and Erdoğan will hold their first bilateral meeting in June.