Axios from Tel Aviv
May 24, 2023
Welcome back to Axios from Tel Aviv.
This week's edition (1,973 words, 7½ minutes) starts with a scoop out of Washington, where senior Israeli officials are expected to meet with their American counterparts next week for talks on Iran and Saudi Arabia.
It also brings you the latest on the Homesh outpost in the occupied West Bank and takes you inside Hezbollah's rare military exercises near Lebanon's border with Israel.
1 big scoop: Senior Israeli officials expected in D.C. for White House talks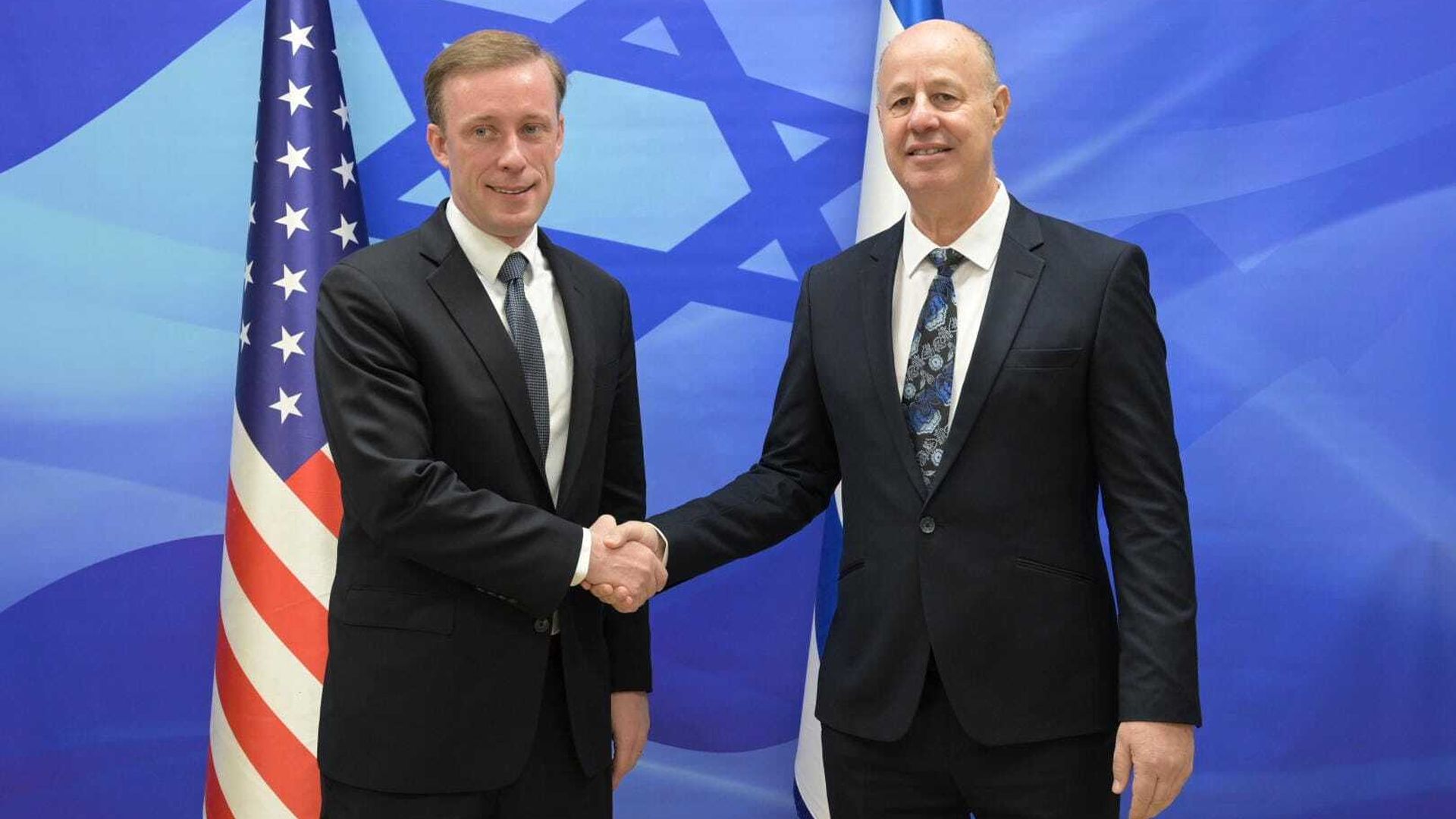 Israeli Minister for Strategic Affairs Ron Dermer and national security adviser Tzachi Hanegbi are expected in Washington next week for talks at the White House as concerns grow over advances in Iran's nuclear program and as the U.S. seeks to push for an Israeli-Saudi peace deal, four Israeli and U.S. officials told me.
Why it matters: Israeli Prime Minister Benjamin Netanyahu, who took power about five months ago, still hasn't received an invitation for a meeting with President Biden at the White House.
Biden said in late March that he wasn't going to invite Netanyahu in the near future and called on him to "walk away" from his plan to weaken Israel's Supreme Court and other democratic institutions.
Netanyahu and his advisers hope the suspension of the judicial overhaul and negotiations with the opposition about the proposed legislation could lead to an invitation from Biden, according to Israeli officials.
But U.S. officials say the White House still wants to see where these negotiations go before deciding whether to invite Netanyahu for a meeting with Biden.
Details: Dermer and Hanegbi are expected to arrive in Washington toward the end of next week and meet White House national security adviser Jake Sullivan and other senior officials at the White House and the State Department, the U.S. and Israeli officials said.
The primary issues expected to be discussed are Iran and Saudi Arabia.
An official at the Israeli Prime Minister's Office said the date of the meetings hasn't been finalized yet. A White House National Security Council spokesperson said they have nothing to confirm.
State of play: Israeli officials in recent weeks have escalated their rhetoric around concerns over Iran's nuclear program and the possibility of an Israeli military strike.
IDF Chief of Staff Gen. Herzi Halevi on Tuesday said Iran's uranium enrichment is more advanced than ever before. He added that Israel is also closely monitoring "other fields" critical for reaching nuclear capability, hinting at Iran's possible weaponization efforts.
"There are possible negative developments on the horizon that could lead to action. We have capabilities and others have capabilities," Halevi said.
Hanegbi separately on Tuesday said Israel hopes the Iranian nuclear crisis can be solved by nonmilitary means, but he stressed Israel is preparing "for a situation where a confrontation will be inevitable."
The other side: An Iranian official quoted by Al Jazeera said if Israel attacks Iran's nuclear facilities, it will be responsible for a wide-ranging war.
"We are not calling for a war, but the world should know there will be no red lines in our response to Israel," the official said.
Behind the scenes: On Saudi Arabia, the Israeli government wants to work with the Biden administration to reach a peace agreement with the kingdom, Israeli officials said. Dermer is Netanyahu's point person for the issue.
The White House is hoping to make a diplomatic push for a Saudi-Israeli peace deal in the next six to seven months before the presidential election campaign consumes President Biden's agenda, as Axios reported last week.
2. Scoop: Israel tells U.S. it won't turn Homesh into new settlement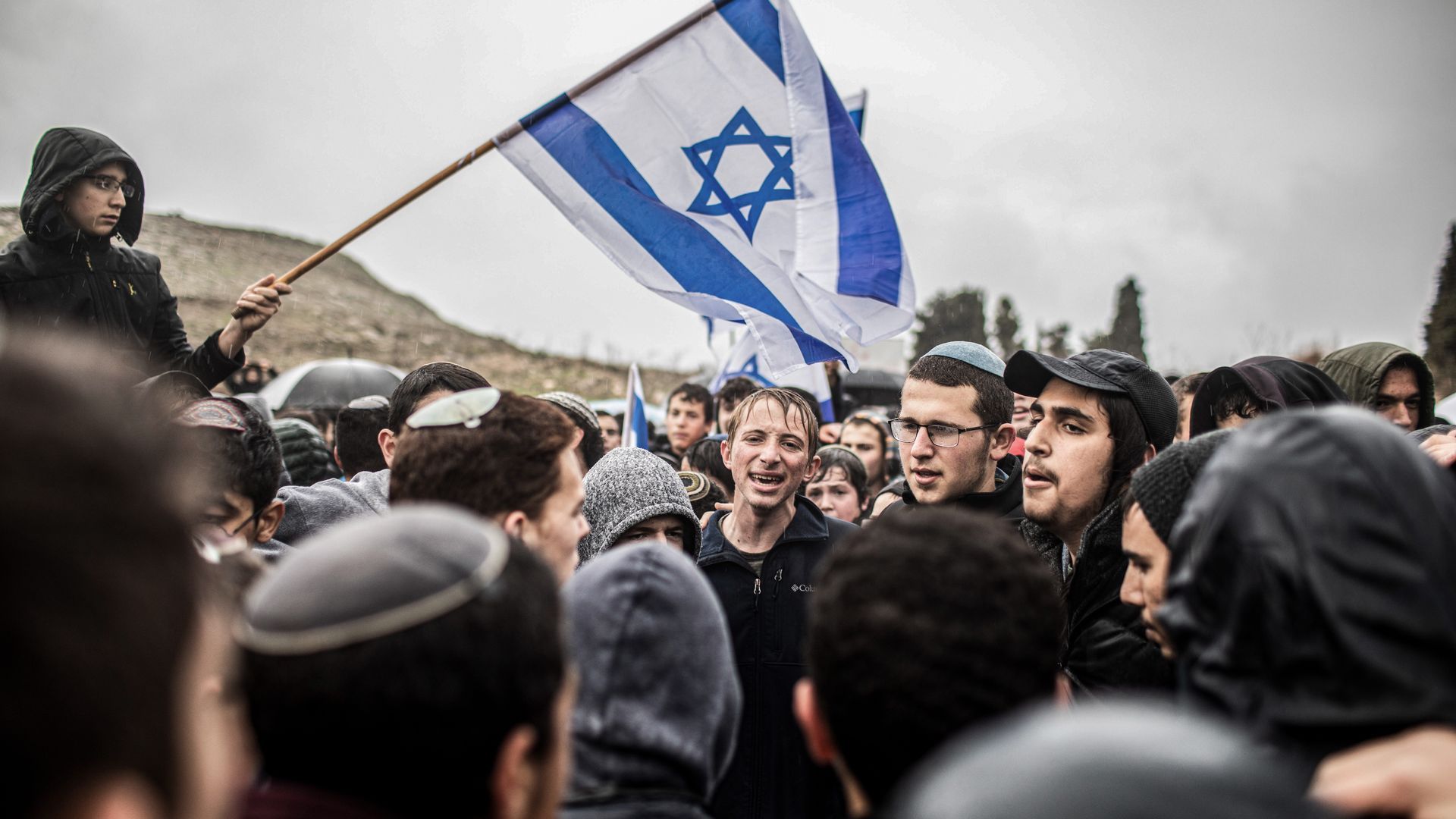 The Israeli government told the Biden administration it would not turn the Homesh outpost deep inside the occupied West Bank into a new settlement, despite a recently signed decree that allows Israelis to enter the area, three U.S. and Israeli officials told me.
Why it matters: The Biden administration is concerned that if Homesh is rebuilt as a formal settlement, it will make it even harder to form an eventual contiguous Palestinian state. Homesh is located in an area between the northern Palestinian cities of Nablus and Jenin where there are no Israeli settlements.
Catch up quick: During the 2005 Israeli disengagement from Gaza, Israel also evacuated Homesh and three other settlements in the northern West Bank and banned Israelis from entering the area.
In return for agreeing to the disengagement, the Bush administration agreed that the large settlement blocks in the West Bank adjacent to the territory lines drawn before the 1967 war would stay part of Israel in any future peace agreement with the Palestinians.
This understanding between then-Israeli Prime Minister Ariel Sharon and then-President George W. Bush was enshrined in an official exchange of letters between the two governments in 2004.
Radical settlers several years ago established an illegal outpost in Homesh and claimed it was a Yeshiva, or a religious school.
The Israeli military has repeatedly evacuated the outpost, which was established on private Palestinian land, but settlers continued to rebuild.
The Israeli Knesset earlier this year passed a law that repealed the 2005 Israeli disengagement from the northern occupied West Bank and allows Israeli citizens to enter the area between Jenin and Nablus provided a decree is issued by the IDF. The decree for Homesh was issued last week.
What they're saying: The State Department on Sunday issued a strong statement against the decree, saying it was "inconsistent" with the Israeli commitment in the Bush-Sharon letters.
U.S. Ambassador to Israel Tom Nides and other U.S. officials also protested the move in private conversations with Netanyahu's advisers, U.S. and Israeli officials said.
The U.S. and Israeli officials said the Israeli side made it clear to the Biden administration that it has no intention of rebuilding the Homesh settlement and stressed the new order was signed only to allow the moving of the outpost from private land to state land.
Israeli officials also told their U.S. counterparts this move was in response to domestic political constraints and to prevent Netanyahu's radical right-wing coalition partners from destabilizing the government, the U.S. and Israeli officials said.
The Israeli Prime Minister's Office declined to comment.
3. U.S. and Israeli officials aim for June 25 Negev Forum in Morocco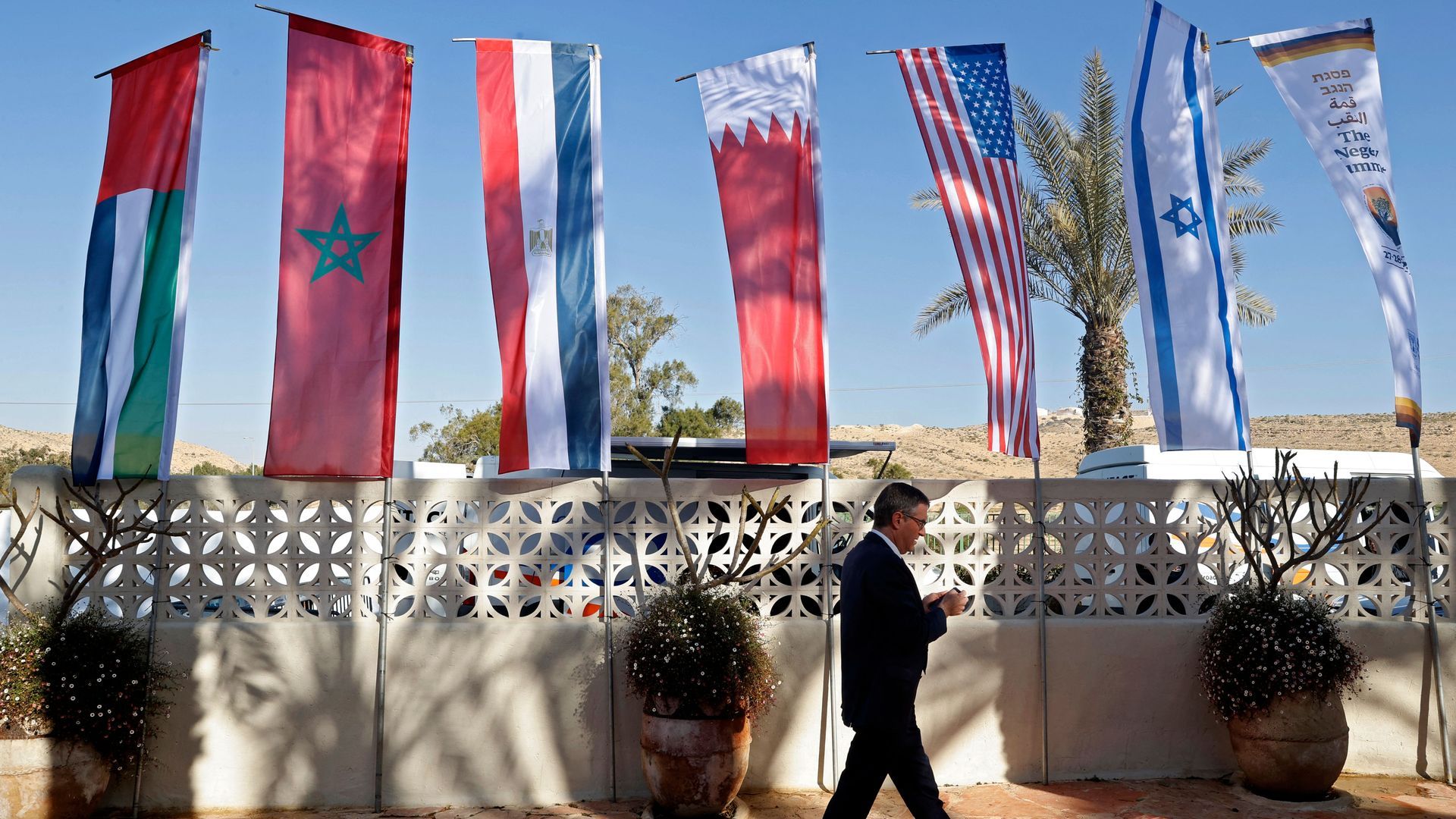 There is optimism among the Biden administration and Israeli government officials that a ministerial meeting of the Negev Forum will take place on June 25 in Morocco after being postponed, four U.S. and Israeli officials told me.
Why it matters: Such a meeting would be a positive sign regarding the willingness of Arab countries, especially those who were part of the Abraham Accords, to work with Israel's right-wing government.
Since the current Israeli government came to power late last year, several Arab countries have paused a lot of their cooperation with Israel.
Catch up quick: The Negev Forum was established in March 2022 in an unprecedented summit in Israel attended by Secretary of State Tony Blinken and the foreign ministers of Israel, Egypt, the UAE, Bahrain and Morocco.
The idea was that the Negev Forum would be a platform for multilateral cooperation in the region in the fields of health, economy, climate change, water and security.
A second ministerial meeting was planned to take place in March but was postponed by the Moroccan government due to the political sensitivities around the new right-wing Israeli government and the concerns about possible violence during Ramadan.
Driving the news: Israeli and U.S. officials told me that in recent weeks the Biden administration has been engaged in diplomatic efforts with Morocco and other participants in order to convene the meeting at the end of June.
The Israeli and U.S. officials said that the final decision hasn't been made yet, but there is optimism that the meeting will take place on June 25.
Blinken is expected to attend the meeting.
The Moroccan Foreign Ministry and the State Department did not respond to requests for comment.
4. Inside Hezbollah's rare military drills near the Israeli border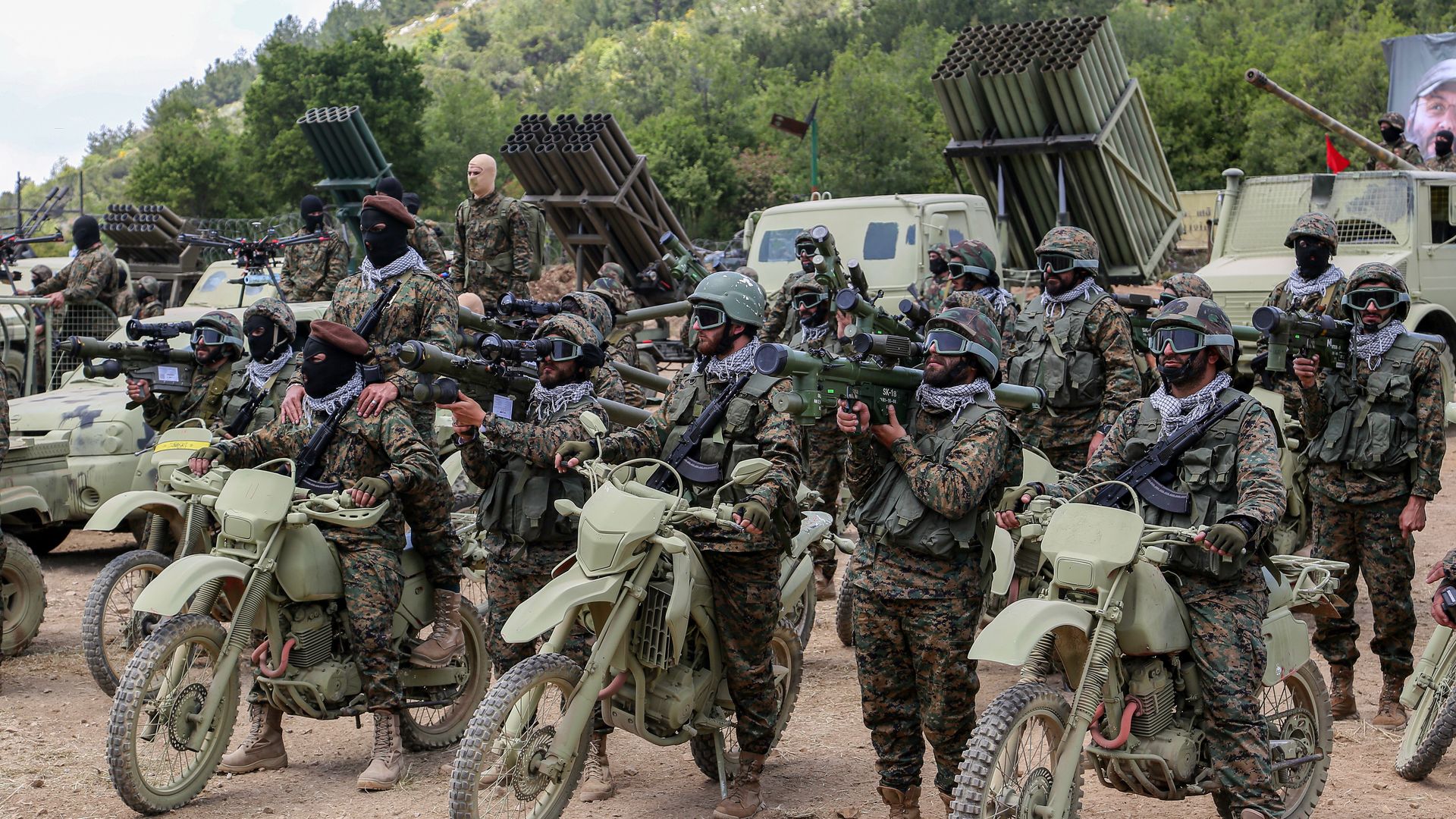 The Lebanese Hezbollah militant group held a rare demonstration of the group's fighting power this week in an apparent attempt to remind the Lebanese people, Israel and Iran about its military capacity and role in the region, Hanna Davis writes for Axios from Aaramta, Lebanon.
Why it matters: The military exercise was unusual not only because it was made public — nearly 400 people attended, including Hezbollah supporters and several journalists — but also because it was conducted only 12 miles north of the Israeli border, just outside an area where militias are not allowed to operate under a UN Security Council resolution adopted in 2006.
Rockets fired toward Israel from Lebanon following a violent Israeli military raid on Jerusalem's Haram al-Sharif compound, also known as the Temple Mount, less than two months ago resulted in the most serious escalation between the two countries since the 2006 war. The Israeli military said Hamas was behind the rockets, though Hamas never claimed it fired them.
Israel responded with strikes in Lebanon. It, however, only targeted Hamas targets in an effort to avoid a wider conflict with Hezbollah.
Driving the news: Sunday's exercise took place ahead of the annual celebration of "Liberation Day," when the Israeli army withdrew from southern Lebanon on May 25, 2000, after a 15-year occupation of the territory.
During the two-hour staged military exercise, held at one of Hezbollah's training sites in southern Lebanon, fighters jumped through flaming hoops, demonstrated their hand-to-hand knife combat skills, and fired off the back of motorcycles at Israeli-flag targets.
At the end, Hezbollah's fighters emerged from plumes of gun and rocket-fire smoke, ripped out an Israeli flag, and planted in its place the distinctive yellow and green flag of the militant group. Claps and cheers then erupted from the audience, which faded into religious chants and melodies.
Dalal Shahrour who came to attend the military show from the Beddawi Palestinian refugee camp in northern Lebanon told Axios that Palestinians "have high hopes that Palestine will be liberated very, very, very soon and Israel will be defeated and we will return."
The other side: A day after the exercises, Israel's chief of military intelligence, Aharon Haliva, said that Hezbollah leader Hassan Nasrallah was "close to making a mistake that could plunge the region into a big war" and warned that Israel would be "ready to use force" in the event of an escalation on the Israeli-Lebanese or Syrian border.
The U.S. and Israel consider Hezbollah a terrorist organization.
What they're saying: Hezbollah deputy secretary-general Sheikh Naim Qassem said the military drill sends a "message of deterrence" and "readiness to confront any Zionist aggression and defend Lebanon.''
He added that the weapons presented during the exercise represent a fraction of Hezbollah's arsenal and stressed that the organization's precision missiles weren't shown.
Although no precision-guided missiles were displayed at the military show, Hezbollah did reveal a new anti-drone weapon.
Lebanon's caretaker Prime Minister Najib Mikati criticized Hezbollah's public show of force and told the UN special envoy in Lebanon this week that "the issue" of Hezbollah's weapons "must be among the priorities of the coming phase."
Between the lines: "The parade demonstrates how much weaker the Lebanese state has become while Hezbollah grows its military capabilities," Mohanad Hage Ali, a senior fellow at the Carnegie Middle East Center, told Axios, noting how the country's army and security forces have weakened as its state coffers dry up.
5. What I'm reading: Joel Rosenberg's "The Libyan Diversion"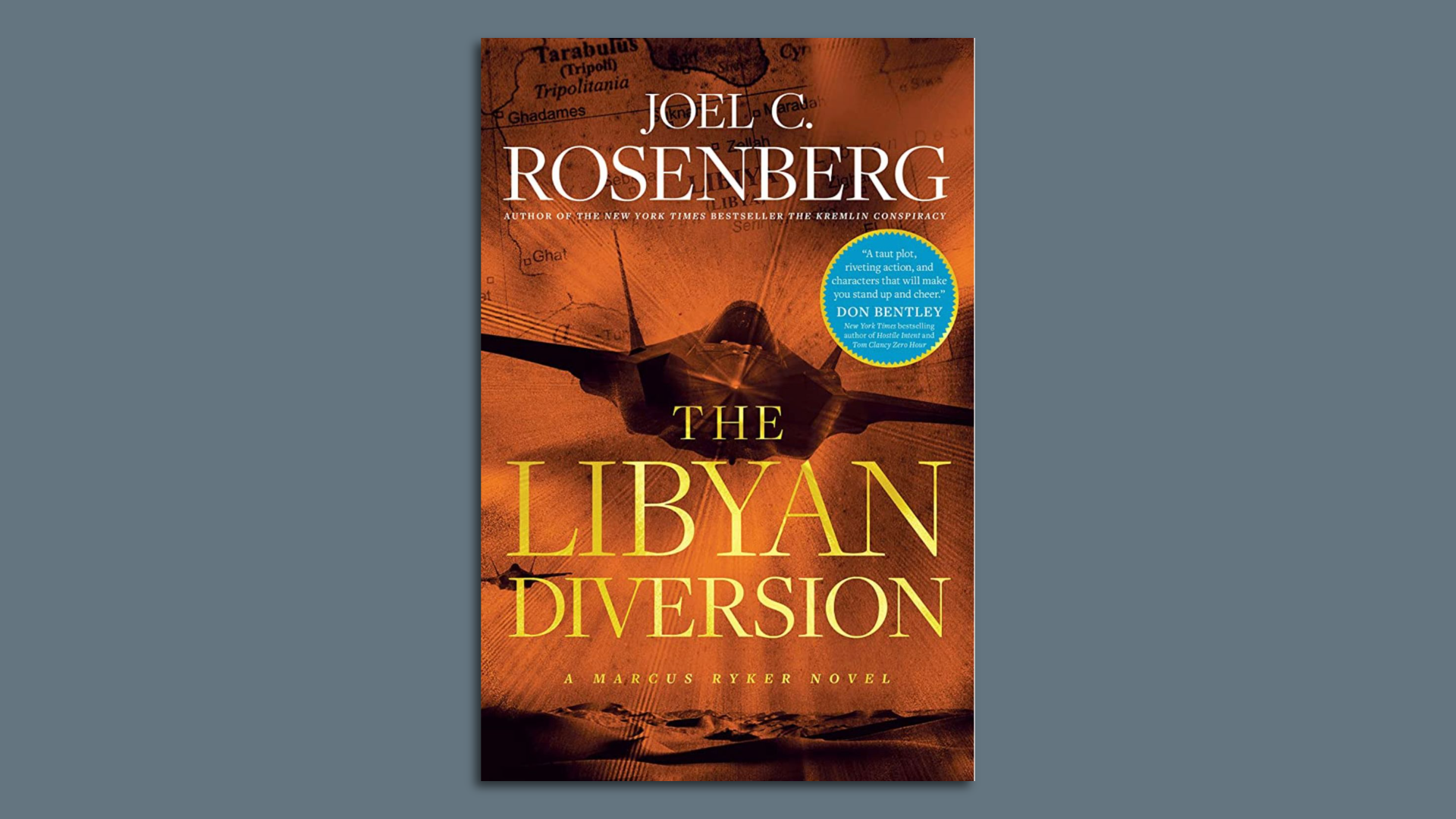 Best-selling Author Joel Rosenberg recently published his new book, "The Libyan Diversion" — the fifth installment in his series of international political thrillers.
Driving the news: This time, the hero of Rosenberg's books, CIA operative Marcus Ryker, is hunting down the world's most dangerous terrorist.
In the book, the terror mastermind sends radical Islamist terrorists to infiltrate the U.S. via the Mexican border, bringing nuclear "dirty" bombs with them and planning an attack far worse than 9/11.
What they're saying: Rosenberg says he got the idea for his new fictional thriller from a conversation he had several years ago with former CIA director and Secretary of State Mike Pompeo.
"He warned me about the ungoverned spaces emerging in northern Mexico that are increasingly controlled by drug cartels, human traffickers and organized crime syndicates," Rosenberg said.
The intrigue: While being a prolific author of fiction, Rosenberg has become in recent years a key player in the building of relations between the evangelical community in the U.S. and the Arab world.
He has led several evangelical delegations to the Middle East and met several times with Saudi Crown Prince Mohammed bin Salman.
Editor's note: Item 4 of this newsletter was corrected to reflect that Hezbollah's military drills took place just outside the area where militias are not allowed to operate under a UN Security Council resolution, not inside the area.