Axios from Tel Aviv
January 27, 2021
Welcome back to Axios from Tel Aviv.
Today's edition focuses on three issues I'm watching closely: U.S.-Israel tensions over Iran, Israel's upcoming election, and the ongoing normalization processes between Israel and the Arab world (1,745 words, 6½ minutes).
1 big thing: Netanyahu doesn't want a fight with Biden — yet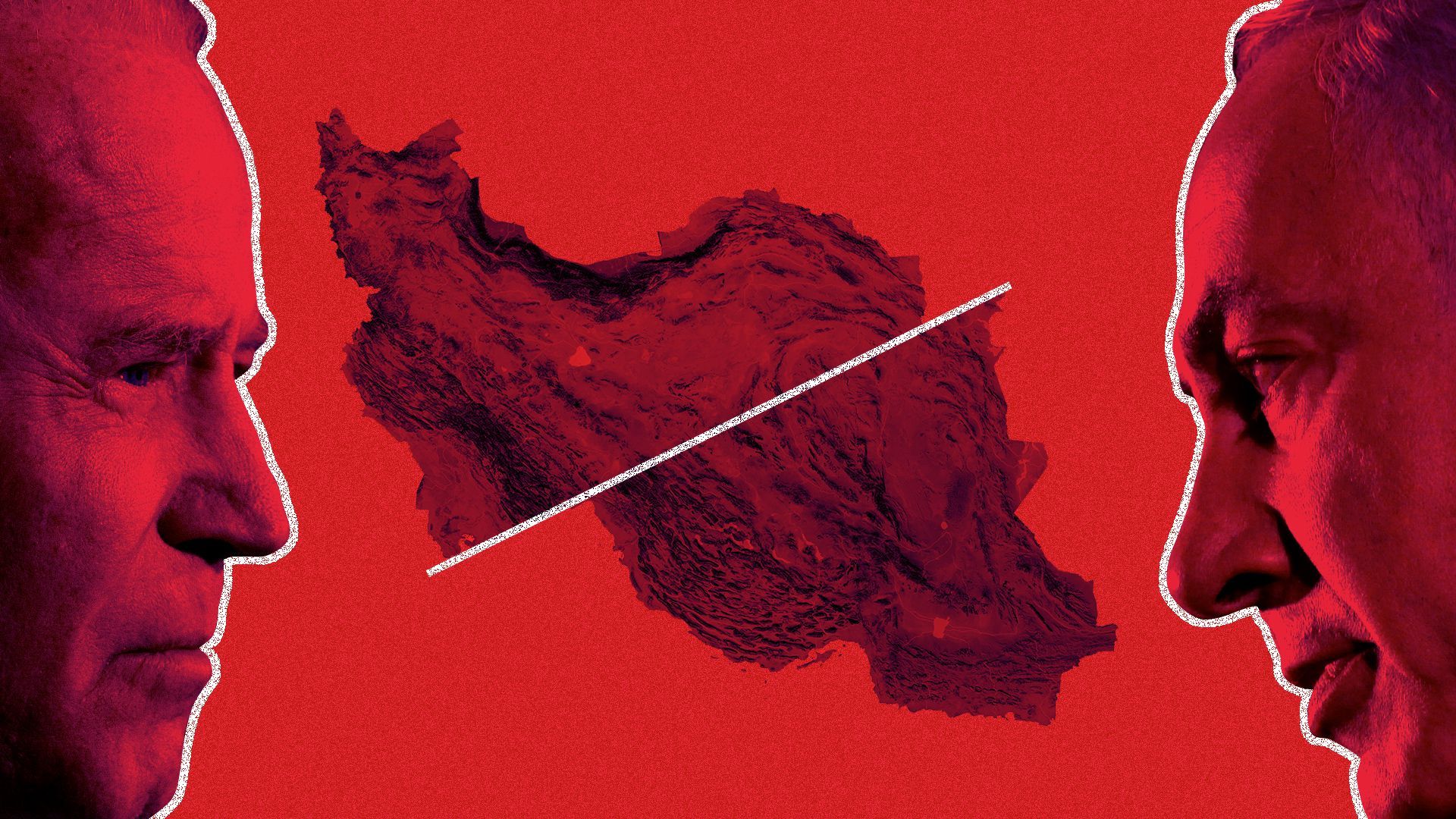 Israeli Prime Minister Benjamin Netanyahu, hoping to avoid an immediate clash with President Biden over Iran, will give dialogue a chance, Israeli officials say.
Why it matters: Biden intends to try to resume the 2015 nuclear deal, which Netanyahu vehemently opposes. The two are on a collision course, and memories are fresh of the crisis in U.S.-Israel relations when Netanyahu was publicly campaigning against Barack Obama's attempts to reach a deal — including in a speech to Congress.
Between the lines: A senior Israeli official who is well-informed of Netanyahu's thinking draws a clear distinction between the two cases. Obama went behind Israel's back to hold secret talks with the Iranians, the official said, while Biden's team has earned goodwill by saying from day one that they intend to consult with Israel before making any decisions on Iran.
The senior official added that Netanyahu's warm personal history with Biden over four decades could be used as a shock absorber to help overcome difficulties and misunderstandings.
Two other Israeli officials said Netanyahu was hesitant to pick a fight with Biden from the start for another reason: Unlike Obama in 2015, he has Democratic majorities in both houses of Congress, which will make it harder to exert pressure.
What they're saying: A senior Israeli official close to Netanyahu said that while the prime minister wants to begin with a stance of cooperation and consultation toward the Biden administration, he intends to stand firm in his opposition to a U.S. return to the deal.
"He doesn't want to tweak it. He thinks the agreement is flawed to its foundations and that the Iranians will agree to compromise only if pressure continues," the official said.
Worth noting: On Tuesday, Israel Defense Forces Chief of Staff Gen. Aviv Kohavi aligned himself with Netanyahu, coming out publicly against any U.S. return to the previous deal or even "a deal with cosmetic changes."
Kohavi said he ordered the IDF to prepare several new plans to strike Iran's nuclear facilities should Israeli leadership decide to use that option.
That's a major shift in the position of Israel's most senior security official. In 2015, then-IDF leader Gadi Eizenkot didn't oppose the deal and Kohavi himself, then chief of military intelligence, thought it had strategic advantages for Israel.
The Obama administration used such arguments from the Israeli defense establishment to counter Netanyahu's campaign. Now, Netanyahu has the head of the military on his side.
And while former IDF chiefs of staff Gabi Ashkenazi and Benny Gantz were opposed when Netanyahu considered striking Iran between 2009 and 2012, Kohavi is now on the record in support.
The other side: Now foreign minister, Ashkenazi called on Tuesday for a much more cautious approach.
He said Israel must hold quiet talks with the Biden administration on Iran and avoid the sort of confrontational media campaign it launched in 2015.
Ashkenazi has argued that the past approach only sidelined Israel and can't be repeated if Israel wants to remain relevant to the process.
Driving the news: On Saturday, national security adviser Jake Sullivan spoke for the first time with his Israeli counterpart, Meir Ben-Shabbat.
Israeli officials said the call was very good and were satisfied by the White House readout that stressed the U.S. would consult Israel and enter into a strategic dialogue.
What's next: Israeli officials told me they expect talks with the Biden administration on Iran to start in the very near future, most likely in secured video conferences due to COVID restrictions.
Yes, but: Netanyahu's willingness to engage with Biden and avoid confrontation could change quickly if he thinks it's ineffective — or if he decides confrontation could help him in the March 23 elections.
2. Bibi Barometer: Lockdown blues continue despite vaccine success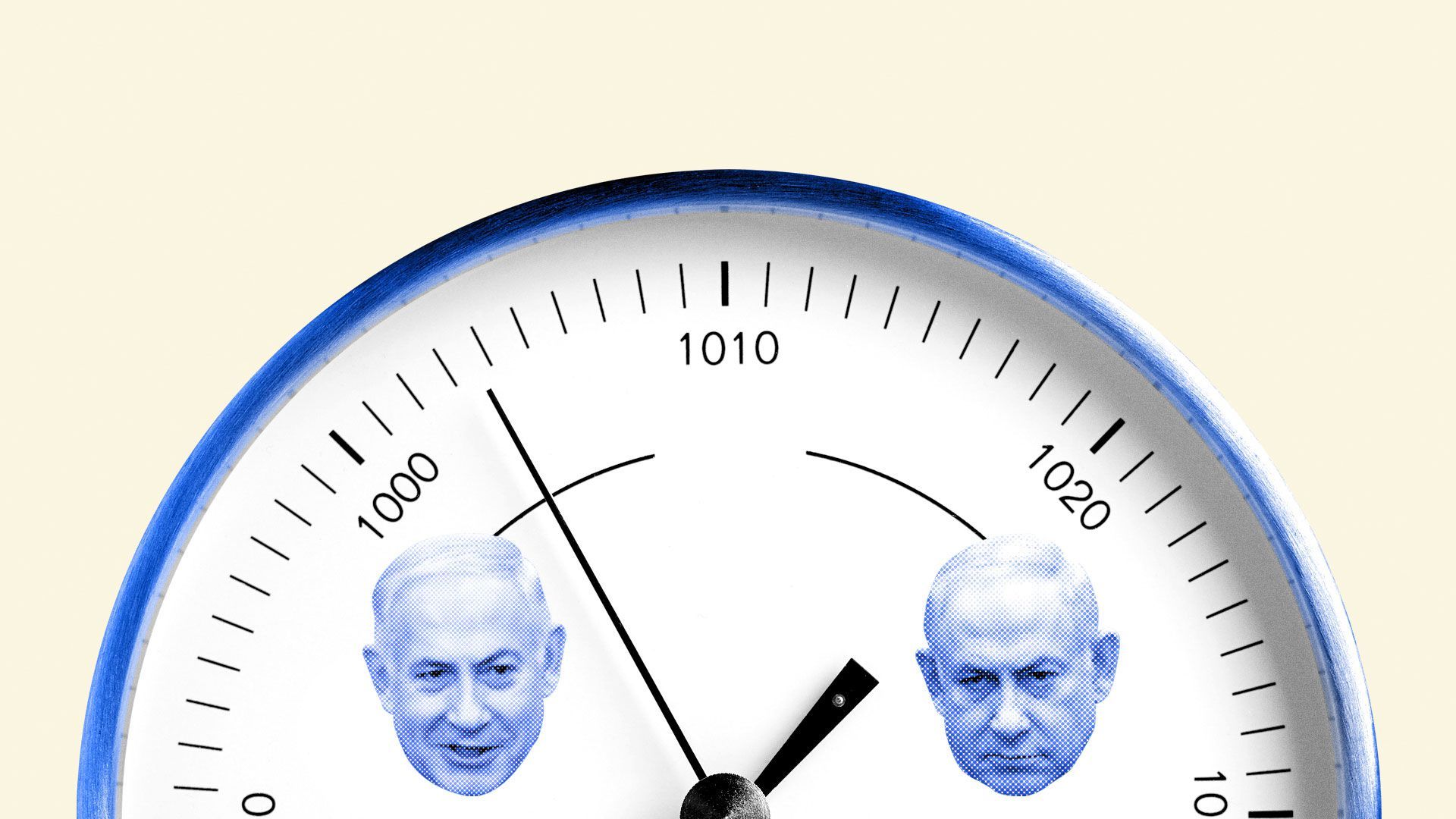 Netanyahu had hoped to declare victory over the pandemic before the March 23 elections, but new fast-spreading variants of COVID-19 have dashed those hopes.
Why it matters: Netanyahu's main political vulnerability is his handling of the pandemic. He has acknowledged that his poll numbers will be directly connected to the rates of vaccinations, new infections and deaths, as well as his ability to reopen the economy.
He had wanted to base his election push on Israel's world-leading vaccination campaign, which has already seen 21% of the over-16 population obtain both doses, including 70% in the highest-priority groups (medical workers and people over 60).
But Israel is also in the midst of its worst COVID-19 wave to date, with daily death tolls hitting record highs. The capacity of the medical system is stretched close to a breaking point.
Four weeks of lockdown have only just begun to slow Israel's rate of new cases, which remains among the highest in the world, adjusted for population. Israeli officials say the fast spread is due to new virus variants.
The government is likely to prolong the lockdown for another week or two.
Between the lines: The infection rate is particularly high in ultra-Orthodox communities, which have largely not complied with lockdown rules and kept schools open even as they were closed elsewhere.
Netanyahu has faced harsh criticism for not enforcing the lockdown among the ultra-Orthodox community, which constitutes an important chunk of his right-wing political bloc.
When the police did attempt to enforce the lockdown in recent days, violent riots erupted in ultra-Orthodox cities. That only generated more criticism of Netanyahu.
A Channel 12 poll published on Tuesday found that 61% of Israelis — and 52% of right-wing voters — want to exclude ultra-Orthodox parties from the next governing coalition.
The state of play: Recent polls showed Netanyahu's Likud party stable with 29-30 seats, with public praise over the vaccination campaign balanced out by criticism about the lockdown and rising death toll.
What's next: Netanyahu's broader political bloc is short of the 61-seat majority needed to form the next coalition. Without a positive change in the COVID-19 numbers by March, he will have a hard time reaching it.
3. Israel adds three diplomatic missions in one week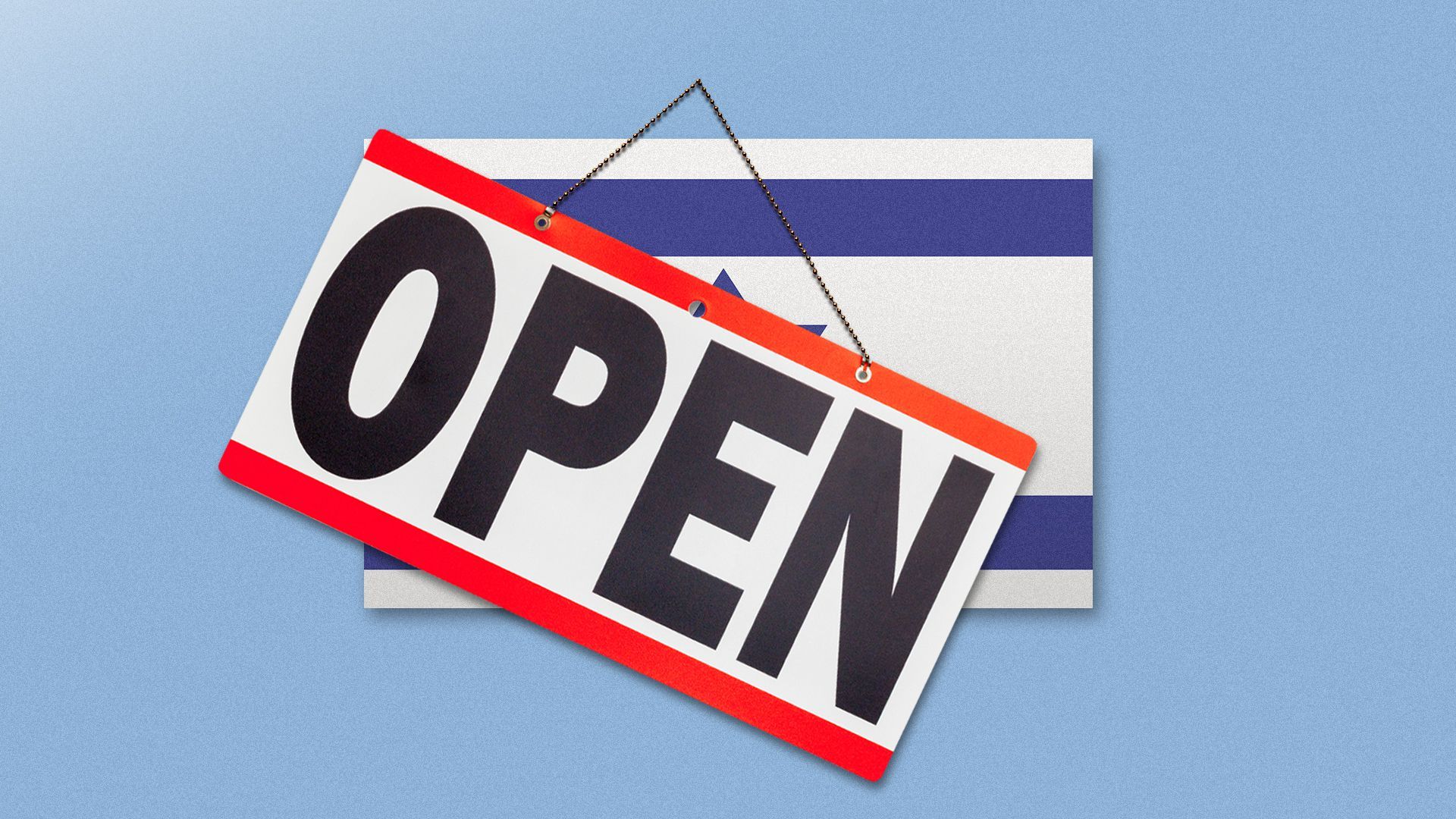 Israel opened three diplomatic missions in the Arab world this week, six months after the Abraham Accords were first launched.
Why it matters: The normalization process remains on track, regardless of the political changes in Washington.
Biden administration officials have refrained from using the term "Abraham Accords," which was coined by the Trump administration. But they say they're eager to continue working toward normalization agreements between Israel and more Arab countries.
Driving the news: On Sunday, Israel opened its embassy in Abu Dhabi — in temporary offices for now. The embassy will move to a permanent location in the next few months, and Israeli officials say it will be very big with representatives from many government agencies.
On Tuesday, Israel opened its consulate in Dubai, which is expected to focus on trade and tourism. 130,000 Israelis have visited Dubai since December.
The Emirati government approved this week the opening of an embassy in Tel Aviv. Israeli officials say that process has been slowed down by the COVID-19 lockdown in Israel.
The Israeli Embassy in Manama, Bahrain, was opened several weeks ago.
Also on Tuesday, Israel reopened its diplomatic mission in Rabat, 20 years after it was shut down. The Moroccans are expected to open their office in Tel Aviv in February.
Israel's Cabinet approved an agreement on renewing diplomatic relations with Morocco on Sunday, and it will be approved by the Knesset next week.
Direct flights from Tel Aviv to Rabat are expected to begin in February. 
What's next: Netanyahu is expected to travel to the Gulf between Feb. 9–11, visiting Abu Dhabi, Dubai and Manama.
The trip could be postponed again if Israel's lockdown is extended, but if it takes place, it will be the first official trip by an Israeli prime minister to the UAE and Bahrain.
4. Scoop: Sudan wants to seal Israel deal at White House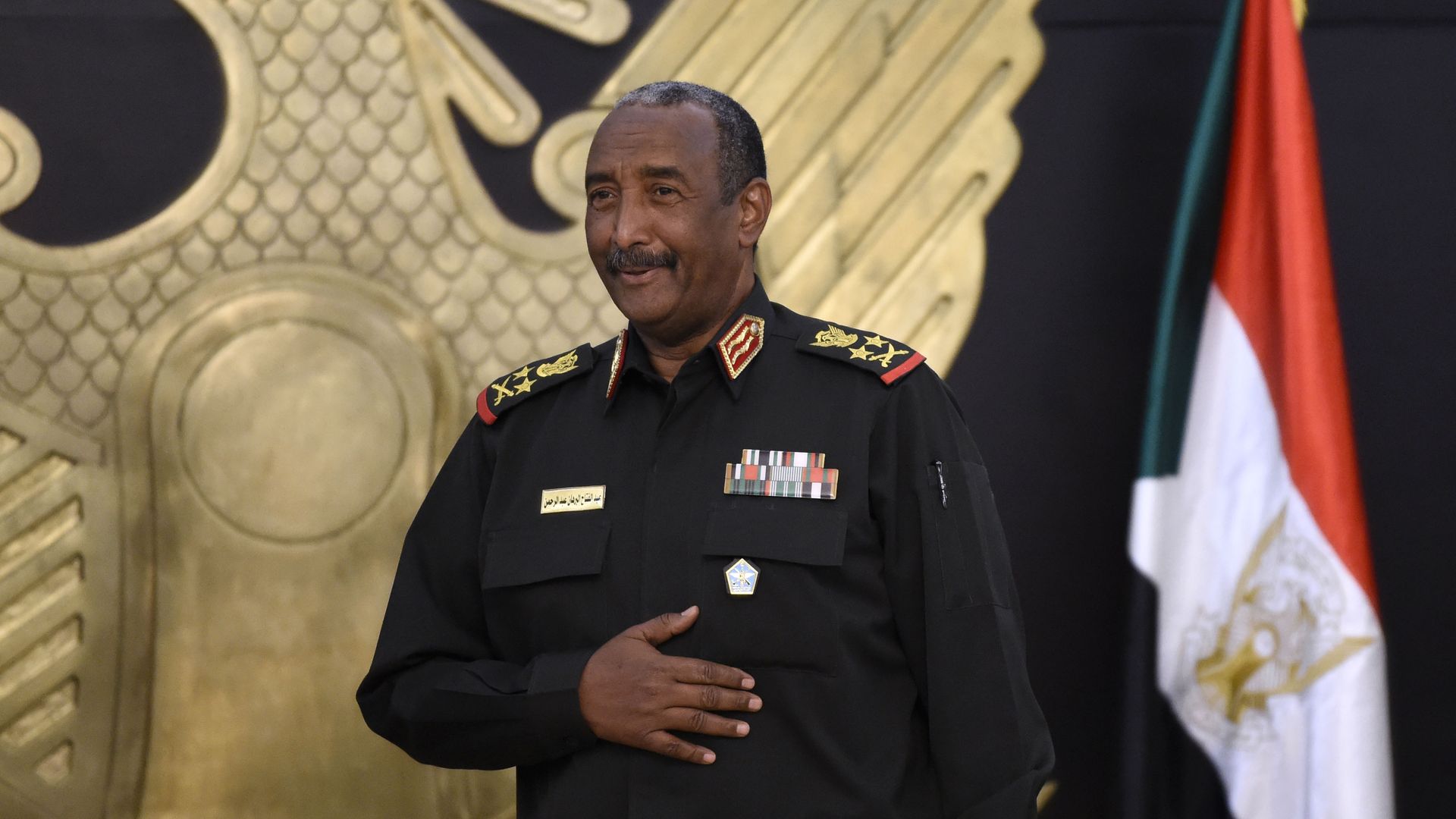 Three months after Sudan agreed to normalize relations with Israel, it still hasn't signed an agreement to formally do so. Israeli officials tell me one reason has now emerged: Sudan wants to sign the deal at the White House.
Driving the news: Israel sent Sudan a draft agreement for establishing diplomatic relations several weeks ago, but the Sudanese didn't reply, Israeli officials tell me.
On Tuesday, Israeli Minister of Intelligence Eli Cohen was in Khartoum for the first-ever visit of an Israeli minister in Sudan.
He raised the issue with the head of Sudan's governing council, Gen. Abdel Fattah al-Burhan, and said Israel wouldn't be able to proceed with anticipated projects and cooperation until a formal agreement had been signed.
Burhan said he was prepared to move forward — but that he wants the Biden administration to endorse the agreement and host a signing ceremony in Washington.
Between the lines: It may prove difficult to hold such a ceremony under COVID-19 restrictions, but Biden administration officials see the Sudan normalization deal as a positive step that they want to help promote.
What they're saying: Israeli officials say previous plans to sign the agreement before Trump left office were derailed by political events in Washington.
"There is no rush. We think it is a good idea to sign this agreement in Washington with the support of the Biden administration. It is important for the Sudanese, and it will strengthen the agreement," an Israeli official told me.
What's next: Before an agreement is signed, the Sudanese will have to cancel two laws: the Israel boycott law, which bans any trade with Israeli entities, and a law that bans Sudanese nationals from visiting Israel.
5. Biden prepares to engage on Israel-Palestine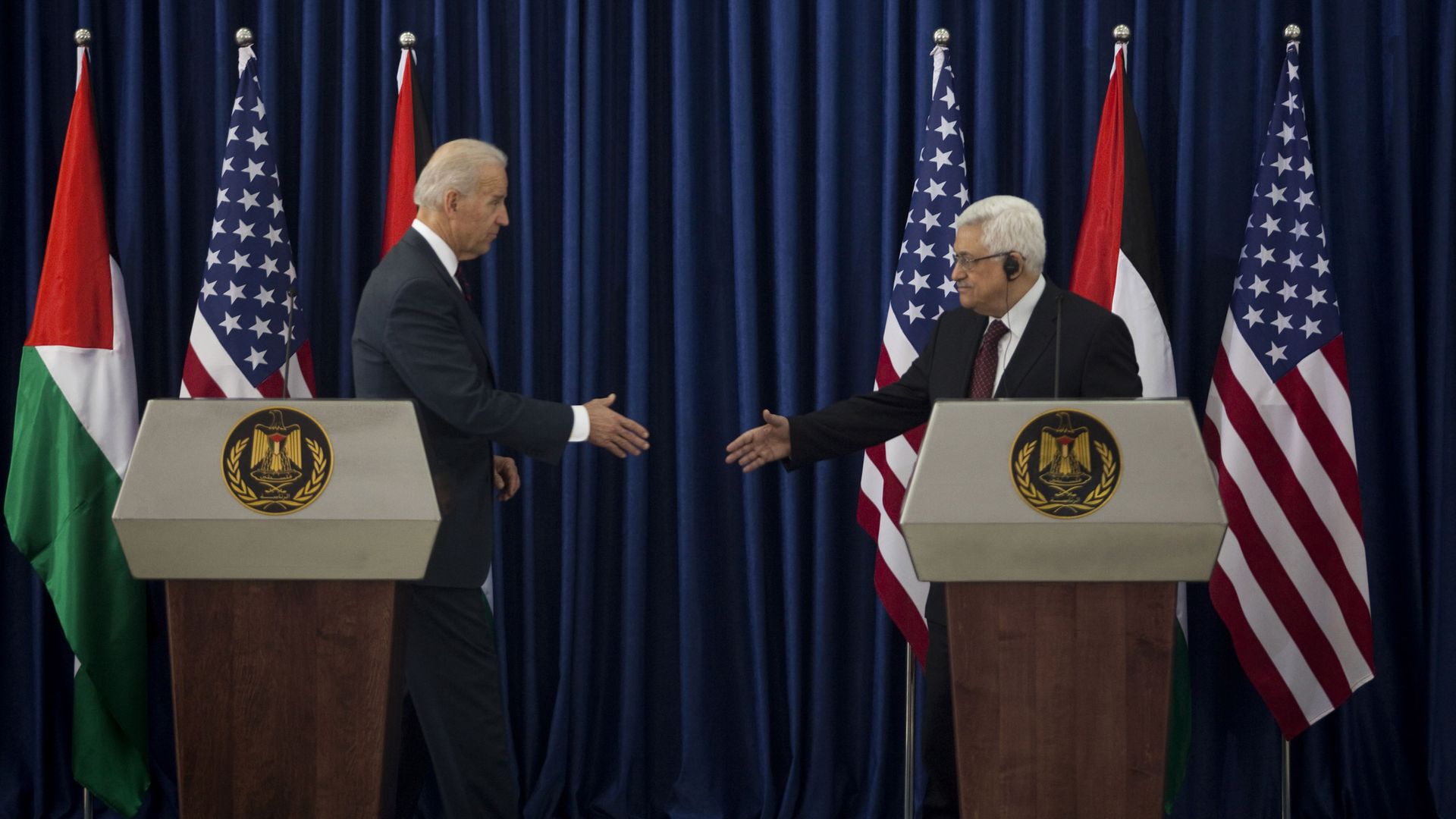 The Biden administration laid out its Israel-Palestine policy at the UN Security Council on Tuesday, highlighting the importance of repairing ties with the Palestinian Authority.
Driving the news: According to the new policies, the U.S. will resume aid to the Palestinians and reopen the PLO office in Washington and the consulate in Jerusalem.
The Biden administration will oppose annexation, settlement building and the demolition of Palestinian homes by Israel, and incitement and payments to terrorists by the Palestinians.
One of the key players in drafting those policies, Hady Amr, will also have a key role in implementing them as the State Department's deputy assistant secretary for Israel-Palestine. Amr is highly respected by Palestinian officials, who see him as a balanced actor.
Amr's job at the State Department is his fifth executive branch post. He previously served at the Department of Defense and the Department of Homeland Security.
Under Obama, Amr served as deputy special envoy for economics and Gaza, working with the special envoy for Israeli-Palestinian negotiations, Martin Indyk.
One of Amr's teammates from that period was Julie Sawyer, the new director for Israel-Palestine on Biden's National Security Council.
What to watch: The Biden administration is not planning to appoint a special envoy for the Israeli-Palestinian peace process.
The issue will be handled mostly by the State Department, which means Amr could have significant influence.
It remains to be seen who will be picked as assistant secretary for Near East affairs and ambassador to Israel.