Axios from Tel Aviv
March 09, 2022
Welcome back to Axios from Tel Aviv.
This week's edition (2,042 words, 7½ minutes) comes to you from Ankara. I'm here covering President Herzog's visit.
Situational awareness: Turkish Foreign Minister Mevlüt Çavuşoğlu will visit Israel and Palestine on April 3 to meet his Israeli counterpart and discuss the normalization of relations and the reappointment of ambassadors, Çavuşoğlu told me today.
1 big thing: Bennett plays peacemaker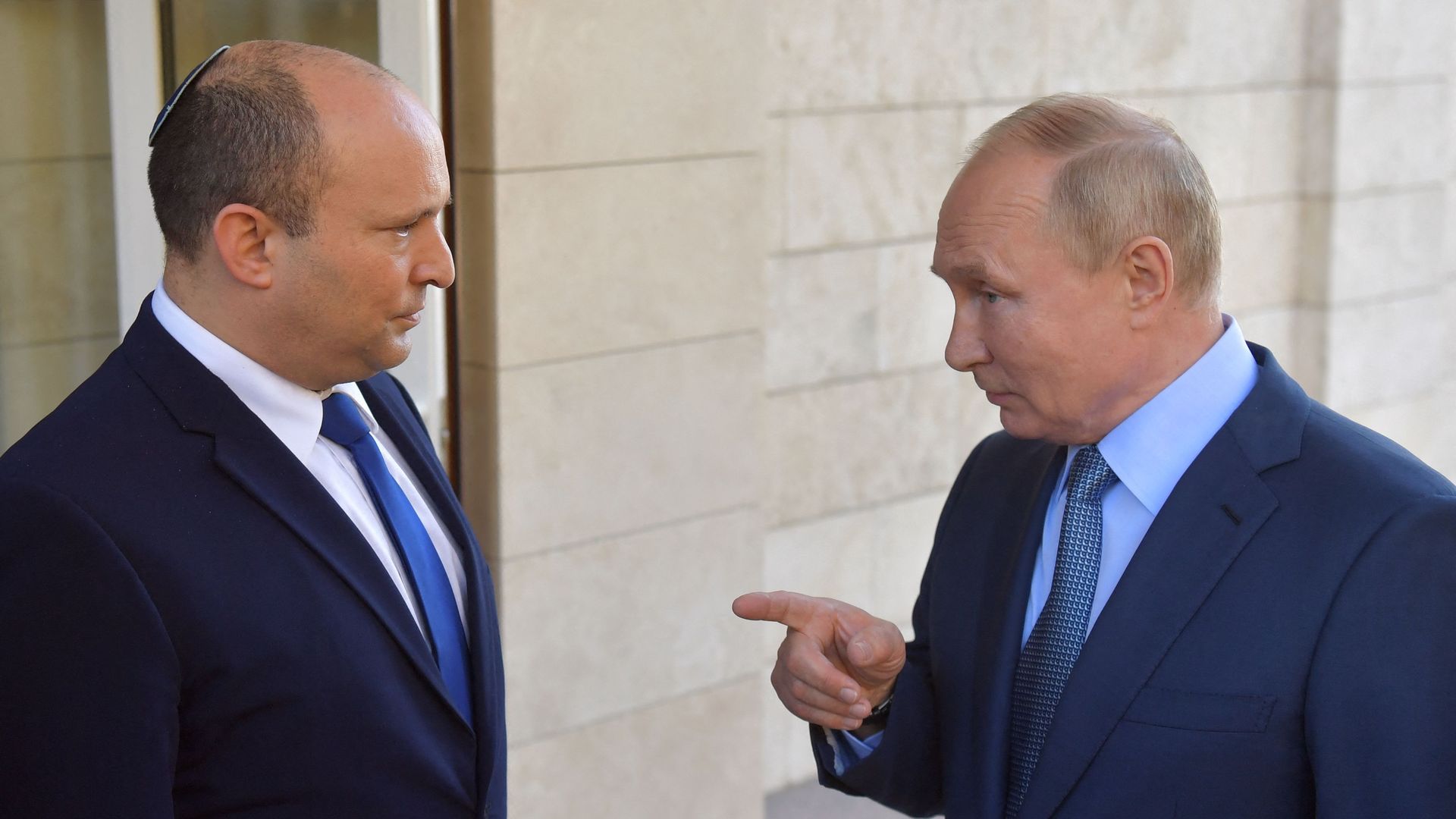 Israeli Prime Minister Naftali Bennett, a relatively inexperienced statesman who is little known outside of Israel, has emerged as a key mediator between Russian President Putin and Ukrainian President Zelensky.
Why it matters: Bennett is the first-ever Israeli prime minister to attempt to directly mediate a major international crisis. That's burnishing his reputation at home as a major world leader. It's also a risky endeavor, given Putin's track record of manipulating and deceiving his interlocutors.
Bennett decided to get involved when he realized almost no other country could speak credibly to both sides, his aides say.
He has now had more known calls with Putin and Zelensky than almost any other leader since the war began.
Driving the news: Last Saturday, Bennett took the extraordinary step of flying to Moscow in secret — and on the Sabbath, although he is an observant Jew.
After the meeting, Bennett traveled immediately to Berlin to brief German Chancellor Olaf Scholz. He has been in constant contact since with Scholz and French President Emmanuel Macron through phone calls and WhatsApp messages.
Scholz and Macron have also been speaking with both Putin and Zelensky, while President Biden has been talking only to the Ukrainian side since the start of the invasion. Israeli officials have briefed the White House on every call with Putin and Zelensky, a senior Israeli official tells me.
State of play: Bennett's aides said he isn't making any proposals to the two presidents but is instead acting as a go-between.
Still, they contend his efforts have helped give Zelensky and Western leaders more clarity on Putin's thinking. Putin's latest proposal wasn't fully known in Washington, Paris and Berlin before Bennett relayed it, the aides say.
Israeli officials say the proposal includes demands that would be difficult for Zelensky to accept but are not as extreme as they anticipated, as they don't involve regime change or forfeiture of Ukrainian sovereignty. The Israelis feel there is now a critical window to reach a ceasefire.
However, many U.S. and European officials have cast doubt on the idea that Putin is actually prepared to end the war.
Behind the scenes: Before Bennett's Moscow trip, Israeli officials made sure the White House would not object. National security adviser Jake Sullivan told the Israelis that Biden welcomed it, according to a senior Israeli official.
Two U.S. officials tell me the Biden administration is skeptical about Putin's willingness to engage in serious diplomacy.
Israeli Foreign Minister Yair Lapid traveled to Riga, Latvia, to meet with Secretary of State Tony Blinken on Monday to brief him on the talks with the Russians and make clear that Israel stands behind the U.S. when it comes to the war in Ukraine.
Blinken and White House press secretary Jen Psaki have both said the U.S. welcomes Bennett's efforts but noted the need for coordination with the U.S., consultations with Ukraine, and support for Ukraine's sovereignty and territorial integrity.
The bottom line: Bennett's aides are playing down expectations that his mediation efforts will lead to a breakthrough while stressing that someone needs to talk to both sides and Israel is one of the few countries that can.
2. Israel-Russia coordination in Syria unaffected by war in Ukraine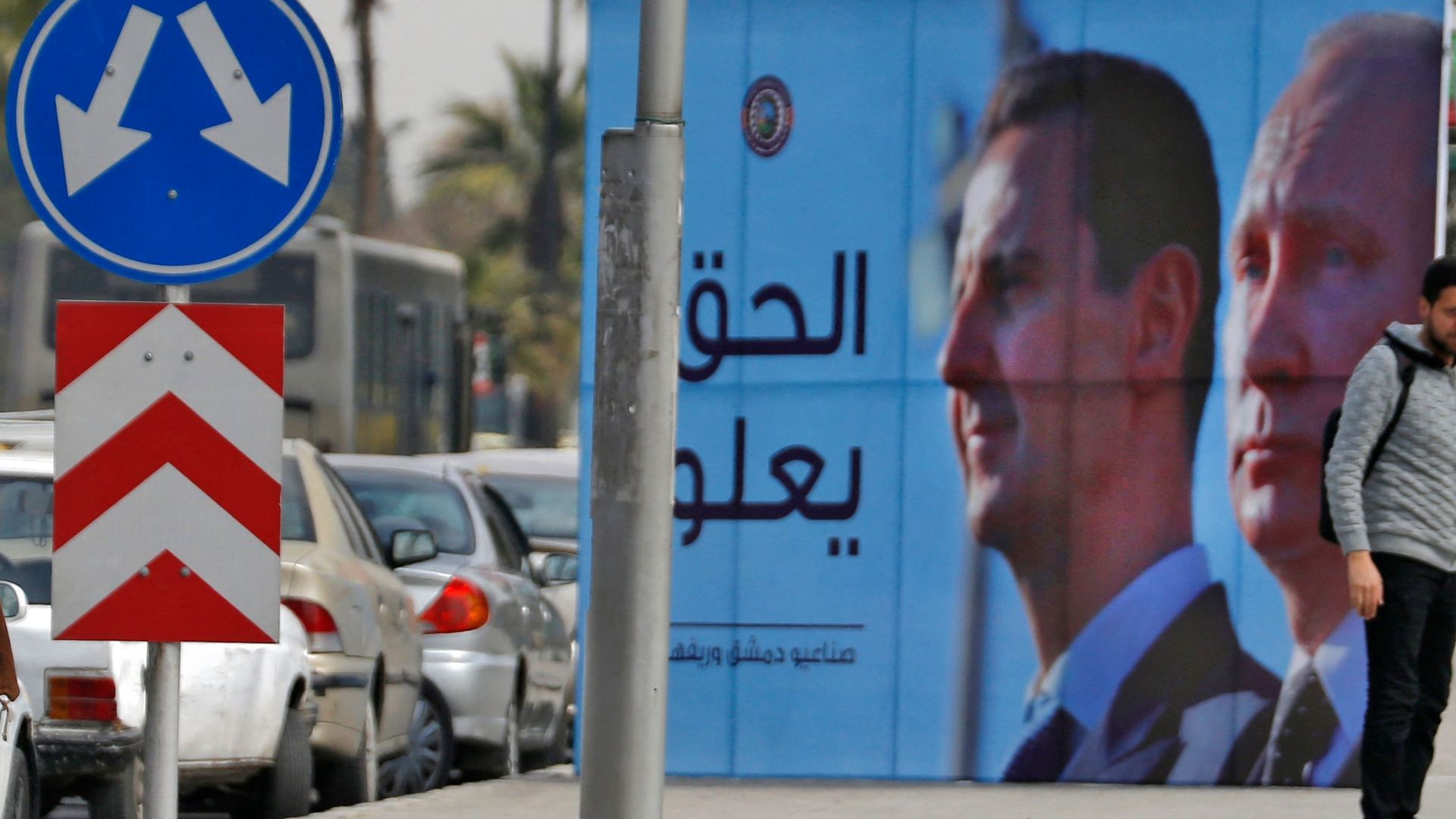 Military coordination between Israel and Russia in Syria hasn't been interrupted since Israel condemned Russia's invasion of Ukraine, three Israeli officials told me.
Why it matters: Russia holds enormous influence in Syria but allows Israel to operate freely against Iranian activity there. Israeli officials have told the U.S. and other allies that they need to take a careful approach to the Ukraine crisis to ensure that continues.
Driving the news: On Monday morning local time, Israeli air force jets fired missiles at several targets near Damascus, Syria's Defense Ministry said.
On Tuesday, Iran's Tasnim News Agency reported two Iranian soldiers were killed in the airstrike.
This was the first Israeli airstrike in Syria since the Russian invasion of Ukraine. As in most cases, Israel didn't claim responsibility for the airstrike.
Behind the scenes: Two Israeli officials told Axios that Bennett didn't raise the issue of airstrikes in Syria in his meeting with Putin last Saturday to keep from linking Ukraine and Syria in any way.
Putin also didn't raise the issue. Other Russian officials haven't raised it either, even as they've protested the Israeli condemnation of the invasion.
During their meeting in Riga on Tuesday, Lapid told Blinken that Israel is on the U.S. side of the war in Ukraine but has to take into consideration its vital security interests with Russia in Syria, according to an Israeli official.
What they are saying: "The IDF is going to continue defending the citizens of Israel at any time and in any place. Our operations against Iran's malign activity and especially Iranian military entrenchment in Syria will continue as much as needed," a senior Israeli defense official told me.
3. View from Ramallah: PA's Russia-Ukraine dilemma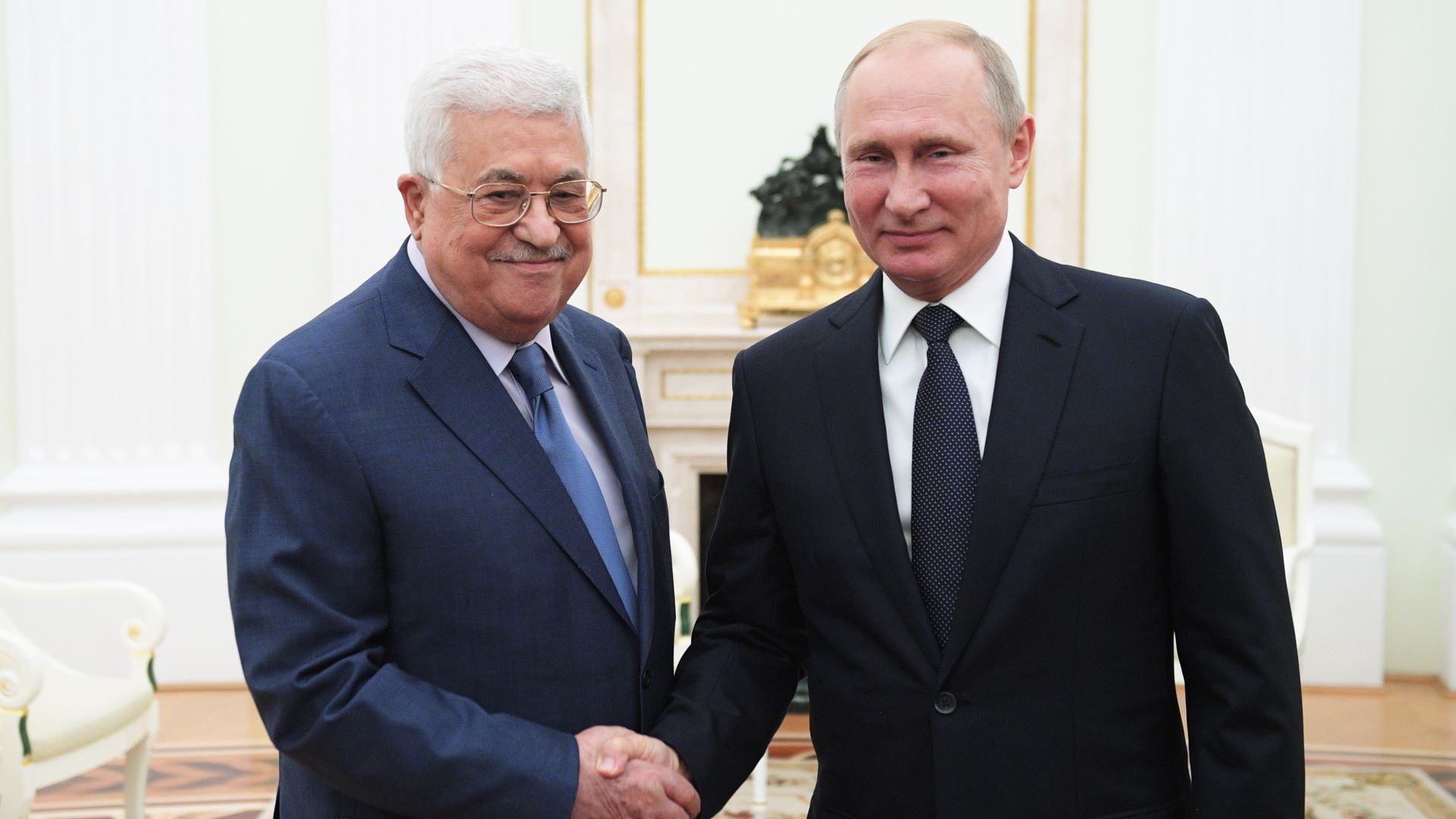 The Russian invasion of Ukraine has put the Palestinian Authority in a serious dilemma, Al-Ayyam political reporter Abdel Raouf Arnaout writes for Axios from Ramallah.
Driving the news: The U.S. and some European countries have asked the Palestinian leadership to issue a statement condemning Russia, a historical ally, but the PA rejected it, a senior Palestinian official said.
The official added that the PA has good relations with Ukraine and with Russia, who both vote with Palestine at the UN, and therefore prefers not to take sides in the conflict.
The official said the Biden administration is now pressuring the PA to condemn Russia's invasion, but declined to give further details. The State Department did not reply to a request for comment.
What they're saying: "We have a Palestinian community in Russia and another in Ukraine, and we fear that any political position we may take will negatively affect these communities," the official said.
Palestinian political analyst Hani Al-Masri told me that condemning Russia means the Palestinians would lose a major ally and supporter of their political positions. Therefore, he said, it is better for the PA to distance itself from the conflict.
"On the other hand, the U.S., despite its verbal stances, did not offer anything to the Palestinians. It did not reopen the consulate in Jerusalem, nor did it launch a political process based on the two-state solution," Al-Masri said.
Al-Masri added that many Palestinians see a double standard in how the international community quickly condemned Russia but hasn't taken similar steps to condemn the Israeli occupation and treatment of Palestinians.
Between the lines: The PA does not have a vote at the UN General Assembly and thus did not have to take a public stance on the resolution last week condemning Russia.
The big picture: The developments in Ukraine have topped the headlines of Palestinian media.
Since the beginning of the crisis, the PA has been focused on efforts to evacuate Palestinians from Ukraine.
Ambassador Ahmed al-Deek, the assistant Palestinian foreign minister, said that before the crisis, there were 2,000 Palestinian citizens residing in Ukraine in addition to 600 students.
He added that 1,300 Palestinians, including residents and students, have been evacuated.
4. Herzog in Ankara to "reset" Israeli-Turkish relations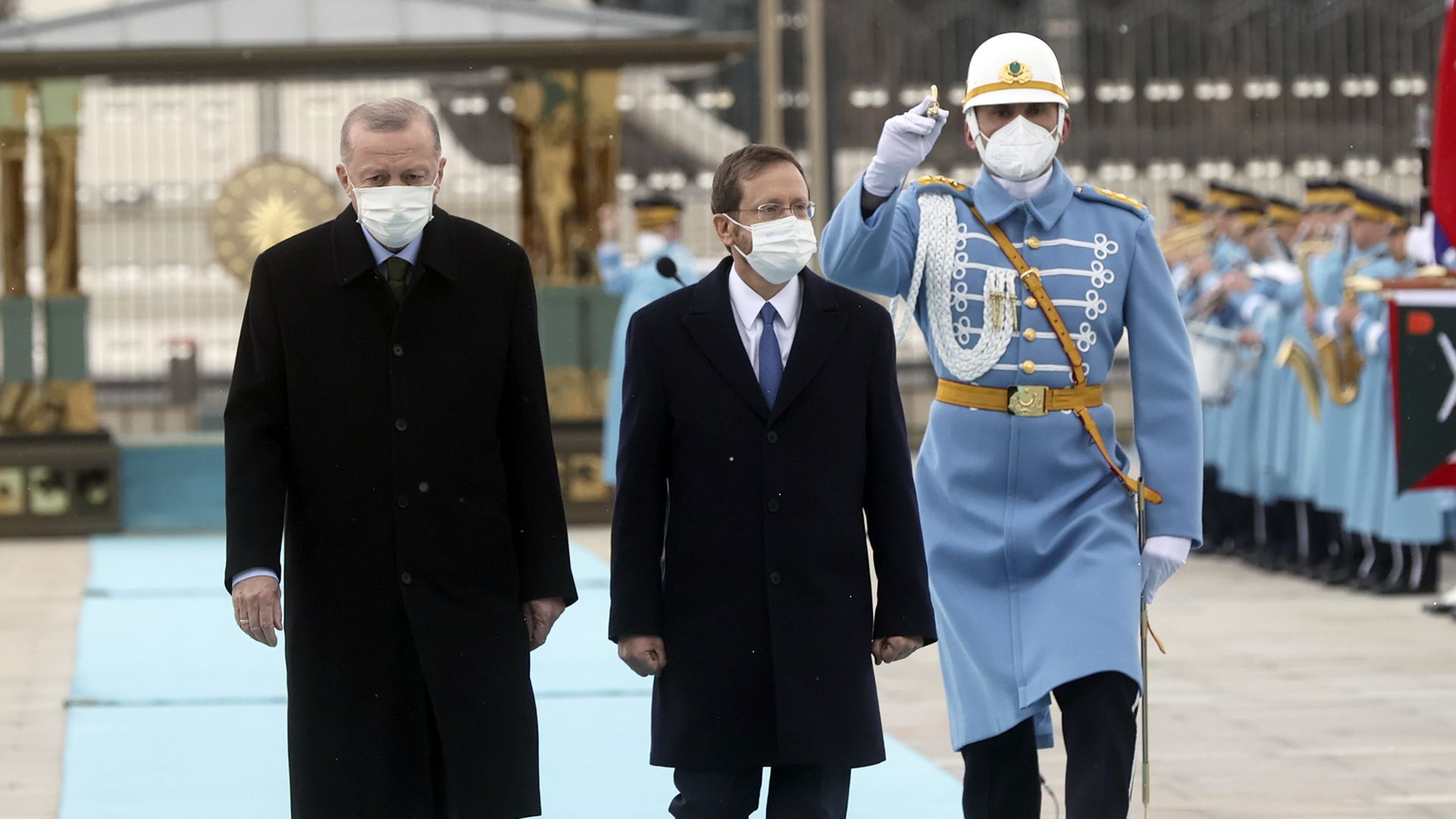 ANKARA, Turkey — Israeli President Isaac Herzog traveled to Ankara on Wednesday to meet President Recep Tayyip Erdoğan to try to "reset" Israel's relations with Turkey.
Why it matters: It's the first visit by a senior Israeli official to the Turkish capital in 14 years and comes as Israel tries to repair the two countries' often-fraught relationship.
During Benjamin Netanyahu's time as Israeli prime minister, relations with Turkey were mostly cold, with Erdoğan repeatedly lashing out at Israel over its policy in the occupied West Bank and Gaza.
What they're saying: After meeting Herzog, Erdoğan called the visit a turning point in Turkish-Israeli relations.
In his own press statement, Herzog said the grievances of the past won't disappear but both countries are now focused on the future. "We will agree to disagree on some things, but we will solve our differences with openness and mutual respect," he said.
Flashback: The last visit to Ankara by an Israeli president took place in 2007, when President Shimon Peres traveled there.
In 2008, then-Prime Minister Ehud Olmert visited Ankara and met Erdoğan, who was mediating between Israel and Syria in indirect peace talks.
A week after Olmert's visit, a war broke out in Gaza. Erdoğan started publicly attacking Israel, including accusing it of committing a massacre in Gaza. Since then, the two countries' relationship deteriorated, and despite attempts, never got back to what it used to be.
The big picture: Herzog's visit comes as Erdoğan faces domestic challenges with the Turkish economy in crisis, as well as external challenges, mainly tensions with the Biden administration.
Since President Biden assumed office, and even more since the new Israeli government was sworn in, Erdoğan has engaged in a charm offensive to try to court Israel.
That offensive was on full display in the ceremony welcoming Herzog, where the Israeli president received the highest honors according to the protocol, including a 21-canon salute.
Two Israeli officials told me they think Erdoğan's attempts to improve relations are also a result of the Abraham Accords, which were brokered by the Trump administration and reconfigured alliances in the Middle East and strengthened Israel's regional standing.
Between the lines: The Israeli government is being very cautious about the re-engagement with Turkey, due in part to past experience, according to the officials.
Herzog doesn't set Israel's foreign policy, but he does have significant international standing. His trip got the blessing of Prime Minister Naftali Bennett.
Before leaving for Ankara, Herzog told reporters he will try to "reset" the relationship and carefully rebuild it, but he stressed the need for mutual respect, a hint at Erdoğan's past rhetoric.
What's next: Israeli officials stressed Herzog's visit is a first symbolic step in the rapprochement between the countries. They said after the visit there will be a pause for review, reassessment and further dialogue with the Turkish government before moving forward.
A major practical step, which would signal Turkish seriousness, is upgrading diplomatic relations and reappointing ambassadors in both countries.
Worth noting: Erdoğan called antisemitism a crime against humanity in his press statement. He also emphasized that Turkey will continue to focus on the Palestinian issue.
Herzog raised Israel's concerns about Hamas activity inside Turkey in the meeting, an Israeli official told reporters.
5. Iran deal: Take it or leave it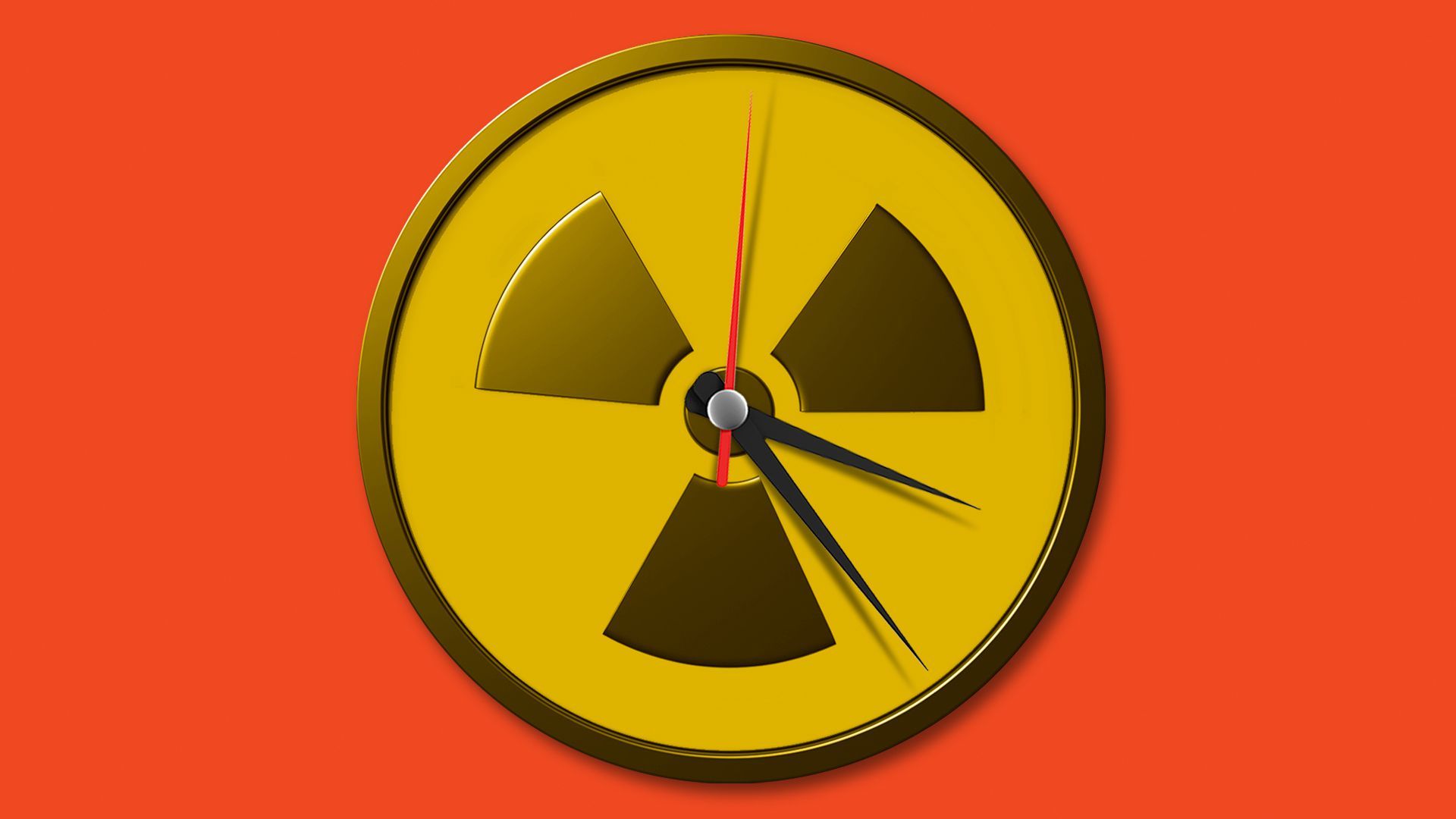 The nuclear talks in Vienna have reached a "take it or leave it moment," with Iran and the Western powers stressing that the ball is in the other's court.
Driving the news: Eleven months of negotiations essentially ended on Monday when Iranian negotiator Ali Bagheri Kani returned to Tehran for consultations. EU representative Enrique Mora rebutted subsequent reports from Iranian media that the talks would continue, saying the negotiating phase was over.
"There are no longer 'expert level talks.' Nor 'formal meetings.' It is time, in the next few days, for political decisions to end the Vienna talks. The rest is noise," tweeted Mora, who served as the coordinator for the talks.
When Bagheri returned to Vienna on Wednesday, he went directly to meet with Mora.
U.S. envoy Rob Malley is still in Vienna, according to a State Department spokesperson. "There is very little time remaining to reach a deal given the pace of Iran's nuclear advances. We will not have a deal unless we quickly resolve the remaining issues," the spokesperson said.
The other side: Iranian President Ebrahim Raisi said on Tuesday that Iran will not give up on its red lines.
Iranian officials were quoted by Iranian media saying it's time for the U.S. to make the remaining political decisions.
Behind the scenes: A senior U.S. official told me the biggest remaining gap is over Iran's demand that the U.S. remove the Islamic Revolutionary Guard Corps (IRGC) from its terror blacklist. The U.S. has refused to de-list the IRGC outright, but a compromise might still be possible on that issue.
Another obstacle is a new Russian demand for guarantees that its trade with Iran will be exempt from the international sanctions imposed over its invasion of Ukraine.
What to watch: The U.S. side has rejected any linkage between the two issues, while France, Germany and the U.K. accused Russia of obstructing the talks. The Russians deny that they are the reason a deal hasn't yet been reached.