Axios from Tel Aviv
August 11, 2021
Welcome back to Axios from Tel Aviv.
Each week we bring you my best scoops, reporting from a contributor in the region and the latest in Israeli politics.
Today's edition (1,938 words, 7 minutes) is coming to you from Rabat, Morocco. I'm traveling with Foreign Minister Yair Lapid.
1 big thing: Inside the U.S.-Israel talks on West Bank settlements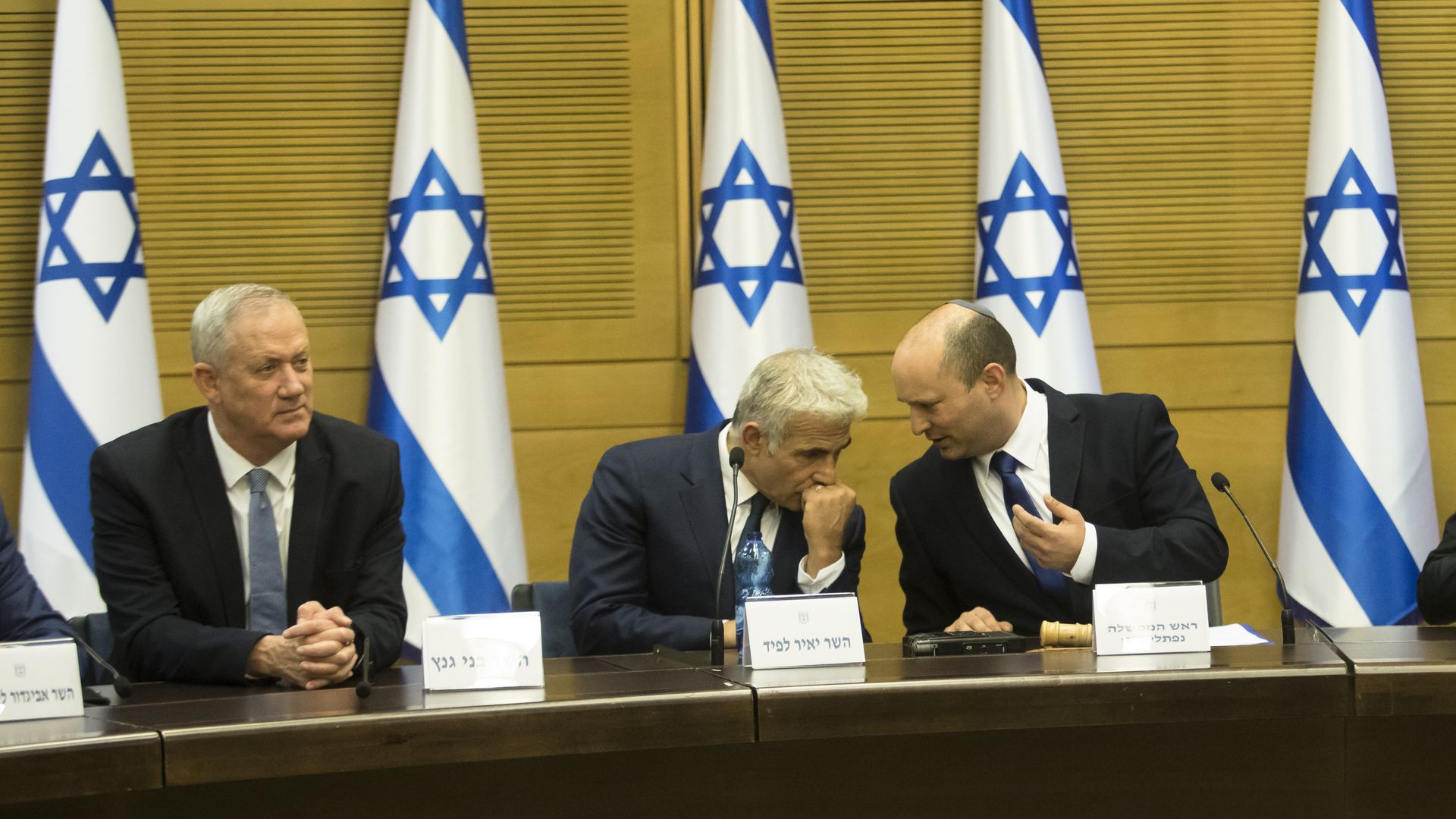 The Israeli government is preparing to approve plans for new construction in West Bank settlements, but wants to proceed without causing friction with the Biden administration, Israeli officials tell me.
Behind the scenes: Aides to Prime Minister Naftali Bennett discussed settlements policy in meetings at the White House and State Department last week, notifying their counterparts that the committee that approves planning and zoning in the settlements will likely convene soon.
Why it matters: West Bank settlements policy is among the most polarizing issues in Israel and could destabilize Bennett's ideologically diverse coalition. It's also one of the biggest challenges for Bennett to navigate as he seeks to deepen ties with the Biden administration.
There has been an unofficial moratorium on the approval of new settlements for nearly 10 months — at first due to feuding within the previous Israeli government, and since January because of the risk of a fight with the new U.S. administration.
In the D.C. meetings, Bennett's aides — foreign policy adviser Shimrit Meir and national security adviser Eyal Hulata — said the government would show restraint and base its decisions on needs arising from "natural growth."
They stressed that the government wouldn't take steps that would create new facts on the ground or make a future peace agreement more difficult, the Israeli officials say.
What they're saying: "We will act in a responsible and reasonable way and avoid provocations regarding settlements. The Biden administration knows we are going to build. We know they don't like it, and both sides don't want to reach a confrontation around this issue," an Israel official told me.
The Biden administration opposes any new settlement building, and any announcement on new construction will provoke strenuous opposition from the Palestinian Authority.
In the meetings, Biden administration officials said they expect Israel to avoid provocative steps like demolishing Palestinian homes, evicting Palestinians or establishing new illegal outposts in the West Bank.
The U.S. side also raised recent instances of violence by settlers against Palestinians and was told that Bennett would show no tolerance for such violence, the Israeli officials say.
The U.S. officials also asked that Israel take steps to help the Palestinian Authority cope with the current economic crisis.
Flashback: Settlement construction was one of the main points of contention between Benjamin Netanyahu and Barack Obama. Obama declined to veto a 2016 UN Security Council resolution reiterating that the settlements are illegal.
During Donald Trump's presidency, settlement building increased by 150% in comparison to Obama's second term. Most of the new buildings planned during Trump's term were in isolated settlements deep into the West Bank.
What's next: Unlike during the Trump administration, there won't be a U.S.-Israeli mechanism to coordinate and approve construction in the settlements.
Defense Minister Benny Gantz, who is in charge of the settlements committee, is expected to decide soon when it will convene and how many building plans will be put up for approval. Bennett has already agreed in principle for the committee to convene and discuss new housing units, Israeli officials say.
Gantz is also expected to approve the construction of 1,000 new housing units in Palestinian villages in Area C of the West Bank, where Israel controls planning and zoning. That will be the first time Israel has approved new construction for Palestinian homes in Area C in many years and is an attempt to balance the upcoming decision on settlement building.
What to watch: The key question is whether any decision on settlements will be made before a planned meeting between Bennett and President Biden later this month.
2. Lapid touches down in Morocco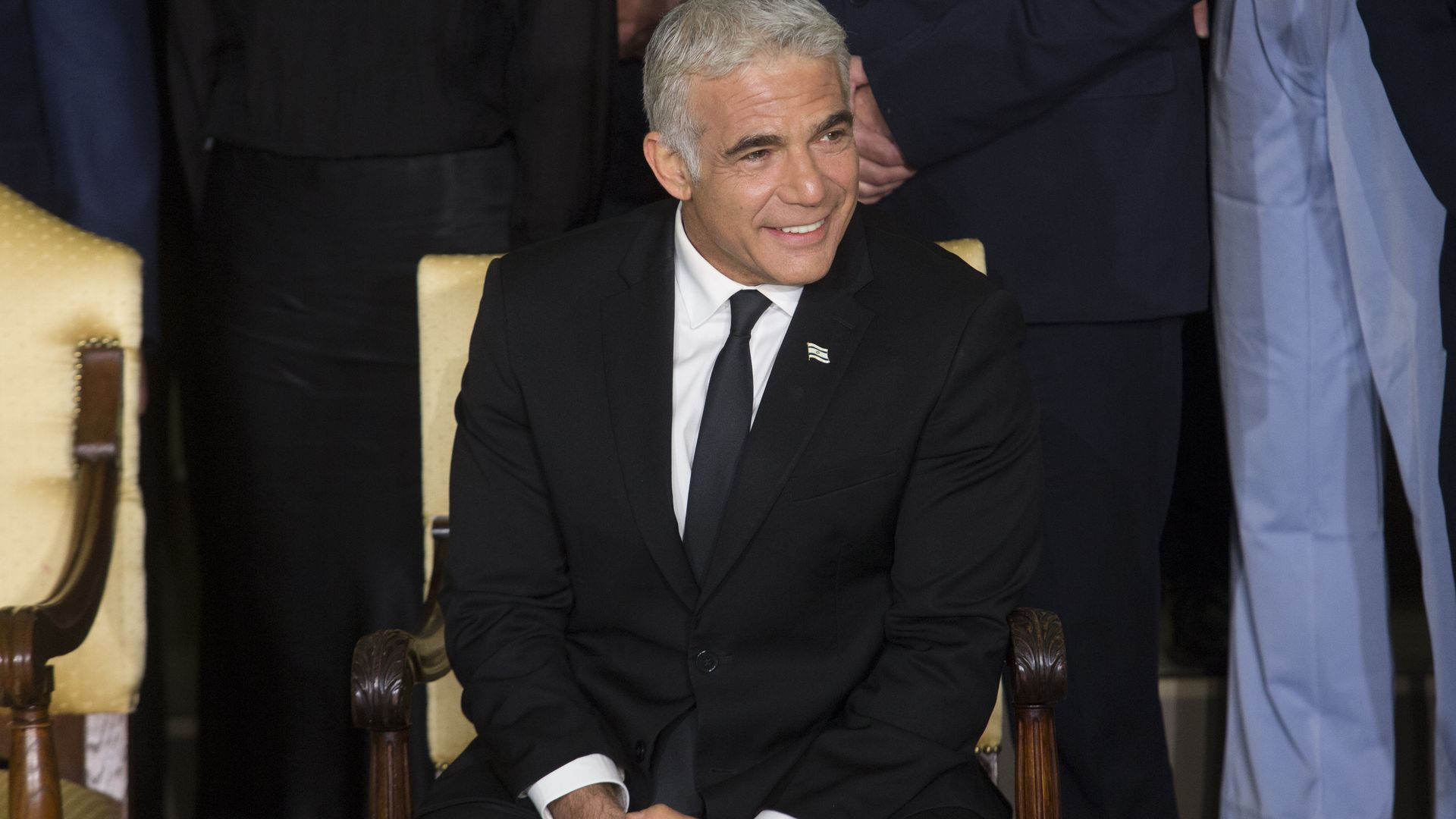 RABAT, Morocco — Yair Lapid today became the first Israeli foreign minister since 1999 to make an official bilateral visit to Morocco.
Why it matters: Lapid and Moroccan Foreign Minister Nasser Bourita signed several agreements today to build on last December's agreement to reestablish diplomatic ties. Lapid will officially inaugurate the Israeli diplomatic mission in Rabat tomorrow.
Lapid will also travel to Casablanca for meetings with the Moroccan Jewish community and for an economic conference.
The backstory: In order to facilitate the Morocco-Israel deal, the Trump administration reversed decades of U.S. policy by recognizing Moroccan sovereignty over the disputed Western Sahara.
The Biden administration has decided not to roll back that step, adding a sense of stability to the Morocco-Israel deal.
There has been new momentum in relations in recent weeks.
Direct flights started between Tel Aviv and Casablanca and are expected to be running daily within a few months.
Morocco's military counterterrorism unit sent a team to Israel to participate in an international exercise — the first time Moroccan soldiers were in Israel in more than 20 years.
The Israeli and Moroccan cyber defense agencies also recently announced a cooperation agreement.
What's next: Israel and Morocco are holding talks on concluding the normalization process by turning their diplomatic liaison offices in Tel Aviv and Rabat into official embassies, sources familiar with the issue tell me.
Worth noting: Israel and Morocco had low-level diplomatic relations in the 1990s, but those were severed in 2000 during the Second Intifada. The last official visit by an Israeli foreign minister came in 1999, though Foreign Minister Silvan Shalom visited in 2003 for an international conference.
3. Iraqi PM invites Iranians, Saudis to regional summit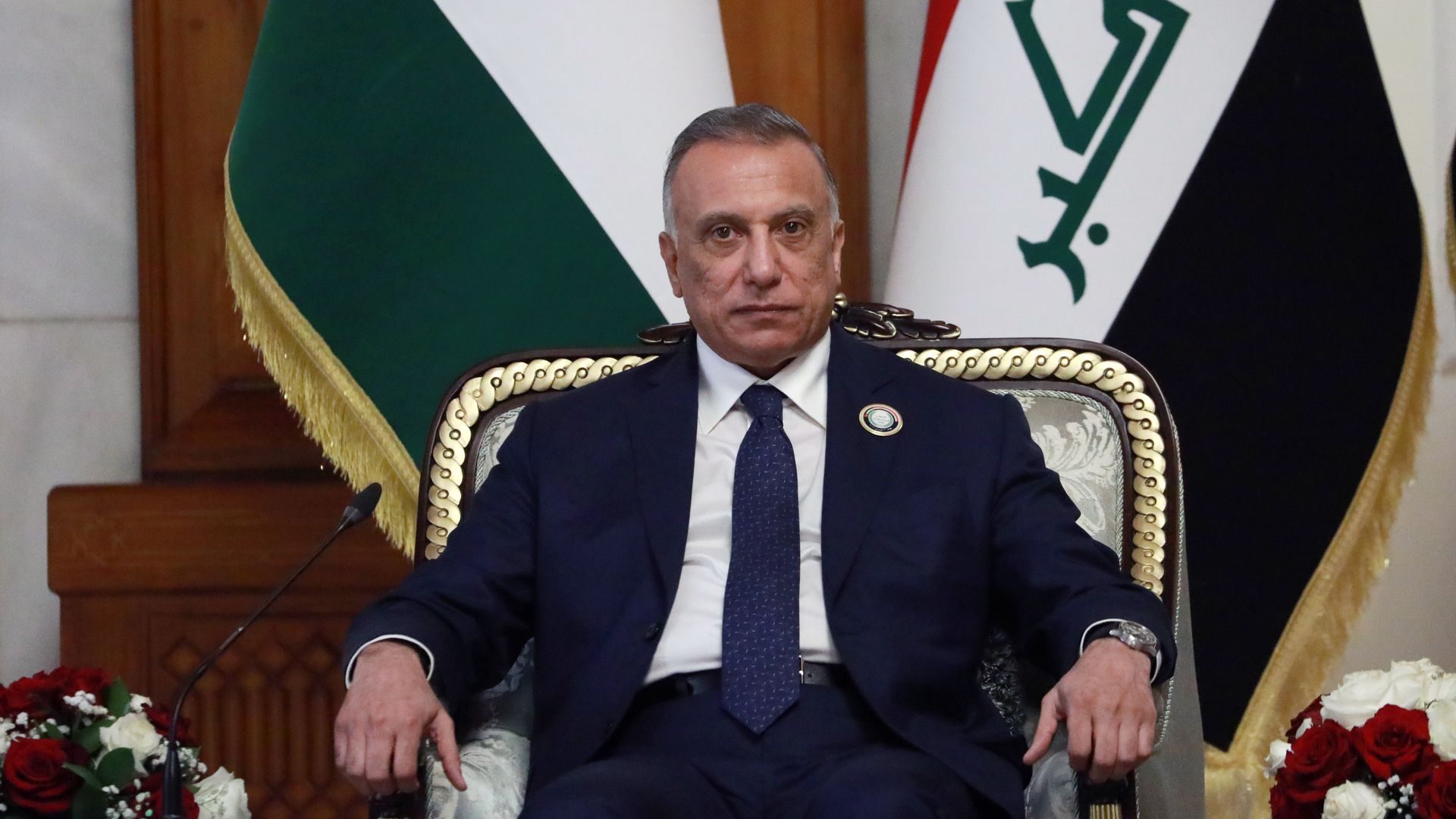 Iraqi Prime Minister Mustafa al-Kadhimi is attempting to organize a summit at the end of August that could get his neighboring rivals around the same table for the first time in years.
The big picture: Stuck between Iran, Saudi Arabia and Turkey, the Iraqi government is trying to turn that difficult situation to its advantage and help reduce tensions and mediate regional understandings.
The initiative follows the attack on the Mercer Street oil tanker, comes amid increasing Houthi attacks against Saudi Arabia, and with a new Iranian government taking office at a crucial moment for the 2015 nuclear deal.
Kadhimi's initiative builds on the secret talks between Saudi and Iranian intelligence officials that began this spring in Baghdad.
Those talks focused on Yemen, but Kadhimi wants to broaden them to include more regional issues and upgrade the dialogue to the political level.
Driving the news: Earlier this week, Kadhimi sent invitations to Saudi King Salman, Emirati Crown Prince Mohammed bin Zayed and Turkish President Recep Tayyip Erdoğan.
On Tuesday, Iraqi Foreign Minister Fuad Hussein visited Tehran and presented an invitation to President Ebrahim Raisi.
Kadhimi also extended an invitation to French President Emmanuel Macron, who accepted.
What's next: The summit is expected to take place during the last week of August, though it's unclear if all of the leaders will attend.
4. View from Khartoum: Tensions with Ethiopia, backing from U.S.
Sudan is entangled in several disputes with neighboring Ethiopia as its fragile government tries to play a mediating role in the region, Wasil Ali, former deputy editor of the Sudan Tribune, writes for Axios.
State of play: Refugees are pouring across Sudan's eastern borders from war-torn Tigray and straining the country's limited resources. A separate border dispute has produced low-level military clashes. Meanwhile, tensions over access to the Nile's waters as Ethiopia fills the Grand Ethiopian Renaissance Dam are still running high.
Driving the news: Sudan recalled its ambassador from Addis Ababa on Sunday after Ethiopian officials rejected Khartoum's mediation efforts in Tigray.
Flashback: Khartoum previously recalled its top diplomat in Ethiopia last February, over the border dispute.
Background: Sudanese Prime Minister Abdalla Hamdok is the chairperson of a regional body, the Intergovernmental Authority on Development, that is seeking a ceasefire in Tigray.
But Ethiopian officials said Sudan was not a "credible" broker, and some in Addis Ababa have accused Khartoum of aiding the Tigrayan rebels.
The mediation effort appears dead for now. Ethiopia says it won't even consider it unless Sudan withdraws its troops from the border area, and Prime Minister Abiy Ahmed signaled an escalation in Tigray this week when he called on civilians to join the war effort.
Sudan's mediation efforts have the backing of the U.S.
Secretary of State Tony Blinken called Hamdok last week to discuss the Tigrayan conflict and efforts to promote dialogue between the warring parties and remove barriers to humanitarian aid.
USAID administrator Samantha Power was in Sudan last week and visited refugee camps housing civilians who escaped the war in Tigray.
The most senior Biden administration official to visit Sudan thus far, Power also met with Hamdok and the chair of Sudan's governing council, Gen. Abdel Fattah al-Burhan.
Power is considered a fierce Sudan advocate in the current U.S. administration and has consistently highlighted the country's transformation since the overthrow of dictator Omar al-Bashir in April 2019.
But in her meeting with Burhan, Power also emphasized the need for security sector reform — including the integration of the controversial Rapid Support Force into the Sudanese army's command structure — and accountability for past crimes within security agencies. Both issues continue to generate intense debate within Sudan.
What she's saying: In a speech at the University of Khartoum, Power acknowledged the economic difficulties Sudan is facing and the sense of despair among the younger generations.
She implored young people "to translate the chants of street protests into the unsung work of public service."
Power also announced that the U.S. would be providing $56 million in new emergency aid, 600,000 COVID-19 vaccine doses, and $4.3 million to prepare for elections in 2024, as well as releasing $700 million that had been appropriated by Congress during the final days of the Trump administration but held up since.
Worth noting: Power also made a trip to Darfur, a region she visited 17 years ago as a reporter. At that time, she documented the horrific accounts of refugees there.
5. Biden administration defends arms sales to Egypt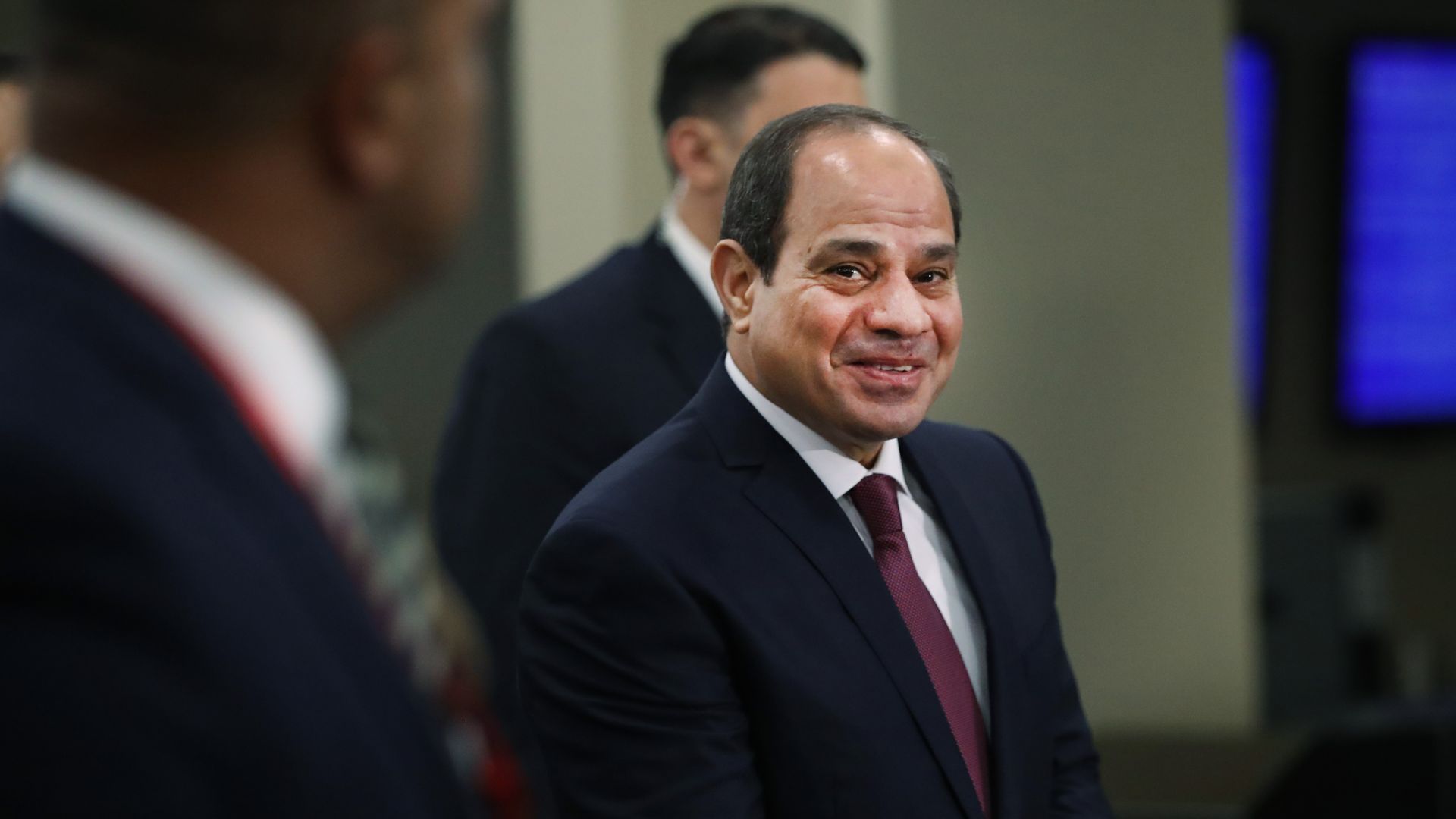 Top Pentagon officials defended U.S. arms sales to Egypt at a Senate hearing on Tuesday, while also stressing the need to limit China's military presence in the Middle East.
Driving the news: Testifying before the Senate Foreign Relations subcommittee for the Middle East, Deputy Assistant Secretary of Defense for the Middle East Dana Stroul was pressed by senators including Chair Chris Murphy (D-Conn.) on whether arms sales to Egypt still serve U.S. national security interests.
Stroul stressed that Egypt has legitimate security needs and the U.S. has key security interests in the country, like the Suez Canal, overflights in Egyptian airspace, maritime security in the Red Sea, as well as Egypt's role in Libya and Gaza.
Biden had raised human rights concerns with Egyptian President Abdel Fattah al-Sisi and the administration will take those issues into account when considering arms transfers, Stroul said, but the U.S. won't suspend arms sales or the $1.3 billion in annual military aid.
Between the lines: During the election campaign, Biden was very critical of Egypt and Sisi, saying there'd be "no blank checks" for Egypt's "dictator." But the administration seems to have softened its position in recent months, particularly after Egypt brokered a ceasefire in Gaza.
Israel has lobbied the Biden administration and members of Congress to go easy on Cairo due to Egypt's security role in the region. Many Democrats in Congress contend that the U.S. shouldn't treat Sisi as a partner.
Another focus of the hearing was China's attempt to gain a military presence in the Middle East.
Stroul said the Biden administration had warned its partners and allies in the region that China wasn't interested in their security needs or in regional stability, and that further Chinese involvement will eventually compromise their sovereignty and pose a risk to their security relationships with the U.S.
Between the lines: The Biden administration is particularly concerned by a Chinese initiative to potentially build a military base in the UAE, and by China's role in infrastructure projects in Israel, including in a port that hosts U.S. navy vessels.
The bottom line: "We know our partners and allies in the Middle East have trade relations with China and that's OK, … but we made it clear that there is a certain kind of cooperation with China we cannot live with," said the State Department's Mira Resnick, who also testified.