Axios from Tel Aviv
January 26, 2022
Welcome back to Axios from Tel Aviv.
Today's edition (2,055 words, 8 minutes) starts with a classified Israeli cable, then gets you up to speed on the Abu Dhabi attacks, Iran talks and Netanyahu's plea deal plan.
1 big thing: Scoop... Israel's "top priority" mission to discredit UN probe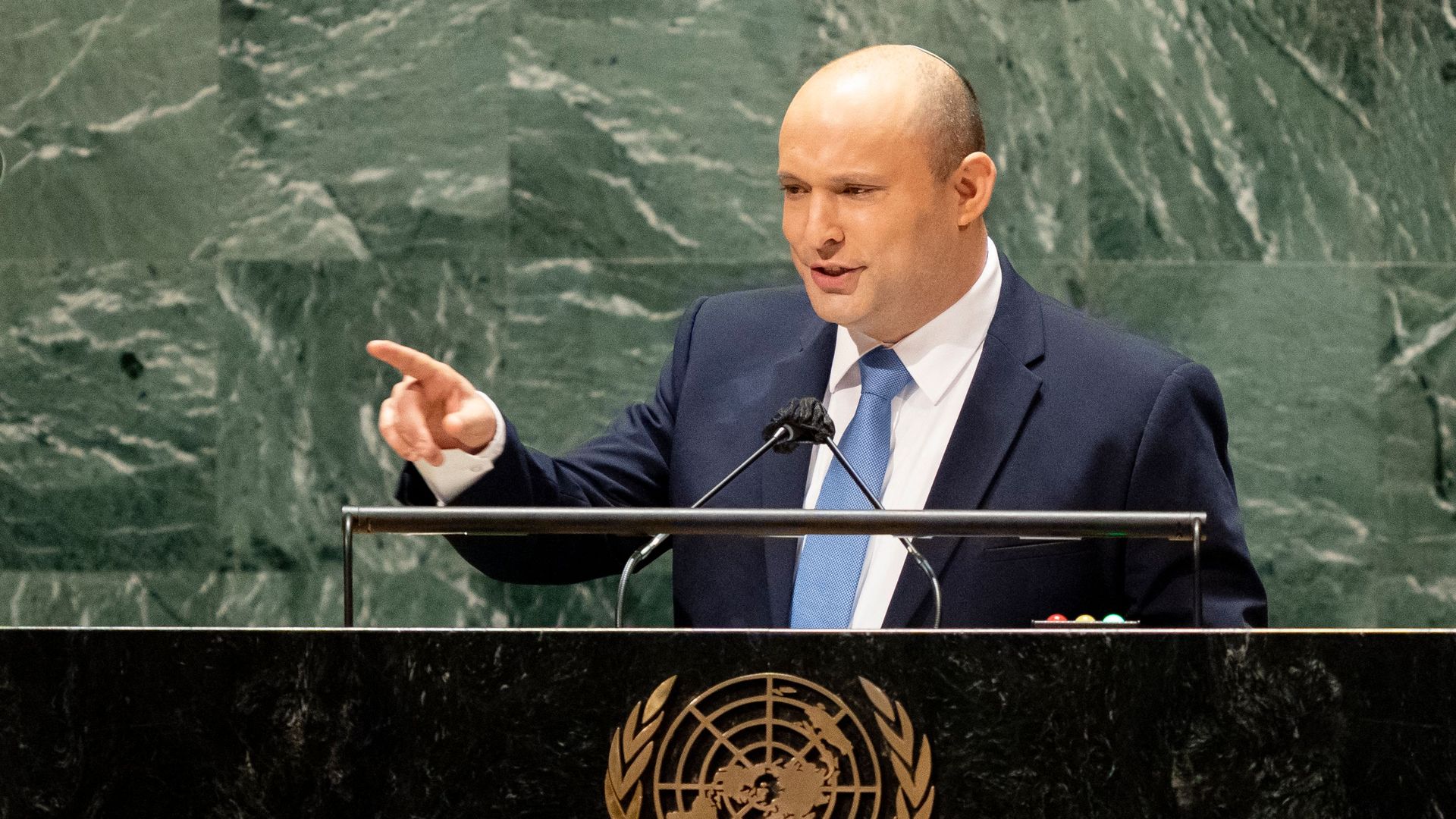 Israel is planning a campaign to discredit a UN commission formed to investigate the violence in Gaza last May and the root causes of the protracted conflict in the occupied West Bank and Gaza, according to an Israeli Foreign Ministry cable seen by Axios.
Why it matters: Israeli officials say they are highly concerned that the commission's report will refer to Israel as an "Apartheid state" and that its findings could damage Israel's reputation, particularly among progressives in the West. The report is expected in June.
"Our main goal will be to de-legitimize the commission, its members and its products."
— classified Israeli Foreign Ministry cable
The backstory: The UN Human Rights Council in Geneva voted narrowly last May to form the Commission of Inquiry. The Western democracies on the committee objected to the fact that the commission's mandate was unusually broad when it came to investigating Israel, and didn't specifically mention investigating Hamas.
Rights groups accused both Israel and Hamas of international law violations during two weeks of fighting last May, in which over 250 people were killed in the Gaza Strip and 13 in Israel.
The commission is designed to be ongoing, with reports due every June to the council in Geneva and every September to the UN General Assembly in New York.
In addition to probing conflicts in the West Bank and Gaza, the commission was also tasked with investigating human rights violations in Israel.
Details: The commission is headed by former UN commissioner for human rights Navi Pillay, former UN special rapporteur Miloon Kothari and human rights law expert Chris Sidoti.
Israel has declined to cooperate with the inquiry and claimed the commission's mandate and membership are biased against Israel. The Biden administration doesn't support the inquiry and played a central role in cutting its funding by 25% in UN budget negotiations.
Behind the scenes: Last week, the international organizations department of Israel's Foreign Ministry sent a classified cable to all Israeli diplomatic missions around the world. It designated the commission of inquiry as its "top priority" at the UN in 2022.
The cable said the Foreign Ministry was about to start a diplomatic campaign on the issue that will be increased ahead of the UN Human Rights Council meeting in March.
Israel has had some partial successes in the past when seeking to discredit UN commissions. In some cases, UN investigators have resigned, and the judge behind a probe of the 2008 Gaza war later backtracked on some of his conclusions.
The other side: A spokesperson for the commission of inquiry declined to comment directly on Israel's criticism but said the commission was comprised of three independent and impartial experts who are not paid for their work and will investigate allegations of international law violations by all parties — state or non-state — without distinction.
"As an independent body, the Commission conducts its own investigations independently and separately from the Office of the High Commissioner for Human Rights and other United Nations offices and agencies," the spokesperson said.
2. The view from Abu Dhabi: UAE plots path forward after Houthi attacks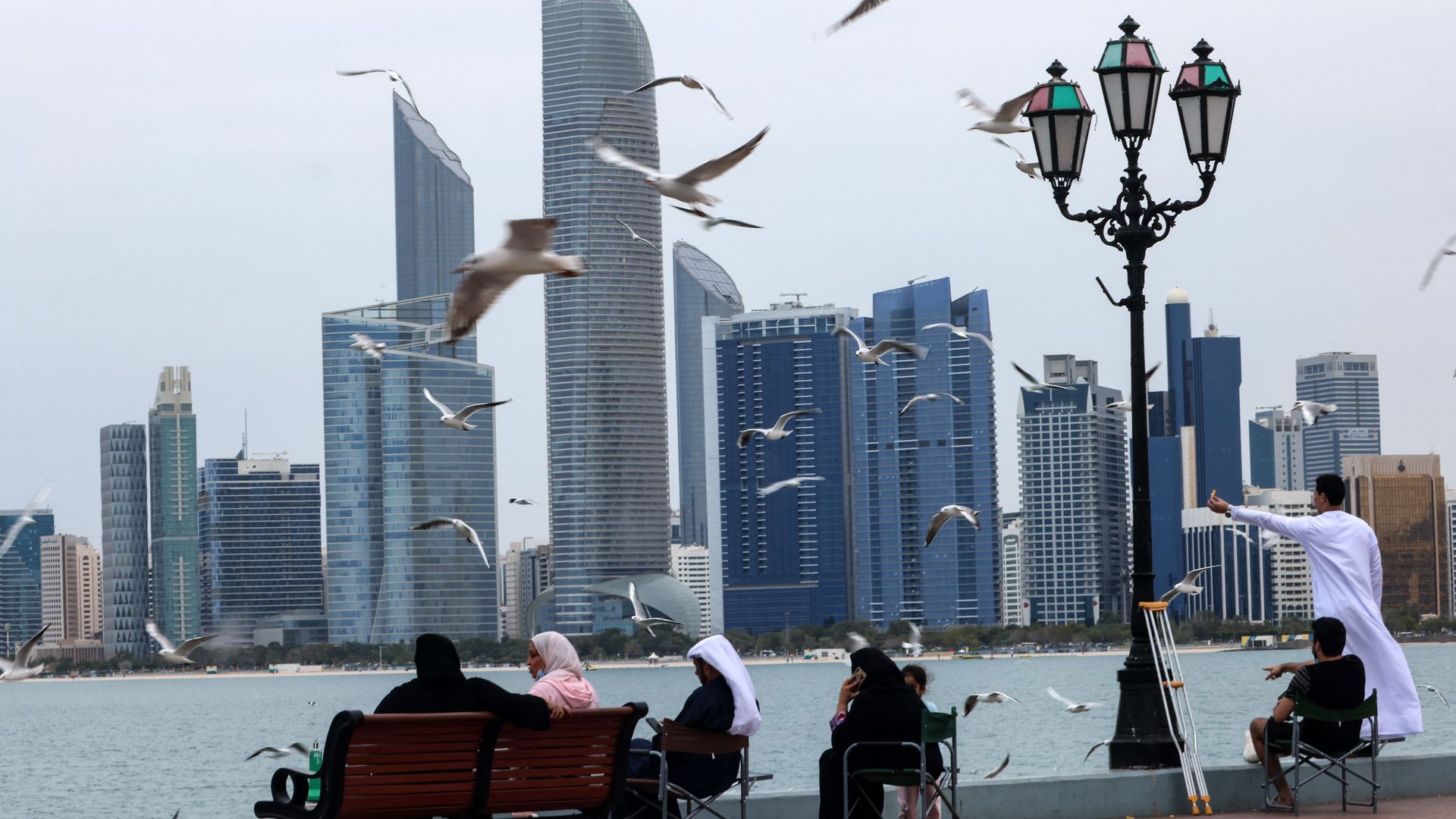 A little over a week after Abu Dhabi suffered its first deadly attack by Yemen's Houthi rebels, the UAE is using a combination of military and diplomatic measures to pressure the Houthis to come to the negotiating table, writes Mustafa Alrawi, assistant editor-in-chief of The National.
Driving the news: On Monday, the UAE military intercepted two ballistic missiles fired at Abu Dhabi by Houthi rebels from Yemen. No casualties were reported, but three people were killed in the attack one week earlier.
The U.S. military's Central Command helped foil Monday's attack, which targeted an air base that hosts nearly 2,000 U.S. service members. The UAE Ministry of Defense later announced Emirati fighter jets had destroyed the missile launcher used to fire the rockets.
Egyptian President Abdel Fattah al-Sisi arrived in Abu Dhabi on Wednesday to show his support after the attacks.
Saudi-led airstrikes last Friday killed dozens of people in Yemen and knocked out the internet. The Houthis have also targeted Saudi Arabia.
State of play: Despite the lingering question of whether such attacks will become a regular worry, daily life in the UAE remains unaffected.
Children in Abu Dhabi went back to school as scheduled this week after a period of distance learning due to COVID-19 safety measures.
Large-scale international business events and conferences have carried on. The airports are unaffected. Oil prices and local stock markets seem to have shrugged off the immediate worry.
One impact, however, is that flights of all drones and light sports aircraft have been banned without special permission.
What they're saying: The UAE government said it would defend itself "proportionately" against the Houthi attacks.
Emirati diplomatic adviser Anwar Gargash told U.S. special envoy for Yemen Tim Lenderking last week that the Houthis were unwilling to work toward a political solution to the war and must therefore face additional international pressure.
The UAE has pushed for the U.S. to redesignate the Iran-backed Houthis as a terror group, as Axios reported last week.
President Biden promised to withdraw support for the Saudi-led coalition upon taking office, but his administration has been sending signals of support to the UAE after the attacks.
The big picture: After Houthi rebels took the Yemeni capital in 2014, a Saudi-led coalition — which includes the Emiratis and was backed by the U.S. — intervened and the conflict spiraled into a civil war and perhaps the world's worst humanitarian crisis.
The UAE had been seeking to deescalate the conflict, including by reaching out to Iran, which backs the Houthis. Emirati officials say they will continue to push for a ceasefire in Yemen and then a political solution.
However, the attacks could dial up regional tensions with Iran, which is believed to have supplied most of the Houthis' advanced weaponry.
The renewed tensions could make some in the region more likely to speak out against a new nuclear deal with Iran, assuming it doesn't address the proliferation of ballistic missiles.
Worth noting: Israeli President Isaac Herzog will arrive in Abu Dhabi on Sunday. This will be the first-ever public visit of an Israeli president in the UAE.
3. Israeli president plans to accept invitation to visit Erdoğan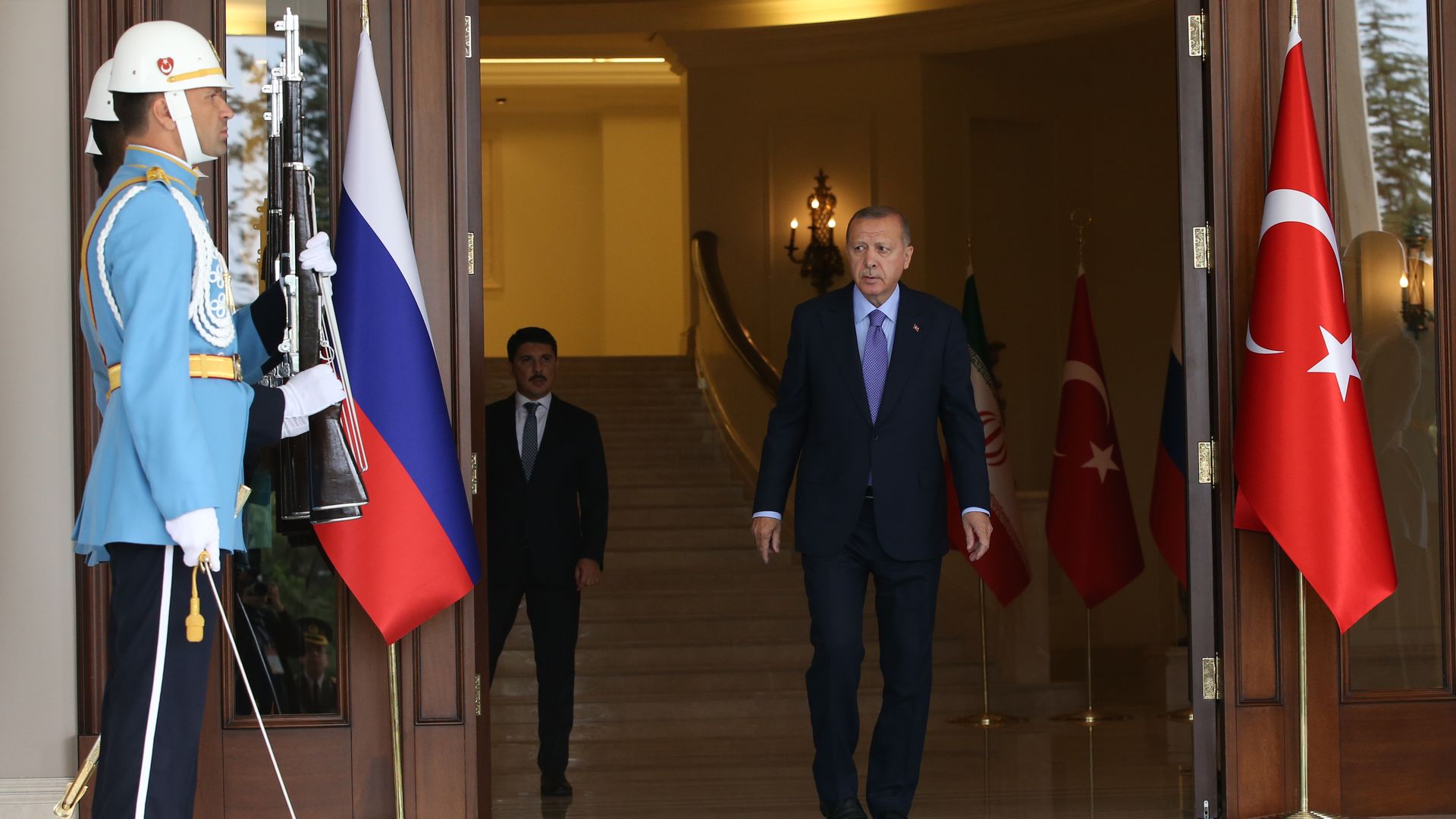 Israel and Turkey are negotiating the terms of a visit by Herzog to Ankara that could take place in the near future, Israeli officials tell me.
Why it matters: Such a visit would be a major breakthrough in the frozen relationship between the two countries.
Israeli-Turkish relations have gone through a series of crises over the past decade, most recently in 2018 when the U.S. moved its embassy to Jerusalem and Turkey expelled the Israeli ambassador from Ankara.
Since President Biden assumed office, Turkish President Recep Tayyip Erdoğan — who has also reached out to rivals like Egypt and the UAE — has been sending signals that he wants to turn a new page in the relationship.
Erdoğan used a congratulatory phone call after Herzog was inaugurated last July to start engaging directly with Israel. They have spoken on the phone three times since, including once earlier this month.
Behind the scenes: According to the Israeli officials, Erdoğan told Herzog during the calls that he would like to host him in Ankara. That led to an internal discussion among Israeli foreign policy officials about whether Herzog should accept.
Last week, Erdoğan revealed the invitation publicly, said the visit could take place soon, and said Turkey's relations with Israel shouldn't be managed as a quarrel.
Days later, Turkish Foreign Minister Mevlüt Çavuşoğlu called his Israeli counterpart Yair Lapid to wish him a speedy recovery from COVID. This was the first phone call between Israeli and Turkish foreign ministers in 13 years.
What they're saying: A senior Israeli official said Herzog's visit wouldn't happen right away but it was not a question of if, but how and when.
"If a leader of an important Muslim country like Turkey reaches out to Israel, there is no option other than giving a positive answer," the senior Israeli official said.
The senior official added that Israel had sent messages in recent weeks to reassure Greece and Cyprus that rapprochement with their rival Turkey wouldn't come at the expense of Israel's partnerships with them.
Between the lines: Israeli officials see Erdoğan's moves to repair relations with Israel as a means to improve his relations with the Biden administration ahead of the elections in Turkey and amid a growing economic crisis.
One major impediment will be the Turkish government's relationship with Hamas, which operates freely in Turkey. Israel claims the militant group directs attacks from a headquarters in Istanbul.
Israel's Shin Bet intelligence agency stressed in the internal discussions about Turkey that any normalization process must include limiting Hamas activity in Turkey, according to the Israeli officials.
Flashback: During past efforts to repair relations, it had typically been Israel doing the outreach and Erdoğan making demands, particularly over Israel's policies toward the Palestinians.
4. U.S. and Israel hold Iran strategy session on nuclear deal decision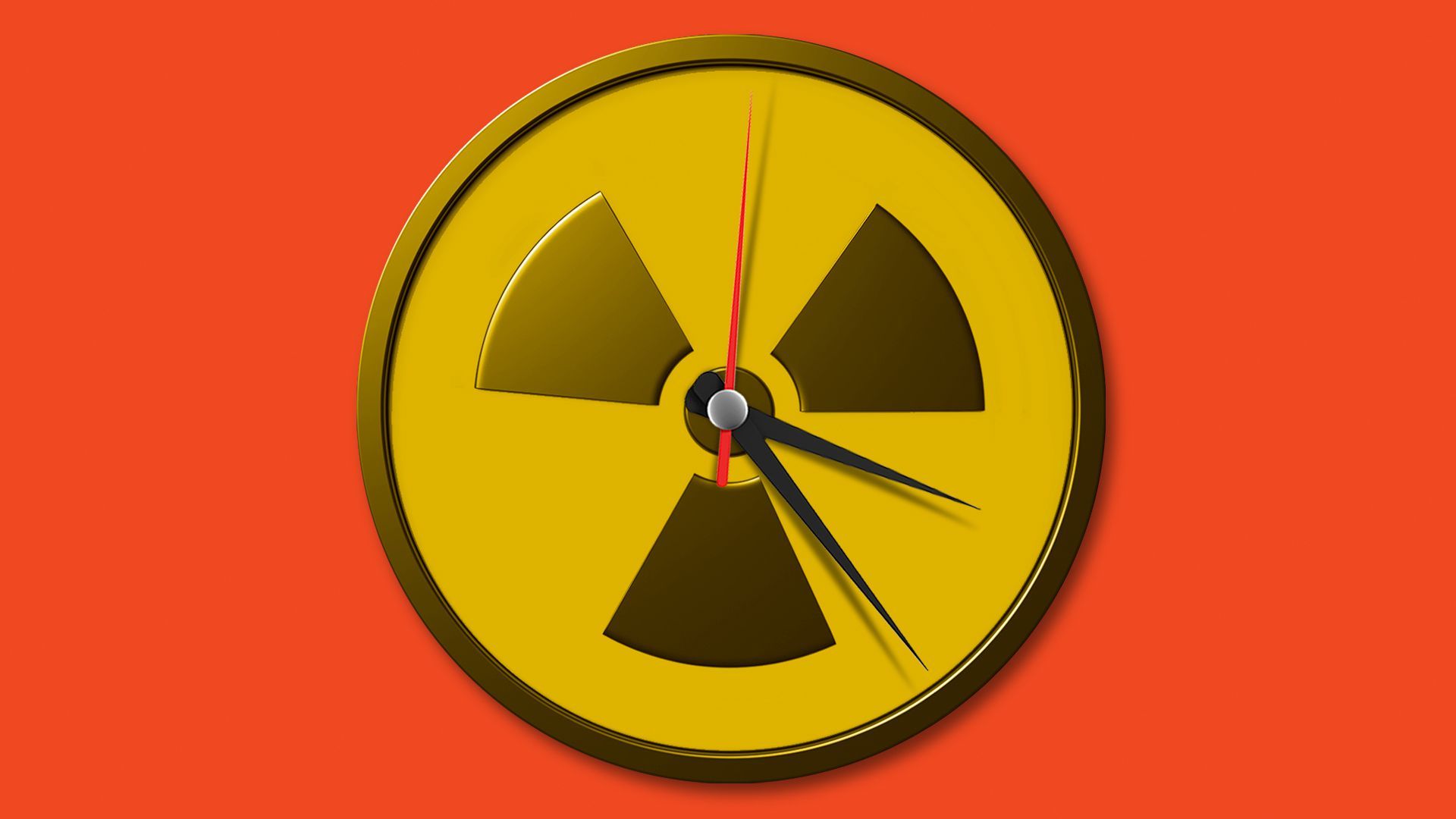 As nuclear negotiations in Vienna get closer to a decision point, the U.S. and Israel held strategic talks on Iran today led by their respective national security advisers, Israeli and U.S. officials tell me.
Why it matters: At a time when the White House's attention is largely focused on Ukraine, the talks show Iran is still a high priority and the Biden administration thinks it's important to spend time on consultations with Israel.
Israeli and U.S. officials say the secure video conference included discussions of the state of play in Vienna and the strategy moving forward.
Both the White House and the Israeli Prime Minister's Office declined to comment.
State of play: Biden administration officials have set the end of January or beginning of February as an unofficial deadline for the talks, in large part because they believe Iran's nuclear advances will soon render the 2015 deal ineffective.
The progress in Vienna has been modest and very slow, but Iranian Foreign Minister Hossein Amir-Abdollahian floated the possibility of direct talks with the U.S. earlier this week — rather than the current indirect format — if necessary to secure "a good deal."
That would be a significant change in the Iranian position. State Department spokesperson Ned Price noted Tuesday that the Biden administration had been pushing for direct talks for a year.
Price said more efficient communication was needed because "we have precious little time left."
What's next: Senior Israeli officials tell me that even after today's talks, they remain concerned that the Ukraine crisis will take international attention away from the Iran nuclear crisis and make it harder for the U.S. and Russia to cooperate on this issue.
5. Netanyahu still interested in plea after talks collapse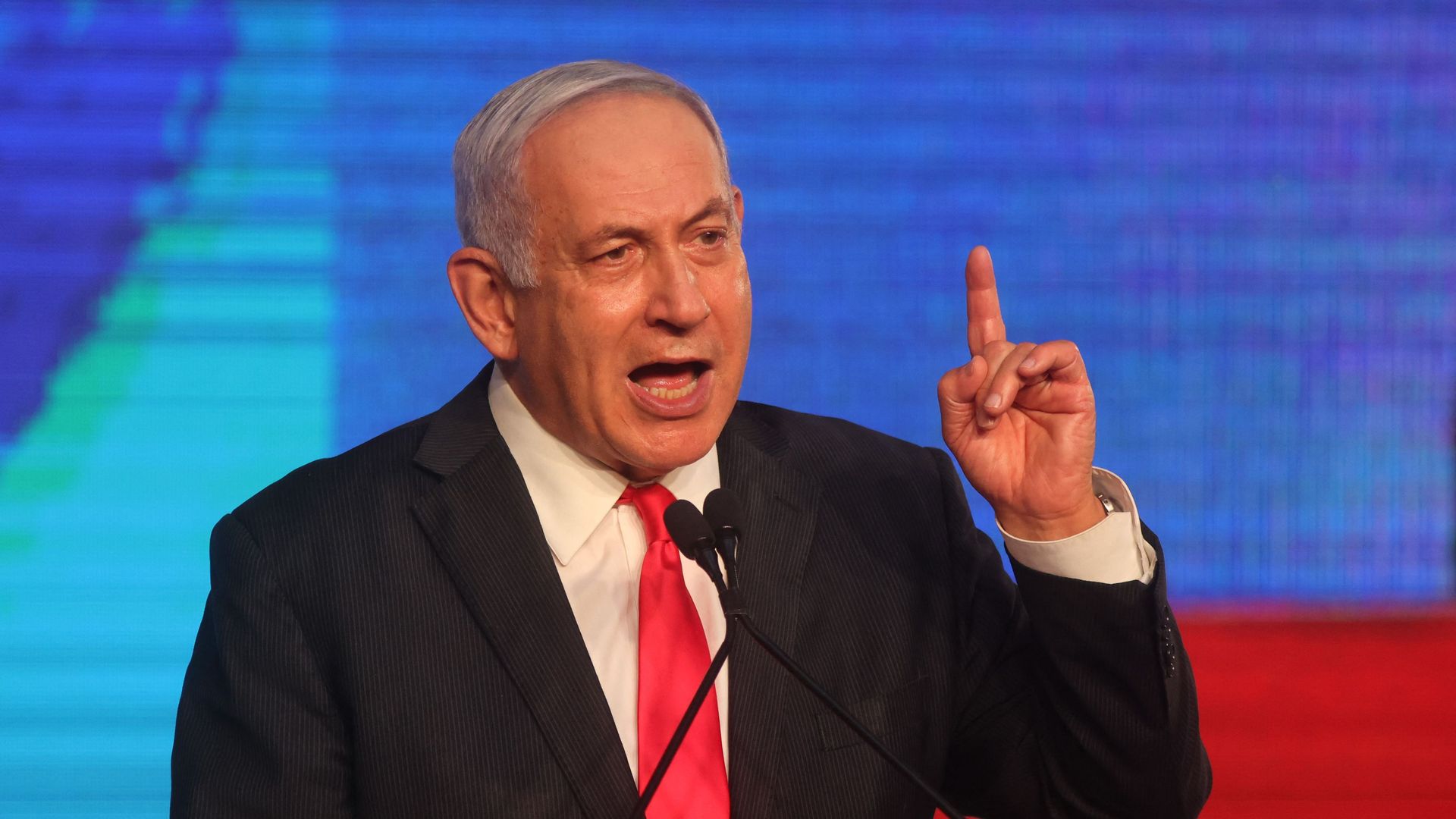 Former Israeli Prime Minister Benjamin Netanyahu is still interested in a plea deal even after his negotiations with outgoing Attorney General Avichai Mandelblit broke down, two sources with direct knowledge of the issue tell me.
Why it matters: Netanyahu's corruption trial is about to enter a critical phase with several key witnesses expected to appear in court in the coming weeks.
Netanyahu had hoped to reach a deal before Mandelblit left office at the end of January, but the attorney general has reportedly notified Netanyahu's lawyers that this won't be possible.
The deal they'd been discussing would have kept Netanyahu out of prison, but seen him banned from politics for seven years.
Earlier this week, Netanyahu broke his silence on the plea talks and said he'd never accepted the seven-year ban.
Behind the scenes: A source who spoke to Netanyahu in the last two weeks said the former prime minister really wants a deal.
According to the source, Netanyahu's state of mind has changed since he left the Prime Minister's Office and in particular after his family vacation on billionaire Larry Ellison's island in Hawaii last summer.
The source quoted Netanyahu as saying, "There is a life out there," and added that the former prime minister said he wants to write a book and make money.
Both sources said one major obstacle was opposition to a deal from Netanyahu's wife Sara and his son Yair, whom the former prime minister had tried and failed to bring on board.
What's next: Negotiations will likely continue under the next attorney general, who has yet to be named.
For now, Netanyahu is reasserting his standing inside the Likud party to head off the intra-party jockeying that had begun over his potential replacement.
He's also attacking Prime Minister Naftali Bennett's COVID policies after weeks of near silence while he was negotiating the plea deal.