Axios Tampa Bay
March 04, 2022
Welcome to Friday, friends.
🌞 Sunny and clear skies, with highs in the mid-80s and a low of 59.
Sounds like: "The Waiting," Tom Petty and the Heartbreakers, ft. Eddie Vedder.
Today's newsletter is 855 words, a 3-minute read.
1 big thing: Students walk out over "Don't Say Gay"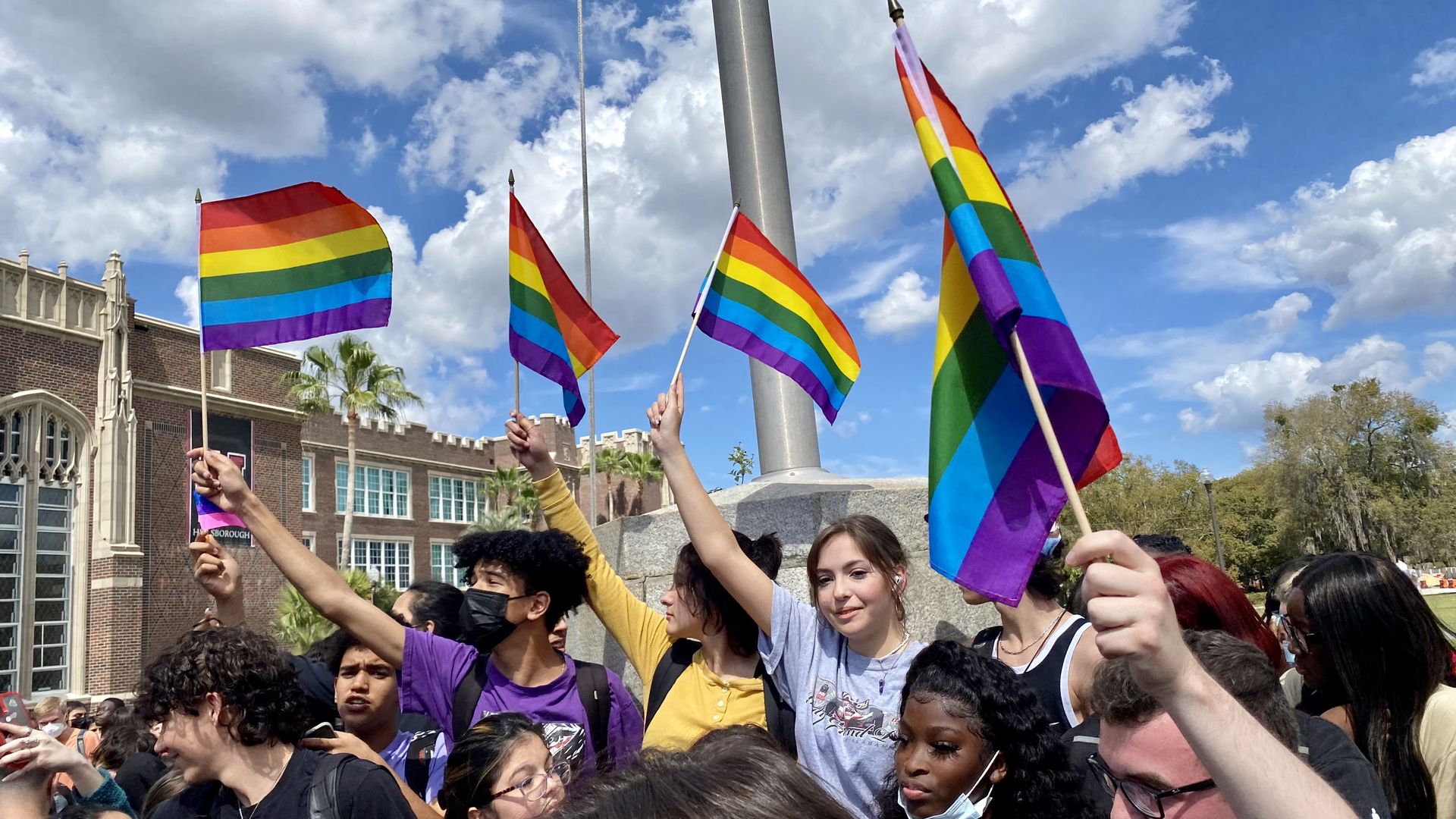 Thousands of high school students across Florida walked out of school to protest the "Don't Say Gay" bill that passed the Senate later yesterday and headed to Gov. Ron DeSantis' desk.
They carried signs that said "Please say gay" and chanted "Gay lives matter."
Driving the news: Locally, hundreds of students walked out of Hillsborough High and Freedom High in Tampa, Gibbs High in St. Pete, Largo High, and Riverview High in Sarasota yesterday.
What they're saying: "There's no need for this legislation," Hannah Harich, 17, told Axios. She was among several hundred students protesting at Hillsborough High in Tampa. "We're at a point in time when it feels very regressive."
What's happening: HB 1557 would bar educators from speaking to primary school students about certain LGBTQ+ topics that are not considered "age-appropriate or developmentally appropriate for students," among other things.
2. FWC lifts Goliath grouper fishing ban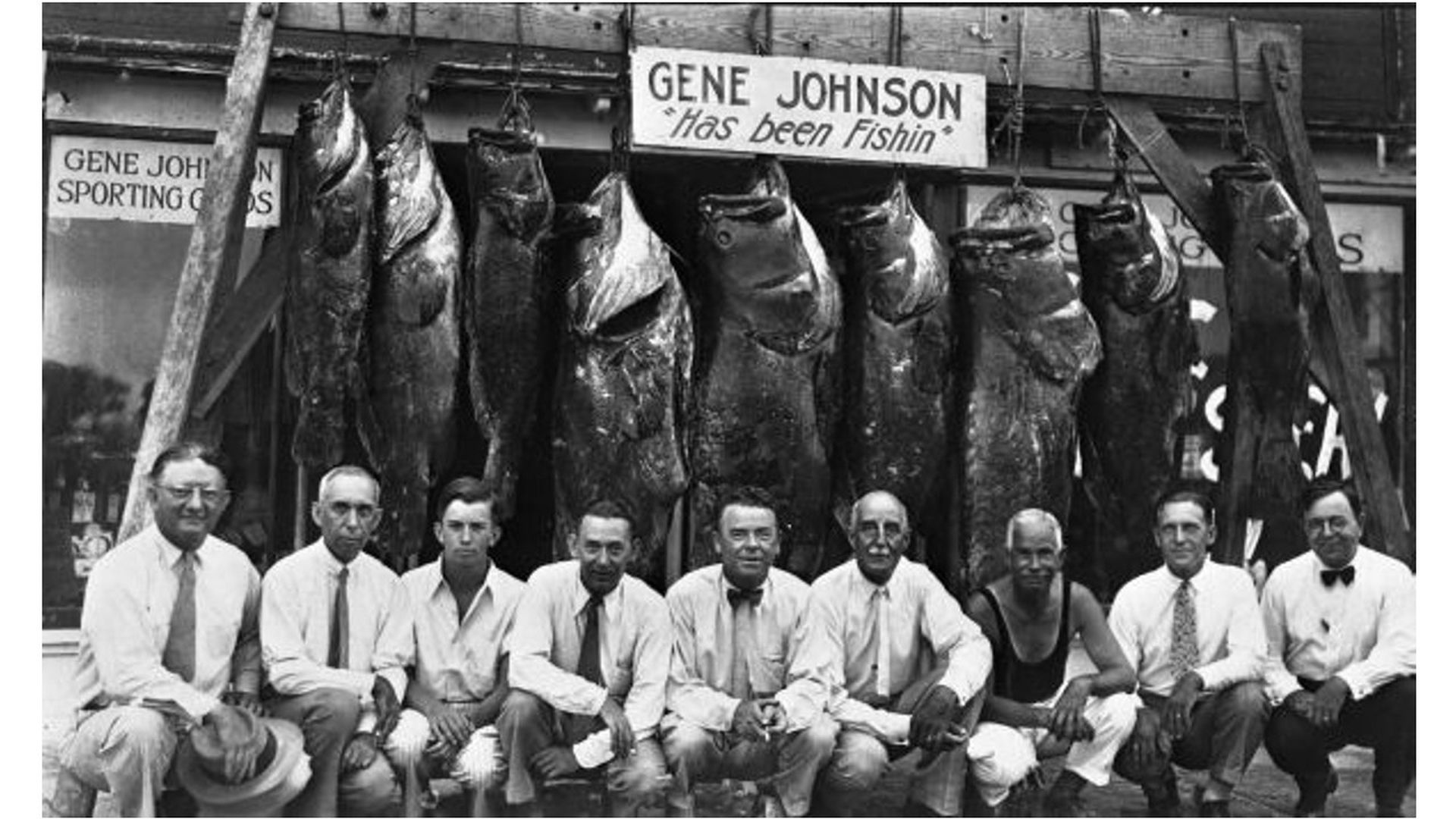 Despite opposition from scientists and divers, the Florida Fish and Wildlife Conservation Commission voted yesterday to lift the ban on catching Goliath grouper, an embattled species that was nearly fished to extinction in the 1980s.
Under the rules approved yesterday, fishermen will soon be allowed to apply for one of 200 permits and tags to harvest Goliath grouper, which can grow to be eight feet long and weigh up to 800 pounds.
Harvesting Goliath grouper has been banned since 1990.
The other side: Opponents said there's no scientific evidence to show the species has rebounded, and recent environmental disasters like red tide and mass manatee starvation should at least delay any harvest.
They presented commissioners with a petition containing signatures from 66,400 opponents of lifting the ban.
What they're saying: "This is simply not the time to reconsider a harvest for this species," Chris Malinowski, director of research and conservation at the Ocean First Institute, said at the meeting.
Yes, but: Groups like the Florida Guides Association and the American Sportfishing Association backed the plan, though cautiously.
Commissioners who backed the change say a limited harvest with a slot limit of 24-36 inches, and a rule that mandates reporting biological data for the catch, will provide scientists more information about the status of the species.
Of note: Commissioner Steven Hudson, the only no vote, asked FWC staff to explore a fishing ban around several aggregated spawning grounds for Goliath grouper.
3. The Pulp: I like big butts and I cannot lime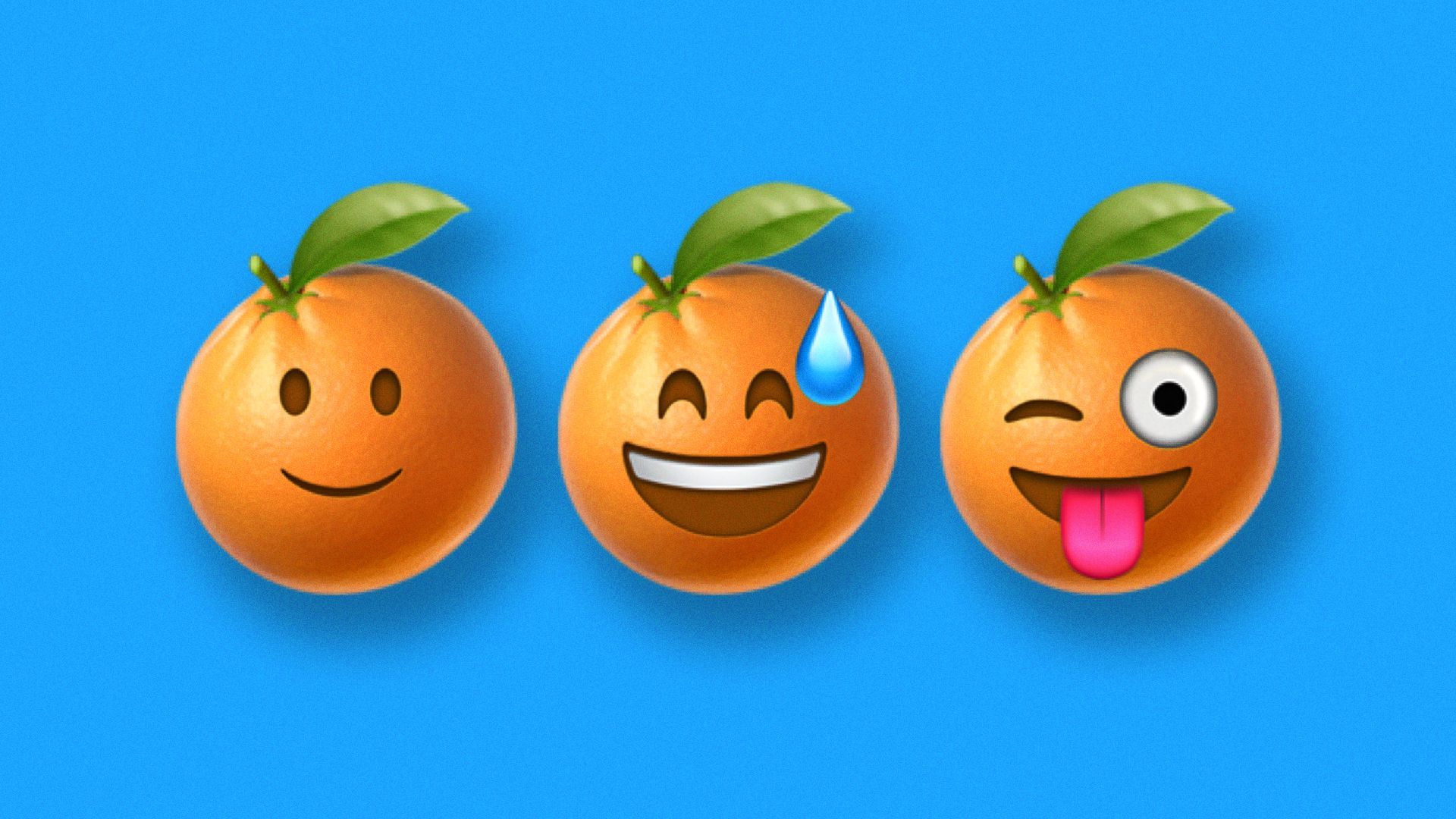 😷 The Straz Center in Tampa will drop its face mask requirement for most shows. (Tampa Bay Times)
🍸 Publix is pulling Russian vodka from its shelves in protest of Russian President Vladimir Putin's invasion of Ukraine. (Fox 13)
🐬 The St. Petersburg Innovation District opened its waterfront Defense and Maritime Technology Hub. (St. Pete Catalyst)
Quote du Jour
"You do not have to wear those masks. I mean, please take them off. Honestly, it's not doing anything. We've got to stop with this COVID theater. So if you wanna wear it, fine, but this is ridiculous."
— Gov. DeSantis
admonishing a group of Hillsborough County high school students
for wearing face masks at a press conference Wednesday.
4. PETA hopes guilty plea silences "Monkey Whisperer"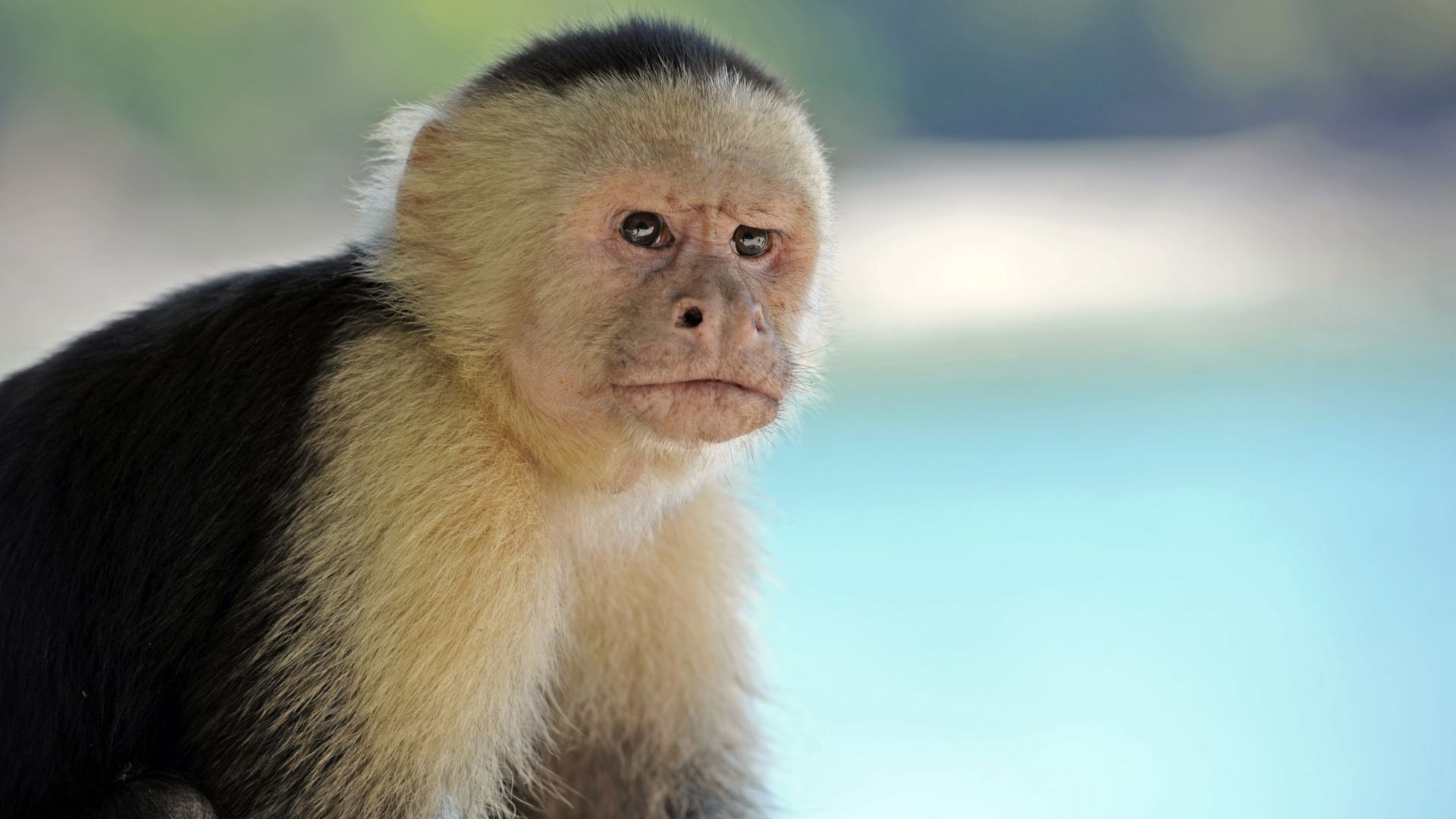 Parrish's self-proclaimed "Monkey Whisperer" faces up to eight years in federal prison after he pleaded guilty to selling singer Chris Brown a capuchin monkey, the Bradenton Herald reports.
State of ape: Jimmy Wayne Hammonds pleaded guilty Wednesday to one count of violating the Lacy Act, which bans illegal wildlife trafficking, and three counts of violating the Endangered Species Act.
Hammonds admitted to selling Brown the monkey for more than $12,000. Brown lives in California, where it is illegal to have a monkey as a pet.
He also illegally sold endangered cotton-top tamarins to buyers in Alabama, South Carolina and Wisconsin.
Police suspect that Hammonds sold two spider monkeys to rapper Swae Lee, the Herald reports.
What they're saying: "Exotic animals are not playthings, fashion accessories, or Instagram props for celebrities, and they're not a business venture, either," Michelle Sinnott, the PETA Foundation's associate director of captive animal law enforcement, told the Herald.
Hammonds' arrest came after a 2017 tip from PETA about Brown's pet.
Selene's thought bubble: Hammonds is lucky he didn't end up with Judge Tango.
5. Things to do this weekend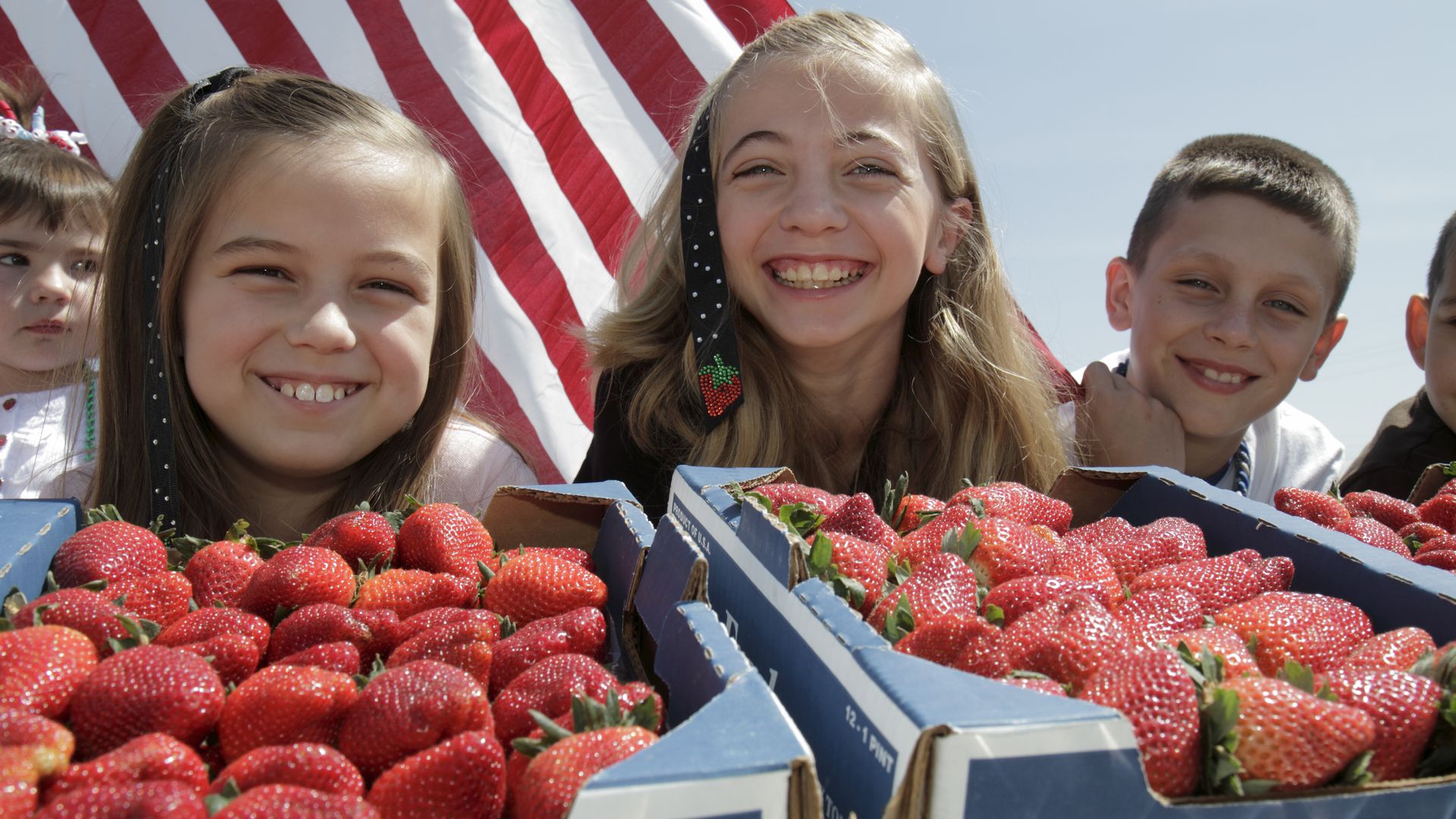 🏳️‍🌈 Manatee Pride Festival: A celebration benefiting ALSO YOUTH, a nonprofit supporting LGBTQ+ youth in Sarasota and Manatee Counties.
🎨 Gasparilla Festival of the Arts: A showcase of the country's most accomplished artists and rising stars, all vying for big bucks in prize money.
🍓 Florida Strawberry Festival: Try the strawberry pizza.
🍤 Beach Bash at the Pier: Tons of seafood, live music, beer and beach games.