Axios Tampa Bay
February 01, 2023
🐇🐇 Wednesd-heeey, February.
🌤 Another foggy morning with a clear day ahead — 81°/62°.
Sounds like: "Kill Bill," SZA.
✊🏿 Today is the first day of Black History Month. Who in the Black community is making a difference and deserves to be recognized? Hit reply to let us know.
Today's newsletter is 794 words, a 3-minute read.
1 big thing: New College president out, DEI stays for now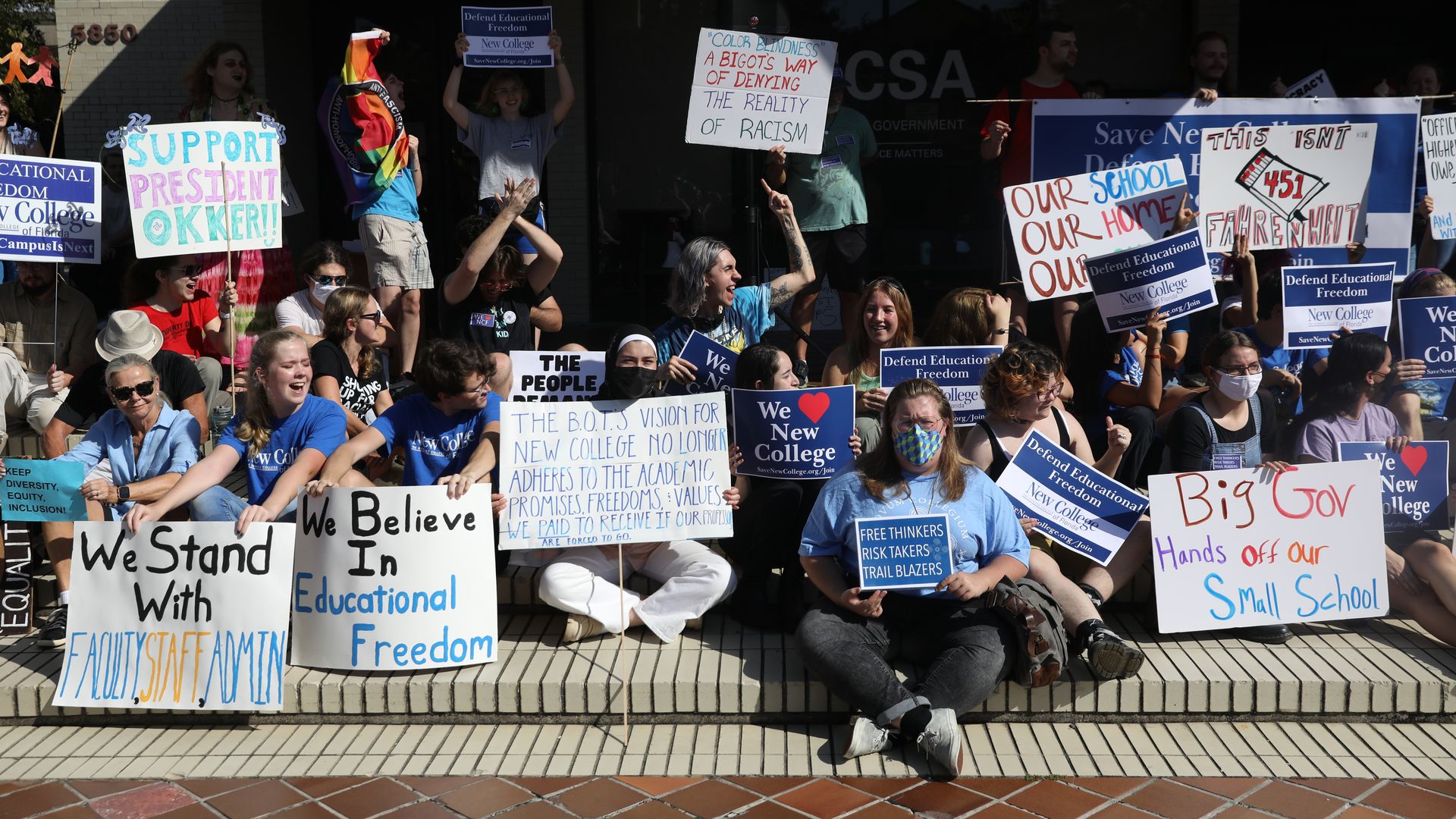 The New College of Florida's overhauled board of trustees ousted the school's president last night in their first swift move to reshape the liberal arts school into a more conservative college.
The board, with six newly seated conservatives, voted to appoint as interim president Richard Corcoran, a former Republican state House speaker and Florida education secretary.
Yes, but: They could not muster the votes to rid the school of training that promotes diversity, equity and inclusion. Gov. Ron DeSantis, who appointed the new trustees, yesterday called for state colleges and universities to dismantle the programs.
The board voted to table the discussion until a meeting later this month.
Why it matters: The public 700-student liberal arts school in Sarasota — lovingly called by some "Barefoot U" — is suddenly in the spotlight after DeSantis announced the shake-up to the college's 13-member governing board on Jan. 6.
For many students and faculty, the overhaul is disruptive to their lives and education.
For DeSantis, the effort to transform one Florida college will be a test with political implications playing out under the national microscope.
What they're saying: Hours into an emotional meeting, New College president Patricia Okker apologized to students for what she called a "hostile takeover" before the board voted to fire her and appoint Corcoran — a close ally of DeSantis — as interim president, starting in March. An administrator will serve in the role until then.
The move was met with shouts of protest from New College students, faculty and alumni, who blasted what they see as an attack on educational freedom.
The other side: "This college is languishing. It needs to be revived," said new trustee Matthew Spalding, a former vice president of the conservative Heritage Foundation.
2. Confederate memorial debate pushed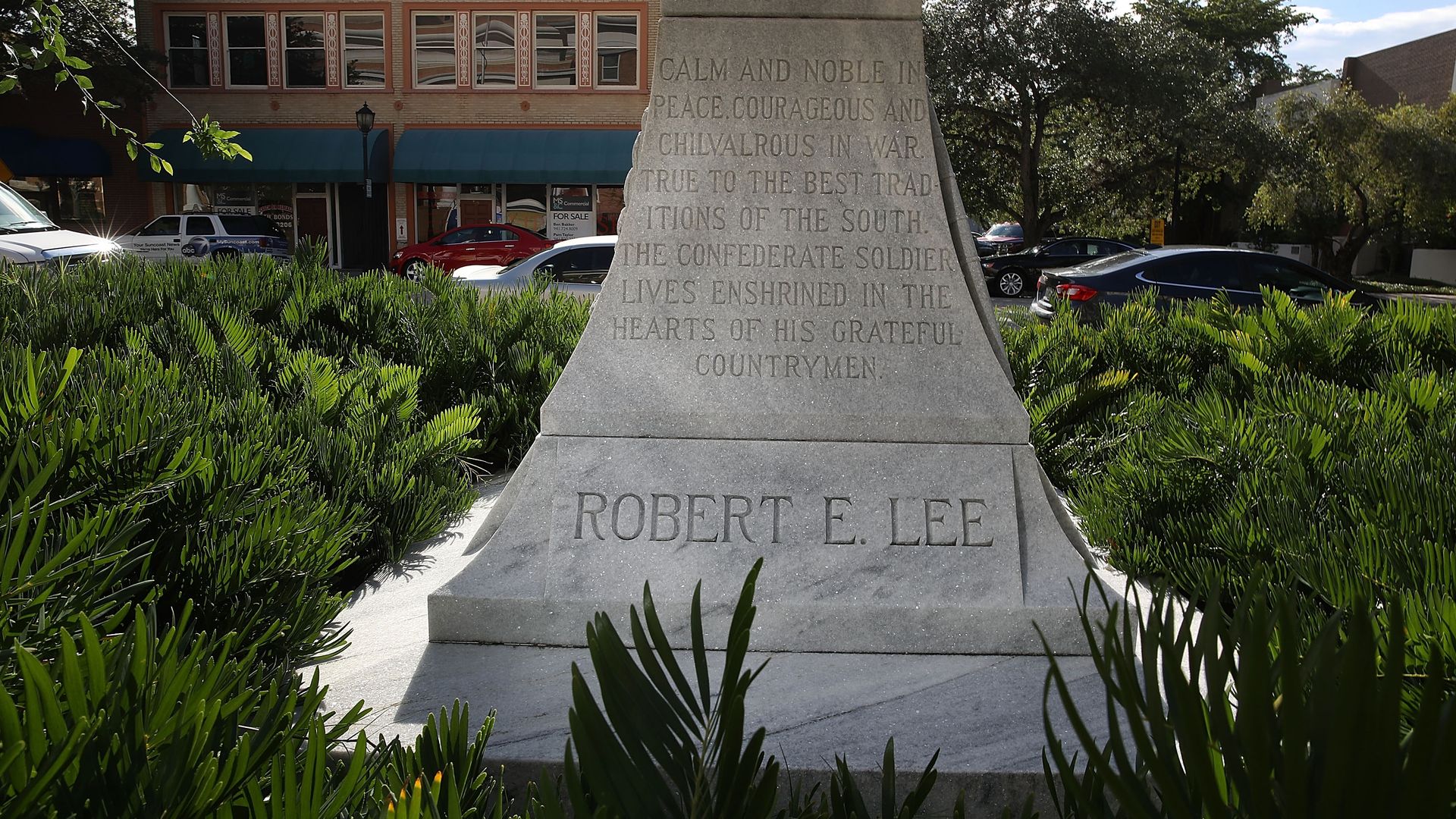 Manatee County commissioners postponed a vote yesterday on whether to re-install a Confederate monument on the lawn of the county courthouse, where it was removed following a wave of protests in 2017.
What happened: The commission was poised to discuss bringing back the memorial at yesterday's board meeting, after several residents raised the idea last month. But commissioners said the issue had been removed from the agenda at the last minute.
The commissioners in attendance said they didn't know who withdrew the agenda item or why.
Commissioner Vanessa Baugh, who expressed support for the monument at an earlier meeting, was absent.
Of note: The county hadn't returned Axios' request for records regarding the matter, as of late yesterday.
What they're saying: About a dozen protesters showed up, denouncing the monument that stood in Bradenton for more than 90 years as a symbol honoring white supremacy and racism.
"I don't understand how reasonable people think it's OK to erect a monument that glorifies crimes against humanity," resident Tina Shope told commissioners.
Some commissioners appeared to have soured on the proposal after hearing from outraged constituents.
"I think this is a conversation that didn't need to happen," Commissioner George Kruse said at the meeting. "I'm not using taxpayer money to fix this thing."
What's next: Kruse said he wanted the item on a future agenda so it could finally be resolved.
3. The Pulp: I might peel my ex, not the best idea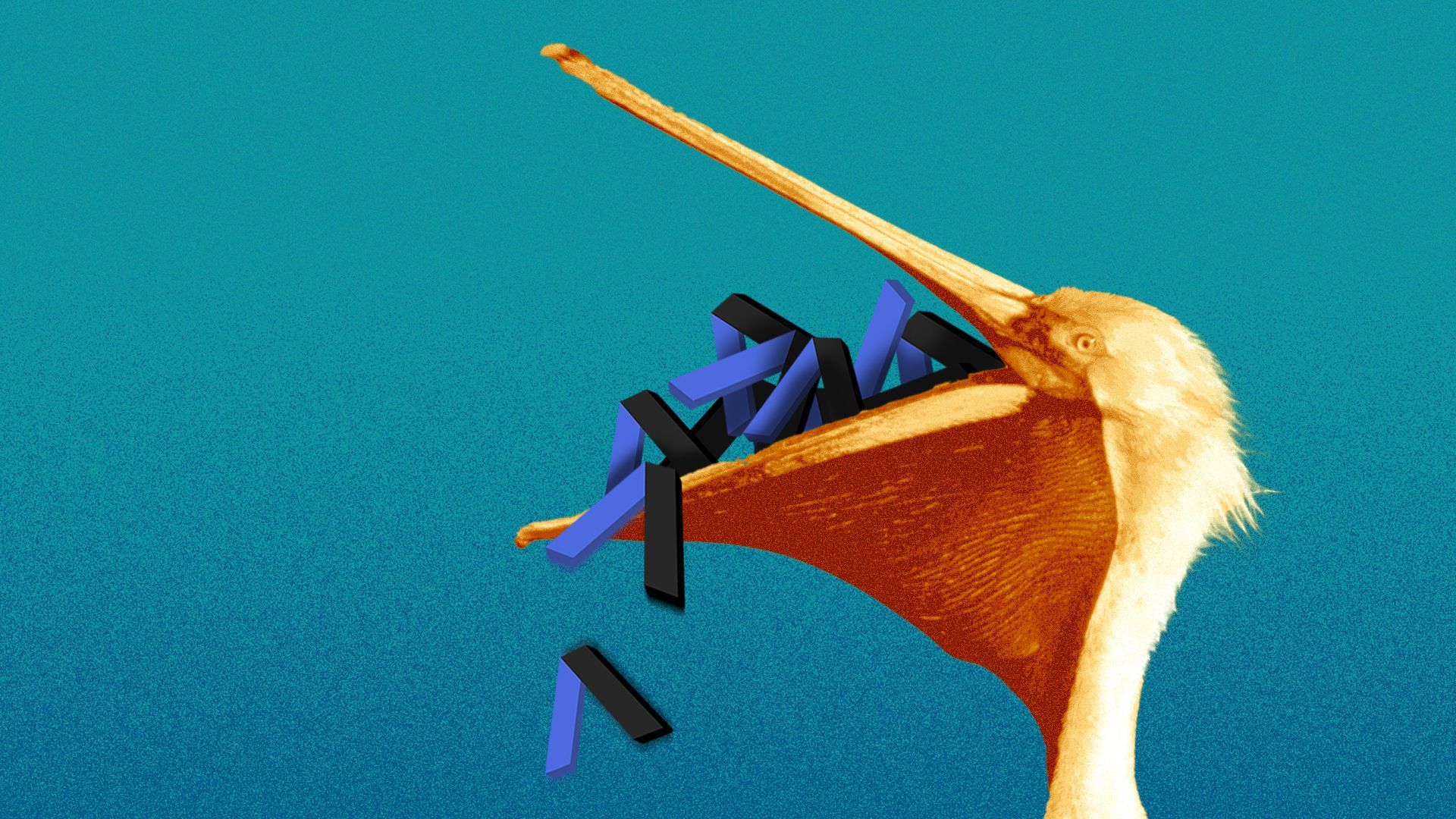 ✈️ Tampa International Airport will once again have direct flights to San Diego, this time through Alaska Airlines, two years after losing the service through Southwest. (Tampa Bay Business Journal)
✏️ Sen. Blaise Ingoglia (R-Spring Hill) filed a bill that would end the requirement that school-board candidates live in a district while running for its seat. (News Service of Florida)
🌹 Five Tampa Bay eateries appear on OpenTable's list of 100 most romantic restaurants in America (but none have V-Day dinner reservations).
4. Ways to celebrate Black History Month around Tampa Bay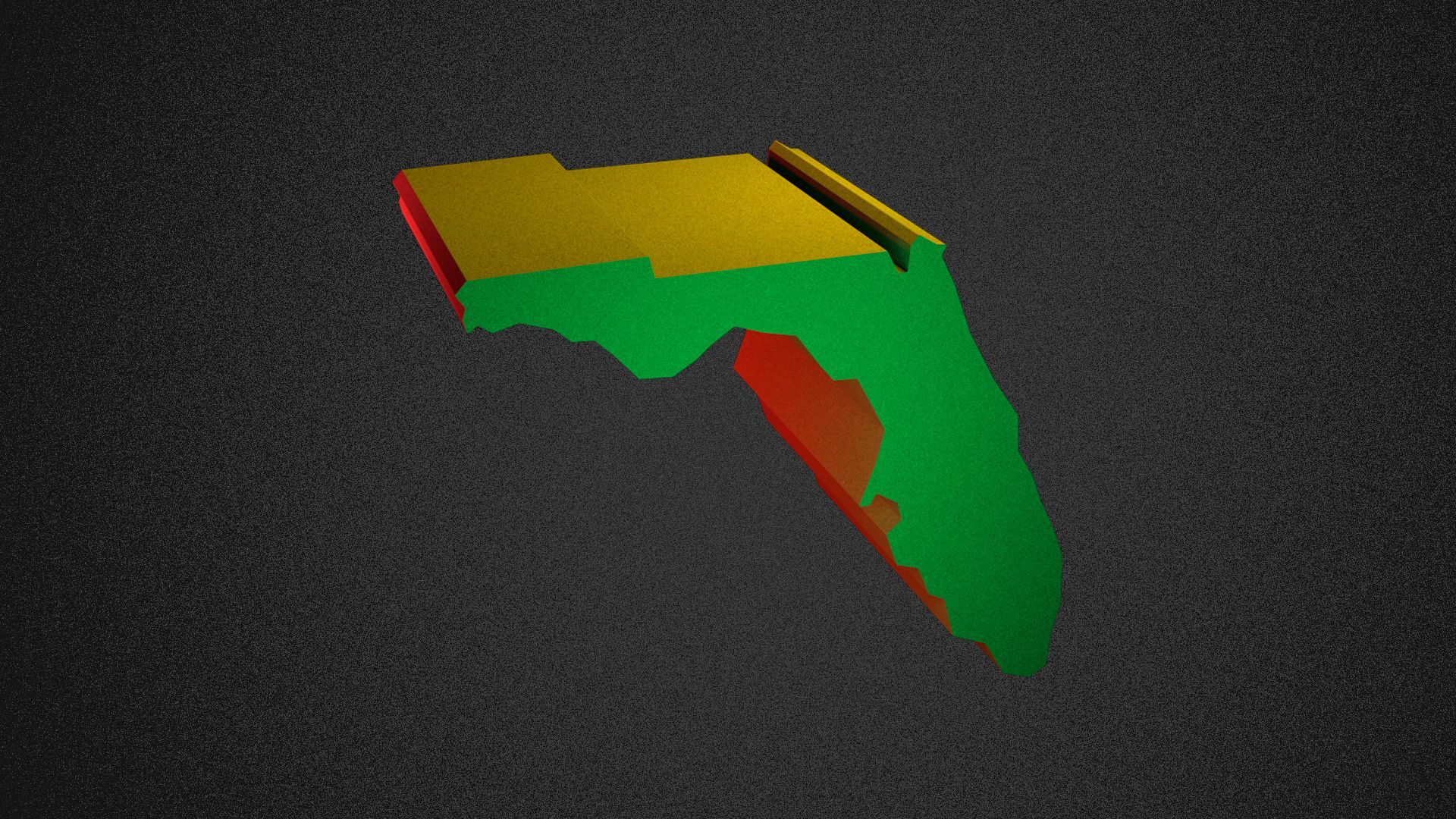 Tampa's NFL history: The Tampa Bay History Center is kicking off its Black History Month event series with a Sangria and Stories discussion about how the University of Tampa's football team paved the way for the Tampa Bay Buccaneers.
6-7:15pm Thursday at the downtown Tampa museum. Tickets ($20) include one glass of sangria and a behind-the-scenes tour with the curator.
Institute on Black Life: At this annual conference, researchers discuss topics that address racial injustice and healing through the arts. The event will also feature community-affirming ways to advance research collaborations between the arts sector and health agencies.
9am-6:30pm Thursday at USF's Sarasota Campus. Free!
Black History Festival: Head to Jackson Park in Lakeland for a celebration that includes artisan vendors, food trucks, kids' bounce houses and performances by Crystal's World of Dance. Plus, learn about the pioneers of the city's Black community during a neighborhood history walk at the Coleman-Bush Building.
Saturday, Feb. 18, from 10am to 2pm. Free!
Shades Off: A showcase of local music and poetry performances in celebration of Black History Month, curated by Miesha Brundridge.
Ben is past "Ulysses" and moving on to WEB Du Bois' "The Souls of Black Folk." For those reading along with Asher's humanities class, time to swap.
📺 Selene is catching up on Michael B. Jordan's "SNL."
Tell SZA to szascribe.
Today's newsletter was edited by Alexa Mencia and copy edited by Carolyn DiPaolo.