January 12, 2022
1 big thing: Home-buying tips from "Selling Tampa" star
The hype around Rena Frazier is just as real as our hot housing market.
State of play: Frazier, a real estate agent with the all-female, Black-owned Allure Realty, is one of the stars of the Netflix reality show "Selling Tampa."
After "Selling Tampa" premiered last month, Frazier has been trying to manage newfound stardom while being an agent everyone wants in the wild west of the Tampa real estate market.
Here are her tips for buyers and other real estate agents — no matter what your budget is:
Expect to make an over-ask offer. "In this type of seller's market where it's so competitive, there's a good possibility you're going to be coming in over asking price if you really want the house."
Sweeten the deal: Shorten your inspection period or waive an appraisal if you can.
"Cash offers are king right now. If you're able to buy the house fast, that's going to give you a bump up for the sellers."
Old-school tip: Write a letter to the seller on why you love the house. "It's a personal human touch that sometimes, if you've got someone who's open to it, can cut through the noise."
And always follow up. That call or text from a buying agent can go a long way, especially if you've built rapport from the beginning.
Hot take: She doesn't recommend people go the route of what she calls the "sight unseen guy," who made our headlines earlier this week.
"At a minimum I will do a video tour of the house and do research to get as much information on a house as I can."
"There are big inherent risks in purchasing property sight unseen. You could be stepping into a money pit, a lawsuit or a host of other things."
The bottom line: "It's really such a special time for Tampa. It seems like lightning just struck. … All around, (the interest in Tampa's market) bolsters our community holistically. It's wonderful to be able to be a part of that."
2. Florida Republicans propose abortion ban
Republican lawmakers in Florida are once again fighting to ban abortion.
What's happening: Sen. Kelli Stargel (R-Lakeland) and Rep. Erin Grall (R-Vero Beach) filed Senate Bill 146 and House Bill 5 on Tuesday, the first day of the Florida legislature.
Both would ban doctors from giving abortions after 15 weeks unless the health of the patient is at risk, or if there is a "fatal fetal abnormality."
Abortion providers would be required to document the number of pregnancies terminated by medications and submit a report to the Agency for Health Care Administration monthly.
Why it matters: The proposed laws already have momentum with Republican House Speaker Chris Sprowls and Senate President Wilton Simpson (R-Trilby).
Sprowls also put Grall and Rep. Colleen Burton (R-Lakeland) in charge of his chamber's abortion legislation efforts, per the Tampa Bay Times.
The other side: Florida Democrats are saying, "Be ready to fight."
3. The Pulp: Was I out of my head or was I out of my rind?
The Southern Legal Counsel and ACLU of Florida have filed a petition challenging the Sarasota clerk of court's legal authority to suspend driver's licenses over unpaid fines for non-criminal violations. (Sarasota Herald-Tribune)
🏢 The CEO of Dynasty Financial Partners says a 10-story tower at 910 Second Ave. S. will help St. Pete become a tech hub. (Tampa Bay Business Journal)
🌊🐮 A bill to reduce algal blooms and protect Florida's declining manatee population is inching forward in the Legislature. (Florida Politics)
Fresh job openings around town
4. About those otherworldly streetlights
Have you noticed those weird purple lights that make you feel like TRON on nighttime bike rides?
They're not part of an eco-friendly project to reduce light pollution, like Ben has assumed since they first flickered on about a year ago.
Driving the news: TECO spokesperson Cherie Jacobs tells us they are a result of a manufacturing defect in some lights manufactured in 2019.
In other words: They shouldn't be purple.
"Tampa Electric is working with the manufacturer to proactively find and replace them," Jacobs emailed. "This process will take several months."
Yes, but: At least one Tampa artist is making the most of the tones.
The big picture: It's not just Tampa.
The Florida Department of Transportation said a "large number" of lights throughout Florida have the defect, per the Bradenton Herald.
The manufacturer is replacing the lights for free but supply chain problems have slowed the process.
5. Your favorite pizza, part 2
We've got cooks down here from the world's best places for pizza — New York, Chicago ... New Jersey — so it stands to reason that the Tampa Bay area would therefore also have some great freaking pizza.
All it took was asking. Yesterday we ran a list of your favorite pizzerias, but the recs keep coming in.
🍕 You told us not to sleep on Verrazzano's New York Pizza in Clearwater, Flippers Pizzeria in St. Pete, Classic Pizza out in Fort Meade and many more.
Meanwhile: A reader writes, "Is there any chance you can ask your readers what is the best pizza place that is gluten-free, or has non-dairy cheese?"
"My best friend lives in St. Pete and has been quite ill for most of her 32 years. I would greatly appreciate having a few different places to get these pies for her."
Here are a few from your recommendations:
📬 Hit reply if you know of anything else!
6. 1 big bite to go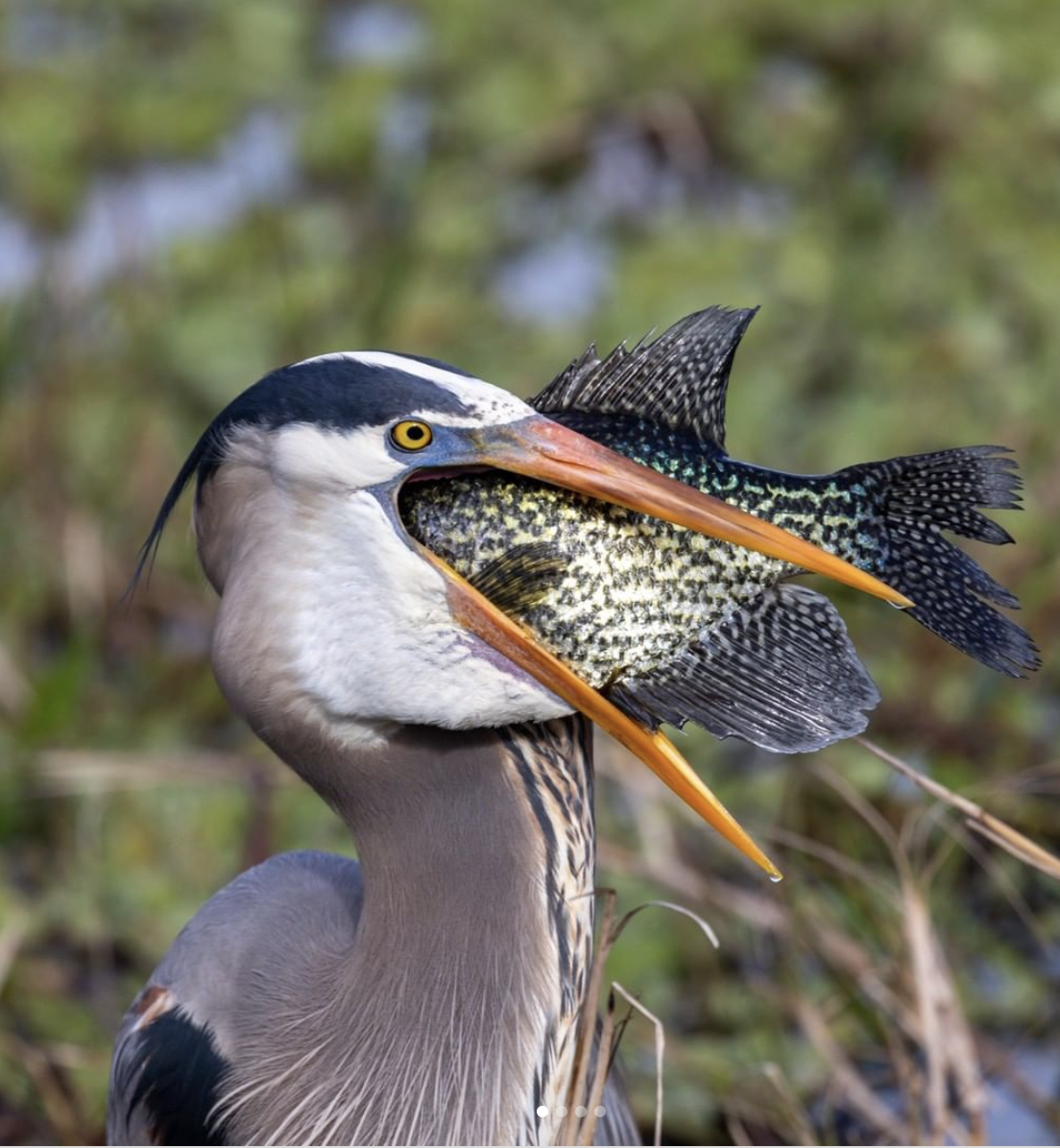 Photographer Matthew Paulson caught this Great Blue Heron gulping down a large Black Crappie at Circle B Bar Reserve.
"He somehow got that huge fish down after several attempts and several minutes of sitting with it half in and half out of his mouth," Paulson wrote in his post.
Check out more of Paulson's shots.