May 16, 2022
Oh, hello Monday.
🌞 Sunny and clear. 88/72.
Sounds like: "King," Florence + The Machine.
Today's newsletter is 910 words, an 3.5-minute read.
1 big thing: Voice of Dozier victims dies
Jerry Cooper, who led an organization of former wards of Florida's oldest state-run reform school and helped win a formal apology from state lawmakers for a century of abuse at the school, died Saturday at home in Cape Coral after battling cancer, his wife, Babbs, tells Axios.
Why it matters: Cooper became the face of a group of men called the White House Boys — named after a white-block building where they were punished while attending the Dozier School — and bluntly spoke of the sadistic abuse he and other boys suffered at the hands of school staff.
He was a vocal force in the effort to close the school and exhume the bodies of dozens of boys who died in custody so the remains could be returned to their families.
Cooper was mentally burdened by his childhood trauma, which often manifested in rage and mistrust. As a reporter for the St. Petersburg Times, Ben interviewed Cooper dozens of times and witnessed his struggle with anger and hostility.
Yes, but: His rage made him an ideal spokesperson for some 500 abused men, and he represented the survivors in interviews with major news outlets like the BBC, the New York Times, the Guardian and NPR.
Flashback: Cooper was sent in 1960 to what was then called Florida School for Boys in Marianna, an hour west of Tallahassee, where he was beaten bloody with a weighted leather strap.
The big picture: His plain-spoken outrage, along with his wife's empathy and networking skills, kept the White House Boys' plight in the public eye for more than a decade, since the first victims stepped forward in 2008.
Cooper appeared in scores of television interviews and at least four documentaries about the Dozier School.
Babbs Cooper tells us her husband didn't want a funeral, but there will be a private service.
2. Solving business problems with Israeli tech
The massive building on North Howard Avenue in Tampa was once a place for history-making men, an armory stocked for war and full of machismo.
Teddy Roosevelt's Rough Riders camped there before fighting in the Spanish-American War. Rev. Martin Luther King Jr. and John F. Kennedy both spoke there. Even Elvis was at the former Fort Homer W. Hesterly Armory, playing a show for 10,000 fans in 1956.
Now, as the Jewish Community Center, the building hosts two women who hope to help transform Tampa Bay and perceptions of Israel.
Context: Rakefet Bachur-Phillips and Pam Miniati took over as co-directors of the Florida-Israel Business Accelerator (FIBA) just before the pandemic hit in 2020.
The lockdowns and lack of travel were a challenge for the organization, which was established in 2016 to help Israeli startups build a presence in Florida.
But they've come out on the other side with a more focused program ready to bring more Israeli startups to Tampa Bay's booming tech economy.
What they're saying: "We used to really have to convince people to come to Tampa," Bachur-Phillips told Axios. "We don't have to do that anymore."
3. Sneak peek at Asher's amenities
New residents have started moving into Asher, the latest residential tower to open at Water Street, which adds 490 new upscale units to the rip-roaring Downtown Tampa real estate market.
Billed as the most affordable of Water Street's towers, Asher offers 386-square-foot studio apartments starting at more than $2,000 per month.
If that seems small, it's because the developers hope residents will spend more time in the shared spaces, like Water Street's largest pool deck, an outdoor social garden and a co-working space with its own conference room, booths and collaboration table.
Other amenities include an entertainment lawn (with an outdoor kitchen and bar), state-of-the-art fitness center, entertainment lounge, café and media lounge.
One- and two-bedroom units are available, too, and feature Fisher & Paykel appliances, Caesarstone quartz countertops, subway tile backsplashes and custom Morris Adjmi-designed vanities. Some have private terraces.
National hospitality operator Method Co. will service the building's amenities, including a 24-hour concierge, and run ROOST, an extended-stay hotel with 97 move-in-ready units on the building's first six floors.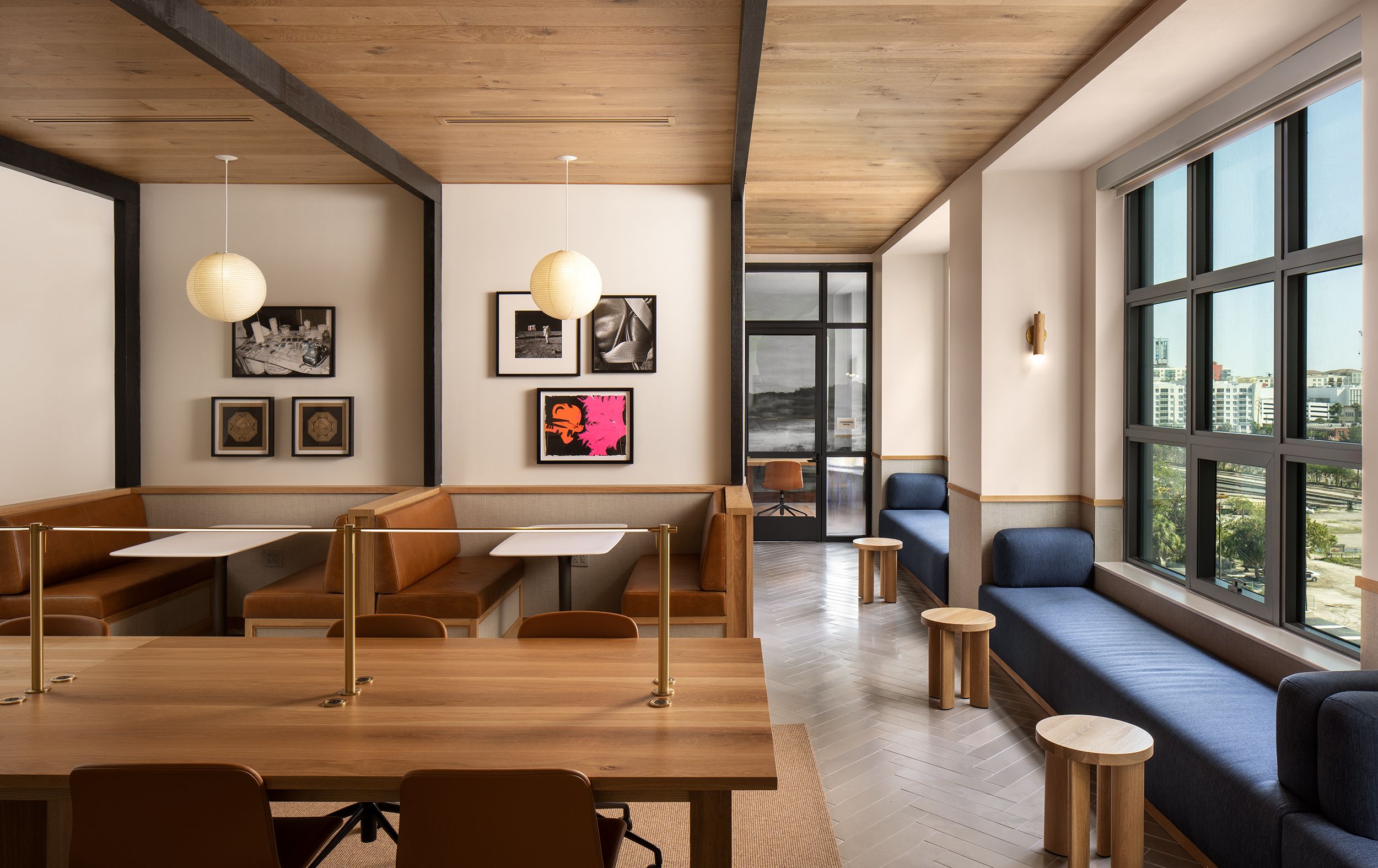 4. The Pulp: Knowing me, knowing juice
🔎 A private investigator has joined the search for 24-year-old John Larson, who disappeared from Ybor City last month. (Fox 13)
☣️ Bradenton settled a lawsuit brought by environmental groups over sewage dumped into the Manatee River, agreeing to invest at least $220,000 in projects to improve local waters and estuarine habitats and fix the sewage treatment plant. (Sarasota Herald-Tribune)
33 pit bulls were seized from a Largo man's home Saturday and he was arrested on animal cruelty and child neglect charges. (Tampa Bay Times)
🇺🇦 Pierogi Bar is opening a brick-and-mortar spot, the first full-service Ukrainian restaurant in St. Petersburg. (ilovetheburg)
5. Florida's top baby names
We know, we know. You've been on the edge of your seat.
What are the trendy Florida baby names this year?
To your good fortune, the Social Security Administration late last week released lists of the most popular baby names by state. Here's what we're naming the newborns:
Boys
Liam
Noah
Lucas
Elijah
Oliver
Benjamin
Ethan
Alexander
Daniel
James
Girls
Olivia
Emma
Isabella
Mia
Sophia
Ava
Amelia
Charlotte
Luna
Gianna
💭 Selene's thought bubble: A begrudging congrats to these kids who will always have stuff with their name on it in gift shops.
📺 Selene is watching "The Wilds." 🏝
🌅 Ben is reading Caitlin Flanagan's wonderful piece on Joan Didion in The Atlantic, which doesn't seem to be online anywhere. 🏡
Tell a Lightning fan to subscribe and a Bolts fan to become a member.