January 13, 2022
Welcome to the second Thursday of 2022, Tampa Bay.
🌤 A few clouds early, giving way to clear skies and cooler weather. 72/54.
Sounds like: "Seasons in the Sun," Terry Jacks, No. 2 on Billboard's Hot 100 this week in 1974.
❄️ Situational Awareness: A gnarly cold front is advancing across the East Coast and could disrupt our lovely weather this weekend, and maybe the Bucs game at 1pm Sunday.
We'll have more in tomorrow's newsletter.
Today's newsletter is 877 words, a 3.5-minute read.
1 big thing: WTH is Gasparilla?
Reader mailbag: "Ahoy! I'm a newly adopted Tampan and realize I know very little about Gasparilla — a name that seems to pop up in the strangest of places."
"I'd love to read more about it (him?)"
🏴‍☠️ A hearty welcome to ye, matey. 'Tis a fine question, indeed.
We realize it's been a few sleeps since the last Gasparilla, in early 2020, and we have many thousands of new residents who may have no clue why locals are getting excited/scared/out of town.
The big picture: Here's a crash course in all things Gasparilla for those of ye who've never walked the plank.
Why it matters: Gasparilla is entwined with Tampa Bay's cultural identity.
🦜 What is it? Gasparilla generally refers to the Gasparilla Pirate Festival, a day-long pirate invasion of Tampa that begins when an enormous flotilla sails up Hillsborough Bay to downtown, led by the pirate ship José Gasparilla.
Hundreds of folks dressed like pirates, firing fake guns and cannons, dock and storm the city behind the Tampa Convention Center, where the cowardly mayor gives up the key to the city.
The pirates then swarm toward the south end of Bayshore Boulevard, mount nearly 100 floats and parade north to roughly Curtis Hixon Park, throwing coins and beads but not in the water.
By the numbers: The Gasparilla parade on Jan. 29 is expected to draw 300,000 spectators along the six-mile route.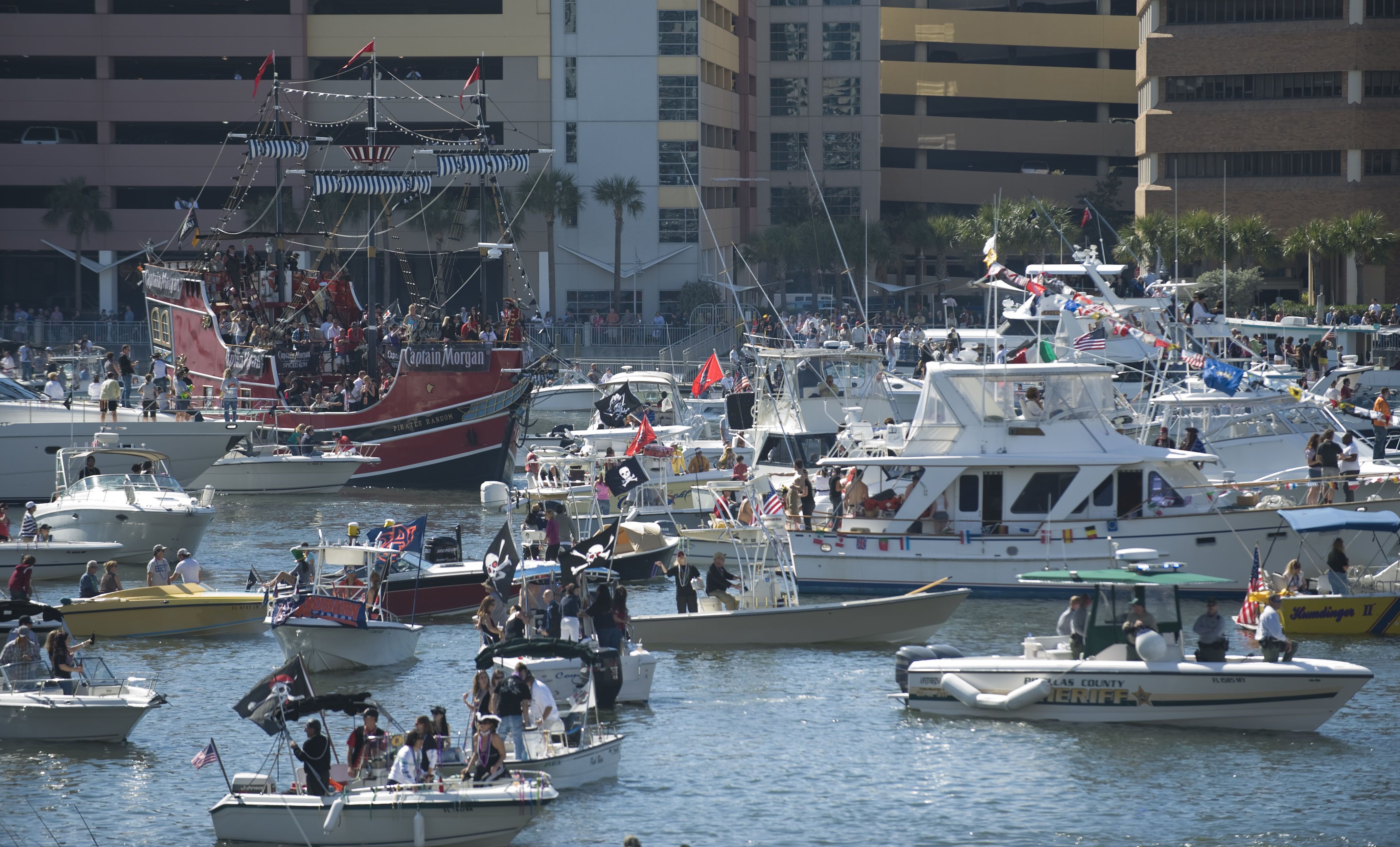 Yes, but: Why? The parade celebrates the legend of the pirate José Gaspar, aka Gasparilla, the most feared corsair in the Gulf, but mostly probably fictional.
Some say Gaspar was hanged on Franklin Street in downtown Tampa.
The first Gasparilla parade in 1904 was really part of a bigger May Day celebration. Outside of a few cancellations due to war and pandemic, it's been held every year since.
Between the lines: It's a good chance for grown adults to dress up and get buzzed in public. Many stay in character from sunrise to sunset.
Disambiguation: You may also hear of other Gasparilla celebrations this "Gasparilla season." Don't be confused:
2. Expired COVID tests can be used, after all
The FDA extended the expiration date on one million COVID test kits that have become a political football in recent weeks, per the Times/Herald.
What happened: Agriculture Commissioner Nikki Fried, a candidate for governor, had blasted the DeSantis administration for letting kits expire in a warehouse as Omicron sent Floridians scrambling for tests.
Flashback: Until the recent Omicron surge, there was little demand for tests. The state didn't want to administer the ones in the warehouse for fear they were faulty, the Times/Herald reported.
What's next: The tests are now in high demand. Orange County immediately asked for 100,000.
3. The Pulp: How many seeds must a white dove sail
🏥 Citrus County hospitals are feeling the strain of the latest wave of coronavirus cases. (Citrus County Chronicle)
🏟 New St. Pete Mayor Ken Welch wants to make affordable housing a key priority for the 86-acre redevelopment of Tropicana Field. (St. Pete Catalyst)
🍽 Tampa Bay Times food critic Helen Freund lists her top 10 new restaurants. (Tampa Bay Times)
Quote du jour:
"We were right, and they were wrong."
— Gov. Ron DeSantis on the federal government during his annual State of the Union address Tuesday night, per the
Bradenton Herald
.
4. Shady solar bill advances
Senators on a panel were apprehensive but voted 6-2 to advance a bill intended to restrict the expansion of rooftop solar in Florida.
SB 1024 would lower utility savings for Floridians using rooftop solar panels by reducing how much utilities pay them to buy back their excess energy.
☀️ Between the lines: At least two senators who voted yes said they would vote no at full vote unless changes were made to the proposed bill to protect grandfathered-in solar customers and provide more solar access to low-income Floridians, Florida Politics reported.
By the numbers: Only about 90,000 of the state's 8.5 million customers sell excess energy back to the electrical grid, but the arrangement has driven significant rooftop solar expansion, the Times/Herald reports.
The rub: The Miami Herald's Mary Ellen Klas reports that Florida Power & Light, the nation's largest power company, wrote the legislation to stifle solar growth before giving big political donations to the bill's eventual sponsors.
The other side: So incensed was FP&L that it launched a website attacking Klas' reporting and the Miami Herald for refusing to run the company's full rebuttal.
5. Still sweating the coronavirus
😬 We're worried about Omicron.
Driving the news: Per a new public opinion survey from the University of South Florida, nearly 75% of Americans are "very concerned" or "somewhat concerned" about emerging variants.
We also face an uncertain future, with fewer than 10% of us strongly believing that the worst of the pandemic is behind us.
6. ⚡️ Florida regains lightning-capital title
Florida edged out Oklahoma to become again the lightning capital of the United States.
7. 🏀 1 poll to go
We see you, Bulls. Keep it up.
🍕 The list of your favorite Tampa Bay pizza places is growing. Keep those recommendations coming.
🐶 Selene took the day off.
🎂 Ben is 44 years old, and wishes to thank his mother for being such a great friend. 🤰
Tell your favorite USF women's basketball player to subscribe.