Axios Tampa Bay
November 08, 2021
Monday, nice to see you.
😎 Sunny with a high of 72 and a low of 50 today.
Situational Awareness: There are still tickets available to Thursday night's Wu-Tang Clan show (Ghostface Killah, Raekwon and GZA) at The Ritz in Ybor.
Today's newsletter is 878 words, a 3.5-minute read.
1 big thing: As Florida turns red, DeSantis' 2024 odds improve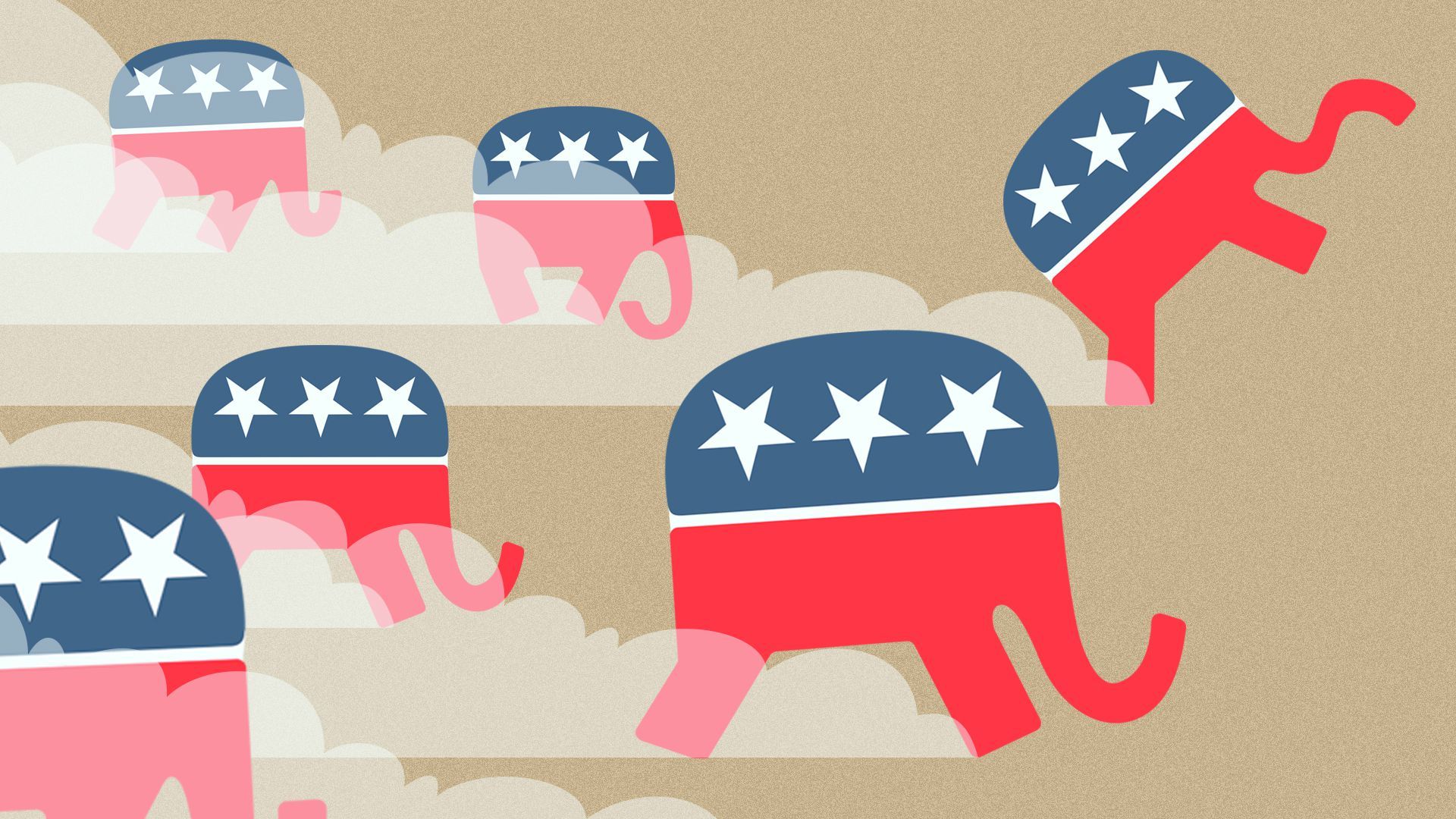 Gov. Ron DeSantis called Florida the "freest state in America" as he tried to stand apart from a handful of potential 2024 Republican presidential hopefuls making pitches to the Republican Jewish Coalition in Las Vegas this weekend.
Why it matters: DeSantis is using his legislative success in Florida to pick up campaign momentum as the state's COVID numbers improve.
Even bookmakers have noticed, with BoyleSports trimming DeSantis' odds of winning the 2024 presidential election to 9/1 from 12/1 on Saturday, per Florida Politics.
Alongside hopefuls like former New Jersey Gov. Chris Christie and former VP Mike Pence, DeSantis' pitch is the clearest sign yet that he's running.
Between the lines: DeSantis touted Florida's surge of new residents as a byproduct of low taxes and hands-off government policy, per the Las Vegas Review-Journal.
He also bashed critical race theory and vaccine mandates while bragging about legislation he signed banning ballot harvesting.
The big picture: DeSantis is riding a wave of Republican popularity as the state GOP announced without evidence that red voters outnumber blue voters for the first time in Florida history.
Yes, but: Just 10 years ago, there were half a million more Ds than Rs in the Sunshine State.
2. Women taking over Tampa tech
Tampa Bay Wave's Thursday pitch night for its TechWomen Rising Accelerator featured some impressive women-led startups.
Three Tampa-based companies that wowed us:
Improving Aviation
The leader: Rocio Frej Vitalle, aerospace engineer.
The product: Develops solutions to enable the next generation of air transportation systems for air traffic management and integration of emerging technologies in the aviation industry.
The intrigue: Part of Vitalle's product is "Windtellect," which seeks to better predict fire behaviors for emergency responders to stop wildfires sooner.
Seed Classroom
The leader: Emilia Herman, former Tampa high school teacher.
The product: Automated attendance and hall pass request system for schools. Students scan QR codes on their desks for attendance and can use the same system to request a hall pass without interrupting teaching.
The intrigue: Herman is still trying to finish fundraising before she launches Seed locally in 2022, but she's already booked a school in Massachusetts for the pilot program.
BarnWiz
The leader: Tori Sullivan
The product: Full-service web platform connecting horse owners with horse service and product suppliers, uniting the horse industry nationwide.
The intrigue: Sullivan's mare, Gala, inspired her to find a faster way to connect the equine industry. She calls it "AirBnB meets Uber Eats for horses."
Go Deeper: See more woman-led Wave companies that wowed us from this class and the TechDiversity cohort.
3. Whose 'Tampa Baes' are these?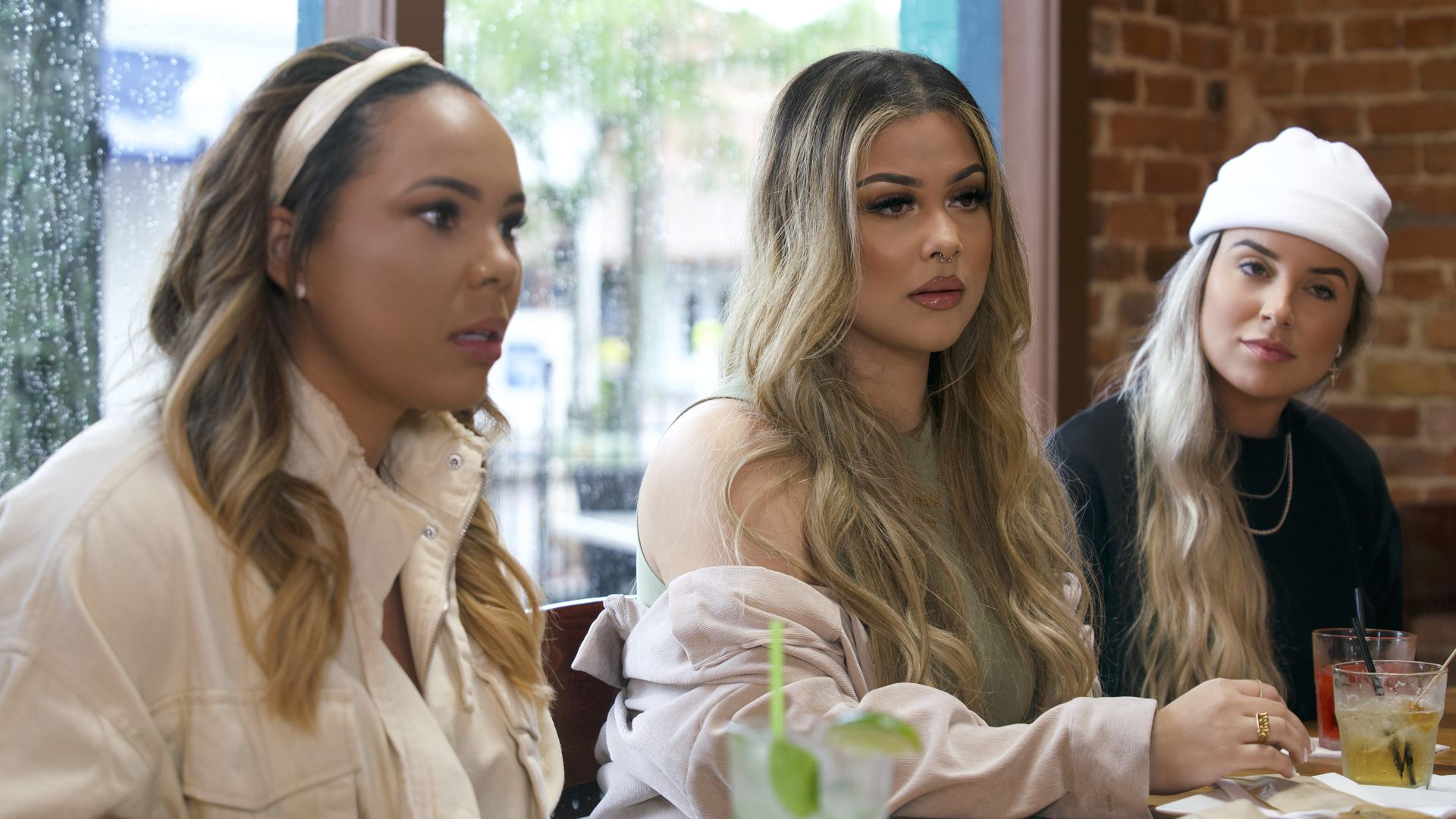 👋 Selene here! "Tampa Baes" premiered on Amazon Prime over the weekend, and as a lesbian in Tampa Bay, I had to check it out.
The show isn't as bad as I anticipated, since I'm still reeling from "Life's Rewards."
My main gripe: If there wasn't so much b-roll footage of scenes around Tampa and St. Pete, I would have no idea where this show takes place. The queer culture they're talking about is definitely not what I've experienced.
Bae myth 1: One of the Baes, Cuppie, opens the show talking about the thriving lesbian scene in Tampa.
Where? I would like to see it. We don't even have a lesbian bar. Sure, lesbians are welcome at the gay bars in Ybor and St. Pete, but other lesbians agree we aren't what Tampa Bay is known for.
Bae myth 2: Jordan says there's "a culture of who knows who, who's the cutest couple, who's the most successful."
The show has gotten criticism for its lack of diversity. If the creators looked just a bit further into our community of trans and nonbinary folks, they'd have less nearly identical couples and way better drama.
Bae myth 3: Mel says she's "one of the only LGBTQ artists in the Tampa Bay region."
That is straight up false. Mel is actually one of the Baes I like best, but you can't act like the only gay muralist in town.
My solution: Give a "Tampa Baes" spinoff to the Gay Commie Skate Crew.
4. The Pulp: Baby, citrusfy me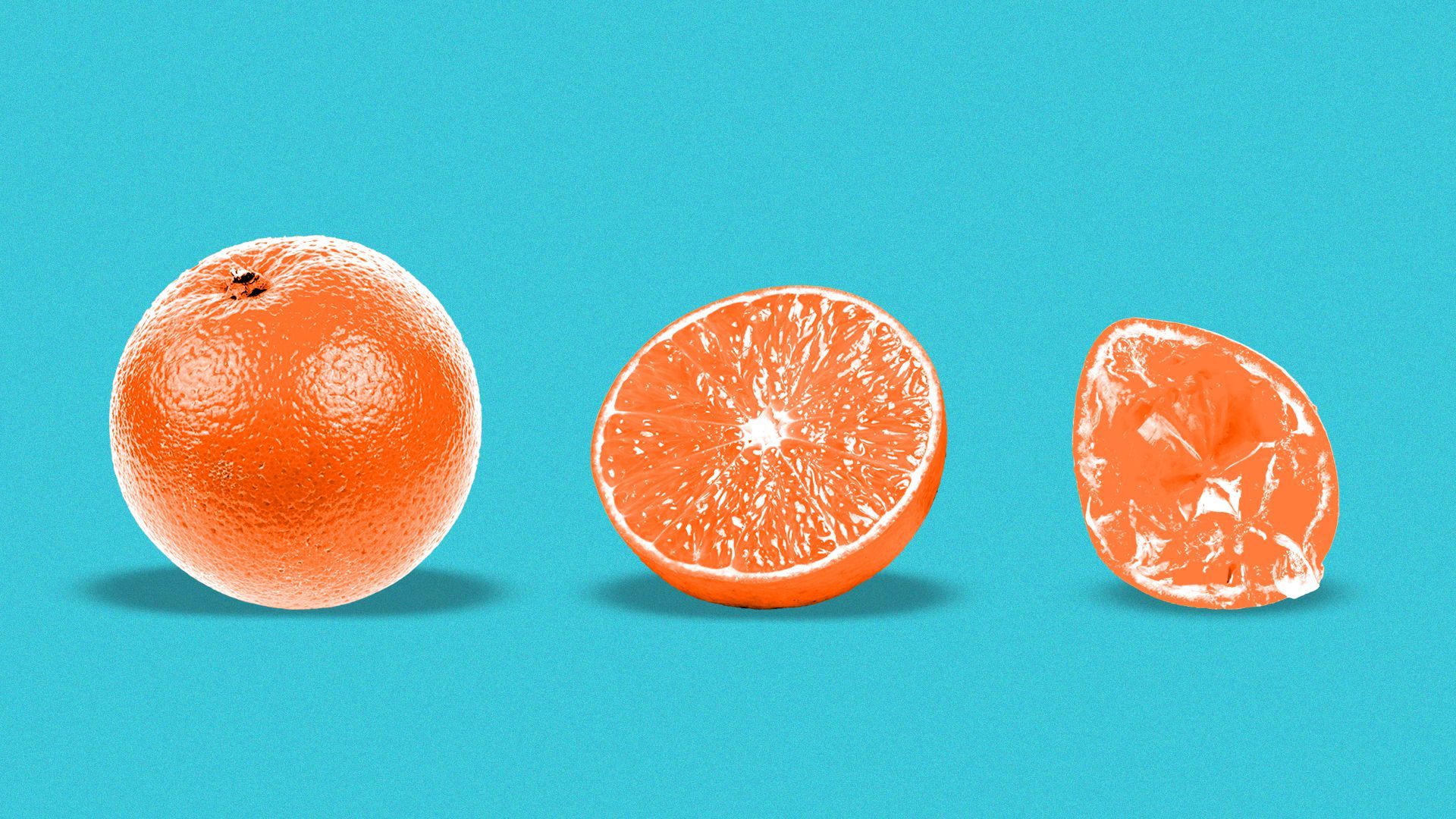 A St. Pete Beach home became the area's highest-priced residential sale after going for $8.2 million. (Tampa Bay Business Journal)
Largo Police officers are being investigated after they shot a man they say was armed with a rifle at his ex-girlfriend's home Saturday night. (Tampa Bay Times)
A chug (Chihuahua-pug mix) puppy was found after it was stolen from a Manatee County Petland last March along with five others worth a total of $35,000. (Bradenton Herald)
The family of a Hernando County mother is asking for help after she disappeared right before she was supposed to talk to police about the person responsible in her brutal attack. (Bay News 9)
5. 1 bite to go: Albondigas in Ben's belly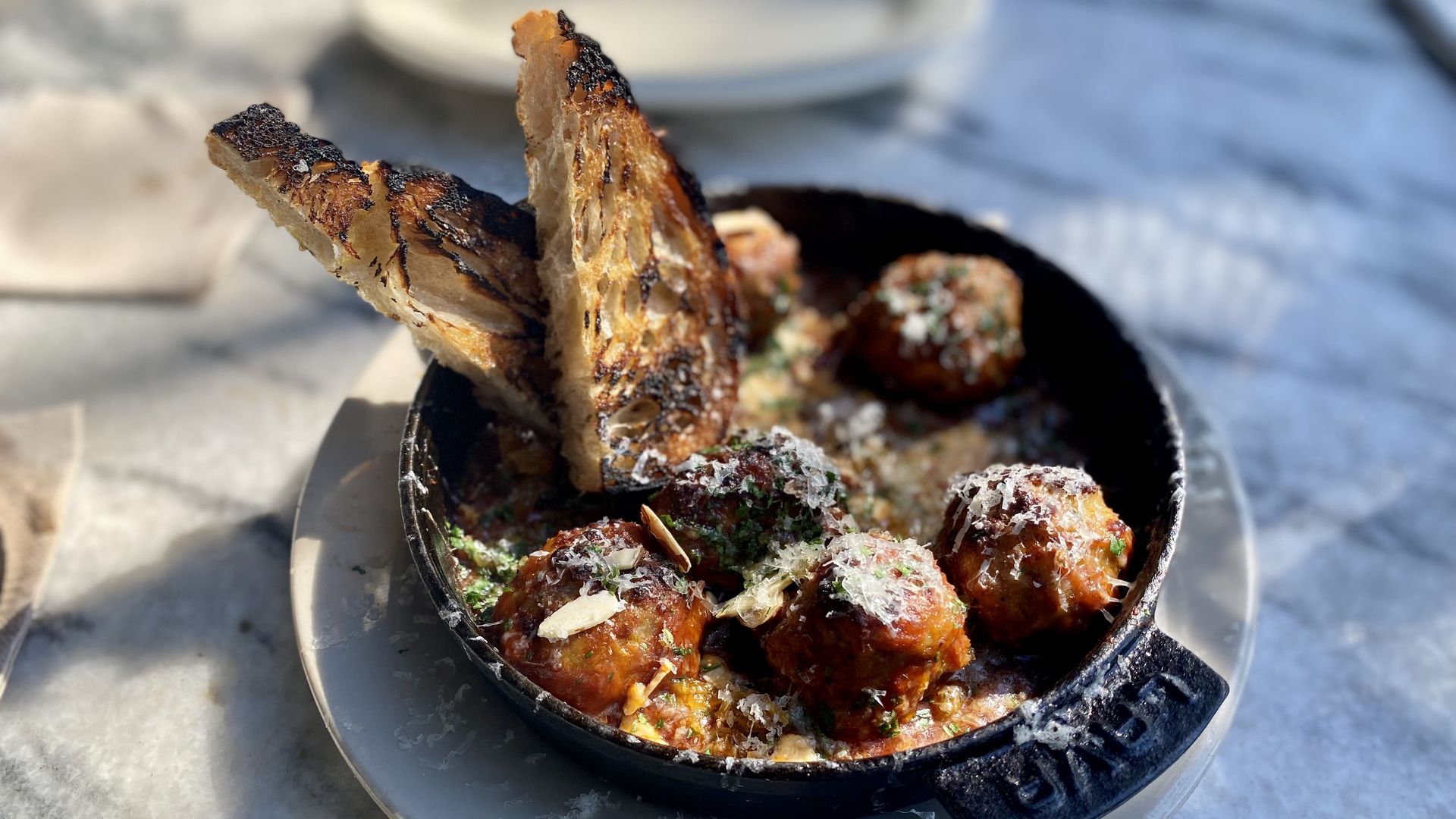 👋 Hi. It's Ben.
Selene was complaining about the newsletter featuring too many sandwiches, so I ordered the shockingly photogenic albondigas for lunch at Oak & Ola this week.
I was reminded how delectable these Spanish meatballs are, though it's hard to find evidence they're "fire-roasted," as the menu suggests.
🥖 The side sourdough from Jamison B. Breadhouse Bakes had a nice char and crunch.
Slap some sauce and a smashed meatball on the toast and it's a delightful bite.
👰🏻‍♂️Ben is wed to this collection of stories about marriage from the New Yorker archives. P.S.: Congrats to all the area crew teams that competed at Head of the Hooch in Chattanooga this weekend! 🚣
📚 Selene is reading "Midnight Library" and listening to Wet. 💦
You can pick your friends, and you can pick your nose, but you can't make your friend's nose subscribe.