December 12, 2021
Hey, hey, Tampa Bay! Happy game day, and welcome to Week 14.
📰 We've put together a special edition of our newsletter to keep you up on the Tampa Bay Bucs as they chase another trophy.
Our colleagues Kendall Baker and Jeff Tracy from Axios Sports helped with some clutch analysis.
If you want more, sign up to receive their newsletter for free — and hit reply if you liked this edition!
🏈 Today: The Bucs (9-3) face the Buffalo Bills (7-5) in Tampa at 4:25pm.
☀️It's gonna be sunny, with a high of 84 and a low of 67.
Today's newsletter is 1,052 words, a 4-minute read.
1 big thing: The Bucs' path to Super Bowl LVI
The Buccaneers (9-3) are rolling, holding a four-game division lead that matches Green Bay's for the biggest in the league.
That means they can clinch the NFC South today with a win over the Bills and losses from the Panthers and Falcons.
How they got here: The defending champs opened their season with a last-second win over the Cowboys, won five of the next six, and are currently riding a three-game win streak.
By the numbers: Tampa's offense gains 403.7 yards per game, good for second-best in the league, and its defense allows just 84.3 rush yards per game — the best mark in the NFL.
State of play: If the Bucs fail to clinch today, they can rest fairly easy knowing their remaining schedule is the fourth-easiest in the league.
Their final four games in the NFL's inaugural 18-week season come against the Saints, the Panthers twice and the lowly Jets.
The big picture: A year after winning the Super Bowl in their first playoff appearance since 2007, the Bucs have the best odds to win it all again in February.
That QB of theirs may really have a future in this league.
2. The players to watch
An NFL roster goes 53 players deep. These three have been the most impactful in getting the Buccaneers to this spot, and could dictate how far they'll go from here.
Tom Brady, QB: Come on, he's 44 years old and is heavily-favored to win his fourth MVP.
The seven-time champ leads the league in completions (347), attempts (508), pass yards (3,771) and pass TD (34), and his 68.3% completion rate is the second-best of his career.
Rob Gronkowski, TE: Mike Evans, Chris Godwin and Leonard Fournette are the workhorses, but few are as important as the man who'll go down as one of the greatest tight ends in NFL history.
Wild stat: In the last four games that he's scored (Super Bowl LV, Week 1, Week 2, Week 13), he's done so twice. When Brady finds him once, he doesn't stop looking.
Vita Vea, DT: The six-foot-four, 347-pound lineman's stats may look pedestrian, but his impact is anything but.
His huge presence on the line welcomes double teams, plugs running lanes, forces holds and collapses the pocket to make life miserable for opposing offenses.
3. Graphic du jour: Who Dak?
Since that wild Week 1 thriller — when Tampa Bay beat Dallas in the final seconds, and Dak told Tom, "We'll see y'all again" — fans have been floating both as MVP hopefuls.
The game itself begged it:
Tom: 379 yards, 4 TDs.
Dak: 403 yards, 3 TDs.
The bottom line: We think the stats since then speak for themselves.
4. It's Tom's town now
It didn't take long for Tom Brady to start showing up on our walls.
Why it matters: By our count, since winning Super Bowl LV, artists have painted at least six major murals depicting Brady around Tampa Bay.
The most recent we've seen covers most of the end of a two-story apartment building on the Hillsborough River in Tampa.
📬 Is there a Tom Brady mural we don't know about? Hit reply and send us a pic.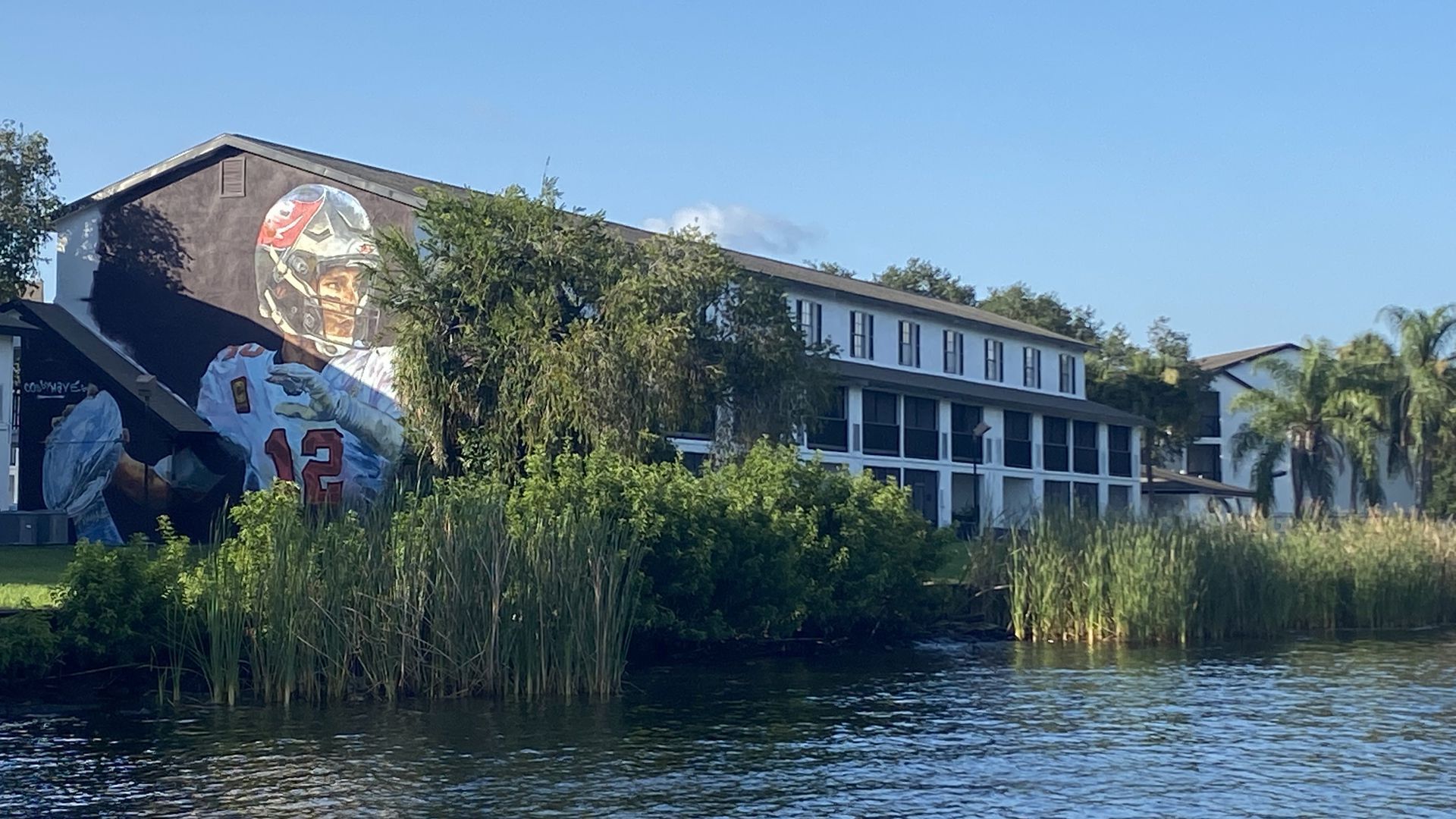 5. Where to watch: Five dives
Looking for a fun place to watch the game? We pulled together five of our favorite dive bars, with six-word reviews to let you know what you're getting into:
☘️ The Shamrock Pub, downtown Sarasota: Cash only. There's a phone booth.
🥃 The Hub, downtown Tampa: Made Playboy's list of best dives.
🍓 Strawberry Patch Lounge & Package Store, Plant City: It is behind a package store.
😼 Sneaky's, Largo: Forget the game — fried bologna sandwich.
🏝 Ricky T's, Treasure Island: Stick around for the live music.
6. Excerpt: The time Tom Brady brought a dog to the locker room
ESPN writer Seth Wickersham's new book about the New England Patriots dynasty offers a slew of revealing anecdotes about the making of Tom Brady, including this gem from 2007:
And even though Brady's notoriety had reached another level, he wasn't unapproachable, and his teammates seized on any opening to give him a hard time. One day in 2007, Brady walked into Brad Seely's office with a Louis Vuitton bag. Seely could see something furry sticking out from the bag.
"What the hell is that?" Seely said.
"That's Gisele's dog," Brady replied sheepishly. Her name was Vida, a Yorkie. She was peeking out from the bag. Bündchen often referred to her as her best friend.
"I gotta watch it," Brady said.
Seely sat back, amused. Brady needed to ask a favor: Could he leave Vida in Seely's office, just for a little while? Sure, Seely offered.
"Don't tell anybody," Brady said.
7. History 101: A star is born on the cusp of a turnaround season
Tom Brady came into this world on Aug. 3, 1977 — just three days before Tampa Bay's winless NFL expansion franchise took the field at Tampa Stadium for the first preseason game of the young team's second treacherous campaign.
Brady is 44 now, and yesterday, Dec. 11, marked the 44th anniversary of the Buccaneers' first-ever victory, which came in Week 13 that year when the Bucs beat the New Orleans Saints 33-14 to end a 26-game losing streak.
Quote du jour:
"We were strangled by the trauma. ... What a nightmare. It was the worst experience of my coaching career. We're all ashamed for our people, our fans, our organization."
— Then-Saints coach Hank Stram
Keep reading: Ben's got much more background on the Bucs' first win
8. 1 insane Bucs-connected recipe to go
Follow me for a second: Tom Brady is the king of comebacks, with more than 40 in the fourth quarter and more than 50 game-winning drives.
And USA Today's Dan Wolken makes the case that Brady's grace under pressure all started at Michigan under offensive coordinator Mike DeBord.
Below is how to make DeBord's favorite "salad," according to his wife, Deb, in the recipe book "Winning Seasons," from the American Football Coaches Wives Association.
We can safely assume that Tom ate this at some point in four years playing for DeBord, at a team potluck or during a late-night film session.
But we can only guess at what role it had in making him who he is today.
Bing Cherry Jell-O Salad
1 can seeded Bing cherries
1 cup Coke
1 package black cherry gelatin
Cream cheese
Pecans
Add enough water to cherry juice to make 1 cup liquid. Heat mixture and Coke over medium, dissolving gelatin. Stuff cherries with cream cheese. When gelatin has partly thickened, add cherries and pecans. Let set.
Thanks for joining us for this special Bucs edition. Don't drink and drive.
See y'all back here tomorrow.
Like what you read? Want more about local sports? Hit reply or email our publisher at [email protected].