May 09, 2022
It's Monday, friends. Good weekend? Let's get you caught up.
😎 Sunny and clear, mostly. 90/63.
🏒 Situational awareness: The Tampa Bay Lightning beat the Toronto Maple Leafs 7-3 last night to even the first-round series at 2-2. Game 5 is Tuesday in Toronto.
Today's newsletter is 861 words, a 3.25-minute read.
1 big thing:💧The right to clean water
A group of Southwest Florida activists is trying to get a new right added to the state constitution: the right to clean water.
Driving the news: A political committee called Florida Right to Clean Water has filed a proposed constitutional amendment that would create a "fundamental right to clean and healthy waters."
The amendment would allow lawsuits against state agencies for harm or threatened harm to lakes, rivers, wetlands and other types of water bodies.
Why it matters: The change would put it into law that people in the state have the right to clean drinking water, and if something threatens to pollute it, we can sue.
State of play: To get on the 2024 ballot, the committee would need to submit nearly 892,000 valid petition signatures by Feb. 1, 2024, and receive the Florida Supreme Court's approval of the wording.
They're collecting signatures here and looking for volunteers to help with collection in all 67 counties.
What they're saying: "The system is failing us right now," said organizer Joseph Bonasia, a retired high school English teacher who moved to Cape Coral six years ago, per the Fort Myers News-Press.
"We want to amend the state constitution to give every Floridian a fundamental right to clean and healthy waters … a law that can't be overturned [and] can't be messed with by the state Legislature."
The other side: Rep. Blaise Ingoglia, a Republican homebuilder from Spring Hill, filed a bill that would ban local governments from granting "any legal rights to a plant, an animal, a body of water, or any other part of the natural environment."
He argues it would hurt business and the tax base.
2. Sarasota's incivility on the national stage
The Washington Post took a look this weekend at the incivility recently infecting public meetings in Sarasota — which we pointed out on Friday.
The Post frames the dysfunction as a fight centered around whether the traditionally Republican county will remain moderate or embrace the brash brand of hard-right politics championed by Gov. Ron DeSantis.
From the story: " … Residents here say this level of rancor in local government is no longer uncommon. From county commission meetings to neighborhood association gatherings, Sarasota County has become an example of just how deeply the nation's partisan divisions are bleeding into local government, curdling the relationship between residents and their civic leaders."
3. The Pulp: Slow rind, take it easy
⚖️ Pasco Black Lives Matter activist Marlowe Jones was found not guilty of battery on a former New Port Richey police officer and resisting without violence. (Creative Loafing)
🌱 Researchers at Florida Polytechnic's Industrial and Phosphate Research Institute hope to boost the domestic supply of rare earth elements using phosphate. (Lakeland Ledger)
🪦 Four East Tampa homes may sit atop a Black cemetery with 430 graves, an investigation shows. (Tampa Bay Times)
🚗 The Citrus County Chamber of Commerce joined chambers in Ocala and Dunnellon in asking the state for a northern turnpike extension. (Citrus County Chronicle)
🍊 Bradenton-based Tropicana has released Tropicana Crunch, which is billed as "the first-ever breakfast cereal created to pair with Tropicana Pure Premium so you can sip your sunshine and eat it, too." (Food & Wine)
Quote du jour:
"Not only are they great academically, they're just great kids. They're good friends. They're good teammates. They're good students. I think when they were younger, they just always wanted to excel."
— Melody Blanton to
the Plant City Observer
, about her twins, Drew and Bailey, valedictorian and salutatorian at Plant City High School.
4. 🚘 Local ride on national TV
A new Fox Business Network show called "My Dream Car!" will be spotlighting Tampa Bay in an episode tonight at 9.
The show, hosted by Danielle Trotta with SiriusXM NASCAR, chronicles people restoring vintage cars to surprise the vehicles' owners, usually their parents.
Tonight's show features Kelly Holzman surprising her father Grant with a restored 1966 Chevelle at Showtime Dragstrip in Clearwater. Patrick Laughlin of Conquer Customs handled the restoration.
5. 🧑‍💻 Where's your out-of-office office, Tampa Bay?
We've been feeling a little stir-crazy lately, so we figured we'd show you our favorite places to get out of the house to work.
Selene's spot: Paradeco Coffee Roasters in downtown St. Pete.
Why she loves it: There's no way you can be in a bad mood with all the vibrant colors and greenery here. Even the espresso machine is ultra-cute!
Plus: It's next to an outdoor courtyard with lots of shade, so you can go from indoors to outdoors to change things up.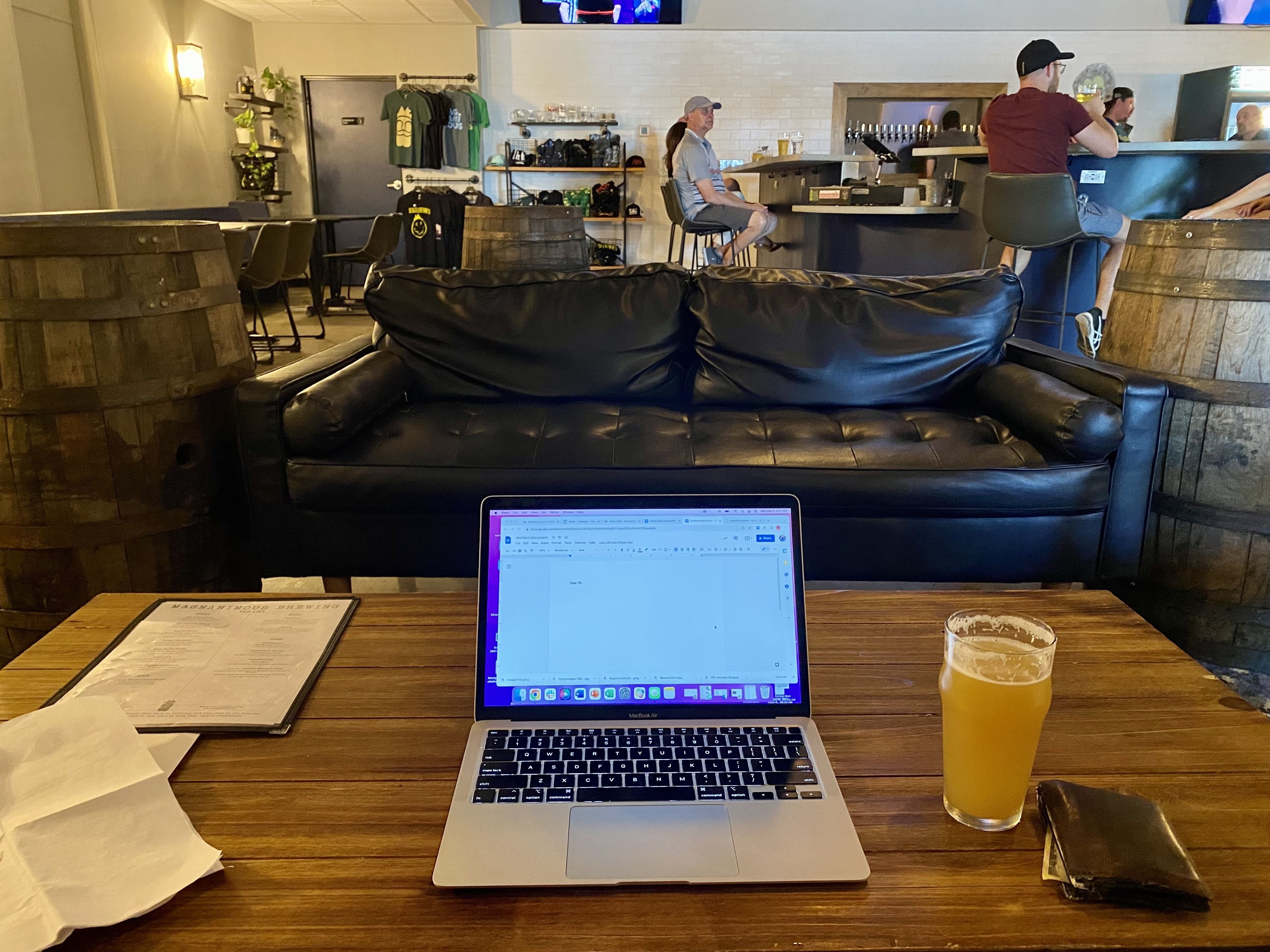 Ben's spot: Magnanimous Brewing, Tampa Heights.
Why he loves it: The guys from Ginger Beard Coffee serve in the mornings and remember your name.
Plus: There are plenty of power outlets and always an open table or two, and if you want a lunch beer, you can have one.
📬 Where's your favorite spot to work from not-home? Hit reply and let us know.
6. One postcard to go
On this morning in 1980, a 609-foot phosphate freighter called Summit Venture collided with piers supporting the Sunshine Skyway Bridge, sending 36 travelers into the water 150 feet below.