June 28, 2022
👋 Good morning! Great day to be alive.
Today's word count: 1,713 words (6 minutes).
Let's sports...
1 big thing: 🎾 The queen is back
Serena Williams will make her highly anticipated return today against Harmony Tan in the first round of Wimbledon (11:45am ET, ESPN).
The backdrop: The 23-time major winner — and seven-time Wimbledon champion — tore her hamstring in her opener at the All England Club a year ago. She hasn't played a singles match since.
It has been easy to find Serena Williams lately. At awards shows and galas. Starting a venture capital fund. Reveling in the company of her daughter, Olympia. As a pitchwoman for Michelob Ultra and Subway and Chase and DirecTV.
In mid-June, Serena confirmed she would take a wild-card into [Wimbledon]. She turns 41 in September. Her ranking is 1,204 in the world — 1,203 spots off her career-high. Yet, she sent a clear message: I'm not done yet.
— Jon Wertheim,
SI
The bottom line: One of the greatest athletes of our time is back on the tennis court after 12 months away, and it's unclear how many more times we'll get to watch her do this. Don't miss it.
Go deeper: How a tennis nerd gave Serena and Venus a new lease on the game (NYT)
2. 📸 Behind the lens: Capturing the Cup Finals
Millions watched this year's Stanley Cup Final, but only a select few captured it on camera. We spoke with Getty Images photographer Bruce Bennett about what it's like being behind the lens.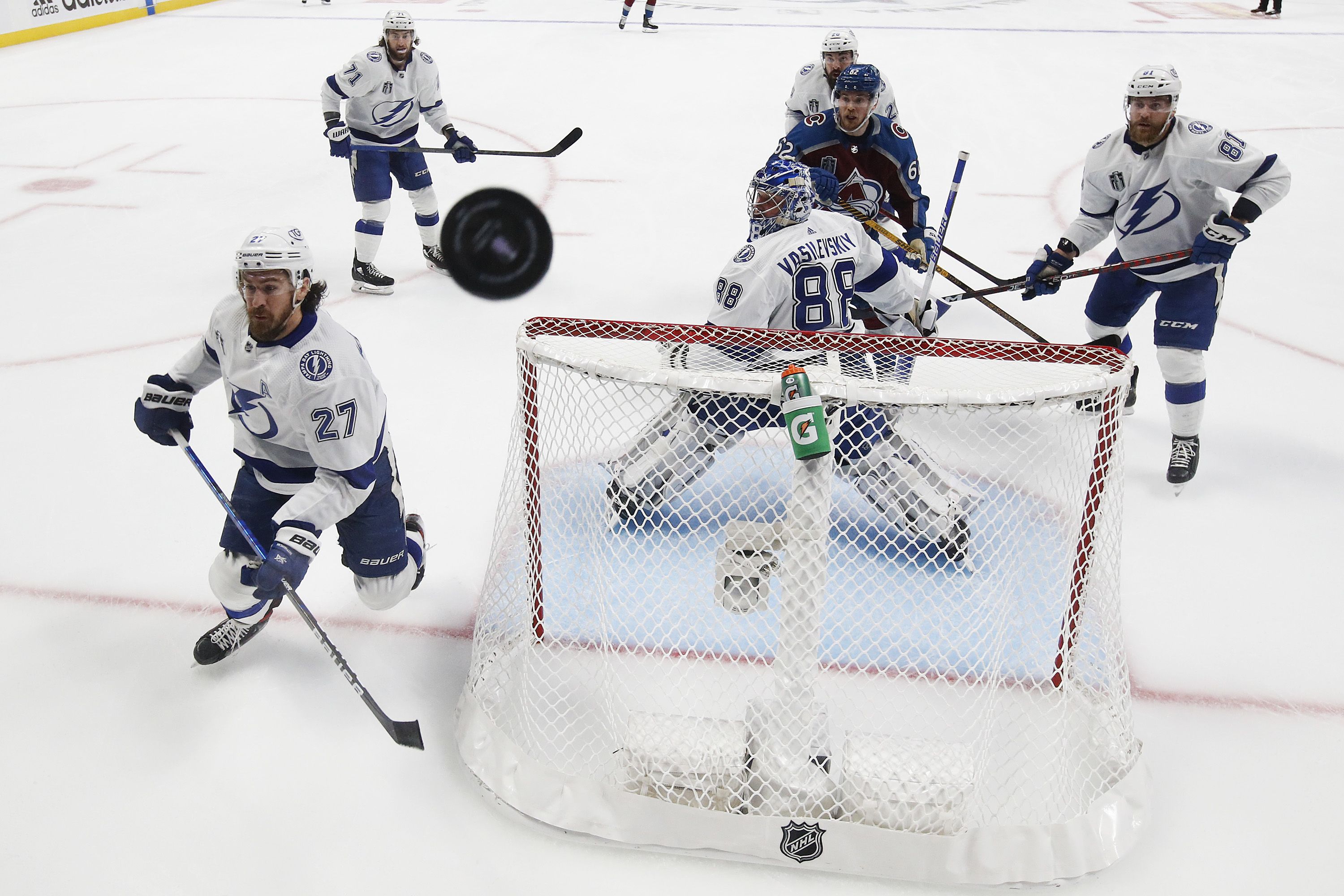 Bruce Bennett, 67, has photographed hockey almost exclusively throughout his career. That experience helps him navigate a sport that's notoriously difficult to shoot due to the speed and erratic movements of the players and the puck.
"I do my homework: which players like to shoot rather than carry the puck in, which defensemen like to run people out on the boards. Bringing that knowledge to the game allows me to anticipate a little bit better than someone who shoots [multiple sports]."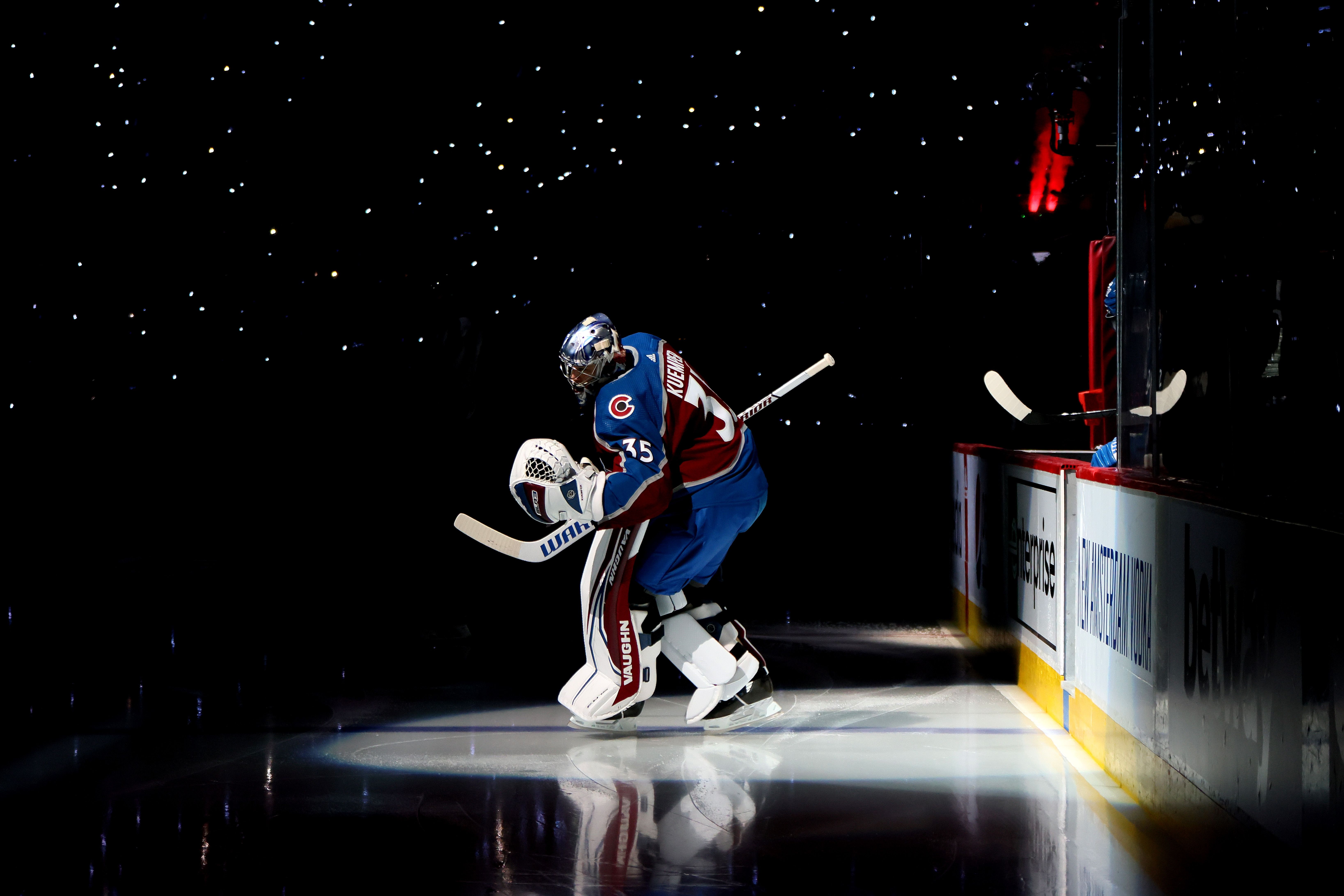 Bennett's team covers every inch of the ice with their handheld and remote cameras, which are positioned throughout the arena. Retrieving their memory cards can lead to some hectic between-period breaks.
"In Tampa, I have to leave my seat with 10 or 15 seconds left in the period, run up the aisle, run a quarter of the way around the arena, run down the stairs, and then run out on the ice to grab the digital card out of the camera in the net."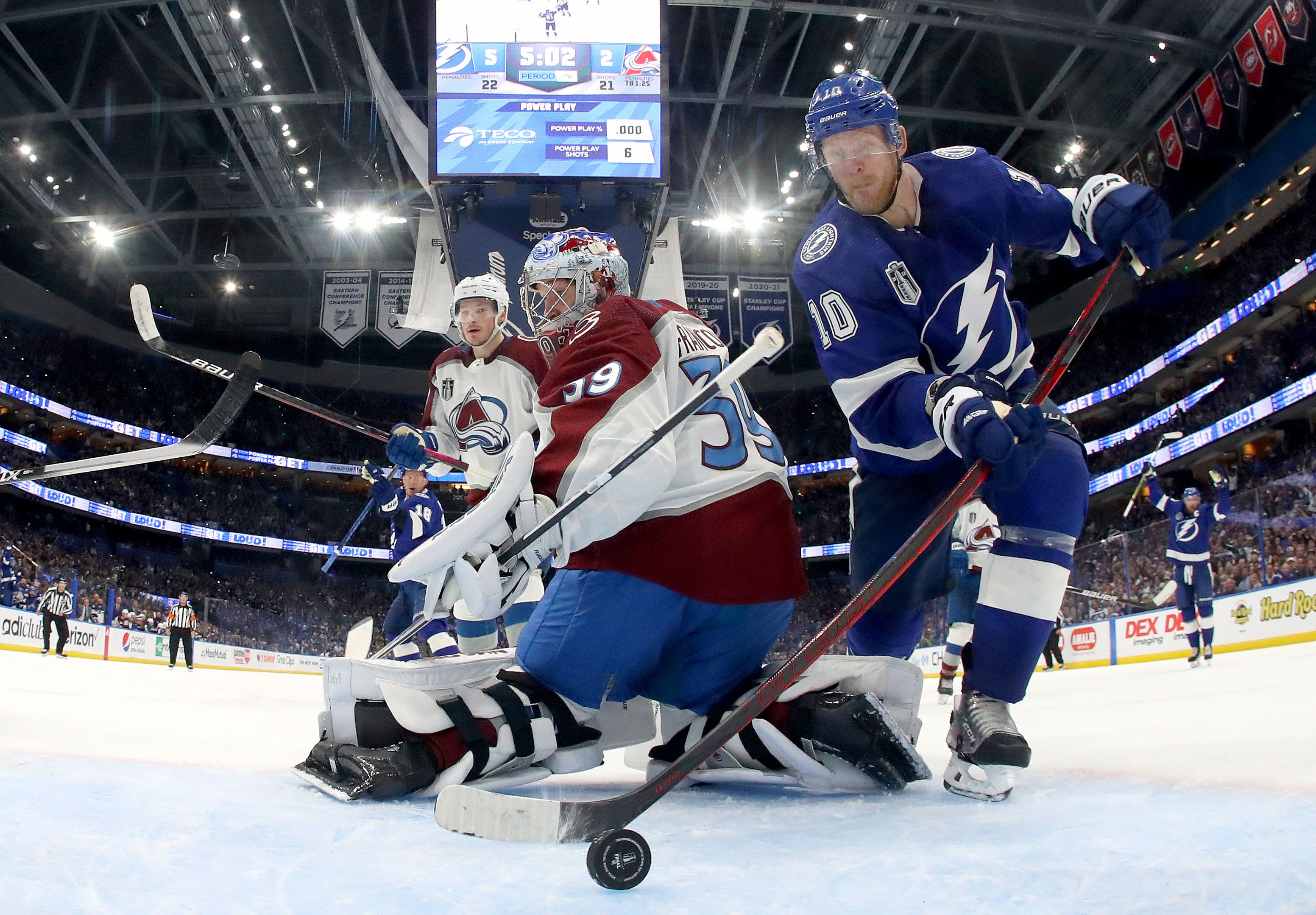 When there's action around the net, Bennett manually triggers the remote camera behind the goalie, which produced tons of great images during these playoffs.
"Typically, we'll shoot about a thousand on the net cam and a thousand on each of the other remote cams, and maybe you've got a half-dozen that are good. But this postseason has seen a lot more crashing into goaltenders and more action in the crease, so we've had way more."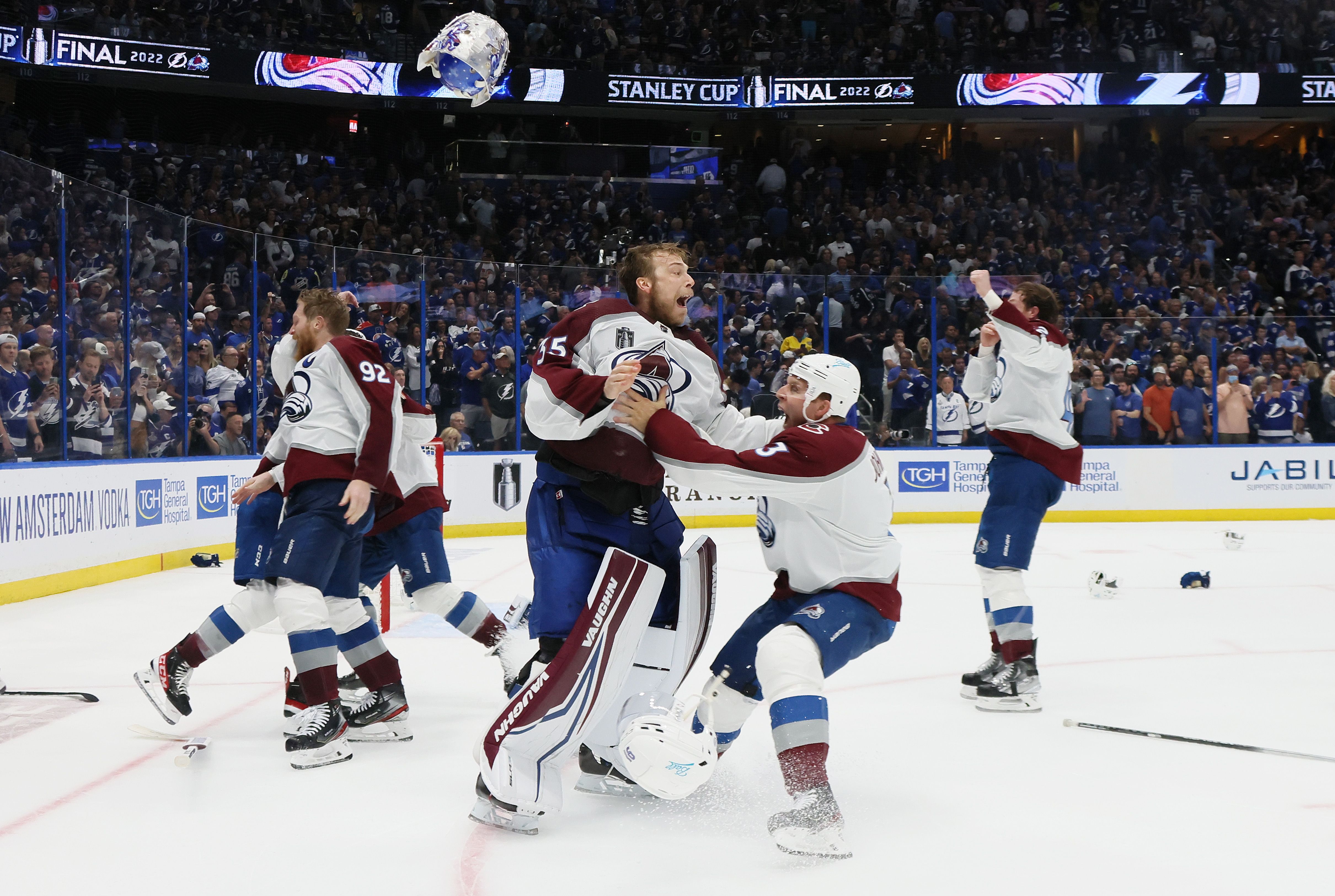 Bennett must balance capturing every moment with serving the publications (like ours!) that rely on Getty Images to provide photos in real time that they can share with readers.
"We're known to get images out in 30 seconds, but it's always a challenge. The other night there were two goals scored right in front of me, perfect celebrations. At what point do I stop shooting and send the images to the editor? You're going to miss some things, but part of the job is getting the images out fast."
3. 🙏 SCOTUS sides with coach over prayers
The U.S. Supreme Court on Monday ruled 6-3 that a Washington state public high school football coach had a right to pray on the field with students, declaring that it counts as free speech, Axios' Oriana Gonzalez reports.
Driving the news: "The Free Exercise and Free Speech Clauses of the First Amendment protect an individual engaging in a personal religious observance from government reprisal; the Constitution neither mandates nor permits the government to suppress such religious expression," according to the court's opinion, written by Justice Neil Gorsuch.
Catch up quick: The plaintiff in the case was public high school football coach Joseph Kennedy, who would pray at midfield after games, with some players feeling compelled to join him.
The school district had asked him to stop doing so, saying that it violated the board's policy and the Constitution.
Kennedy was placed on administrative leave. He then sued the school, saying that it violated his right to free speech.
Details: Gorsuch wrote that the school's reasoning for disciplining Kennedy was "misguided," adding that the First Amendment "[protects] expressions" like Kennedy's.
Lower courts had held that because Kennedy "'was hired precisely to occupy' an 'influential role for student athletes,' any speech he uttered was offered in his capacity as a government employee and unprotected by the First Amendment."
However, Gorsuch said that the school had a "mistaken view that it had a duty to ferret out and suppress religious observances even as it allows comparable secular speech."
The other side: In her dissent, Justice Sonya Sotomayor said that the Constitution "does not authorize, let alone require, public schools to embrace" activity such as Kennedy's.
"[T]his Court consistently has recognized that school officials leading prayer is constitutionally impermissible. ... The Court now charts a different path," she added.
The court "elevates one individual's interest in personal religious exercise ... over society's interest in protecting the separation between church and state."
Go deeper: When religion takes the field (Axios)
4. ⚡️ Lightning round
🏀 NBA moves: Kyrie Irving says he's opting in to his $36.5 million option with the Nets next season, but that doesn't mean he won't be traded. ... John Wall is joining the Clippers after his buyout with the Rockets.
🏆 Denver's dual champs: Avalanche GM Joe Sakic has joined John Elway in leading a Denver franchise to a championship from the front office two decades after leading them to a pair of titles as a player.
⚽️ Top 50 players: Spain's Alexia Putellas (Barcelona) and Australia's Sam Kerr (Chelsea) top ESPN's list of the world's 50 best women's soccer players. Catarino Macario (Lyon) is the highest-ranked American at No. 6.
🏒 Class of 2022: Forwards Henrik and Daniel Sedin and goalie Roberto Luongo — all former Canucks — headline the 2022 Hockey Hall of Fame induction class, announced Monday.
🥊 Bell vs. Peterson: In the latest installment of "washed up athletes boxing each other," Adrian Peterson and Le'Veon Bell are reportedly planning a fight for July 30 at Crypto.com Arena in Los Angeles.
5. ⚽️ Yankee imperialism in European soccer
None of America's football or baseball teams are foreign-owned — but the English Premier League is dominated by foreign owners, especially American ones, Axios' Felix Salmon writes.
Driving the news: Chelsea and the Broncos were both sold for record amounts to American consortiums in recent weeks.
The difference: In the case of the NFL team, it was unthinkable that a foreign bidder could even be in the running.
Go deeper: Last weekend's Axios Markets is all about the business of sports
6. 🇺🇸 Nationals provide preview for worlds
Hundreds of athletes competed at this weekend's USA Track and Field Outdoor Championships at Oregon's Hayward Field. Their goal: qualify for next month's World Championships, Jeff writes.
Headlines:
What's next: The World Championships begin July 15 right back at Hayward Field, the first time they've ever been held on U.S. soil. What better place for such history than the birthplace of Nike?
The home crowd should have plenty to cheer for, too: Team USA's 26 track and field medals in Tokyo were by far the most of any nation.
7. 🌎 The world in photos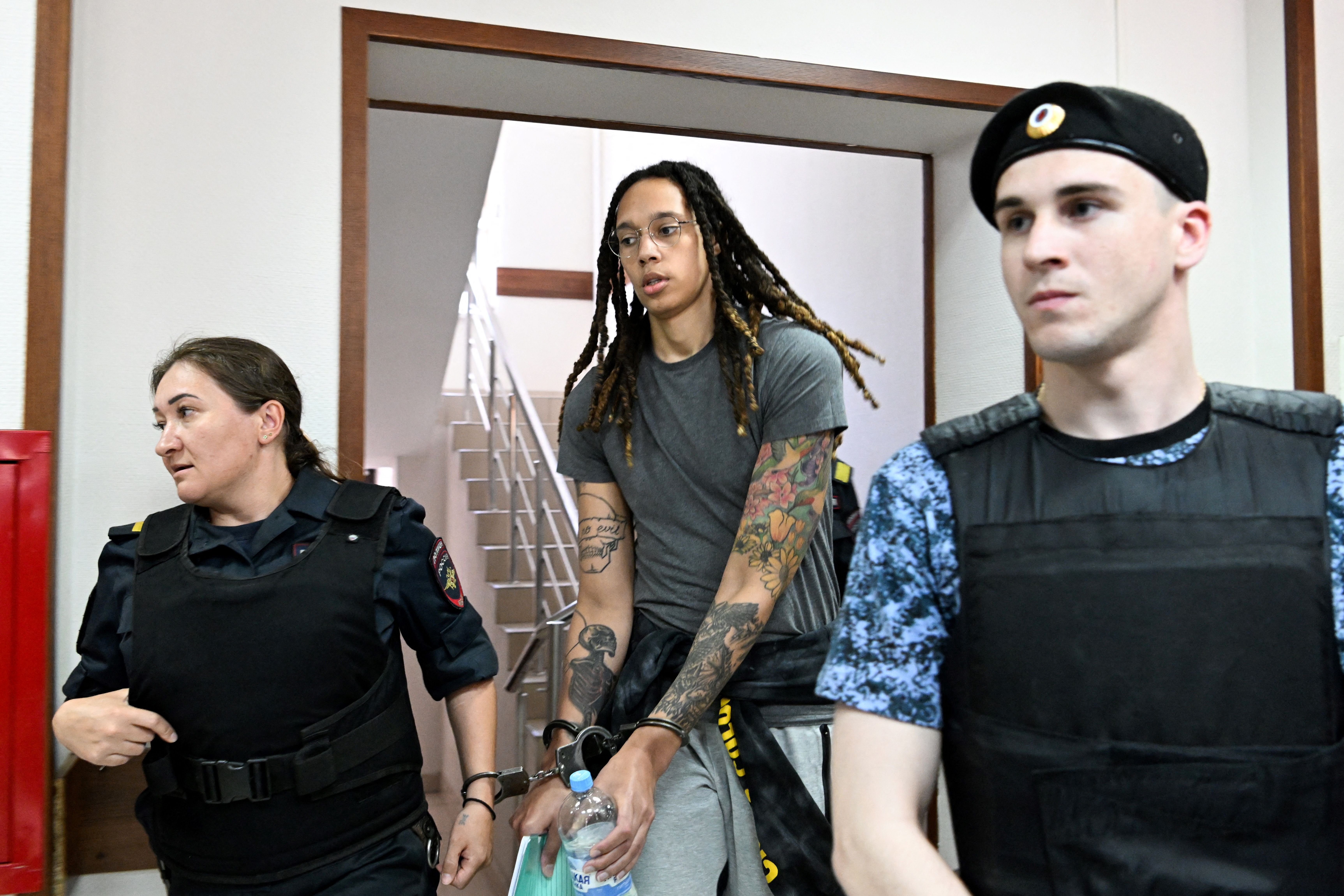 MOSCOW — After a preliminary hearing on Monday, a Russian court has set a July 1 start date for Brittney Griner's trial and extended her detention for an additional six months.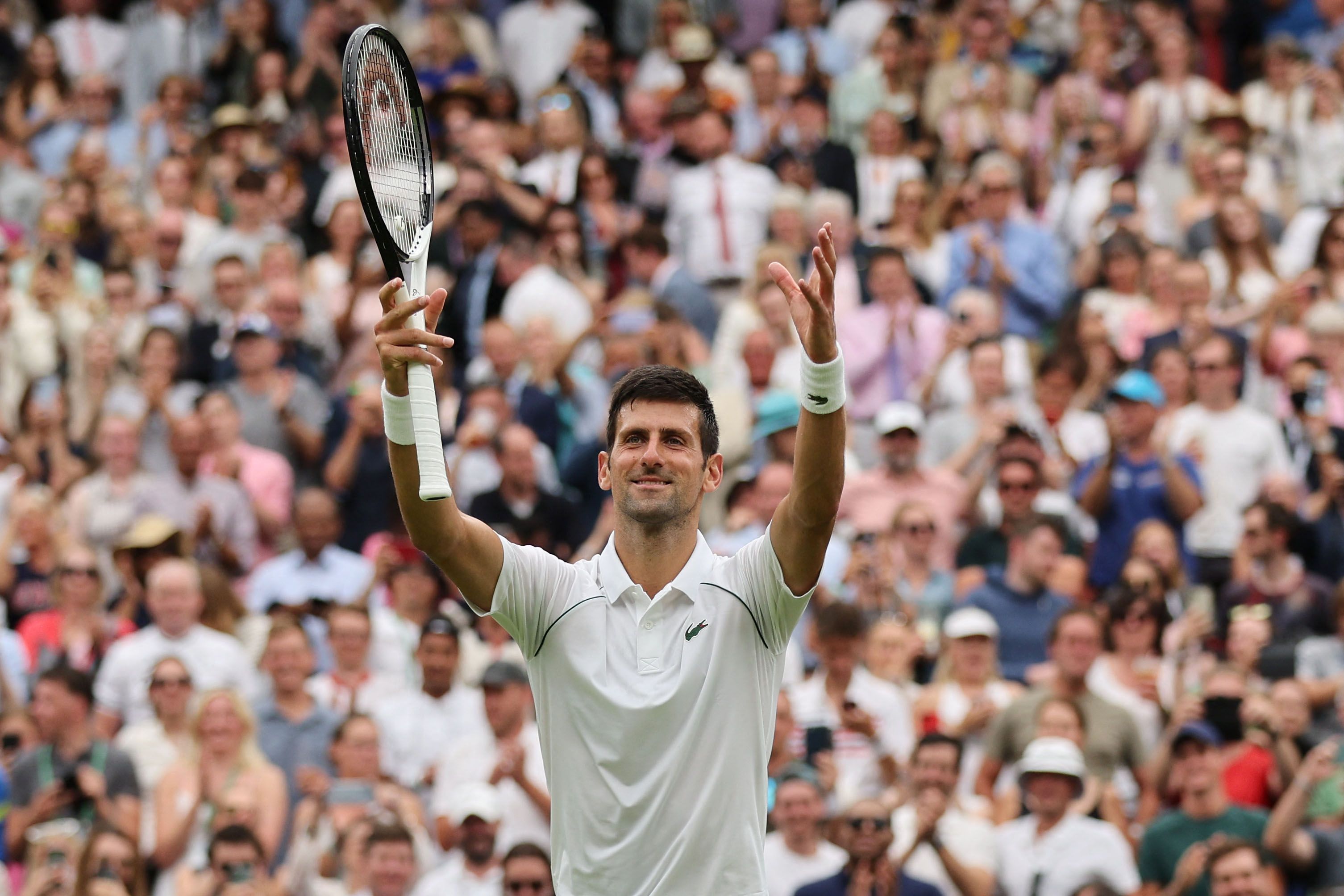 LONDON — Novak Djokovic recorded his 80th win at Wimbledon on Monday, becoming the first player, male or female, to win at least 80 matches at all four majors.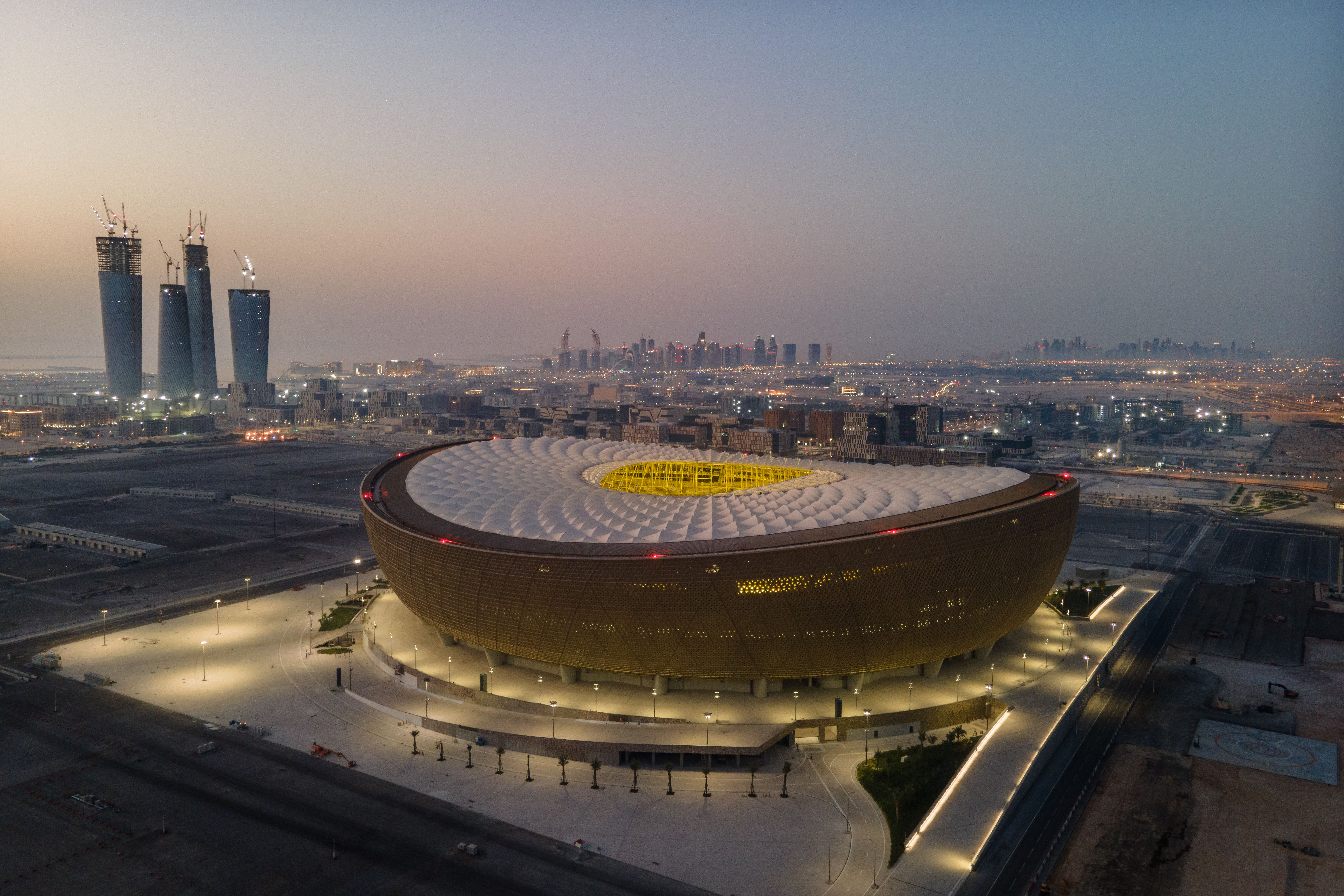 DOHA, Qatar — Lusail Stadium, pictured at sunrise, will host the final of the World Cup, which kicks off in 146 days.
8. 📺 Watchlist: The Gotham gauntlet
The Astros visit the Mets tonight (7pm ET, TBS) for their seventh of nine straight games against the first-place New York teams.
The backdrop: The Yankees (54-20) and Mets (47-27) have the two best records in baseball, and may be en route to the best combined season in their 60 years of coexistence.
Yes, but: The first-place Astros (45-27) are contenders in their own right. They're 4-2 through the first six games of this gauntlet and even no-hit the mighty Yankees on Saturday.
More to watch:
🎾 Wimbledon: Day 2 (now, ESPN) ... Today's slate includes Serena Williams, No. 2 Rafael Nadal, No. 4 Stefanos Tsitsipas, No. 1 Iga Świątek, No. 11 Coco Gauff and more.
⚽️ Friendly: USWNT vs. Colombia (10pm, ESPN)
🏀 WNBA: Dream at Mystics (7pm, ESPN2); Wings at Lynx (8pm, ESPN3)
9. 🇨🇴 Geography quiz
The USWNT plays host tonight to Colombia, which is the fourth-largest South American country by square miles (440,831).
Question: Which three are bigger?
Hint: Two are on the same coast.
Answer at the bottom.
10. ⚾️ 1 fun thing: MLB minis
Hayden Scott Parker, 23, used to be a D-III pitcher. Now, he runs a popular Instagram page with the simplest of premises: MLB players, but make them tiny.
What they're saying: "I laugh every single time," Diamondbacks OF Jake McCarthy told The Athletic (subscription). "It doesn't get old."
The backdrop: Parker learned Photoshop in 2019 while recovering from heart surgery and launched his account last January. Tomorrow, he'll undergo a second open-heart surgery. Good luck, Hayden!
Talk tomorrow,
Kendall "Taco Tuesday" Baker
Trivia answer: Brazil (3.3 million square miles), Argentina (1.1 million), Peru (496,000)
🙏 Thanks for reading. Follow us on Twitter: @kendallbaker and @jeffreytracy. Tell your friends to sign up.