Happy Friday! Thanks so much for an awesome first week. If you have any feedback, reply to this email and lay it on me. Oh, and tell your friends to sign up.
Situational awareness: The Cincinnati Bengals want to hire Los Angeles Rams QB coach Zac Taylor after L.A.'s season ends, ESPN's Adam Schefter reports.
If the reports are true, you're looking at one of the fastest, most unexpected rises to head coaching status ever. 12 months ago, Taylor was — wait for it — the Rams' ASSISTANT wide receivers coach.
1 big thing: 28 tennis players arrested in match-fixing scandal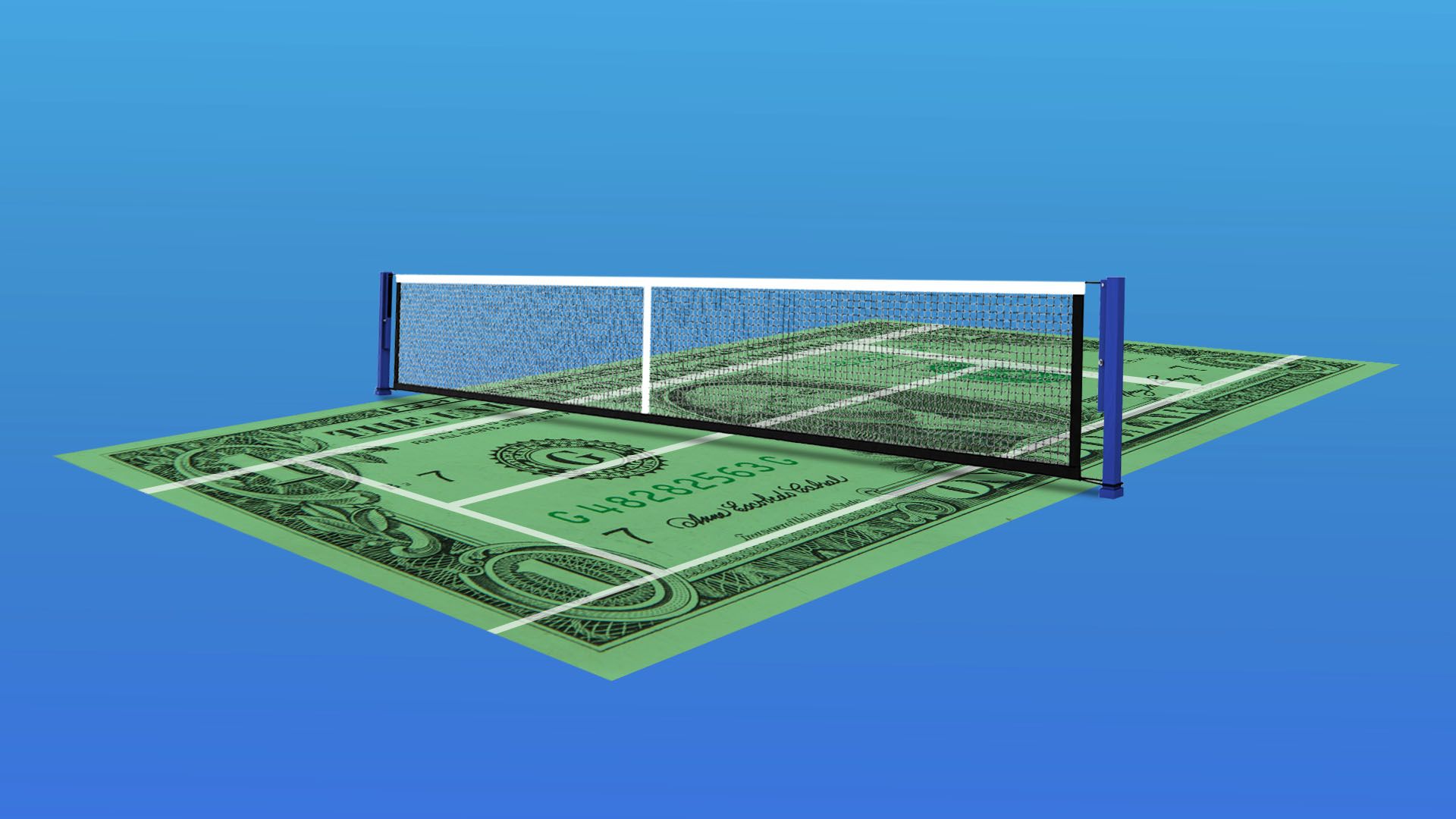 With the Australian Open set to begin on Sunday, the tennis world is now reeling from a shocking report:
28 professional tennis players, including one who participated in last year's U.S. Open, have been arrested over their involvement in a match-fixing ring.
Why it matters: A match-fixing scandal in any sport is cause for serious concern, but since this is the second time in the last 25 months that tennis is involved, it's particularly alarming — and suggests the problem could be deep-rooted enough to persist.
In December 2016, Spanish law enforcement arrested 6 low-level tennis players who allegedly received up to $1,000 per match for intentionally losing specific points or games.
Between the lines: Tennis, more so than maybe any other sport, lends itself to manipulation. For starters, it's an individual sport, so there's only one player who must act (and only one player to bribe).
On top of that, detection is difficult (I'd imagine it's fairly easy for a pro to make an intentional hit into the net look unintentional).
The big picture: While match-fixing has the potential to wreak havoc at all levels of tennis, thus far it has almost exclusively taken place at the lower levels of the sport where most players are dead broke.
Only 6,000 of the 14,000 players who entered International Tennis Federation (ITF) Futures tournaments in 2013 earned any prize money, according to a recent study. Even worse, just 589 of them broke even when factoring in travel costs.
"Therein lies one of the reasons match-fixing is so prevalent at these lower-tier events," writes the Washington Post's Matt Bonesteel. "The prize money involved is often paltry, giving players an incentive to throw matches at tournaments in far-flung locales that few people are watching."
2. Spurs 154, Thunder 147 (2OT)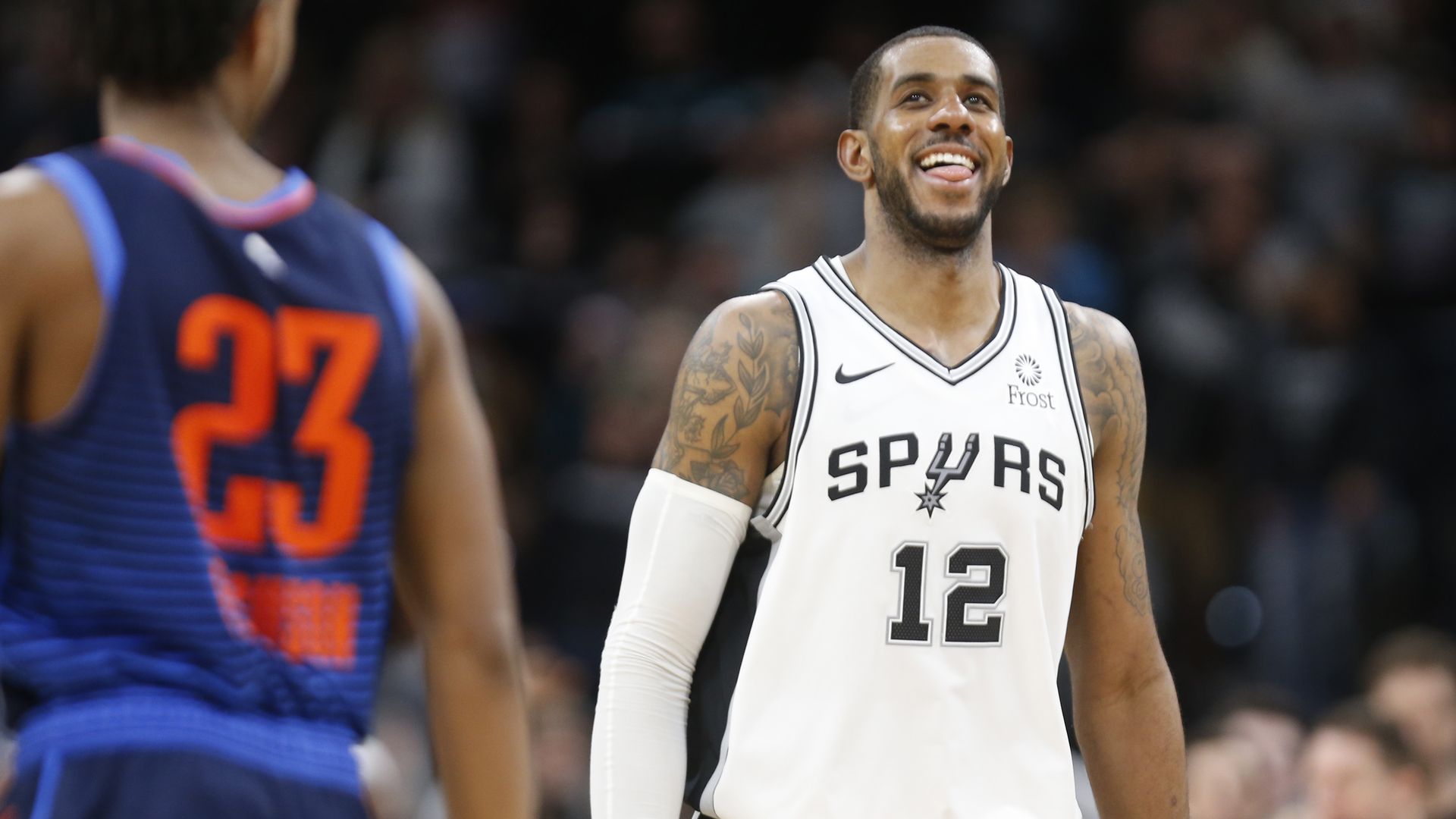 I watch a lot of NBA basketball (obviously), and last night's double OT thriller in San Antonio was one of the wildest regular season games I've ever seen.
What happened: A lot.
LaMarcus Aldridge had his first ever 50-point game, as he exploded for 56 points (20-33 FG, 16-16 FT). That's the 3rd most in Spurs history, behind David Robinson (71) and George Gervin (63).
Russell Westbrook finished with 24 points, 13 rebounds, and 24(!) assists, which is actually absurd. It was his second career 20-10-20 game, putting him behind only Magic Johnson and Oscar Robertson (both with 3).
The Spurs made 14 straight threes to start the game, which might be even more absurd.
Gregg Popovich got his 1,222nd career win, moving him past Jerry Sloan for 3rd place on the all-time list. The only two coaches ahead of him: Lenny Wilkens (1,332) and Don Nelson (1,335).
P.S. Speaking of absurd, how about this pass from MVP candidate Nikola Jokic?
3. A high school reunion of sorts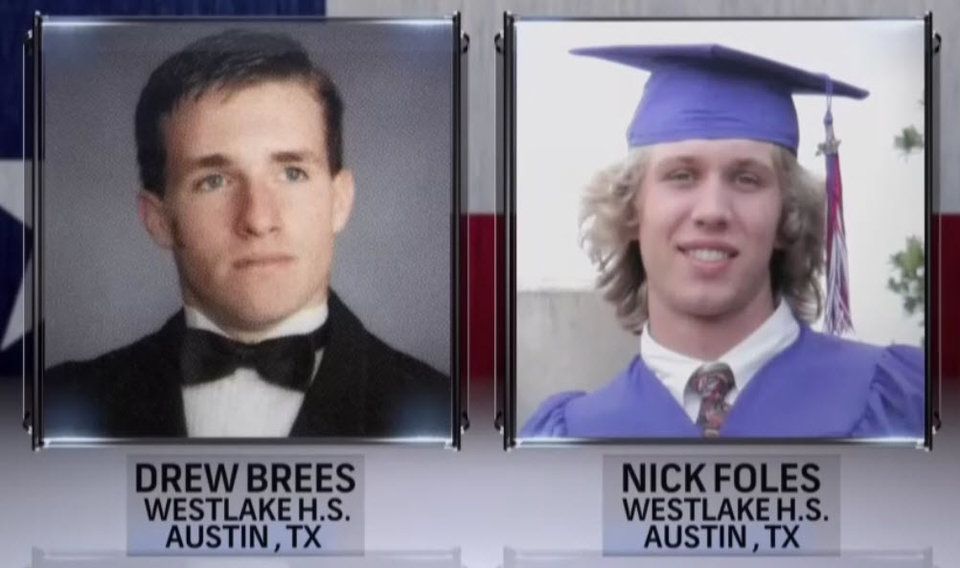 Screenshot: NBC Sports
New Orleans Saints QB Drew Brees and Philadelphia Eagles QB Nick Foles will line up on opposite sides on Sunday, but the two signal callers share a common thread — they both played for West Lake High School in Austin, Texas a decade apart.
"I remember seeing him play in high school," Brees told reporters yesterday. "The 10-year anniversary for my high school football team state championship was 2006. I remember flying back [for that] and the starting quarterback ... was Nick Foles. Funny how things play out."
The other 3 games:
Colts at Chiefs, 4:35 pm ET (Sat.): Fun fact #1, Andrew Luck (39) and Patrick Mahomes (50) combined for 89 regular season TD passes, the most ever for opposing playoff QBs... Fun fact #2, the Colts are 4-0 all-time in the playoffs against the Chiefs.
Cowboys at Rams, 8:15 pm ET (Sat.): Dallas hasn't won a road playoff game in 26 years (1992 NFC title game in San Francisco). If they manage to do so tomorrow, they'll tie the Steelers for most playoff wins (35).
Chargers at Patriots, 1:05 pm ET (Sun.): The combined ages of Tom Brady (41) and Phillip Rivers (37) is 78, the oldest ever for opposing starting QBs in the playoffs ... Fun fact #2: The Chargers are 8-1 on the road this year (and their only lost was just down the road against the Rams).
4. More tennis content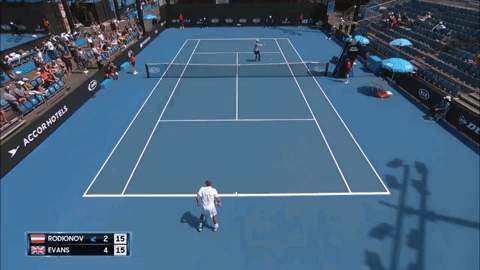 Yesterday was a bit of a good news/bad news situation for tennis fans in the U.K.
😀 Good news: Birmingham's very own Dan Evans (No. 190 in the world) hit the shot of the year and is now one win away from qualifying for the Australian Open.
😢 Bad news: An emotional Andy Murray announced that he will retire after this year's Wimbledon — if not sooner — due to his lingering right hip injury. Damn.
5. Roundup: Upstart pro sports leagues
Premier Lacrosse League: Paul Rabil's new lacrosse league — which will implement a tour-based model whereby teams travel to one city each weekend during the season — announced its 30 host city finalists.
BIG3: For the first two years, Ice Cube's 3-on-3 basketball league operated with eight teams, played one game per week and visited 12 cities. Next year, it will expand to 12 teams, play 2 games per week and visit 18 cities. Oh, and WNBA legend Lisa Leslie is set to coach 1 of the expansion teams.
Alliance of American Football: Just 1 month before the the AAF kicks off its inaugural season, former Minnesota Vikings head coach Brad Childress has abruptly resigned from his post as Atlanta Legends coach. Not ideal!
6. On this date: 1/11/2016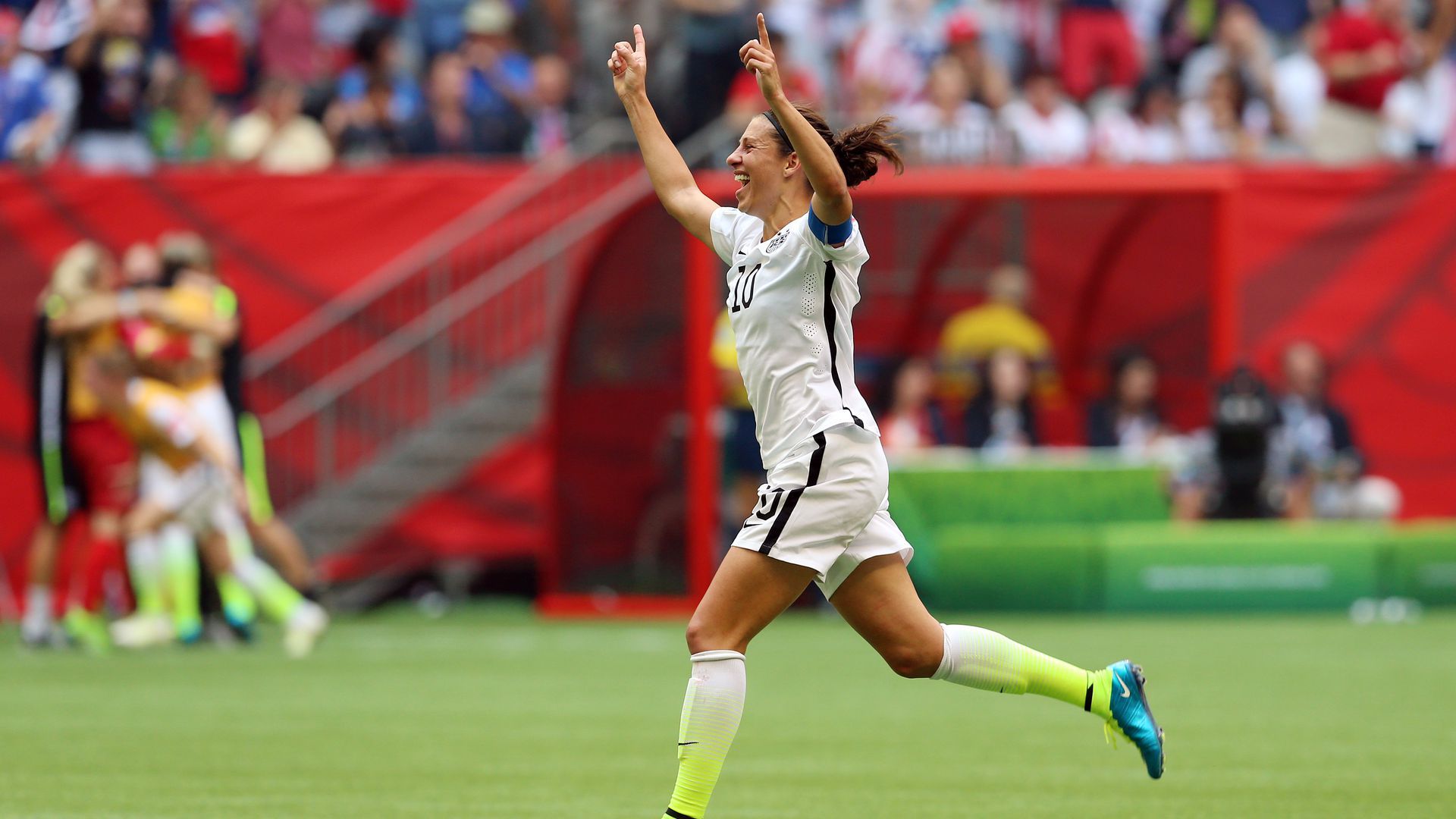 Three years ago today, Carli Lloyd was named FIFA's World Player of the Year after helping lead the U.S. Women's National Team to the 2015 Women's World Cup title with a hat trick in the first 16 minutes of the final. Enjoy.
P.S. The USWNT will look to defend its title in this year's World Cup, which kicks off in France on June 7. The Americans are in Group F with Thailand, Chile and Sweden.
7. ⚾️ trivia
Catcher Yasmani Grandal, who just signed a 1-year, $18.25 million deal with the Milwaukee Brewers, hit 24 home runs for the Los Angeles Dodgers last season.
Question: Can you name the only 2 catchers who hit more?
Hint: They both play for American League teams — and both of those teams won a World Series this decade.
8. The Ocho: Super bulls get it from their mama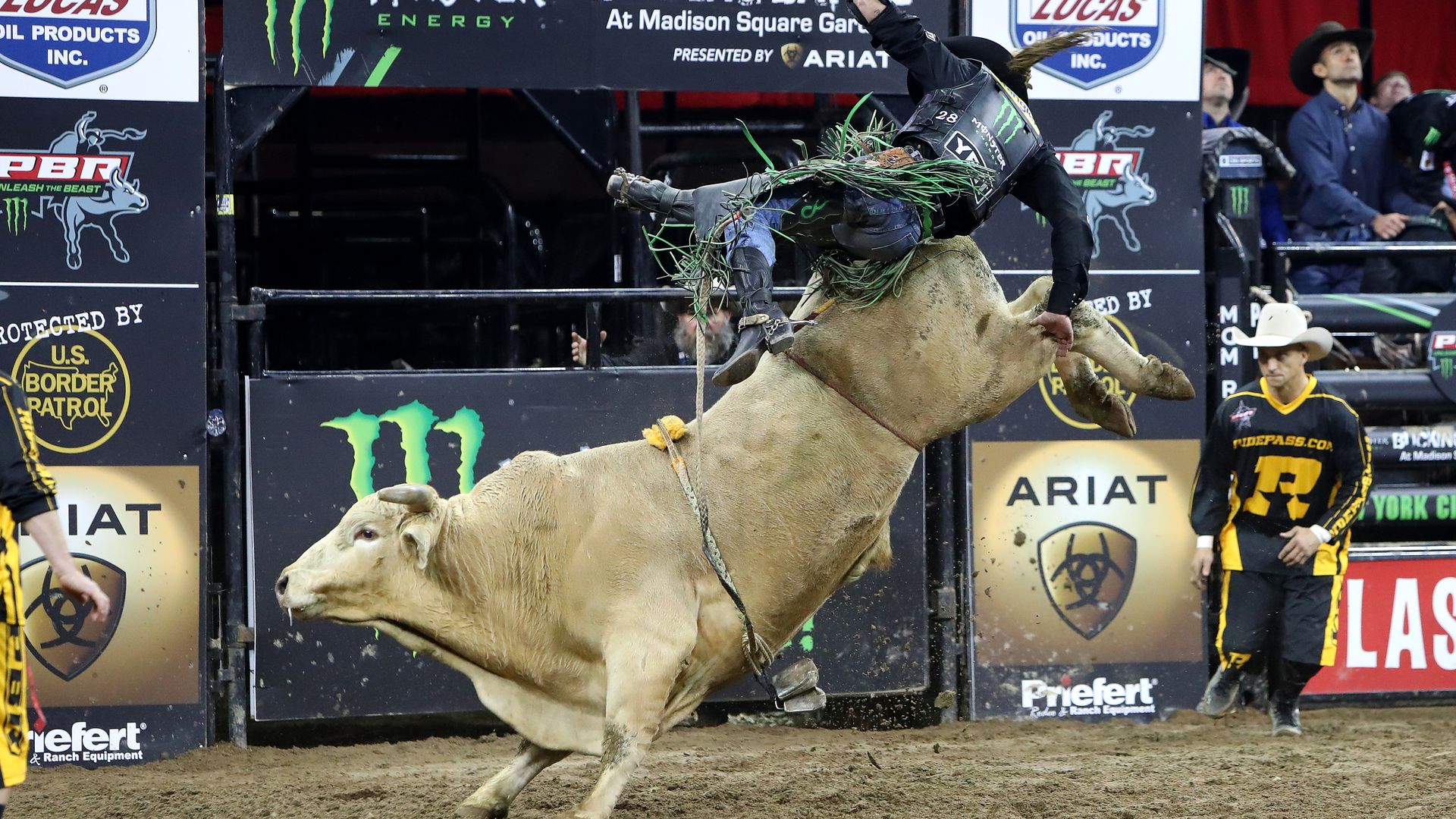 Bull Riding has gotten increasingly more difficult in recent years, and it's fairly obvious as to why that is: breeders are crafting super bulls, Axios' Michael Sykes writes.
Over the last 15 years, bucking bulls have been bred using "high-tech reproductive techniques and a detailed, computerized registry of 180,000 bulls and cows," per the NYT's James Gorman. Heck, some bulls have even been cloned.
Like race horses, the best bucking bulls have extremely valuable semen that "can sell for thousands of dollars per straw, about a tenth of a teaspoon," writes Gorman.
But champion bull semen is only one piece to the puzzle. The other? The female cows who ultimately raise the calves.
"It's really all about the cows," one breeder told the Times. "I feel like 80% of the bucking ability is coming from the mother."
The big number: In 1995, bull riders finished 46% of their rides. Today, that number is around 29%.
9. Quick-hitters
⛪️ The Vatican launched an official track team yesterday with the ultimate goal of competing in the Olympics.
"About 60 Holy See runners — Swiss Guards, priests, nuns, pharmacists and even a 62-year-old professor who works in the Vatican's Apostolic Library — are the first accredited members of Vatican Athletics."
⚽️ The National Women's Soccer League (NWSL) held its annual draft last night. With the 1st overall pick, the Chicago Red Stars took Stanford defender Tierna Davidson. See every pick.
🏀 Murray State's Ja Morant is the Russell Westbrook of college basketball, and he showed us why last night when he "caught a body," as the kids would say.
P.S. The latest ESPN NBA mock draft (subscription) has Morant going No. 4 overall to the Chicago Bulls.
10. The night of the buzzer-beater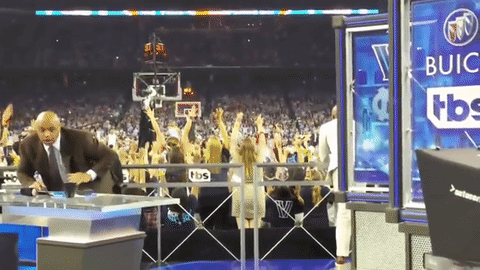 There were many great reactions to Villanova's epic buzzer-beating win in the 2016 National Championship game (never gets old), but Charles Barkley's topped them all.
It was just so ... genuine, ya know? That primal yell, the stomping that turns into a full-on dance — all of it is evidence of a man whose body has been overrun by emotion. The world is a better place because of buzzer-beaters.
Last night: Sports delivered once again with three — yes, THREE — game-winning buzzer-beaters. Click here to watch them all.
Thanks,
Kendall "Can't wait for the Vatican track team to win gold in the steeplechase" Baker
Trivia answer: Kansas City's Salvador Perez (27) and Houston's Evan Gattis (25)