👋 Good morning! Today's Axios Sports is a brisk 1,336 words (~ 5 mins).
Yesterday's prediction results: 45% said the Blues would win Game 2 … 49% said the Bruins would score first … 12% said there would be a combined 5 goals.
Nine players were perfect: Bill Goodfriend (St. Louis); Tate Saunders (Austin, Texas); Patrick Jones (Chicago); Trevor Jacobsen (Lincoln, Neb.); Tyler Maguire (Fort Collins, Colo.); Max Siegrist (Annapolis, Md.); Chris Bowers (Naperville, Ill.); Jackson Smith (Kansas City); Joe Brunk (Raleigh, N.C.)
1 big thing: 🏀 The dawn of a new era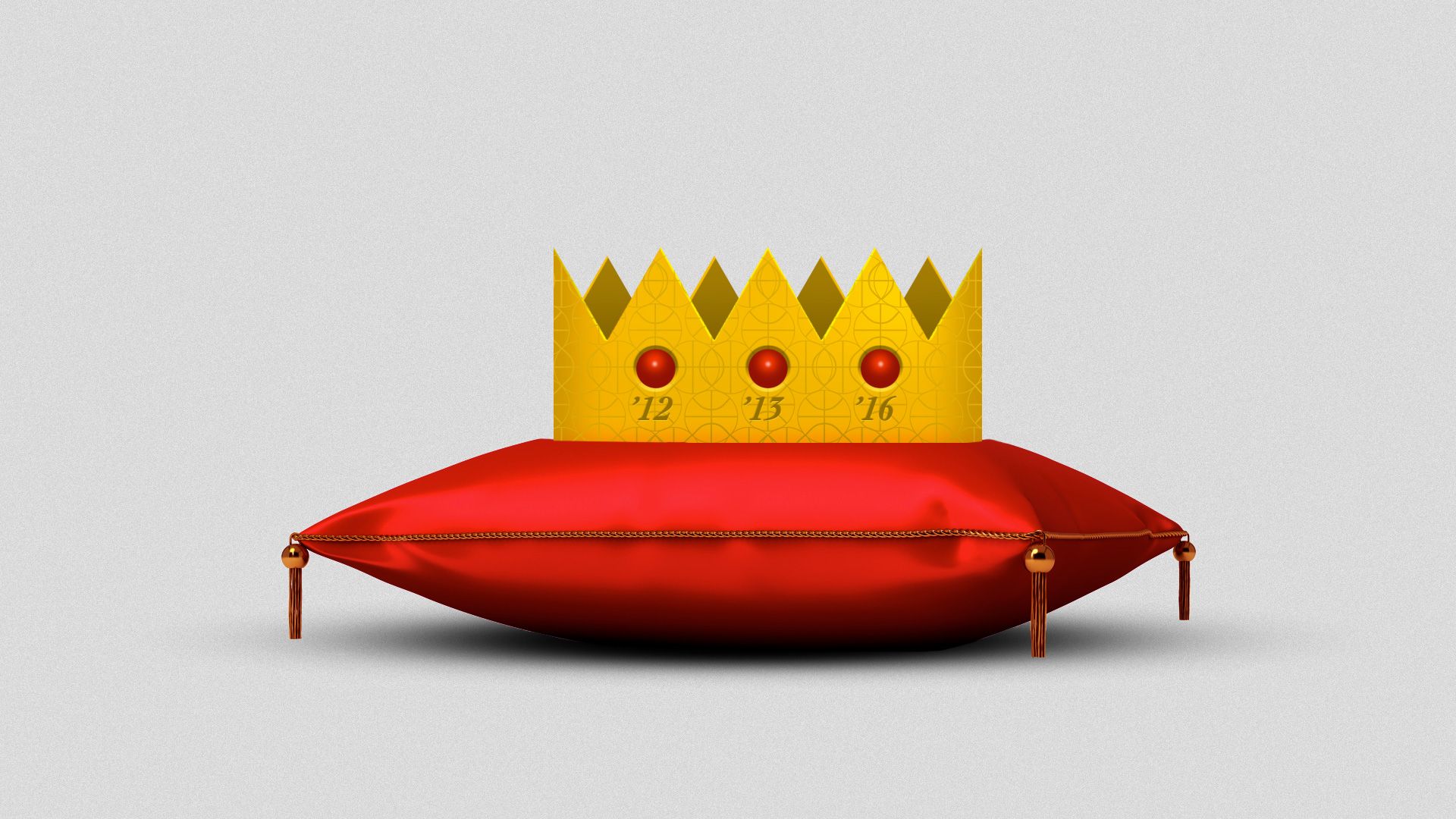 For the past eight seasons, a LeBron James-led team has made the NBA Finals — a streak that officially ends at 9pm ET tonight.
Why it matters: While LeBron remains the NBA's most recognizable star, it's fitting that this year's Finals pit two of his longtime postseason rivals — the Warriors (who he rarely beat) and the Raptors (who he always beat) — against each other in his absence.
It's also fitting that Kawhi Leonard, who Doc Rivers recently called "the most like [Michael] Jordan we've ever seen," will take center stage. And that Kevin Durant and Steph Curry will be involved. And that all three are in the running for the title of "best player in the NBA."
Also, let's not forget that Kawhi and KD, who were part of the LeBron era but young enough to reign long after him, might be on different teams next year. The stage feels fresh and the stakes feel high.
The backdrop: In 2010, the Lakers — led by Kobe Bryant, Pau Gasol and Lamar Odom — beat the Celtics' big three in the NBA Finals. One year later, LeBron took Miami to the promised land.
Though the Heat would lose to the Mavericks, it marked the dawn of a new era that forever changed basketball — some changes because of James, himself, others simply moving in parallel to him.
Timeline: Looking back on the "Finals LeBron" era, which ends tonight.
2011: The Warriors, coming off a 36-win season, draft Klay Thompson with the 11th pick. Four picks later, the Pacers take Kawhi Leonard and trade him to the Spurs for George Hill.
2012: The Warriors draft Draymond Green, who goes on to average 2.9 points per game as a rookie. ... A month later, the Rockets trade Kyle Lowry to the Raptors.
2013: D-League head coach Nick Nurse is hired to serve as an assistant under Raptors head coach Dwane Casey.
2014: In May, Steve Kerr is hired by the Warriors. ... In June, Kawhi wins Finals MVP, leading the Spurs past the Heat in five games.
2016: In May, the Raptors play in the franchise's first ever conference finals. ... In June, the Warriors blow a 3-1 lead to LeBron's Cavaliers. ... In July, Kevin Durant signs with Golden State.
2017-18: The Warriors win back-to-back titles. ... In July of 2018, the Spurs trade Kawhi to the Raptors.
Go deeper:
2. 🏒 Blues' blue-line blast beats Bruins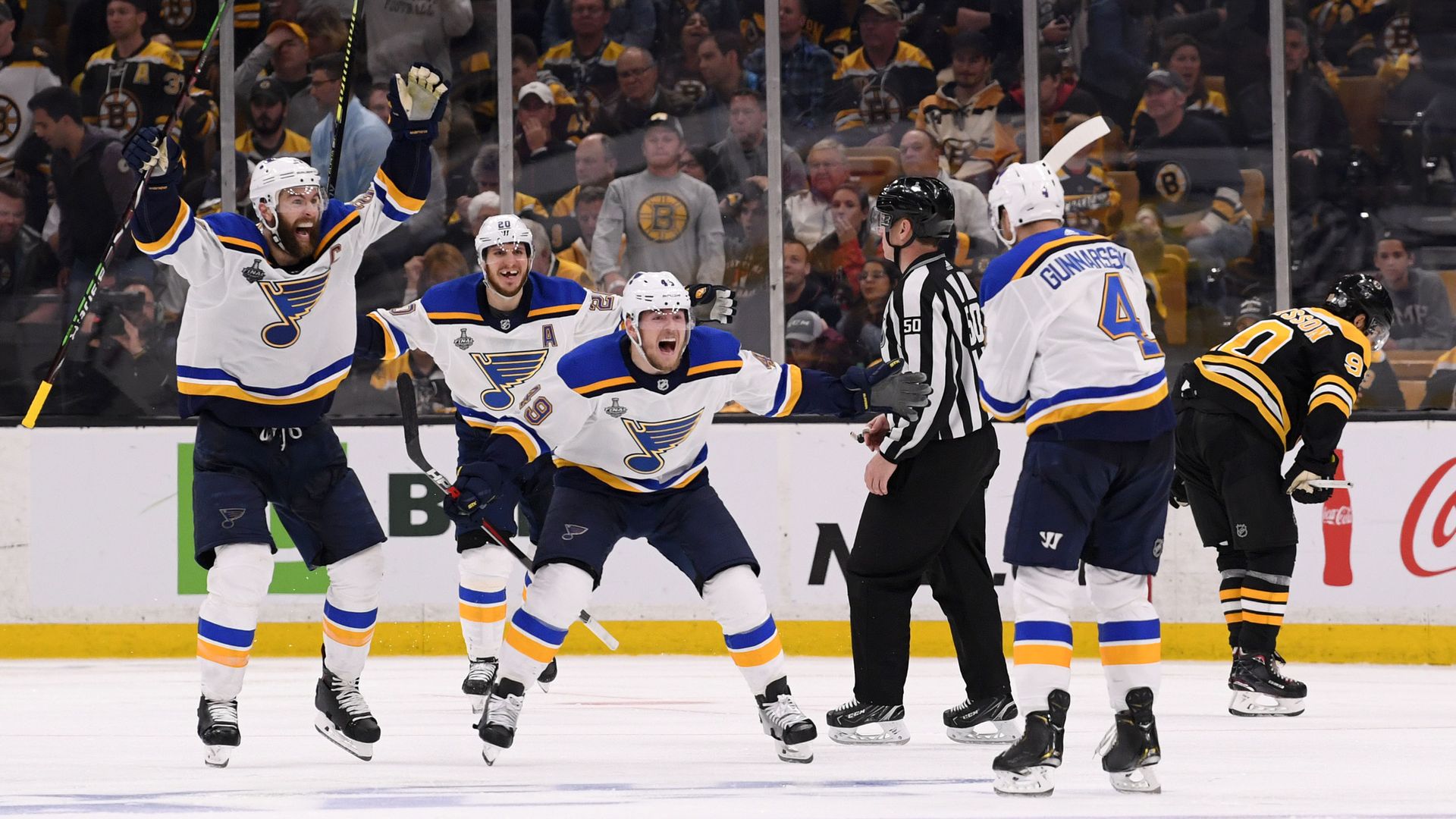 Why yes, that headline is a tongue twister. Now say it three times fast.
After firing a laser off the post with two minutes left in regulation, Blues defenseman Carl Gunnarsson scored the game-winner on a delayed penalty 3:51 into overtime to give St. Louis a 3-2 victory and tie the series at a game apiece.
First time for everything: This was the Blues' first Stanley Cup Final win in their 52-year history and Gunnarsson's first playoff goal in 56 career games.
The power of a good story: Minutes after hitting the post, Gunnarsson bumped into coach Craig Berube in the bathroom prior to the start of OT and told him, "I just need another shot." If the Blues can pull this off, future generations will forever remember "The Pisser."
What's next: Game 3 is Saturday night in St. Louis. Can't even imagine how loud that arena is going to be.
3. ⚾️ Child struck by foul ball, renewing calls for more netting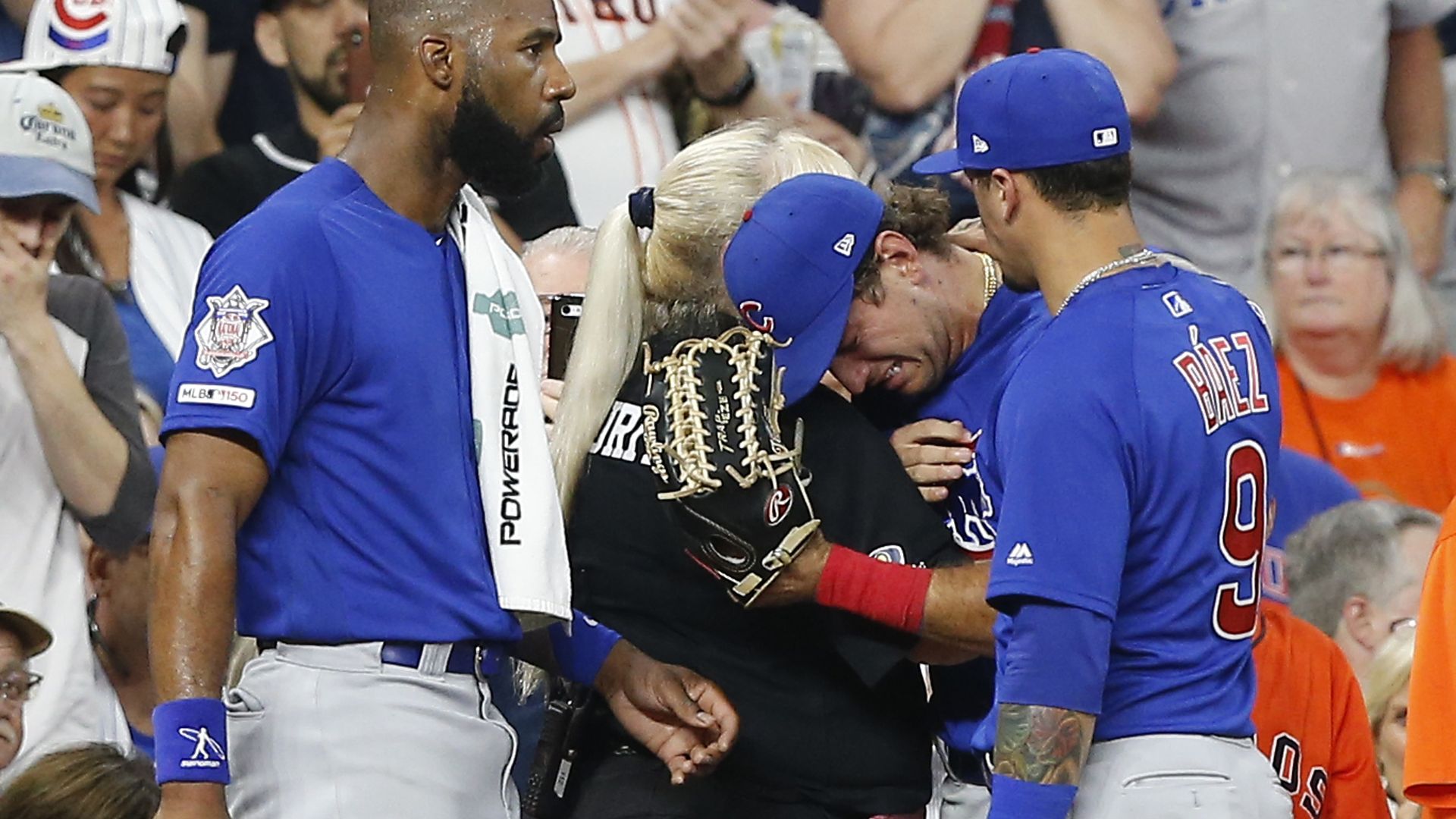 A young girl at last night's Cubs-Astros game in Houston was struck by a foul ball off the bat of Chicago's Albert Almora Jr. and taken to the hospital. (An update on her status hasn't been made public.)
Almora was visibly shaken up, immediately dropping to one knee and having to be consoled by teammates. When a security guard informed him of the girl's condition the next half inning, he collapsed into her arms.
"I'm just praying and I'm speechless," said Almora after the game. "Being a father, two boys … God willing, I'll be able to have a relationship with this little girl for the rest of my life. But just prayers right now."
The backdrop: All 30 big league teams extended their protective netting to at least the far end of the dugouts last season after several fans were injured by foul balls in 2017.
Last night's victim was sitting in the third or fourth row about 10 feet past where the netting ends, renewing calls to expand it further.
The bottom line: "Figuring out a solution — protecting people — is more than well worth whatever time and expense it takes. Stadiums in Japan and Korea feature netting from foul pole to foul pole, so it's clearly possible," writes ESPN's Jeff Passan.
"After the death of 14-year-old Brittanie Cecil at a hockey game, the NHL installed netting around every arena. Fans adjusted ... [and] eventually, it became the norm, as standard as the netting in the back of a goal."
4. 📸 Photos 'round the world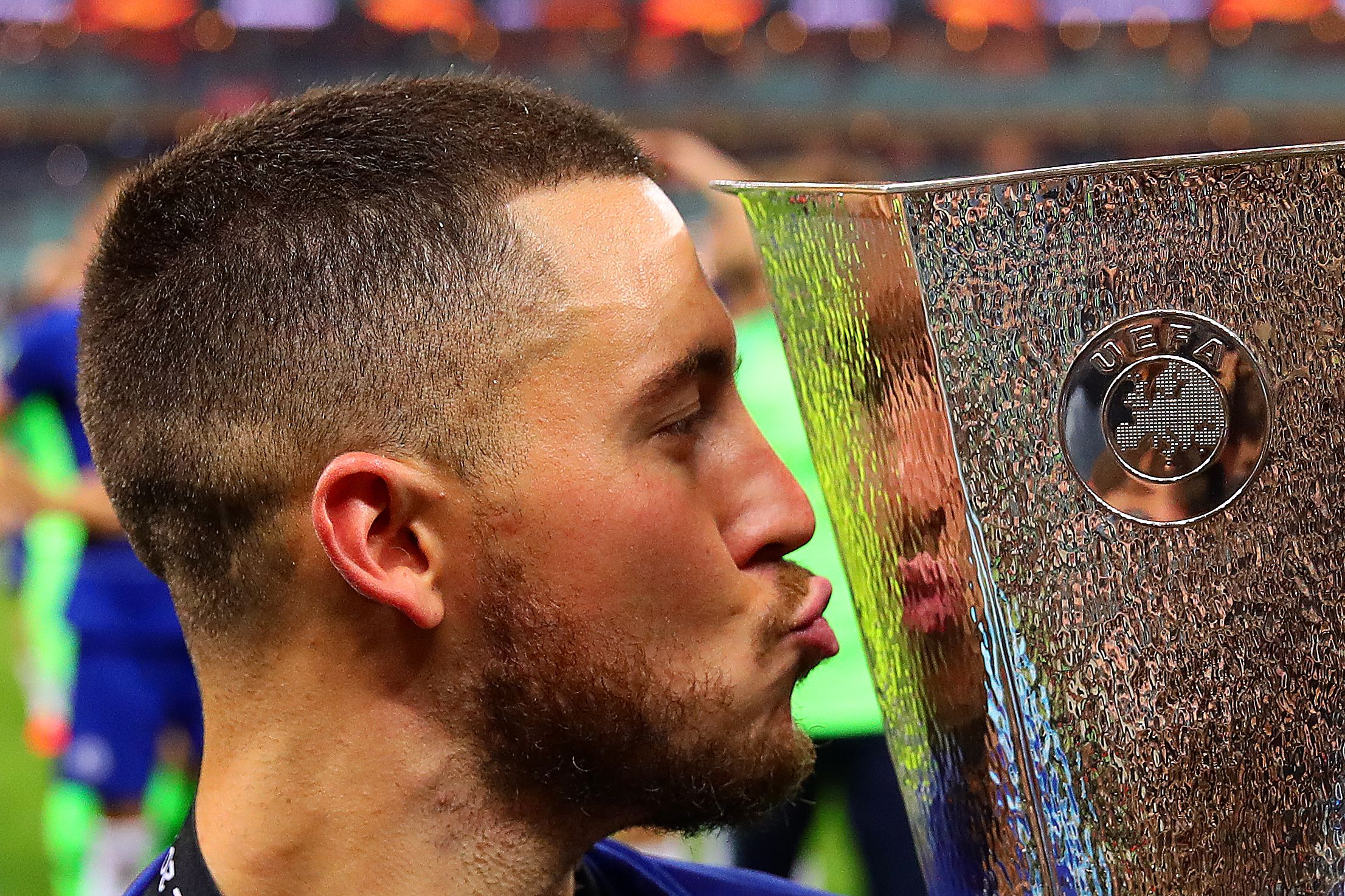 Photo: Chris Brunskill/Fantasista/Getty Images
BAKU, AZERBAIJAN — Eden Hazard kisses the trophy following Chelsea's 4-1 win over Arsenal in the Europa League Final. In a postgame interview, the 28-year-old Hazard said "I think it's goodbye," all but confirming that he'll be moving to Real Madrid next season.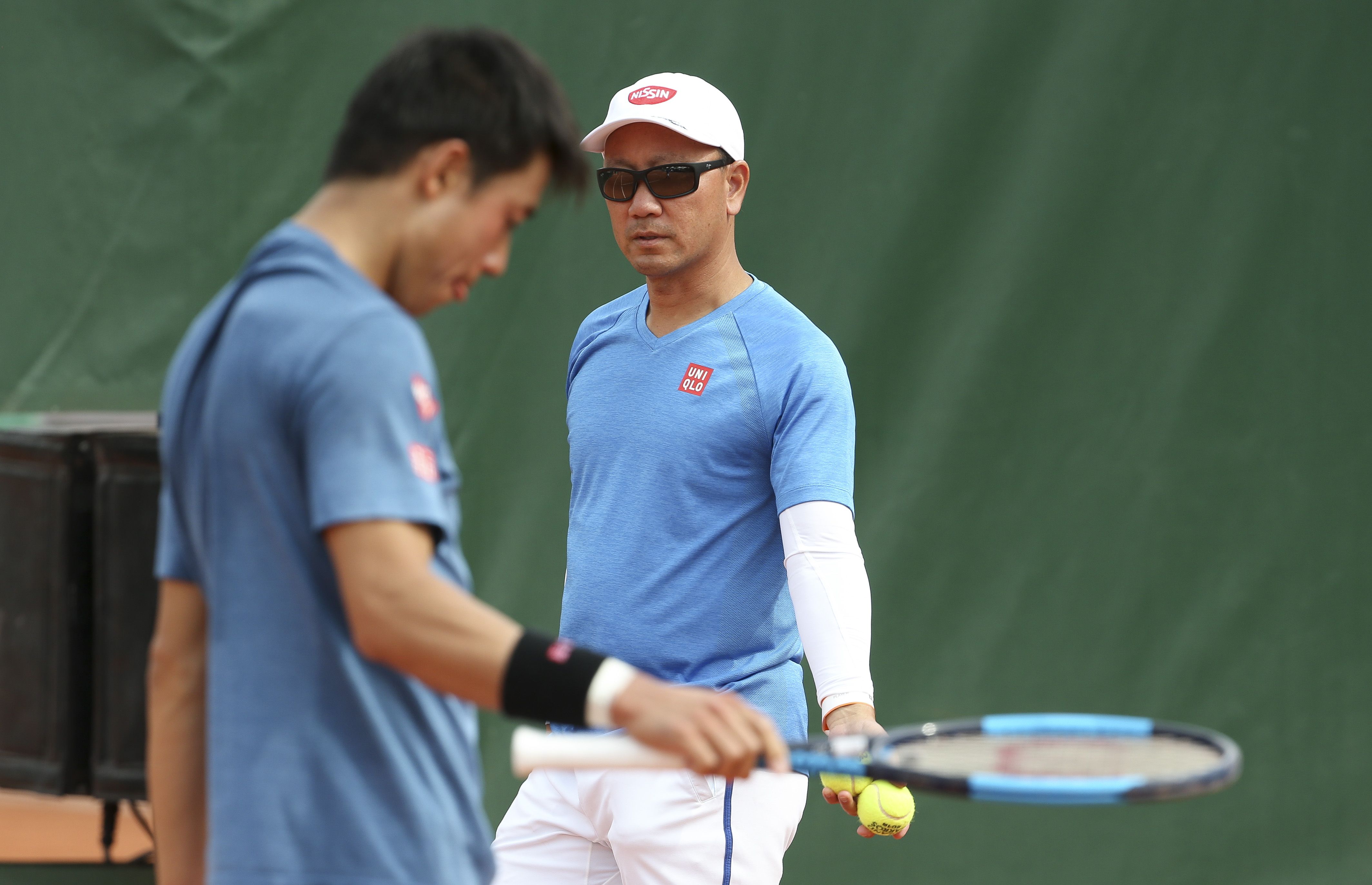 Photo: Jean Catuffe/Getty Images
PARIS — 30 years ago, 17-year-old Michael Chang (above, wearing hat) won the 1989 French Open, snapping a 34-year drought for American men. Now, he's back in Paris coaching Japan's Kei Nishikori. Go deeper.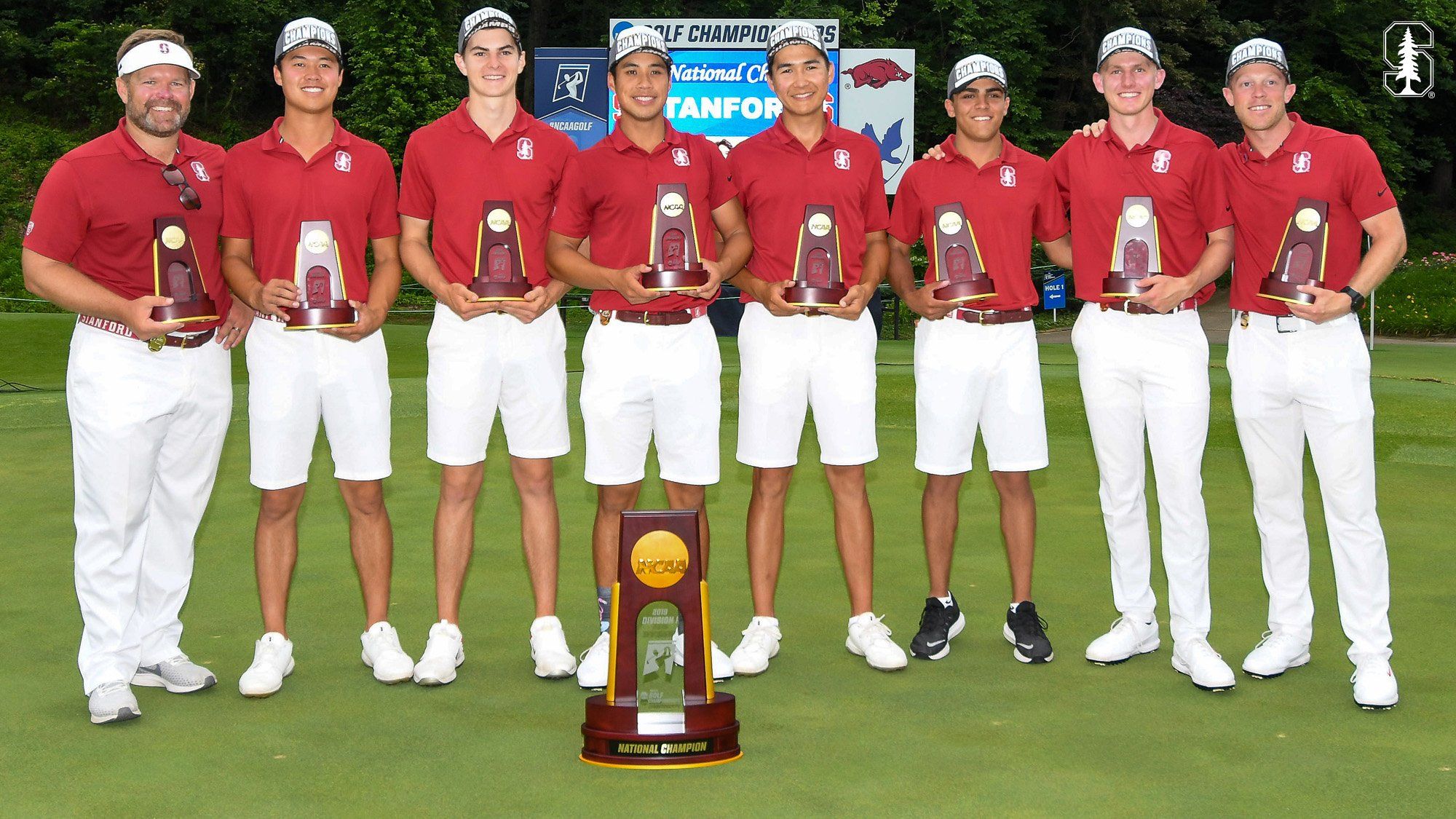 Courtesy: Stanford Athletics
FAYETTEVILLE, ARK. — Stanford beat Texas 3-2 yesterday to claim its ninth NCAA men's golf title. A week ago, Duke topped Wake Forest for the women's title, snapping the Pac-12's run of four straight championships.
5. 🏈 Report: SoFi to put its name on L.A. stadium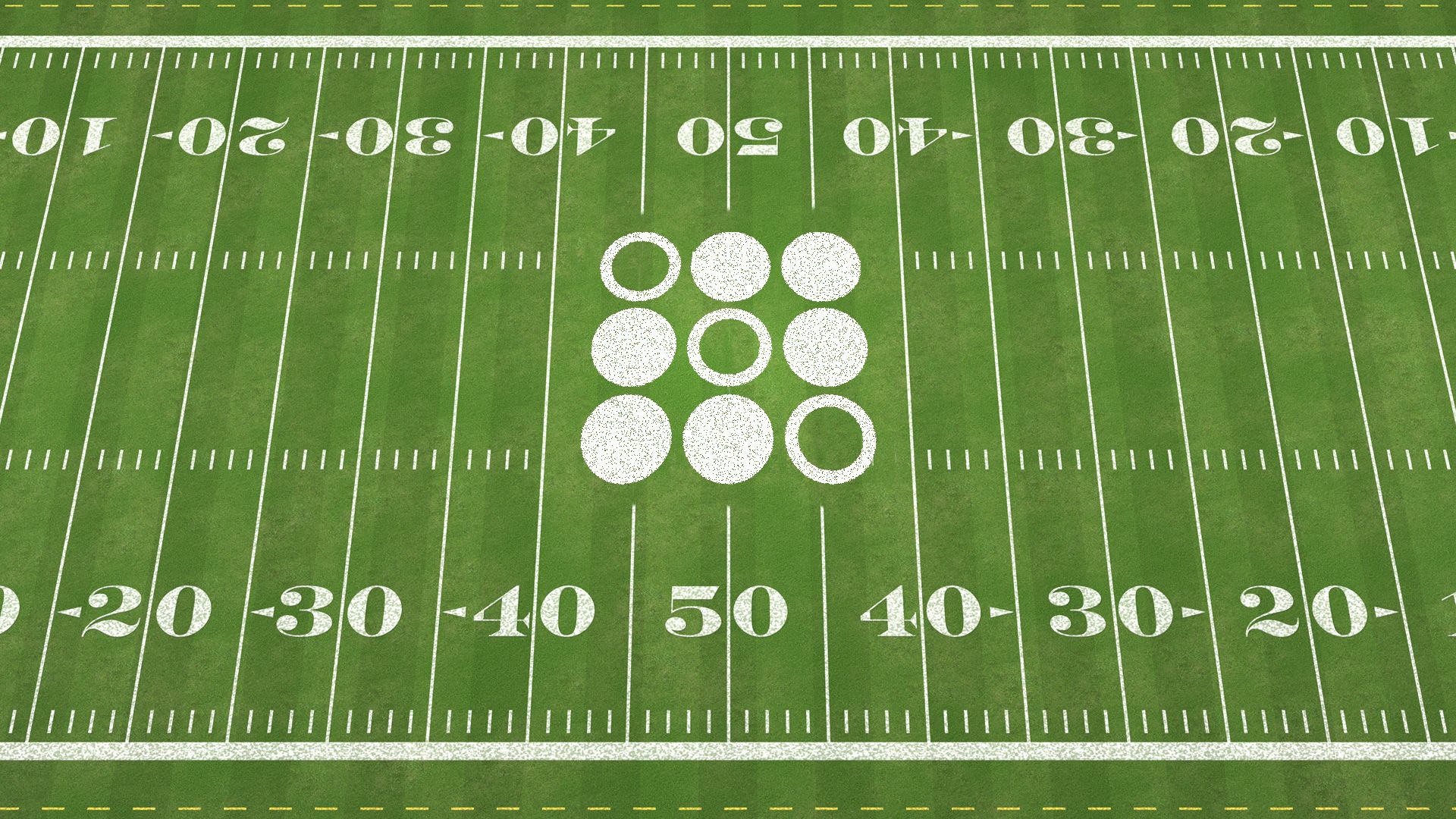 Private lender SoFi will pay roughly $400 million over 20 years to put its name on the new stadium that the Rams and Chargers will share in Inglewood, Calif., according to multiple reports.
By the numbers: The price is in line with what MetLife pays annually for the rights to the stadium that the Giants and Jets share in East Rutherford, N.J.
SoFi also announced yesterday that it closed a new $500 million funding round led by the Qatar Investment Authority that values the company at $4.8 billion.
The big picture: As noted by Arash Markazi of the Los Angeles Times, the new Inglewood stadium carries enhanced value that could make the SoFi name synonymous with L.A. in record time.
Beyond hosting two NFL teams, the venue will enter the Super Bowl rotation, stage multiple college football championships and host the 2028 Summer Olympics. It will also be directly below the flight path into LAX.
6. 🏁 May 30, 1969: Mario Andretti wins Indy 500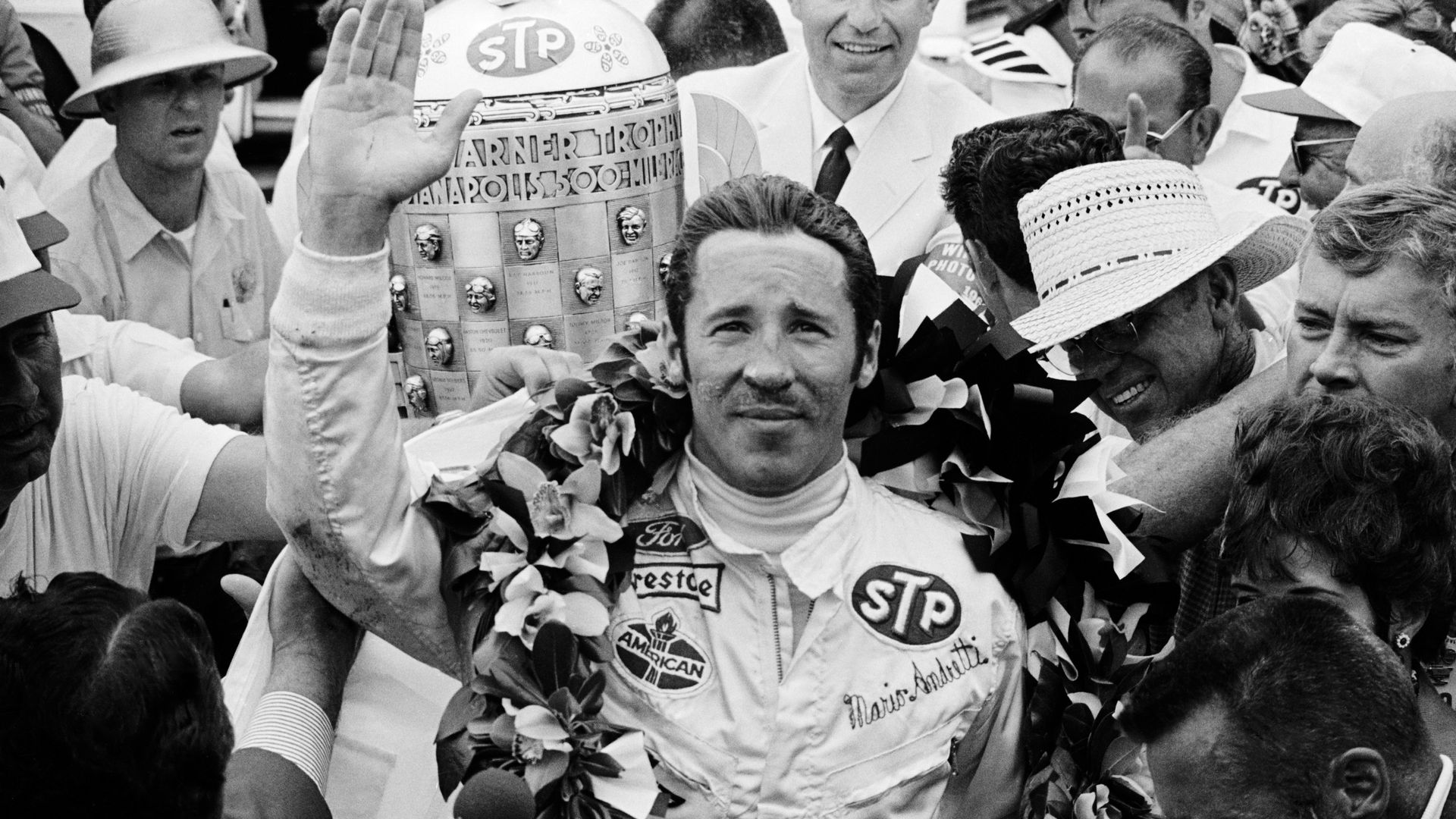 50 years ago today, Mario Andretti won his first and only Indianapolis 500 race after leading for 116 total laps and finishing with a run time of 3:11:14.71.
The big picture: Andretti is the only driver in the history of planet Earth to win the Indy 500, Daytona 500 and Formula One World Championship.
He's also one of just two drivers to win a single race in IndyCar, Formula One, NASCAR and World Sportscar Championship — the other being Dan Gurney.
Go deeper: 50 years later, Andretti still looking for another Indy win
7. ⚾️ MLB trivia
Question: Who is the only pitcher taken with the No. 1 overall pick to start an All-Star Game?
Hint: No. 1 pick in 2007; AL starter in 2010
Answer at the bottom.
P.S. ... Yesterday's trivia question stated that Kawhi Leonard is the third player in NBA history with at least 11 games of 30+ points in a single postseason. It should have included "prior to the NBA Finals" as a qualifier. Forgive me.
8. The Ocho: 🐝 The Spelling Bee is upon us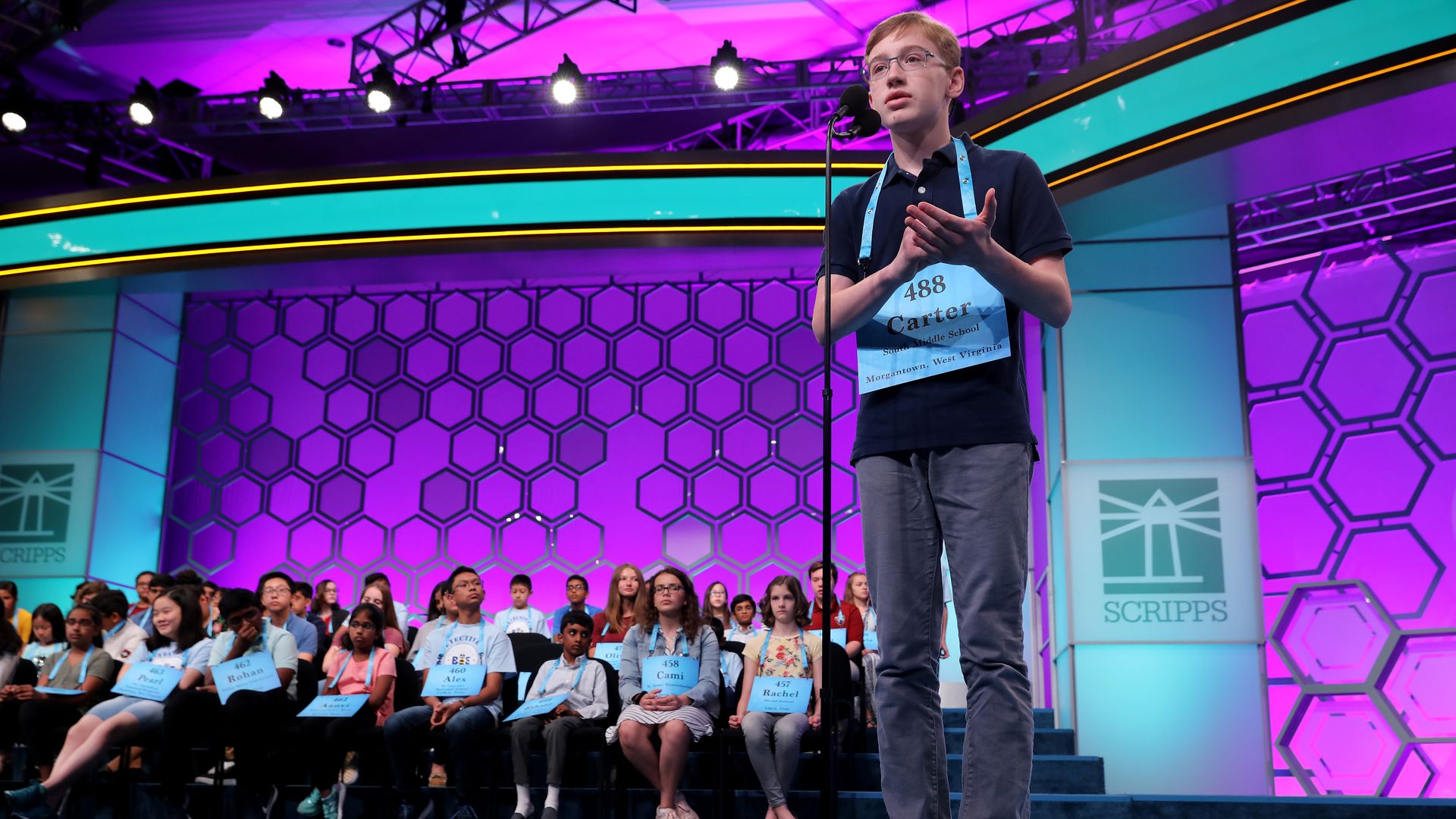 From Mike Sykes: The Scripps National Spelling Bee finals begin this morning in Washington, D.C. (10am ET, ESPN2).
By the numbers: The field of 562 has been dwindled down to 50 and the remaining spellers are raring to go.
Texas and California are tied for the most finalists (8), and the average age of this year's finalist is 12.9 years old.
Eight finalists finished 10th or better last year. The only two top-1o finishers who didn't make it back were last year's runner-up, Naysa Modi, and last year's champion, Karthik Nemmani, who was ineligible as a 9th grader.
The winner receives a $40,000 cash prize from Scripps, a $2,500 savings bond from Merriam-Webster and a complete reference library from Encyclopedia Brittanica.
Go deeper: Meet the finalists
9. 🏀 Predict the NBA Finals
Click to make your prediction. We'll reveal the results tomorrow.
See you tomorrow,
Kendall "Can you use it in a sentence, please?" Baker
Trivia answer: David Price