⚽🇺🇸 Good morning!
USA vs. Thailand (3pm ET, Fox): These two teams have met just once, in 2016, and the U.S. won, 9-0. More on the Americans below; more on Thailand here.
Today's word count: 1,278 words (~5 mins).
1 big thing: 🏀 The entire NBA just changed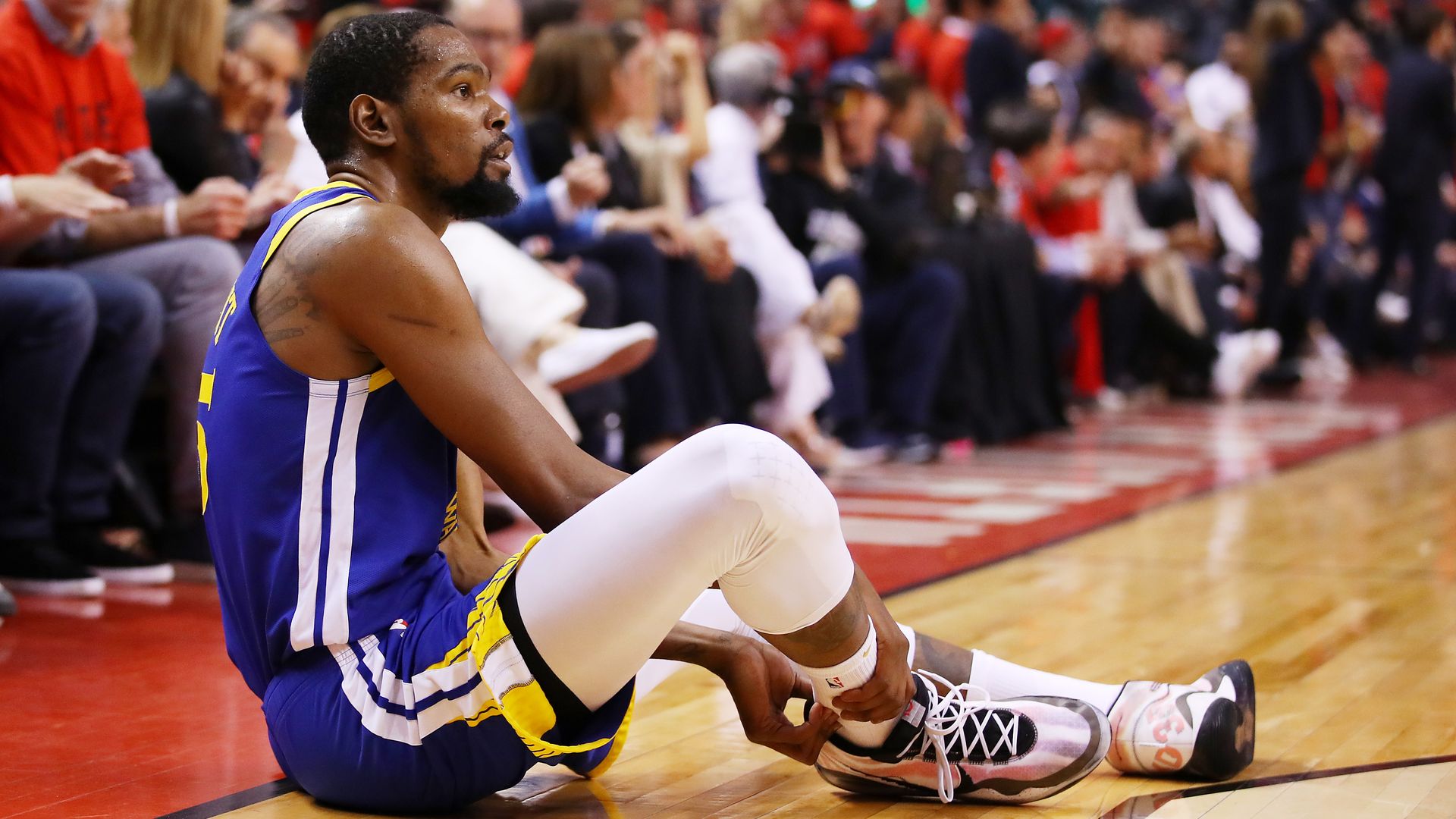 Driving the news: The Warriors believe an MRI will confirm that Kevin Durant tore his Achilles tendon last night, league sources tell ESPN.
The noise: The Warriors rushed him back. Steve Kerr played him too much in the first quarter (12 of the first 14 minutes). He felt the pressure to "answer all the criticism."
The truth: Kevin Durant loves to play basketball, wanted to give it a go last night on the sport's biggest stage and then a bad thing happened. An extremely bad thing. There's no one to blame here, so stop looking for someone.
What they're saying:
GM Bob Myers: "He was cleared to play tonight. That was a collaborative decision. I don't believe there's anybody to blame, but ... if you have to, you can blame me. ... The people that questioned whether [Kevin] wanted to get back and play were wrong. He's one of the most misunderstood people. He's a good teammate, he's a good person [and] I'm lucky to know him."
Kevin Durant: "I'm hurting deep in the soul right now I can't lie but seeing my brothers get this win was like taking a shot of tequila, i got new life lol."
The big picture: Multiple teams have spent years preparing their free agency pitches and cap sheets to sign KD this summer, and now he might not even play season.
Could that result in him delaying free agency for a year and exercising his $31.5 million option to stay with the Warriors? Everything has changed overnight.
The bottom line: "Durant wanted to be the Warriors' savior," writes B/R's Sean Highkin. "Instead, he, the Warriors and the rest of the NBA are now left to deal with the aftermath of a day no one hoped would ever come."
Go deeper:
2. 🏀 Warriors stay alive, head back to Oracle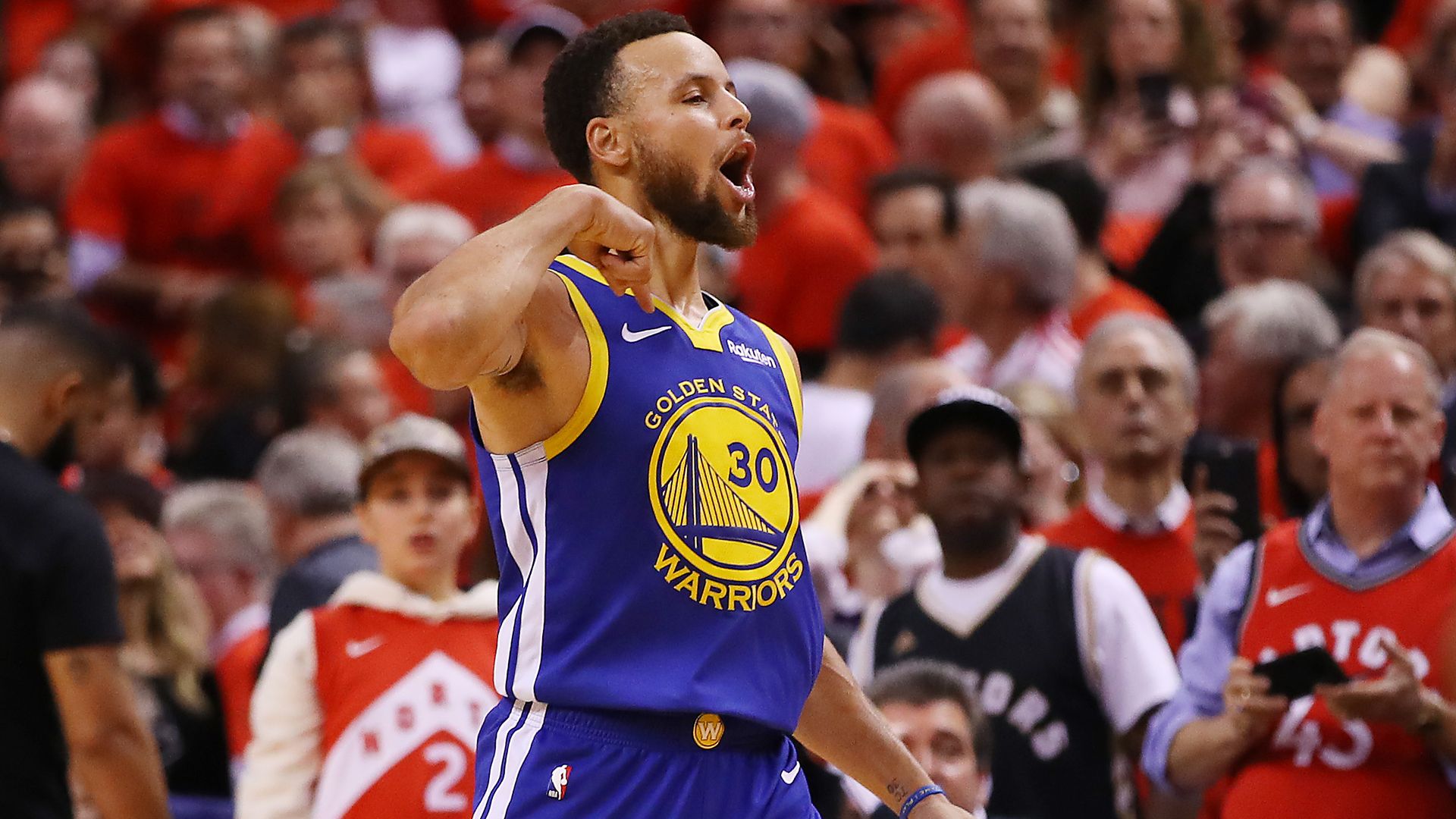 Quickly:
Score: Warriors 106, Raptors 105
Recap: In the first four games of the NBA Finals, there was not a single fourth quarter lead change. So, naturally, the fourth quarter of Game 5 featured plenty of them and came down to the final horn.
Details:
Fun fact: NBA Finals teams are now 3-92 when trailing by at least six points with 3 minutes left in the game this century.
Bad timeout: With his team up six with 3:05 on the clock, Nick Nurse inexplicably called a momentum-zapping timeout that let the Warriors, who were reeling, off the hook. Golden State promptly went on a 9-2 run to win.
What's next: Thursday's Game 6 will be the final game ever played at Oakland's Oracle Arena.
3. ⚽️ Meet the USWNT
This year's U.S. women's national team is loaded with experience. 12 players from the victorious 2015 squad have returned, including eight of the 11 players who started the final match against Japan.
Top players:
Tobin Heath: The crafty 31-year-old is one of the best dribblers in the world, ans and teammates call her the "Nutmeg Queen" because of how often she humiliates defenders by passing the ball through their legs.
Lindsey Horan: When she was 18, Horan became the first American woman to skip college to play overseas, forgoing a scholarship at UNC to sign with Paris St. Germain. Back then, she played striker. Now, she's an all-around midfielder. Get to know her.
Julie Ertz: The 27-year-old is an absolute wrecking ball who never shies away from contact. She'll be responsible for leading the counterattack out of the defensive midfield position.
Veteran leaders:
Alex Morgan: The most famous member of the team is no longer the pure goal-scorer she was once, but she still gets buckets (28 goals in her last 36 USWNT games).
Megan Rapinoe: The veteran winger has been outspoken off the field, calling herself a "walking protest." On the field, she's best known for her gorgeous deliveries into the box.
Carli Lloyd: Lloyd, the hero of 2015, leads a group of super-subs that includes Mallory Pugh (also skipped college to turn pro), Samantha Mewis (tallest field player in USWNT history at 5-foot-11) and Christen Press (get to know her).
4. ⚾️ On to Omaha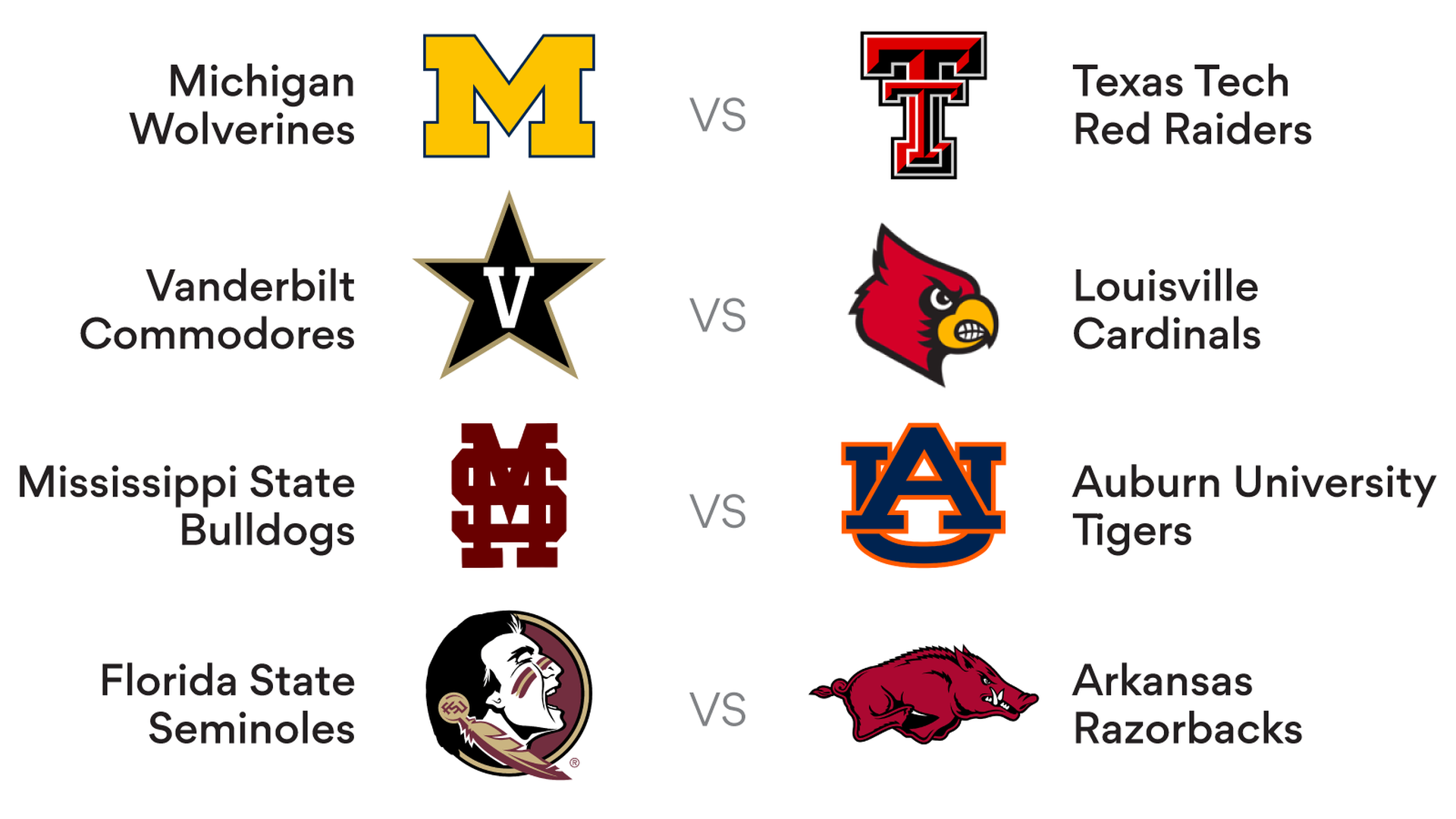 The NCAA tournament's 64-team field has been cut to just eight teams, setting the stage for the College World Series in Omaha, Neb.
How it works: The eight remaining teams have been divided into two brackets, where they will compete in a double-elimination tournament. The action starts on Saturday.
Bracket 1:
(3) Michigan vs. (1) Texas Tech
(1) Arkansas vs. (3) Florida State
Bracket 2:
(1) Vanderbilt vs. (1) Louisville
(1) Mississippi State vs. (2) Auburn
Fun facts:
Not much hardware: Only two of the remaining teams have won a national title: Michigan (1953, 1962) and Vanderbilt (2014).
SEC greatness: In the history of the NCAA tournament, a conference has sent four teams to the College World Series five times — and the SEC is now responsible for four of them.
Razorbacks' revenge: Arkansas lost a heartbreaker to Oregon State in the CWS Finals last year, but they responded by becoming the first runner-up to return to Omaha the following season since Virginia in 2014-15.
5. 🎰 The making of an American sports bettor
"The Rise and Fall of the Professional Sports Bettor" by David Hill captures the current state of sports betting while also telling the story of Gadoon "Spanky" Kyrollos, one of America's highest-rolling sports bettors.
The beginning: In the 1990s, sports betting began moving to the internet. That's when Spanky, a recent college grad working at Deutsche Bank, realized he could take what he was doing for banks and apply it to sports betting.
Spanky and a coworker wrote a program that scanned every online sportsbook for arbitrage opportunities, or "middles." If one sportsbook had Steelers +4.5 and another had them +2.5, they would bet on the Steelers with one and bet against them with the other.
"Most of the time they would win one bet and lose the other, and only lose the 'vig,' [the small cut bookmakers take as commission]," writes Hill. "But whenever those games fell right in the middle of the two lines, in this case if the Steelers lost by three points, then they would win both of their bets."
The turning point: After a few big wins, Spanky and his colleague started thinking bigger. Deutsche Bank was doing the same thing on Wall Street and their bosses were loaded; why couldn't sports betting make them rich, too?
So they quit their jobs to start their own sports betting business — an operation that continues to evolve as the landscape shifts around them.
6. June 11, 1997: 🏀 "The Flu Game"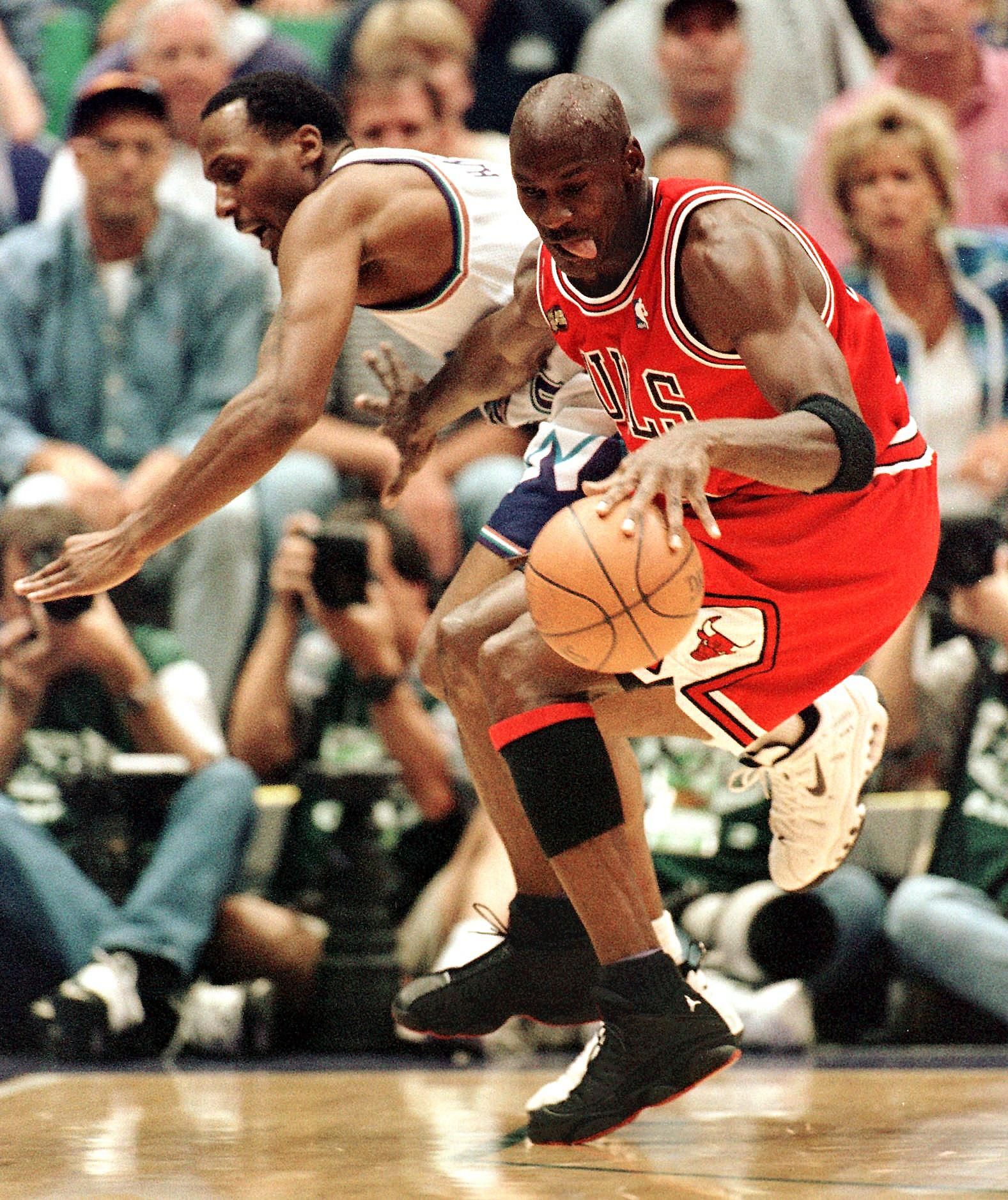 Photo: Doug Collier/AFP via Getty Images
22 years ago today, Michael Jordan scored 38 points, including 15 in the fourth quarter, to lead the Bulls to a 90-88 win over the Jazz in Game 5 of the NBA Finals, all while battling the "stomach flu."
Revision: Some people found it hard to believe that Jordan had the flu in Utah in the middle of June — and actually, he didn't. 15 years later, MJ's personal trainer Tim Grover said that he had food poisoning.
Go deeper:
7. 🏀 RIP, best trio ever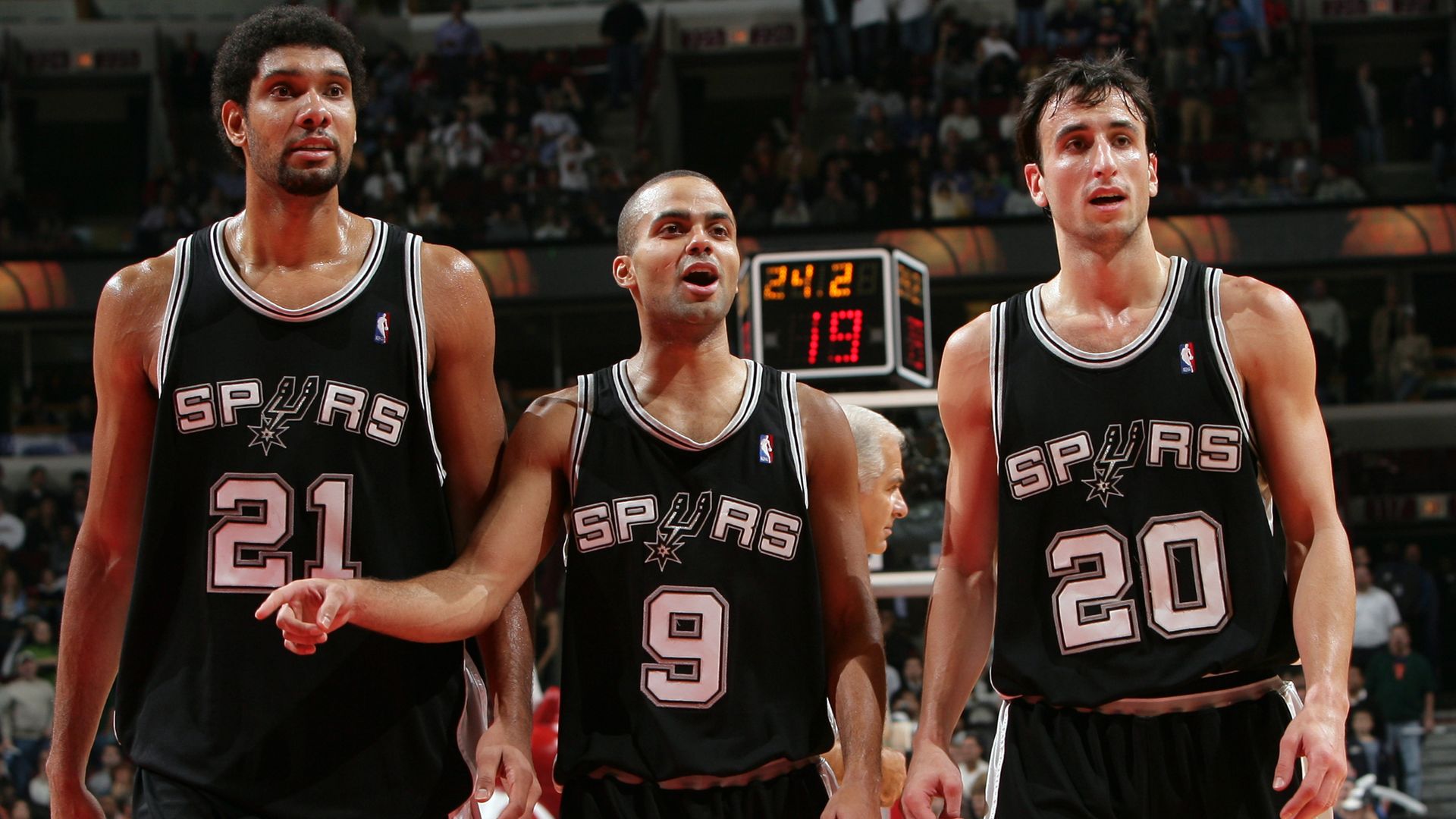 Tony Parker announced his retirement yesterday after 17 seasons, marking the official end of the Parker-Duncan-Ginobili era.
Best trio ever: The three Spurs legends won 701 regular season and playoff games together, more than any trio in NBA history.
Go deeper: People forget — Tony Parker was not always destined for the Hall of Fame. Spurs fans didn't trust him at first, mainly because he couldn't shoot. Safe to say he won them over.
8. The Ocho: 👟 Office chair racing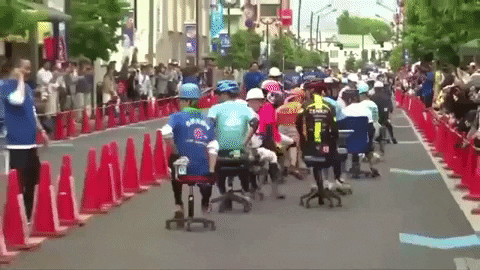 Japan just hosted the "Office Chair Race Grand Prix" because Japan rules.
9. 🏀 NBA trivia
Tony Parker (Belgium) is one of just four players born outside the 50 states to be named NBA Finals MVP.
Question: Who are the other three players?
Hint: They were all on Western Conference teams.
Answer at the bottom.
10. 🎬 Spot the sports movie characters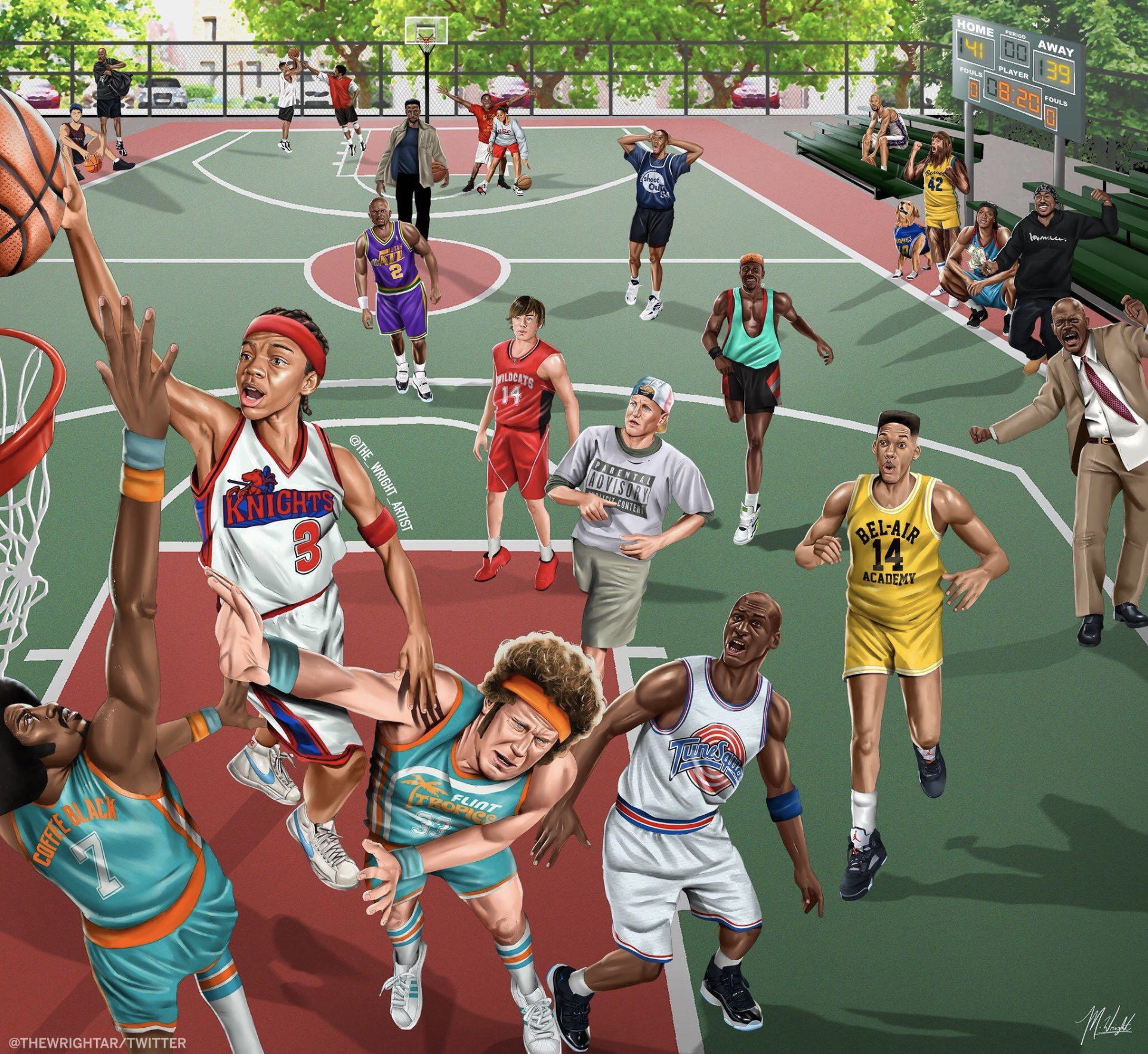 Courtesy: The Wright Artist
See you tomorrow,
Kendall "If the Raptors had won last night, the energy around the sports world would have been SO conflicted and weird" Baker
Trivia answer: Hakeem Olajuwon (Nigeria), Dirk Nowitzki (Germany) and Tim Duncan (U.S. Virgin Islands)