Axios Sports
August 03, 2022
👋 Good morning! The MLB trade deadline has passed. The only team not to make a trade? The Rockies.
Today's word count: 1,780 words (6 minutes).
Let's sports...
1 big thing: 🎙 Vin Scully is forever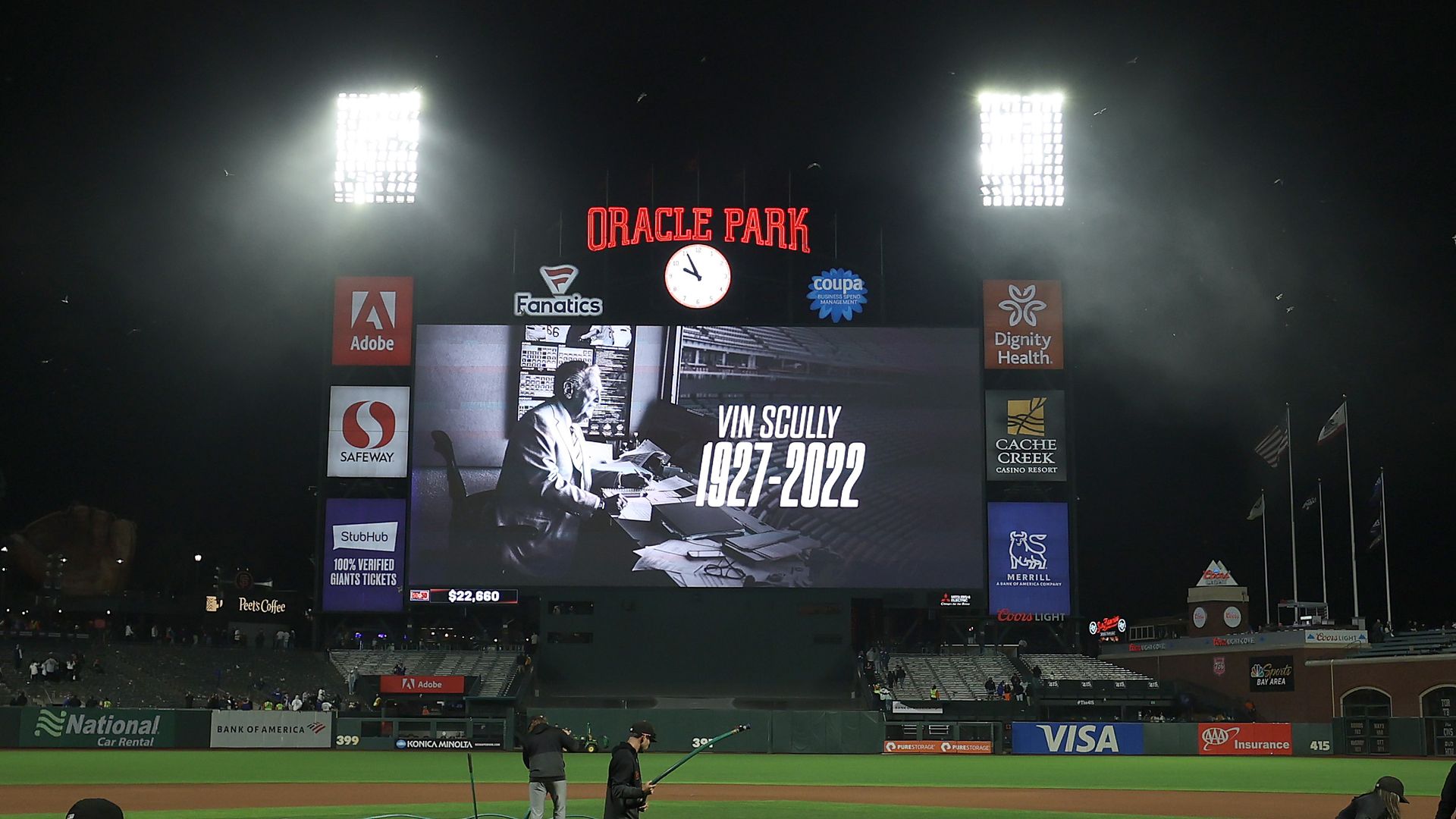 Vin Scully, who provided the soundtrack of summer for Dodgers fans for 67 seasons and called baseball games in a way that made it feel like he was sitting in your living room, died Tuesday. He was 94.
What they're saying: Joe Davis, who replaced Scully in 2017, reported the news to viewers in the bottom of the fifth inning at Oracle Park where, fittingly, the Dodgers were playing the Giants.
"There will never be another one like him. The greatest there ever has been and the greatest there ever will be."
— Davis,
via L.A. Times
The big picture: Scully's Hall of Fame career (1958-2016) spanned the Dodgers' move from Brooklyn to L.A., and the nation's move from transistor radios to streaming video. His voice is baseball's history.
Looking back: Born in 1927 in the Bronx, Scully was the son of a silk salesman who died of pneumonia when he was a child. He grew up playing stickball in the streets and attending games at the Polo Grounds.
After briefly serving in the U.S. Navy, Scully attended Fordham University, where he played center field on the baseball team and flourished as a sports broadcaster for the school's radio station.
After graduating in 1949, Scully worked as a fill-in at CBS Radio affiliate WTOP in Washington, D.C., where he did sports, news and weather and caught the ear of Dodgers broadcaster Red Barber.
In 1953, the 25-year-old Scully became the youngest person to call the World Series. Five years later, he moved west with the Dodgers and quickly became as much a part of L.A. "as the freeways and the smog."
Historic calls:
1956: Don Larsen's perfect game
"Got him! The greatest game ever pitched in baseball history by Don Larsen, a no-hitter, a perfect game in a World Series."
1965: Sandy Koufax's perfect game
"You can almost taste the pressure now. There are 29,000 people in the ballpark, and a million butterflies."
1974: Hank Aaron's 715th HR
"What a marvelous moment for baseball. What a marvelous moment for Atlanta and the state of Georgia. What a marvelous moment for the country and the world. A Black man is getting a standing ovation in the Deep South for breaking a record of an all-time baseball idol."
1986: Bill Buckner's error
"Little roller up along first ... Behind the bag! It gets through Buckner! Here comes Knight, and the Mets win it!"
1988: Kirk Gibson's walk-off
"High fly ball into right field! She is GONE!!! ... In a year that has been so improbable, the impossible has happened."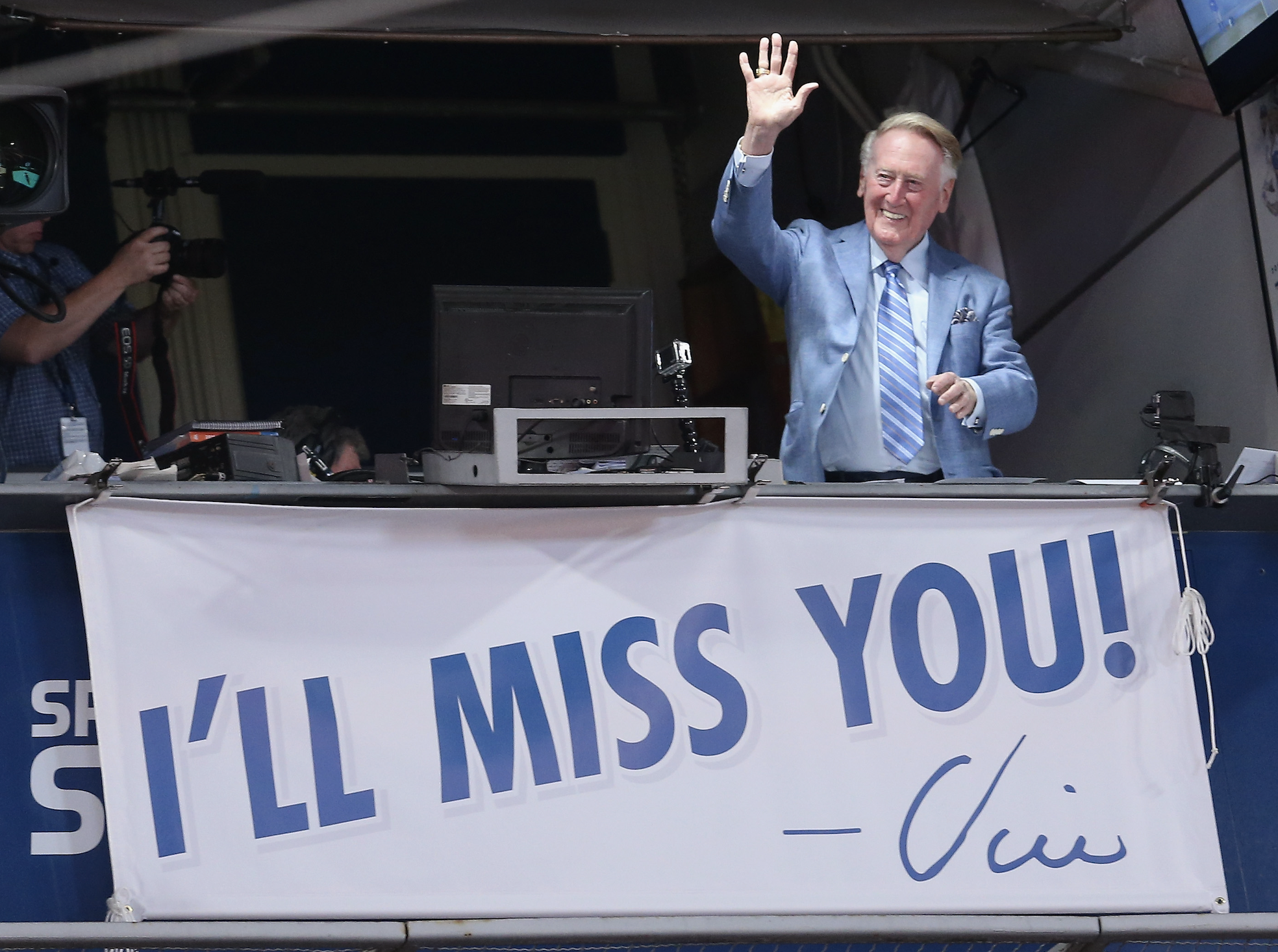 The last word: Scully would always open his broadcasts with the same familiar greeting — 14 words that possess such a profound warmth and will forever resonate on summer nights in the City of Angels...
"Hi everybody, and a very pleasant good evening to you wherever you may be."
🎥 Watch: Remembering the iconic Vin Scully (MLB Network)
2. ⚾️ The trade of the century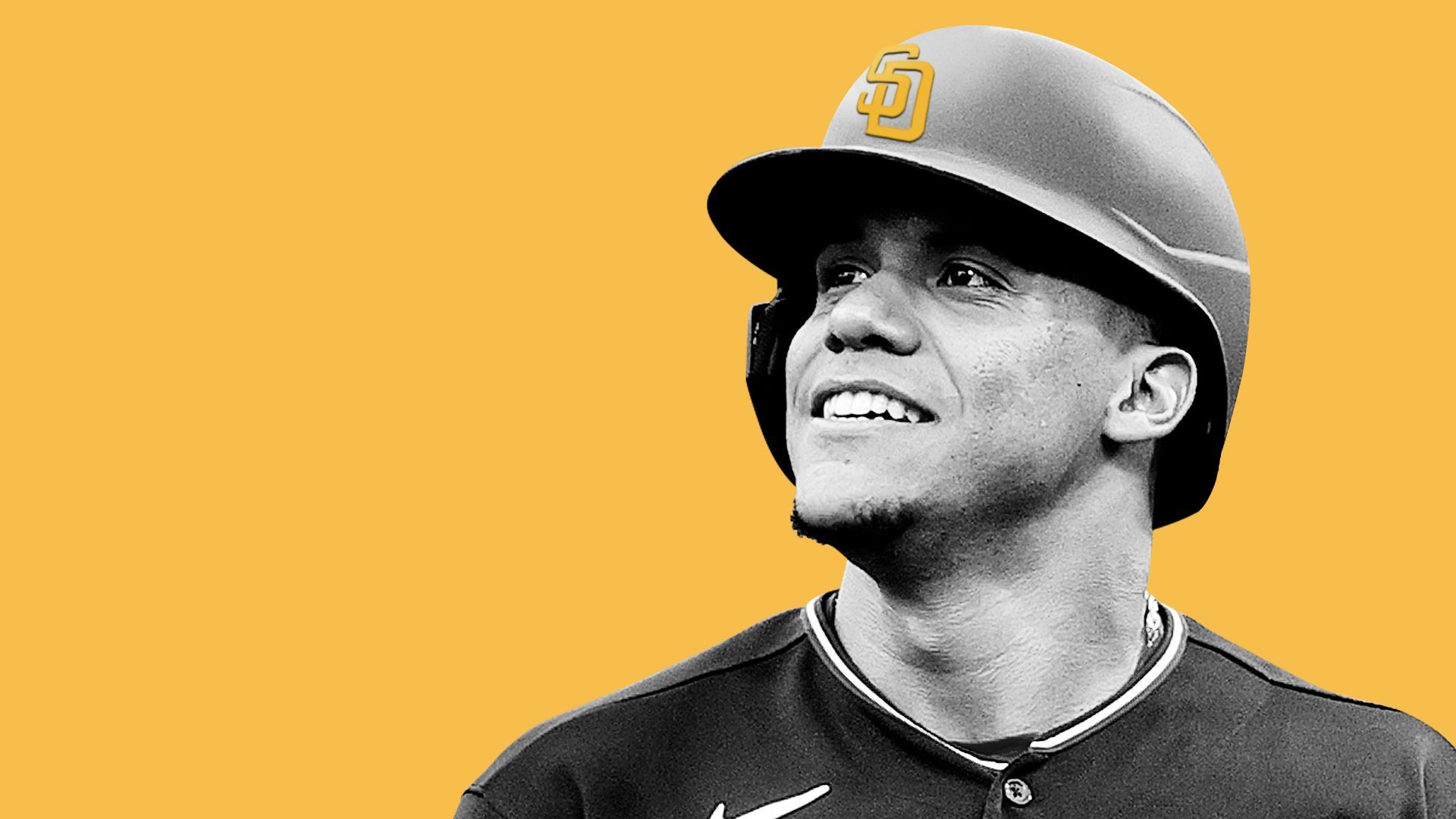 What once seemed impossible is now a reality: 23-year-old superstar Juan Soto is no longer a National, traded to the Padres for a historic haul, Axios' Jeff Tracy writes.
By the numbers: After the trade, Washington's farm system jumped from MLB's 24th-best to its eighth-best, per FanGraphs.
"This is, very simply, the largest trade package we have ever seen for an individual player."
—
Jeff Passan
, ESPN
The big picture: The Padres haven't made a non-pandemic postseason since 2006. Now, one of the league's most active GMs in A.J. Preller hopes his splashiest move yet will help them emerge from the Dodgers' shadow.
The other side: Nationals fans (including, sadly, myself) may not feel quite as good about their situation.
Looking ahead: In a cruel twist of fate, the Nationals host the Padres for a three-game series in just nine days.
Go deeper:
3. 🏈 Broncos diversify ownership team
The new buyers of the Broncos are aware of the obvious: Most NFL teams are owned by wealthy, white men, Axios Denver's John Frank writes.
State of play: That's a concern for NFL commissioner Roger Goodell, who said earlier this year he wanted diversity among the Broncos new ownership group. A week before the formal vote on the $4.65 billion purchase, the new ownership group is working to meet the request.
The latest: On Tuesday, the ownership group led by Rob Walton and the Penner family — both tied to the Walmart fortune — added Formula 1 driver Lewis Hamilton to their team.
Meet the team: The other limited partners outside the Walton-Penner family all add racial diversity.
Mellody Hobson is the co-CEO of Ariel Investments and board chair at Starbucks. She's also married to George Lucas and previously served as chairperson of Dreamworks Animation.
Condoleezza Rice, the former secretary of state who previously lived in the Mile High City and attended the University of Denver, now leads the Hoover Institution and is part owner of the WNBA.
The big picture: Hobson and Rice are the first two Black women to be part-owners of an NFL team, per NYT. Only two people of color are majority NFL owners: Pakistani American Shahid Khan (Jaguars) and Korean American Kim Pegula (Bills).
4. ⚡️ Lightning round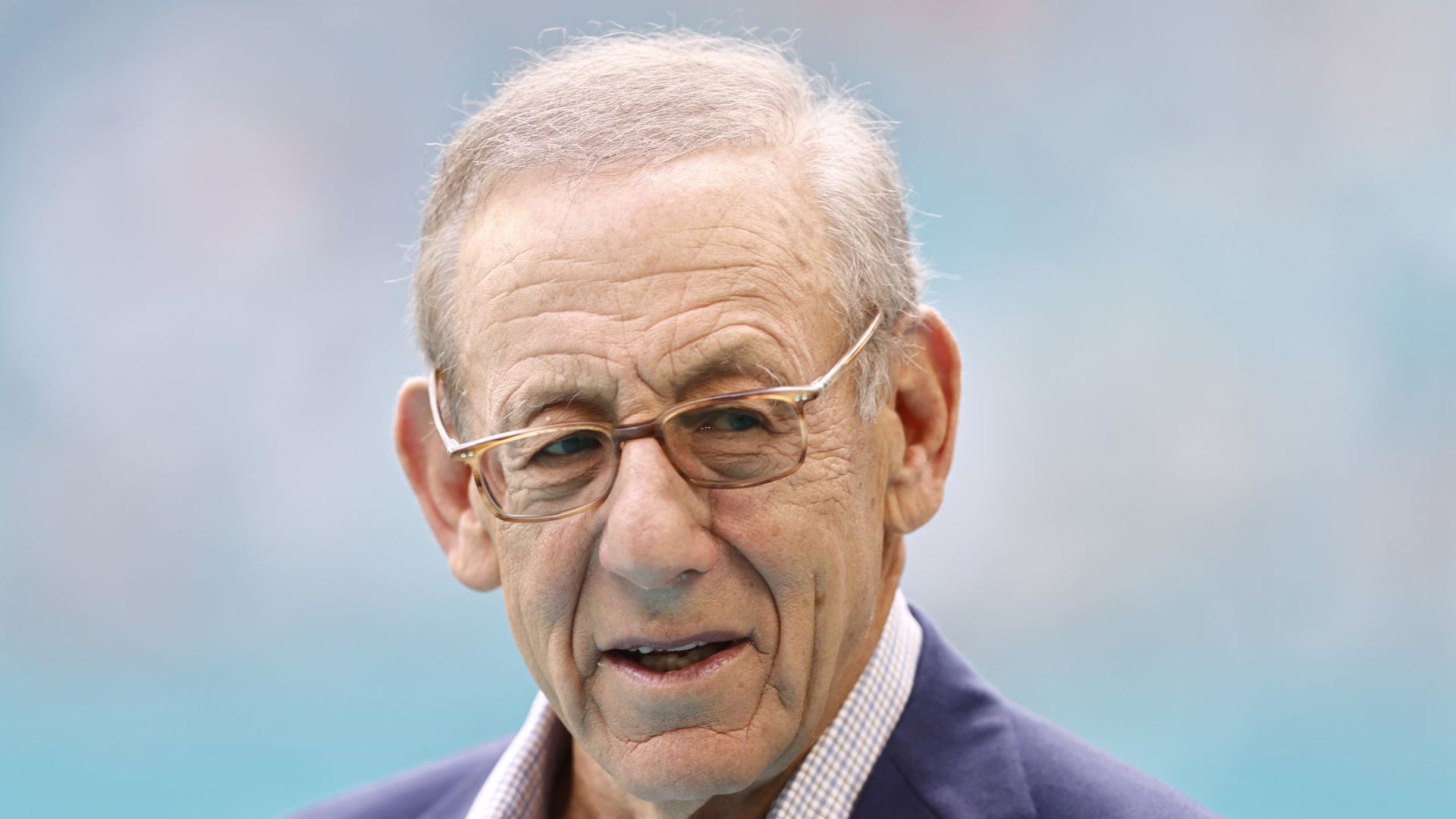 5. 🏀 Summer tours: Hoops around the world
After two pandemic-fueled down years, dozens of college basketball teams are once again traveling abroad this month, Jeff writes.
What's happening: The NCAA allows schools to take one such trip every four years, during which they can play a maximum of 10 games against local teams.
Coaches can also hold official practices abroad that they wouldn't otherwise be allowed to run stateside.
Beyond those on-court benefits, players and coaches rave about the overall experience and team chemistry such trips build.
State of play: Most of the 58 teams going on tour between July and September either just departed or will leave in the next couple weeks. A few trips to highlight:
Auburn: Israel (July 31-Aug. 10)
Oklahoma: Spain, France (Aug. 2-12)
Ohio State: Bahamas (Aug. 4-9)
Tulane: Costa Rica (Aug. 5-13)
Arkansas: Spain, Italy (Aug. 6-16)
Davidson: Slovenia, Italy (Aug. 9-22)
St. John's: Dominican Republic (Aug. 11-19)
California: France, Belgium, Germany (Aug. 12-22)
UC Davis: Italy, Croatia (Aug. 15-26)
UC Riverside: Australia (Aug. 28-Sept. 8)
What they're saying: "There's nothing like it in the world," Auburn coach Bruce Pearl said in 2018 of his team's trip the previous summer. "The guys have said that we went to Italy as a team, we came back as a family."
6. 🏈 The shapers of college football's future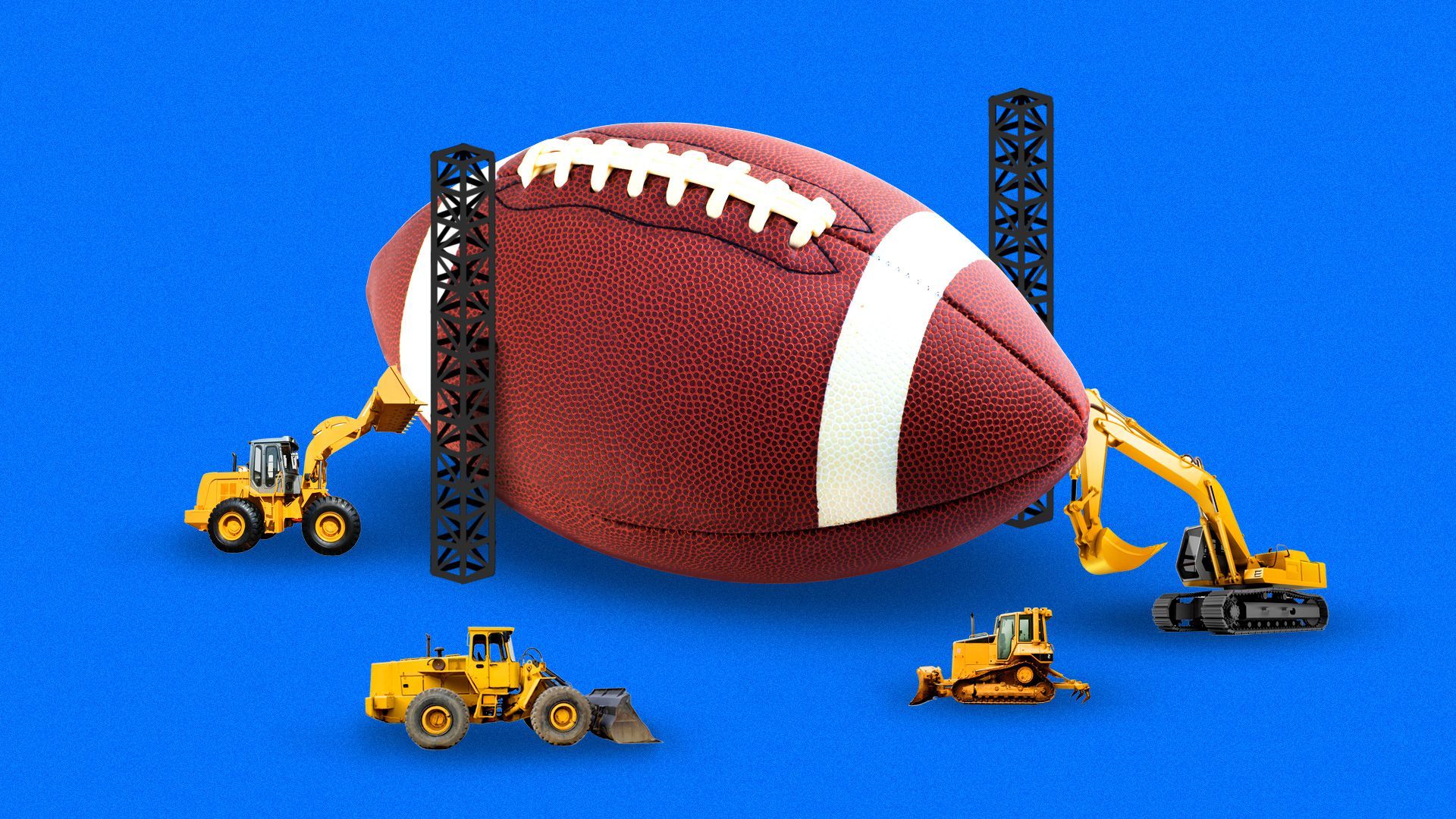 7. 🇺🇸 Photos across America
DAYTON, Ohio — Blue Collar U, comprised of mostly Buffalo alumni, won The Basketball Tournament's $1 million prize while wearing the names of the victims of the May 15 supermarket shooting on their jerseys.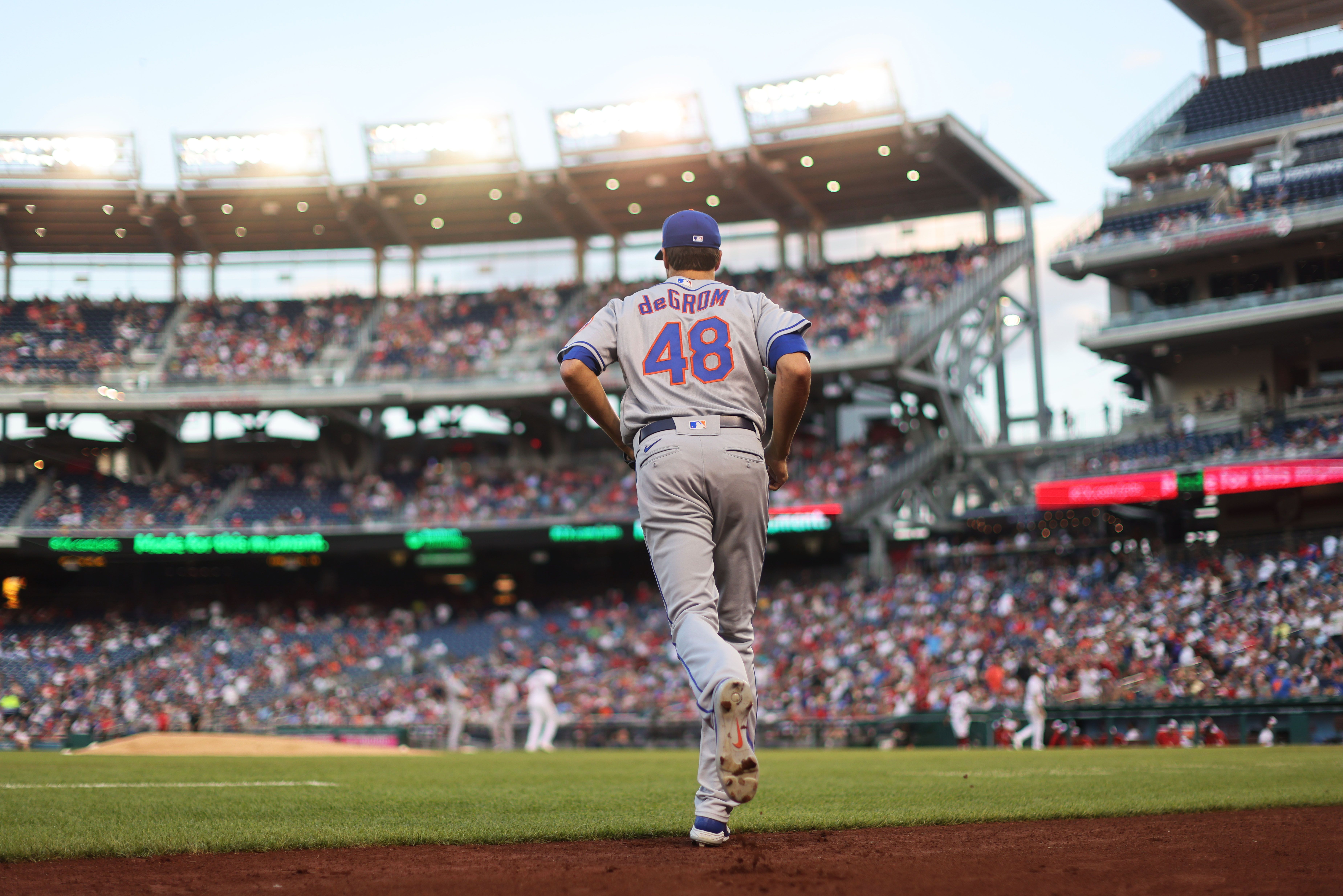 WASHINGTON, D.C. — Jacob deGrom looked good in his season debut (5 IP, 3 H, 1 ER, 6 K), but the Mets lost 5-1 to the Nationals. Because of course they did!
Wild stat: This is the 17th time over the last five seasons that deGrom has allowed one or fewer earned runs and the Mets have lost, most of any pitcher in the league.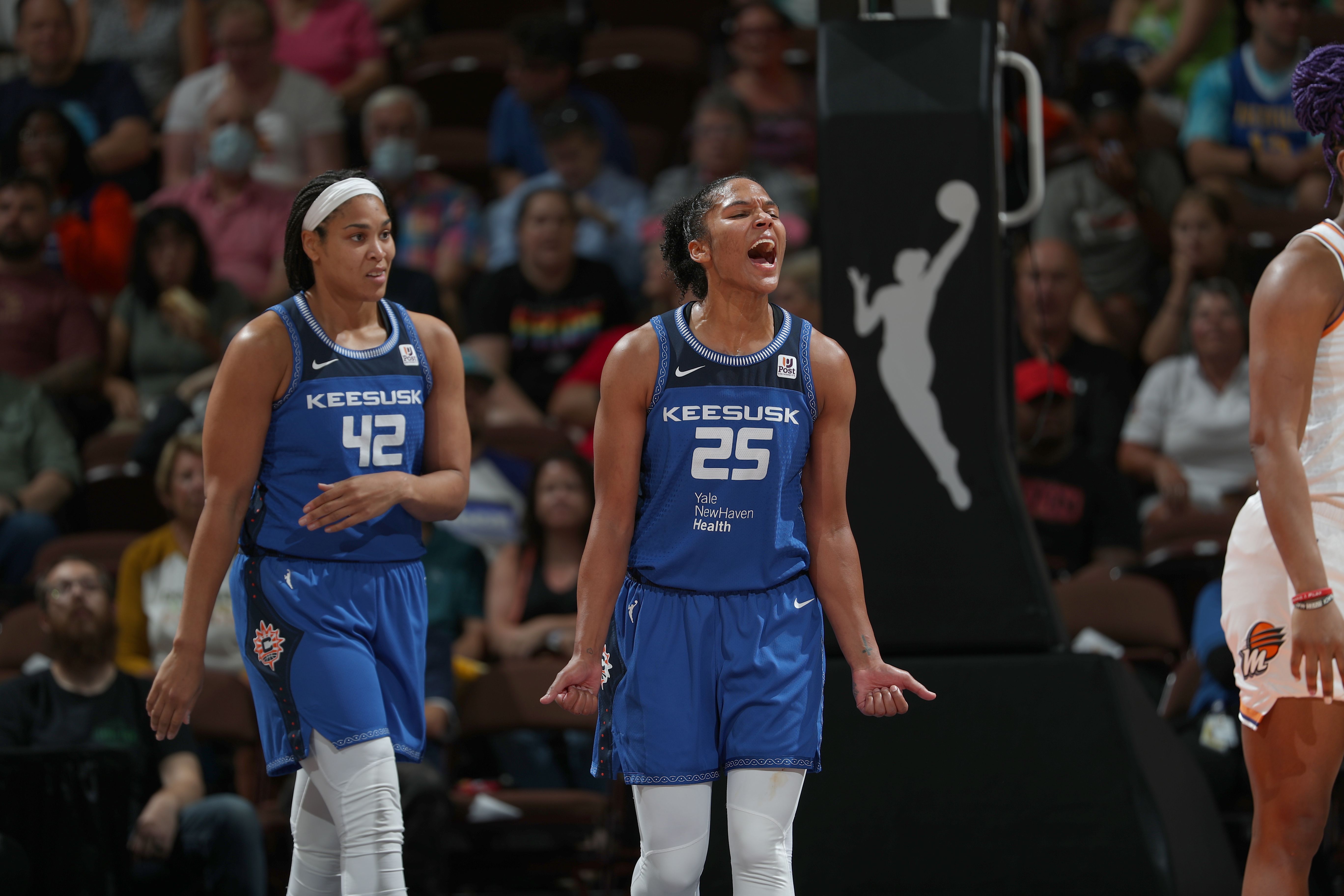 UNCASVILLE, Conn. — Alyssa Thomas (12-10-10) recorded her second triple-double in as many weeks on Tuesday to lead the Sun past the Mercury.
Wild stat: Prior to 2022, no player in WNBA history had ever recorded two triple-doubles in a season. This year, three have done so (Thomas, Sabrina Ionescu, Candace Parker).
8. 📺 Watchlist: MLS vs. Liga MX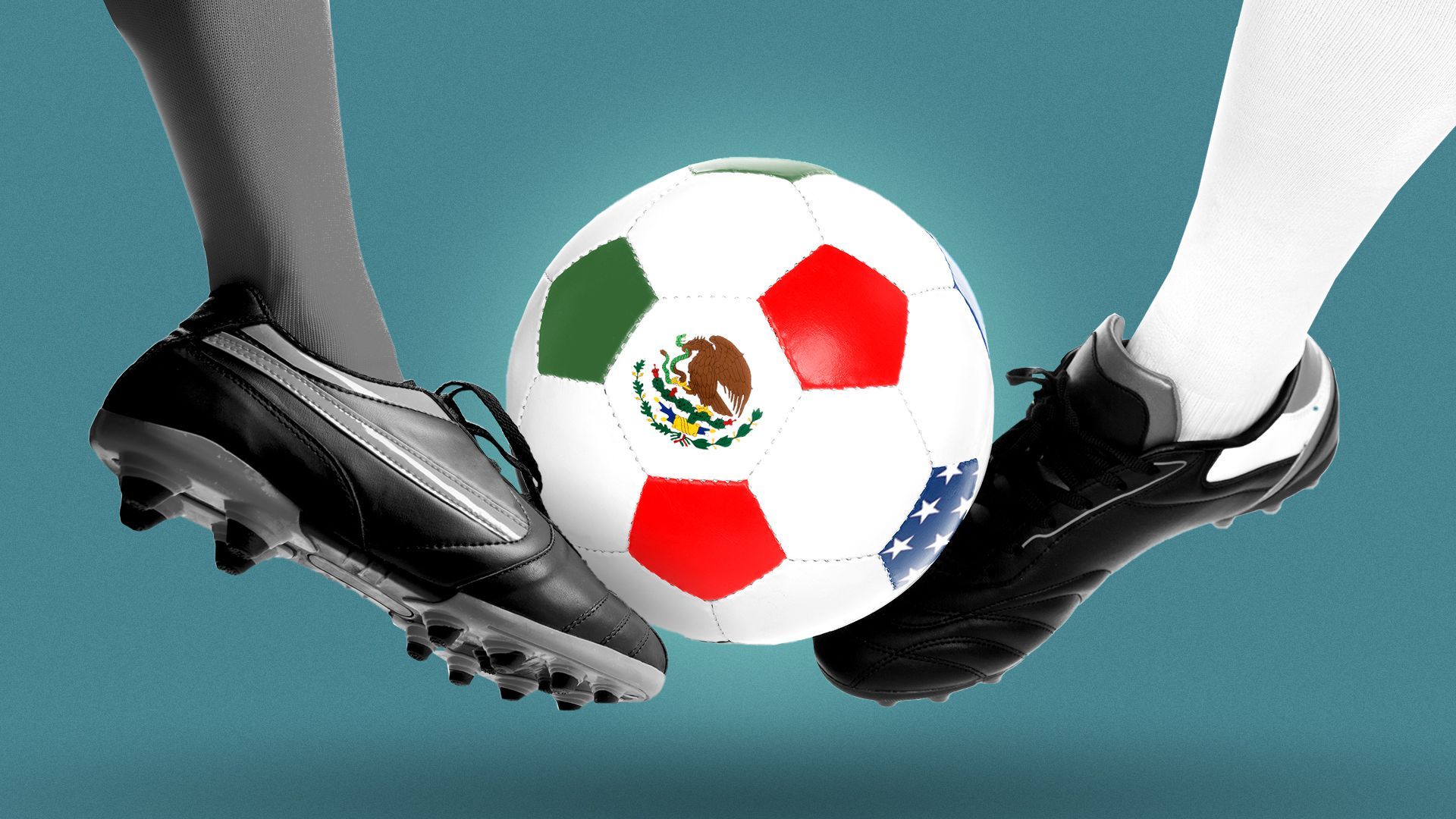 9. ⚾️ MLB trivia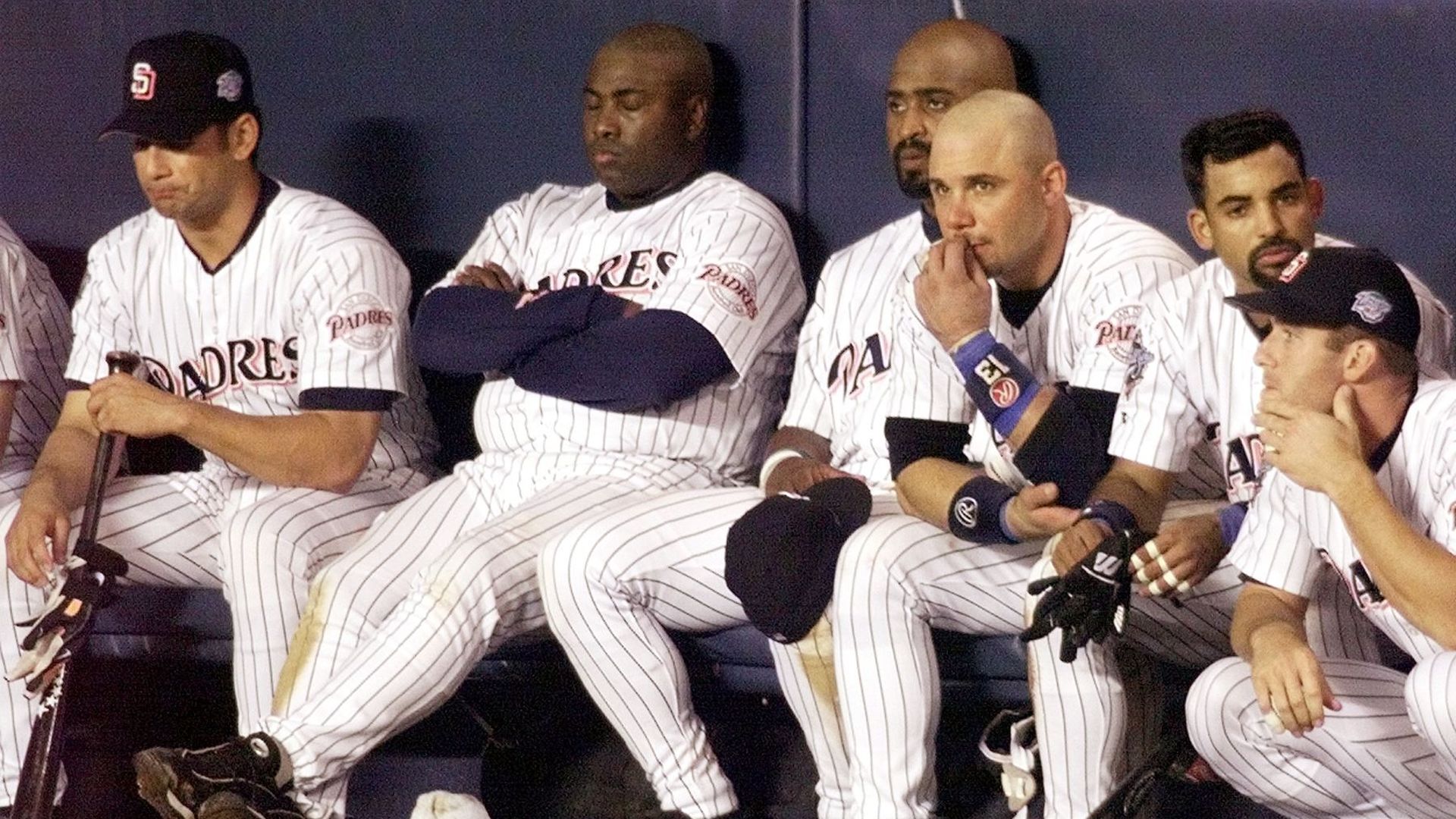 The Padres are one of six MLB franchises without a World Series title.
Question: Name the other five.
Hint: Three AL, two NL.
Answer at the bottom.
10. 😲 1 fun thing: Gold medal selfie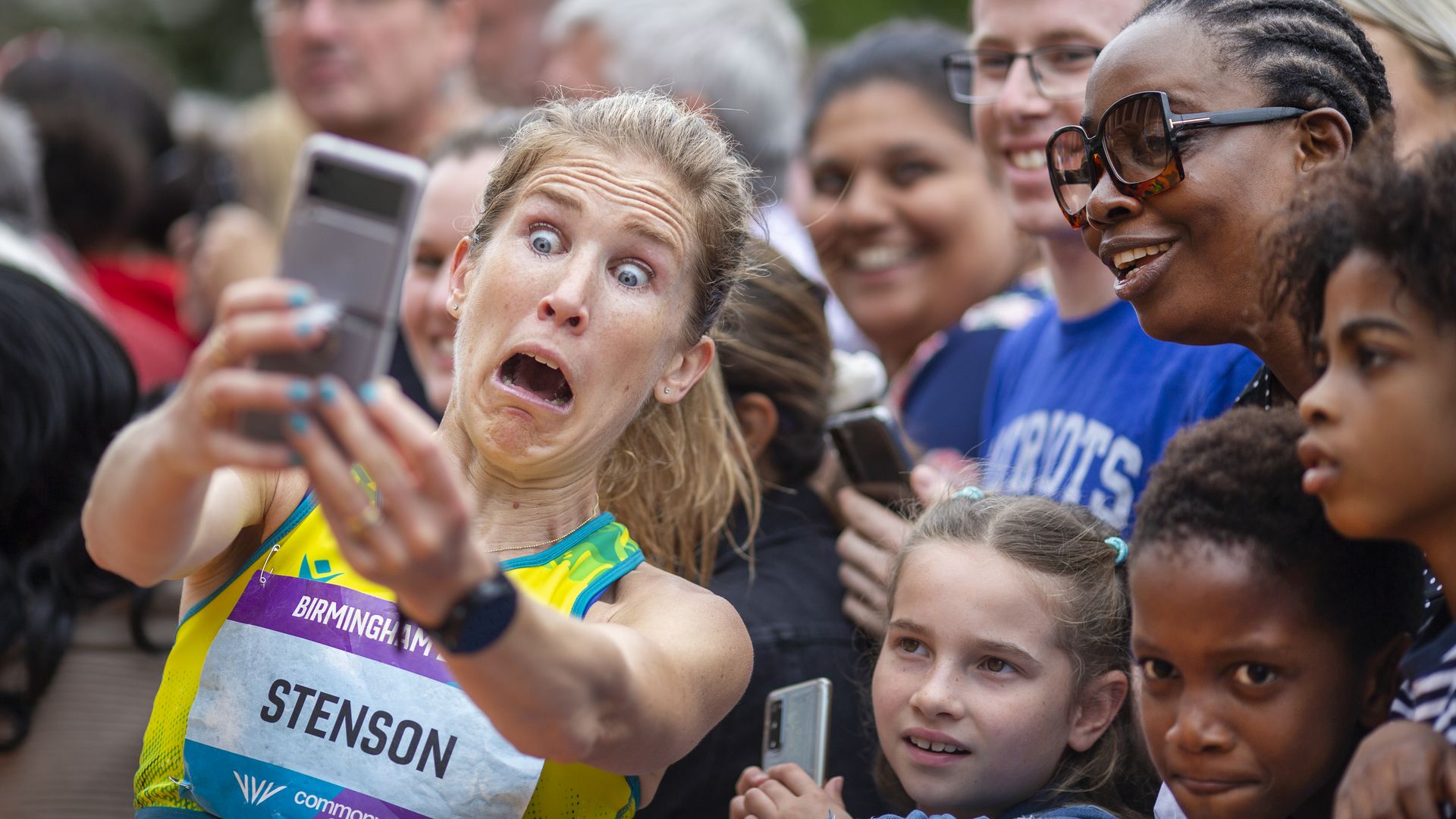 Australia's Jessica Stenson may have invented a new facial expression when she took this selfie with fans after winning gold in the women's marathon at the Commonwealth Games.