December 02, 2021
👋 Good morning! Bring out the padlocks — the MLB lockout is here.
Today's word count: 1,708 words (6 minutes).
Let's sports...
1 big thing: 🔒 The MLB lockdown has begun
Hope you enjoyed the recent flurry of free-agent activity, because it's likely the last non-lockout-related MLB news for a while, Axios' Jeff Tracy writes.
Driving the news: The owners locked out the players after the collective bargaining agreement expired at midnight last night, leading to MLB's ninth work stoppage — and first since 1995.
Past work stoppages: 1972 strike; 1973 lockout; 1976 lockout; 1980 strike; 1981 strike; 1985 strike; 1990 lockout; 1994-95 strike
Lockout vs. strike: Either employers withhold work (lockout) or workers withhold services (strike). While neither is ideal, lockouts are far less intrusive. Those five strikes led to 1,720 canceled games. The three lockouts? Zero.
How it works: Everything aside from CBA negotiations is now halted. Contracts can't be signed, injured players can't work with team staff to rehab, zero communication between players and teams.
The CBA governs the relationship between the league and players' union, ranging from scheduling and playoff format to payment structure and drug testing.
The two sides must now negotiate a new deal before the business of baseball can resume. Neither side will get everything it wants; the question is how much either side is willing to concede.
The negotiating table comprises commissioner Rob Manfred and MLBPA executive director Tony Clark, each of their top lieutenants, the eight-player MLBPA executive board and seven owners on the league's labor policy committee.
Where it stands: The disagreements stem from money, and the various ways that money is — or isn't — spent.
What the players want: More competitive integrity (tanking and revenue sharing among owners both disincentivize spending); earlier paydays (to ensure prime playing years coincide with prime earning years); no service-time manipulation
What the owners want: Mostly, for things to stay the same. MLB set new revenue records for 17 straight years through 2019, while average player salaries have dropped 4.9% since 2016. They'd also like to further pad their wallets with expanded playoffs.
Plus: On-field changes, like a universal DH or pitch clock, could also be written into the new CBA.
Between the lines: In the 26 years since the last work stoppage, immense distrust has been sown between the league and players; recently, it's only gotten worse.
First came steroids — now it's sign-stealing, sticky stuff and juiced balls. Just this week, MLB admitted to secretly using two different balls last season, per Business Insider (subscription).
Add in the months of bad-faith negotiations during the spring of 2020, and it's not hard to understand how we got here.
Go deeper: A letter to baseball fans (MLB commissioner's office)
2. 🎾 WTA suspends tournaments in China
The Women's Tennis Association has suspended all tournaments in China in light of the treatment of tennis star Peng Shuai.
Why it matters: The WTA is the first major sports organization to push back this strongly against the Chinese government, and it comes just nine weeks ahead of the Beijing Winter Olympics.
The International Olympic Committee, hoping to deflect criticism for its comparably light approach, said this morning that it held a second video call with Peng — but didn't share any details.
Pulling out of China could cost the WTA upwards of $1 billion. The tour has a 10-year deal to hold its season-ending tournament in Shenzhen.
The backdrop: Peng publicly accused China's former vice premier of sexual assault on Nov. 2, and was not seen for weeks after speaking out.
Chinese state media initially suppressed all reporting on the case and released an email purportedly from Peng saying that she was safe.
Peng held a video call with the IOC in late November amid international outcry.
What they're saying: "Chinese officials have been provided the opportunity to cease this censorship, verifiably prove that Peng is free … and investigate the allegation of sexual assault," WTA chair Steve Simon said in a statement Wednesday.
"Unfortunately, the leadership in China has not addressed this very serious issue in any credible way. ... While we now know where Peng is, I have serious doubts that she is free, safe and not subject to censorship, coercion and intimidation."
"If powerful people can suppress the voices of women and sweep allegations of sexual assault under the rug, then the basis on which the WTA was founded — equality for women — would suffer an immense setback. I will not and cannot let that happen."
"This is ... about what's right and wrong."
Of note ... Contrast Simon's words with billionaire Ray Dalio — founder of the world's largest hedge fund — who had this to say on Wednesday when asked about Peng and China's human rights issues on CNBC:
"I can't be an expert in those types of things. I look to whatever the rules are. ... I'm not trying to make political comparisons. I'm basically just trying to follow the rules."
3. 💔 An American hero: Tate Myre
Tate Myre, a 16-year-old football player at Michigan's Oxford High School, sacrificed his life Tuesday to save his classmates from the deadly shooting that has claimed at least three other lives, Jeff writes.
The big picture: Myre, 16, Hana St. Juliana, 14, Madisyn Baldwin, 17, and Justin Shilling, 17, all went to school Tuesday morning. They never came home.
Those are the names that should be remembered from this tragic event, and an online petition is hoping to accomplish just that, calling for Oxford High's football stadium to be renamed after Myre.
"Tate is not just a hero to his fellow students at Oxford high school but a legend," the petition reads. "His act of bravery should be remembered forever and passed down through generations."
The bottom line: We need more people like Tate in this world. Tragically, now there's one fewer.
4. ⚡️ Lightning round
🏈 Irish top target: Notre Dame is expected to offer DC Marcus Freeman the head coaching position, per multiple reports. Freeman, 35, arrived this season after stints at Cincinnati and Purdue. He played at Ohio State.
🏐 Volleyball tourney: The NCAA women's volleyball tournament begins today, with No. 1 Louisville, No. 2 Texas and No. 3 Pitt earning the top three seeds. Preview the field.
💵 What a gig: Bob Stoops will reportedly be paid $325,000 to coach Oklahoma's bowl game.
⚾️ Good read: The 100 best baseball books ever written (Alex Belth, Esquire)
Baseball is the writer's game, and these indispensable books prove it.
5. 🏈 NFL power rankings: Week 13
The top three teams remained the same in our rankings, but the surging Patriots (six straight wins) and Chiefs (four straight wins) now round out the top five, Jeff writes.
Those are just two of nine active three-or-more game winning or losing streaks in this topsy-turvy season that's seen early contenders stumble and once-struggling teams ascend.
We've blown the parity horn every week, but it really is astonishing how close the top and bottom of the standings are. Just five teams have three or fewer wins!
📆 Coming up: Monday night's Pats-Bills game has huge implications — either New England takes a two-game lead with five weeks left, or Buffalo ties them atop the AFC East.
Tonight: Cowboys (-4.5) at Saints
Sunday's best: Chargers at Bengals (-3); Ravens (-4.5) at Steelers
Sunday night: Broncos at Chiefs (-9.5)
Monday night: Patriots at Bills (-2.5)
Byes: Browns, Packers, Titans, Panthers
Fun fact ... If the season ended today, three teams would own back-to-back top-10 picks in the upcoming draft: Jets (4-5), Giants (6-7) and Eagles (9-10). Four straight picks for New York!
6. 🏒 Goal of the night
Auston Matthews posted his fourth career hat trick Wednesday night, highlighted by this beauty.
7. 🌎 The world in photos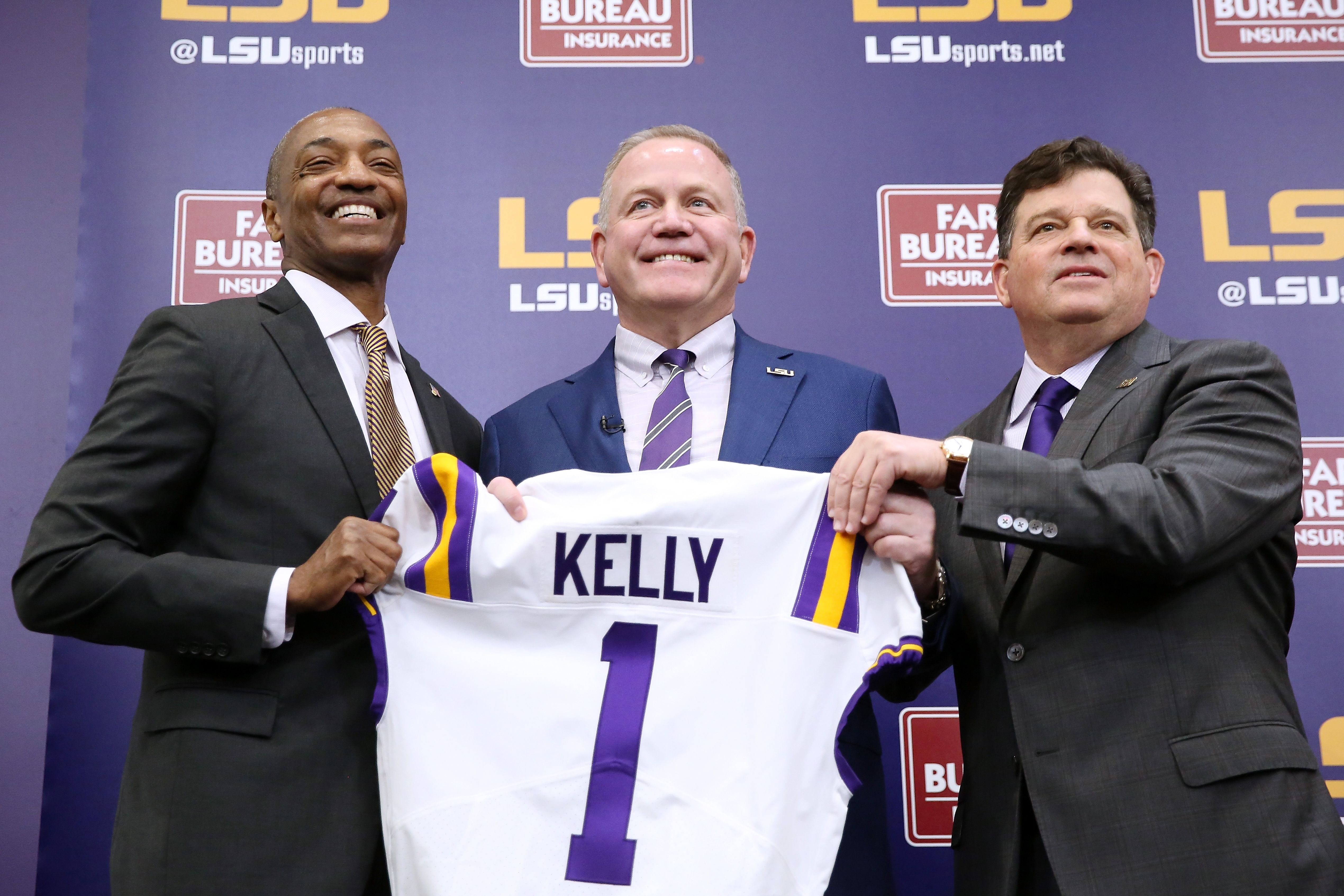 BATON ROUGE, La. — Brian Kelly was introduced as LSU head coach on Wednesday by school president William F. Tate (L) and athletic director Scott Woodward.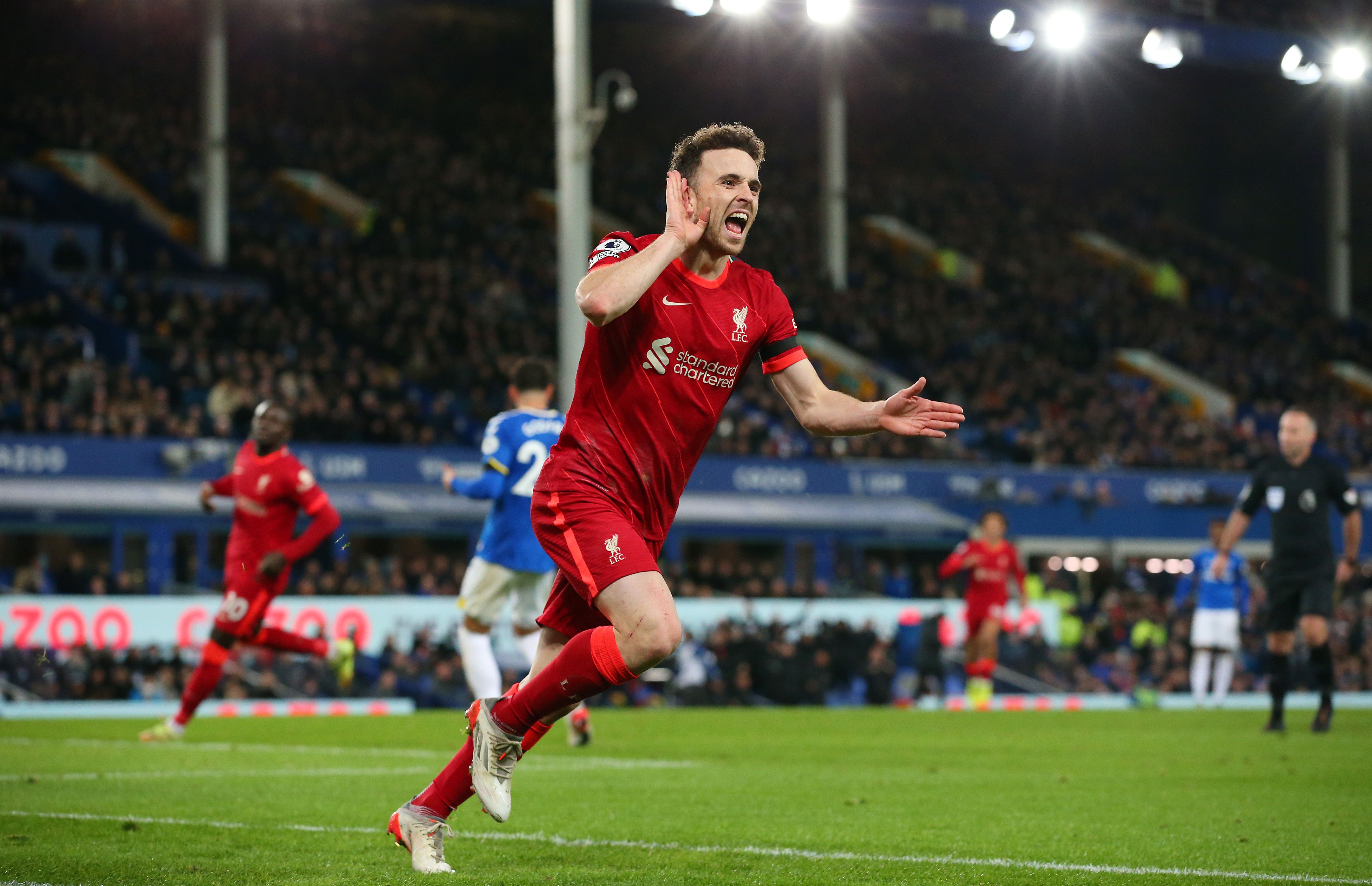 LIVERPOOL, England — Liverpool beat Everton, 4-1, in the 239th Merseyside Derby — their biggest win at Goodison Park since 1986.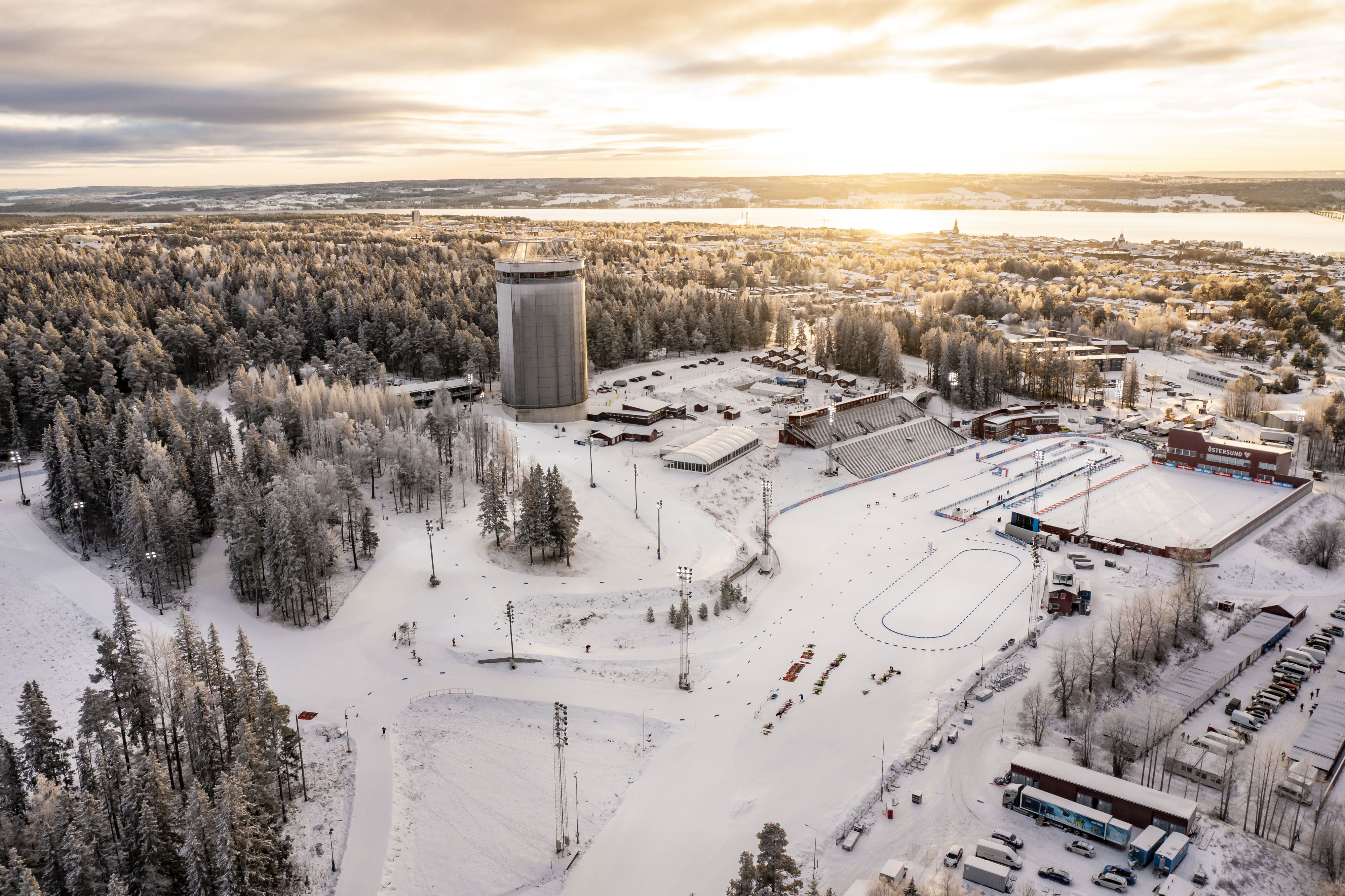 OSTERSUND, Sweden — The Biathlon World Cup site looks like a "Call of Duty" map. Reminder: Biathlon combines cross-country skiing and rifle shooting.
8. 📆 Dec. 2, 2008: The Ronaldo-Messi era begins
13 years ago today, Cristiano Ronaldo won his first Ballon d'Or, edging out second-place Lionel Messi and third-place Fernando Torres.
Why it matters: This kicked off the Ronaldo-Messi era, with the two legends winning 12 of the 13 Ballon d'Or's between 2008 and 2021. The only other winner was Luka Modrić in 2018.
Ronaldo (5x): 2008, 2013, 2014, 2016, 2017
Messi (7x): 2009, 2010, 2011, 2012, 2015, 2019, 2021
The big picture: No sports rivalry has ever garnered more global attention. Ronaldo (372M) and Messi (286M) have the two most-followed accounts on Instagram and are arguably the two most famous humans on Earth.
What they're saying: Ballon d'Or organizer Pascal Ferre claims Ronaldo told him his only career ambition is to win more Golden Balls than Messi. Ronaldo denies this (though he suggested as much in this interview).
9. ⚾️ MLB trivia
The shortened 1995 MLB season — the last to be impacted by labor negotiations — concluded with the Braves winning the World Series.
Question: Who did they beat?
Hint: Missed the playoffs this year.
Answer at the bottom.
10. 🏀 1 fun thing: The Jalen Generation
"Jalen" is the most popular name among the 5,637 men playing D-I hoops, according to NCAA research, Jeff writes.
Jalen: 102
Michael: 81
Jordan: 70
Trey: 62
Isaiah: 60
Joshua: 57
Chris: 56
Matthew: 51
Jacob: 47
John and Caleb: 46
The big picture: Just as "Michael" and "Jordan" topped that list for years because of His Airness, the Jalen Generation stems from Jalen Rose.
Rose's mother came up with the name by combining the names of her son's father (James) and uncle (Leonard). There was at least one Jalen born in the U.S. before Rose, but the Fab Five star popularized it.
In addition to the horde of college-aged Jalens, the 2021 NBA draft featured three of them (Green, Suggs, Johnson), who joined five others already in the NBA and over 30 playing in other pro leagues.
🎧 Listen: Solving the Jalen Rose mystery (ESPN)
Talk tomorrow,
Kendall "Jalen" Baker
Trivia answer: Indians
🙏 Thanks for reading. For more sports coverage, follow us on Twitter: @kendallbaker and @jeffreytracy.