Axios Sports
May 05, 2020
👋 Good morning! Let's sports.
Today's word count: 1,996 words (8 minutes).
1 big thing: ⚽️ USWNT suffers rare defeat, but fight goes on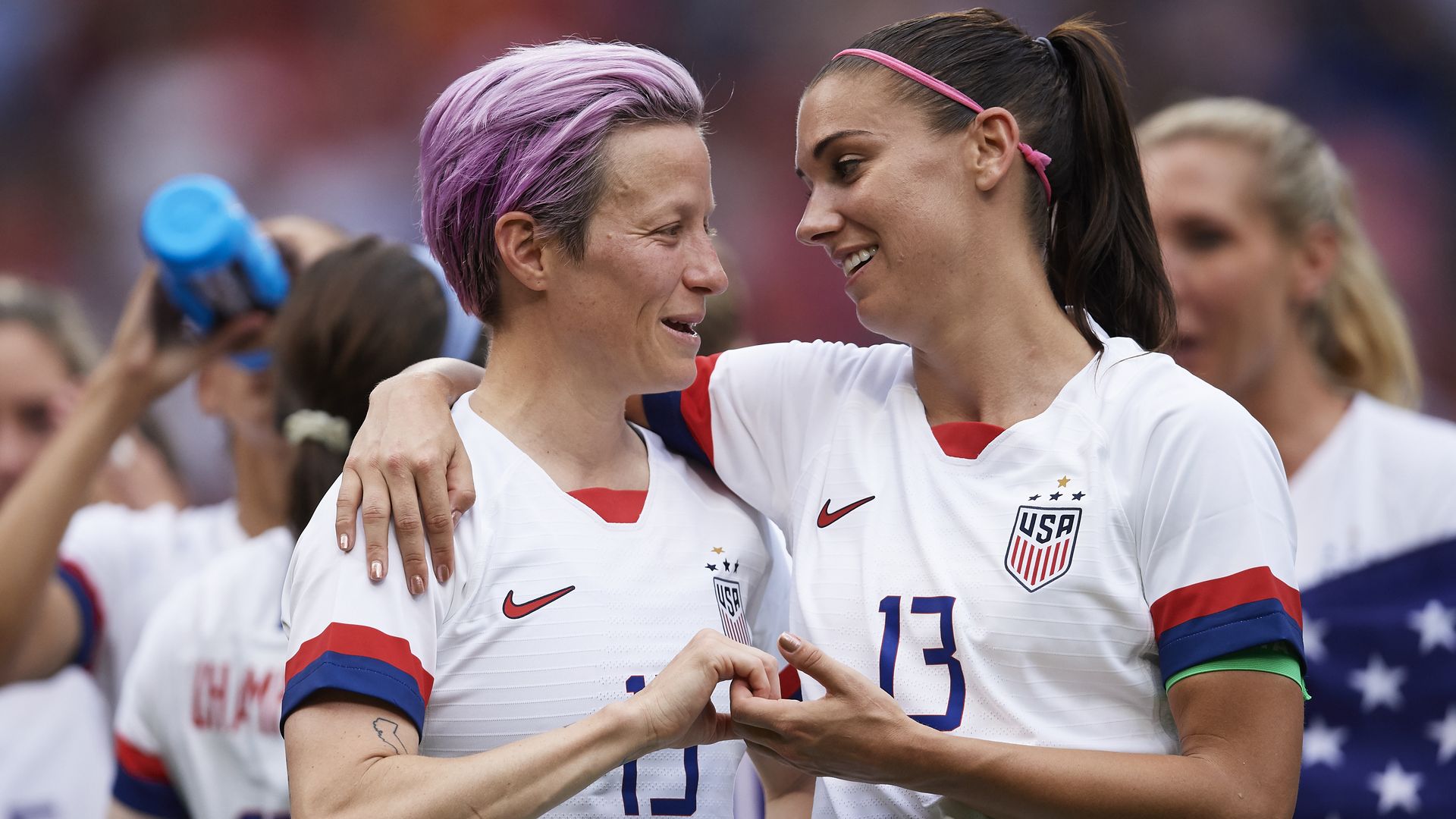 The USWNT's claim that they had long been underpaid was rejected by a federal judge on Friday, after the players accused the U.S. Soccer Federation of "institutionalized gender discrimination" last year.
Driving the news: In a written decision, Judge R. Gary Klausner said the women hadn't provided enough evidence of pay discrimination to take the issue to the scheduled June 16 trial.
According to Klausner, the USWNT rejected an offer to be paid under the same pay-to-play structure as the men in 2017, opting instead for a deal that promised more security (higher base compensation) but a lower pay ceiling.
Klausner concluded that the plaintiffs "cannot now retroactively deem their [contract] worse than the [men's contract] ... when they themselves rejected such a structure."
Klausner also concluded that from 2015 to 2019 the women were paid more than the men by U.S. Soccer.
The other side: In an appearance on "Good Morning America" on Monday, USWNT captain Megan Rapinoe said the women were never offered the same contract as the men, undercutting Judge Klausner's dismissal.
She also pointed out that, while the women did in fact make more than the men over the past five years, it's because the women won two World Cups and played more games, as the men failed to even qualify for theirs.
What's next: The team is appealing the decision. The case is still scheduled to go to trial on June 16, albeit with a narrower focus (i.e. unequal treatment regarding travel) that falls short of the "equal pay" precedent the players hoped for.
"We are shocked and disappointed ... but we will not give up our hard work for equal pay. We are confident in our case and steadfast in our commitment to ensuring that girls and women will not be valued as lesser just because of their gender."
—
Molly Levinson,
USWNT spokeswoman
Timeline:
March 2019: Three months before the start of the Women's World Cup, the USWNT files a gender-discrimination suit against U.S. Soccer, alleging the federation pays them less and treats them worse than their male counterparts.
July 2019: After dominating the World Cup from start to finish, the USWNT clinches the title in France, and the crowd erupts in chants of "Equal pay!" A ticker-tape parade in New York follows, and the movement continues to build.
March 2020: In a legal filing widely condemned as misogynistic, the USSF argues that the pay disparity between men and women is justified because "indisputable science" proves that women are inferior athletically. Sponsors blast the federation, and president Carlos Cordeiro resigns days later.
The big picture: "U.S. Soccer has said that compensating the women at the level they demand would be ruinously expensive," writes the New Yorker's Louisa Thomas (for reference, they're seeking ~$67 million in back pay).
"To avoid it, they pursued a scorched-earth policy, and there will be costs to that, too."
Exhibit A: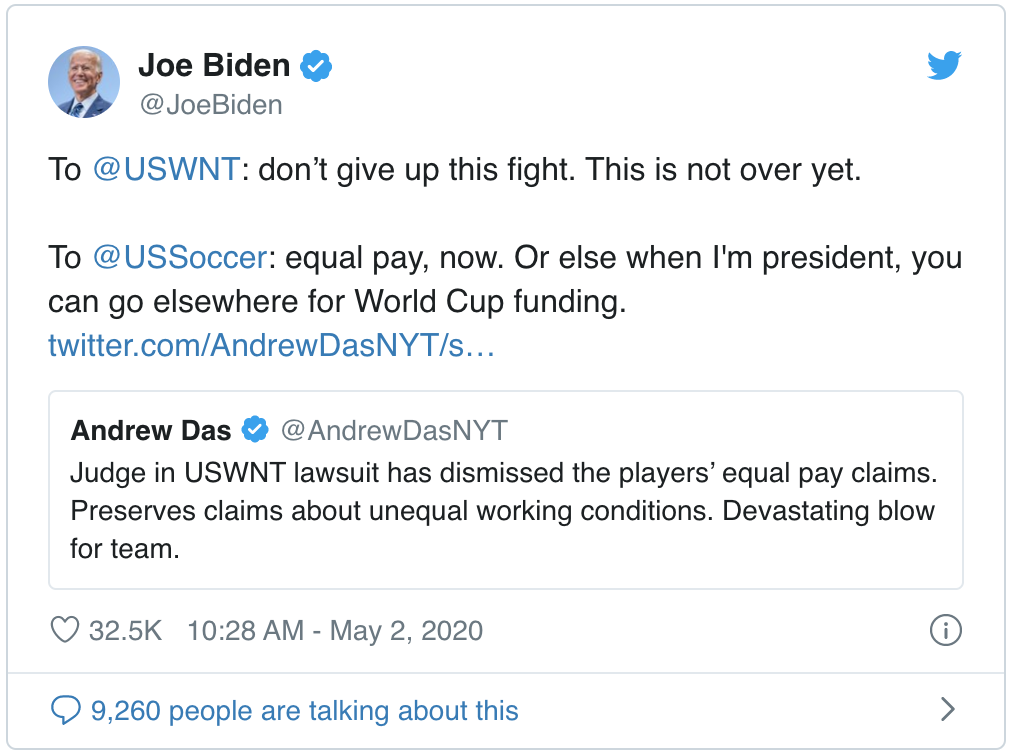 2. 📺 The sports TV battle
Over 20% of the average monthly cable bill in the U.S. goes towards sports, and ESPN alone generates $7.89 per subscriber, according to data from S&P Global Market Intelligence.
Driving the news: The attorney general of New York last week demanded cable and satellite operators (i.e. Comcast, AT&T) stop charging customers for live sports, since they're not providing that service.
But in order for operators to refund customers, they'd need to convince networks to refund them. And if the networks refund the cable operators, they'd need to convince the leagues to refund them. It'd be chaos.
Of note: ESPN's contract gives them until September 2021 to make up any promised events before operators can start seeking rebates, Sports Business Journal's John Ourand reports.
The state of play: While a growing number of people are cutting the cord, more than 80 million households still have cable or satellite, meaning a quarter of the American population is paying for sports networks that consist mainly of re-runs and documentaries.
The bottom line: "[T]he longer we don't have sports, the more pressure will be placed on leagues, networks and operators," writes Bloomberg's Lucas Shaw.
"Come June and July, the odds increase that a pay-TV operator stiffs a network, or a network stiffs a sports league. If that happens, I have three words for you: call your lawyer."
3. 🏈 RIP, Don Shula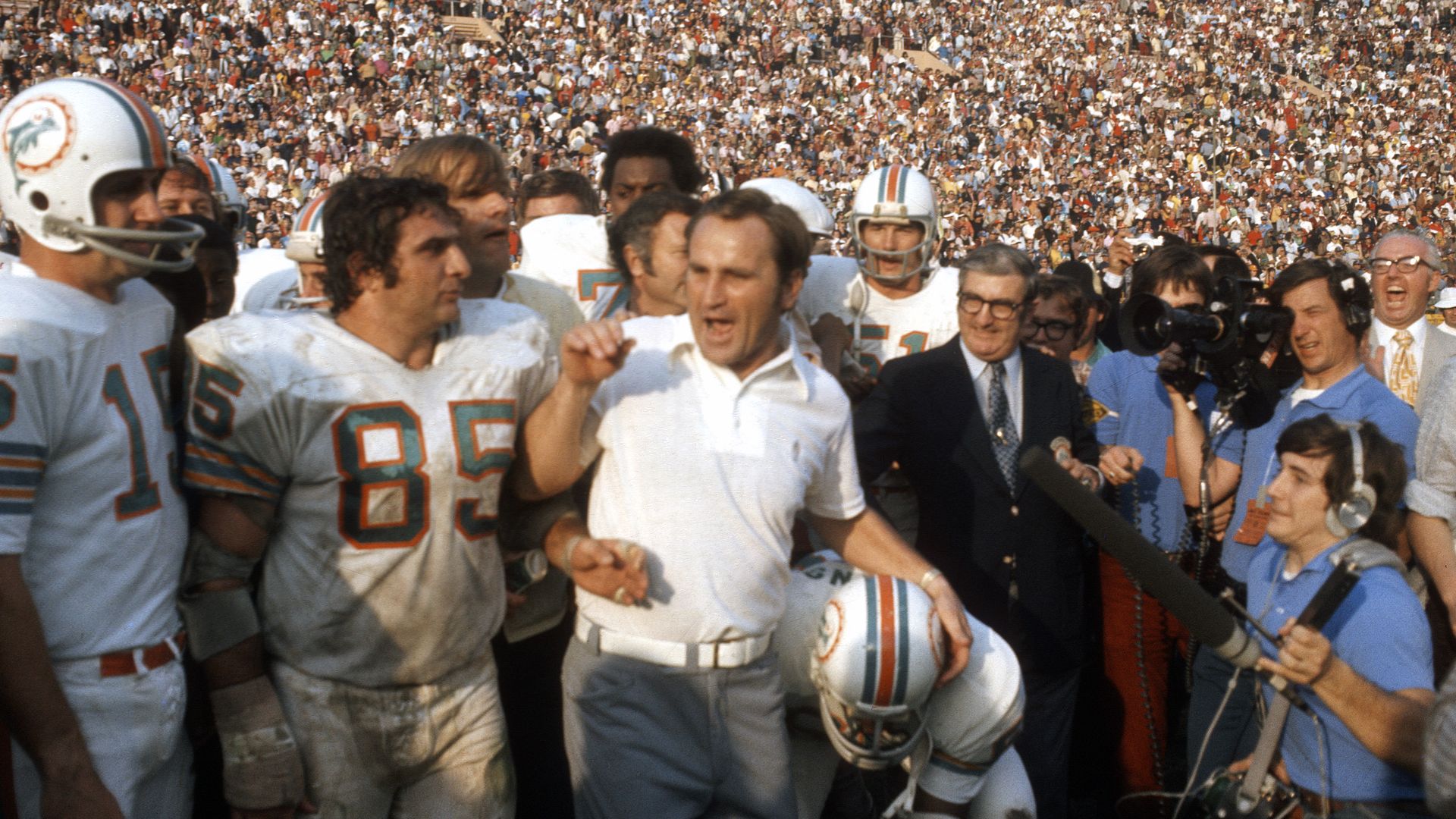 Don Shula, the NFL's winningest coach who led the Dolphins to the league's only perfect season, died on Monday in Florida. He was 90.
By the numbers: In his 33 years as a head coach, seven with the Baltimore Colts (1963-69) and 26 with the Dolphins (1970-95), Shula coached more games (526) and won more games (347) than anyone in NFL history. He also coached in six Super Bowls, winning two (VI and VIII).
Miami legacy: The 1972 Dolphins' undefeated season came just three years after the AFL-NFL merger, and Miami's back-to-back Super Bowls made Shula the face of the NFL just as it was beginning to explode. He became an institution in Miami, and his name adorns an expressway, an athletic club and a steakhouse chain.
Like father, like sons: Don's son Dave was the Bengals head coach for parts of five seasons, and his son Mike was Alabama's head coach from 2003 to 2006 and currently serves as the Broncos' QB coach.
The big picture: "Shula's career embodied the transition from an era of grind-it-out football to the high-flying modern one of glitzy entertainment and glamour," writes NYT's Ken Belson.
🎥 Watch ... Don Shula: A Football Life (YouTube)
4. ⚡️ Catch up quick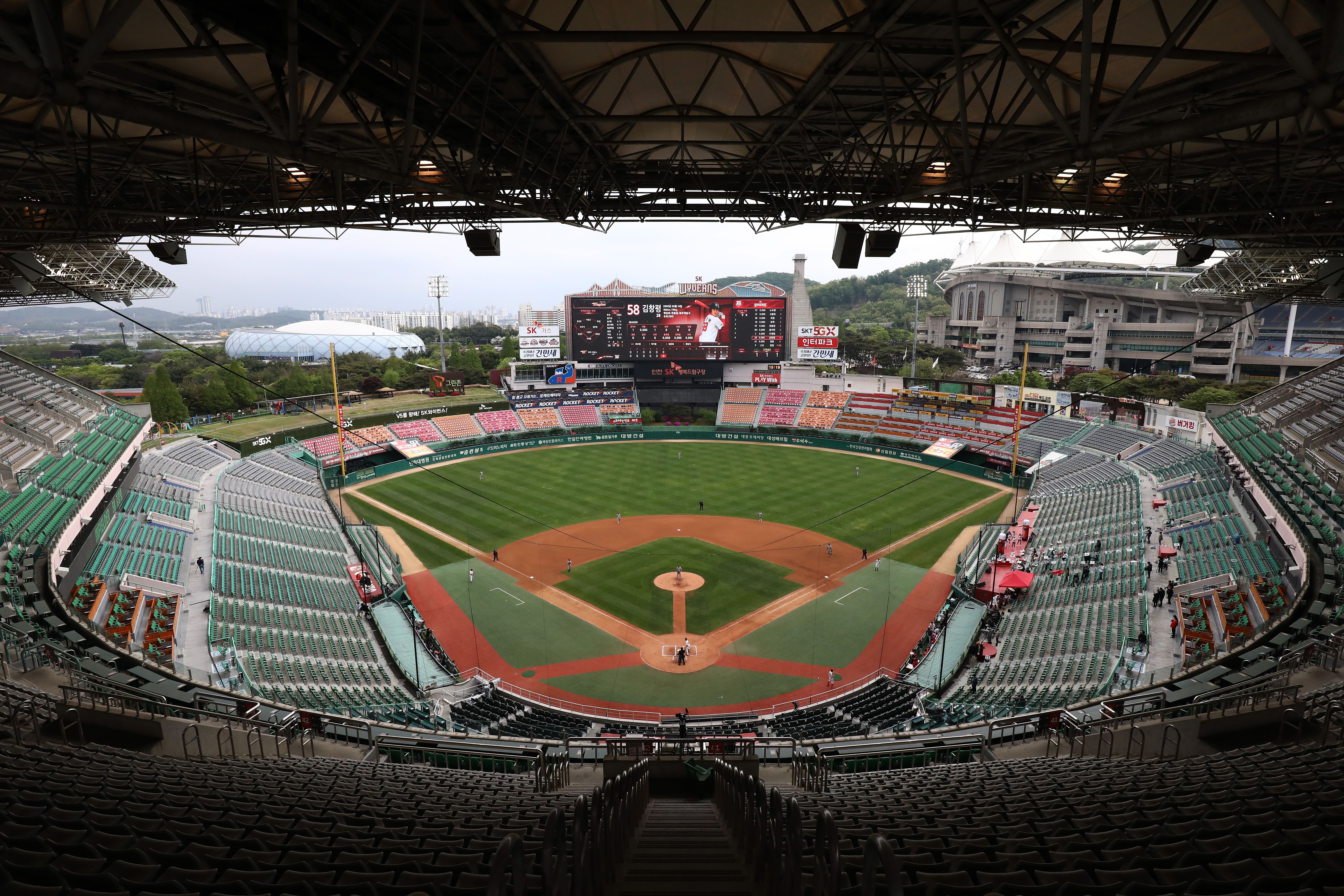 ⚾️ The Korea Baseball Organization began its season mere hours ago, with the NC Dinos beating the Samsung Lions, 4-0 (highlights). The game was televised on ESPN, which has reached an agreement to air six live KBO games per week. Here's the schedule.
🏀 Louisville has received a notice of allegations from the NCAA stemming from the FBI's sweeping investigation into college basketball recruiting. It includes one Level I allegation involving improper recruiting offers and three Level II allegations, including one against former coach Rick Pitino, who was hired by Iona last month.
🏈 The NFL won't be going abroad in 2020, officially calling off its annual International Series games in London (hosted by the Jaguars, Falcons and Dolphins) and Mexico City (hosted by the Cardinals). Coming up: The 2020 schedule will be released on Thursday.
🎓 The University of Akron is eliminating six of its 11 colleges and plans to "significantly reduce" its athletics budget in an effort to offset $65 to $70 million in decreased revenue due to the coronavirus pandemic.
🏈 Women's flag football will become a varsity sport for NAIA schools starting next year, the organization announced Monday.
5. 🎓 NCAA adopts new sexual assault policy
In December, USA Today published an investigation called "Predator Pipeline" that examined how NCAA athletes move from school to school and continue to play sports even after being found responsible for sexual assault.
Less than five months later, the NCAA has adopted a new policy to make it harder for such athletes to slip through the cracks as they have been for years (see above diagram).
There is still lots of work to be done, according to survivors and prevention experts, but it's great to see journalism making such an immediate impact.
In related news ... Full list: 2020 Pulitzer Prize winners for journalism (Axios)
Bonus: ⚾️ Ranking MLB's all-time rosters (No. 29)
We're ranking the all-time rosters for all 30 MLB teams — from the weakest starting lineup to the strongest. Note: Rosters based only on time spent with this specific team.
29. Kansas City Royals
Jeff Tracy writes: I like the Royals. George Brett's an inner-circle Hall of Famer (No. 35 on The Athletic's Top-100 all-time), the bullpen is strong and the defense for this team would be stout. Still, you can't score if you can't hit, and there are just too many easy outs in this lineup.
Year established: 1969
All-time record: 3,901-4,222 (.480)
World Series Championships: 2
Hall of Famers (on this roster): 1
Starting lineup:
DH Johnny Damon (17.3 bWAR with team)
OF Lorenzo Cain (24.1)
3B George Brett (88.6)
OF Carlos Beltrán (24.8)
C Salvador Pérez (22.1)
1B John Mayberry (21.4)
OF Alex Gordon (35)
SS Freddie Patek (20.5)
2B Frank White (34.8)
On the mound: SP Bret Saberhagen (40.7)
Bench:
Infield: 1B Mike Sweeney (23.3), 2B Whit Merrifield (13.3), 3B Kevin Seitzer (17.3), SS Alcides Escobar (8.6), C Darrell Porter (16.8)
Outfield: Amos Otis (44.8), Willie Wilson (42.4), Hal McRae (27.6)
Utility: Danny Tartabull (12.8)
Rotation: Kevin Appier (47), Zack Greinke (26.3), Mark Gubicza (38), Dennis Leonard (25.7)
Bullpen: Dan Quisenberry (25.3), Jeff Montgomery (20.9), Joakim Soria (14.3)
Additional notes:
George Brett will always be a legend for the pine tar incident. His peak five-year WAR of 38.5 (age 23-27) was pretty impressive, too. (Nolan Arenado from age 23–27? 28.3 WAR.)
3B coach Mike Jirschele probably made the right move not sending Alex Gordon, but it sure didn't feel that way at the time. Game 7, two outs, bottom nine, down one, chance for a little league homer to tie it up ... and he's held at third! Okay, probably should have sent him after all.
Huge thanks to Tom Stone, whose book 'Now Taking the Field: Baseball's All-Time Dream Teams for All 30 Franchises,' provided the inspiration for these rosters.
6. May 5, 1973: 🏇 Secretariat's Derby record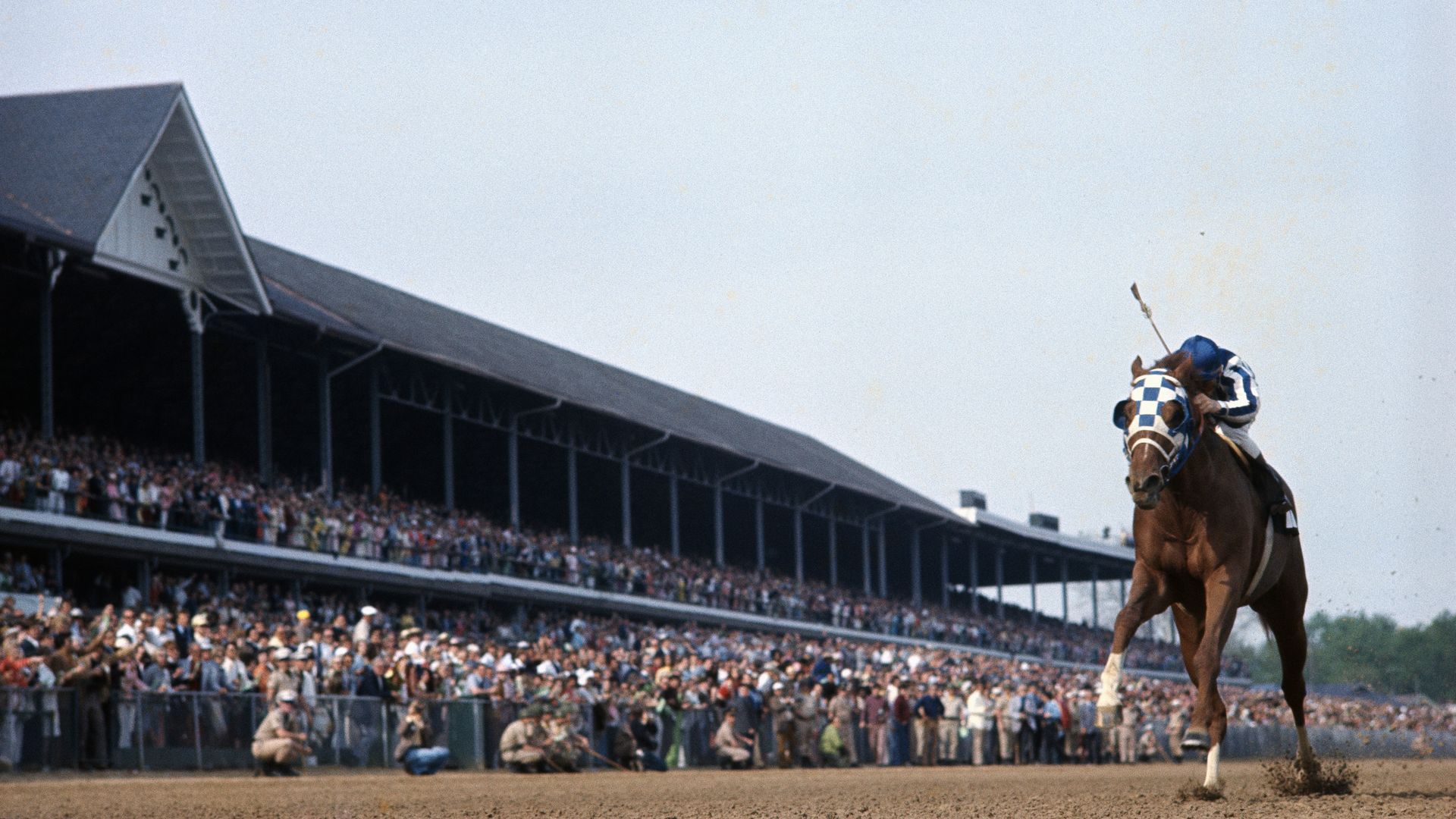 47 years ago today, Secretariat, jockeyed by Ron Turcotte, won the 99th running of the Kentucky Derby (watch the race).
Why it matters: His winning time of 1:59 2/5 remains the course record, and by the end of 1973, Secretariat had become just the ninth horse to win the Triple Crown.
The backdrop: Sir Barton won the first Triple Crown in 1919, and the next seven winners were all bunched together across the ensuing 28 years. But after Citation won in 1948, the sport endured a 25-year Triple Crown drought before Secretariat came along.
The big picture: In most competitions that require speed or power, technological innovations in training or equipment make it difficult for records to last long. Track and field's oldest world record is in the women's 800 meter race (1983), while no swimming record is more than 12 years old.
But in 1973, Secretariat set the record at all three legs of the Triple Crown — and all three still stand today.
The bottom line: It's hard to argue with Secretariat's legendary 1973 season standing near the top of the list of greatest seasons ever. As it turns out, there was a reason for his utter dominance: Heart.
"The heart of the average horse weighs about nine pounds. This was almost twice the average size, and a third larger than any equine heart I'd ever seen. And it wasn't pathologically enlarged. All the chambers and the valves were normal. It was just larger. I think it told us why he was able to do what he did."
— Thomas Swerczek, the vet who did Secretariat's autopsy
Go deeper: The thrilling life and emotional death of Secretariat (SI)
7. 📚 Good reads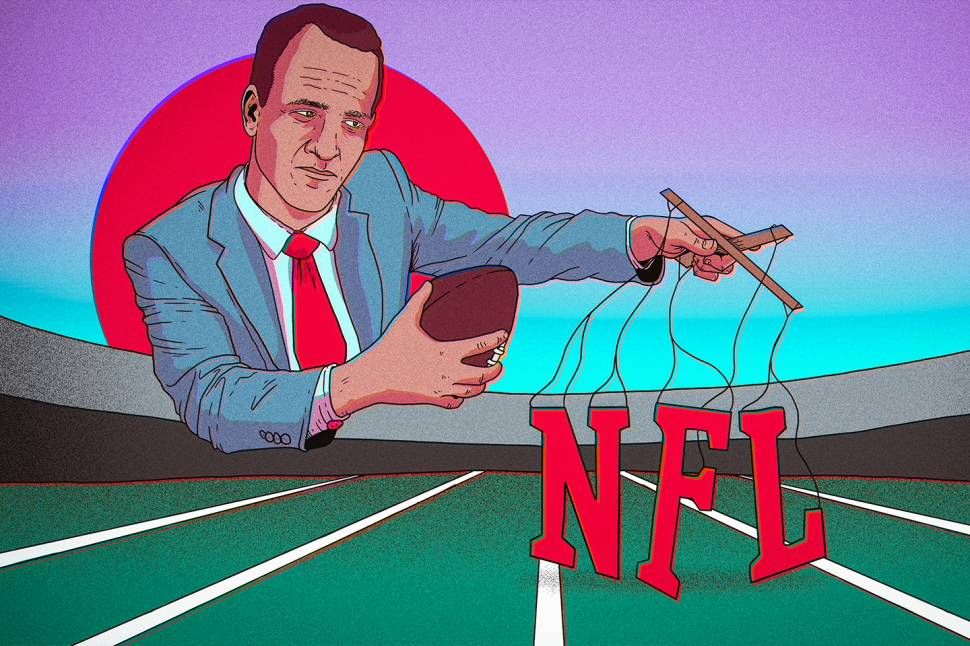 🏈 When Peyton Manning speaks, the NFL listens (Kalyn Kahler, B/R)
"He's been sought by teams he once beat since before he retired and chased by networks since he did, and though he doesn't have a formal job in the game, few have more sway in football than No. 18."
🏀 Shooting, for the stars, is not as easy as you'd think (Marc Stein & Scott Cacciola, NYT)
"Many players say they have gone weeks without playing because they don't have a basketball hoop at home and the pandemic has cut off their access to a gym. ... The Washington Wizards and Dallas Mavericks said only two of their 17 players initially had access to a basket."
⚾️ How the internet created a sports-card boom — and why the pandemic is fueling it (Emma Baccellieri, SI)
"Take one part American pastime, add a twist of gambling, and then a global health crisis: Hours-long livestreams of people opening packs of sports cards had already become popular enough to save the sports card business, but now, interest is surging to a new level."
8. The Ocho: 🎬 May the 4th Be With You
Yesterday was May the 4th, aka. "Star Wars Day." Some photos to honor the occasion...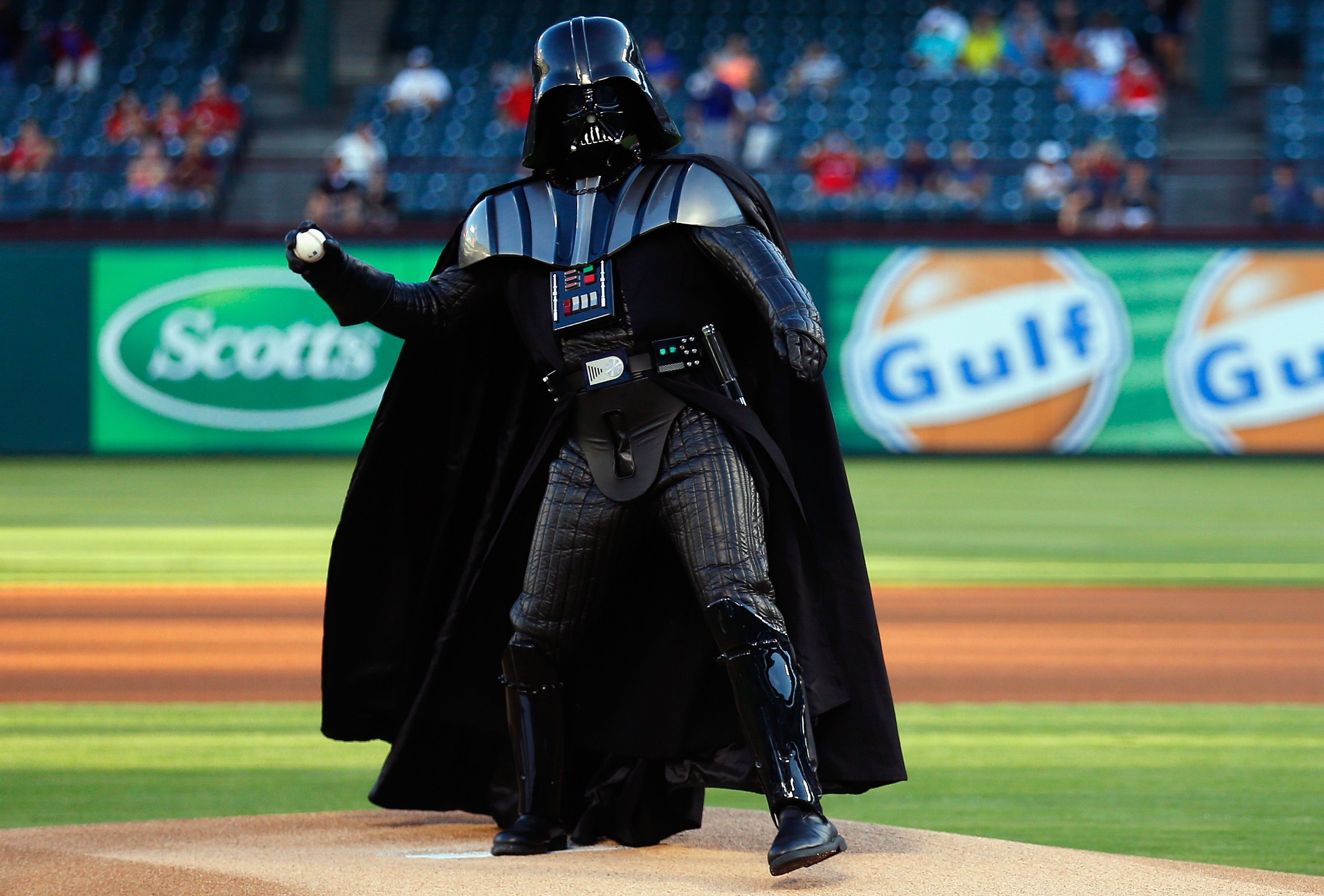 Darth Vader throws out the ceremonial pitch before a 2014 Rangers game in Arlington, Texas. "Luke, I am your middle reliever."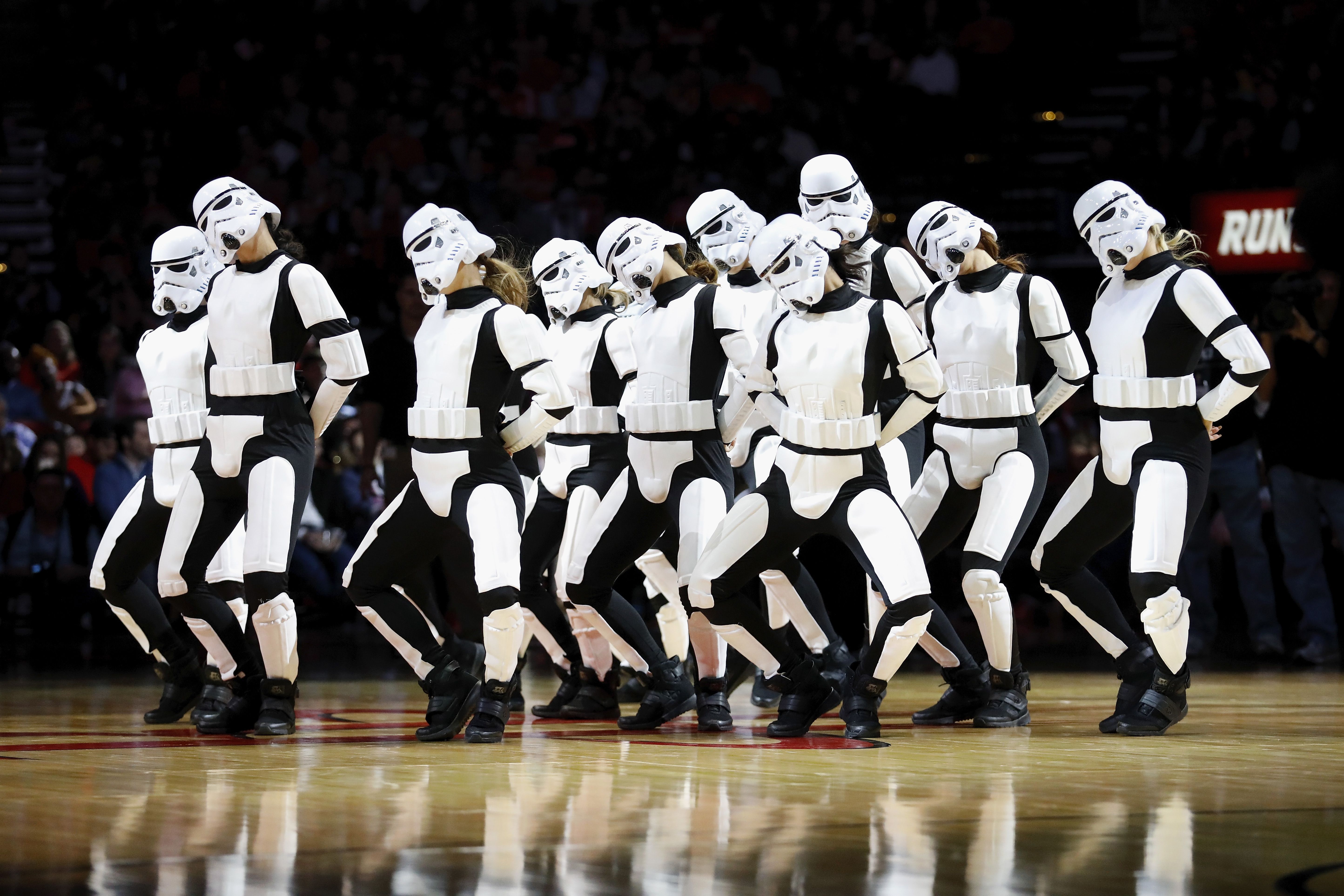 The Houston Rockets Power Dancers perform wearing stormtrooper costumes during Star Wars night in 2017.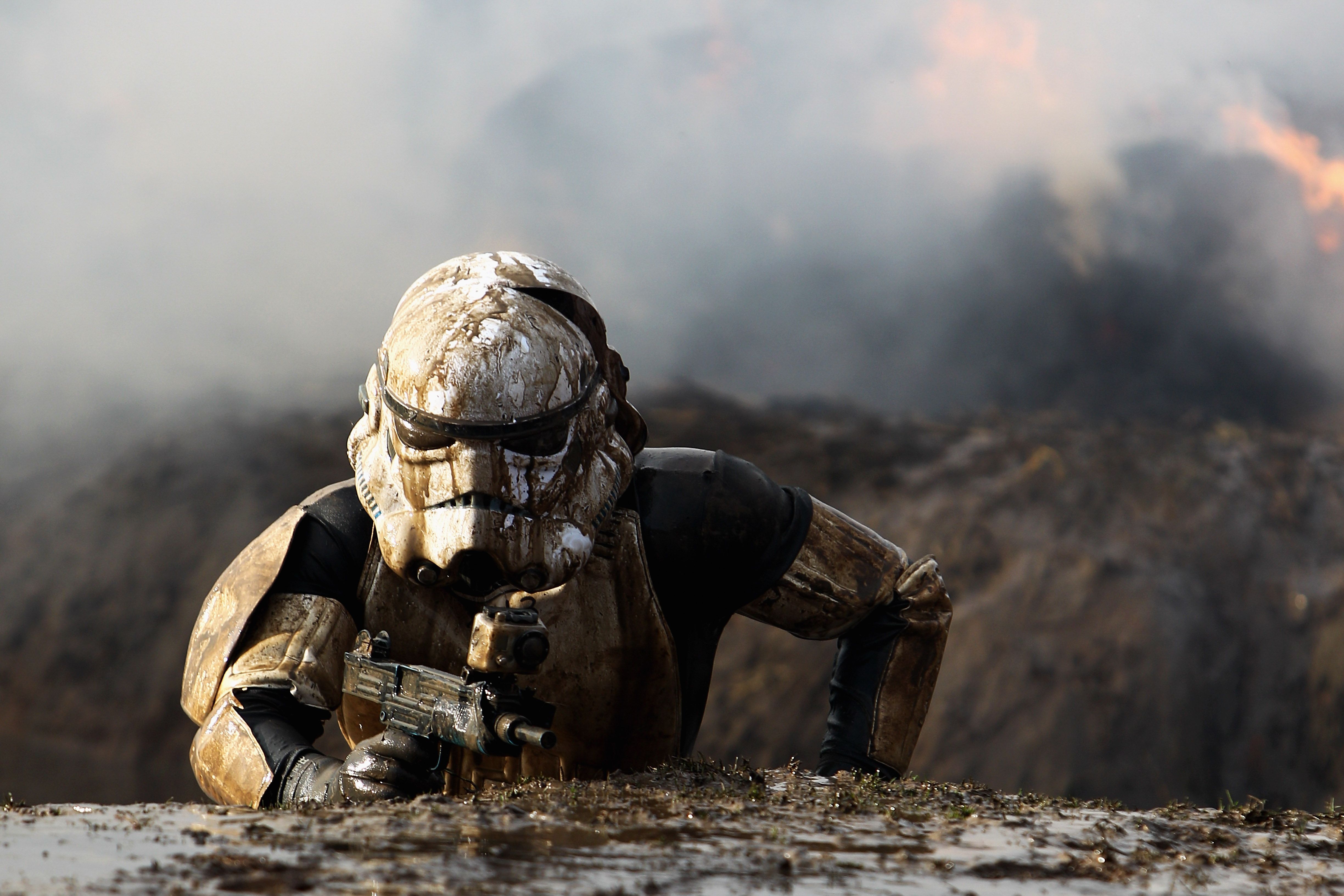 A competitor dressed as a stormtrooper pushes himself to the limit during the 2011 Tough Guy Challenge on farmland in Perton, England.
9. ⚾️ MLB trivia
Four MLB players have had at least three 30 HR/30 SB seasons. None of them are in the Hall of Fame.
Question: Can you name all four?
Hint: Two starred for the Giants, two starred in New York.
Answer at the bottom.
10. ❤️ Why we love sports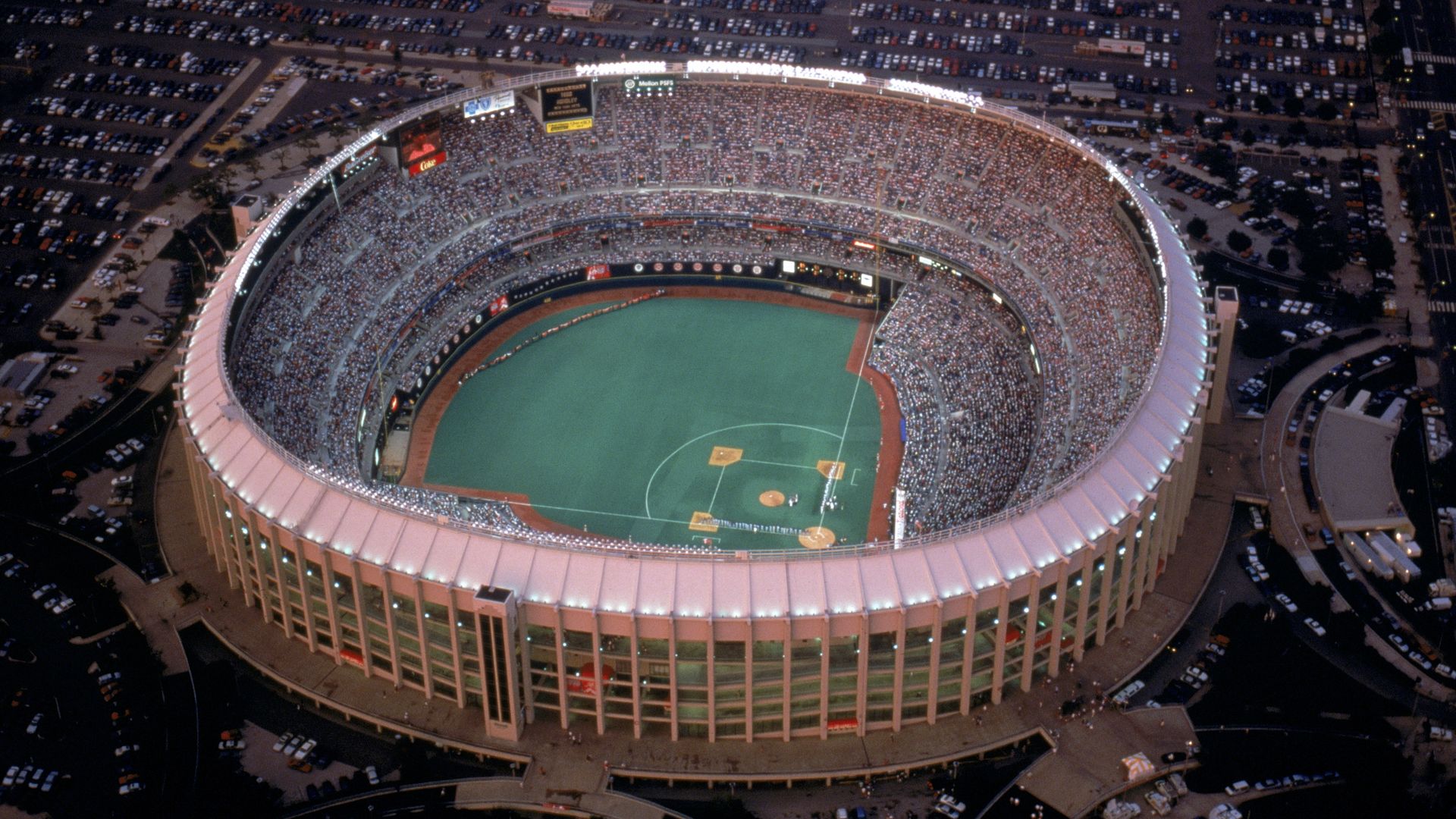 Philip F. (Lake Placid, N.Y.) writes:
"My first visit to Philadelphia's Veterans Stadium was in 1974. I was in awe of the earth-tone colored seats, the sparkling green Astroturf and the roar of the crowd. I was hooked.
"Even though I grew up in upstate New York, I talked my dad into taking me to the Vet once every summer, and those weekends became our special time together. He'd drive the 200 or so miles each way without complaint, while I filled his mind with statistics and useless trivia about the Phillies."
"The late 70's were a great time to be a Phillies fan. We'd watch the playoff games on TV and we were together in 1980 when Tug McGraw leapt off the mound to celebrate the first championship in Phillies history. Ironically, that was about the time we stopped going to games, as I went off to college.
"In 2003, my dad was diagnosed with pancreatic cancer.  I knew the odds and they were not good. I'd read the Phillies were getting a new stadium and the Vet would be closing. I knew we needed to go to one last game.
"My dad was living in Maryland by that time, so I met him there. We set out for the game, just like old times, but this time I drove.
"When we walked into the Vet for the first time in over two decades, the familiar smells descended upon us and I swear the PA announcer was the same guy. For an afternoon, the pain of cancer and the uncertainty of life were a distant matter.
"Baseball may just be a game, but over the years, I've learned that it can also provide a remembrance of the carefree days of my youth, and the important time I spent with my dad. That afternoon, it did.
"As we left the Vet and headed back to the car, I turned and took one final look. The place had been the site of so many special moments in our lives, but none, I knew, would be as special as the last."
✍️ Submit your story: Do you have a fondest sports memory? Or an example of sports having a positive impact on your life? If you'd like to share, simply reply to this email. We'll be telling your stories until they run out.
Talk tomorrow,
Kendall "Please never stop submitting these stories" Baker
Trivia answer: Barry Bonds (5x — 1990, 1992, 1995, 1997); Bobby Bonds (5x — 1969, 1973, 1975, 1977, 1978); Alfonso Soriano (4x — 2002, 2003, 2005, 2006); Howard Johnson (3x — 1991, 1989, 1987)