👋 Happy Friday! Today's theme song to give you some much-needed Friday morning energy: "Sunshine" by ARTY.
Word count: 1,253 words (~5 mins).
1 big thing: 🏀 The Six in 6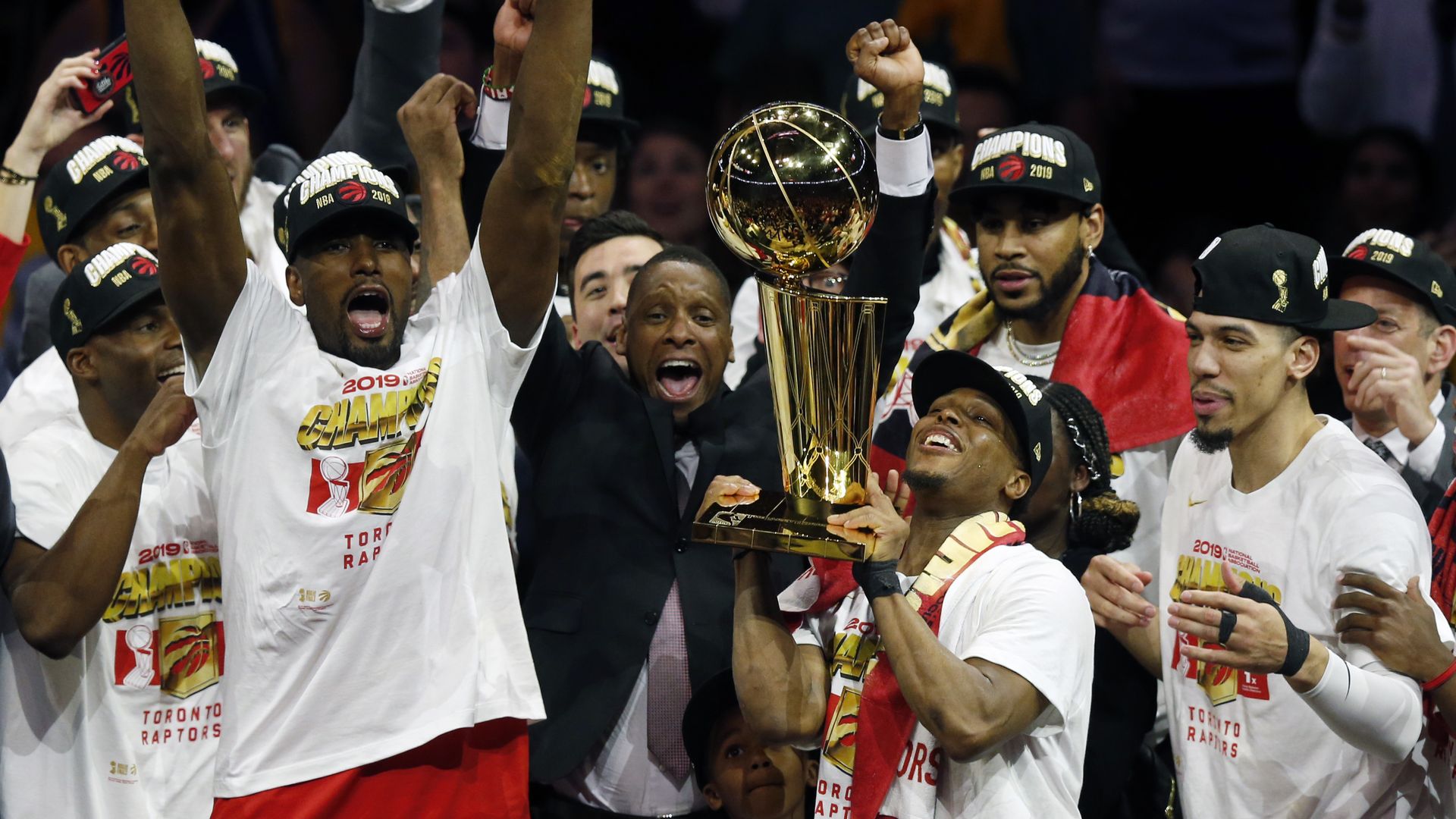 Quickly:
The big picture: Thanks to the abundance of superstars, the drama of free agency and the "long rebuild" phenomenon, NBA fandom has never been more about the future — and less about the now.
"How many assets can my team acquire so that we can trade for a star in two years? What's our cap space situation look like in 2023? Let's tank so we can draft that 19 year old!"
The Raptors took that ideology and flipped it on its head, making a trade for Leonard that put them in position to win a title now while running the risk of hurting them later if they failed to do so and he left in free agency.
And look, this title run almost didn't happen. What if Kawhi's buzzer-beater against the Sixers rimmed out? What if Kevin Durant never got hurt? But the point is, it did happen. And it happened because the Raptors gave themselves a chance.
The good news for those of us who have grown fatigued of constant rebuilds is that we could see a lot more teams pull a Toronto and go all-in next season now that the Warriors' dynasty feels over. For the first time in years, the landscape is wide open.
The bottom line: "Most championship teams have clear through lines that trace their journey to the top: They draft a foundational player that defines everything that comes next, or acquire one who agrees before stepping in the door to stay for a long time," ESPN's Zach Lowe writes:
"The Raptors have neither. There is no apparent modern precedent for a team trading for its only top-five player in a walk year ... and having that player lead the team to a title that same season. Toronto might be the most unconventionally constructed championship team in basketball history."
Go deeper:
2. 📸 Scenes from Oracle and beyond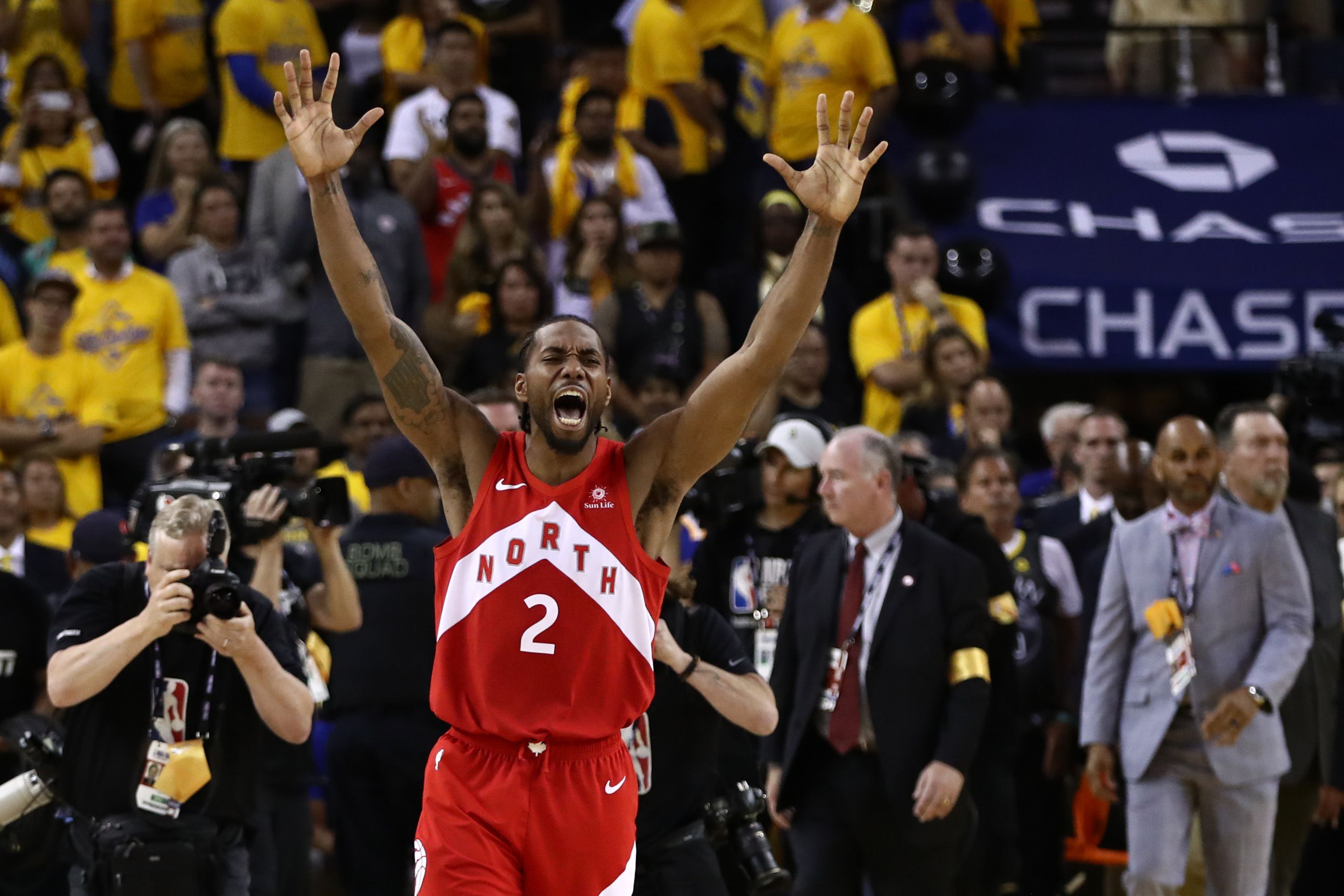 Photo: Ezra Shaw/Getty Images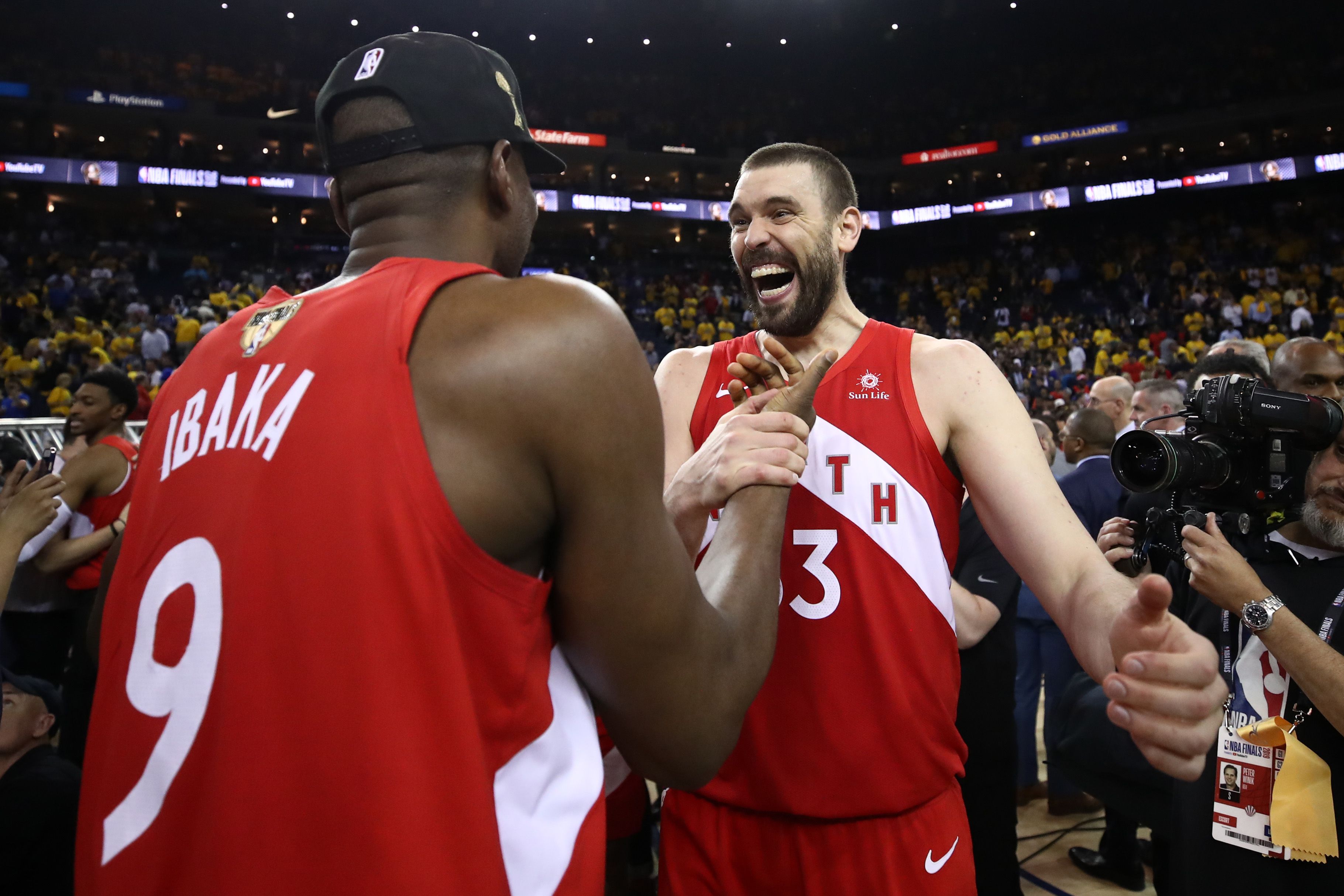 Photo: Ezra Shaw/Getty Images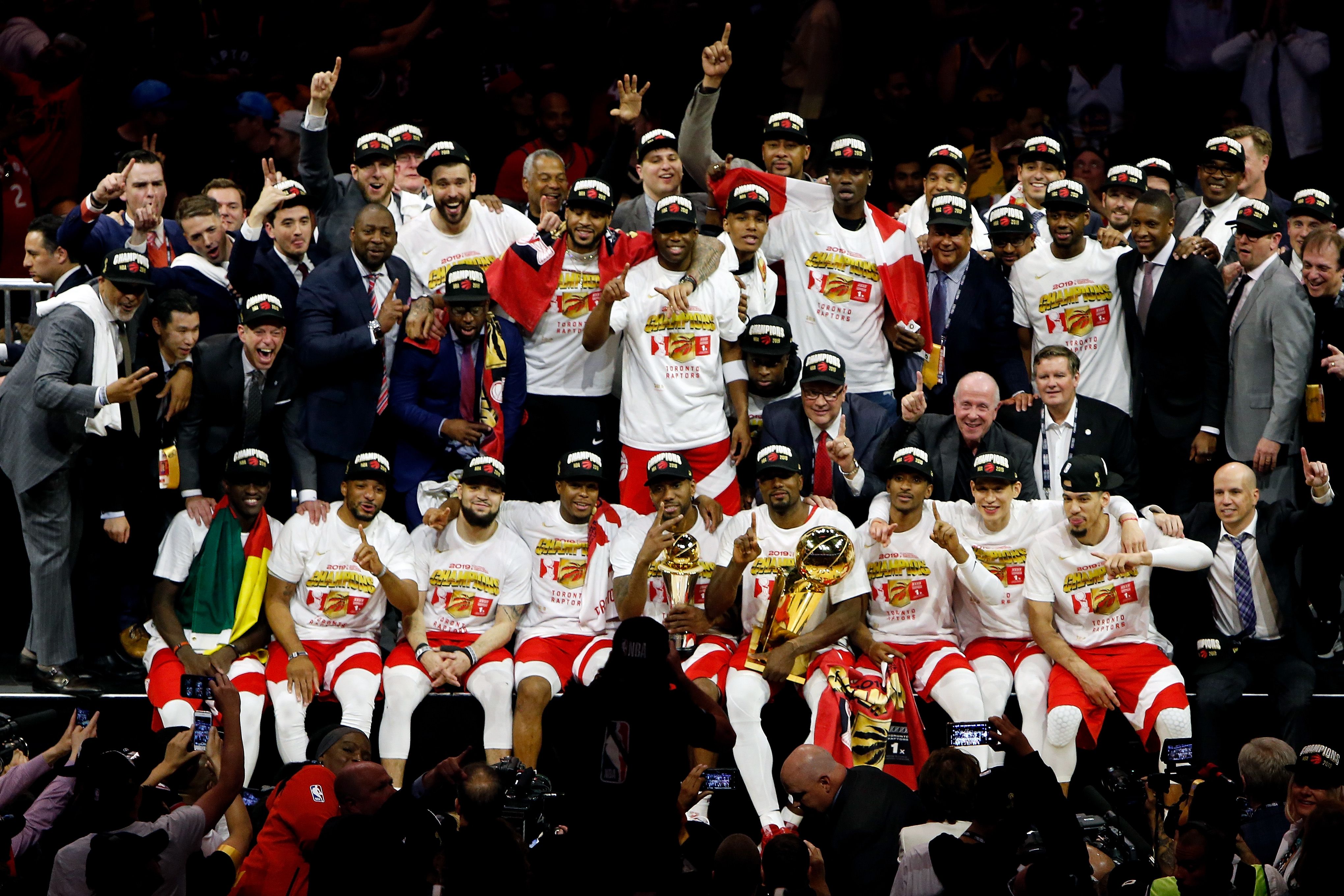 Photo: Lachlan Cunningham/Getty Images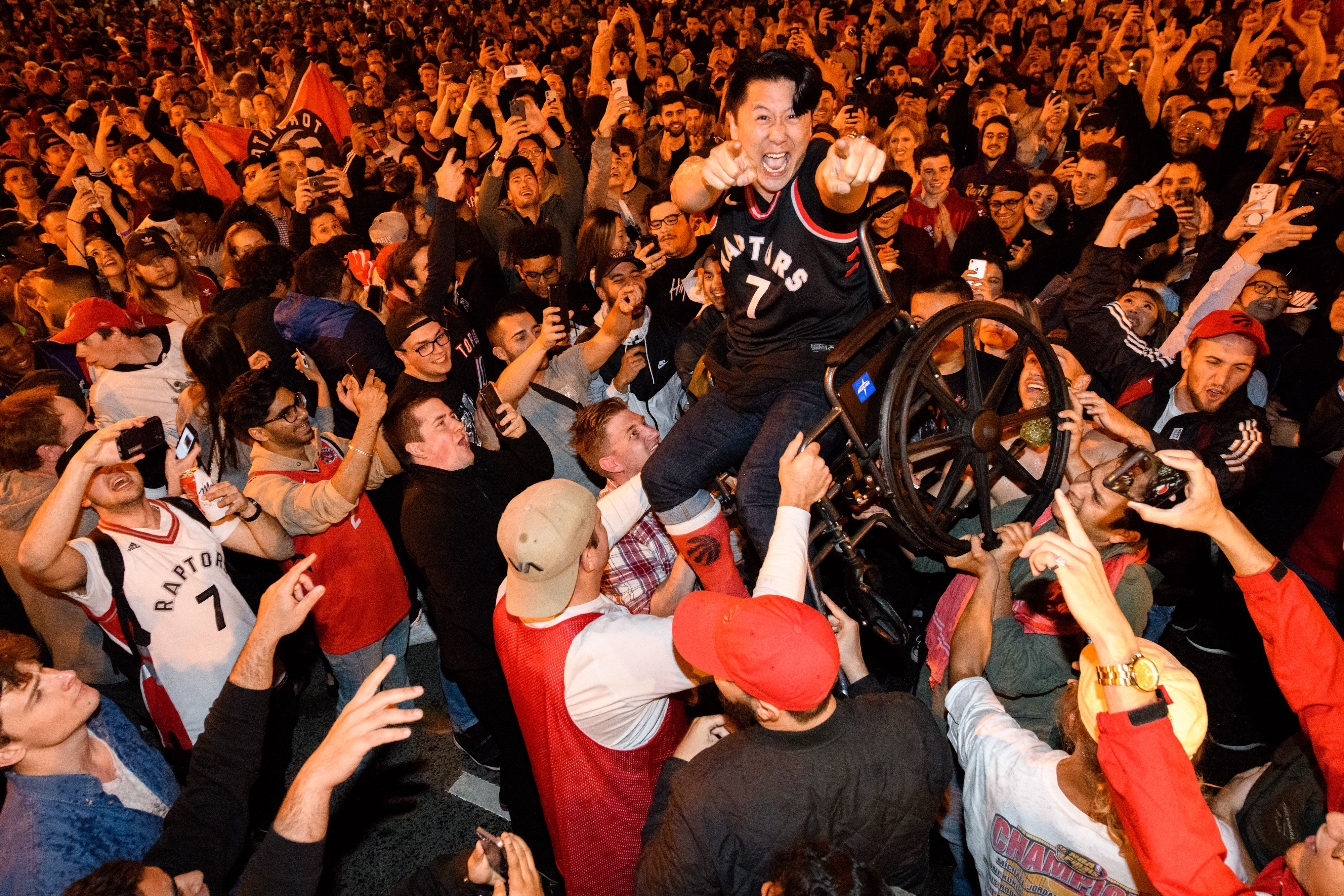 Photo: Julian Avram/Icon Sportswire via Getty Images
3. ⚾️ Baseball's best everything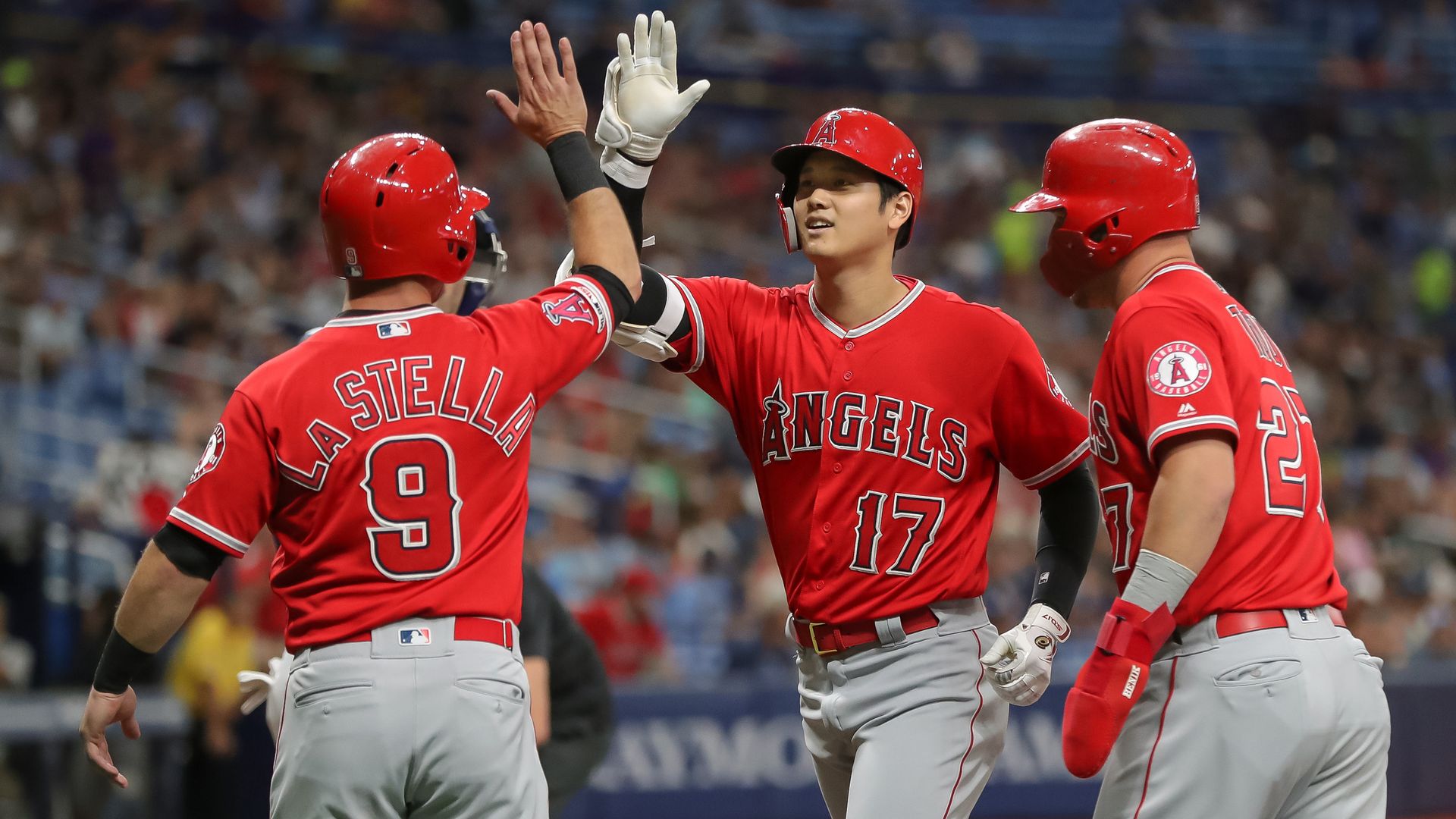 Best comeback: In October, Shohei Ohtani had Tommy John surgery. Last night, he became the first Japanese-born player to hit for the cycle.
Best Hank Aaron stat: He had 3,016 career hits that were not home runs. So theoretically, even if he'd never smashed a single homer, he might still be in the Hall. That's how good of a hitter he was (via reader Robert Merold).
Best college player: Oregon State catcher Adley Rutschman, who was the No. 1 pick in last week's MLB draft, won the Golden Spikes Award as the nation's best player, beating out Cal 1B Andrew Vaughn (last year's winner), Vanderbilt OF J.J. Bleday and Navy pitcher Noah Song.
Best thing I read: Speaking of Song, I thoroughly enjoyed reading about his baseball journey. He's the first baseball player in the history of the Naval Academy to be named first-team All-American.
4. ⛳️ Let's talk about caddies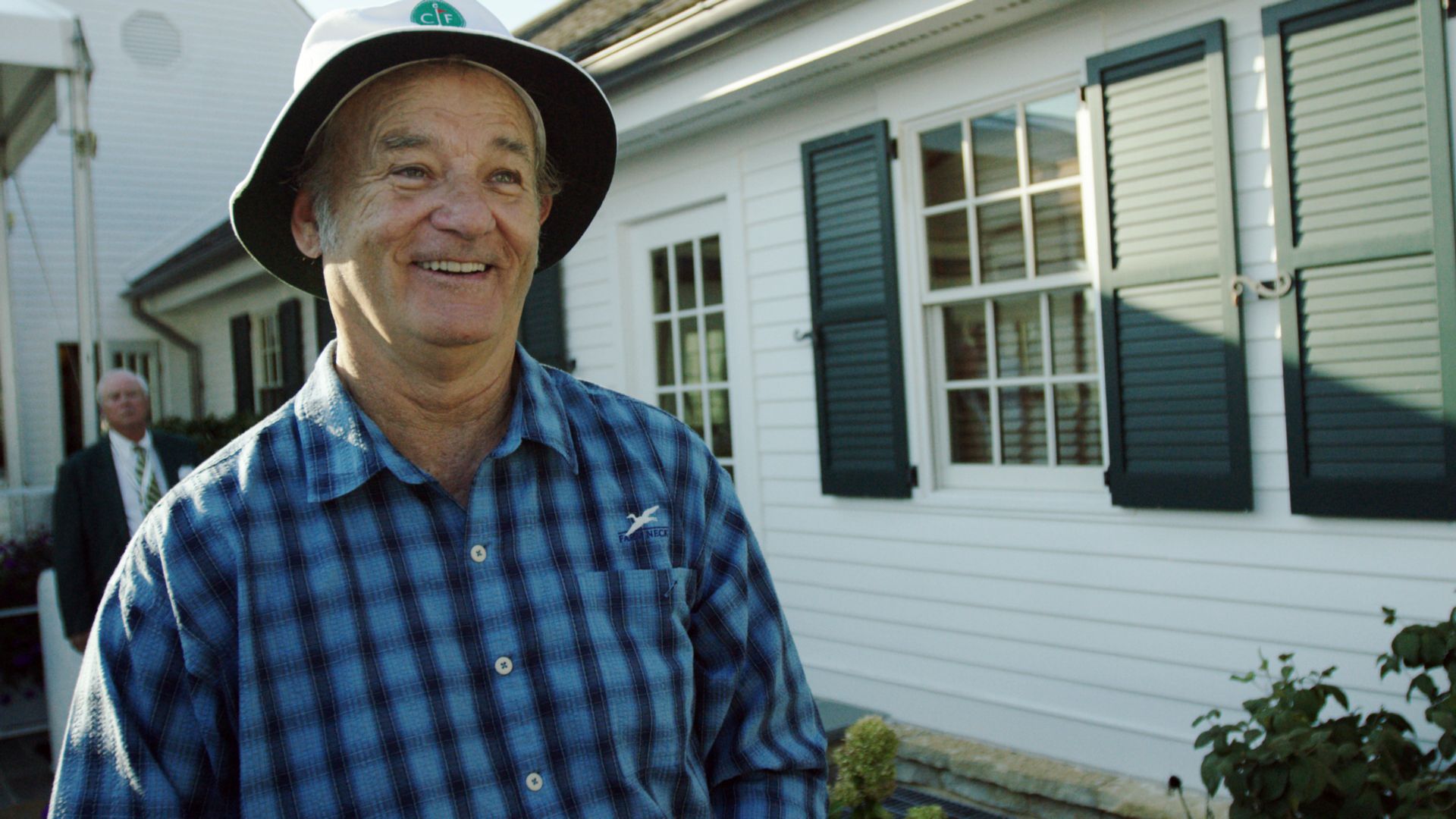 The U.S. Open is underway at Pebble Beach (leaderboard), it's Caddie Appreciation Week and, on top of all that, a new caddie documentary just hit theaters. So let's talk about caddies.
What's happening: "Loopers: The Caddie's Long Walk" is a Bill Murray-narrated documentary that explores the bond between golfer and caddie, one of the world's oldest professions. Some stars of the film:
Steve Williams left New Zealand at age 15 to caddie on the European Tour and went on to serve as Tiger Woods' caddie from 1999 to 2011, during which Woods won 13 of his 15 majors. After a brief retirement, the 55-year-old Williams is serving as Jason Day's caddie for this week's U.S. Open.
Nathaniel "Iron Man" Avery caddied for Arnold Palmer during all four of his Masters victories (1958, 1960, 1962, 1964). When asked about their time together, Palmer said Iron Man's mere presence made him smell victory. Sadly, the two split in the late 1960s and Nathaniel died in 1985 at age 46.
Fanny Sunesson began her career on the European Tour, as one of the few women caddies in men's golf. World No. 1 Nick Faldo hired her in 1989 and proceeded to win five of his six major titles. The Sweden native has since retired to become a mental coach for pro golfers.
Greg Puga is a true Cinderella story. After graduating from high school, he became a caddie at L.A.'s Bel-Air Country Club. All the while, he was working on his game, and in 2000, Puga won the U.S. Mid-Amateur to earn a spot in the 2001 Masters. There he was — a 30-year-old caddie playing in the Masters. He missed the cut but had more than his moment in the sun.
Watch: "Loopers" movie trailer
5. June 14, 1998: 🏀 Jordan hits "The Shot"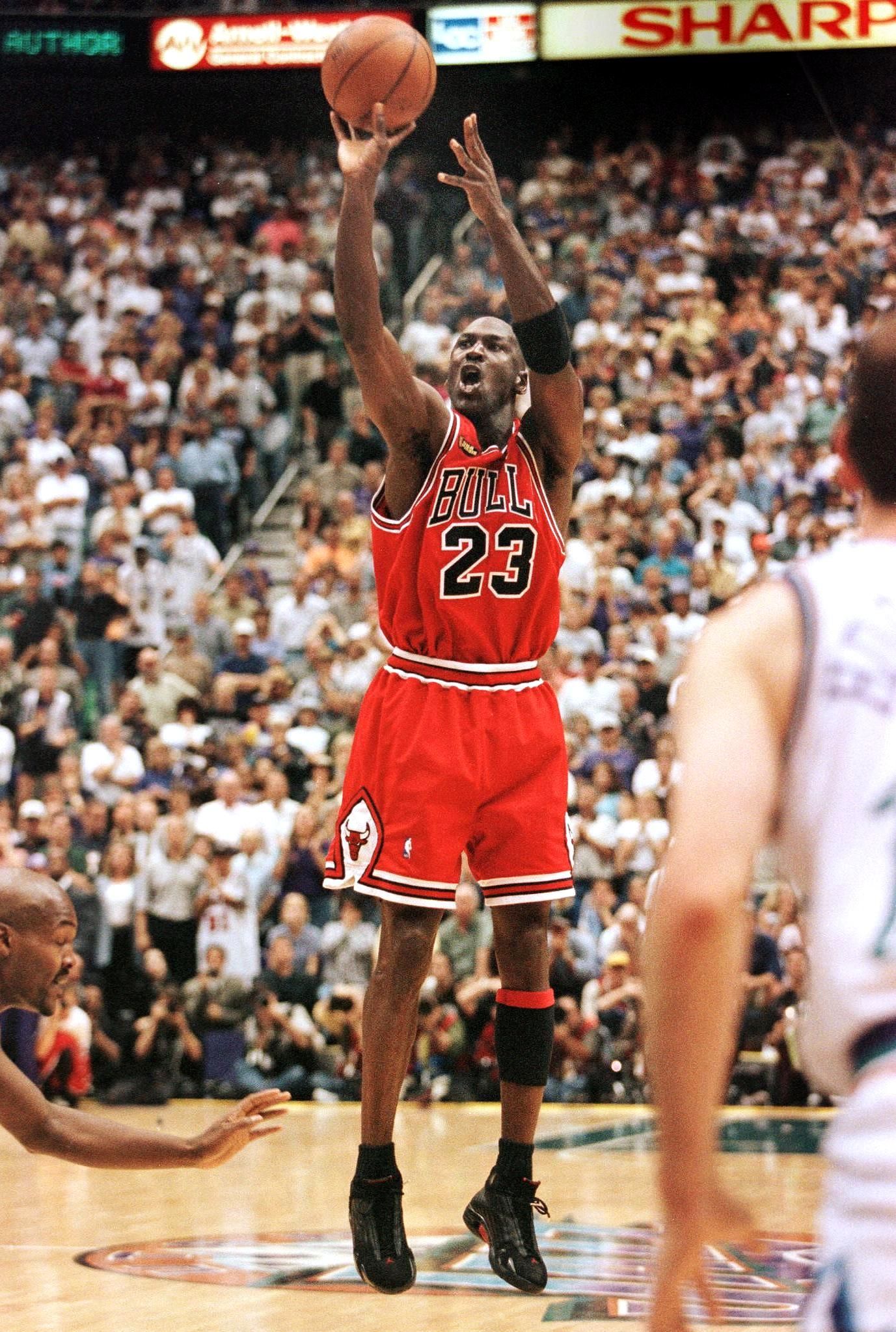 Photo: Jeff Haynes/AFP via Getty Images
21 years ago today, Michael Jordan scored 45 points and hit one of the most memorable shots in NBA history to seal the deal against the Jazz and secure his sixth title.
Fun fact: What makes this shot even more epic is that, through six NBA Finals appearances, Jordan never played in a Game 7. This shot kept that streak alive.
Go deeper: The NBA's 60 greatest playoff moments
6. 🏈 Football reads
Inside the Short, Unhappy Life of the Alliance of American Football (ESPN)
"[Tom Dundon] instructed Ebersol to find new capital — but also tied Ebersol's hands by refusing new investors until he had a grasp of the business, out of legal concerns. 'Bill and Charlie started a league with no money,' Dundon later told a confidant."
The Diminishing Appeal of the NFL GM Job in a Coach's World (The Ringer)
"With organizational flow charts restructuring throughout professional football, the GM job has lost some of its luster. But there are still a few key pieces that can make a job more attractive, and we've seen them in the Jets' and Texans' searches."
You Never Knew Kellen Winslow Jr. (SI)
"Brash Pro Bowl tight end, multimillionaire, husband, father, son of football royalty. That's what was on the surface. You must dig deeper to reach the dark places — past the power and privilege, through the years of sexual deviance and unchecked antisocial behavior — where the vulnerable are hunted, to understand what Kellen Winslow Jr. is: a convicted rapist."
7. 🏀 NBA trivia
Leonard and Siakam combined for 1,187 points during the playoffs, tied with Michael Jordan and Scottie Pippen for second-most by a duo in a single postseason.
Question: Who is the only duo with more combined points?
Hint: They did it in 2012.
Answer at the bottom.
8. The Ocho: 🏏 India and Pakistan renew their rivalry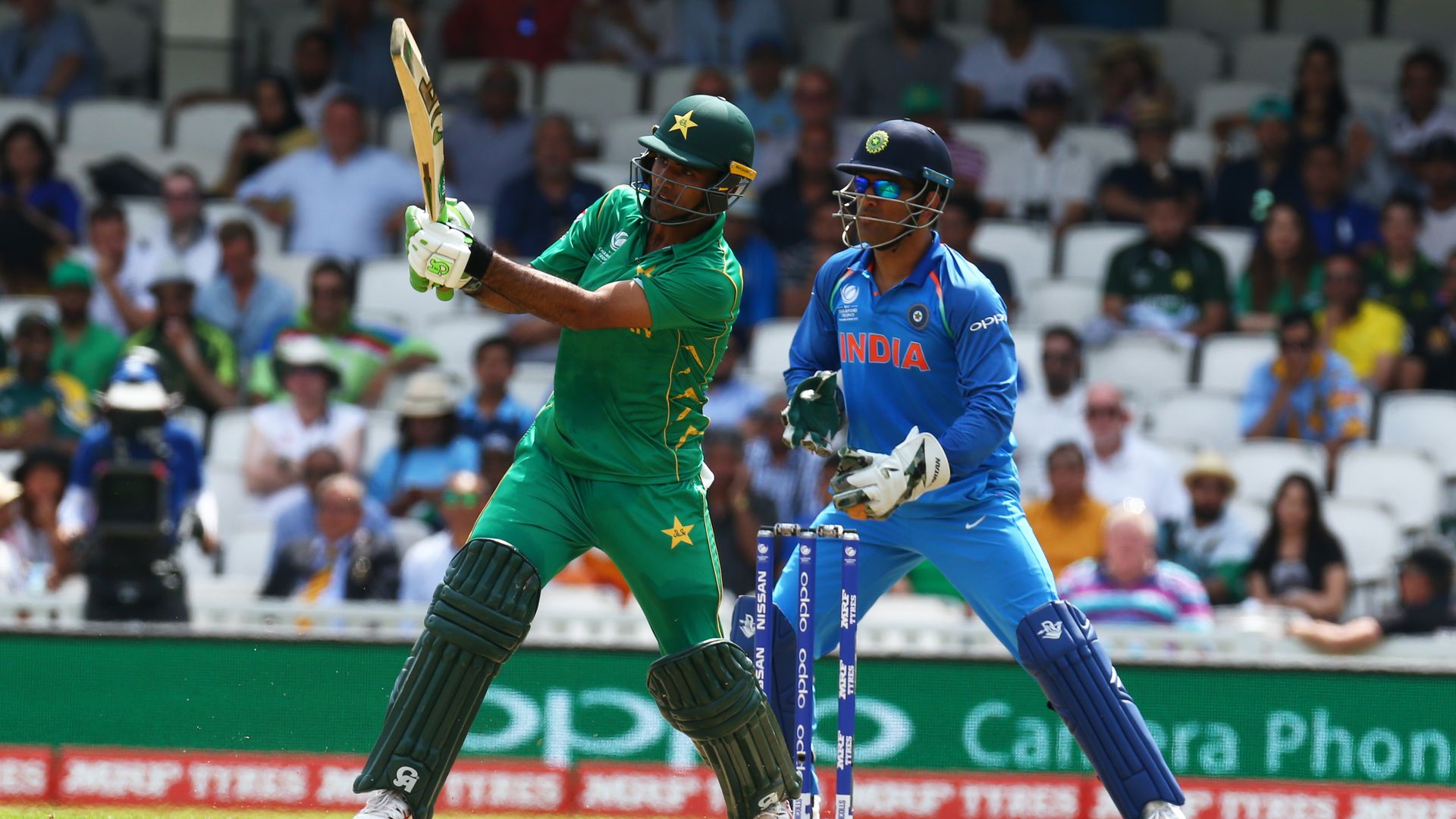 When India and Pakistan line up against each other on Sunday in the 2019 Cricket World Cup, it won't just be your regular matchup — they're renewing one of the most serious rivalries in all of sports.
Why it matters: Since the partition of British India split the two nations in 1947, they have fought countless battles including three wars. On Sunday, those tensions will be put on hold in a match that could draw more than 1 billion viewers.
The backdrop: India and Pakistan have refused to play each other outside of major tournaments since 2013, so whenever they go head-t0-head in a World Cup, it's a huge deal.
They have faced each other six times at World Cups, and India has won all of them, including the most recent meeting in 2015 that organizers claimed was the most watched cricket match ever.
As things stand, India (5 points) is third in the Cricket World Cup standings while Pakistan (3 points) is in eighth following a loss to Australia.
Watch: The action starts on Sunday at 5:30am ET on Sky Sports.
See you Monday!
Kendall "Board man gets rings" Baker
Trivia answer: LeBron James and Dwyane Wade (1,222 combined points)