Axios Sports
April 19, 2019
☀️ Happy Friday! Let's sports.
P.S. Was this email forwarded to you? Sign up here.
1 big thing: ⛳️ Still thinking about Tiger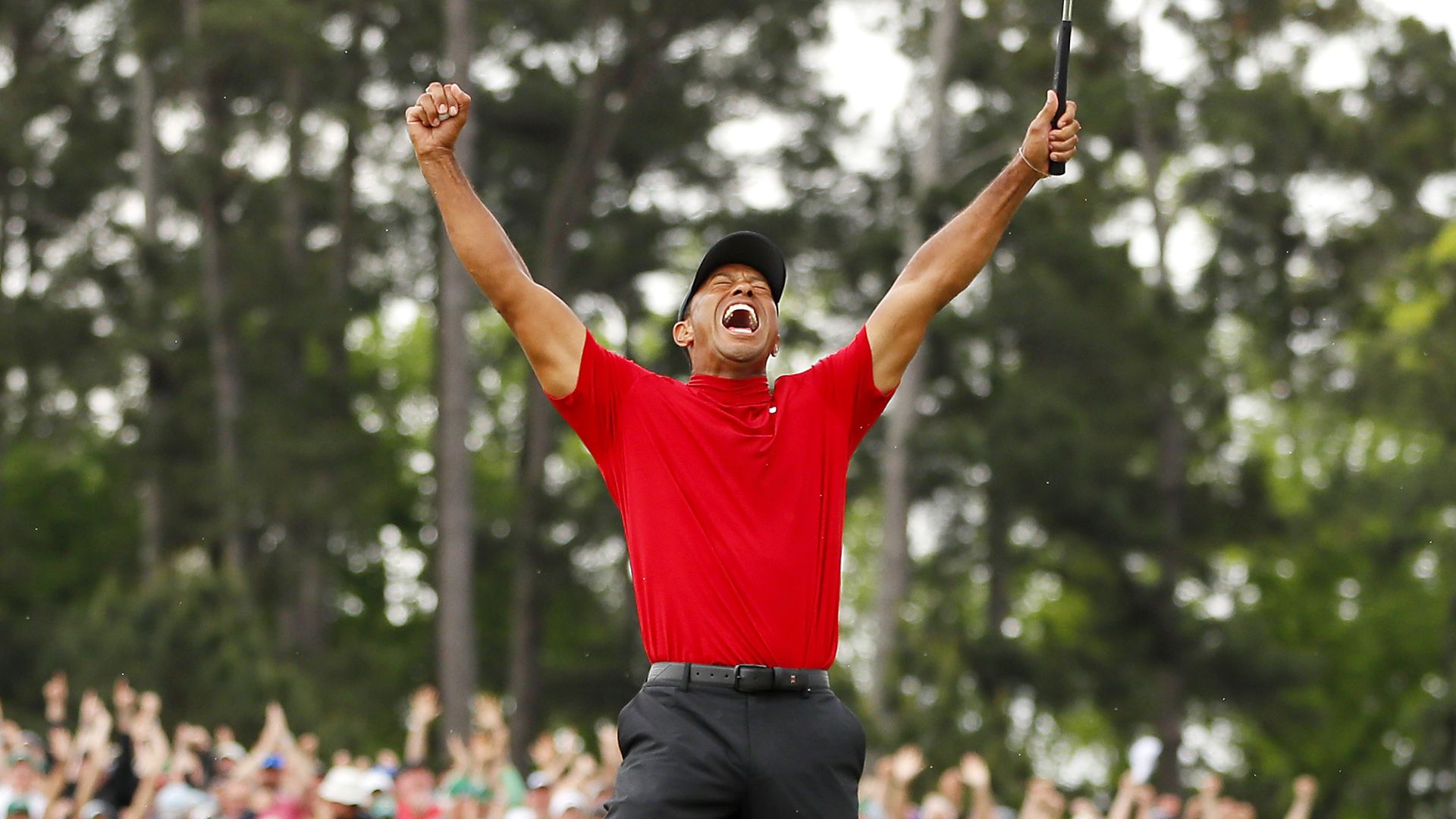 "Ever since Sunday's thrilling win at the Masters, everywhere I've gone, it's been Tiger this, Tiger that, all Tiger, all the time. It's good news. It makes people happy," writes the Wall Street Journal's Jason Gay (subscription).
"A confession: Until Sunday, I'd been Tiger fatigued. I found it ridiculous how much attention people still paid to him. Tiger-mania seemed like a foggy nostalgia act ... It was a distortion, wishful thinking. Golf had moved on."
"Wow, was I wrong. Golf has not moved on. Woods' victory in Augusta is being rhapsodized about like Carlton Fisk's 1975 home run married the 1980 U.S. men's hockey team. ... [H]e's as popular as it gets."
Speaking of confessions: I haven't been able to stop thinking about Tiger, either. And yesterday, I straight up cried about it.
Perhaps it was the song I was listening to — one of those melodic joints that took my Tiger thoughts and parlayed them into memories of playing golf with my dad and grandfather as a kid. Ya know, the good stuff.
Perhaps it was the fact that I got to watch Tiger's historic win alongside my best friends in the world who I rarely get to see these days, creating a memory that I'm realizing we will cherish literally forever.
Or, perhaps the reason I broke down in tears is because Tiger Woods is a champion again, which I imagine makes him endlessly happy after years of being, well, sad.
As I get older, I find myself thinking about athletes as people more than I once did. I think about their flaws. I think about their families. I think about how much Tiger's win will change his relationship with his son; about how big his father must be smiling up above.
I also think about how every athlete's story, while slightly more dramatic and oftentimes captured on camera, reflects the story of hundreds of non-athletes. They're not superheroes. They're us.
The bottom line: If Tiger's redemption story doesn't teach you the power of self-belief — or, better yet, teach your children or the children you'll one day have the power of self-belief — I don't know what will.
So yeah, maybe that's why I cried. In this time of intense division, we were all injected with a heavy dose of inspiration and nobody's arguing about what it means. We experienced greatness, and we experienced it together.
Go deeper: Michael Jordan on Tiger: "Greatest comeback I've ever seen"
2. 🥊 Pay-per-view boxing comes to ESPN tomorrow night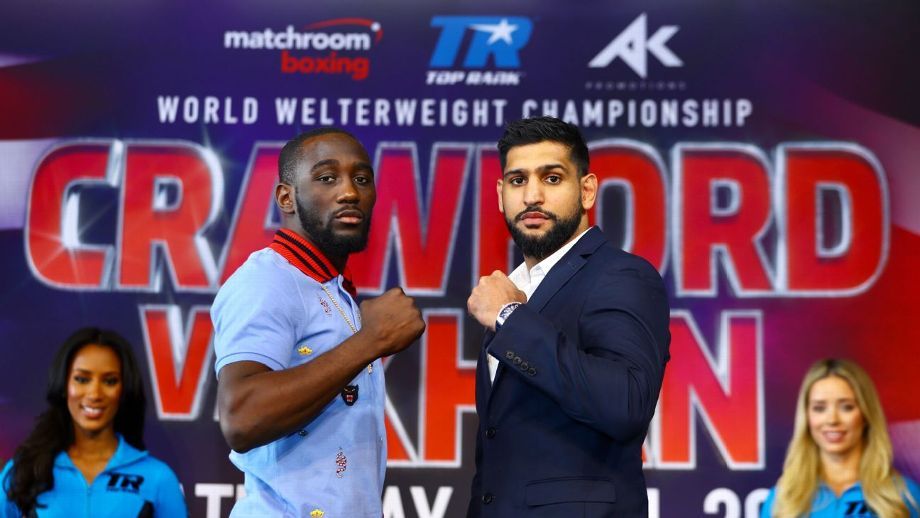 WBO welterweight champion Terence "Bud" Crawford (34-0, 25 KOs), who many consider the best pound-for-pound boxer in the world, will defend his belt against former junior welterweight champion Amir Khan (33-4, 20 KOs) tomorrow night at Madison Square Garden (9 pm ET).
Why it matters: The title fight will mark Top Rank Promotions' first appearance on ESPN pay-per-view after the two sides signed a seven-year deal last August that will see Top Rank put on 54 live boxing events annually on ESPN's suite of networks, including ESPN+.
The big picture: The hope is that the shift from premium networks like HBO to a more broadly distributed model and a more general sports audience will raise awareness and attract new fans.
What they're saying: I spoke with Todd duBoef, President of Top Rank, about the significance of this move to ESPN, and then I had him do what he does best: sell us on the fight.
Q: What's the biggest benefit of being on ESPN compared to HBO?
"People are inherently boxing fans, they just haven't known where to find it or who the so-called personalities are in the sport. That's been the struggle, and it's why this shift is so important."
"ESPN is a default channel in every bar and every household, so the amount of impressions we get from general sports fans in the lead up to the fight is unprecedented compared to what we've had in the past."
Q: Sell a general sports fan on why they should buy this fight.
"Terence Crawford is the best finisher in boxing that I can remember since Sugar Ray Leonard. There's no dancing around, there's no trying to look pretty. If he gets you hurt, he finishes you. He's got a killer mentality."
"Amir Khan is the best fighter Crawford has ever fought. He's tall, he's lanky, he's got power, he's got speed in his feet and his legs. And Khan is a fast starter, as you saw when he went up two weight classes to fight Canelo [Álvarez] and was up on the scorecards early."
"So Terence, who's a slow starter, is going to have his hands full in the early rounds. He likes to pick you apart and analyze you, but he better be careful because he's got a guy on the other side who may not give him that much time."
3. 🏀 NBA playoffs: Stars of the night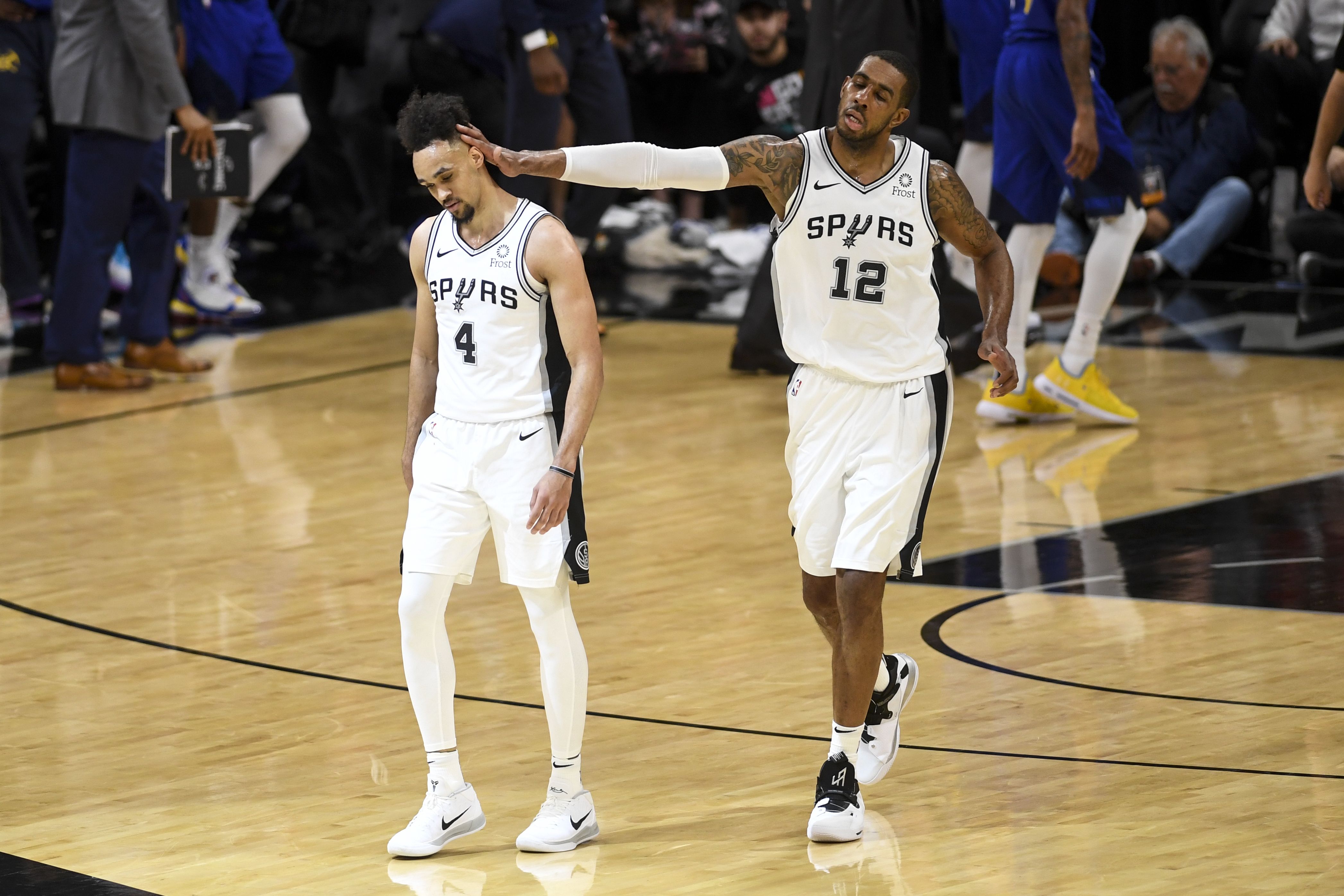 ⭐️ Derrick White, SAS: Career-high 36 points (15-21 FG, 5-6 FT), 5 rebounds, 5 assists, 3 steals ... Spurs 118, Nuggets 108 (SAS leads series 2-1)
Go deeper: Inside the secret team dinners that built the Spurs' dynasty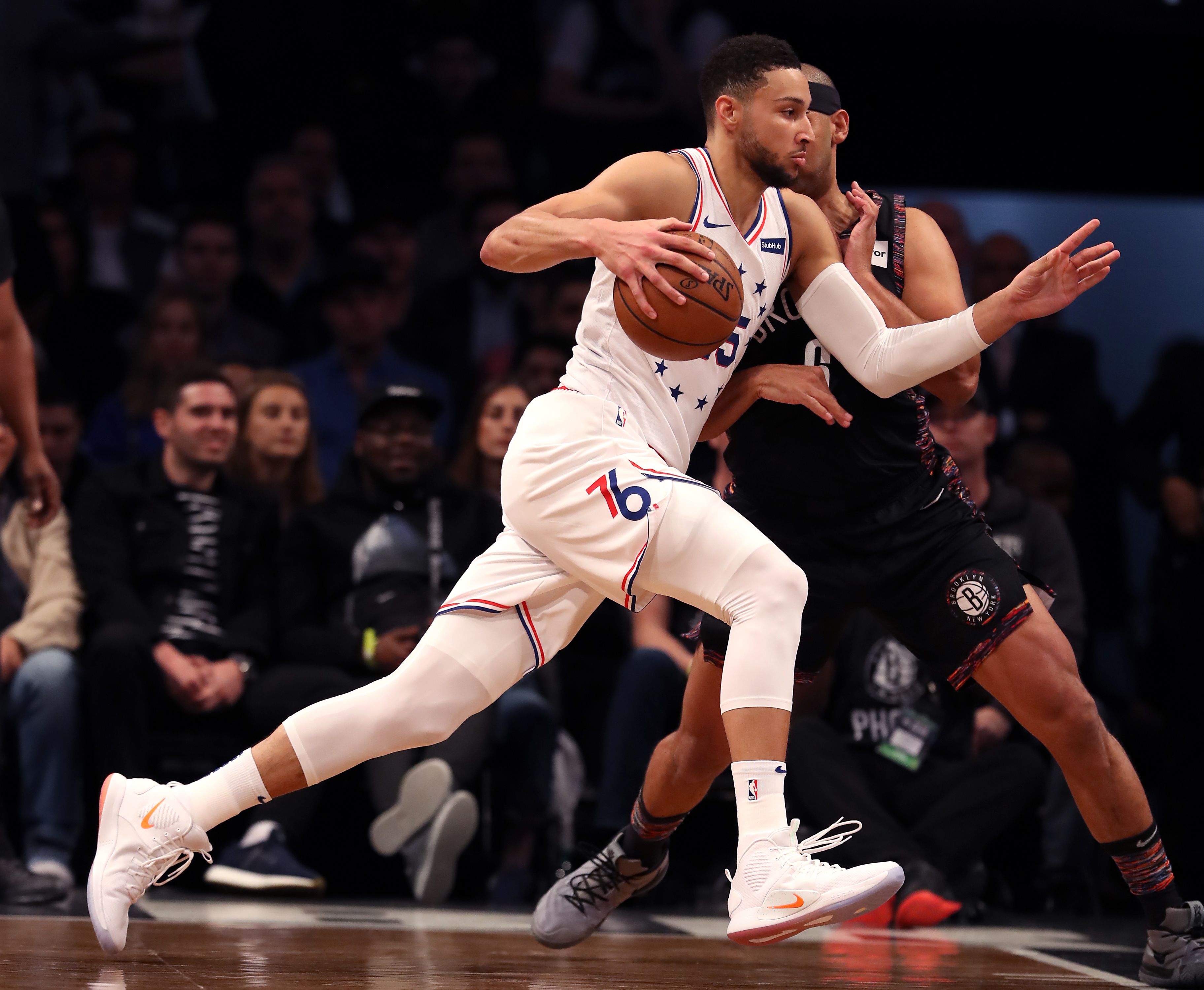 ⭐️⭐️ Ben Simmons, PHI: 31 points (11-13 FG, 9-11 FT), 9 assists, 4 rebounds, 2 steals, 3 blocks ... Sixers 131, Nets 115 (PHI leads series 2-1)
Go deeper: In Gotham, Ben Simmons has seen himself become the villain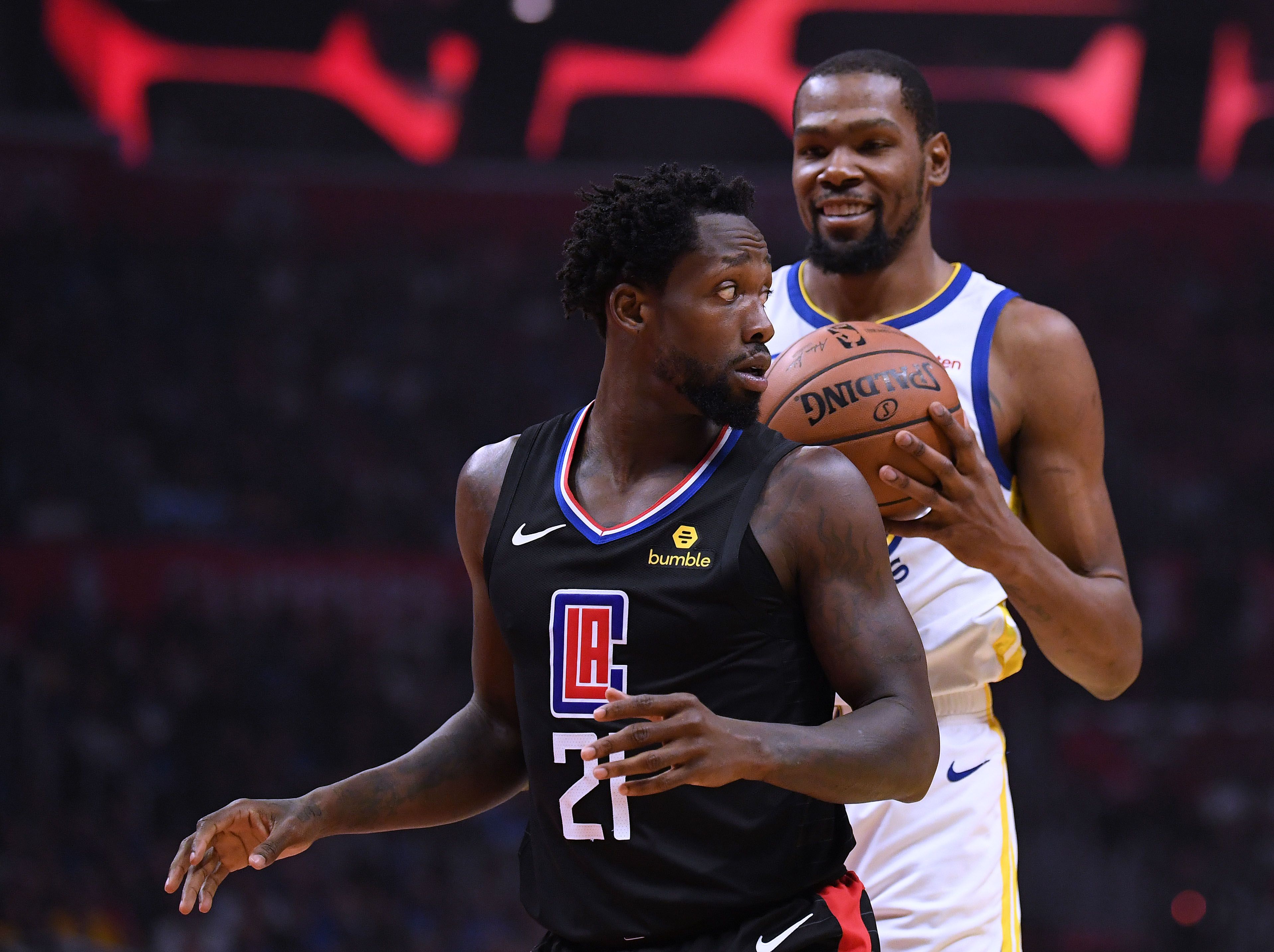 ⭐️⭐️⭐️ Kevin Durant, Warriors: 38 points (14-23 FG, 7-8 FT), 7 assists, 4 rebounds ... Warriors 132, Clippers 105 (GS leads series 2-1)
Go deeper: "Durant is so good, it is nearly impossible to compartmentalize his future from his present," writes ESPN's Ramona Shelburne.
"That is the Warriors' challenge this season though: to find some Zen in the midst of the maelstrom that awaits them this summer. Maybe it's enough just to stay in the moment and appreciate Durant's brilliance on nights like this."
4. ⚽️ MLS announces plans to expand to 30 teams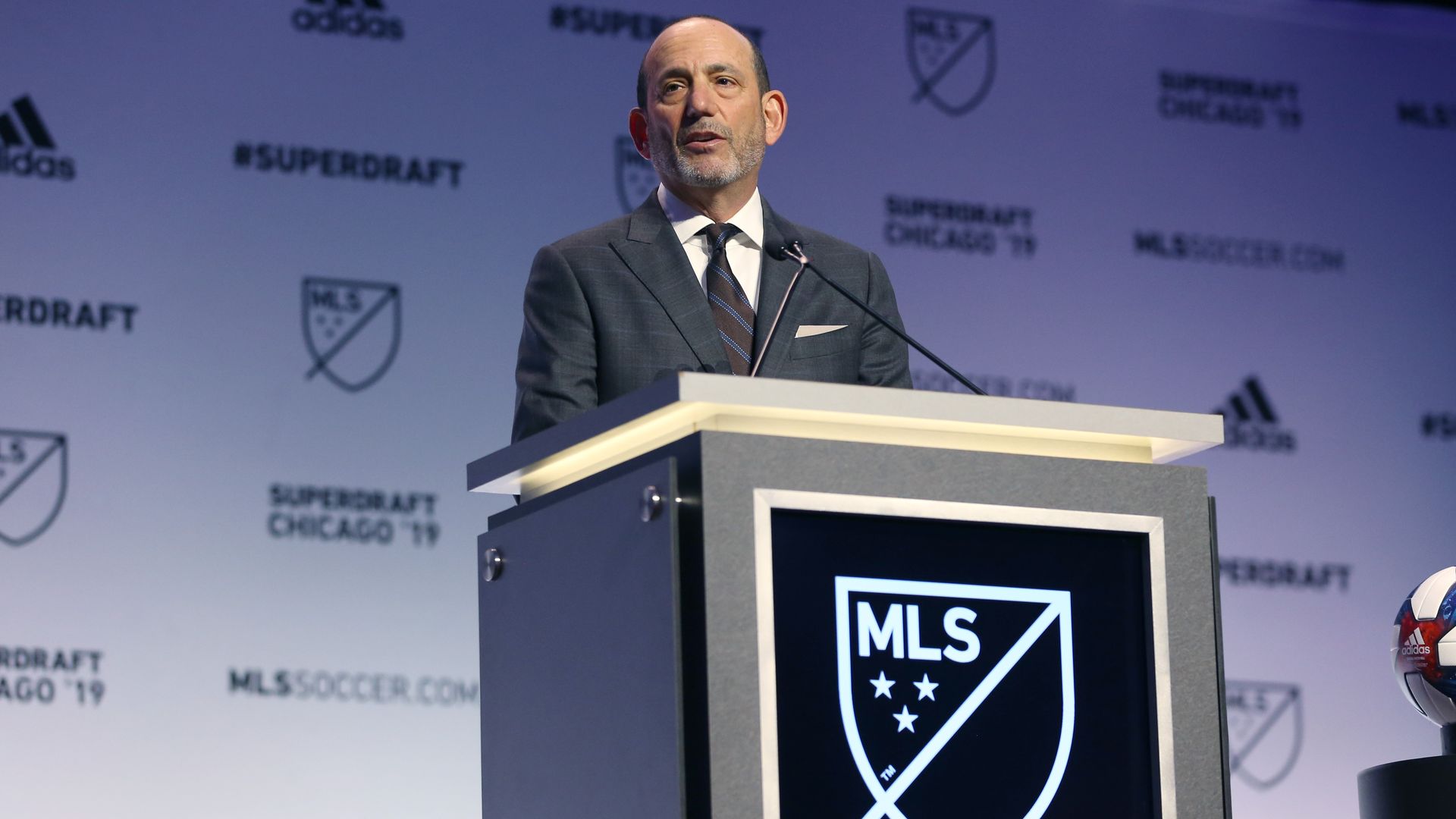 Major League Soccer commissioner Don Garber announced yesterday that the league will be expanding to 30 teams in the coming years, up from the previous expansion target of 28.
The big picture: In 2006, MLS had 11 teams. This season, there are 24, with another three on the way: Inter Miami CF (2020), Nashville SC (2020) and Austin FC (2021).
Garber says the league anticipates selecting the 28th and 29th expansion teams in the coming months with no timetable set for the 30th team.
Favorites to land a team: Sacramento and St. Louis appear to be the frontrunners for slots No. 28 and 29, as they've both been asked to make formal presentations to the MLS Expansion Committee.
Other cities: Charlotte, Phoenix, Raleigh, Detroit, San Diego and Indianapolis are among the cities whose expansion hopes may be rekindled thanks to yesterday's announcement, according to Sports Illustrated's Brian Straus.
The bottom line: Professional soccer is thriving in the U.S. and Canada, and expansion during the last decade and a half has been a key driver of MLS' growth. Why not keep it going with investors swarming?
Yes, but: There's a cap on "major league" cities in North America, so this can't go on forever.
5. 🏒 NHL playoffs: Scoreboard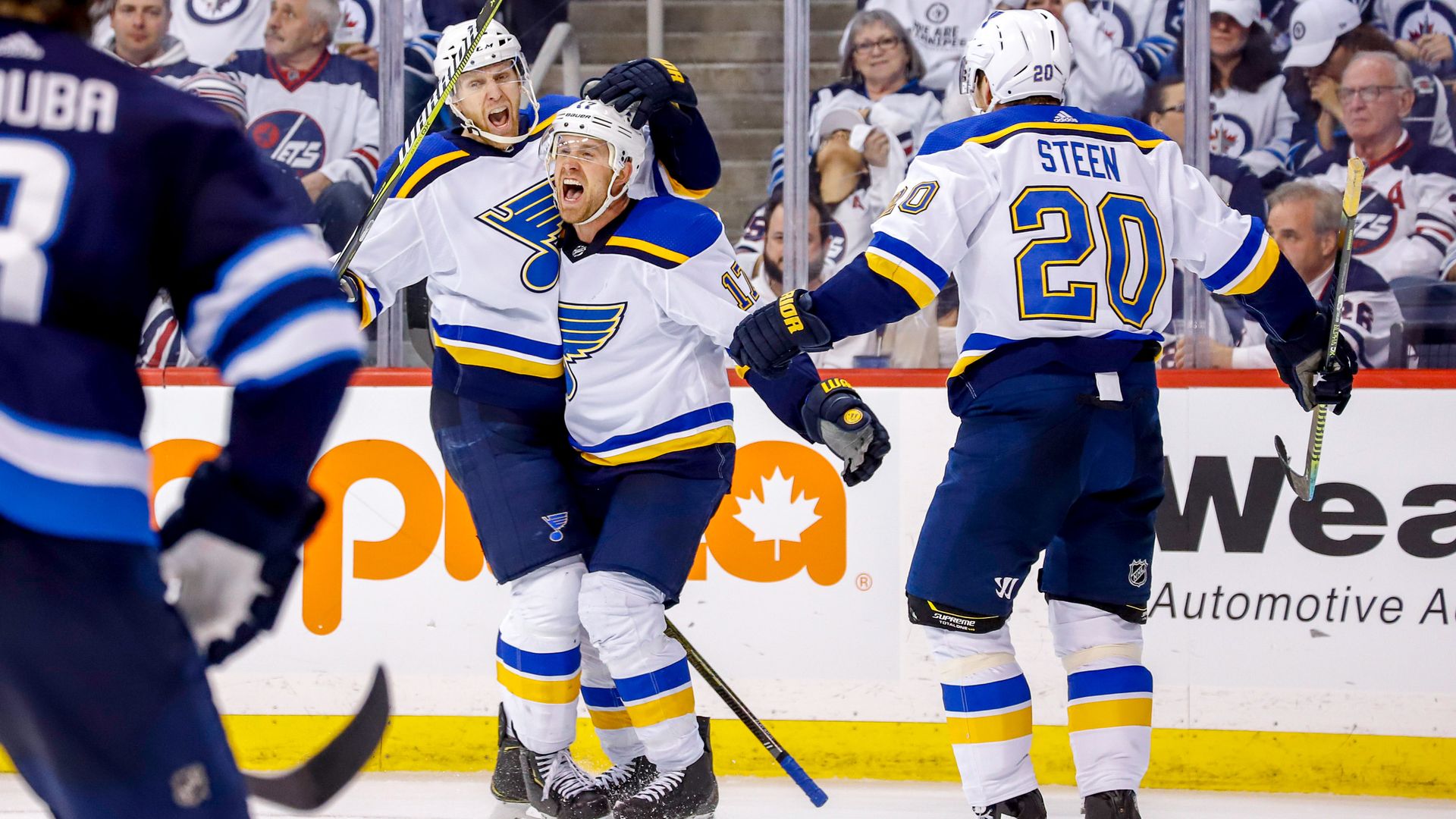 Blues 3, Jets 2: St. Louis overcame a 2-0, third-period deficit and Jaden Schwartz scored the game-winner with 15 seconds left to stun Winnipeg at home. Highlights. St. Louis leads 3-2.
Hurricanes 2, Capitals 1: Petr Mrazek made 30 saves as Carolina evened the series in Raleigh. ... Tough night for Washington, which lost T.J. Oshie to a possible arm injury suffered on this borderline dirty play. Series tied 2-2.
Sharks 5, Golden Knights 2: Thomas Hertl scored the first of his two goals just 76 seconds into the game, and the Sharks staved off elimination in front of a sold-out crowd in San Jose. Vegas leads 3-2.
6. April 19, 1897: 👟 The first Boston Marathon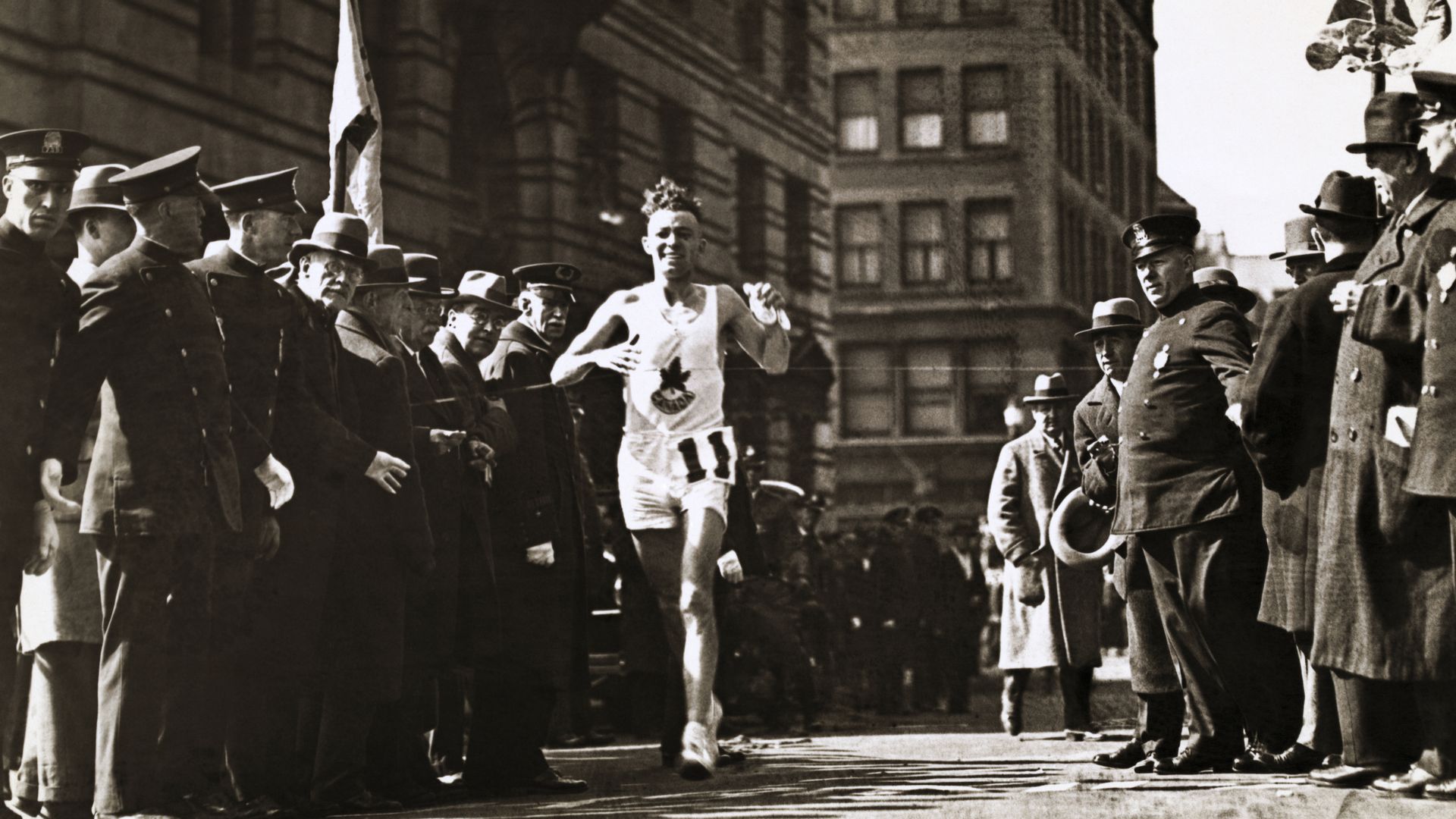 122 years ago today, the inaugural Boston Marathon was held. 15 runners started the race but just 10 crossed the finish line.
Details: The race was originally called the "American Marathon" and was 24.5 miles long. In 1908, the distance was changed in accordance with Olympic standards to its current length of 26 miles, 385 yards.
Winners through the years:
1897: John J. McDermott (USA): 2:55:10
1950: Ham Kee-Yong (South Korea): 2:32:39
1966: Kenji Kimihara (Japan): 2:17:11 ... Bobbi Gibb (USA), the first woman to run: 3:21:40
2019: Lawrence Cherono (Kenya): 2:07:57 ... Worknesh Degefa (Ethiopia): 2:23:31
Go deeper: Travel back to 1969
7. ⚾️ MLB trivia
Question: Who is the oldest pitcher to pitch a perfect game?
Hint: It happened last decade. Also, he was a lefty.
Answer at the bottom
8. The Ocho: 🤸‍♀️ College gymnastics leaps into a new era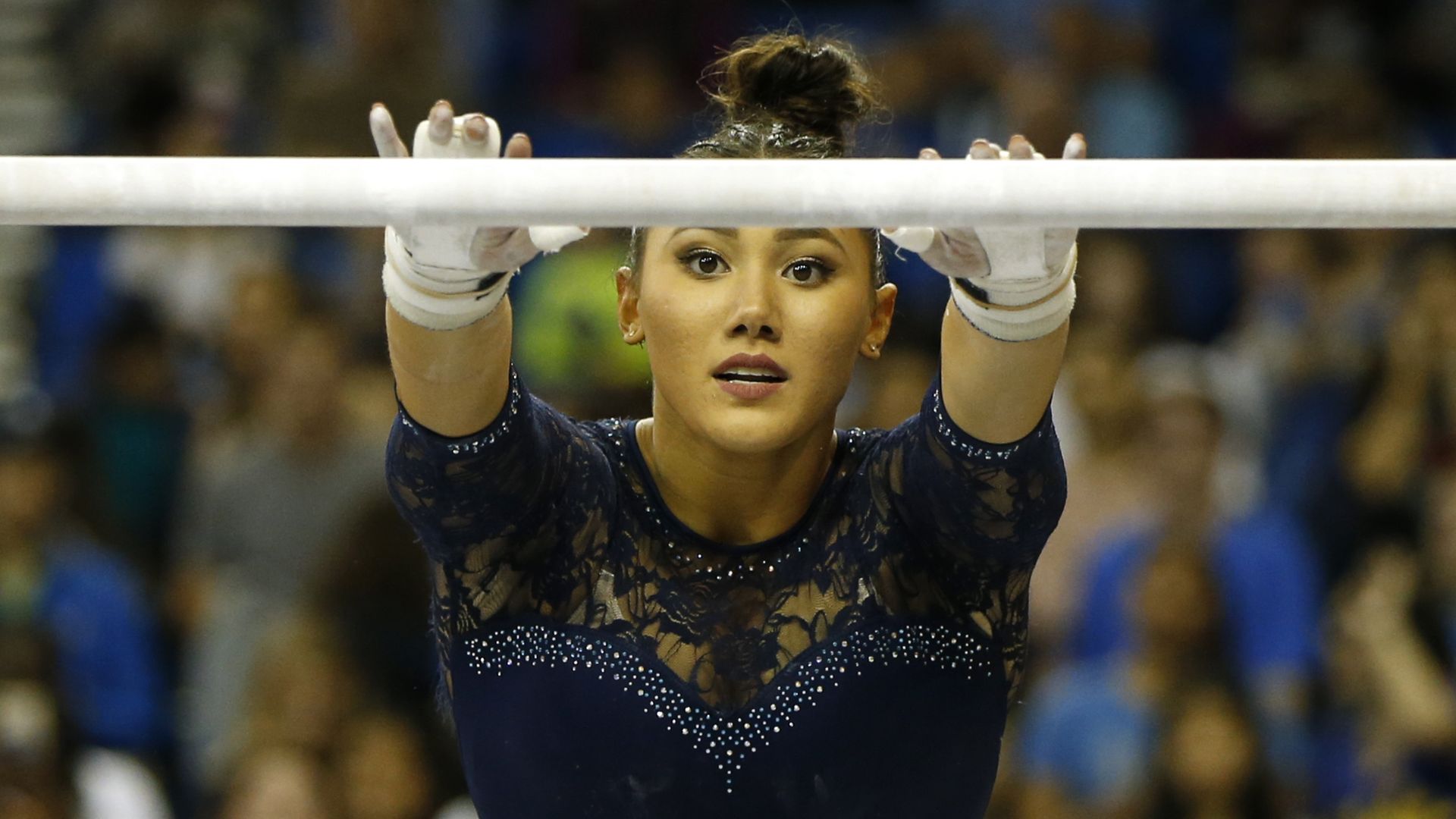 From Mike Sykes: When the NCAA gymnastics postseason concludes at the national championship final in Forth Worth this weekend, it will feature a "Final Four" for the first time.
Why it matters: The tournament's structural change is designed to make the event more viewer-friendly than it's ever been, while also maximizing the drama.
Previous format: 12 teams qualified for the semifinals and six teams qualified for the final. With just four events, that meant two teams had bye rotations at any given time, leaving viewers confused about who was winning because teams were always in different stages of completion.
Current format: Eight teams advance to the semifinals and four teams advance to the final, which means there is constant action and no confusion about who's in the lead. This back-and-forth format is "television heaven," says Olympic medalist and ESPN analyst Kathy Johnson Clarke.
Watch:
Today, 1 pm ET: UCLA, LSU, Michigan and Utah compete in the first semifinal on (ESPN2, ESPNU)
Tonight, 7 pm ET: Oklahoma, Denver, Georgia and Oregon compete in the second semifinal (ESPN2, ESPNU)
Saturday, 7 pm ET: Final (ESPNU)
Go deeper: Storylines to watch
9. 📚 Good reads
MLB: "Just about everything this MLB season has been extreme. A record for Opening Day home runs is beginning to look prophetic as the rates of walks, strikeouts, and homers have eclipsed the April figures from recent years. Will these increases hold up through September?" (The Ringer)
CFB: "The University of Colorado has come closer than most institutions to wrestling with an urgent question: Is running a college football program unconscionable?" (NY Times)
NBA: Inside Converse's grand plans to re-enter the NBA landscape (ESPN)
10. 🎰 Pick 3: Make your picks!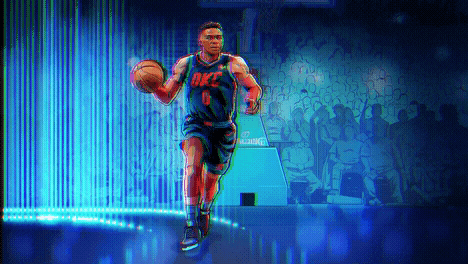 Today's contest will be held within The Action Network app.
Yesterday's results: 41.7% correctly predicted that the Blues would beat the Jets … 49.6% correctly predicted that Nuggets vs. Spurs would go over 210.5 points … 27% correctly predicted that Kevin Durant would lead all NBA players in points.
10 players nailed all three: Nora Hanson (Boston); Bob Booth (White Rock, British Columbia); Greg Globetti (Fairhope, AL); Chris Eumont (Dallas); Andrew Cook (Medfield, MA)
Jaqui Tuthill (Lowell, MA); Aidan (Ho-Ho-Kus, NJ); Pierre-Luc Gagnon (Montreal); Jud Price (Branson West, MO); Clark Davis (N/A so we'll go with "Earth")