August 20, 2021
🎉 Happy Friday! You made it.
Today's word count: 1,678 words (6 minutes).
Let's sports...
1 big thing: 💵 eBay boots PWCC in card scandal
Trading card marketplace PWCC has been suspended by eBay for "shill bidding" — the practice of artificially boosting the price of an item through dishonest bids, Axios' Jeff Tracy writes.
Why it matters: One of the industry's biggest players getting rocked by scandal could have deleterious effects on the card-collecting hobby, which is built largely on trust.
The backdrop: Trading cards are in the midst of a meteoric rise. The 10 most expensive cards in history have all been sold since last August.
Details: eBay "restricted PWCC's selling privileges" this week, removing more than 71,000 listings from its website.
Shill bidding, explained: The seller enlists friends and family, or uses aliases, to drive the item price higher than it would have gone if a legitimate buyer bid and purchased it.
PWCC denies any wrongdoing, and is weighing all available legal options to fight the accusation. The company did over $200 million in sales on eBay last year alone, per the Action Network.
The big picture: This isn't the first time PWCC has found itself in hot water. It's also the subject of an ongoing FBI investigation stemming from a 2019 "trimming" scandal, which involves doctoring cards to increase their grade, thus inflating their sale price.
That relationship between grading and selling is illustrative of card collecting's biggest risk: it relies on various cogs — producers like Topps, marketplaces like PWCC, grading agencies like PSA — working together in harmony.
If eBay's allegations are true, PWCC could be shunned by the industry. Multiple competitors have already pounced on the chance to wrestle customers away from them.
🚨 Major news ... After 70 years as MLB's exclusive trading card partner, Topps — soon set to go public via SPAC — is out. The MLB, NBA and NFL players' unions have struck new deals with Fanatics.
2. 👟 Sha'Carri vs. the podium
47 medalists who accounted for 62 medals in Tokyo will descend on Eugene, Oregon, this weekend for the Prefontaine Classic.
The intrigue: After missing the Olympics due to a marijuana suspension, American star Sha'Carri Richardson will race against all three Jamaican medal winners in the 100 meters.
Richardson will also run alongside Allyson Felix and Gabby Thomas in the women's 200 meters.
Other big names include Athing Mu (800 meters), Rai Benjamin (200 meters) and Ryan Crouser (shot put).
The last word: "I just want to let y'all know, this'll be the last time the Olympics don't see Sha'Carri Richardson," said Richardson following her suspension. "And I feel sorry for anybody who lines up against me when I come back."
3. ⚡️ Lightning round
🥇 Pic du jour: Tugboats install the Paralympic Symbol ahead of the Tokyo 2020 Paralympic Games, which begin on Tuesday.
🏈 Pats roll Eagles: The Patriots destroyed the Eagles, 35-0, on Thursday — the biggest preseason shutout since the 2006 Patriots beat Washington, 41-0.
🏒 Power returns: Owen Power, the Sabres' No. 1 overall pick, will return to Michigan for his sophomore season. The Wolverines are going to be stacked.
Plus...
🎾 Nadal ends season: Rafael Nadal (foot) is ending his season, ruling him out of this month's U.S. Open. Roger Federer and Dominic Thiem will also miss the event, and Serena Williams has yet to say if she'll play.
🏈 Jets lose Lawson: Defensive end Carl Lawson, a major free-agent signing for the Jets, will miss the 2021 season after rupturing his Achilles in practice. Brutal.
⛳️ Bryson's wild round: Bryson DeChambeau had nine birdies, five bogeys, two double bogeys and two pars to finish an even-par 71 in the first round of The Northern Trust.
4. 🥍 PLL rides viewership highs into playoffs
When the Premier Lacrosse League launched in 2019 with its innovative tour-based model, the buzz surrounding lacrosse reached an all-time high. Three years later, the momentum continues to build.
By the numbers: Ticketing revenue for the 2021 PLL season year-to-date is up 42% from the inaugural 2019 campaign, and NBC Sports Network viewership is up 33%, per the league.
Social media stats: 295.2 million impressions, 16 million engagements and 17.5 million video views across Twitter and Instagram.
Other stats: 8.3 million website pageviews, 2.4 million YouTube views.
What's next: The playoffs begin tonight in Salt Lake City, one of four new markets to host PLL games this year (Long Island, Minneapolis, Colorado Springs). Utah was the site of the league's 2020 quarantine tournament.
How it works: Seven of eight teams made the postseason. It's single-elimination, with upcoming rounds in Philadelphia (semifinals) and Washington, D.C. (championship).
Playoff seeds: 1. Waterdogs (first-round bye), 2. Atlas, 3. Archers, 4. Redwoods, 5. Whipsnakes (two-time defending champs), 6. Chaos, 7. Cannons.
Who to watch ... Archers attackman Grant Ament (Penn State), Waterdogs midfielder Zach Currier (Princeton), Chaos goalie Blaze Riorden (Albany), Atlas attackman Jeff Teat (Cornell) and Cannons attackman Lyle Thompson (Albany) are the five MVP finalists.
Go deeper: 21 questions ahead of the PLL quarterfinals (Inside Lacrosse)
5. 💵 Snapshot: The state(s) of sports betting
22 states plus Washington D.C. currently have fully operational legal sports betting markets, while another 10 states have legalized the practice but are still waiting to launch.
The state of play: As legalized sports gambling sweeps the nation with promises of increased tax revenue, betting operators have become intimately involved in state politics.
Headlines:
Florida: FanDuel and DraftKings are trying to elbow their way into Florida's sports betting market by couching their industry as a way to finance public education, records show. (Axios)
New York: Licenses to offer online sports betting in New York are attracting big names. There is a $25 million fee, and the state will tax revenue at a 50% rate. (ESPN)
6. ⚾️ MLB snapshot: AL West, NL West
The West is — don't say wild, don't say wild — set to provide some great drama, with six teams still alive and a seventh employing Shohei Ohtani, Jeff writes.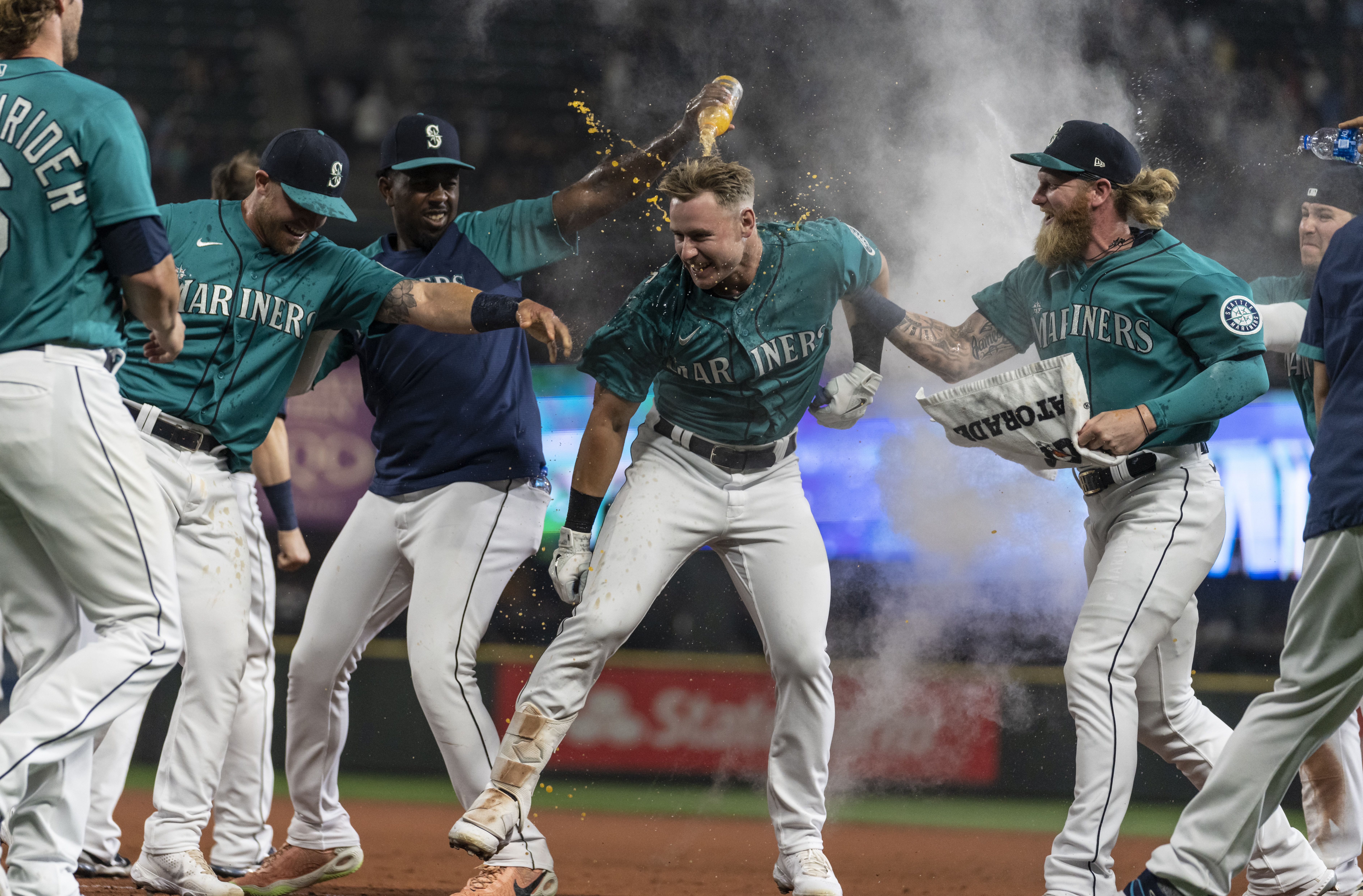 AL West: Since 2016, third place in this division has finished an average of 17.2 games behind first. Cherish this three-team race!
Astros (71-50): Since 2019, just four players have bested Yordan Álvarez's .961 OPS (min. 800 PA). Is he the least talked-about superstar in the majors?
A's (69-53, 2.5 GB): Speaking of under-appreciated stars, Matt Olson has bounced back big time this year. His 31 HR and .943 OPS trail only Vlad Jr. and Ohtani in the AL.
Mariners (66-56, 5.5 GB): The last time Seattle made the playoffs, Ichiro was a rookie and the Mariners had just said goodbye to Griffey and A-Rod. 20 years later, they're three games out of the Wild Card.
Angels (62-61, 10 GB): It doesn't seem fair that Ohtani is breaking baseball while Mike Trout and Anthony Rendon have both missed nearly the entire season. Somebody give this team a break!
Rangers (42-79, 29 GB): One of the lone bright spots is 28-year-old Adolis García, whose 26 HR and 70 RBI lead all rookies.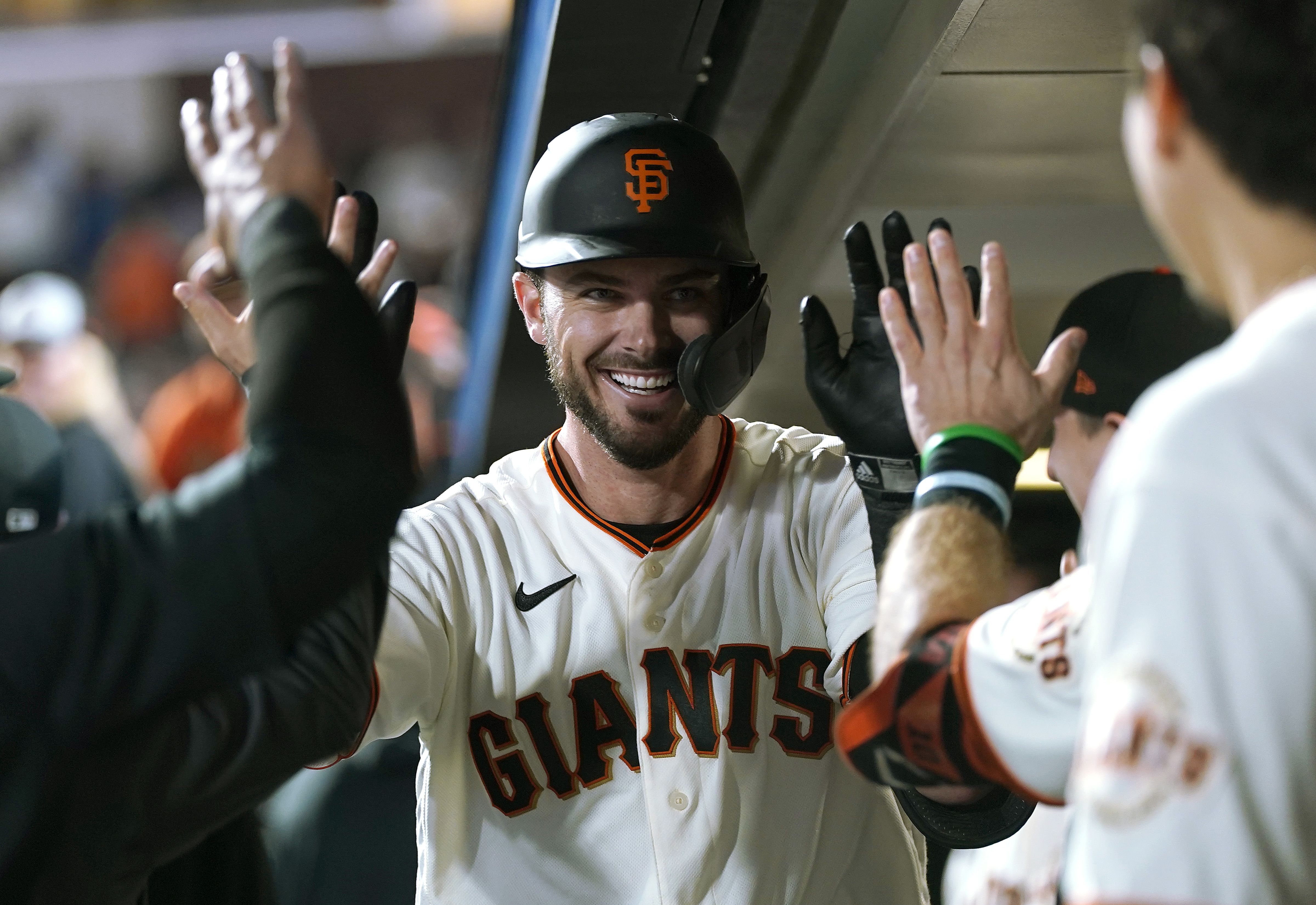 NL West: The would-be three-team race has turned into two titans battling for the top spot, with San Diego suddenly treading water.
Giants (78-43): Is there even a comp for what this team is doing? If you fixed a jalopy with some duct tape, you'd be thrilled just to survive; instead, the Giants turned into Lewis Hamilton's Mercedes.
Dodgers (76-46, 3 GB): L.A. is supremely talented, might win 100 games, and has by far the best run differential in the majors. And yet, their run of eight straight division titles may come to an end.
Padres (67-56, 12 GB): They've lost seven of eight against the Rockies and D-Backs — and just three of their final 38 games are against sub-.500 teams. It's officially reached Threat Level Midnight in San Diego.
Rockies (55-66, 23 GB): Still trying to comprehend why they didn't trade Trevor Story at the deadline.
Diamondbacks (41-81, 37.5 GB): Arizona is doing its best to play spoiler, winning back-to-back series against the Padres and Phillies.
7. 🏈 NFL player rankings: Jaire Alexander (No. 16)
The NFL season is fast approaching. While we eagerly await its arrival, we're counting down the league's top 20 players.
Player: Jaire Alexander, CB (Packers)
Age: 24
College: Louisville
Contract: 4 years, $12M (FA in 2023)
2020 stats: 15 games; 13 pass deflections, 1 interception, 1 forced fumble, 1 sack, 1 safety
Week 1: Packers at Saints
The big picture: The youngster made his first Pro Bowl in 2020 as the focal point of Green Bay's top-10 passing defense, and even picked off Tom Brady twice in the NFC title game.
By the numbers: When Alexander was the nearest defender last year, he allowed a 45.9 passer rating and 46% completion percentage. All other Packers CBs: 95.9 passer rating and 63% completion percentage.
Wild stat: After Adam Thielen caught four passes for 66 yards against Alexander in Week 1, he held opposing No. 1 receivers to 10 total catches and 77 yards the rest of the season.
What they're saying: "He has all the tools," says Bills CB Tre'Davious White. "And he has that swagger and confidence that when he's on the field, he's the best player out there."
ICYMI: 20. Dalvin Cook; 19. Trent Williams; 18. Bobby Wagner; 17. Tyreek Hill
8. 📆 Aug. 20, 2000: Tiger's historic season
21 years ago today, Tiger Woods defeated Bob May in a three-hole playoff to win the PGA Championship at Louisville's Valhalla Golf Club.
Why it matters: Woods became the first golfer since Ben Hogan in 1953 to win three majors in a single year. He also won his next major (2001 Masters), giving him his iconic "Tiger Slam."
The big picture: In a career filled with logic-defying years, none were more impressive than Woods' 2000 season.
He won nine times, set or tied 27 PGA Tour records and finished in the top five in 17 of 20 events.
His scoring average that season remains the lowest ever, both adjusted (67.79) and unadjusted (68.17).
🎥 Watch: Tiger's incredible 2000 season (YouTube)
9. ⚾️ MLB trivia
Shohei Ohtani reached 40 HR and 15 SB in 122 games, the second-fastest in any season.
Question: Who did it in fewer games?
Hint: 1998.
Answer at the bottom.
10. 📆 Join us: Youth sports virtual event
What if as a society we agreed that all children had a right to a quality sports experience?
We'll explore that question and more during our free virtual event today (12–1pm ET), in partnership with the Aspen Institute.
Enjoy the weekend,
Kendall "The Orioles lost again" Baker
Trivia answer: Ken Griffey Jr. (117 games)
🙏 Thanks for reading. Don't forget to follow us on Twitter: @thekendallbaker and @jeffreytracy.