👋 Happy Wednesday! Let's sports.
Today's word count: 1,635 words (6 minutes)
1 big thing: 🏈 Ohio State tops first CFP rankings
Screenshot: YouTube
The College Football Playoff committee released its first of five official rankings last night, with Ohio State taking the top spot and Penn State somewhat surprisingly coming in at No. 4, one spot ahead of Clemson.
Top 10: Ohio State, LSU, Alabama, Penn State, Clemson, Georgia, Oregon, Utah, Oklahoma, Florida
AP Poll (to compare): LSU, Alabama, Ohio State, Clemson, Penn State, Georgia, Oregon, Utah, Oklahoma, Florida
Why it matters: In every year of the playoff except for the first one, a team in the CFP committee's initial top four rankings won the national championship.
The lone exception was 2014 Ohio State, which debuted at No. 16 before making the playoff and ultimately winning it all.
Notes:
Clemson is fine: The defending champs entered the season as the preseason No. 1, and despite not losing a game, find themselves at No. 5. That stings, but if the Tigers win out as one might expect (toughest test is No. 19 Wake Forest), they're a virtual lock to make the playoff because of all the movement set to take place ahead of them.
Looking ahead: These rankings will change dramatically over the next three weeks, with the top four teams set to face off. No. 2 LSU travels to No. 3 Alabama this weekend, and No. 4 Penn State travels to No. 1 Ohio State in two weeks (after a tough test against No. 17 Minnesota on Saturday).
Go deeper: What the playoff and New Year's Six bowl games would be today (ESPN)
2. 🏀 Duke, Kentucky prevail on opening night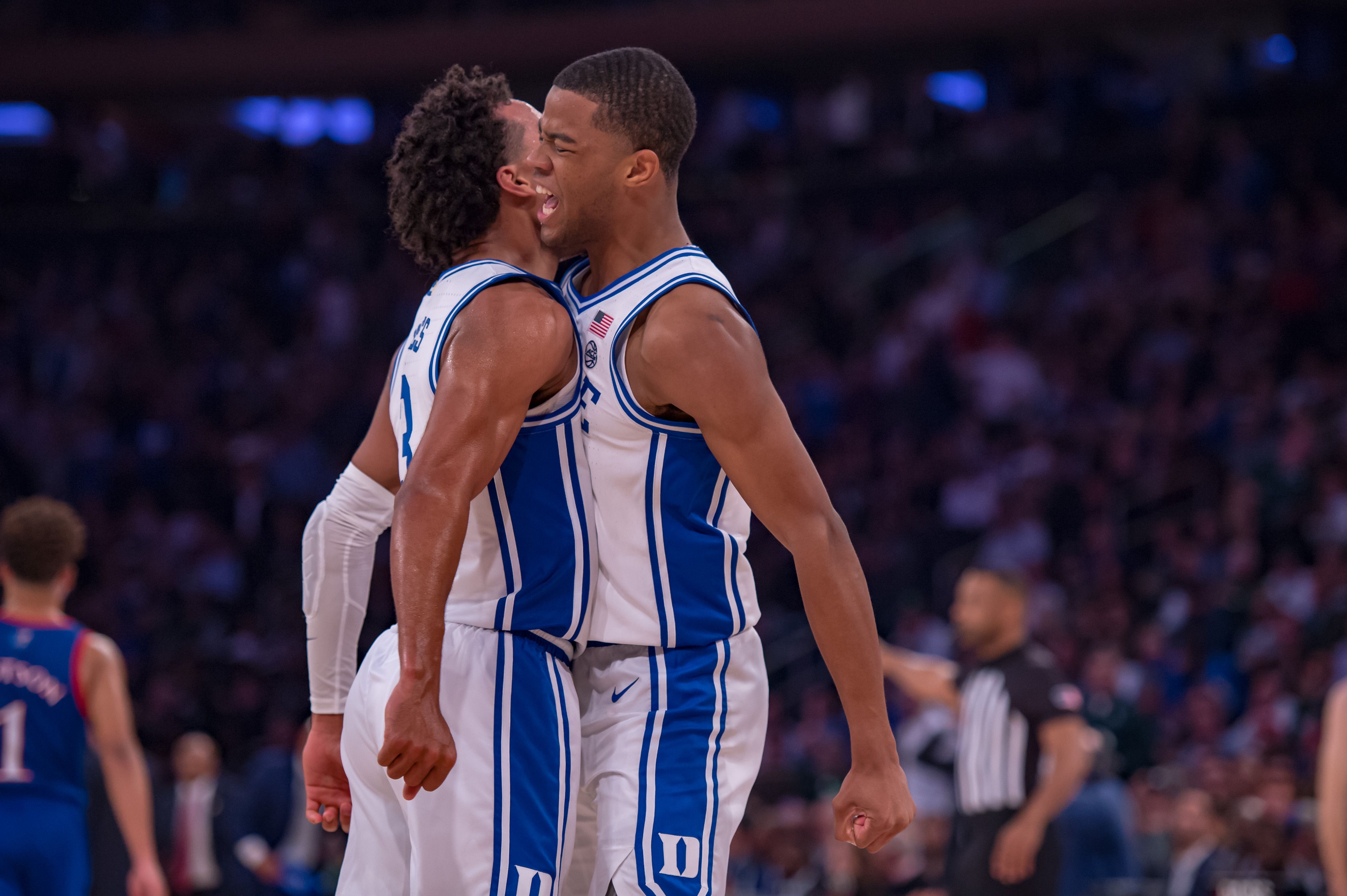 Photo: John Jones/Icon Sportswire via Getty Images
DUKE 68, KANSAS 66 — Tre Jones (left) scored 15 points and freshman Cassius Stanley (right) added 13 to help the fourth-ranked Blue Devils top the third-ranked Jayhawks at Madison Square Garden. Kansas had 28(!) turnovers.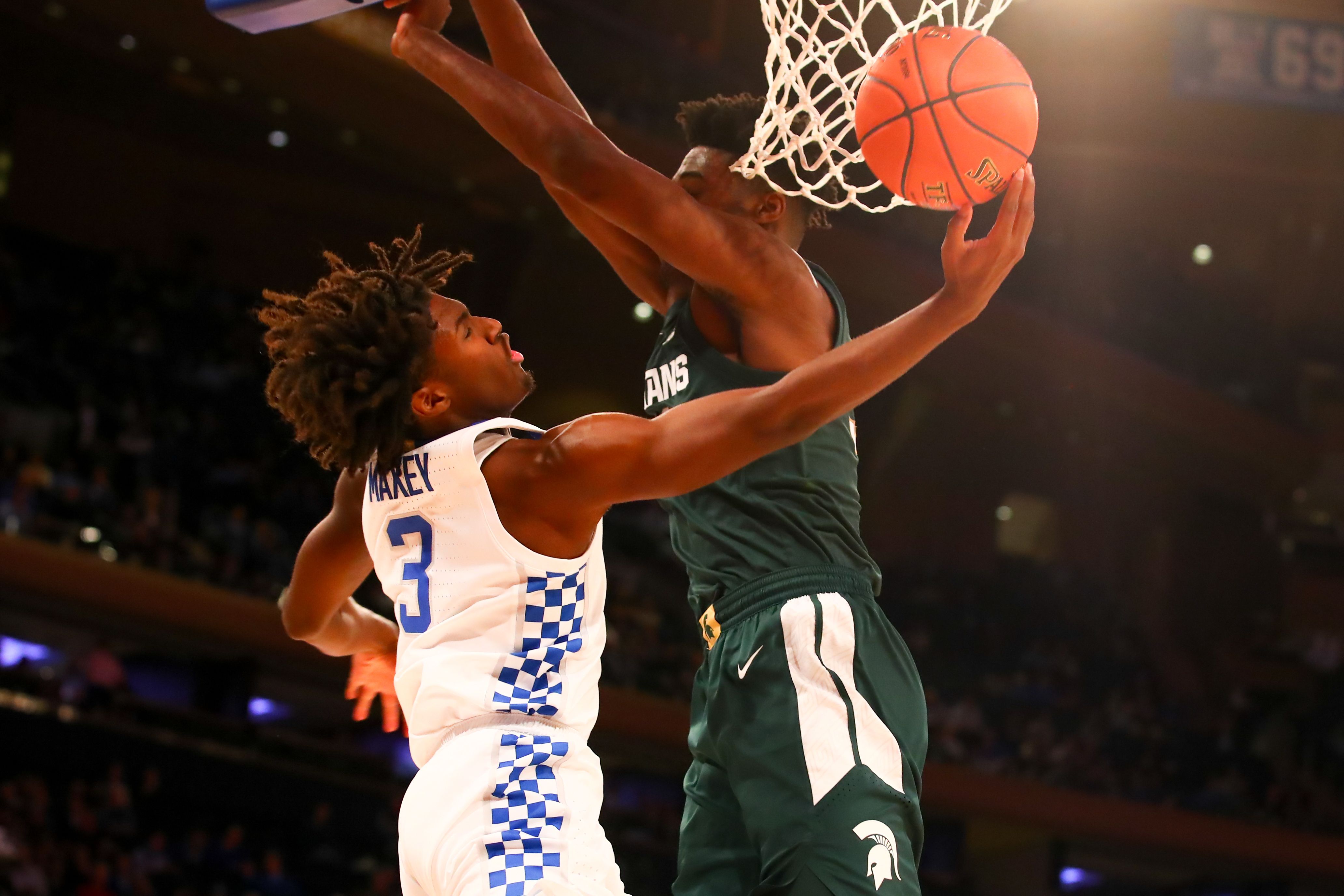 Photo: Rich Graessle/Icon Sportswire via Getty Images
KENTUCKY 69, MICHIGAN ST. 62 — In the nightcap, freshman star Tyrese Maxey scored 26 points as the second-ranked Wildcats took down Cassius Winston (21 points) and the top-ranked Spartans.
Fun fact: John Calipari is now 6-4 against teams ranked No. 1 in the AP poll and is the only coach with a winning record (minimum 10 games).
Elsewhere: Jordan Ford scored 26 points as No. 20 Saint Mary's hung on to beat Wisconsin, 65-63 (OT), in South Dakota.
3. ⚽️ Champions League, Matchday 4 (Part 1 of 2)
The first half of the Champions League's fourth matchday took place yesterday, with teams from Groups E, F, G and H going head-to-head across Europe.
Quick recap: Barcelona stumbled to a 0-0 draw against Slavia Prague, Chelsea and Ajax played an epic match that ended in a 4-4 draw, Dortmund stormed back against Inter Milan and Liverpool moved into first place with a 2-1 win over Genk (combined with Napoli's 1-1 draw against Red Bull Salzburg).
Best game: The Chelsea-Ajax game featured eight goals, two red cards and no winner. And did I mention Ajax was up 4-1 in the 54th minute? This was a classic.
Best goal: Valencia's Geoffrey Kondogbia scored on an absolute bomb.
Coming up: Groups A, B, C and D play today. We'll be back tomorrow with another recap.
Group A: Real Madrid (Spain) vs. Galatasaray (Turkey); PSG (France) vs. Club Brugge (Belgium)
Group B: Bayern Munich (Germany) vs. Olympiacos (Greece); Red Star Belgrade (Serbia) vs. Tottenham (England)
Group C: Atalanta (Italy) vs. Manchester City (England); Dinamo Zagreb (Croatia) vs. Shakhtar Donetsk (Ukraine)
Group D: Lokomotiv Moscow (Russia) vs. Juventus (Italy); Bayer Leverkusen (Germany) vs. Atlético Madrid (Spain)
4. ⚾️ Robot umps coming to minors in 2020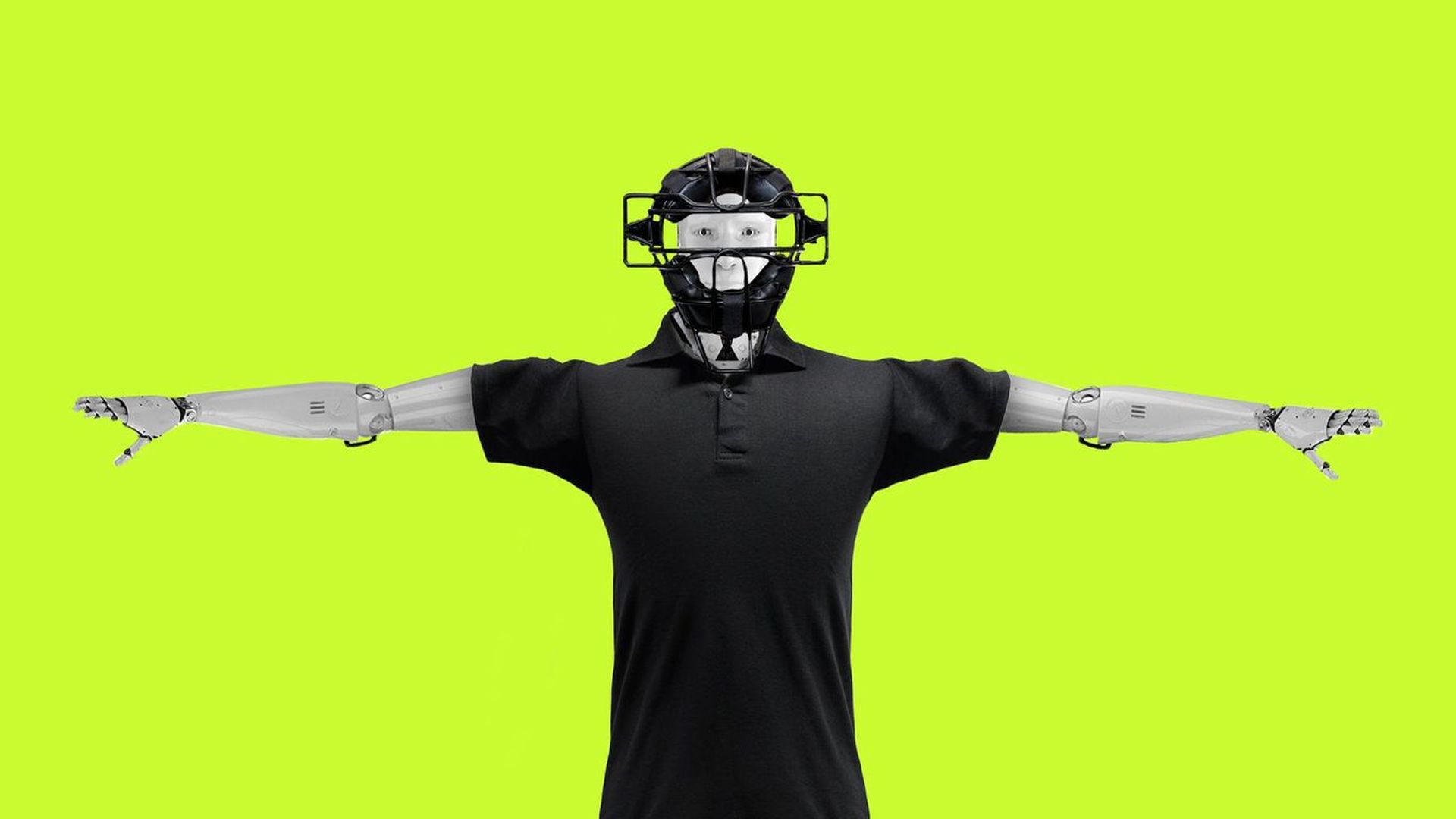 An automated strike zone will be used in some minor league ballparks next season, according to MLB commissioner Rob Manfred — the latest development in baseball's slow embrace of "robot umpires."
The backdrop: The electronic radar system, dubbed TrackMan, was tested this past season in the Atlantic League, an independent East Coast league that has emerged as MLB's testing ground for new rules and equipment initiatives.
How it works: An umpire stands behind the plate, the system tracks the pitch, and the umpire is notified through an earpiece whether to call a ball or strike.
Why it matters: In a world of instant replays and booth reviews, and on the heels of a World Series in which an inconsistent strike zone took center stage, it's becoming harder and harder to imagine MLB not eventually going this route.
"I think it's incumbent upon us to see if we can get the system to the point we're comfortable it can work. I only would go to an automated strike zone when we were sure that it was absolutely the best it can be. Getting out there too early with it and not having it work well, that'd be a big mistake."
— MLB commissioner Rob Manfred
5. 🏈 The Cam Newton era might be over in Carolina
The Panthers placed Cam Newton (left foot) on injured reserve yesterday, a move that effectively ends his season and could also spell the end of his tenure in Carolina.
Looking ahead: Newton has one more year left on the extension he signed after being named MVP in 2015, but the Panthers could save $19 million by cutting or trading the injury-prone star this offseason, per OverTheCap.
The bottom line: While it seems unlikely that the Panthers will cut Newton, they could seek a trade partner — especially if his replacement, Kyle Allen, keeps on winning (5-1 in Newton's absence).
Two winters ago, the Chiefs sent Alex Smith to Washington, and last winter, the Ravens sent Joe Flacco to Denver. Where might the Panthers send Newton? ... Chicago? 👀
6. 🏒 NHL quick-hitters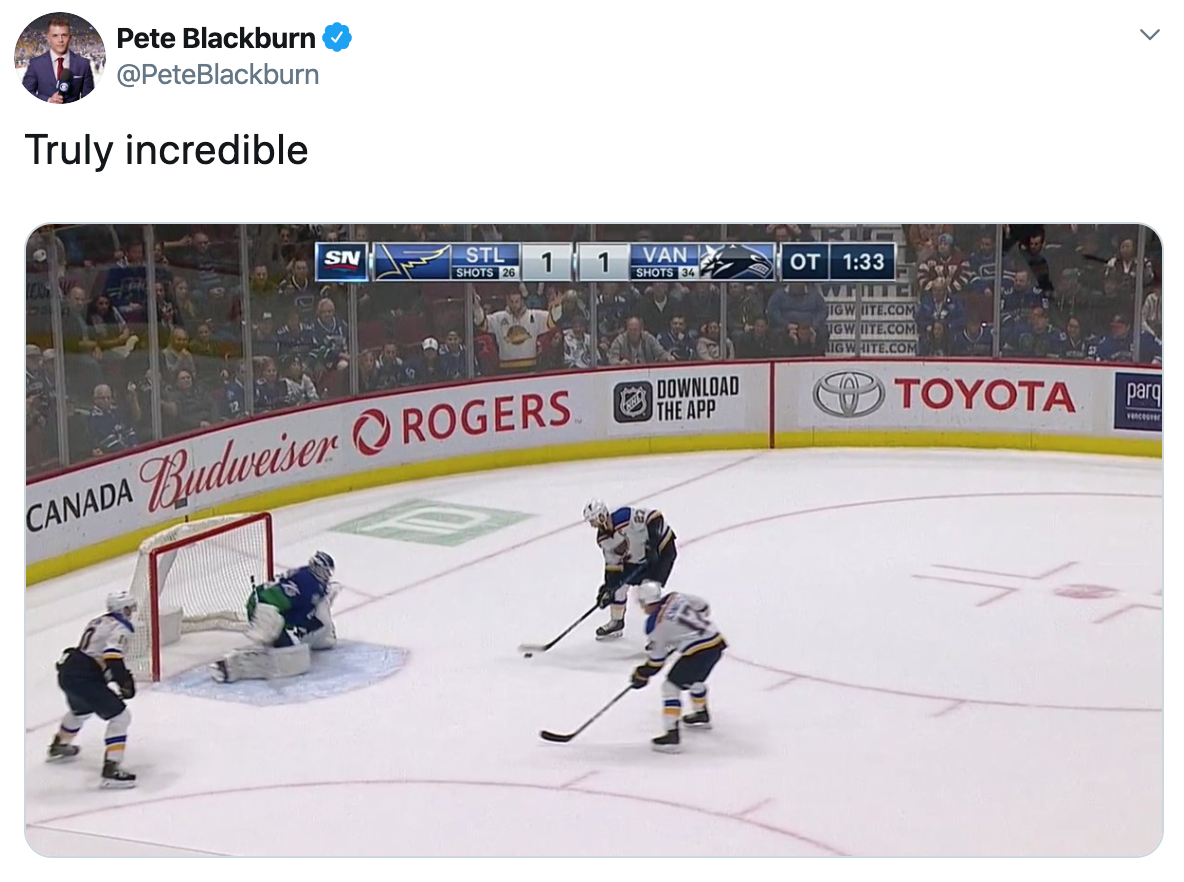 Screenshot: @PeteBlackburn
7. Nov. 6, 1869: 🏈 College football is born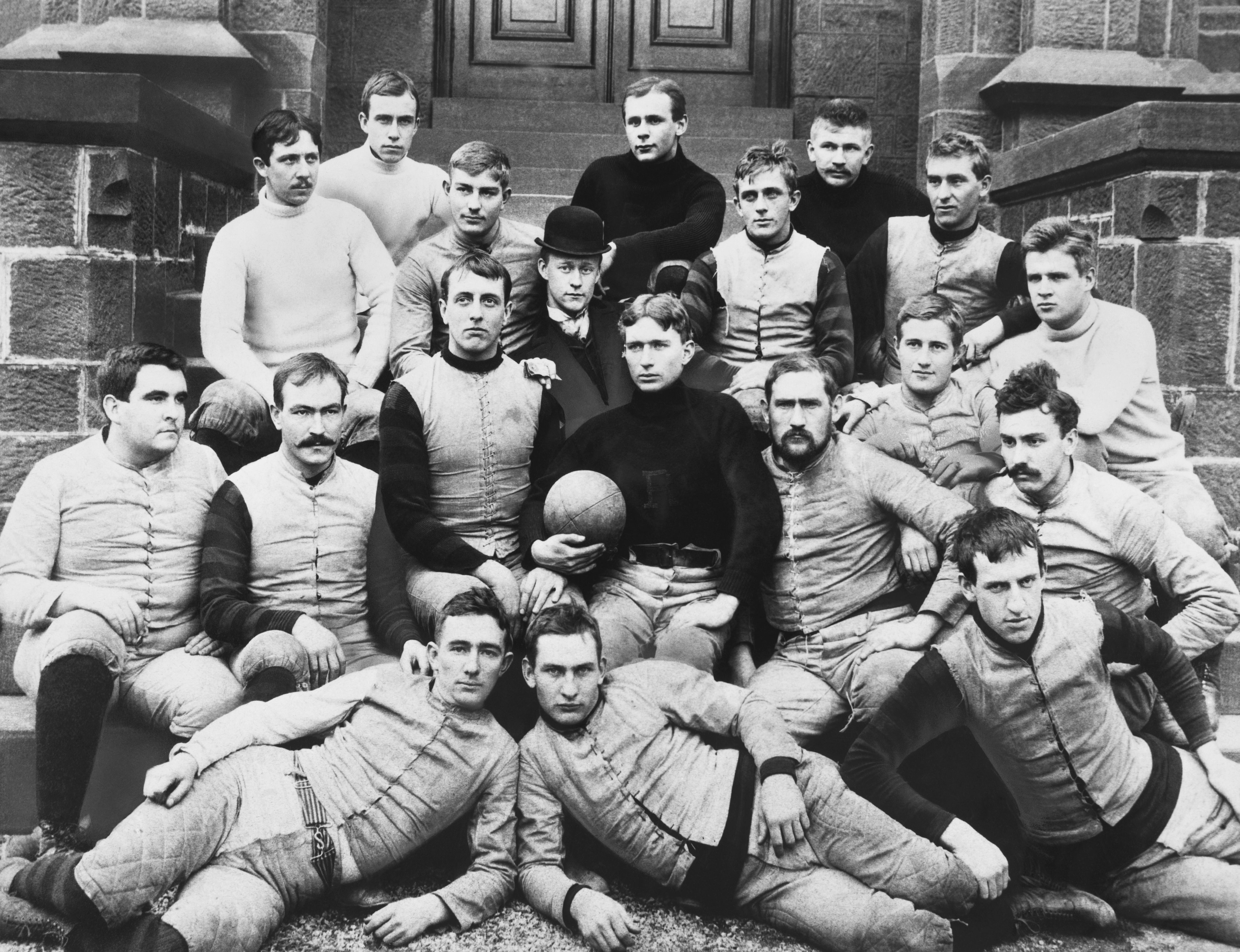 The 1891 Rutgers football team (farthest back I could find). Photo: FJ Higgins/Underwood Archives/Getty Images
150 years ago today, Rutgers beat the College of New Jersey (now Princeton), 6-4, in the first college football game ever played.
Yes, but: The game was played based on the London Football Association's 1863 rules, in which two teams of 25 players attempted to score by kicking the ball into the opposing team's goal. First team to 10 wins (hence the 6-4 score).
In other words, it was essentially soccer. But because modern college football was developed from those original set of rules, the game is widely considered to mark the official birth of the sport.
Six years later ... On June 4, 1875, Tufts and Harvard played the first college football game that actually looked like football (11 players per team, the ball was advanced by picking it up and running, play was stopped by tackling the ball carrier, etc).
Go deeper: 150 years of college football (Axios)
8. The Ocho: ⛵️ Stanford wins sailing national title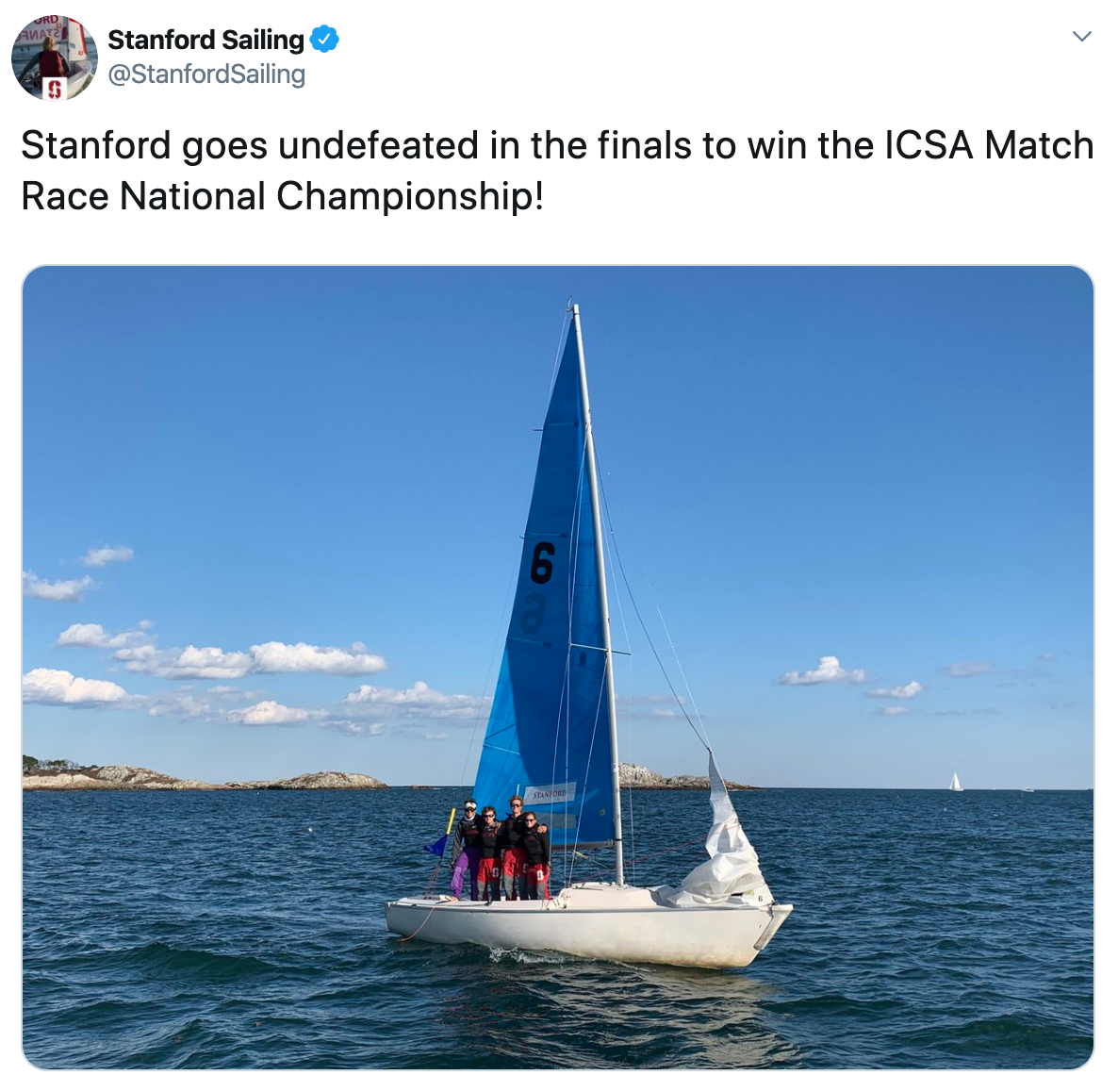 Screenshot: @StanfordSailing
Over the coming weeks, we'll be featuring stories submitted by members of our "Overtime" community (refer 3 friends below to join!). Today's comes from Eliza Garry, a Boston-based writer/publicist and former college sailor.
The Inter-Collegiate Sailing Association hosted the 2019 Match Racing National Championship this past weekend in Marblehead, Mass., Eliza writes.
The country's top 10 coed teams competed over the course of the last two months to qualify for this championship within their respective regions.
There are no "divisions" in college sailing, as it is not NCAA sanctioned. Because of this, teams from highly-funded, large D1 programs like Stanford and Wisconsin compete against smaller D3 schools like Tufts and Bowdoin.
How it works: In match racing, two teams race around a short 10-minute course, as each boat tries to outmaneuver and slow down its competitor.
Match racing is done in a variety of different boats ranging from small, two-person vessels, to the 22+ meter boats used in the America's Cup. For this competition, four-person Sonar boats were used, measuring seven meters.
The results: The 10-team event began with a full round robin, followed by the semifinals and a finals, as well as matchups in the bottom half.
Semis: Stanford def. Jacksonville; Georgetown def. Fordham
Finals: Stanford def. Georgetown to win its first national title
Final standings: 1. Stanford, 2. Georgetown, 3. Jacksonville, 4. Fordham, 5. Tufts, 6. Tulane, 7. Wisconsin, 8. Eckerd, 9. Bowdoin, 10. Washington
P.S. ... Some context: Ex-Stanford sailing coach avoids prison in U.S. college admissions scandal (Reuters)
9. 🏀 NBA trivia
James Harden posted his 80th career 40-point game on Monday, passing Allen Iverson for sole possession of 5th place in NBA history.
Question: Wilt Chamberlain holds the all-time record for 40-point games (271), followed by Michael Jordan (173). Can you name the players in third and fourth place?
Hint: Their last names start with the same letter.
Answer at the bottom.
10. 📸 Photo of the night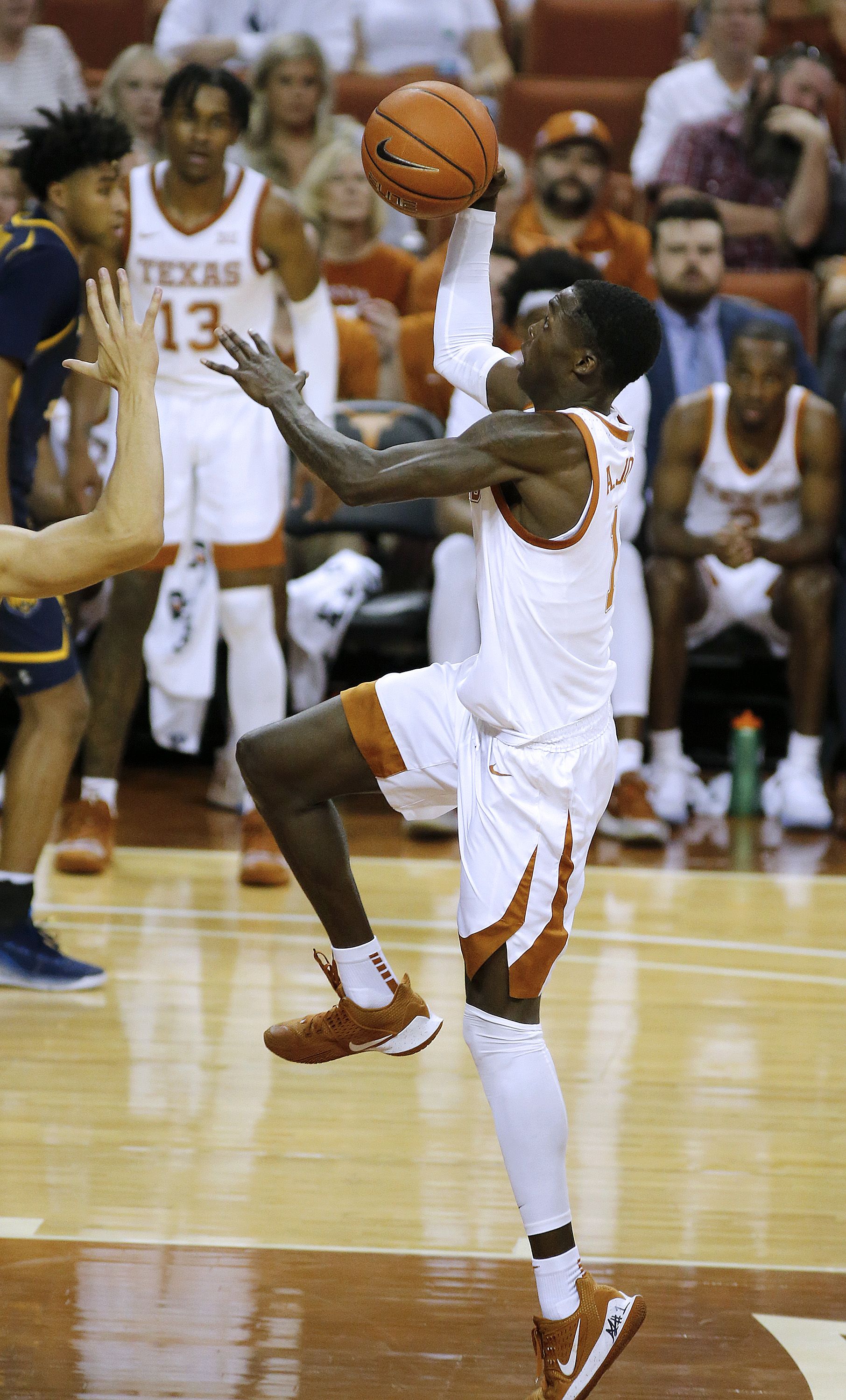 Photo: Chris Covatta/Getty Images
In his first game back after nearly two years of leukemia treatment, Texas redshirt sophomore Andrew Jones scored a career-high 20 points in the Longhorns' 69-45 win over Northern Colorado last night.
"I can't even explain the feeling. Coach gave me a pep talk before the game even started, reminding me about the 23 months since I last played and just how much work I put in. … I just had to trust everything I've been putting in to just come out here and play."
— Jones, per Longhorn Network (
video
)
Reminder: Jones was Texas' leading scorer when he was diagnosed in January of 2018 and looked like a legit NBA prospect. Hope he balls out this year.
Bonus: 🥊 Poll results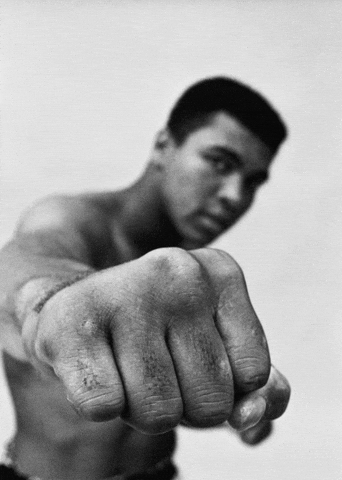 I was curious about the crossover appeal between UFC and boxing, so I asked you on Monday to select which of the following best describes you.
The results:
I like UFC (16%)
I like boxing (22%)
I like both (17%)
I like neither (45%)
Talk tomorrow,
Kendall "Congrats to Tufts University for the double mention today!" Baker
Trivia answer: Kobe Bryant (117) and Elgin Baylor (88)