Axios Sports
April 20, 2021
👋 Good morning! European soccer's proposed Super League has captured the world's attention and sparked intense debate. We'll have coverage all week.
Today's word count: 2,096 words (8 minutes).
1 big thing: ⚽️ Tilting the playing field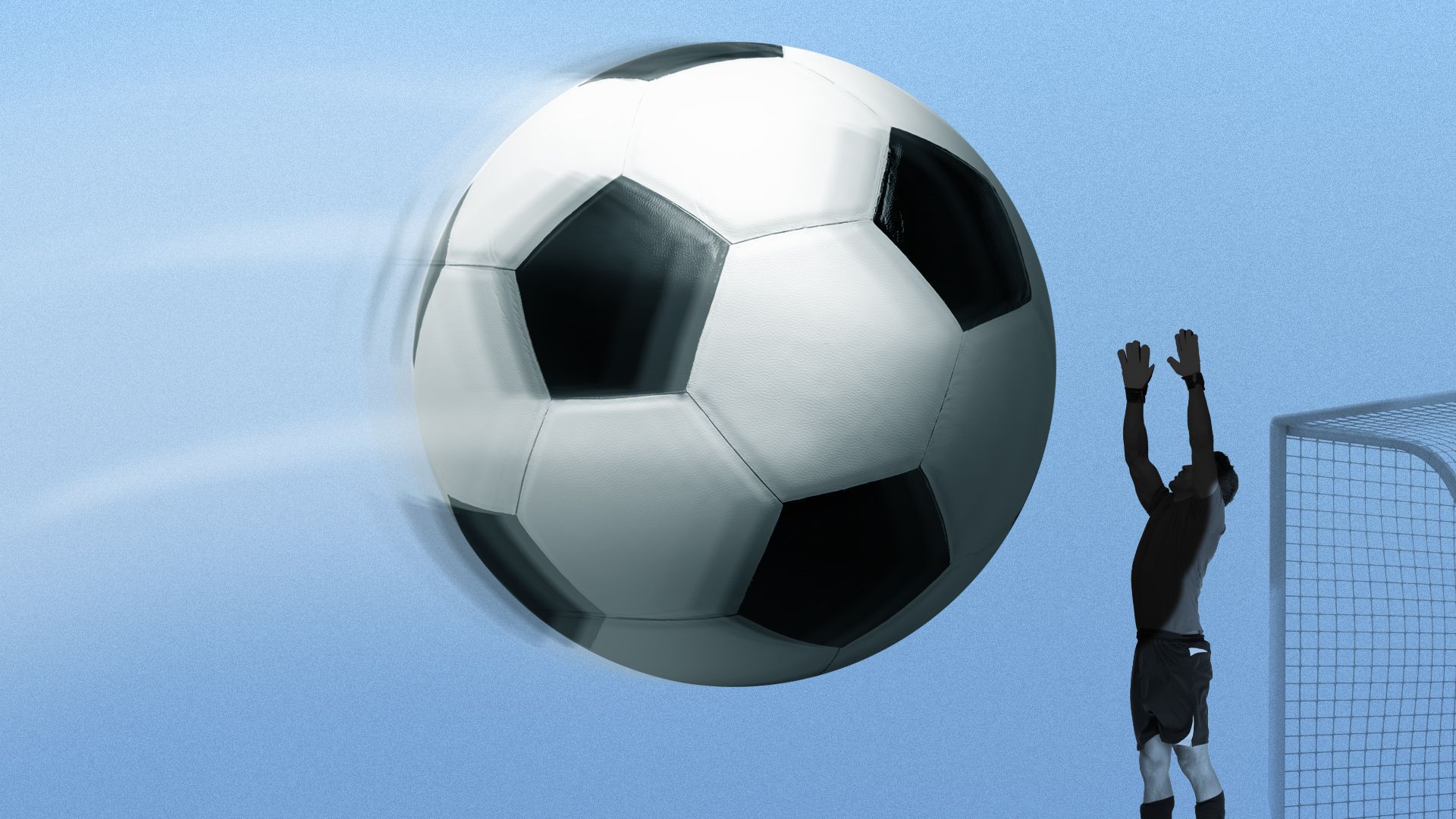 At the heart of all sport is the concept of fair play. Now, a group of a dozen billionaires is trying to take the most popular sport on the planet and tilt it decisively in their own favor, Axios' Felix Salmon writes.
Why it matters: Sports is never quite as egalitarian or meritocratic as many of its practitioners believe. But the brazenness of the proposal to create a soccer Super League is unprecedented, and has angered everybody from grassroots fans to heads of state.
The big picture: There are two conceptions of fairness in a professional sports league.
In the U.S., a set group of teams constitutes a league, and various mechanisms exist to keep those teams competitive with each other. There's little if any prize money for winning championships; indeed, it's the lowest-ranked teams that are rewarded with early draft picks.
In Europe, anybody can set up a team, and they all compete to see who's best. At the end of each season, the top teams get promoted to a higher division (or get to compete in the Champions League); the bottom teams get relegated. Your fate is entirely a function of how well you play on the field.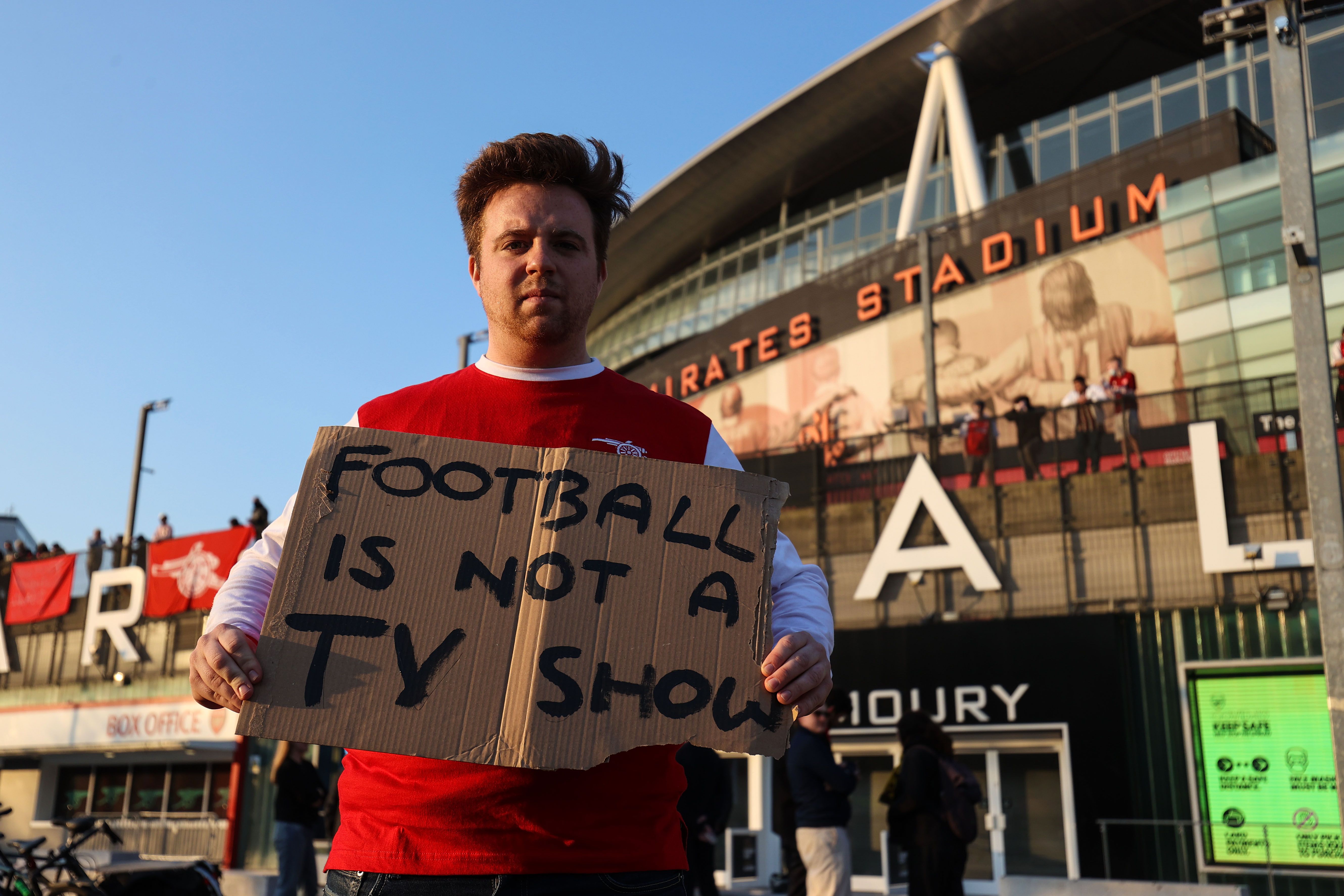 How it works: The proposed Super League takes the unfairness of the U.S. system — the fact that leagues are closed, accessible only to the chosen few — and takes away the elements that help to even things out.
One source tells Axios that the Super League prize pool will be the richest in sports, designed to encourage fierce competition — and spending — between teams.
Winning big prizes gives teams an advantage, since it allows those teams to buy up the best (and most expensive) players. An extra advantage comes from permanent membership in the Super League, which will guarantee a constant stream of TV money.
The backdrop: The breakaway teams are owned by a group of billionaires who have never been much loved by fans. Soccer has seen no shortage of greedy owners buying trophies, but it's never been as brazen as this.
In a world increasingly attuned to inequality, where sports are an equalizer and an engine of social mobility, the billionaires' timing couldn't be worse.
The bottom line: The Super League is a way for super-elite clubs to tap into lucrative revenue streams and to cement an unassailable status as the only teams who can afford to compete at the very top level.
That is so undemocratic on its face that the parliament in the U.K. — home to half of the 12 teams — is already looking hard for ways to prevent the league from ever seeing the light of day.
Sign up for Felix's weekly newsletter, Axios Capital, which covers all the ways that money drives the world.
2. 🏒 Marleau tops Mr. Hockey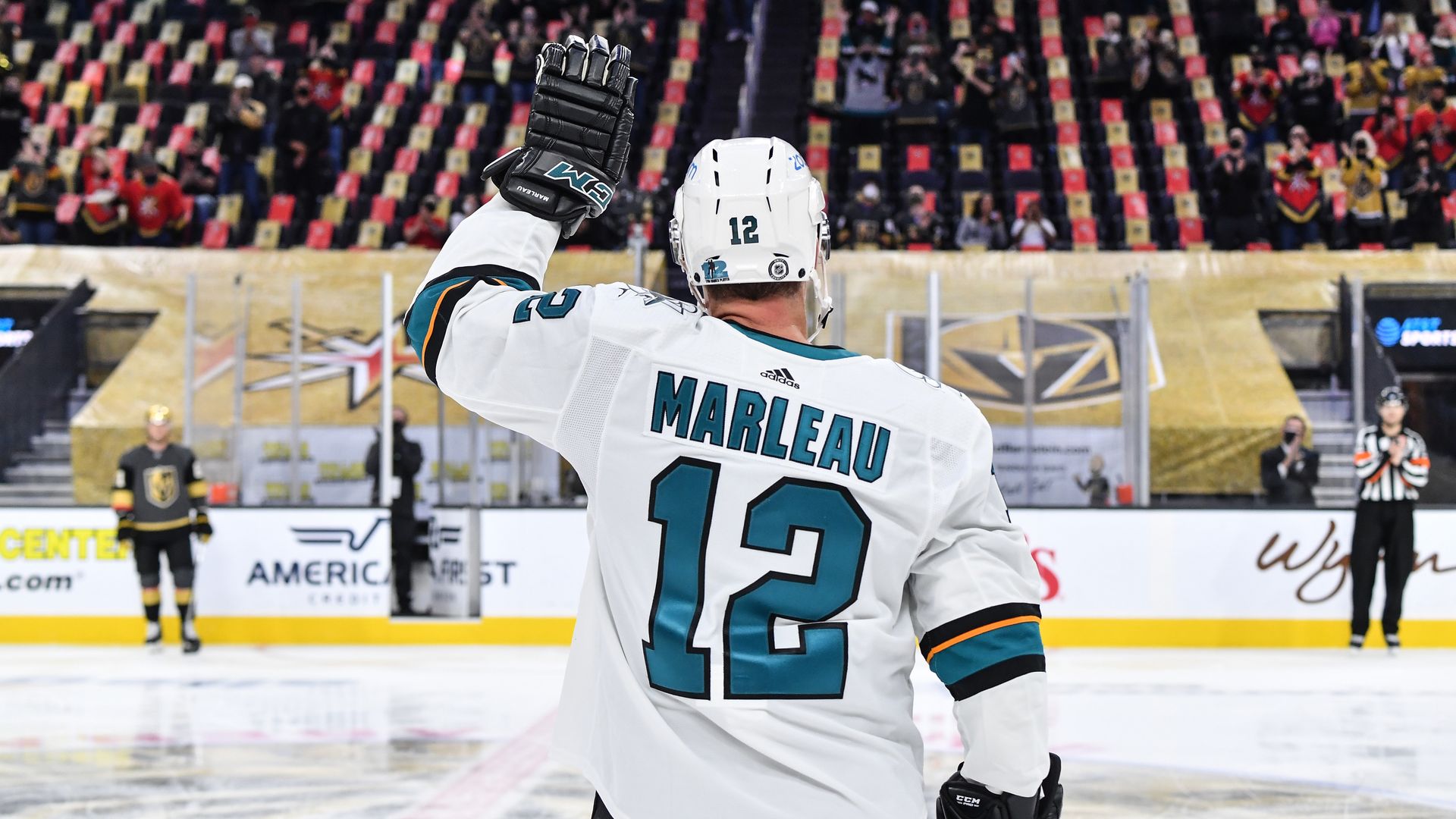 Patrick Marleau played in his 1,768th career game on Monday night, passing Hall of Famer Gordie Howe for the most in NHL history.
"You don't really know how you're supposed to feel. ... I'm just trying to embrace it and take it all in. I love being able to thank the people that helped me along the way."
— Marleau, before the game
By the numbers: Marleau, 41, has not missed a game since the 2008-09 season and has played in more than 98% of the possible games over 23 seasons with San Jose, Toronto and Pittsburgh.
Howe, nicknamed "Mr. Hockey," amassed his total over 26 seasons, before finally retiring at age 51. Both players were born in Saskatchewan.
Five players — all Hall of Famers — played against both Marleau and Howe: Wayne Gretzky, Mark Messier, Kevin Lowe, Mike Gartner and Ray Bourque.
This was Marleau's 899th consecutive game, which trails only Keith Yandle (911) for the NHL's longest active iron-man streak.
The big picture: Hockey has changed dramatically since Marleau debuted in 1997, with rule changes, different playing styles and the gradual disappearance of fighting ushering in a new era.
"If he started a journal from Day 1 until now, I'd be the first guy to read it, because he would be able to tell a long story about a great game that's changed over decades."
— Kings coach Todd McLellan,
via NYT
Wild stat: To put Marleau's feat in perspective, the Seattle Kraken — set to debut next season — won't play their 1,768th game until 2043.
3. 🏀 Cooking with gas: Curry hotter than ever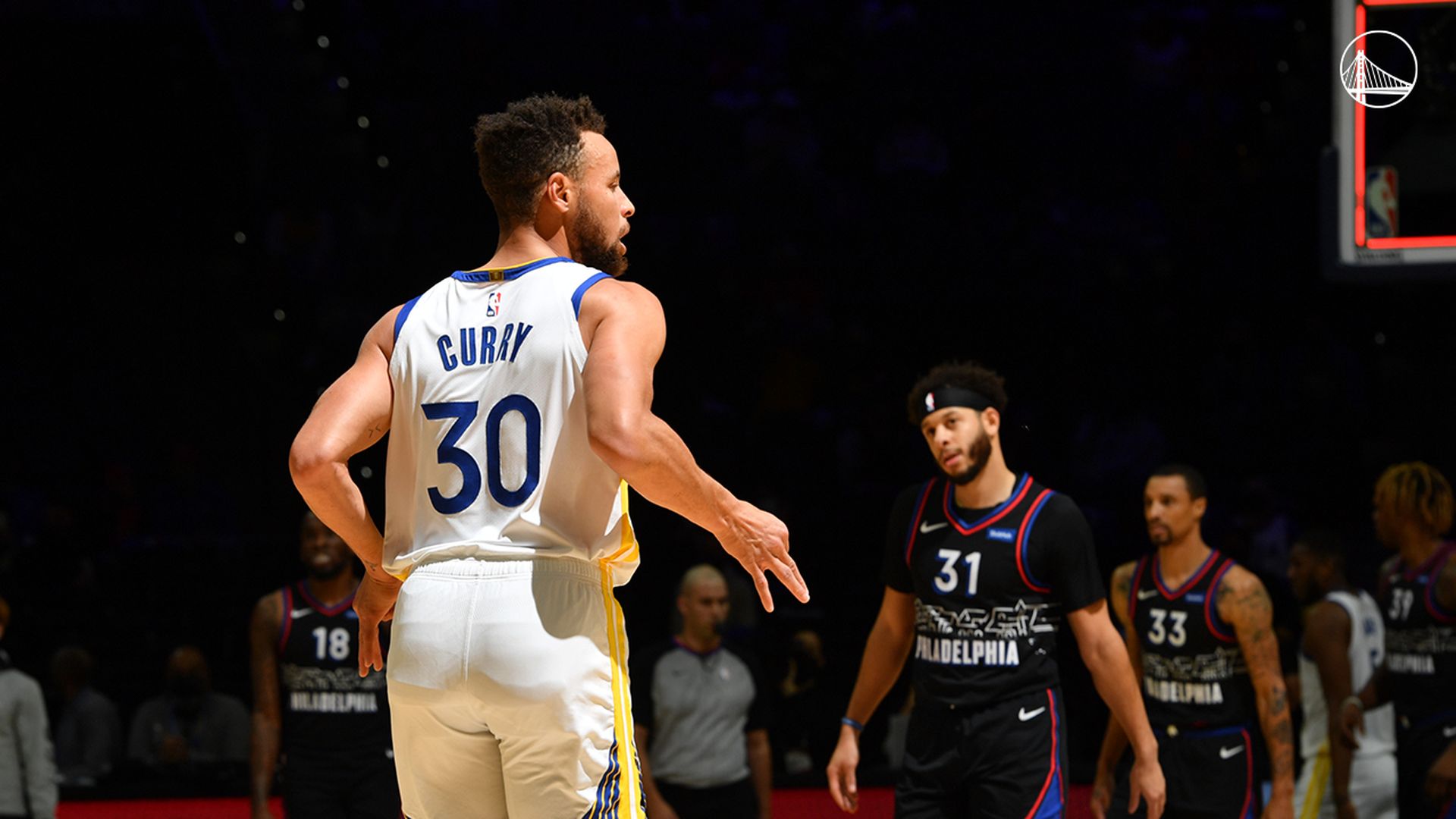 Steph Curry poured in 49 points (14-28 FG, 10-17 3PT) in a 107-96 win over his brother, Seth, and the East-leading 76ers.
Why it matters: A week after overtaking Wilt Chamberlain as the Warriors' all-time leading scorer, the best shooter in basketball history is hotter than he's ever been.
By the numbers: Curry is the first player in NBA history age 33 or older to score 30+ points in 11 straight games, passing Kobe Bryant.
Last five games: 44.8 points, 9.2 threes, 5.2 rebounds, 5.0 assists, 55.6% FG, 55.4% 3PT, 91% FT
Month of April: 39.9 points, 6.9 threes, 6.6 rebounds, 4.3 assists, 55.6% FG, 49.2% 3PT, 90.8% FT
Wild stat: Curry has 26 career games with 10+ made threes, including six this season alone. No other player in NBA history has more than five in their career.
"I've seen Kobe Bryant early in his career, had a stretch where he went nuts. Obviously, Michael Jordan had some stretches where he just scored like crazy, but obviously nobody's ever shot the ball like this ... Even by Steph's own lofty standards, this is above and beyond."
— Warriors coach Steve Kerr
What to watch: Curry is on pace to join James Harden, Elgin Baylor, Kobe Bryant (3x) and Wilt Chamberlain (11x) as the only players to average 40 points in a month.
4. ⚾️ Fantasy baseball, but make it real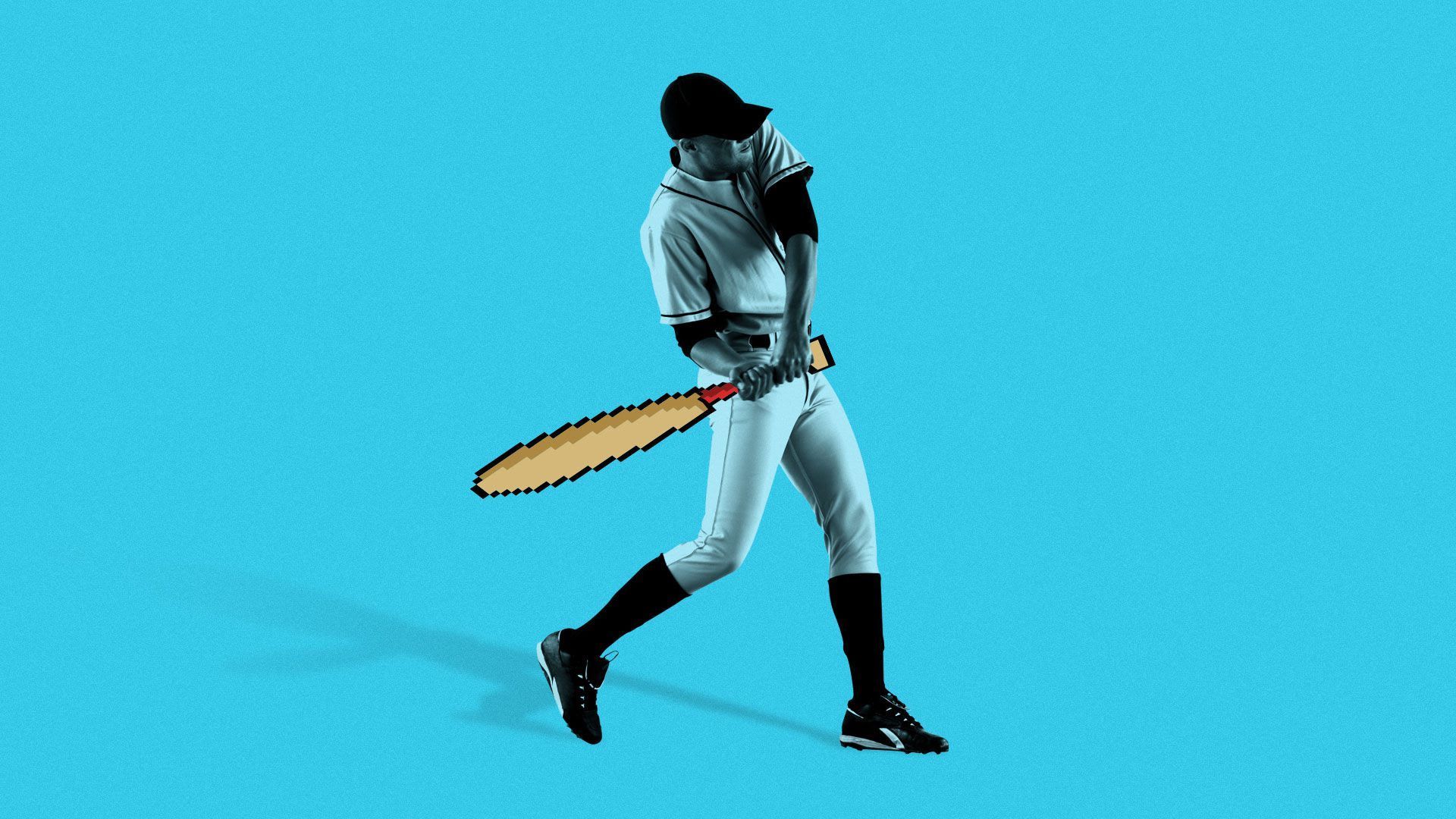 What if playing fantasy baseball more closely approximated what it takes to actually run a major league team? Niv Shah's creation, Ottoneu Fantasy Baseball, turns that hypothetical into reality, Axios' Jeff Tracy writes.
Why it matters: In addition to giving baseball nuts a more analytically-inclined fantasy outlet, Ottoneu has literally landed folks gigs in MLB.
"One of the things I'm most proud of is that a bunch of people have had to stop playing because they started working in MLB front offices," Shah tells Axios.
"That, to me, is the coolest thing. People move from Yahoo! to this and start thinking a little bit more like a front office. And if you have that inspiration to go further, people have shown that you can."
The backdrop: When "Moneyball" was released in 2003, it made a generation of baseball fans realize how flawed player evaluation systems were.
Modern fantasy baseball was about 20 years old at this point, but the options were (and most still are) centered on traditional stats like batting average, RBI and wins. So Shah, an Indians fan, decided to build a more complex version himself.
In 2011, Ottoneu partnered with baseball analytics site FanGraphs, and since 2015 Shah has worked on it full time out of his Washington, D.C., apartment.
How it works: Shah says the guiding principle of his creation was to make transactions and player evaluation feel as realistic as possible.
Scoring: The most popular formats are points games based on wOBA (weighted on-base average) and FIP (fielding independent pitching). They, like the category options, are designed to reward stats that more directly correlate to on-field success.
40-man rosters: While just ~22 players are active, managers fill out their squad with cheap prospects who may be years away from contributing — like a real-life farm system.
Salary cap, plus inflation: The draft and free agency are done by auction, and there's a $400 salary cap. Each year, player salaries increase by $1 (minor leaguer) or $2 (major).
Arbitration: In the offseason, managers get a $25 "arbitration allocation budget" to ensure players aren't making below-market salaries. For example, if you picked up Fernando Tatís Jr. for $5 before his breakout season, other managers will chip in to raise his salary, forcing you to decide whether he's still worth keeping at, say, $40.
Go deeper: A boutique, brainy vision of fantasy baseball (WashPost)
5. 🌍 Photos around the world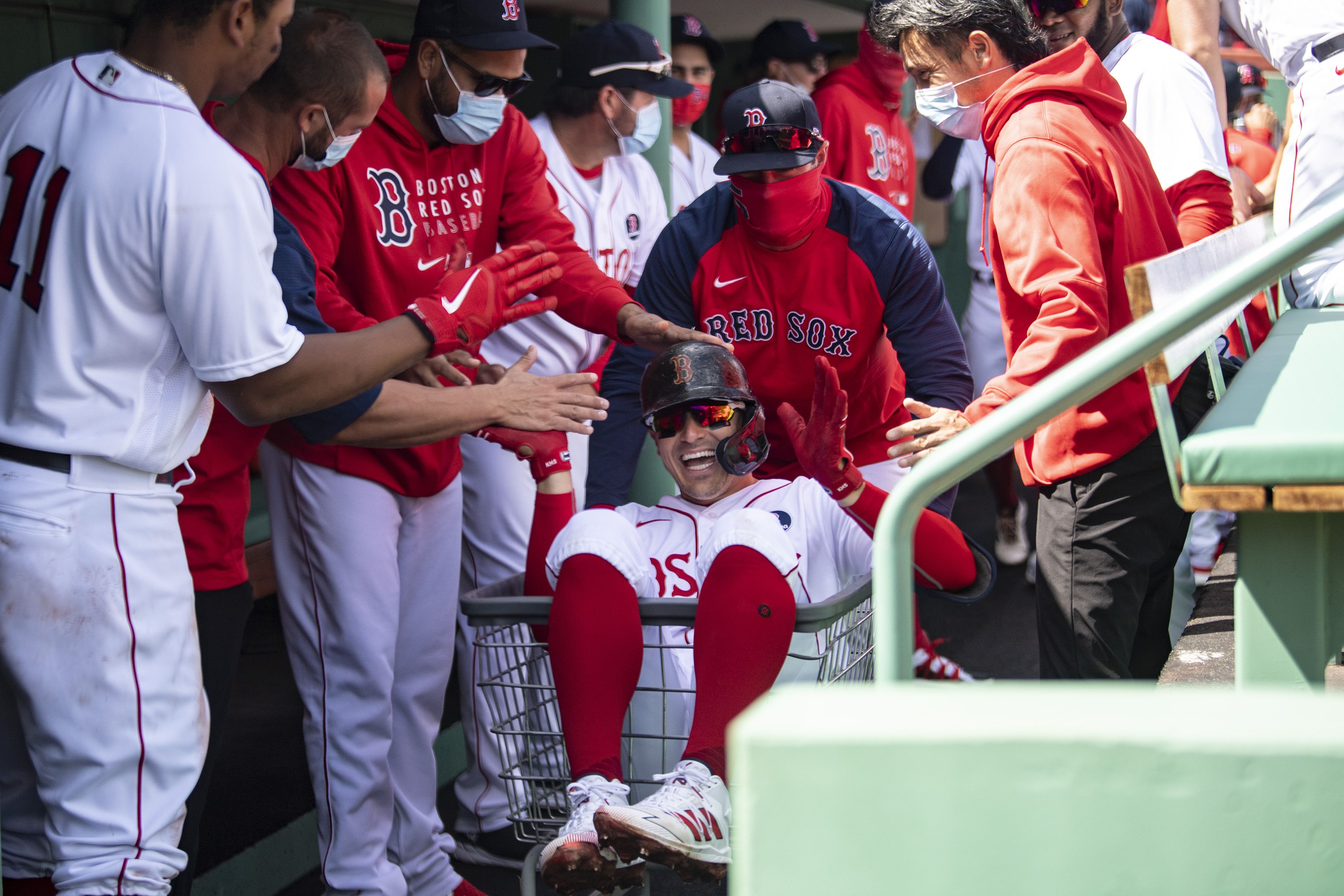 BOSTON — The Red Sox celebrated Patriots' Day with a hit parade, routing the White Sox 11-4 behind a season-high 17 hits.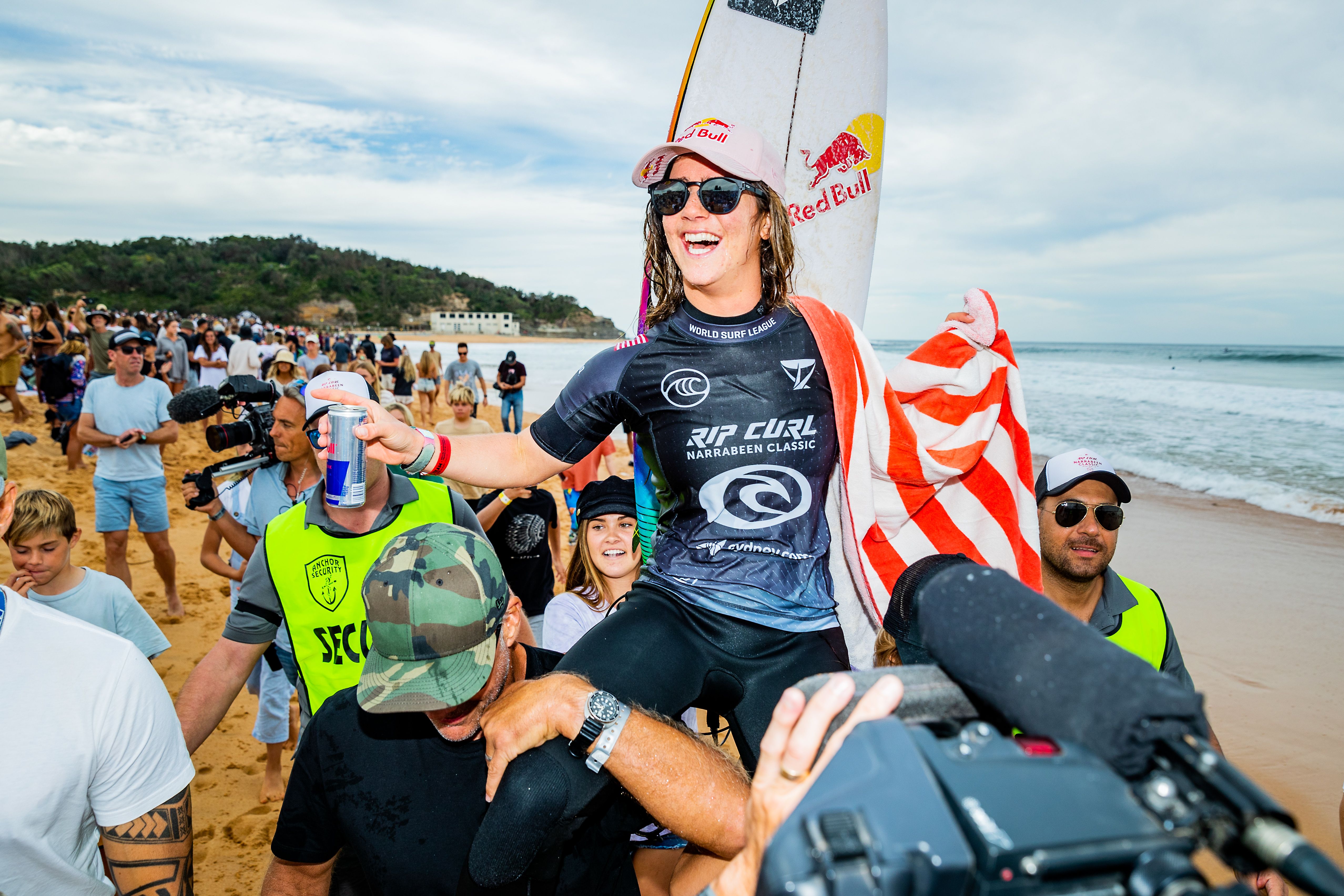 NARRABEEN, Australia — Caroline Marks of the U.S. (above) and Gabriel Medina of Brazil emerged victorious at the Rip Curl Narrabeen Classic, the latest stop on the World Surf League tour.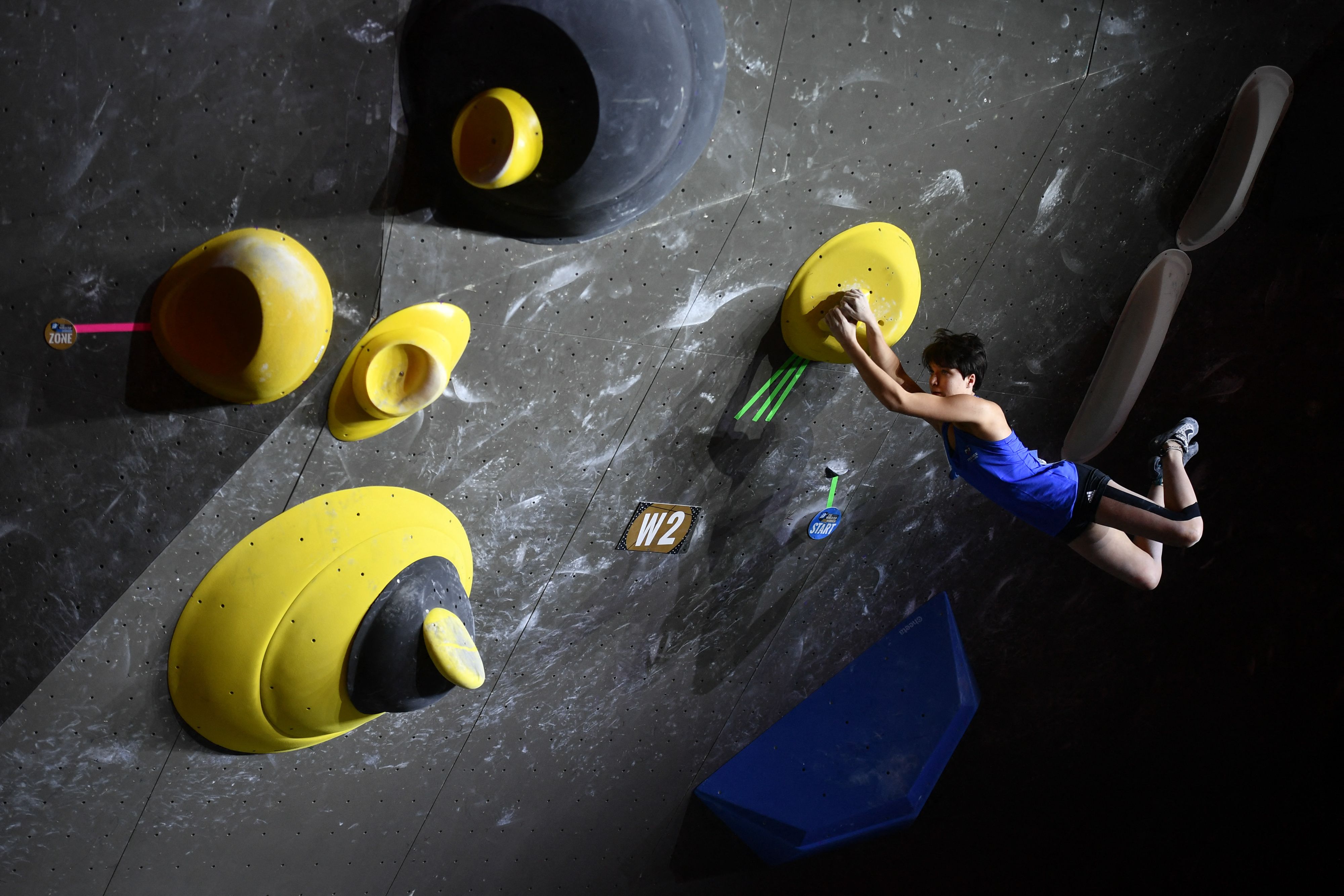 MEIRINGEN, Switzerland — After losing a whole season to the pandemic, the IFSC Boulder World Cup is back in action, beginning its 2021 global tour in Switzerland in front of limited spectators.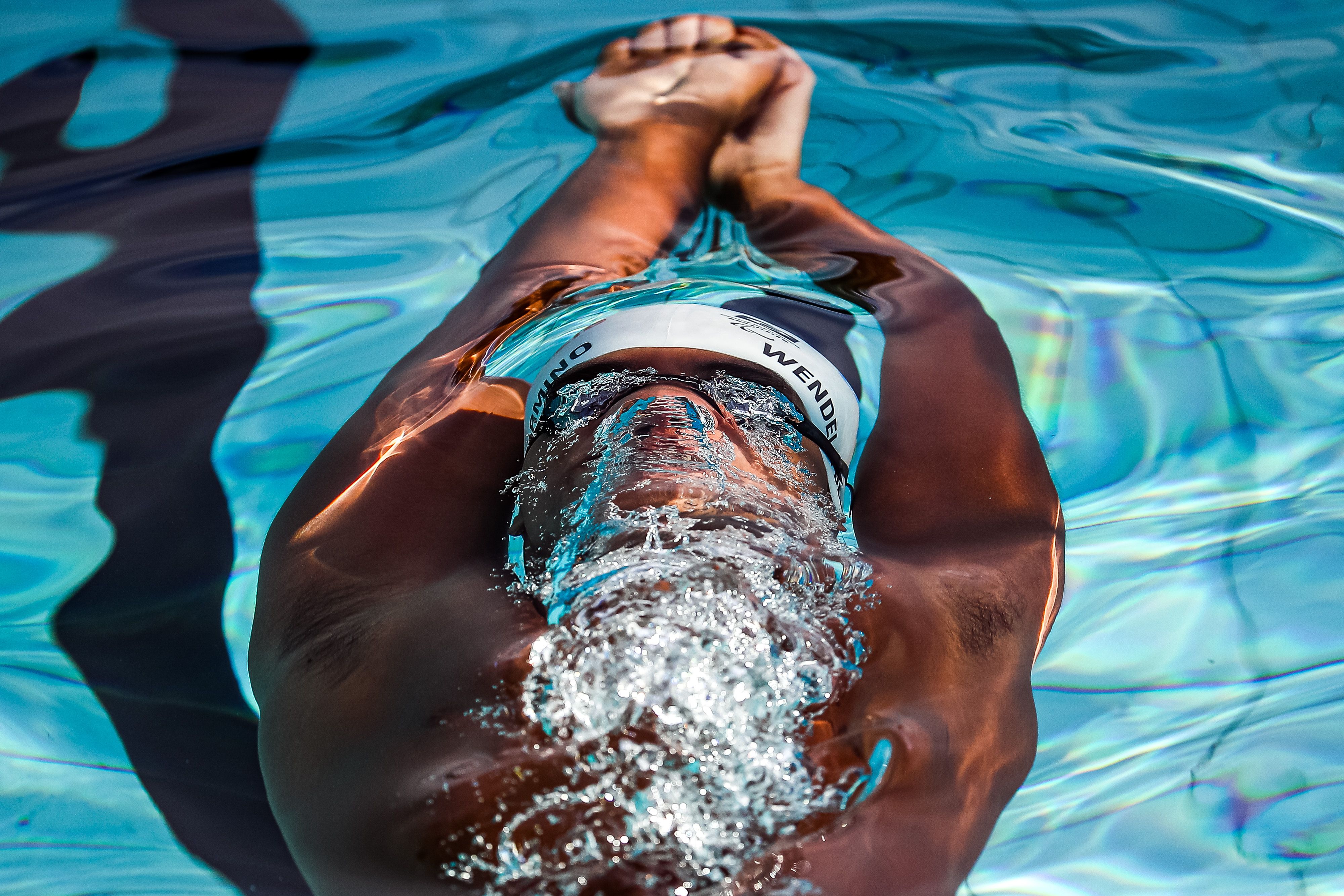 BRASILIA, Brazil — Brazilian Paralympian Wendell Belarmino was born with congenital glaucoma and has only 2% of his eyesight, but that hasn't stopped him from dominating in the pool.
🥇 Medal count: Wendell, who won six medals at the 2019 Parapan American Games in Lima, is currently training to compete in this summer's Tokyo Paralympics Games.
6. 🏈 QB spotlight: Zach Wilson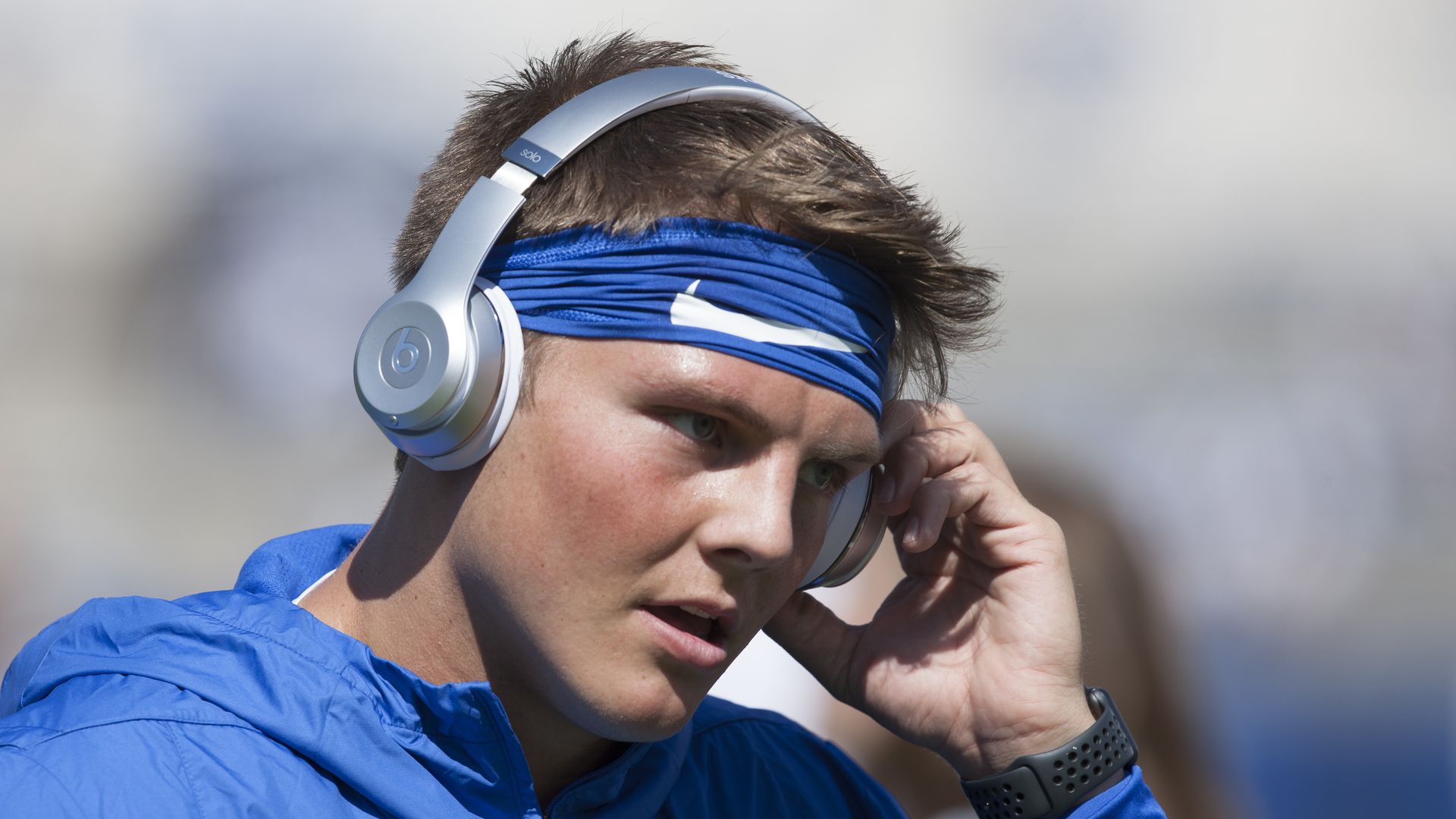 Five of the top 10 picks in next Thursday's NFL draft could realistically be quarterbacks. This week, we'll meet those signal-callers.
Zach Wilson is likely heading to the Jets as the second overall pick — a reality that would have been hard to fathom a year ago, Jeff writes.
Bio: The six-foot-three-inch, 210-pound Wilson was just a three-star recruit out of Corner Canyon High School in Draper, Utah, ranked just inside the top 1,000 players nationally.
After two fine but unspectacular seasons at BYU — 9-9 record, 28 total touchdowns against 12 interceptions — the kid with a cannon exploded in his junior season amid the pandemic.
By the numbers: Wilson led the Cougars to an 11-1 record in 2020, posting the sixth-best single-season passer rating in history (196.4) and seventh-best completion percentage (73.5%).
Fun fact: Wilson's uncle, David Neeleman, is the founder of JetBlue. So landing with the Jets would be very on-brand.
Between the lines: While Trevor Lawrence says he isn't out to prove anyone wrong, the under-recruited Wilson absolutely is.
"This guy has a chip on his shoulder. He wears a wristband that says 'Prove them wrong,' and I was like, 'Who are you trying to prove wrong, my man? Like, everyone loves you.'"
— Kirk Herbstreit, ESPN
Go deeper:
Bonus: 🏈 Where NFL QBs come from
Speaking of signal-callers, ESPN and Pro Football Reference analyzed all kinds of data about the 721 NFL QBs that have played at least one game during the Super Bowl era (1966-present).
By the numbers: California has produced by far the most QBs (141), while also topping the union with 14 Super Bowl wins, three Hall of Famers, seven No. 1 overall picks and 6,532 TD passes.
Go deeper:
7. 📚 Good read: "The Club"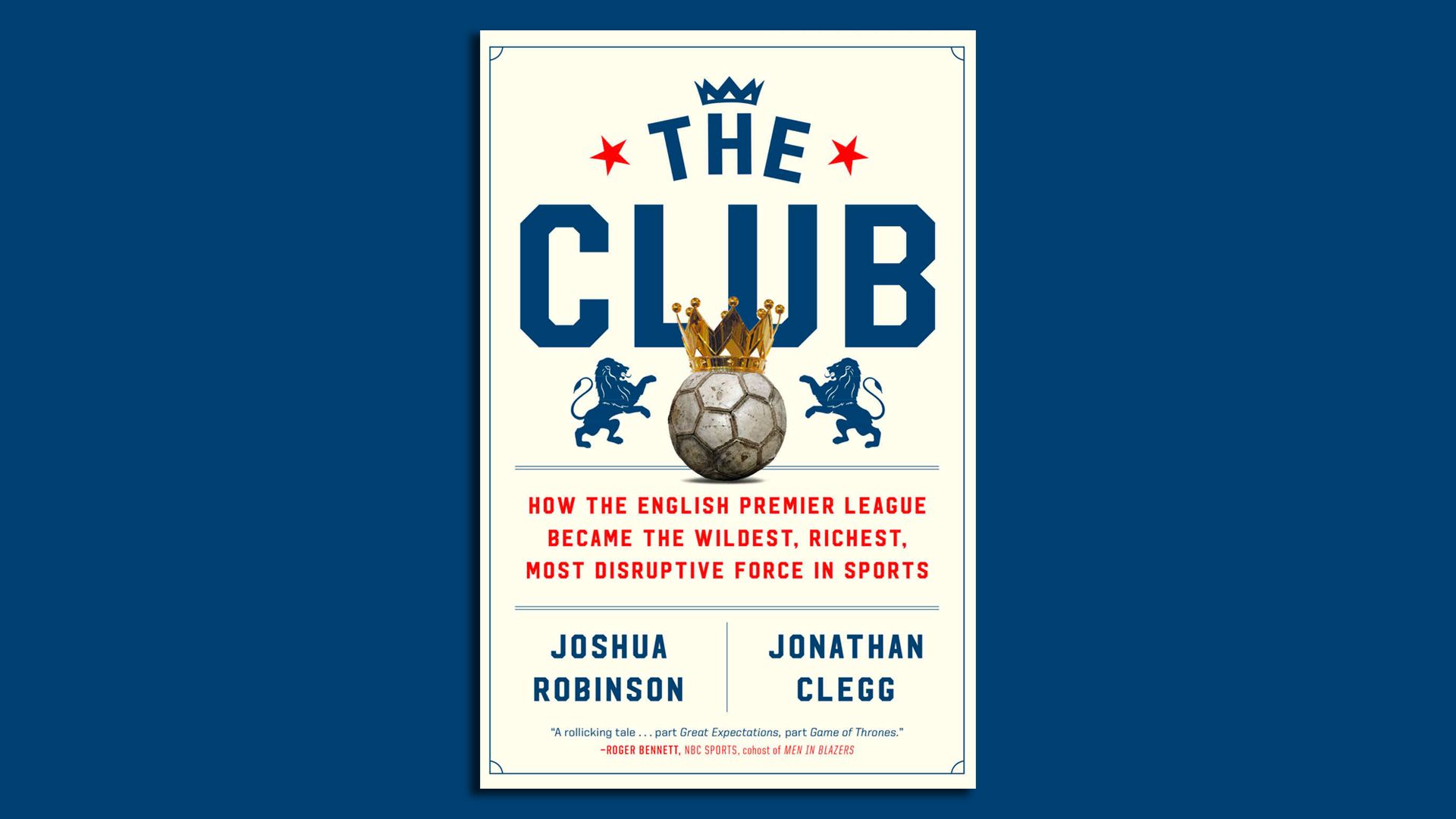 To best understand the Super League and the forces that led us here, I highly recommend reading "The Club" by WSJ's Joshua Robinson and Jonathan Clegg.
Summary: "The Club" tells the story of how the Premier League became the wildest, richest and most disruptive sports product on the planet.
"The transformation of the Premier League, from the muddy pitches ... and unglamorous pub culture of its early days to the coveted, lavish, global colossus we now know and love is a rollicking tale.
"Robinson and Clegg delight in every detail of that evolution from backwater to behemoth, spinning a narrative that is part Great Expectations, part Game of Thrones, in equal measure."
— Roger Bennett, co-host of NBC's "Men In Blazers"
8. 📆 April 20, 1916: First game at Wrigley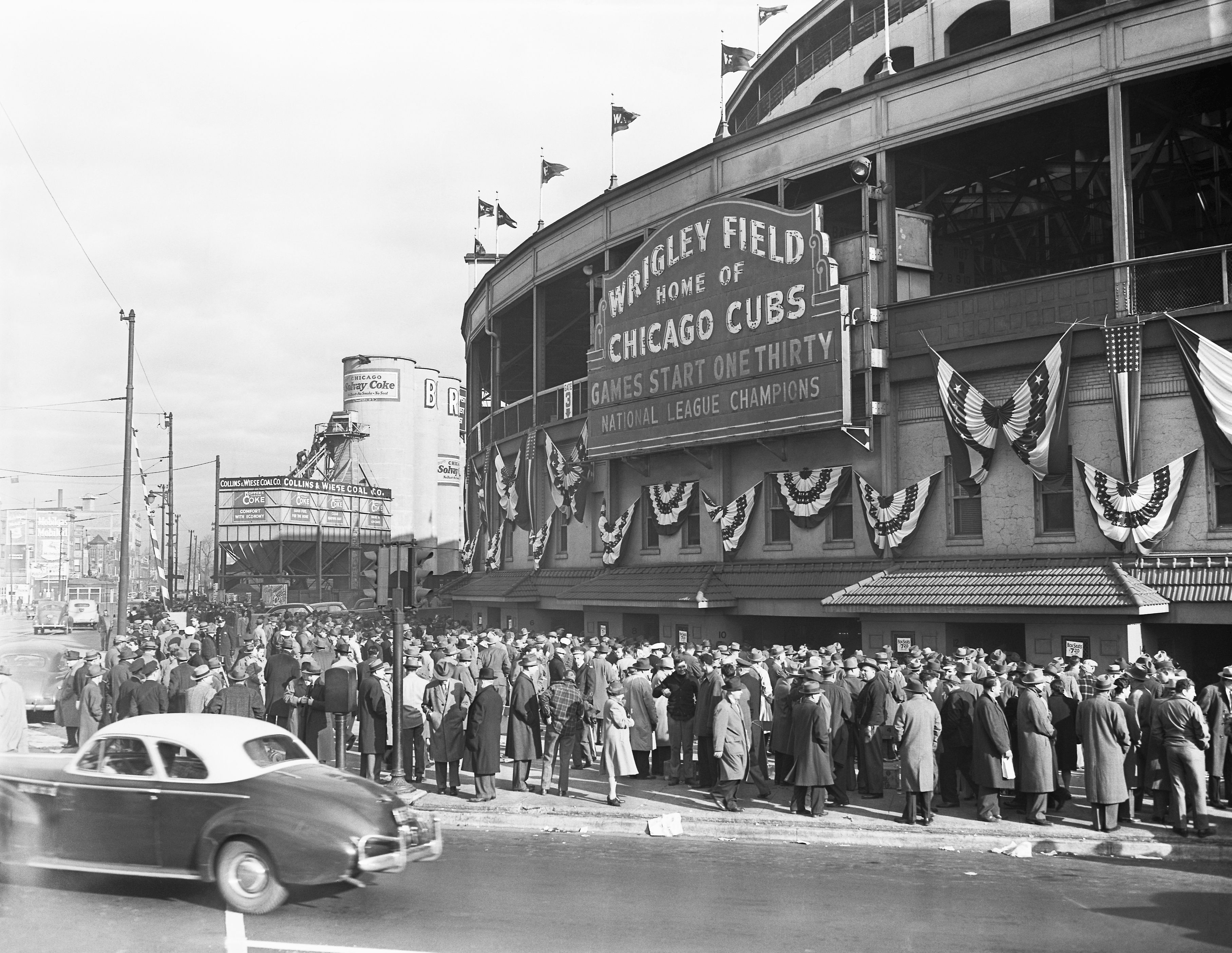 105 years ago today, the Cubs played their first game at Wrigley Field (then called Weeghman Park), a 7-6 win over the Reds on an 11th inning walk-off single.
The backdrop: Charles Weeghman helped launch the short-lived Federal League in 1914, building a new stadium for his Chicago Whales.
When the league folded in 1916, Weeghman came on as an investor with the Cubs and moved the team from their dilapidated old stadium to his beautiful new park, six miles north.
Chewing gum magnate William Wrigley also invested and soon became the team's largest shareholder. The ballpark was renamed Cubs Park in 1920, before becoming Wrigley Field in 1926.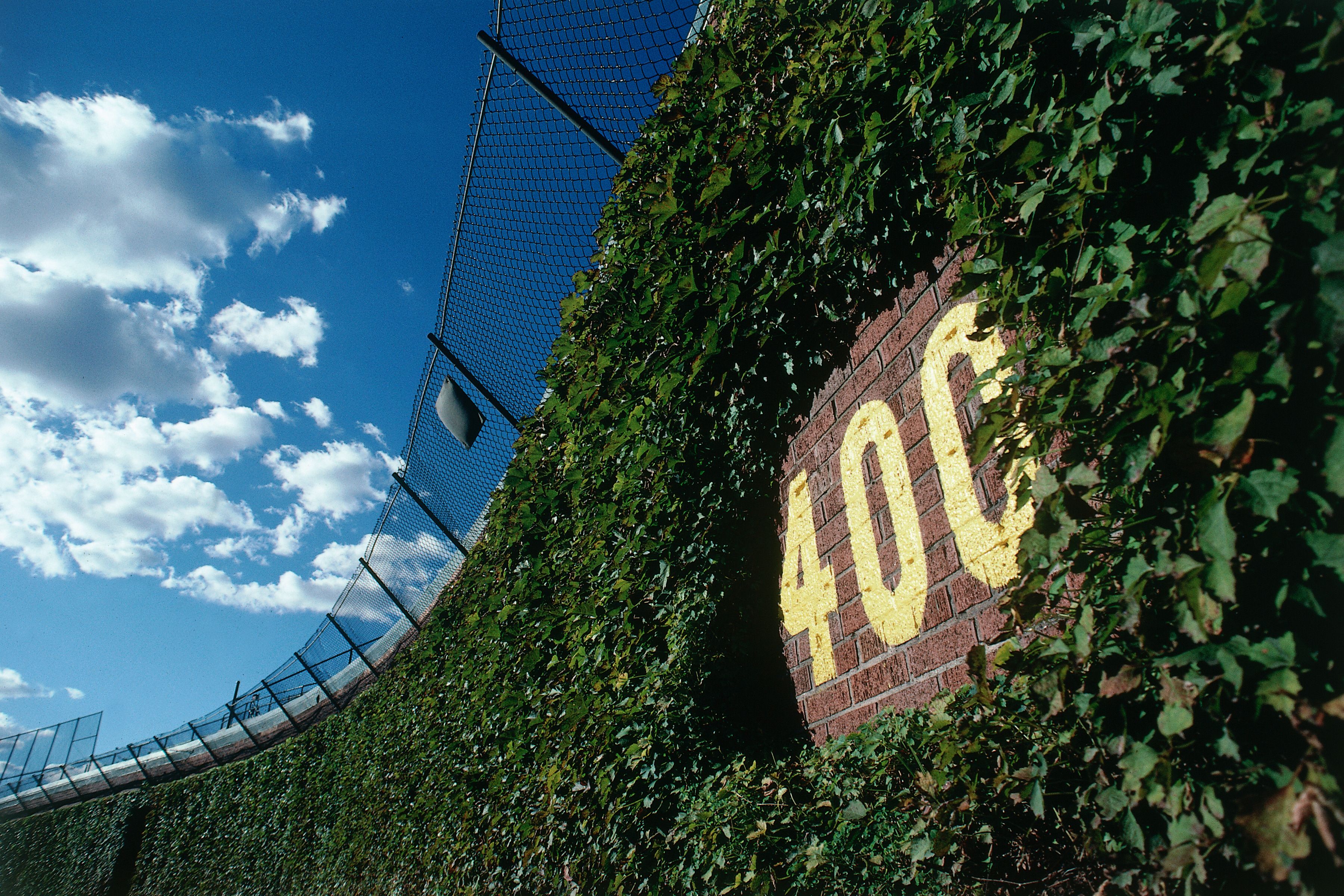 The famous ivy ... In 1937, longtime baseball owner and renowned promoter Bill Veeck was tasked with beautifying the stadium, which he accomplished by draping the fence in Wrigley's now-signature ivy.
Fun fact: MLB later made a rule requiring padding on all outfield fences, but Wrigley's ivy-covered brick was grandfathered in, meaning you do not want to run into that wall.
And if the ball gets stuck in the ivy? Congratulations, you've hit a ground-rule double.
Go deeper: Diamond in the ivy (Baseball Hall of Fame)
9. 🏈 NFL trivia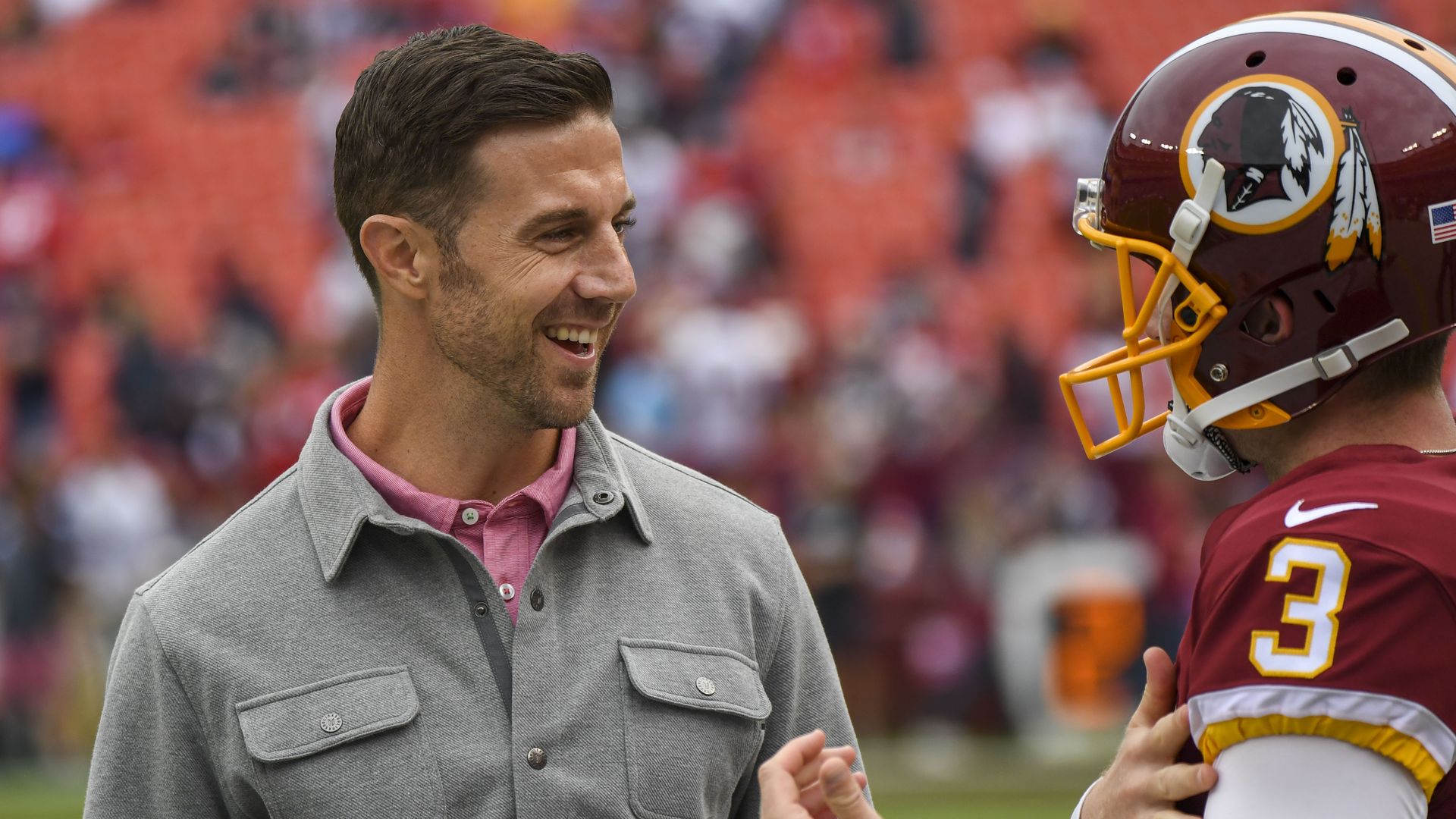 Alex Smith, who retired Monday, is one of three QBs to win 30+ games for multiple teams since 2005, the year he debuted.
Question: Who are the other two?
Hint: Like Smith, they were both No. 1 overall picks.
Answer at the bottom.
10. 🌆 Vote: America's next sports city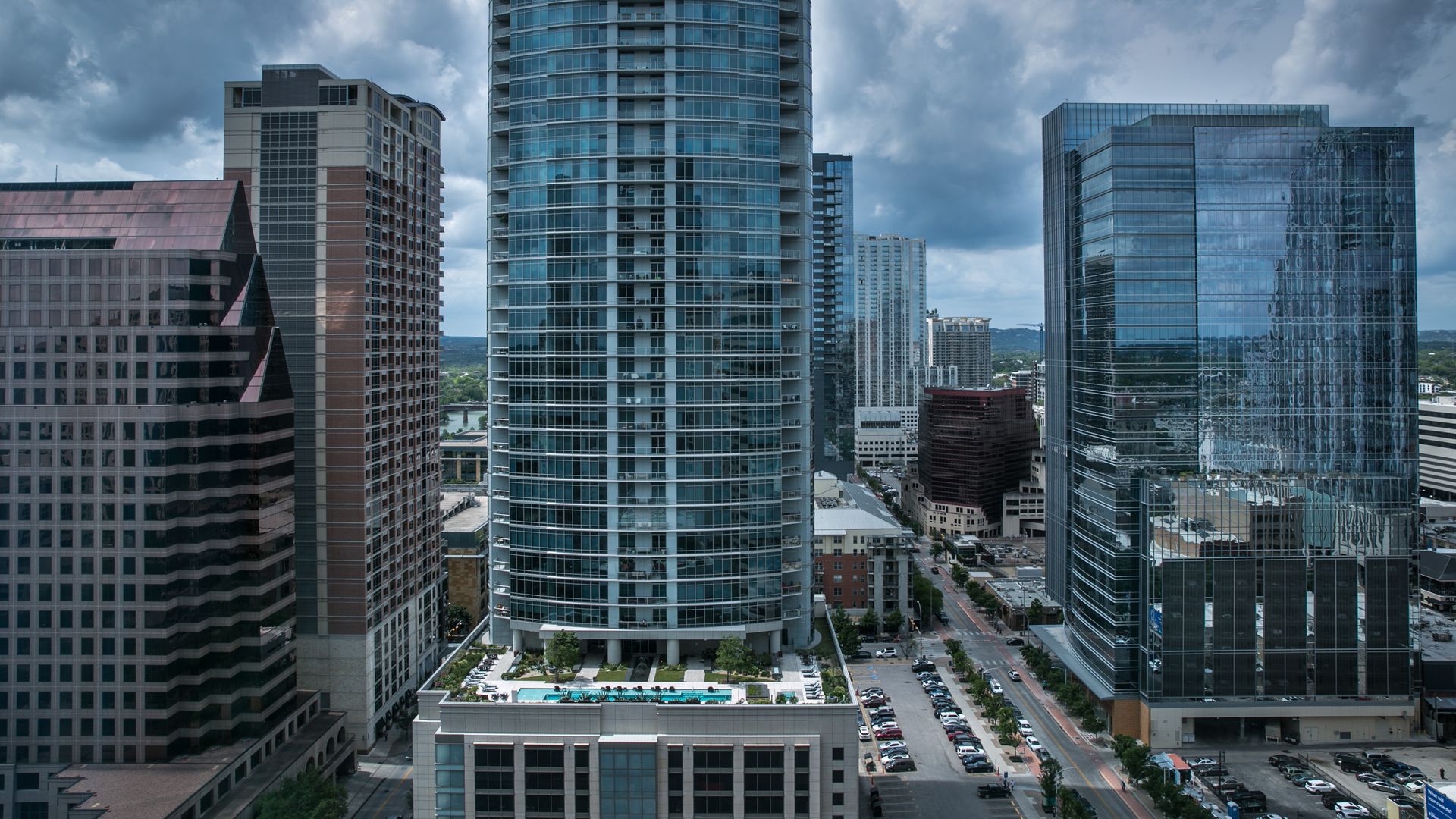 Now that Austin FC has debuted, there's one less city competing for the title of "U.S. city most deserving of a major sports team."
Question: Which U.S. city without a major sports team is most deserving of one?
Note: For the purposes of this exercise, we're considering the NFL, NBA, MLB, NHL and MLS to be the five major U.S. sports leagues.
Click here to vote. We'll announce the winner tomorrow.
Talk tomorrow,
Kendall "Steph Curry is a gift" Baker
Trivia answer: Peyton Manning and Carson Palmer
Editor's note: Story no. 4 was corrected to show FanGraphs and Ottoneu have a partnership (not that FanGraphs acquired Ottoneu).