January 19, 2021
👋 Happy Tuesday! Let's sports.
Today's word count: 1,983 words (7 minutes).
1 big thing: 🏈 QBs on the move
On most fall weekends in America, quarterbacks drive the news. That was particularly apparent over the past three days, as signal-callers moved in all kinds of directions, Axios' Jeff Tracy writes.
Moving on: Most insiders believe Drew Brees played his last NFL snap on Sunday. He has a year left on his deal, but that wouldn't stop the 20-year vet from making his Romo-esque move to the booth a year ahead of schedule.
Moving up: When Tom Brady and Aaron Rodgers meet this Sunday, they'll both have a chance to add to their playoff legacy — and continue moving up the all-time rankings in wins, yards, TDs and other meaningful stats.
Moving out? Fans organized a rally in Houston in support of Deshaun Watson, whose frustration with the team's mismanagement has fractured their relationship perhaps beyond repair.
Moving in: Trevor Lawrence, Justin Fields (declared Monday), Zach Wilson, Trey Lance and Mac Jones could all be taken in the first round of this year's draft, which would tie 2018 for the most this century.
Moving aside: When 2018 MVP Patrick Mahomes got concussed (or tweaked a nerve) in Sunday's win over the Browns, it gave 13-year vet Chad Henne the rare chance to shine. And, to the surprise of nearly everyone watching, he did.
The bottom line: Quarterback is the most important job in America's most popular sports league. And yet, it's still shocking how many narratives the NFL's leading men can create on a given weekend.
Elsewhere...
Coaching carousel: The Chargers hired former Rams DC Brandon Staley and the Falcons tabbed former Titans OC Arthur Smith to run the show, leaving three vacancies open (Eagles, Lions, Texans).
Bills Mafia for the win: Following their team's win over Lamar Jackson (concussion) and the Ravens, Bills fans began donating to Jackson's favorite charity, Blessings in a Backpack, which works to fight childhood hunger. By Monday evening, donations had reached $360,000.
Go deeper: How the conference title matchups reveal what matters most in today's NFL (The Ringer)
Bonus: 🏈 Brees' incredible ride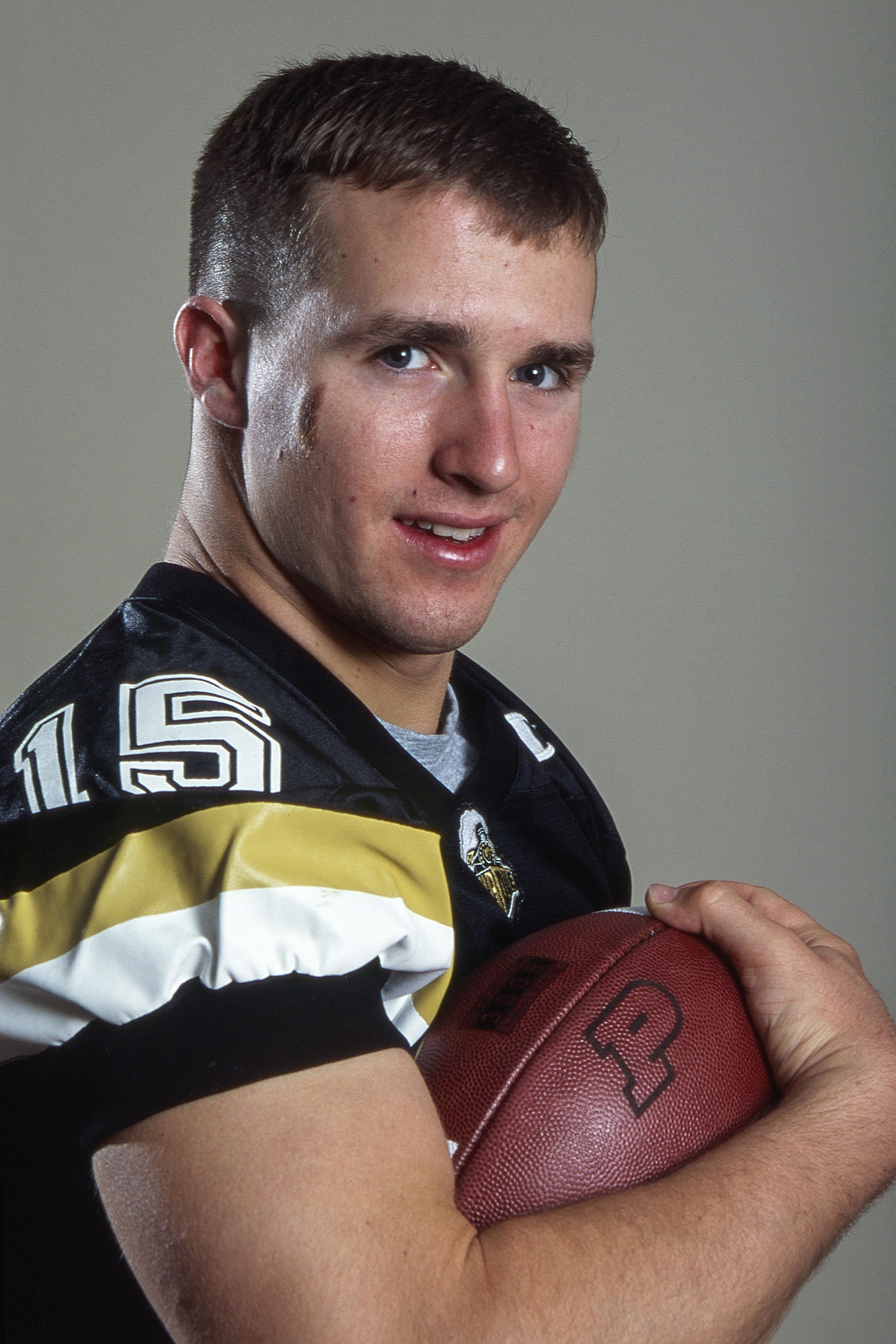 If this is the end for Brees, what a ride it's been...
1997: Graduates from Austin Westlake HS (Austin, Texas)
2000: Finishes third in Heisman voting
2001: Drafted by the Chargers with the No. 32 pick
2006: Signs six-year, $60 million deal with the Saints
2010: Wins MVP of Super Bowl XLIV
2013: Youngest QB to reach 50,000 passing yards
2015: Eighth QB to throw seven TDs in a game
2018: Third QB to beat all 32 NFL teams
2019: Completes 29 of 30 passes to set single-game mark
2021: Plays what might be his final game; leaves the field ranked first all-time in completions and yards and second to Brady in passing TDs.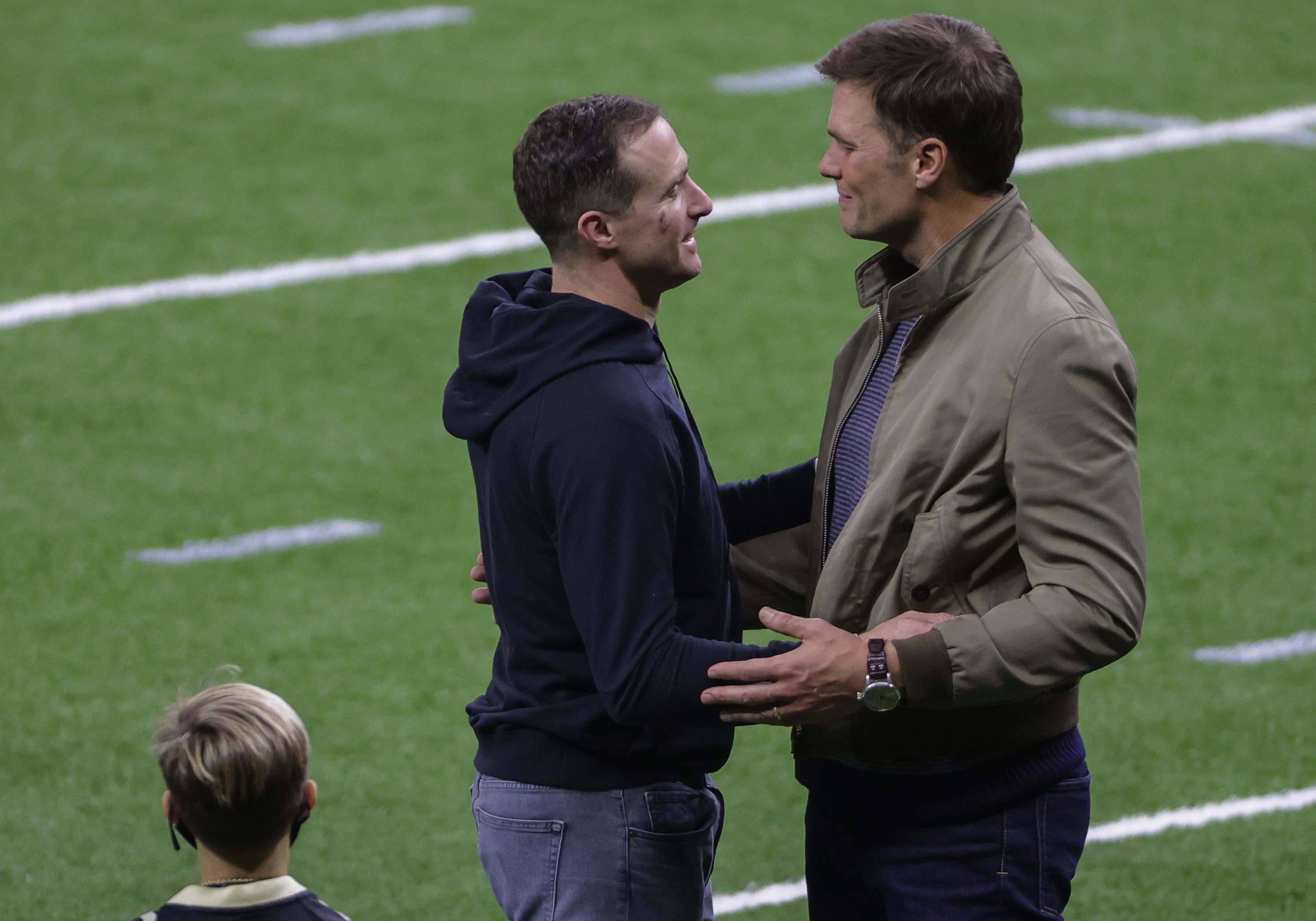 Go deeper: Brees and Brady stare down athlete mortality (GQ)
2. 🏀 NBA valuations: Knicks, Warriors top list
The average NBA team is now worth $2.4 billion, according to Sportico's debut NBA valuation rankings.
The backdrop: Cumulative revenue for the NBA's 30 teams was down 10% due to the pandemic. But Sportico found that national revenues dipped only 2% thanks to the Disney World bubble, representing remarkable stability.
Of note:
The Knicks ($5.42B) sit atop the list partly because Madison Square Garden is a cash machine for corporate clientele, Sportico's Peter J. Schwarz tells me. "Even though the Knicks have been lousy for so long, they're still able to command premium prices for suites, premium seating and sponsorships."
The Warriors ($5.21B), who sold for a then-record $450 million in July 2010, are now the second most valuable team thanks partly to real estate. They own and operate Chase Center, and they're landlords to Uber and other businesses on the property. (The Lakers, by comparison, don't own Staples Center.)
The Raptors ($2.55B) are now worth 59% more than their entire parent company — which also includes the Maple Leafs, Scotiabank Arena and a real estate venture — was worth in 2012.
The big picture: While the NFL remains America's most popular sports league by a wide margin, NBA teams are increasing in value at a much faster rate.
As we noted last year, the average NBA team saw its value rise by 476% between 2010 and 2019, while NFL teams saw just a 179% increase.
On the hardwood ... The four most valuable teams were all in action Monday.
Knicks 91, Magic 84: R.J. Barrett (22 pts, 10 reb) and Julius Randle (21 pts, 17 reb) led New York to its second straight win.
Warriors 115, Lakers 113: Steph Curry (26 pts) and the Dubs rallied from a 14-point, fourth-quarter deficit to take down the defending champs.
Nets 125, Bucks 123: James Harden (34 pts, 12 ast) and Kevin Durant (30 pts) have scored or assisted on 84% of Nets points in their first two games together.
3. ⚾️ The greatest (forgotten) game ever played
Martin Luther King Jr. once said, "If I cannot do great things, I can do small things in a great way," Jeff writes.
It's a lesson MLB stars took to heart in the spring of 1970, when they trotted out on the field for an exhibition game to honor him.
It took place at Dodger Stadium on March 28, 1970, less than two years after King's death, and remains one of the greatest (forgotten) games ever played.
How it worked: The Baseball Writers' Association of America selected two players from each of MLB's 24 teams, with rosters broken up by East and West.
East: Managed by Joe DiMaggio; included future Hall of Famers Ernie Banks, Roberto Clemente, Bob Gibson, Al Kaline, Frank Robinson, Ron Santo, Tom Seaver, Lou Brock and Willie Stargell.
West: Managed by Roy Campanella; included future Hall of Famers Hank Aaron, Rod Carew, Orlando Cepeda, Reggie Jackson, Johnny Bench, Joe Morgan, Pete Rose and Willie Mays.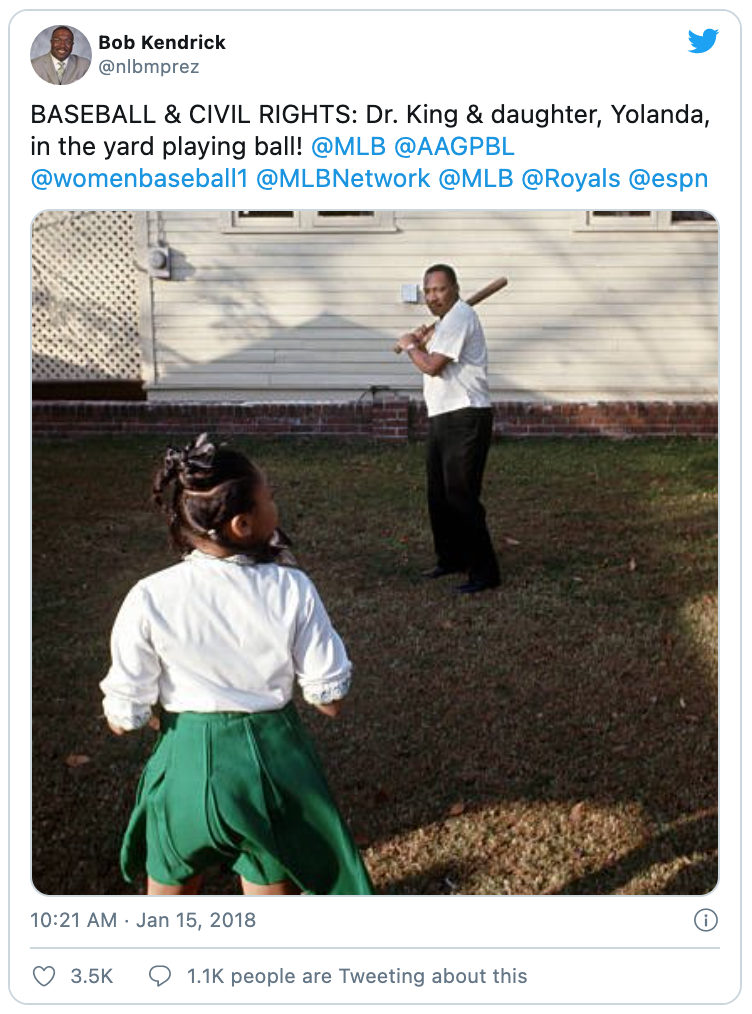 The game: The East won, 5-1, behind six shutout innings from Tom Seaver and Bob Gibson. 31,694 fans attended, $30,000 was raised, and King's widow, Coretta Scott King, threw out the first pitch.
The last word, via SI's Tom Verducci:
"Almost 51 years later ... the idea of what happened on March 28, 1970 seems so quaint and so simple as to be especially powerful. Think of it today: A bunch of sportscasters and sportswriters from Los Angeles pick two players from each team to play in an exhibition game.
"We're talking about the best players. Future Hall of Famers. They will fly from their spring training locales to play one afternoon game in Los Angeles and fly back. They will not be paid. All proceeds help fight social and racial injustice. Nobody says no."
4. 🏀 Men's poll: Blue bloods missing
For the first time since 1961, Duke, Kentucky and North Carolina and are all unranked in the AP men's college basketball poll.
The Blue Devils dropped out following a loss to Virginia Tech, which ended their streak of 91 consecutive weeks in the top 25.
That was second only to Kansas, which extended its record to 229 weeks. Gonzaga is now second at 87 weeks.
Conference call: The Big Ten leads the way with six teams in the top 25, while the Big 12 has five — and they're all in the top 15.
Big Ten (6): Iowa, Michigan, Wisconsin, Ohio State, Minnesota, Illinois
Big 12 (5): Baylor, Texas, Kansas, Texas Tech, West Virginia
SEC (3): Tennessee, Alabama, Missouri
ACC (3): Virginia, Virginia Tech, Clemson
Big East (3): Villanova, Creighton, UConn
Pac-12 (2): Oregon, UCLA
West Coast (1): Gonzaga
American (1): Houston
Atlantic-10 (1): Saint Louis
🚨 Last night: Jared Butler (season-high 30 points) and No. 2 Baylor stayed undefeated with a 77-69 win over No. 9 Kansas, which has lost consecutive Big 12 games for the first time in nearly eight years.
Kansas coach Bill Self is now the only coach to face both Baylor and Gonzaga, two teams he thinks are in a league of their own this year.
"I would be shocked if there's a third (team) that fits into that category," said Self. "I don't know which one I'd say is better; they're both terrific."
🎥 Watch: Oklahoma State walk-on surprised with scholarship (CBS Sports)
5. 🏀 Women's poll: Louisville makes history
Louisville is ranked No. 1 for the first time in program history, taking over the top spot one day after previous No. 1 Stanford lost to Colorado.
Michigan moved up to No. 11, the Wolverines' highest ranking ever. They visit rival Ohio State on Thursday night.
Baylor fell to No. 9 after losing to Iowa State on Saturday in head coach Kim Mulkey's return (COVID-19). The loss snapped the Lady Bears' 61-game home winning streak.
📆 Game of the week: No. 3 UConn and No. 25 Tennessee will meet for the 24th time on Thursday (ESPN, 7pm ET), as the Huskies visit Knoxville for the first time in 15 years.
The rivalry that once dominated the sport has faded this century, with Pat Summitt gone and the Lady Vols no longer as dominant as the Huskies.
But this matchup still means something to everyone involved.
Go deeper: Top 10 players in the UConn-Tennessee rivalry (ESPN)
6. 🇺🇸 Photos 'round America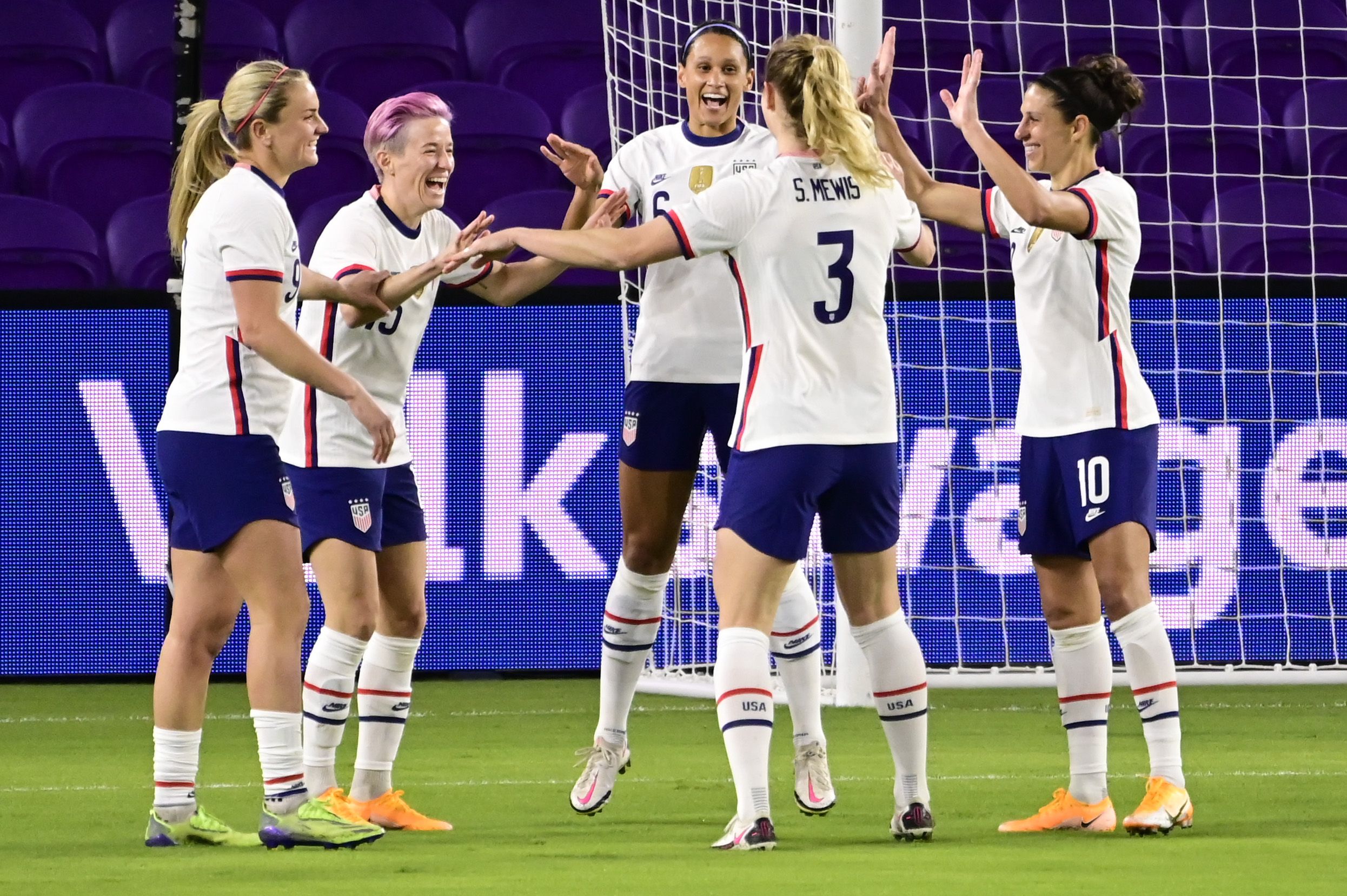 ORLANDO — In its first match on home soil in 313 days, the USWNT beat Colombia, 4–0, Monday night thanks to four goals from the Mewis sisters (three from Sam, one from Kristie).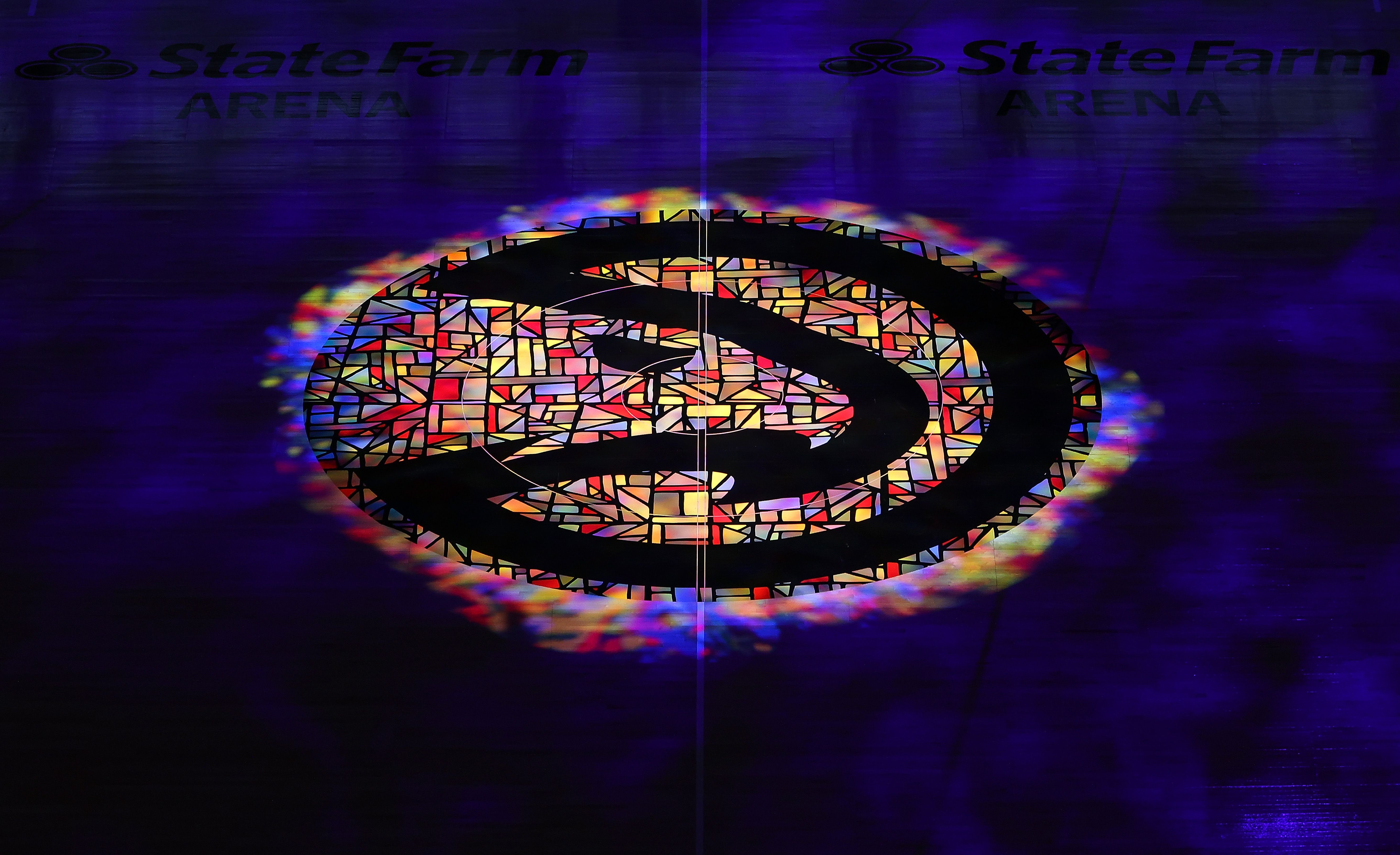 ATLANTA — The Hawks debuted their MLK city edition jerseys, which were blessed by the Pope, plus a special court design for Monday's MLK Day game.
Pictured above: Center court featured a stained-glass version of the Hawks logo inspired by Ebenezer Baptist Church, where King was co-pastor from 1960 until his assassination in 1968.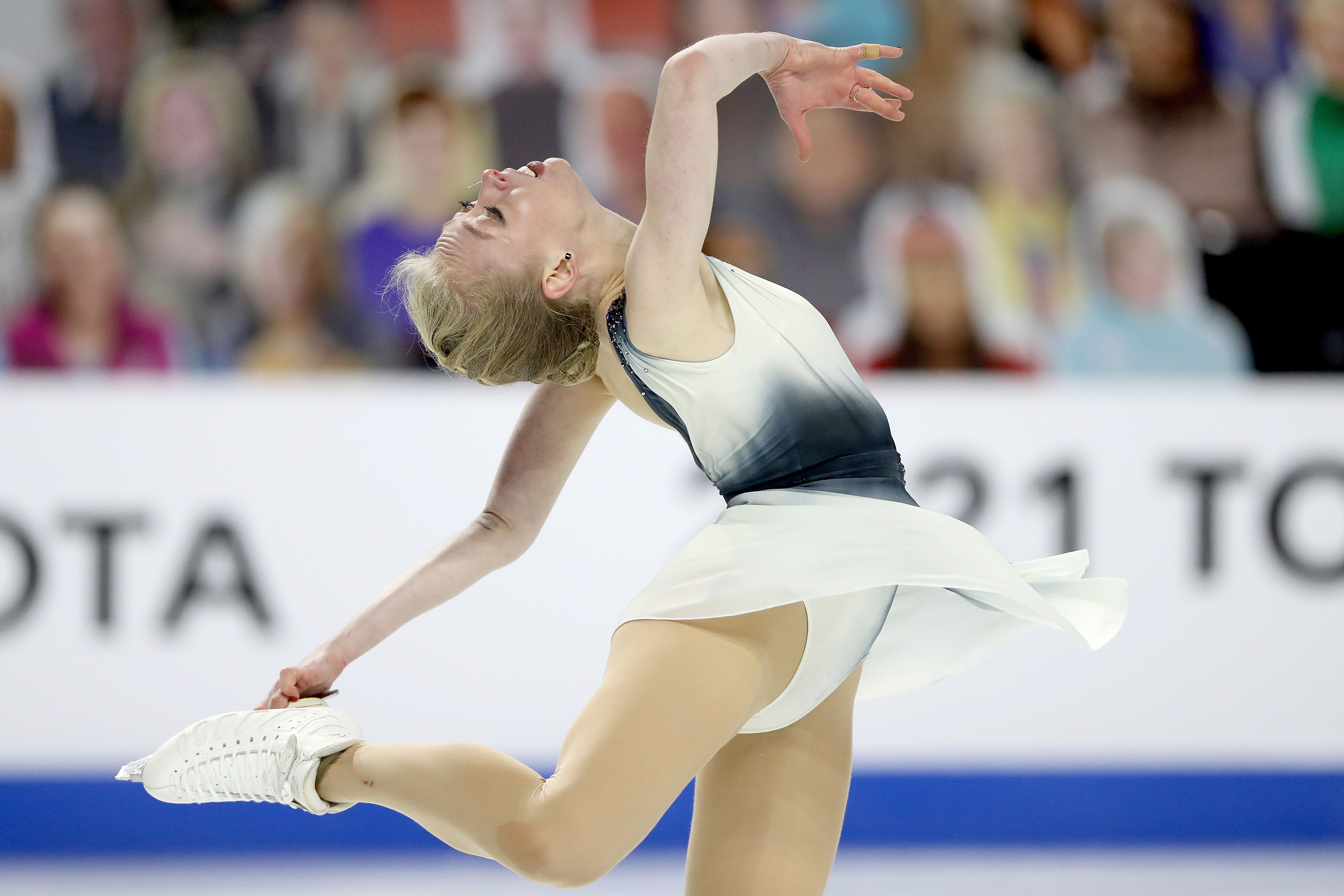 LAS VEGAS — Bradie Tennell (above) and Nathan Chen won the U.S. figure skating championships this weekend, their second and fifth titles, respectively.
What's next: Normally, the U.S. would send its winners to the world championships. But with this year's event teetering, the tickets punched by Tennell, Chen and others "may be tickets to nowhere," per WSJ (subscription).
7. 🌍 Photos' round the world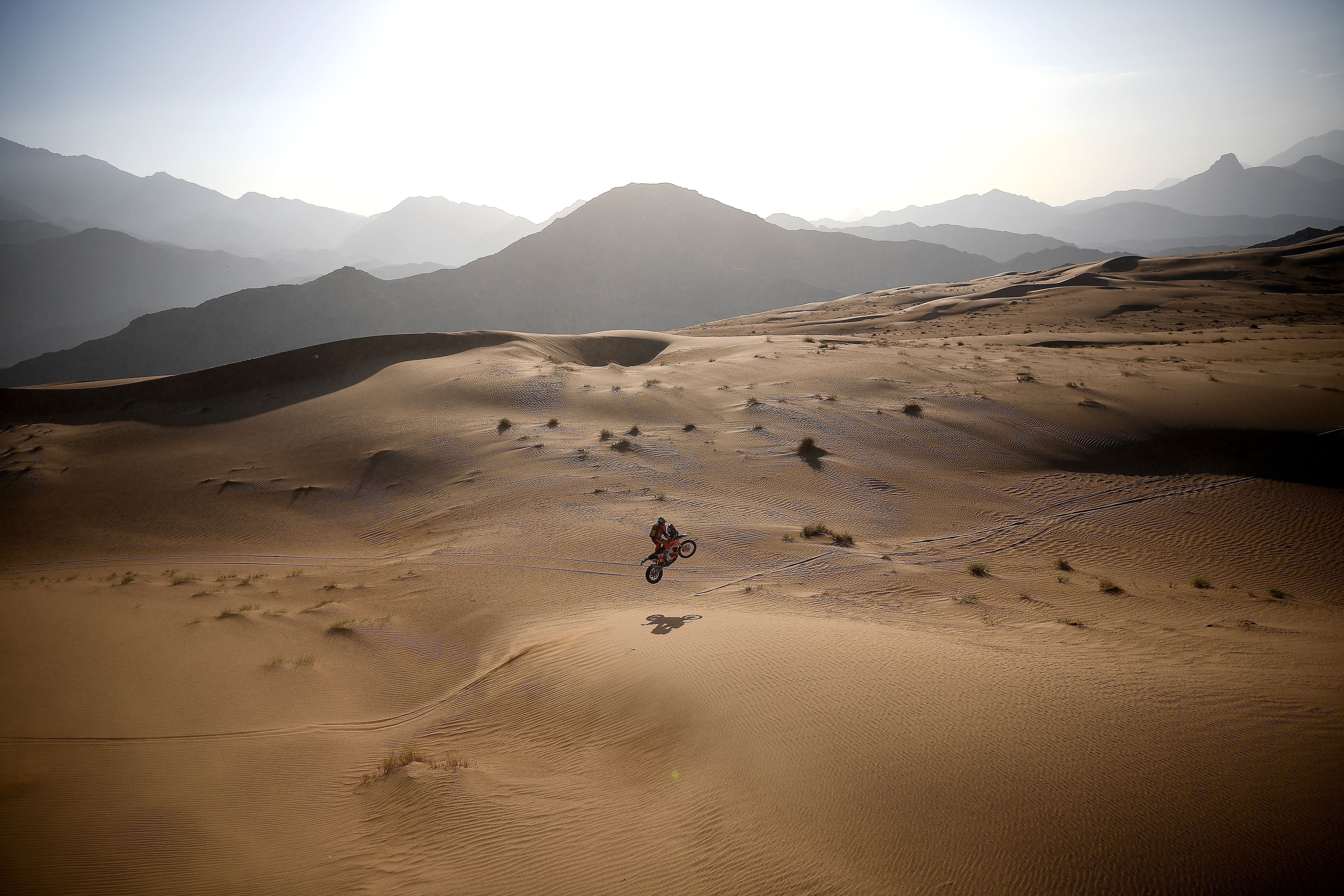 JEDDAH, Saudi Arabia — 310 vehicles (108 bikes, 67 cars, 58 UTVs, 42 trucks, 26 classics and 21 quads) lined up on the start line for this year's Dakar Rally. 15 days later, only 206 came back and crossed the finish line.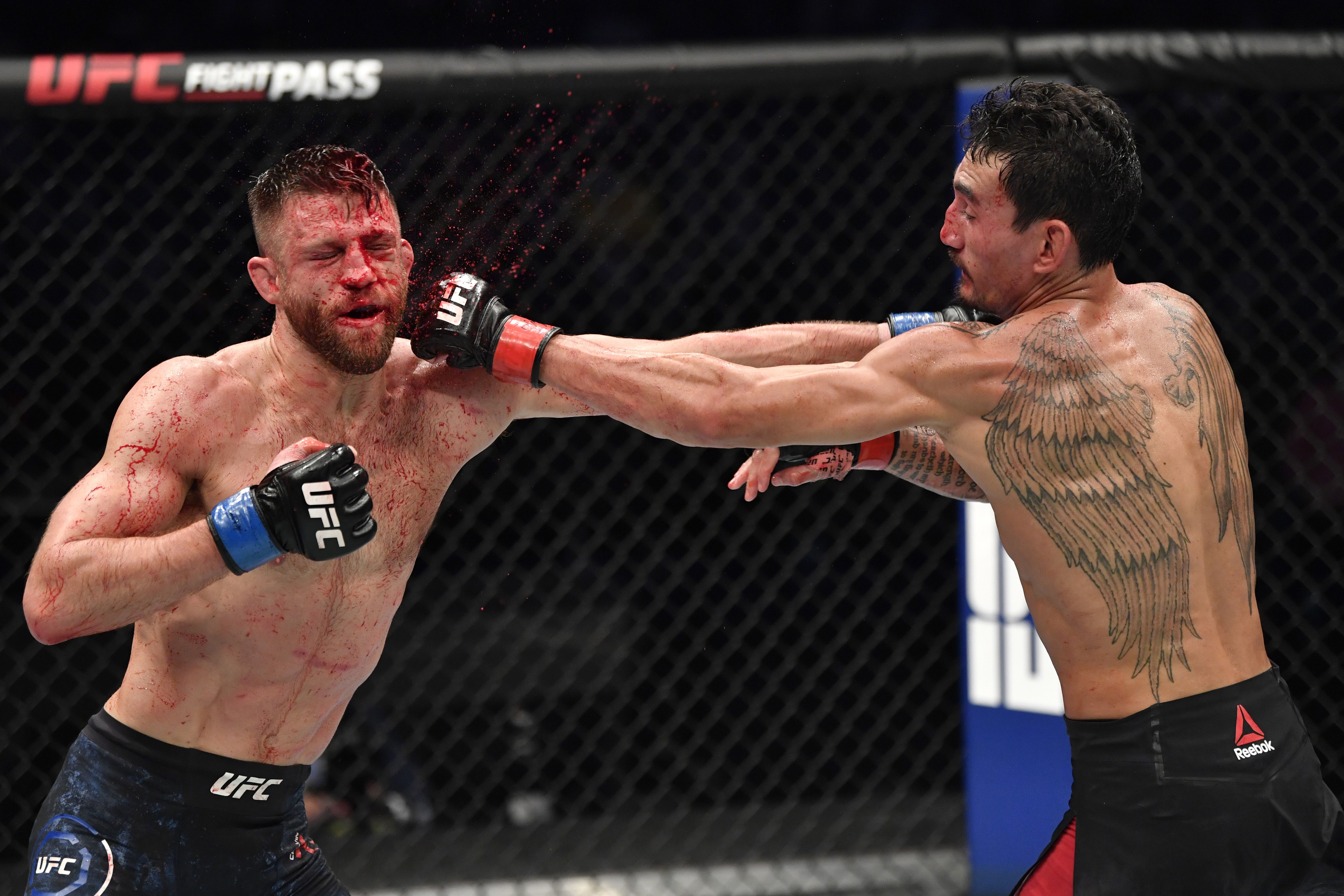 ABU DHABI, U.A.E. — In one of the most lopsided main events in UFC history, Max Holloway pummeled and even taunted Calvin Kattar en route to a dominant decision victory on Saturday.
📊 Stats: Holloway broke two of his own UFC records with 445 significant strikes (was 290) and 141 significant strikes in a round (was 134).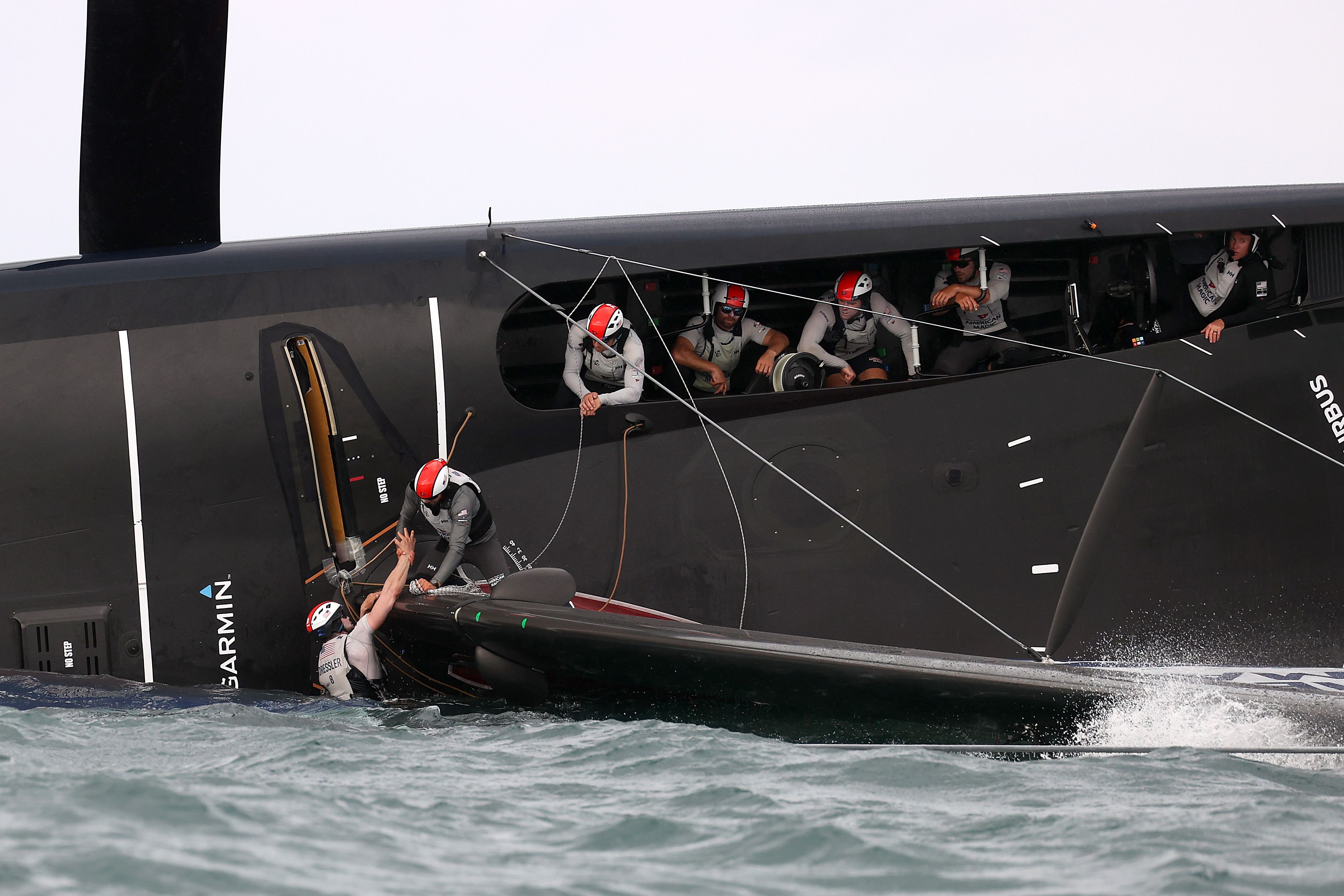 AUCKLAND, New Zealand — New York Yacht Club's American Magic were denied their first points in the Challenger Series when the vessel went airborne and capsized — and nearly sank to the ocean floor.
What's next: The Challenger Series will determine who faces Team New Zealand in the America's Cup. The team has until Friday to repair the boat.
8. Jan. 19, 1974: 🏀 Bruins streak snapped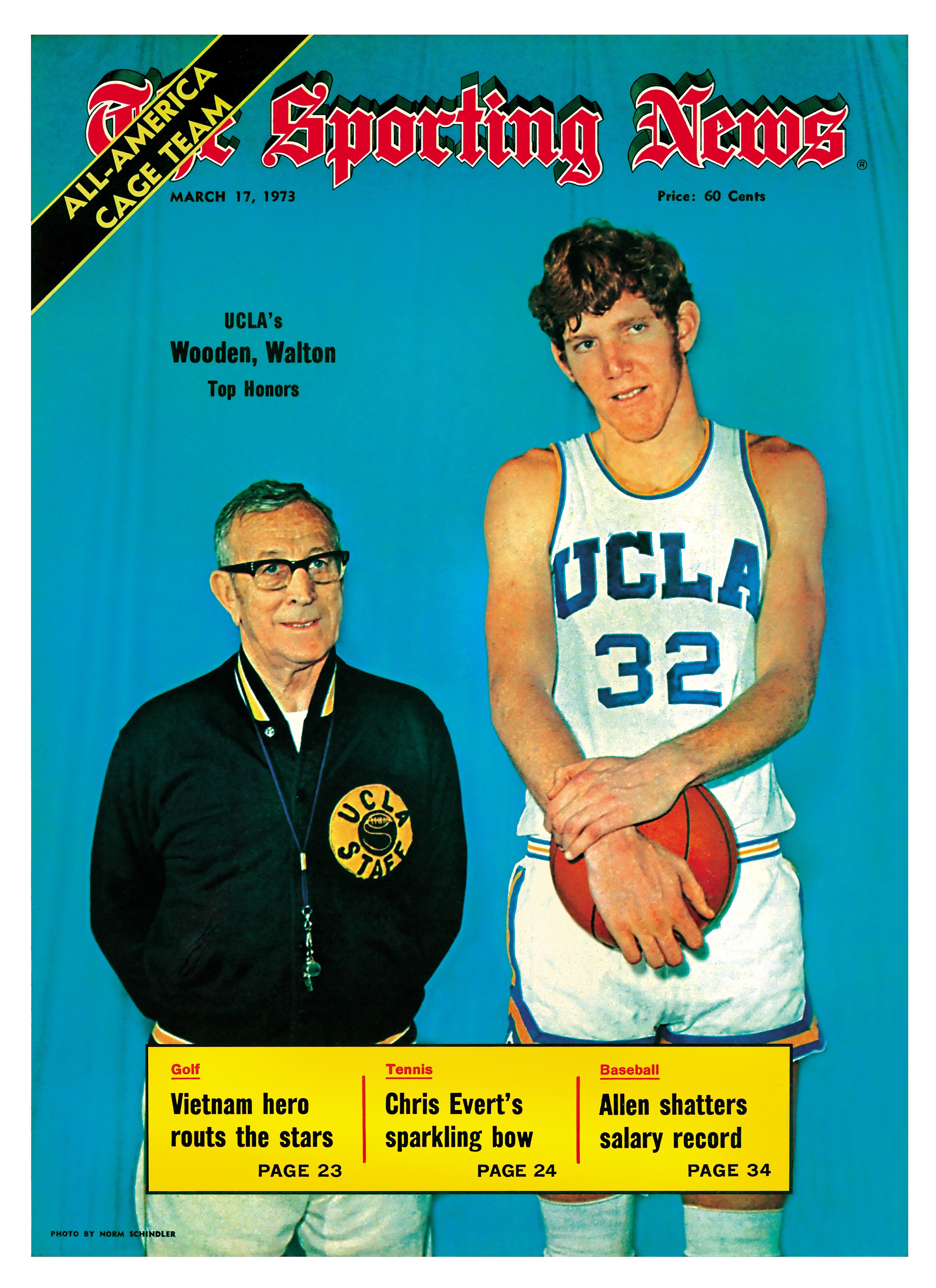 47 years ago today, UCLA lost to Notre Dame, 71-70, snapping the Bruins' 88-game win streak.
The backdrop: This loss came at the tail end of an unprecedented stretch of dominance by the Bruins, who won nine titles in 10 years behind two generational stars: Kareem Abdul-Jabbar (then Lew Alcindor) and Bill Walton.
By the numbers: From the beginning of Abdul-Jabbar's tenure (1966-67) to the end of Walton's (1973-74), UCLA won 231 games and lost just nine.
Fun fact: UCLA's 88-game streak, which began in 1971 and ended in 1974, was sandwiched between two losses to Notre Dame.
Streaks across sports:
NCAAW: 111, UConn (2014-17)
NBA: 33, Lakers (1971-72)
MLB: 26, Giants (1916)
NFL: 21, Patriots (2003-04)
WNBA: 18, Sparks (2001; 2002-03)
9. 🏈 NFL trivia
Tom Brady is set to become the second QB in NFL history to start in a conference championship game in three different decades.
Question: Who will he join?
Hint: Retired in 1974.
Answer at the bottom.
10. 🎥 Monday's top plays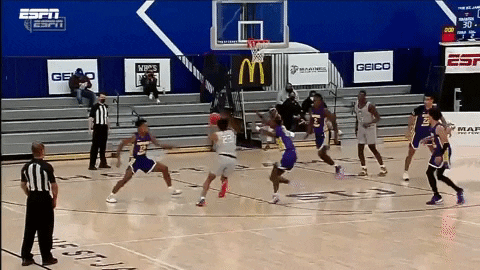 If the NBA abandons one-and-done in 2022, remember the name Jalen Duren. The high school junior was in action on Monday, as No. 1 Montverde Academy (Fla.) took down No. 9 Wasatch (Utah).
Talk tomorrow,
Kendall "19 days 'til the Super Bowl" Baker
Trivia answer: Johnny Unitas ('50s, '60s, '70s)