Axios Sports
May 08, 2020
🎉 Happy Friday! Let's sports.
Today's word count: 2,264 words (9 minutes).
1 big thing: 🥍 PLL's 16-day quarantine tournament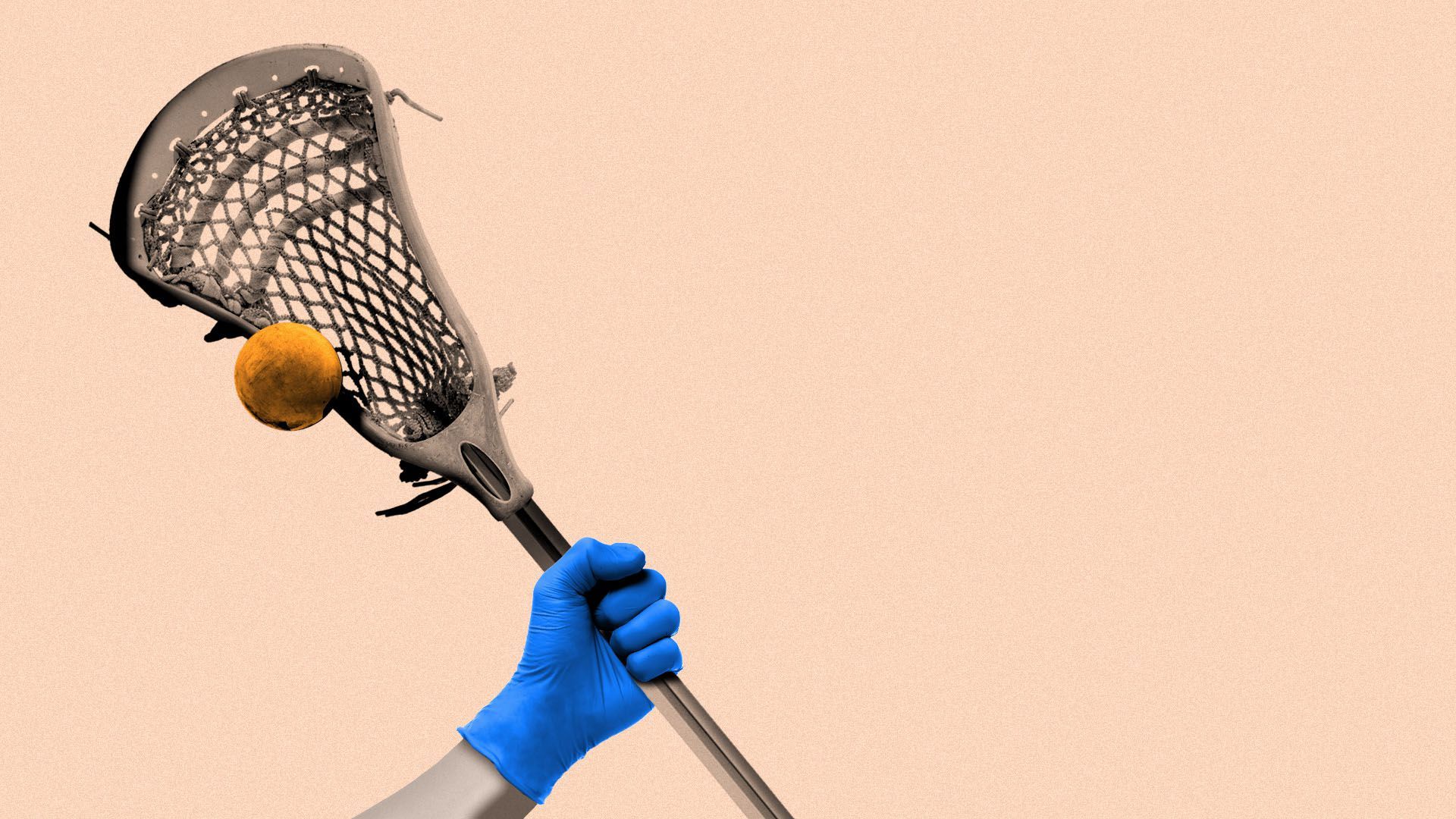 The Premier Lacrosse League will hold a 16-day quarantined tournament without fans this summer, replacing its previously scheduled second season, which was originally set to begin this month.
When: July 25-Aug. 9
Format: 14-game group play, followed by single-elimination tournament.
TV: NBC will carry all 20 contests live on NBC, NBCSN or NBC Sports Gold in time slots previously held for the Summer Olympics.
The state of play: The NBA, MLB and NHL have all explored a similar "bubble" model, but those leagues have two things working against them that the PLL does not: legacy and scale.
Legacy: For an upstart like the PLL, this is purely innovative. But for leagues with decades of history and tradition, it's potentially sacrilegious. Can you imagine if LeBron wins his fourth "championship" in a makeshift playoff at Walt Disney World, moving him within one of Kobe and two of Jordan? Fans would lose their minds, and suddenly you're adding asterisks everywhere.
Scale: The NBA, MLB and NHL all have at least 30 teams and hundreds of players, coaches and other personnel. The PLL has seven teams and the all-in number for the quarantine tournament is less than 300 people.
What they're saying: Paul Rabil, who co-founded the league and is one of its star players, tells me the PLL has consulted with the CDC and other organizations and is confident testing will be fully available by July.
"We established a COVID-19 committee to advise, build protocol and ensure that we would have all tests — as well as other hygienic needs like face masks, gloves and thermometers — needed for the on-site experience. So that went into our decision to choose these dates."
— Paul Rabil, PLL co-founder
The impact: Playing games without fans means the PLL will lose big on ticket sales, and shortening the season from four months to 16 days — and missing out on touring the country — will hurt visibility in some markets.
Yes, but: The money the PLL will save on travel and venue rentals makes up for some of that lost revenue.
Plus, the concentrated distribution (20 games in 16 days) and consistency fans get from day-to-day will simulate that of a March Madness or a World Cup, which could attract a new subset of fans.
What's next: The tournament's location will be announced in the coming two weeks. Rabil shared some hints on where it might be:
"Ideal locations are campuses that are fully secluded in states that have eased lockdowns. So you can look at colleges, training academies, plus modern practice facilities that NFL and MLS ownership groups have opened up."
"The key is being able to lodge and feed and have practice facilities available. We have the capacity to build a state-of-the-art broadcast from the ground up, so a traditional stadium setup is less of a concern."
2. 🏈 2020 NFL scheduled released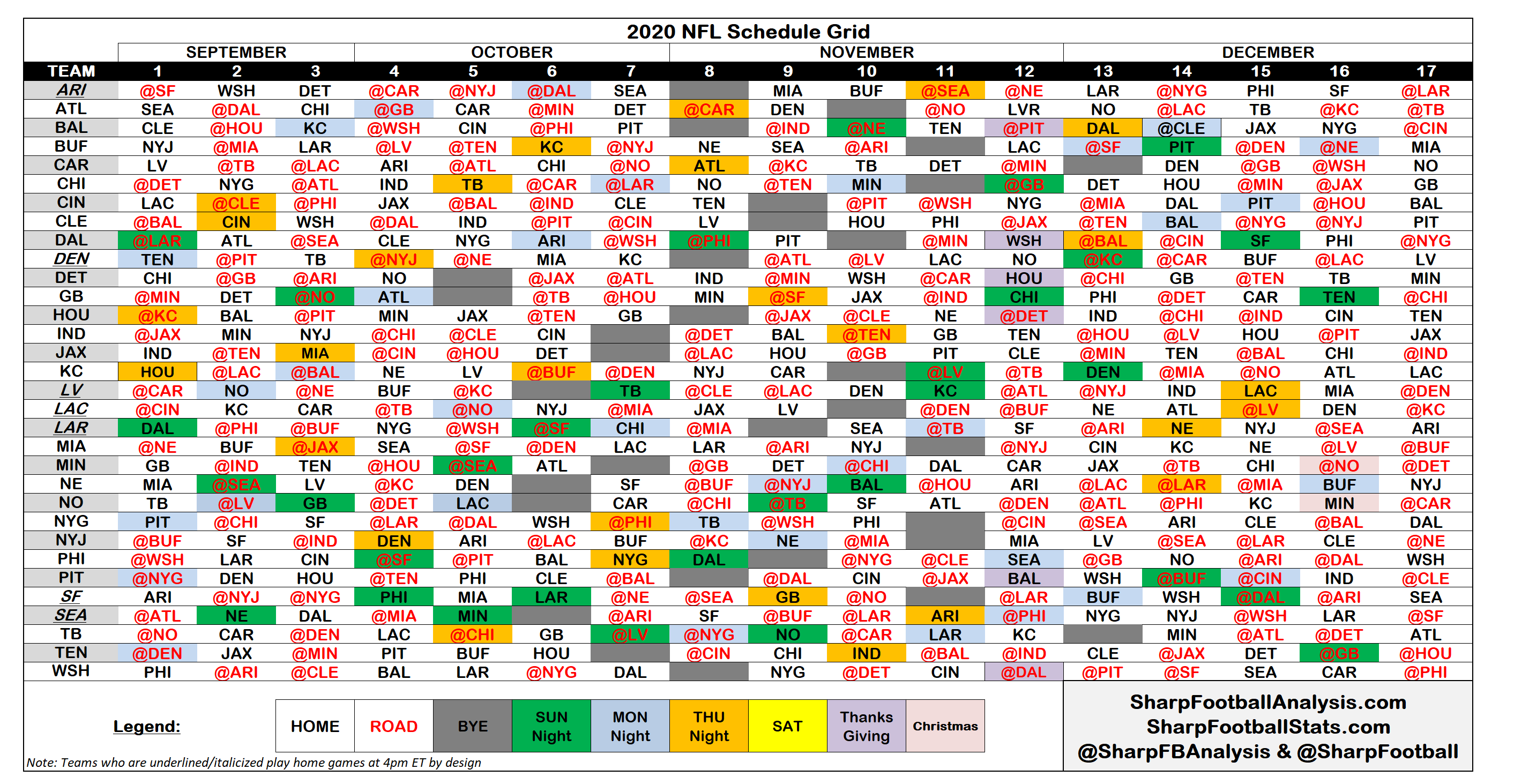 The NFL released the 2020 schedule, which kicks off with the defending champion Chiefs hosting the Texans on Thursday Sept. 10.
Notes:
The Brady effect: The Bucs had one primetime game last year. This year, they have five, the most in franchise history: Week 1 (at Saints), Week 5 (at Bears), Week 6 (vs. Packers), Week 12 (vs. Chiefs) and Week 15 (at Falcons).
Stadium debuts: The first regular season game at L.A.'s SoFi Stadium will be Rams vs. Cowboys on Sept. 13 (Sunday Night Football), and the Raiders will begin their Las Vegas journey at Allegiant Stadium against the Saints on Sept. 21 (Monday Night Football).
Sorry, D.C. and Detroit: Every team got at least one prime-time slot except for two: the Redskins and the Lions (though they'll both play on Thanksgiving).
Congrats, Dallas: Conversely, the Cowboys have six prime-time games, and eight teams have five: the Chiefs, 49ers, Ravens, Packers, Patriots, Rams, Buccaneers and Saints.
NFL ❤️ ESPN: This is the best Monday Night Football slate in years (looks like Jimmy Pitaro's plan worked?) and features perhaps the game of the season in Week 3, when Patrick Mahomes and the Chiefs visit Lamar Jackson and the Ravens.
The backdrop: The league is operating as if it will play a full season, but as The Ringer's Danny Heifetz notes, it has contingency plans:
"If the season is delayed the league is prepared to fit in a full 16-game schedule by potentially pushing back the playoffs and the Super Bowl (which is currently scheduled for February 7) by weeks or months."
"Every team's Week 2 opponent has the same bye week, so if the beginning of the season is delayed, Week 2 matchups could be rescheduled during bye weeks and the season can be played without giving teams any breaks (though that move may be unpopular with players)."
"Since divisional games are essential to playoff seeding, they are the last games the league wants to cancel. ... This year, there are nine divisional games in Week 1 and six in Week 2, but zero in Weeks 3 and 4. ... If the NFL is forced to cancel games, Weeks 3 and 4 may be cancelled first."
Go deeper:
3. 📱 The growth of mobile sports betting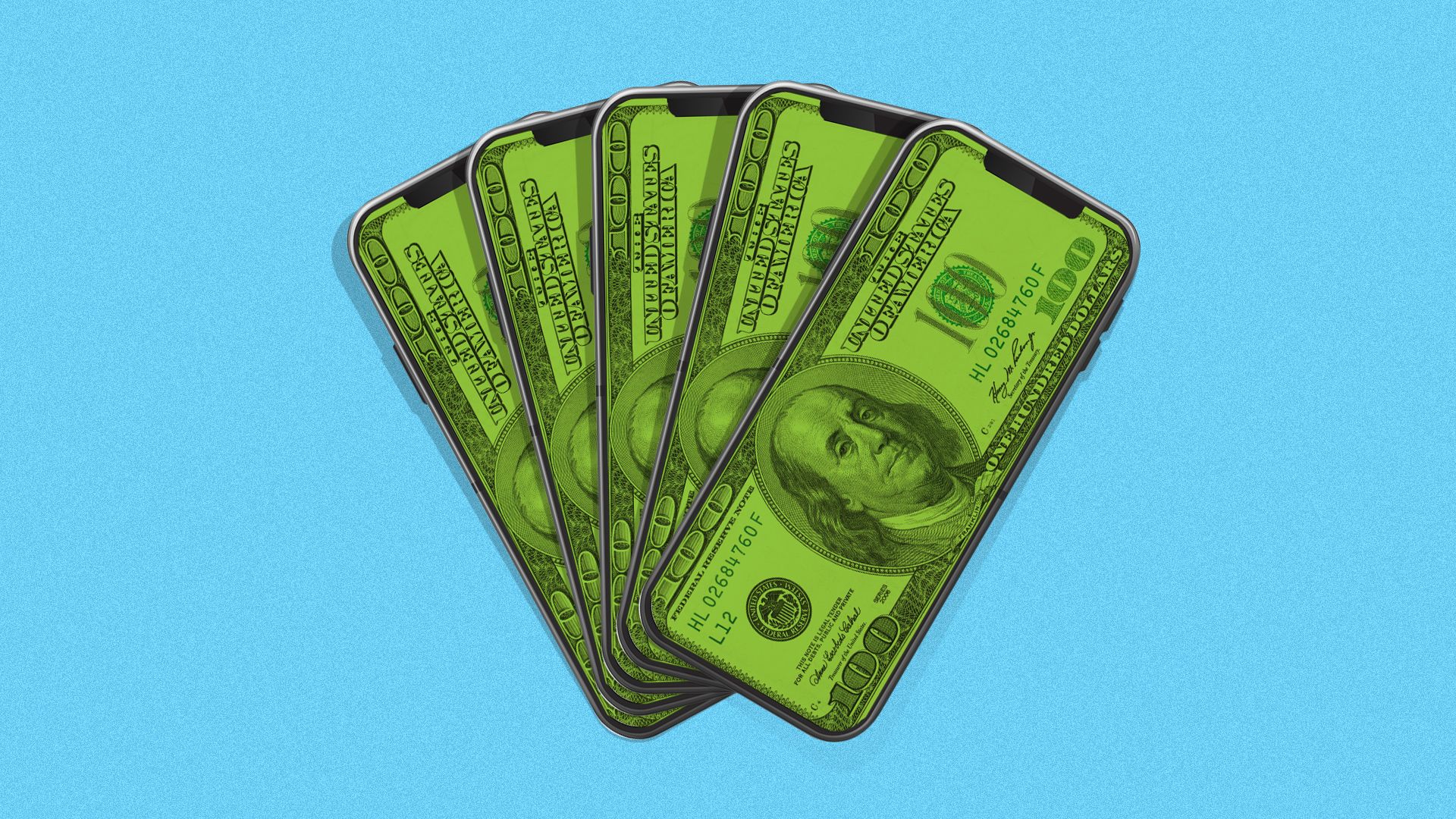 As of May 1, Colorado became the 18th state to officially begin accepting legal sports wagers, including via online sportsbooks, Axios' Jeff Tracy writes.
Why it matters: The convenience of mobile betting is the future, and with sports creeping back, Colorado can treat the next few months more or less like a beta test as it prepares for the wave of betting action that will come when sports return in full.
The state of play: Since PASPA was repealed two years ago, states have steadily passed sports betting legislation. Some allow mobile betting, while others require bettors to place wagers in a physical casino.
Mobile betting: New Jersey's sports betting volume nearly matched Nevada's within its first year, largely thanks to a massive mobile footprint, which saw 86.5% of a record $562.7 million wagered in November 2019 coming from online bets, per Legal Sports Report.
No mobile betting: New Yorkers are so desperate for mobile betting that they're taking their phones across the river to New Jersey, costing New York millions in tax revenue. Multiple other states with sports betting, but no mobile option, fell way short of revenue projections last year.
The big picture: Developers like Boom Sports, who just inked a huge deal with Penn National Gaming to operate mobile sportsbooks in five states where online sports betting isn't even legal yet, believe that policy will eventually catch up with consumer behavior.
"When we started Boom Sports five years ago, we looked at the market, and less than 1% of all casino gaming revenue was generated online. It was still 99% generated in land-based casinos, and we just knew based on the world and where it was going, that was going to change in a big way."
— Stephen Murphy, Boom Sports CEO
The bottom line: Sports betting has long been associated with bookies and casinos, but those days are coming to an end. Now, sportsbooks' target customer is closer to your average sports fan — and the best way to reach the vast majority of them is through their phones.
4. 🏈 XFL seeks new owners after bankruptcy filing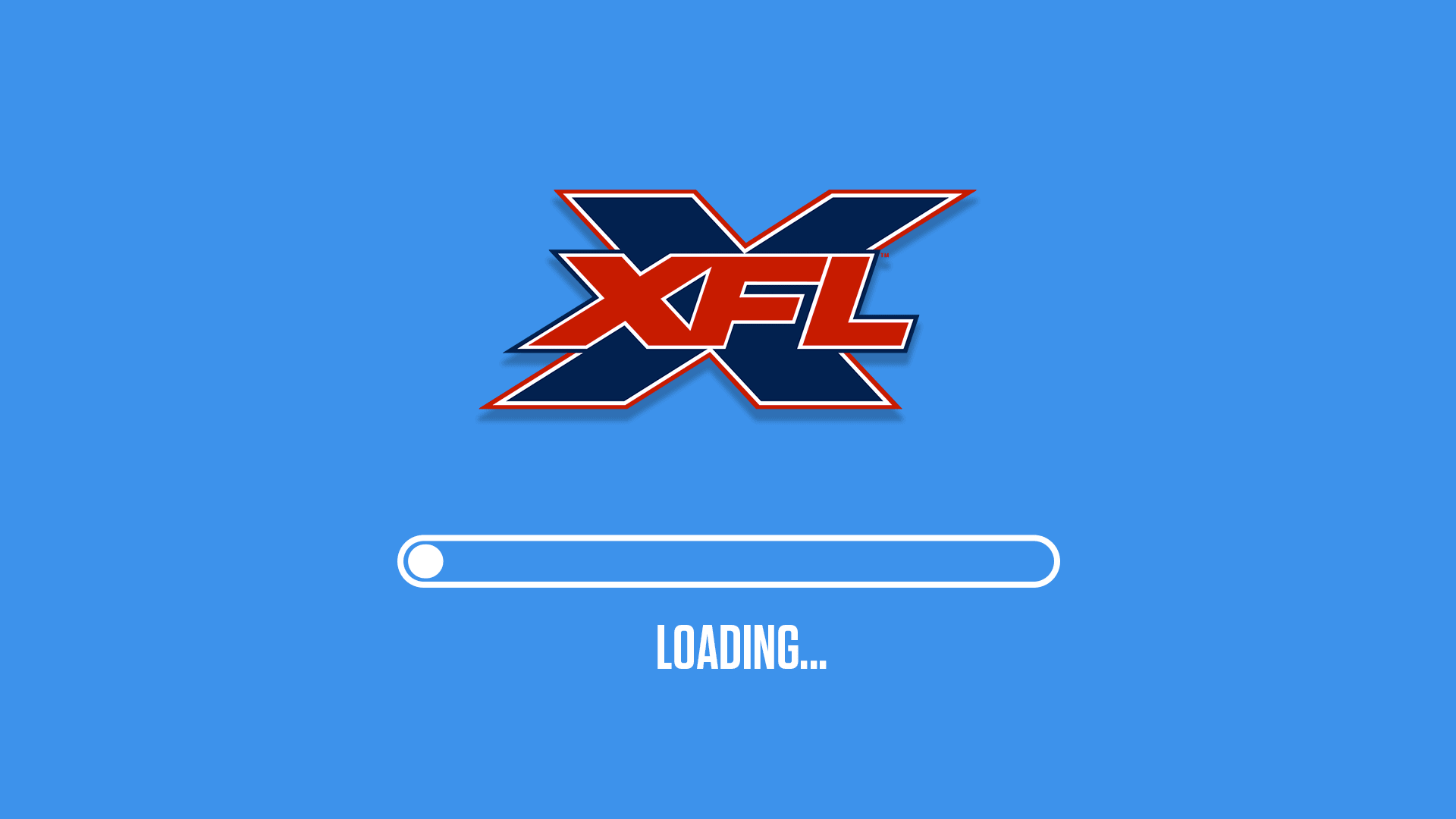 The XFL has launched a Hail Mary to find a new owner, one month after the filing for Chapter 11 bankruptcy protection, writes Axios' Dan Primack.
Driving the news: Investment bank Houlihan Lokey is managing the process, with letters of intent due by June 12, according to a pitch deck obtained by Axios. Formal bids are due on July 6.
The basic sales pitch is similar to what we're seeing from all sorts of other cash-strapped companies in all sorts of other industries: We were doing fine until the pandemic, and could therefore do fine again once it's over.
The big question: Will anyone really be willing to buy the entire league, as opposed to scooping up select assets?
Industry investors I speak with are skeptical, but also acknowledge that sports sometimes entices unknown or unexpected suitors.
"There are lots of people who are very rich but not rich enough to own an NFL team, so maybe someone will see this as the next best thing at a bargain price," says one investor who is not considering an XFL bid.
5. ⚾️ Ranking MLB's all-time rosters (No. 26)
We're ranking the all-time rosters for all 30 MLB teams. Note: Rosters based only on time spent with this specific team. Thoughts? Email me at [email protected].
26. Los Angeles Angels
They may be in the bottom five overall, but they can hang their hat on having a superbly deep outfield, anchored by someone who may very well become the single greatest baseball player who ever lived. Not bad.
Year established: 1961
All-time record: 4,709 - 4,719 (.499)
World Series Championships: 1
Hall of Famers (on this roster): 3
Starting lineup:
2B Bobby Grich (35.1 bWAR with team)
OF Mike Trout (72.8)
OF Tim Salmon (40.6)
DH Vladimir Guerrero (22.8)
OF Brian Downing (38)
1B Wally Joyner (18.9)
3B Troy Glaus (22.6)
SS Jim Fregosi (45.9)
C Bob Boone (12.1)
On the mound: SP Nolan Ryan (40)
Bench:
Infield: 1B Rod Carew (17.4), 2B Howie Kendrick (28.5), 3B Chone Figgins (22.4), SS Erick Aybar (23), C Bengie Molina (7.4)
Outfield: Jim Edmonds (20.5), Garret Anderson (28.1)
Utility: Torii Hunter (20.7), Mark Langston (26)
Rotation: Chuck Finley (51.7), Frank Tanana (34.3), Jered Weaver (36), Dean Chance (17.9)
Bullpen: Troy Percival (16.8), Francisco Rodriguez (16), Bryan Harvey (8.4)
Additional notes:
Nolan Ryan was a machine, spending at least five seasons on four different teams, comprising the longest career in MLB history — 27 seasons (tied with Cap Anson). He also had the most no-hitters (7), strikeouts (5,714) and walks (2,795), while allowing the fewest hits per nine innings (6.6).
Fun closer facts: Francisco Rodriguez, or K-Rod, holds the MLB single-season saves record (62 in 2008), while Bryan Harvey earned the first save in Marlins history.
Huge thanks to Tom Stone, whose book 'Now Taking the Field: Baseball's All-Time Dream Teams for All 30 Franchises,' provided the inspiration for these rosters.
6. May 8, 2012: ⚾️ Four homers for Hamilton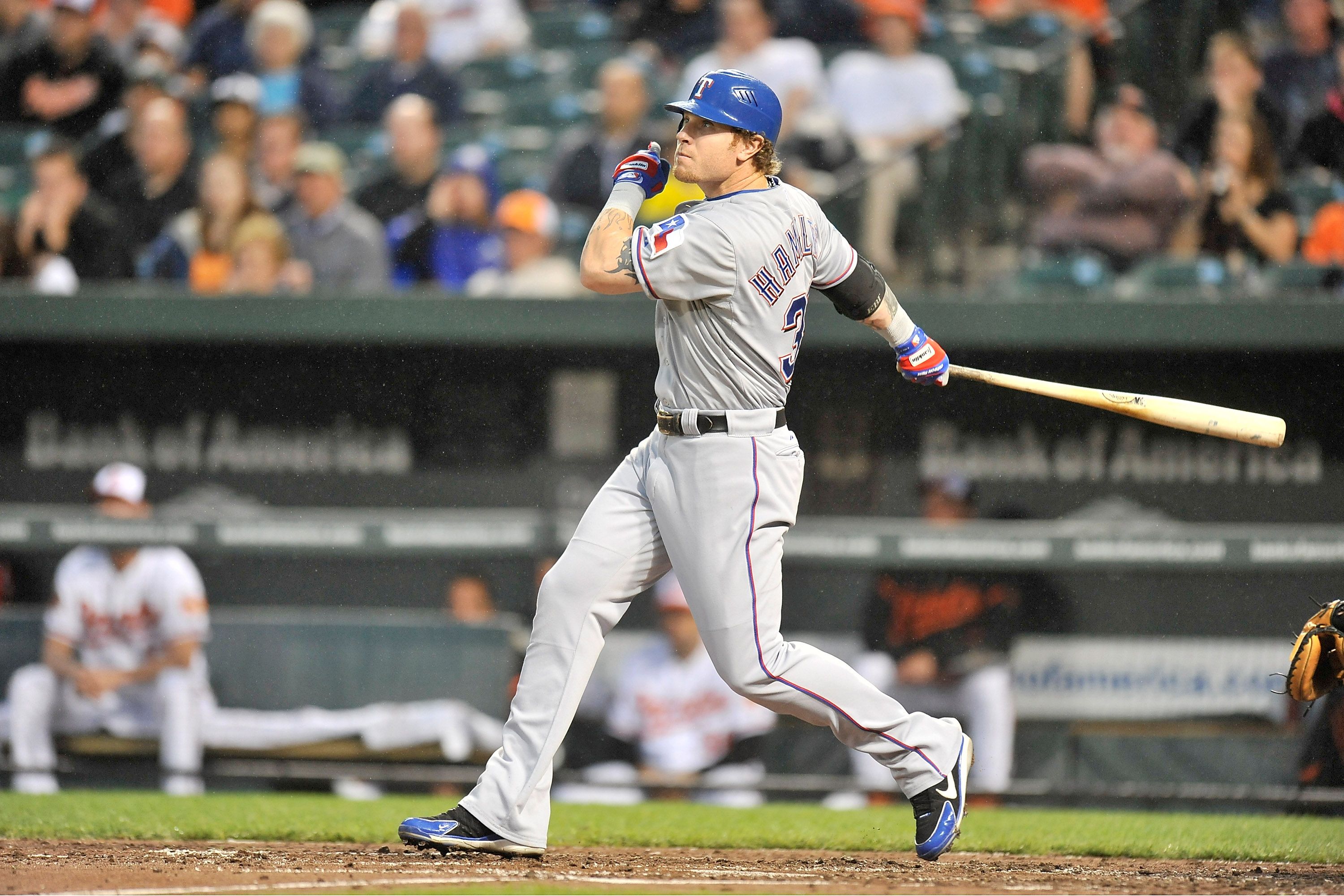 Eight years ago today, Rangers slugger Josh Hamilton went 5-5 with four home runs, a double and eight RBI in a 10-3 win over the Orioles.
Why it matters: It's not as rare as the 20-strikeout game we covered on Wednesday (happened five times), but with just 18 four-homer games in MLB history, it's one of the most impressive feats in the sport.
By the numbers: This was just the 27th game of Hamilton's season, yet by the end of the day he'd hit 14 homers with 34 RBI and was batting .406 with a 1.298 OPS.
His 18 total bases set a new AL record, and fell just one shy of Shawn Green's MLB record of 19.
By the end of the season, he wouldn't quite match the lofty heights of his MVP campaign two years prior (.359 BA, 1.044 OPS), but he set a career high with 43 HR and finished fifth in MVP voting.
The elephant in the room: It's no secret Hamilton has battled demons his whole life, from the drug addiction that put his early career on hold, to a relapse in 2015 that hastened the end of his playing days, to the felony charges he's facing now for assaulting his daughter, which could land him in prison for up to 10 years.
He's a former MVP with and a good heart, but he's also person who's made a few too many bad decisions and mistakes. Hopefully this latest, and worst one, serves to help him make a lasting change.
Go deeper: Josh Hamilton wrestles with his future (SI Vault)
7. 📚 Good reads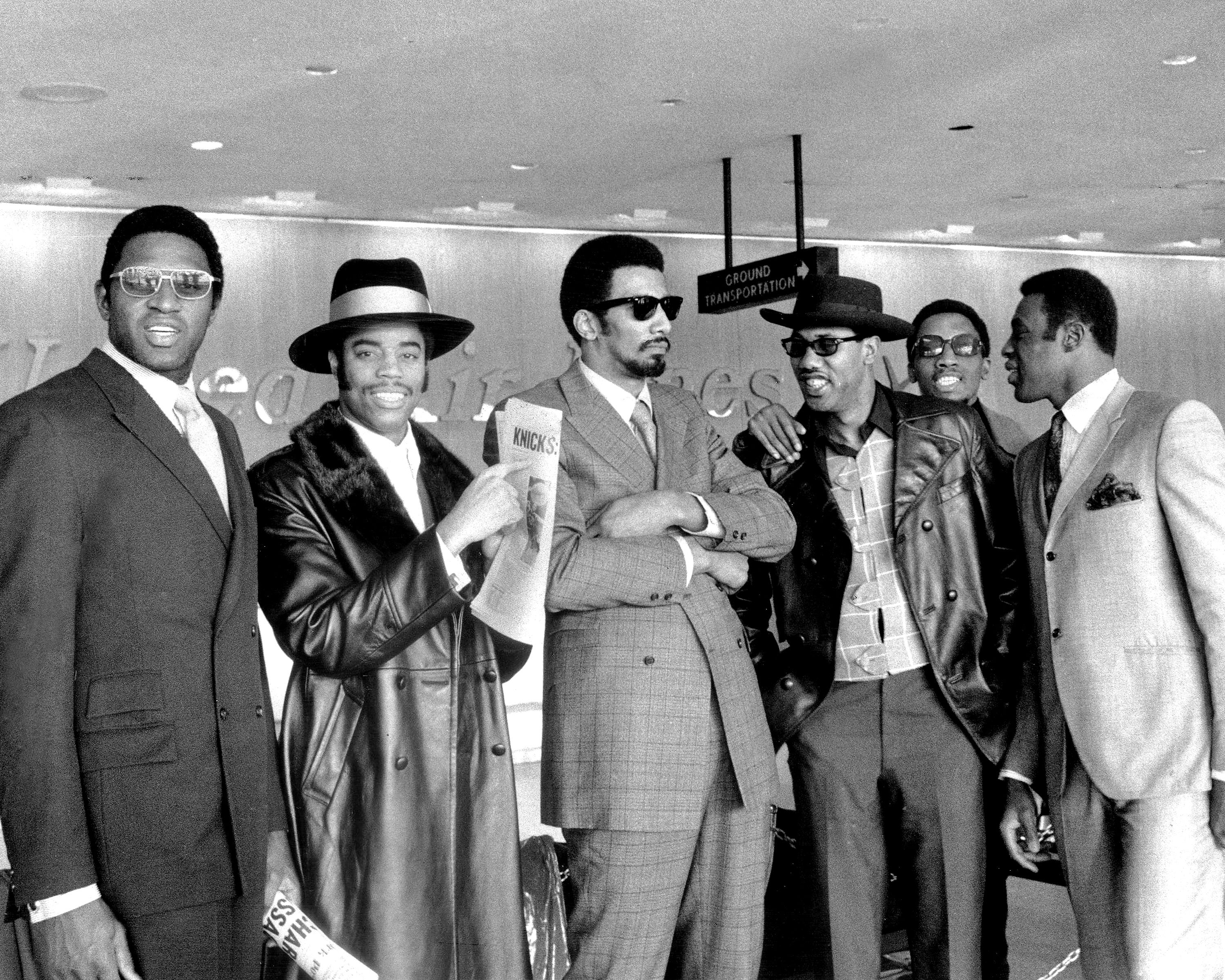 🏀 The Old Knicks made basketball games the 'hippiest place' in New York (Harvey Araton, NYT)
"The 1969-70 Knicks ... own a competitive legacy that is a virtual pamphlet compared with Boston's encyclopedic run during the Bill Russell era. That said, within the purview of the modest NBA of that time, those Knicks were an attraction and a revelation that Red Auerbach's Celtics could never be."
📺 What 'All-America' gets right — and hilariously wrong — about high school football culture (Rodger Sherman, The Ringer)
"How many steps does it take to run a curl route? Are teenage kickers suddenly infallible? And what else can we learn from the CW series now streaming on Netflix?"
💵 The world of sports betting in a world without sports (Greg Bishop, SI)
"Casinos, online bookmakers and the bettors themselves have spent weeks trying to figure out what now — from pro table tennis to Belarusian football to simulated NFL games — and what's next."
8. The Ocho: 🤠 The bulls are back in town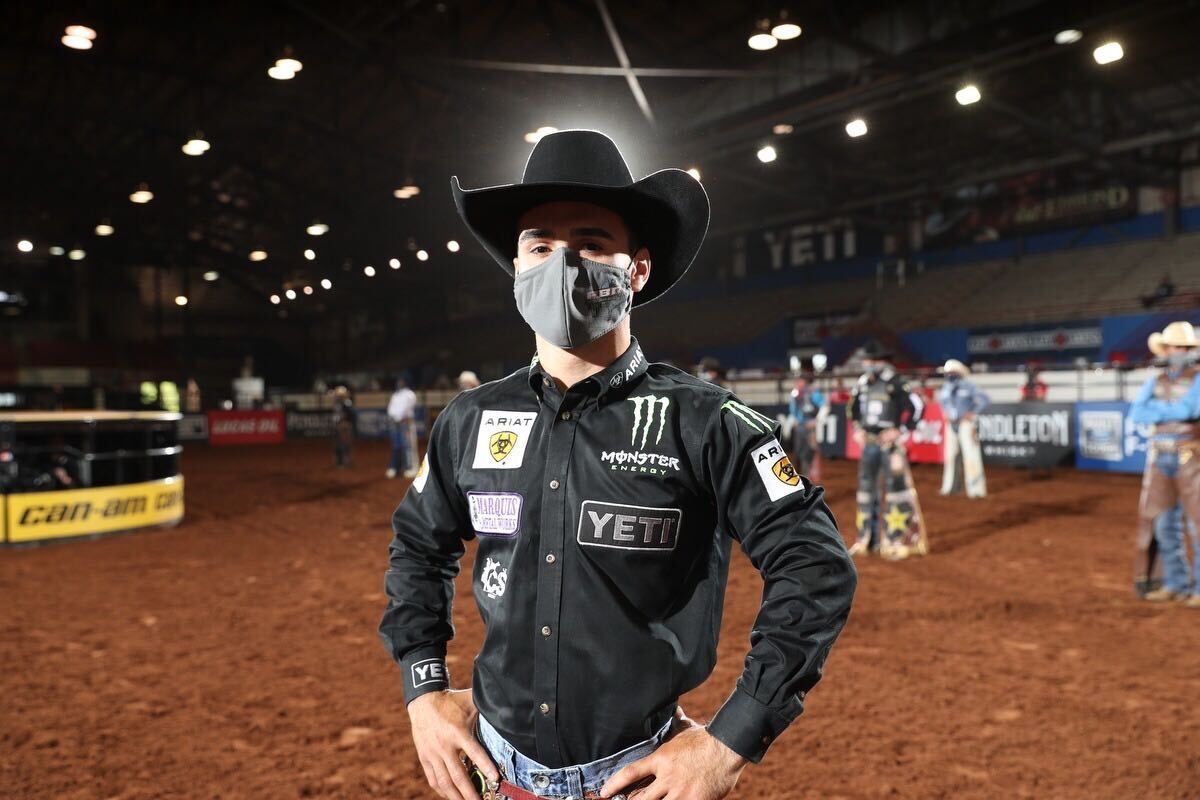 As we celebrate the slow return of live sports, the Professional Bull Riders (PBR) circuit would like to toss its cowboy hat in the ring and remind us that they actually beat most everyone else to the punch with a live event in Oklahoma at the end of April, Jeff Writes.
How it worked: The event, part of a series called "Unleash the Beast," was closed to the public, and just 140 people — all of whom were screened and medically cleared before entry — were needed to make it happen.
CBS Sports Network broadcast it live, but PBR increased the use of robotic cameras and moved judges and announcers away from the action to maintain social-distancing protocols.
What they're saying: According to a PBR representative, the success of their April event has led to "more than a dozen leagues and organizing bodies" asking for their safety plan, which also included signing a social responsibility pledge ensuring all participants abided by the guidelines.
Coming up: PBR returns to action both this weekend and next at the Lazy E Arena in Guthrie, Oklahoma.
9. ⚾️ MLB trivia
There hasn't been a four-HR game in MLB since 2017, when two players did it.
Question: Who were those two players?
Hint: Initials are SG and JM.
Answer at the bottom.
10. ❤️ Why we love sports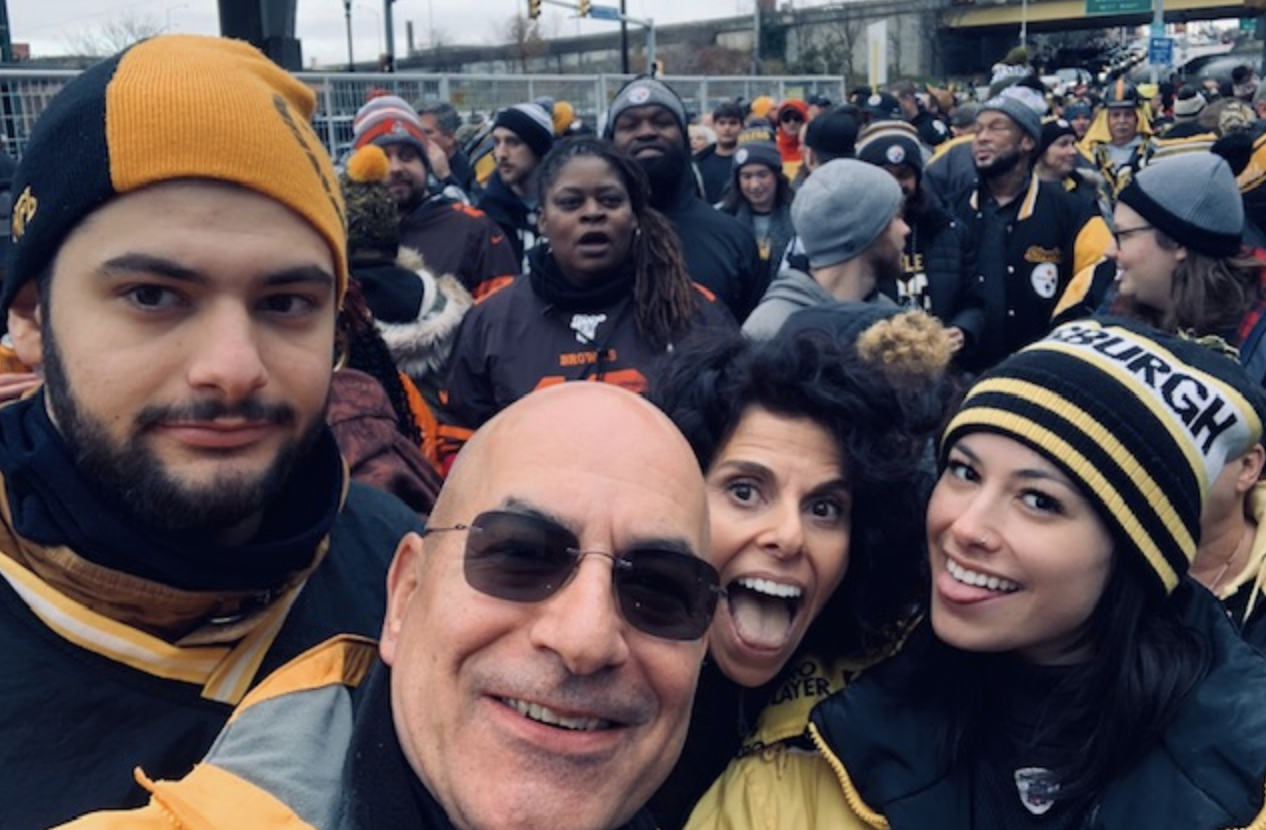 Alexa K. (Pittsburgh) writes:
"My family has held season tickets for the Steelers since the 60's, making Steelers games a long-standing tradition for us. I've been lucky enough to attend a lot of games, and I've felt the highest of highs and the lowest of lows in those seats. 
"During the 2008-09 season, the Steelers made it to the AFC championship game where they hosted the Ravens. My two cousins and I won the draw and got to go to the game with my dad. My mom handed him the tickets as we walked out the door, and we headed downtown.
"While standing in line, I began to notice that everyone else's tickets looked different than ours. When we finally got to the front and our tickets wouldn't scan, we realized that my mom had handed my dad the wrong tickets! They were from an AFC championship game from a previous season!
"My dad explained to the person scanning tickets that we were season ticket holders who accidentally brought the wrong tickets, and he directed us to go to the entrance on the opposite side of the stadium for assistance. 
"On the other side, the line was even longer, and we were running out of time to catch kickoff. We finally reached the front, and my dad explained the situation again, asking the ticket taker to find his manager and bring him over to talk to us. As soon as the guy turned his back, my dad looks at us and yells, 'RUN!'
"My cousins took off, but I (always afraid of breaking the rules) stayed frozen in place until my cousin turned back to grab me and pull me along. We all made it to our seats in time for kickoff, and settled in to watch an incredible game.
"Thanks to my quick-thinking dad, I now get to say that I snuck into an AFC championship game, see the Steelers beat their rival (I definitely cried when we won), and eventually go on to win Super Bowl XLIII. We all still talk about this story at family parties. Sports, man."
✍️ Submit your story: Do you have a fondest sports memory? Or an example of sports having a positive impact on your life? If you'd like to share, simply reply to this email. We'll be telling your stories until they run out.